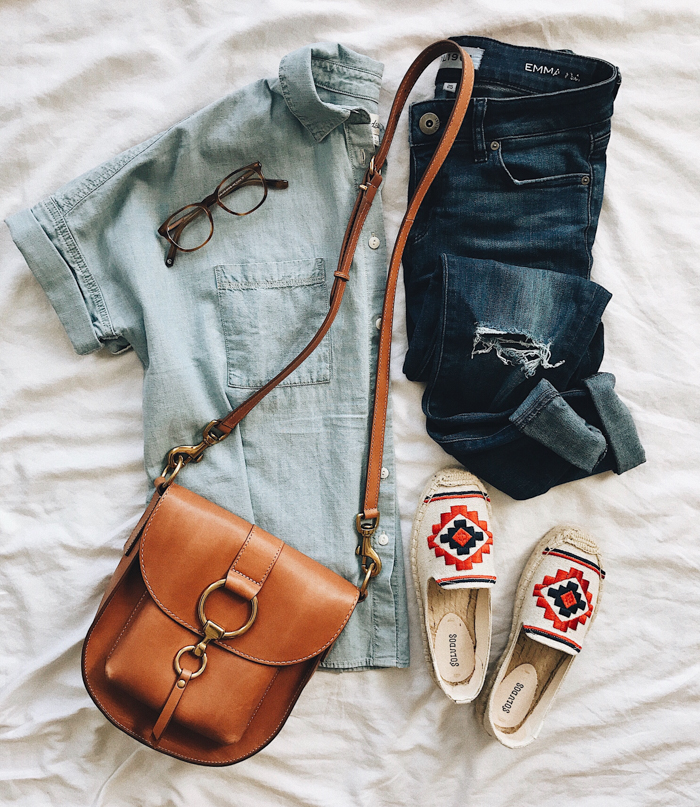 As y'all know, tan (or cognac) is my go-to color when it comes to handbags. It's such a warm, inviting color that feels casual yet put together and chic. From cross-body bags, to totes and clutches, I am pretty sure 90% of my handbag shelf is this color, ha! But hey, when you find the thing that feels really "you" when it comes to getting dressed each day, embrace it and spread the goodness around! Thus, today I'm sharing 5 favorite tan leather handbags that I am completely enamored with! (…And one bonus that I am saving all my pennies for, too, ha!).
TOP / JEANS / SHOES / HANDBAG / GLASSES
1. FRYE Ilana Leather Saddle Bag (as seen above): Big fan of FRYE products (…they're the best when it comes to gorgeous leather goods!) and this handbag is amazing! It's such a great size for everyday wear, and when you open the top flap, there's a perfect little pocket to hold your keys, phone and lip balm. This style comes in a few fun color options, too – love it! (Full outfit details from this post)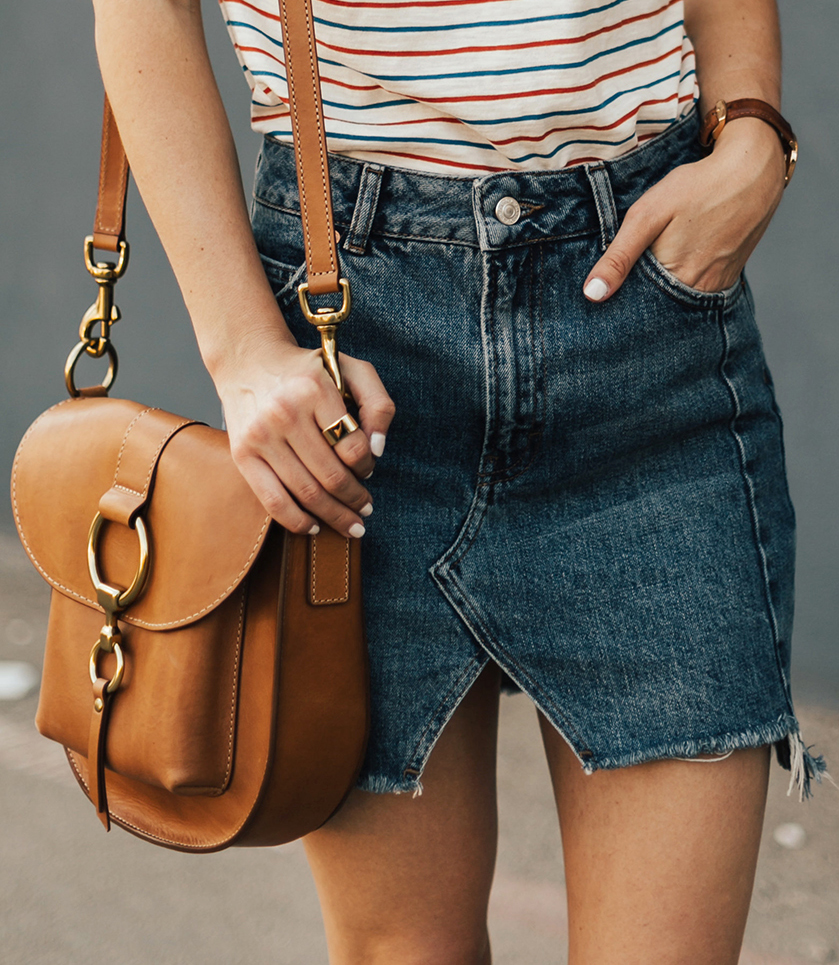 2. Madewell Transport Crossbody Tote: I wear this one ALL. THE. TIME. It's basically my staple, everyday bag that holds half my closet and looks super cute with literally anything! Can't recommend enough!! (Full outfit details from this post)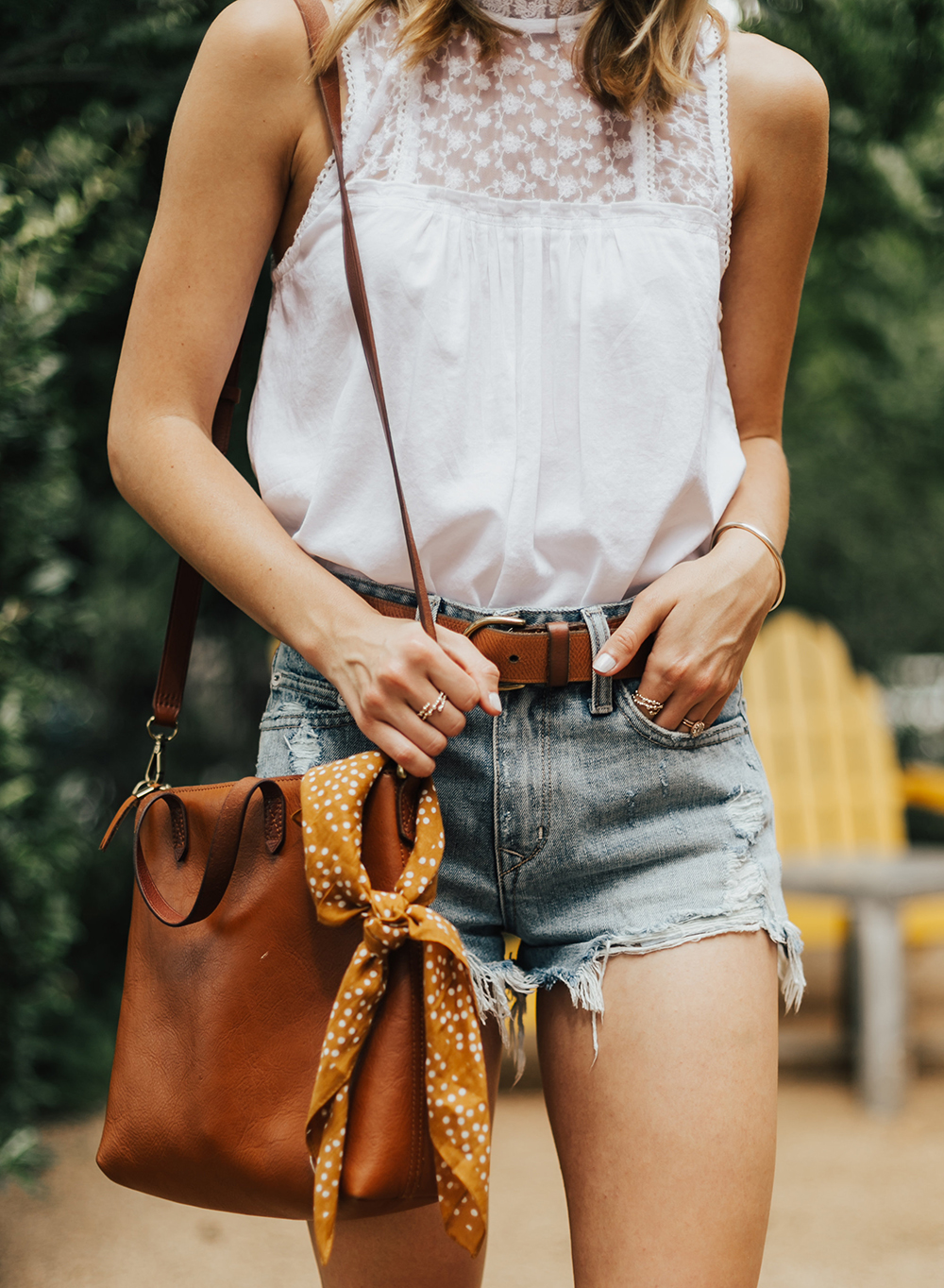 3. Gigi New York Stella Fold-over Clutch: Seriously LOVE this little fold-over clutch! Gorgeous quality, monogram option (always a sucker for a cute monogram detail) and that darling tassel adds a unique touch. Hoping to scoop this one up in black, too! (Full outfit details from this post)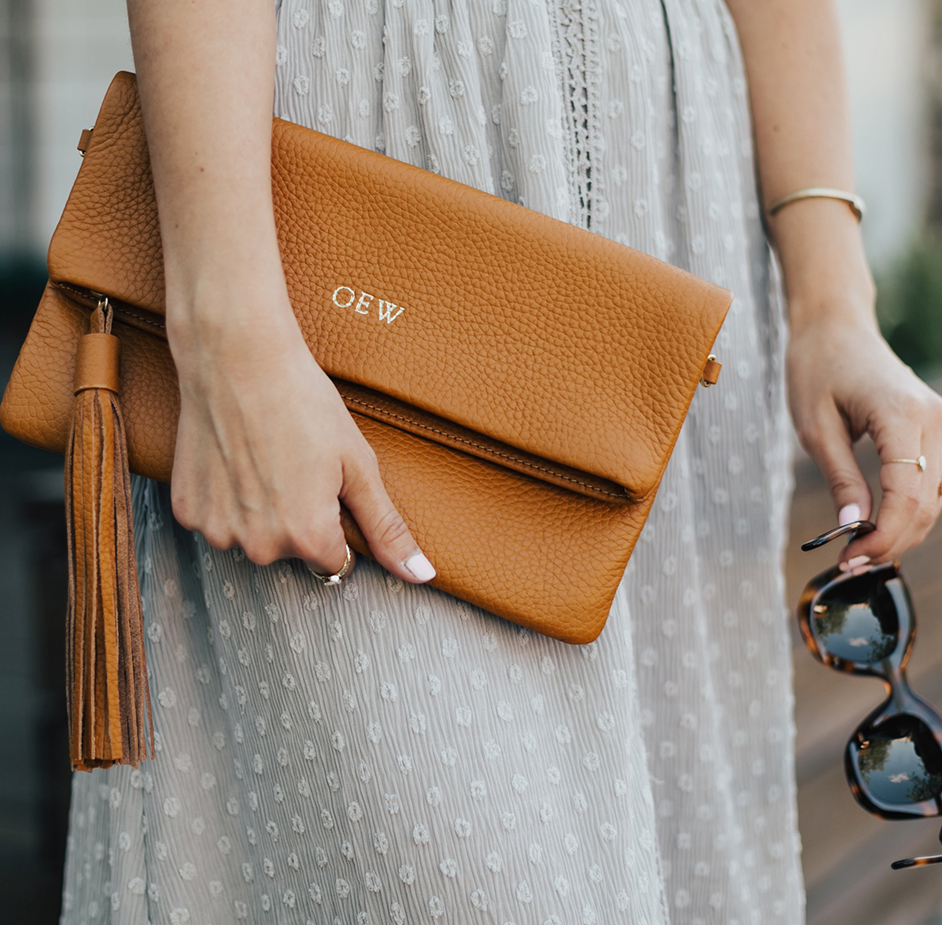 4. Chloe Faye in Classic Tobacco: Alright…sooo, this bag was a major splurge for me but it was a gift to myself for hitting a big milestone in my blogging career! I have always dreamed of owning a designer handbag, and every time this one popped up on Pinterest or I saw it in a magazine, my heart jumped and my eyes grew haha. I must say, whenever I wear this bag I feel really proud because I worked my butt off for it! I set a goal, achieved it and walked right into Neiman Marcus and said "…that one, please!" (…Which felt amazing because I never in a bajillion years dreamed I'd have a moment like that, haha!)…Honestly, it was so worth the investment and something I'll forever cherish. I am slowly but surely putting a savings aside for designer handbags…hoping to have a super badass collection for my future daughters one day… 😉 ("I'm not a real mom, I'm a cool mom!" …Mean Girls, anyone? ha!). (Full outfit details from this post)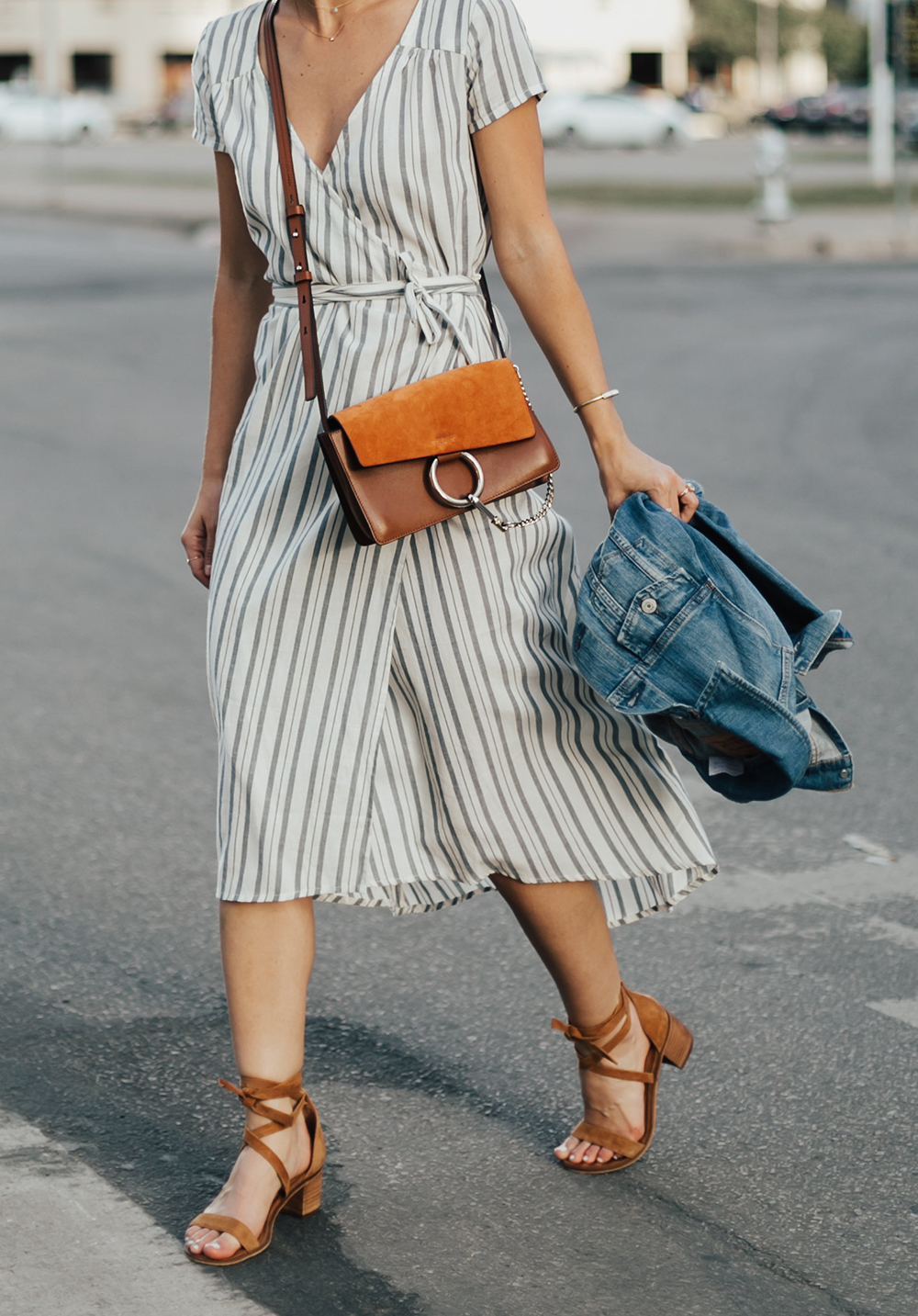 5. Brahmin Josie Charleston Backpack: I am headed to Barcelona with my best friends in two weeks, and I am SO EXCITED to rock this backpack aaaall week long while traveling around! It's a practical size (it actually holds a TON), while also being super fashion forward and ohh muhh gaww can we talk about that butter smooth leather? This bag is gorgeous! You can never go wrong investing in Brahmin, they are THE best for beautiful quality, affordable handbags. (Full outfit details from this post)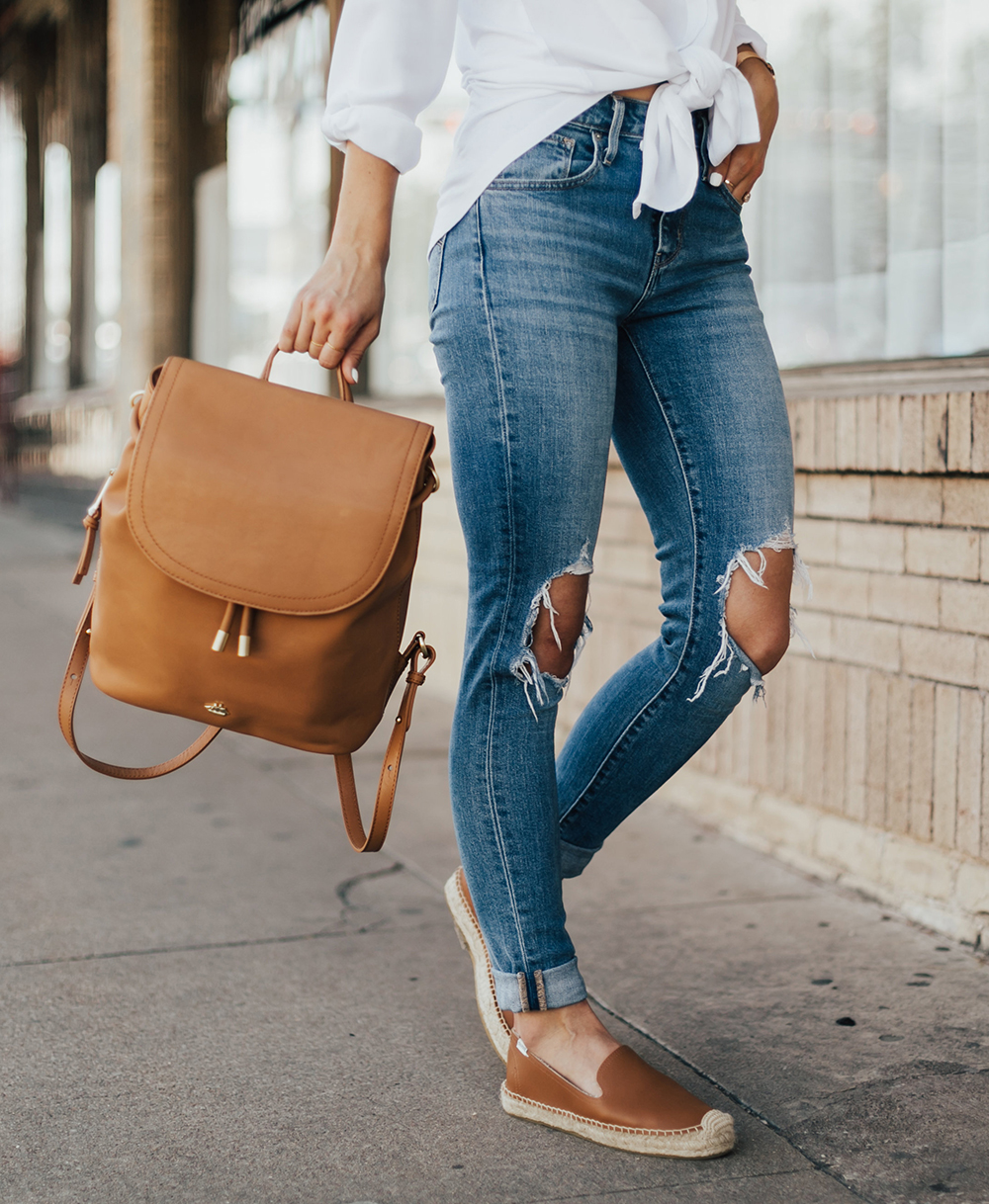 BONUS:
1. (Budget Friendly!) Street Level Reversible Tote Bag (just $48!): I have this tote in two colors and it's AWESOME. It holds up well over time and I love the reversible option…definitely a must-have!
2. Splurge-worthy (okay…more like save up for a year and then treat yo'self) New Nile Flower Chloe: I am 1000% obsessed with this one. Clearly, I'm a sucker for that signature, boho Chloe style!
Which one is your favorite?? Shop my top picks below! XO
Check out more "5 Favorites" posts:
1. 5 Favorites: Denim Shorts
2. 5 Favorites: Gingham for Summer
3. 5 Favorites: White Leather Sneakers