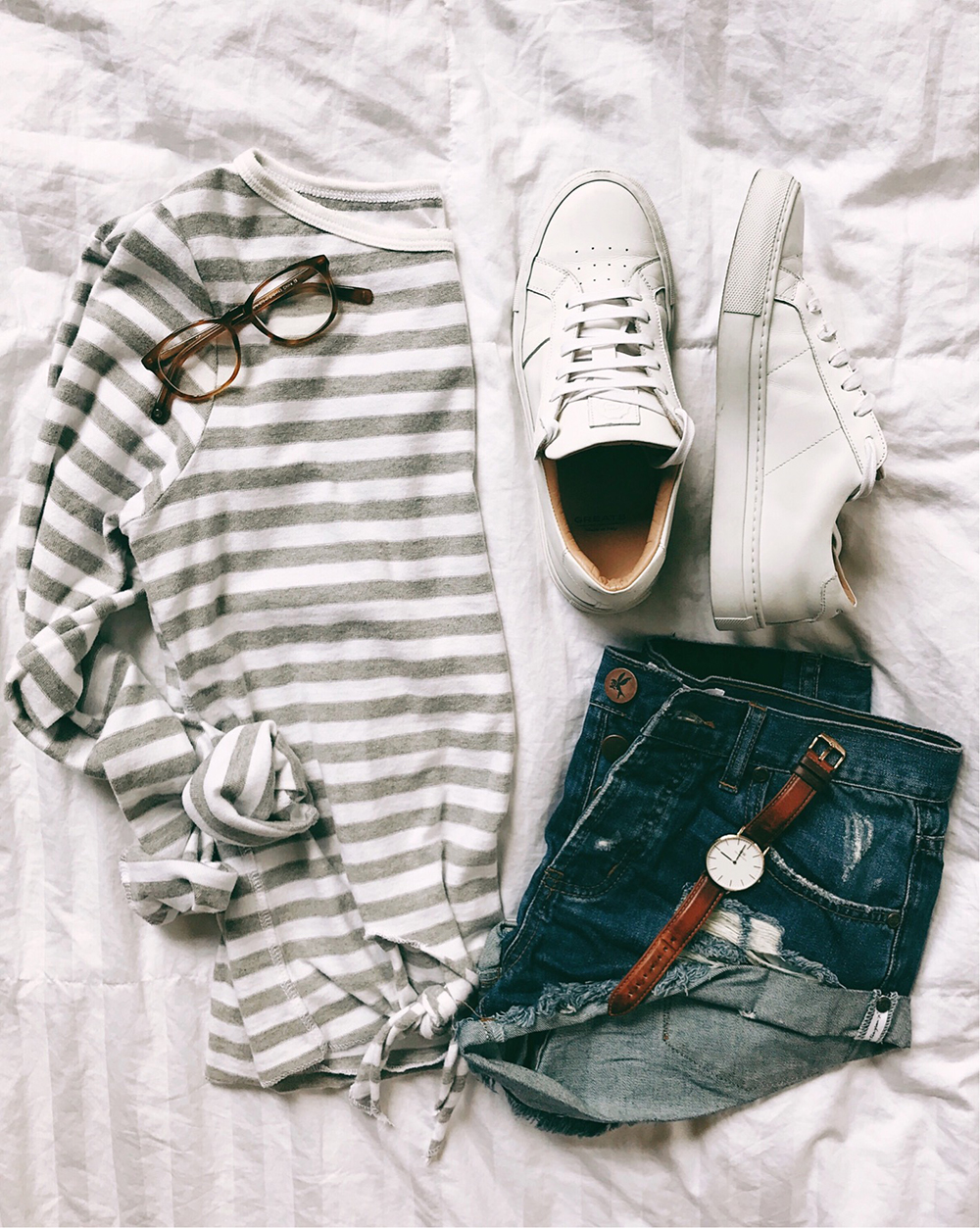 I received so many questions about my white leather sneakers while in Scandinavia, so today I'm sharing my exact shoes and four other awesome white sneaker options for y'all!
You can't go wrong investing in a cute pair of neutral sneaks, they go with EVERYTHING! Trust me, I didn't think I'd end up wearing mine as often as I did on our trip, but I am so glad I brought them along because they quickly became a daily go-to for me. I LOVE that they're leather, too – it adds a fashion forward update to a standard pair of white sneakers, definitely recommend a pair!
1. GREATS (the ones I have!): This brand is truly…great! Sorry y'all, had to.. 😉 But in all seriousness, these shoes are SO cute and add that effortlessly cool vibe to any outfit. From shorts (as seen above) to jeans and a trench coat (like in this Instagram post), these are total knockout purchase!
2. VANS: I will forever be an advocate for this brand – so timeless, always cool and playful and the best part – SO affordable! I own three pairs of Vans now and won't be stopping any time soon!
3. ADIDAS: The trendiest shoes of the moment…and for good reason! Cool, comfy and affordable! Throwback to our 90s days, rocking sneakers with slip-dresses and a denim jacket.
4. GOLDEN GOOSE: Okay, so these are a higher price point (definitely an investment!), but if you wear sneakers often…these may be worth it for you! They're that perfectly worn, everyday look…totally on my wish list. I went into a store that carried these in Stockholm and Blake basically had to pry me away from the display haha, they're GORGEOUS and super comfy!
5. STEVEN: Sooo, I wasn't quite sure how I'd feel about espadrille sneakers, but then I saw these online and was like "ohhh yes, need those!" To stick with the leather sneaker theme, I'm featuring this pair…however, in the end I scooped up the canvas version (equally cute for summer!). Both are adorable!
striped top – REVOLVE / shorts – ONE TEASPOON (size down, they run big!) / glasses – WARBY PARKER