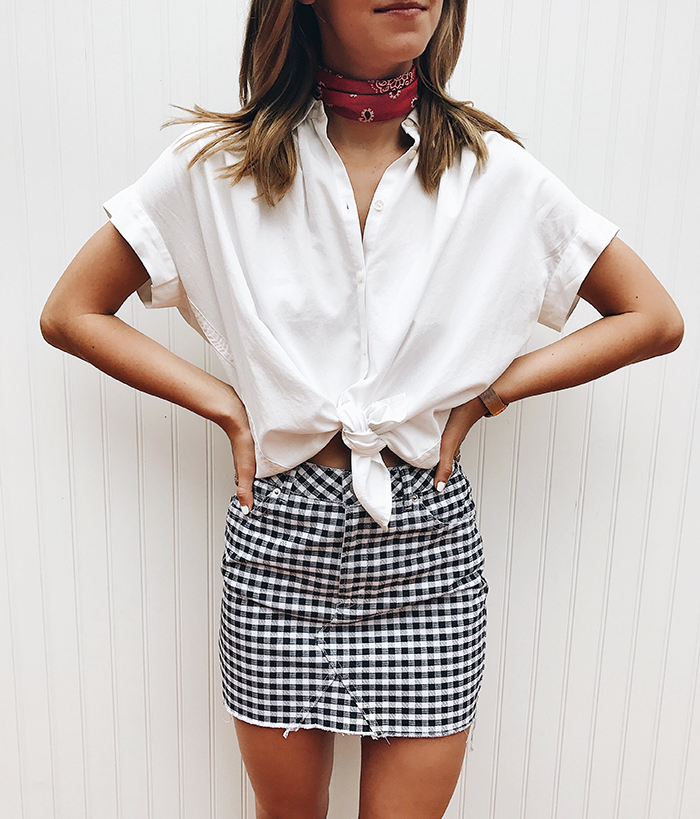 The one print that just screams summer: Gingham! My love for stripes is pretty darn fierce, but once those summer months approach, I find myself gravitating towards all things gingham. Skirts, tops, swimsuits, shoes…you name it, if it comes in this darling print, I probably have it in my shopping cart or on my wish list! Excited to share 5 favorite gingham pieces to kick your summer wardrobe into high gear…
1. Topshop Gingham Mini Skirt: Obsessed is too weak a word – this mini is literally PERFECTION. Ultra flattering, affordable, comfortable…you need this in your life, just sayin'. 😉
2. Pom-Pom Off Shoulder Top (just $35!): I am a sucker for off-shoulder tops, but when you add a fun print and some pom-pom trim…just go ahead and swipe my credit card already, ha! This top is precious and I love it tucked into high rise shorts with some little sandals, or tucked into a denim mini skirt with a a pair of low block heels. Super versatile and you can't beat that price!
3. J. Crew Gingham Bikini OR Solid & Striped Yellow Gingham Bikini: I'll keep dreaming of a mediterranean coast backdrop for these two adorable swimsuits…seriously how stinkin' cute are these?!
4. Cold Shoulder Gingham Romper: I know I keep using words like "cute, adorable, darling…" to describe today's 5 pieces…buuut really, how "cute, adorable, darling" is this romper?! Can't help myself. 😉
5. Anthropologie Gingham Sandals: If you want to add an accent print to your everyday look, consider a pair of gingham sandals! How precious would these be with a little red dress for date night? Love them!
SKIRT (wearing size US4) / TOP (wearing size XS) / BANDANA