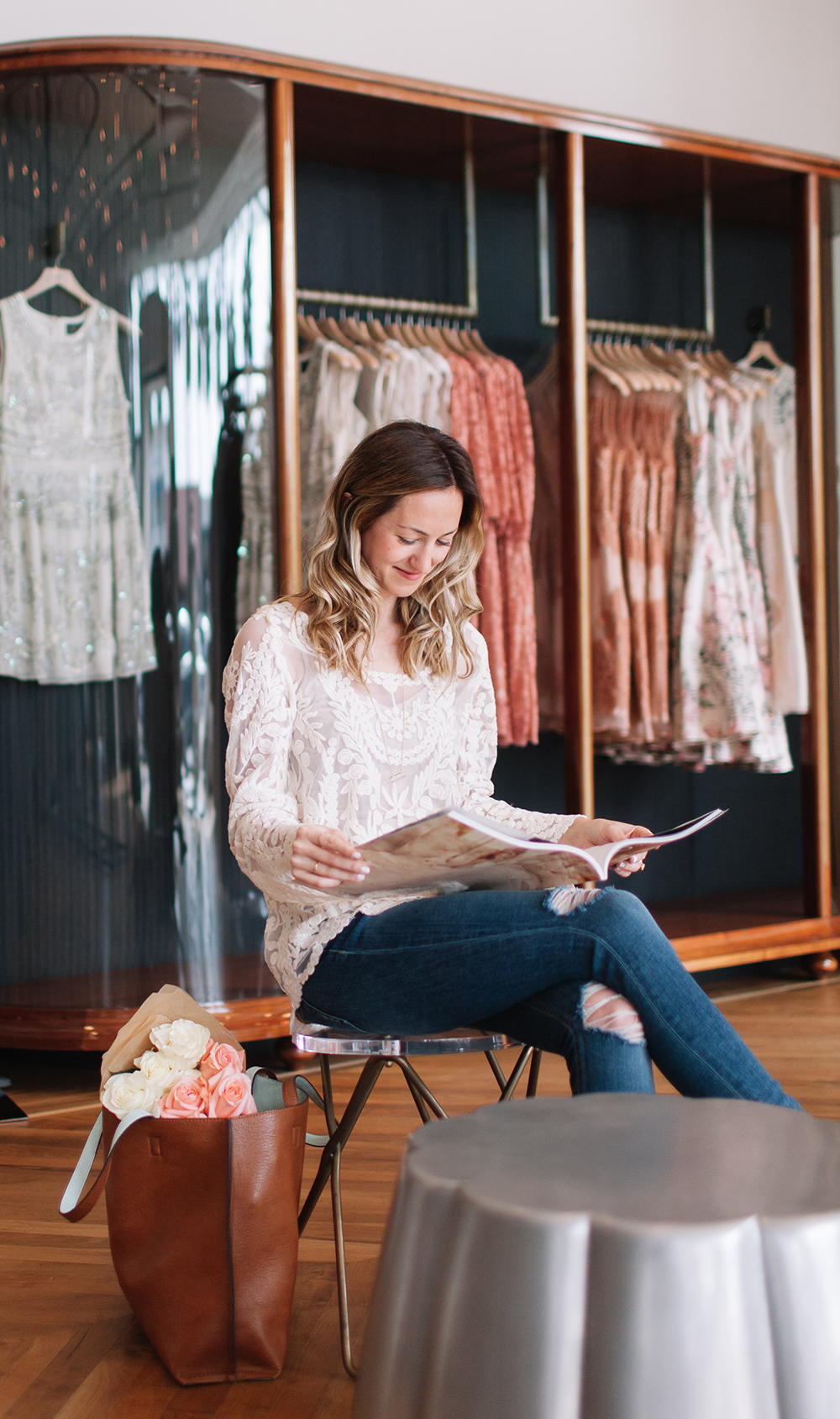 Hi gals! Eek, I could not be more excited to finally share my wedding dress shopping ins and outs with you! After an iffy start to dress shopping in Austin (let's just say I had no idea what I was getting myself into!), I finally found THE bridal salon that felt right and had a selection of dresses that was definitely more suitable for my style and what I had in mind for our "big day" – at BHLDN in Houston! BHLDN is Anthropologie's bridal boutique…hence the stunning storefront and perfectly whimsical, lovely vibe of not only the dress selections, but the decor, too. Needless to say, I felt right at home in this store!
Given that I'm in Austin, my mom and I actually made an appointment at BHLDN a few months ago and took a little weekend road trip (it's a 3-hour drive) to stay with my aunt who lives in Galveston (a little beach city about 45 minutes from Houston) and made plans to enjoy a relaxing girls weekend together and of course, head over to BHLDN for my appointment on a Saturday afternoon. (Ps. Make your appointment weeks in advance, this store fills up quick!!). It was so nice for my aunt to come along, too, we had THE best time and our first bridal associate, Paige, was such a gem and so helpful along the way! (Seriously…get us gals sipping champagne during a sappy occasion such as wedding dress shopping = we were in for a good time, ha!). It was during this appointment that I found THE dress of my dreams – happy tears, hugs and all that good stuff ensued once I made my choice!
SHOP THE DRESSES
SHOP THE ACCESSORIES
SHOP DECOR
A big thank you BHLDN for sponsoring this post! All opinions are my own.