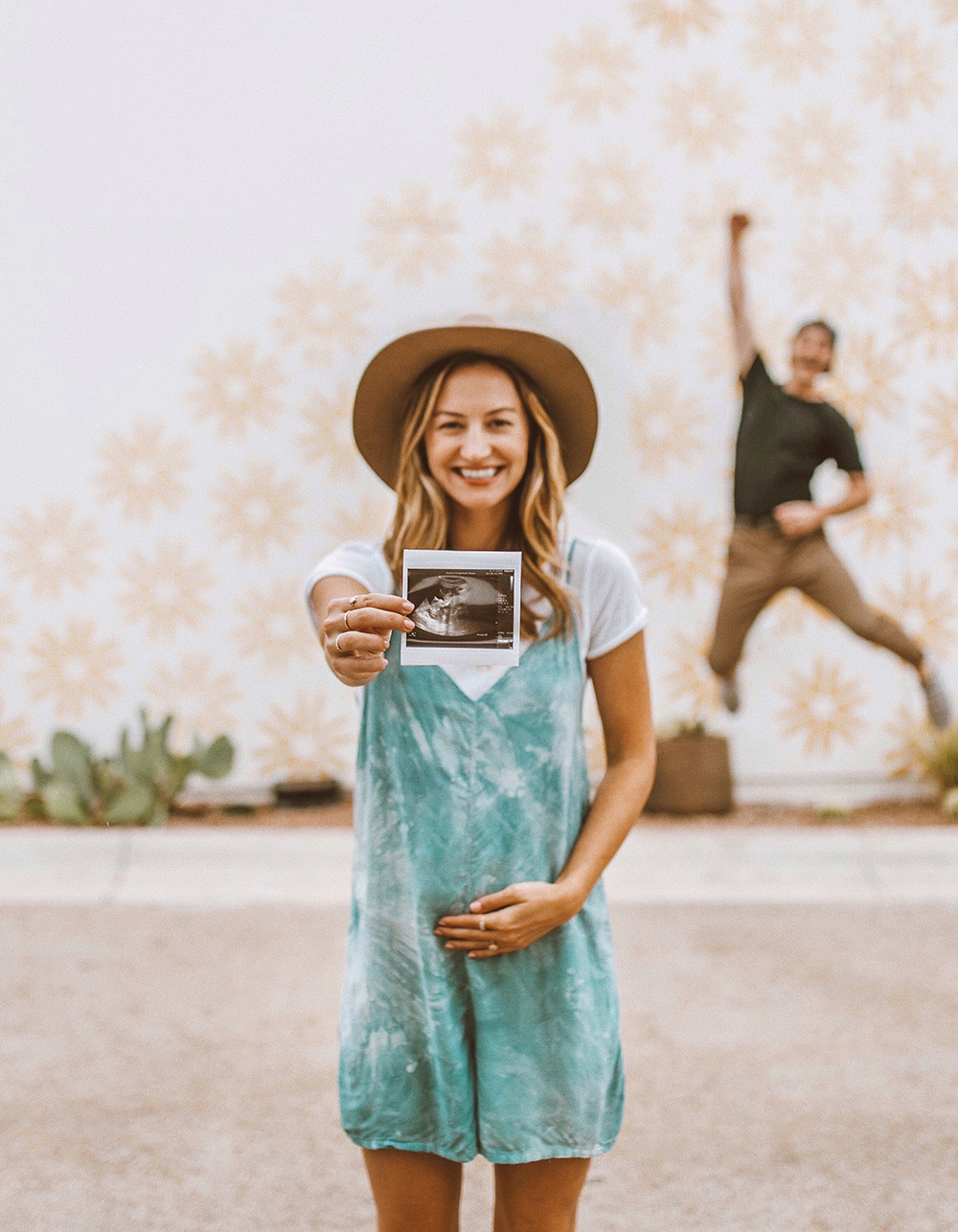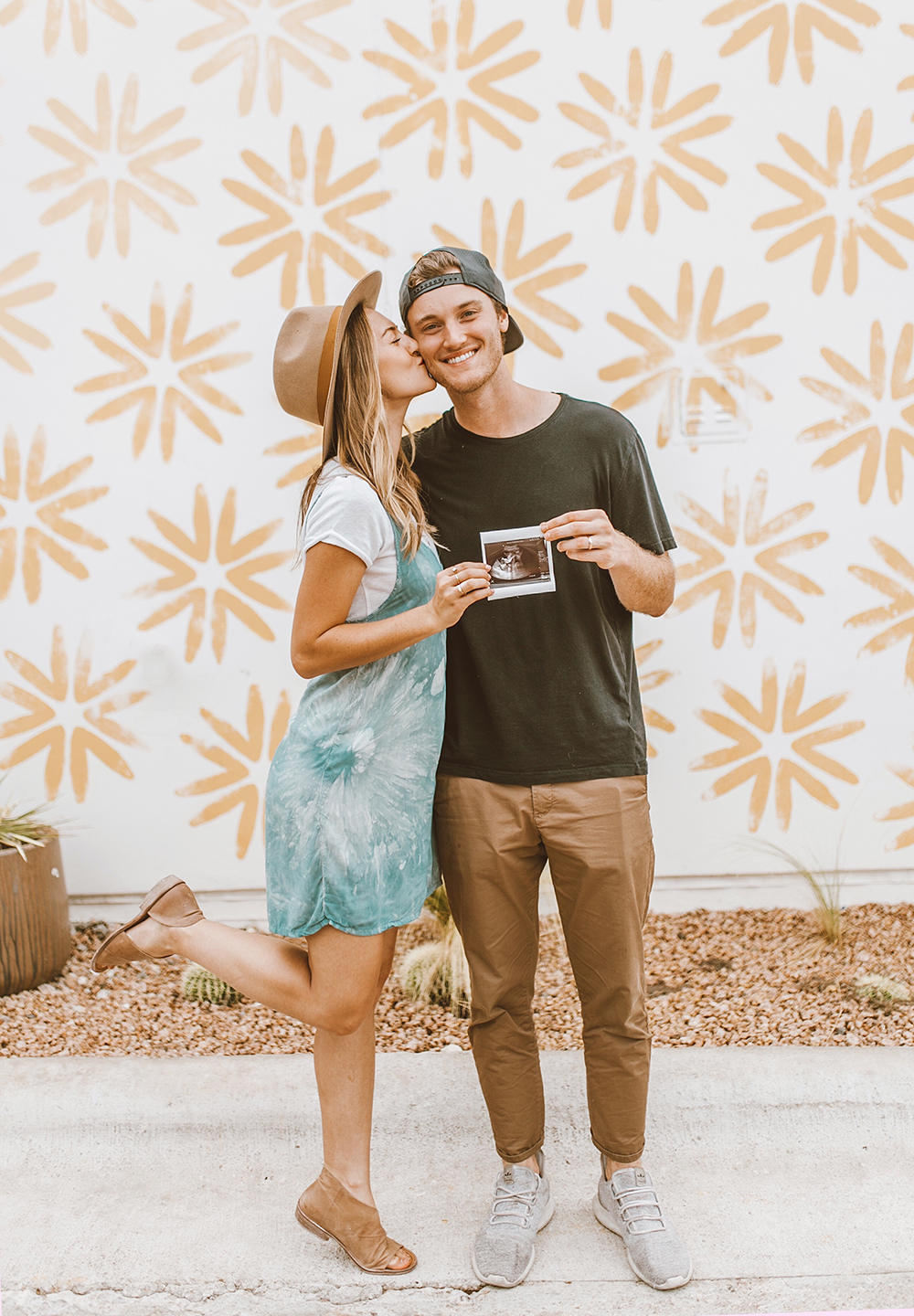 We've got a little (okay…a BIG) secret to share with y'all…we're having a BABY! On June 14th, our lives changed forever when we found out some very exciting (and surprising!) news. To say the last few months have been an emotional roller coaster would be extremely accurate haha – I have never been so happy/excited/nervous (insert all the feelings) in my entire life to know that Blake and I are creating a tiny human together. It's been crazy to watch my body change, our conversations go from work banter to discussions about how we want to raise this child and the good we want to instill in him or her.  We are welcoming this next chapter with open arms and grateful hearts!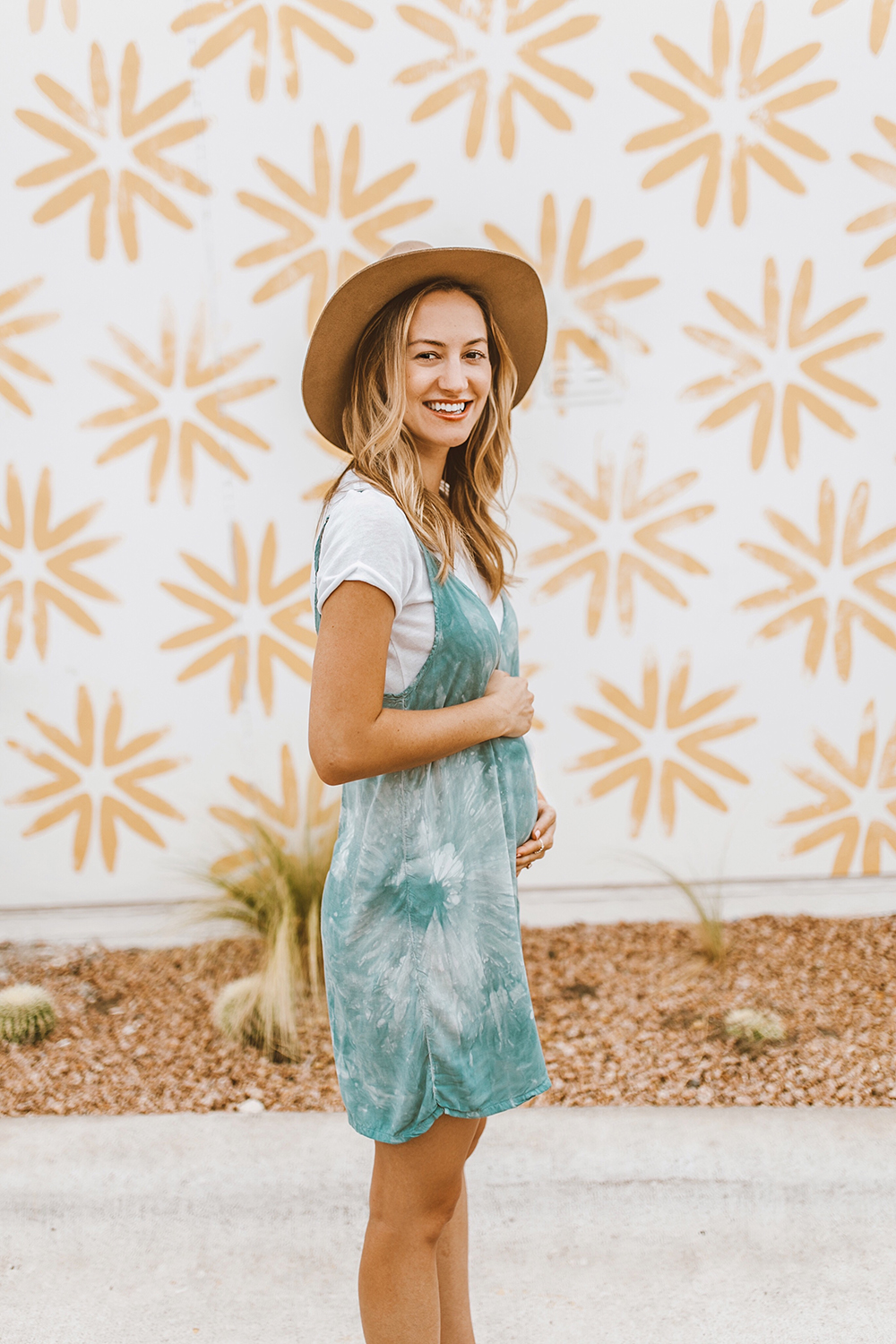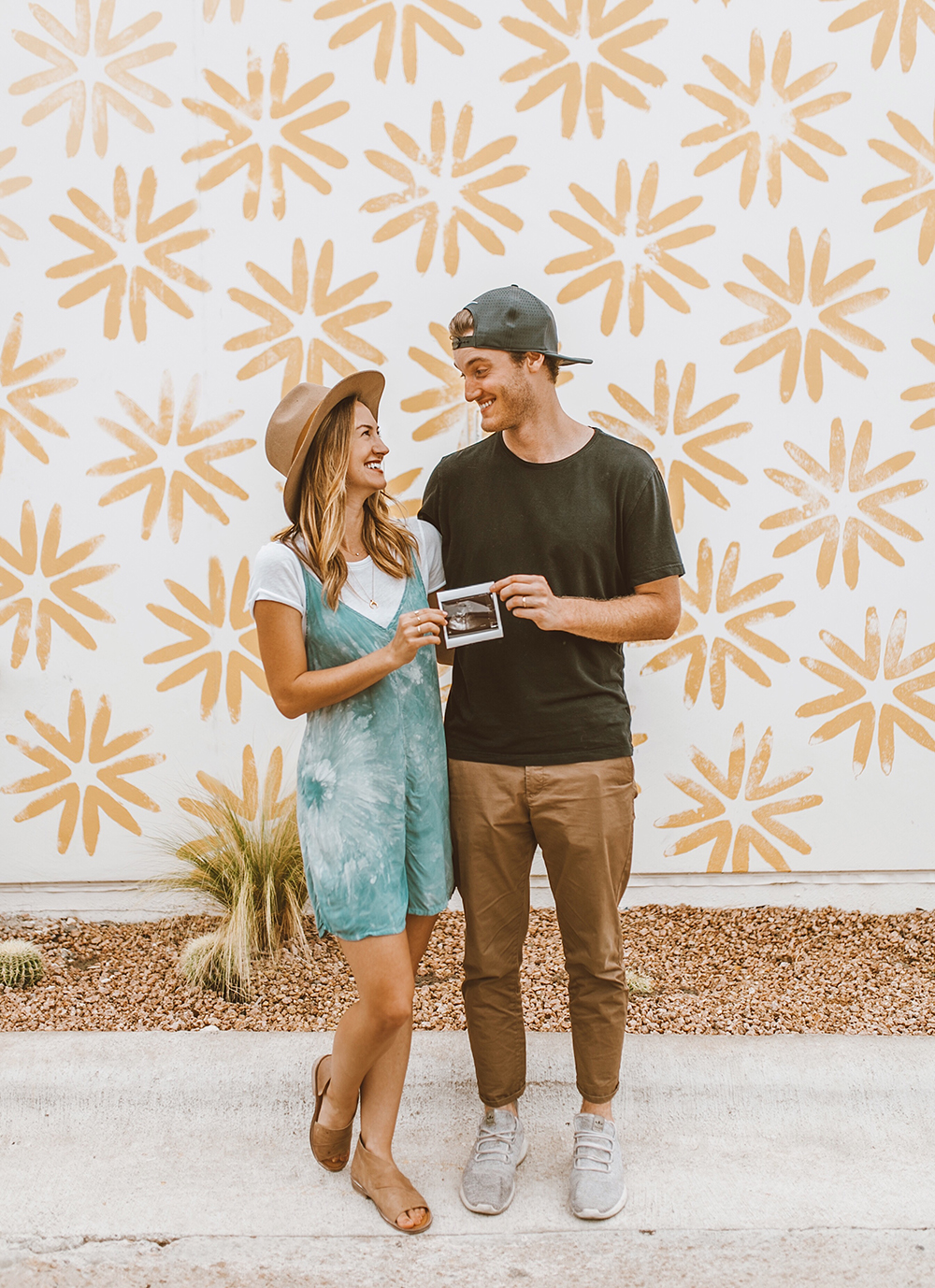 In early June, I had noticed my stomach was feeling a little funky – sort of a mix of bloating and cramping…so I was fully expecting to start my period as normal. I was hanging out with my sister, Kimberlee, and was hunched over holding my stomach when she asked if something was wrong. I didn't even notice I'd been standing that way! I told her how I was feeling and that I should be starting my period sometime that week, but she recommended I take a pregnancy test just in case. So! I went home, peed on that fateful stick and sure enough, before I could even set it on the countertop, it read "PREGNANT" within seconds. I immediately started bawling (…tears of shock…more like "but wait, I had planned to travel to this country and do this work project and OMG I have to give up wine…!" haha ah! Woah is me, right?) and grabbed my phone to call my sister and tell her the news. I was sobbing so hard I couldn't breathe and she asked, "OLIVIA DID WATSON DIE?!" Haha! I was in such shock that she thought something happened to Watson! After a few deep breaths, I was finally able to tell her the test read positive and she was extremely comforting (she's a mom to two perfect angels) and told me it will all fall in to place – it's meant to be, the timing is perfect and this little bundle will be the best thing to ever happen to us. Instantly, I was so excited about what our future had in store. The thought of a little human that's 50% Blake, 50% me is SO CRAZY and absolutely incredible. It'll be amazing to watch Blake be a dad (gah, I get teary eyed just thinking about that one!), and becoming a mom is something I have always wanted. We're ready for our whole world to change in February 2019!
I found out on a Friday (it was actually two days before Father's Day, funny enough), and so after talking to Kimberlee, I went and bought another pregnancy test pack (…all positive, three for three) – then started thinking about how I wanted to tell Blake. (This was the fun part haha, now that the shock had been replaced with giddy joy!). Blake always wears the same Adidas sneakers (he has them in all the colors haha, not even joking!), so I went and got the baby version of those (omg baby shoes…holy crap are they SO CUTE) and picked up a funny Father's Day card. I wrote a bunch of sappy stuff in the card, then placed one of the pregnancy tests inside the envelope before sealing. When he got home from work I was sitting on our bed and asked him to come and talk with me. At first he didn't suspect anything and we just chatted about our day as normal (my poker face must have been really good haha!)…then I said I had a surprise for him and handed him the card first, then the shoes. He didn't even pull out the full card before he saw the front said something about Father's Day and he immediately dropped it on the bed and pure shock fell across his face, he kept saying, "Are you serious? Wait, are you serious?!" haha!! Then we both started crying and hugging and it was so wonderful and crazy and ah, quite an emotional, happy moment.
As of this week, I am 14 weeks along and Baby P is the size of a peach! Not sure if you've noticed, but I've been wearing a LOT of rompers and jumpsuits lately on my Instagram feed. As y'all know, I am a jeans and tee girl through and through but most of my denim are non-stretch, high rise Levi's…which means I can't even zip them up…let alone get them over my thighs (pregnancy is WILD how it changes your body all over…even early on!). Thus, when I'm not wearing the same romper 5 days a week (apparently I need to start investing in dresses a little more haha), I am 100% in sweatpants at home. That whole "these sweatpants are all that fits me right now" quote from Mean Girls is literally my life at the moment haha! Thankfully, I ordered some maternity jeans this week, so I can finally feel a little more like myself again once I get those. I'll of course keep y'all updated on all the pregnancy style to come! 😉
Ohh it feels so good to finally share this giant secret with y'all!! It's been really fun and sweet to relish in this special time with close friends, family and Blake, but I have been so thrilled that THIS was the week I was sharing it with you guys! Truth be told, I barely slept last night knowing I was going to write this post today…I love what I get to do everyday and I love sharing bits and pieces of our life with you guys and hearing about yours and how we all relate. It keeps me motivated and excited to do what I do each day! So – a big thank you for stopping by to read this post, it means more than you know.
Lastly, I wanted to share our full story because my blog is a space where I can share personal thoughts and chronicle big moments like this one. I fully understand that people become parents in a myriad of ways and there is no right way – planned, unplanned, adoption, In Vitro – you name it, they are all beautiful and special!
I'll share a first trimester update next week (my sister is working on a super cute illustration!), so stay tuned for that one. Cravings, fatigue, body changes, insatiable appetite (omg this is SO real!)…we'll cover all that good stuff! 😉
Big hugs and belly rubs (doing this non-stop over here!), XO
Olivia