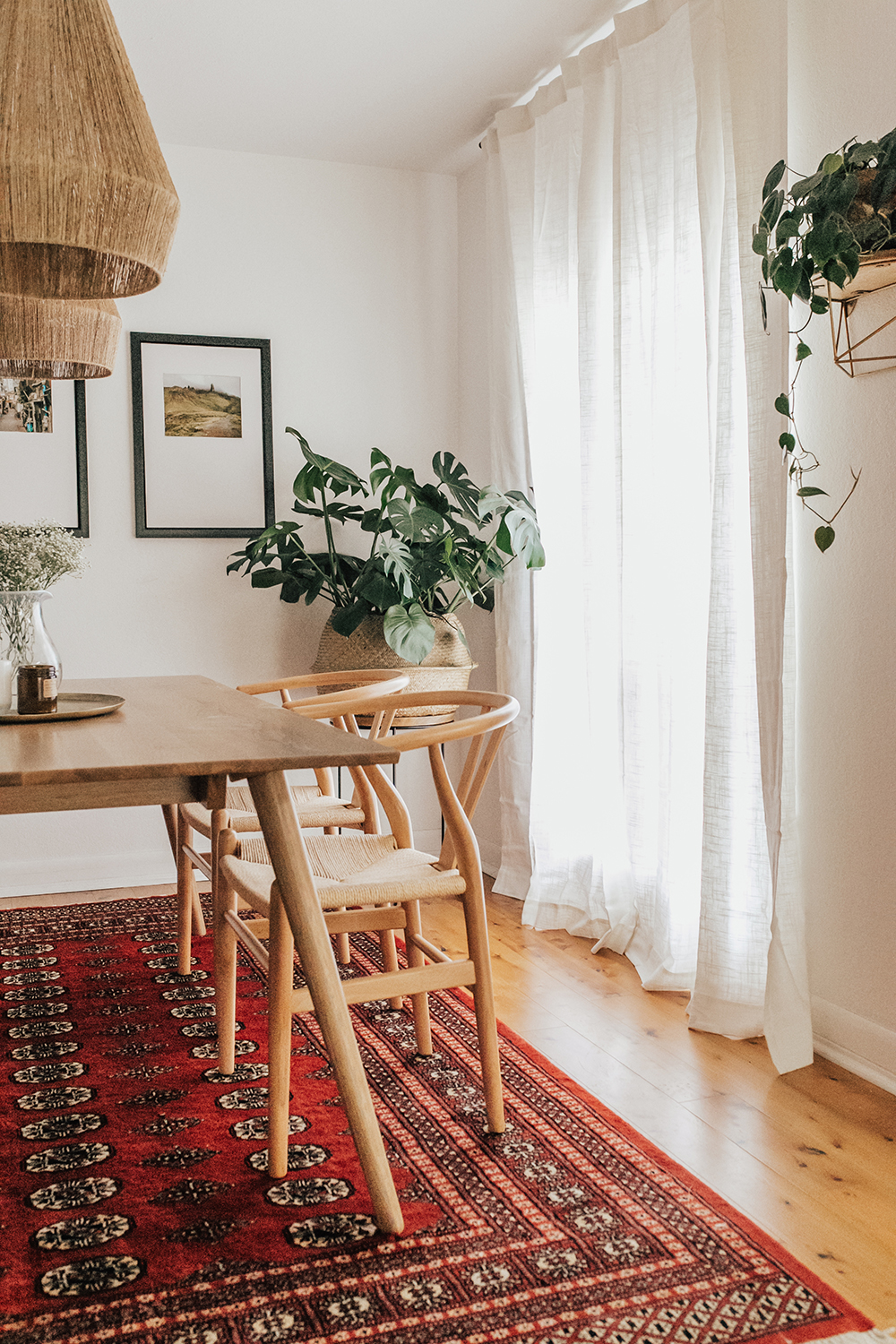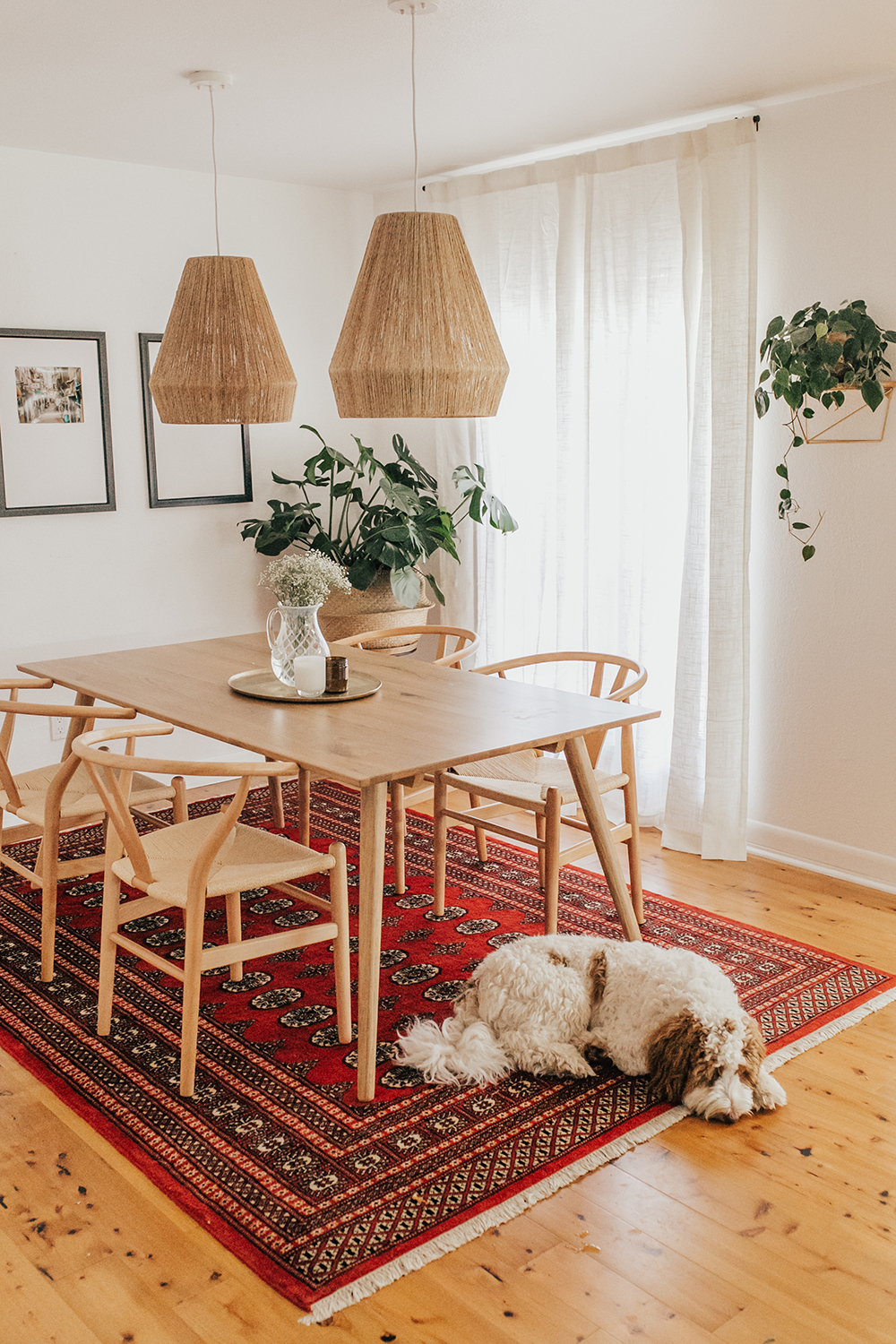 If there's one feeling I have come to love (like really…LOVE), it's the feeling of a completed room. (You know…that moment when you get to look at all your hard work and take a big, deep breath of relief as you grin from ear to ear…that's the feeling I'm referring to…). Our dining room has been in the works for over a year, and after making a few major adjustments (I swapped out our old table and chairs for the beauties in this post…but more on that shortly!) we finally had a few travel photos framed, potted our plants, put up some shelving and topped it off with statement light fixtures and some linen curtains. The overall vibe of this space is "modern bungalow" (….which is what I kept in mind as I shopped for pieces – I always like to use a "mood descriptor" to refer back to when buying items), and I think we totally nailed it! Well…at least it certainly feels cozy and calm with the rug, plants and wood combination, but with a modern twist given the mid-century look of the table and chairs. Needless to say, Blake and I are very happy to sip our coffee here each morning and chat about the day ahead.
Ps. Watson was actually a total ham during this shoot – there were no treats involved, ha! He just willingly really wanted to lay on that freshly vacuumed rug haha!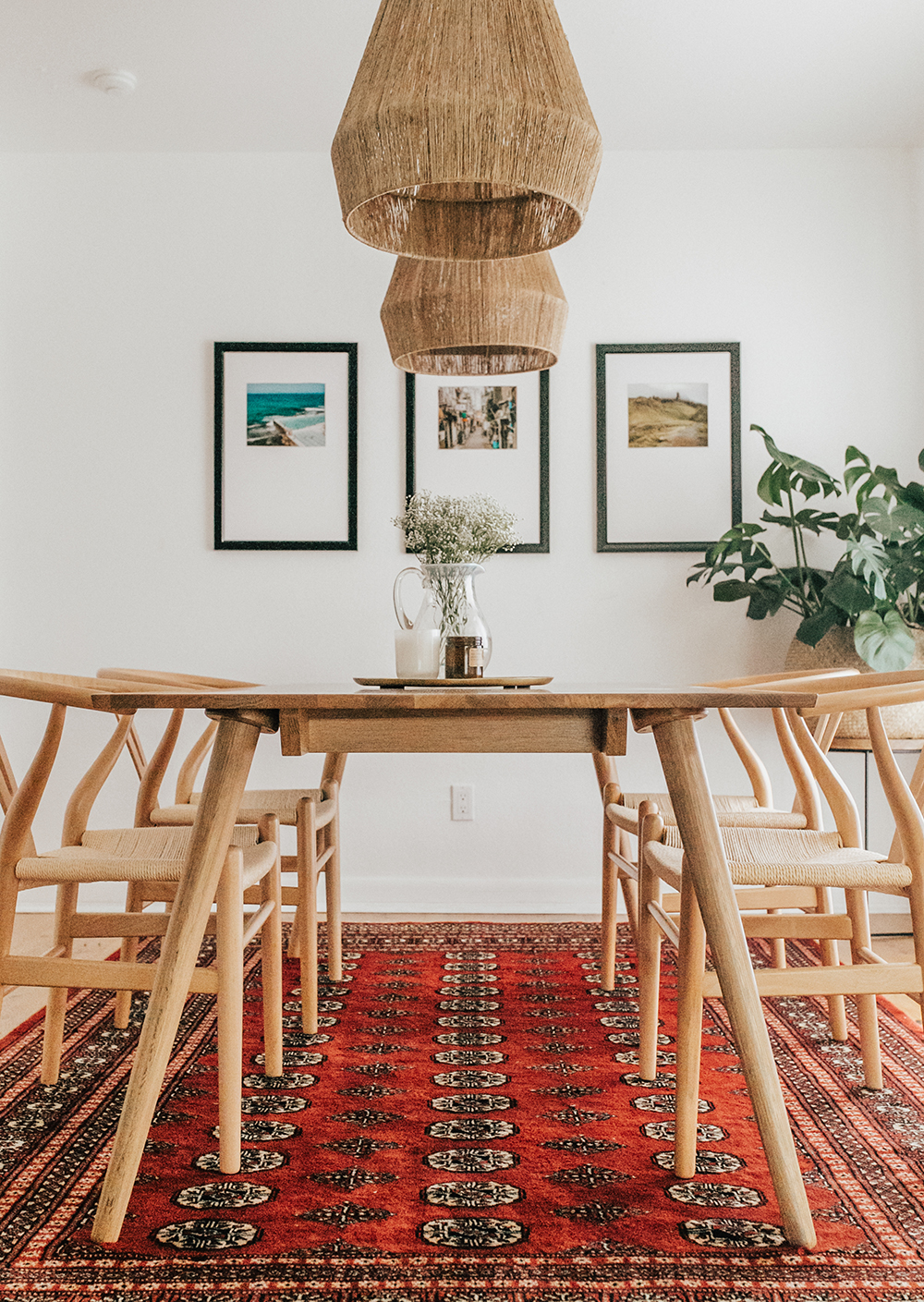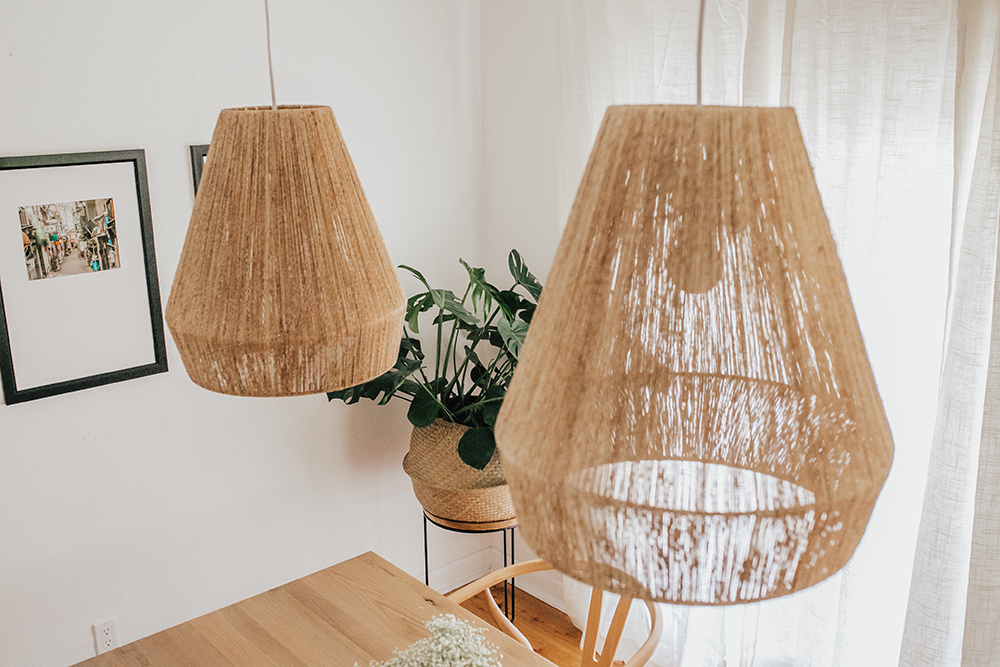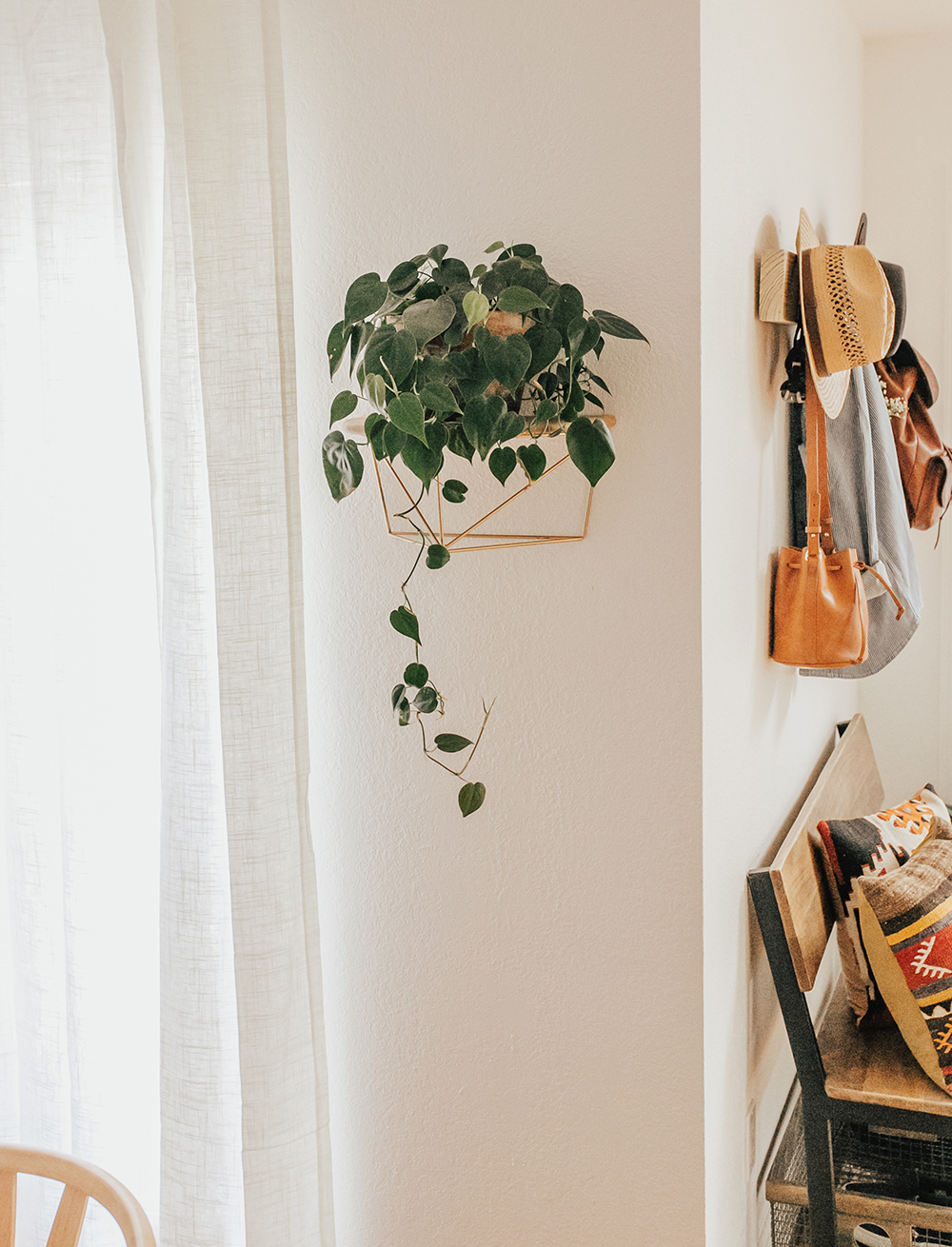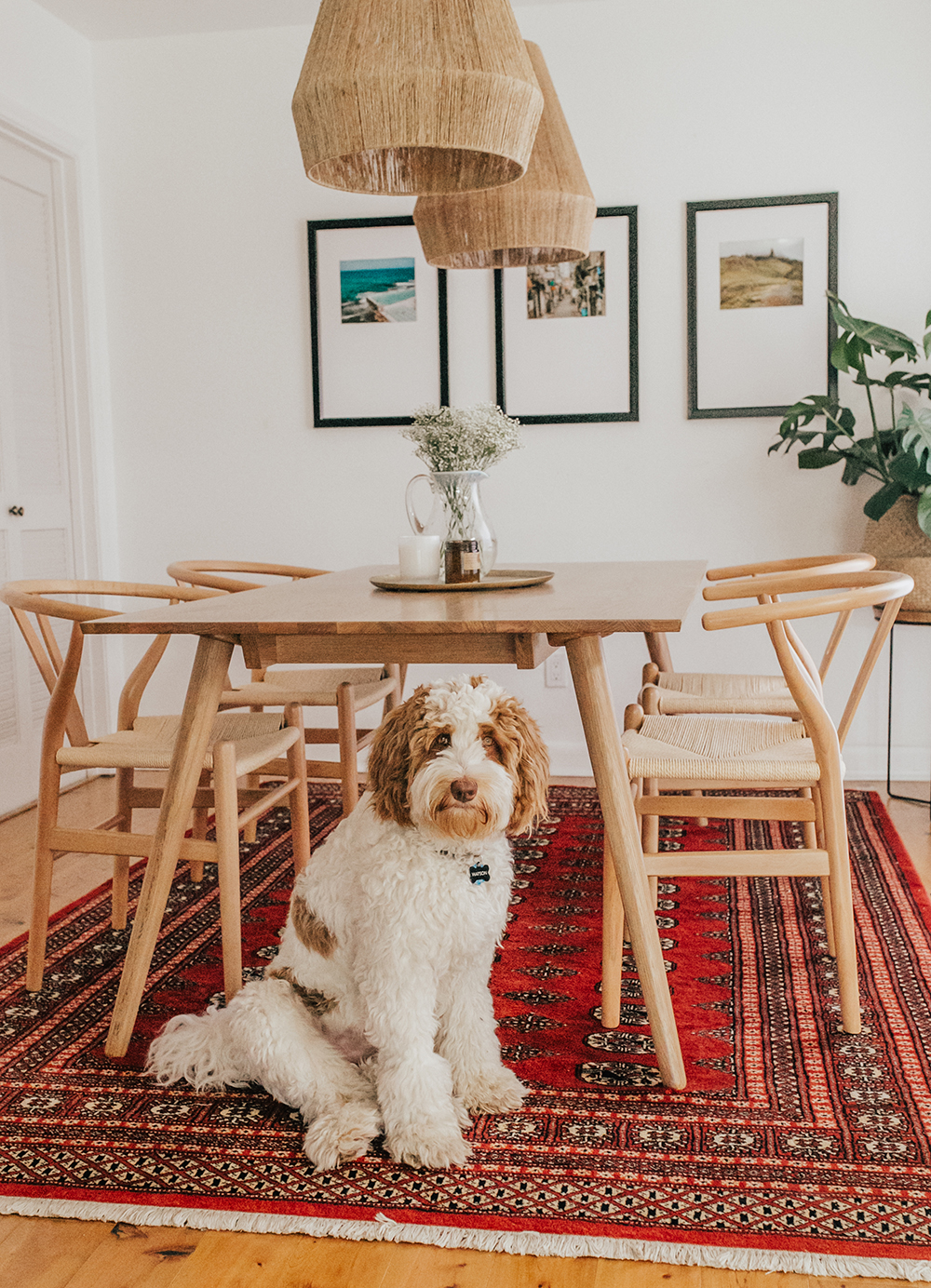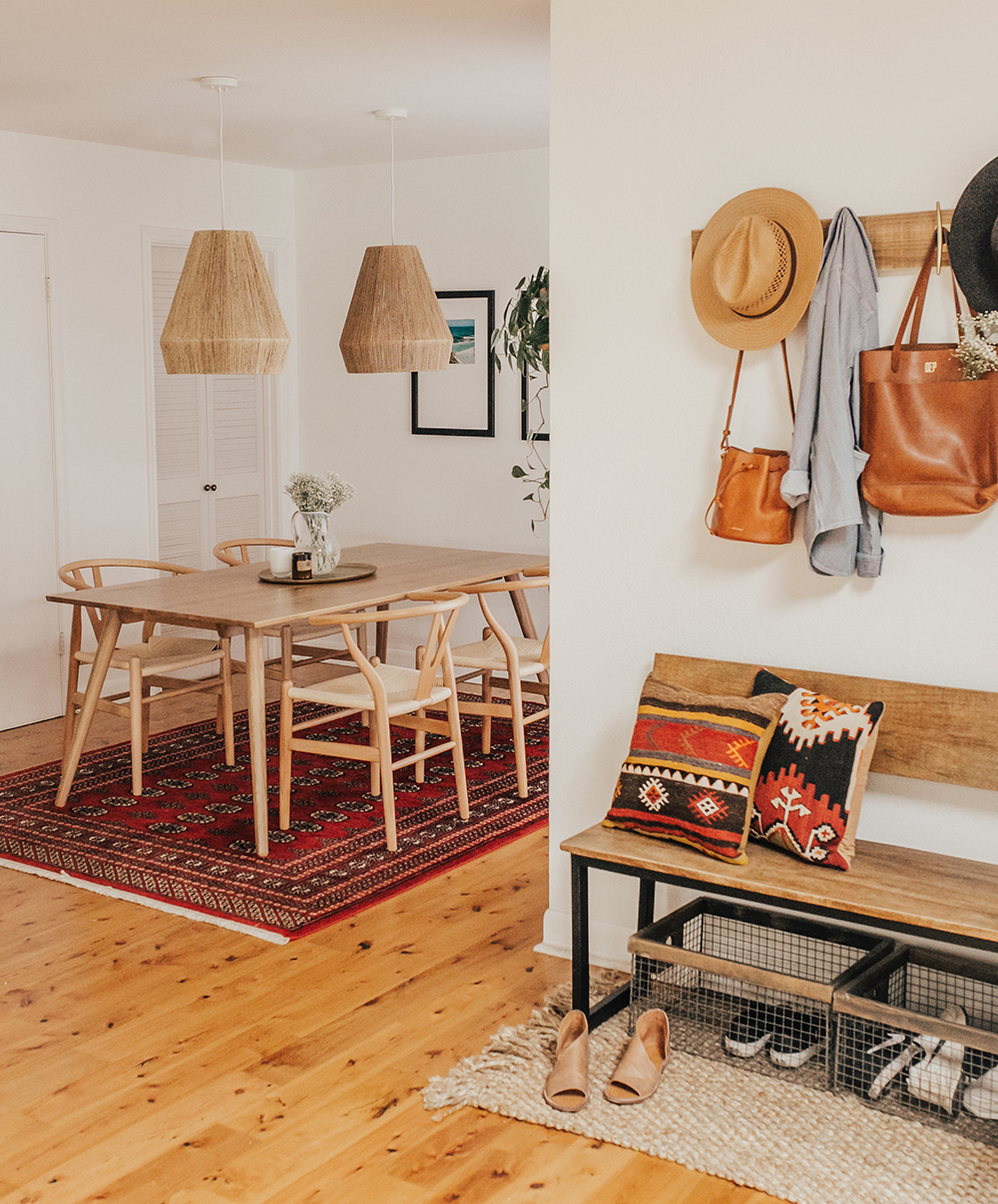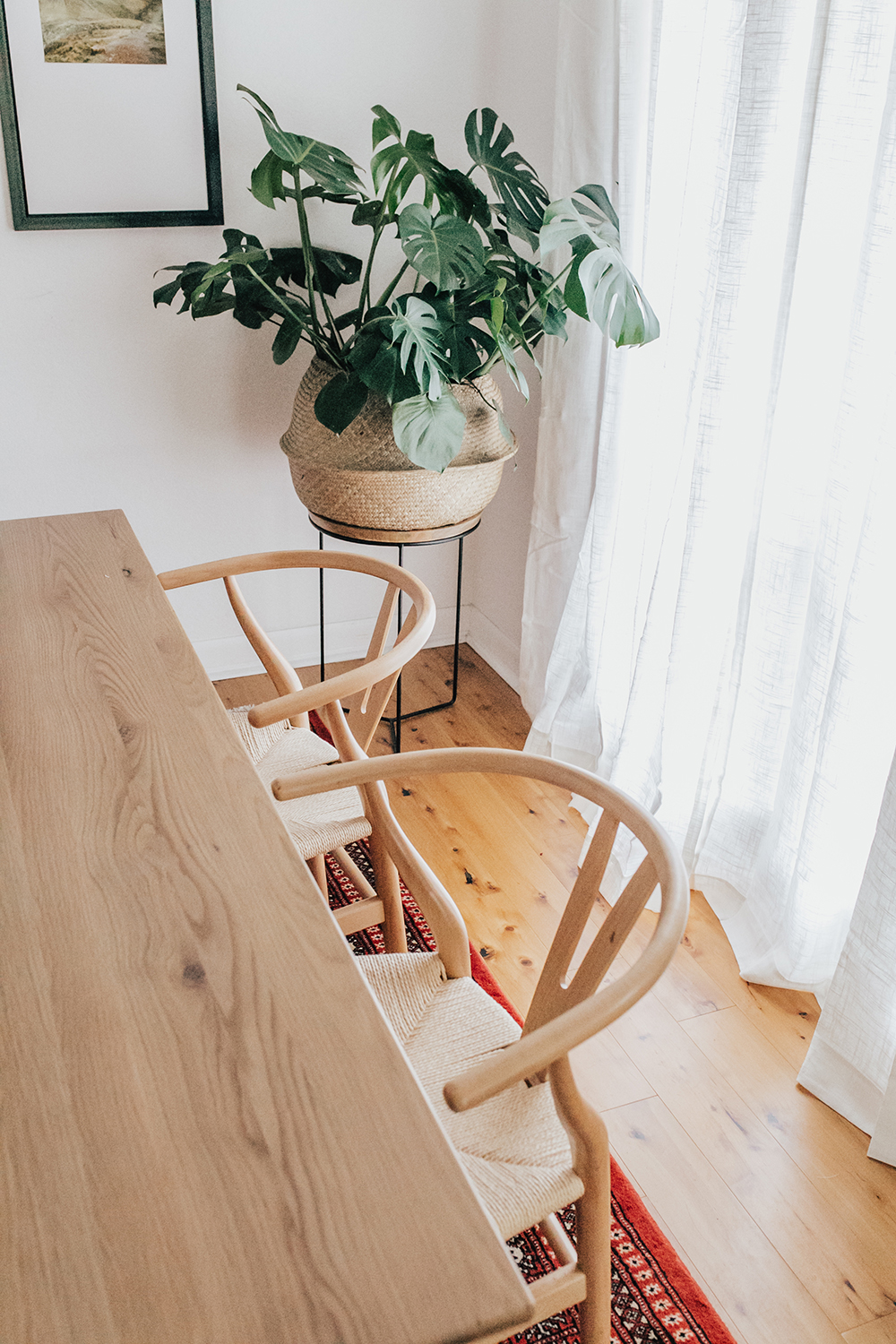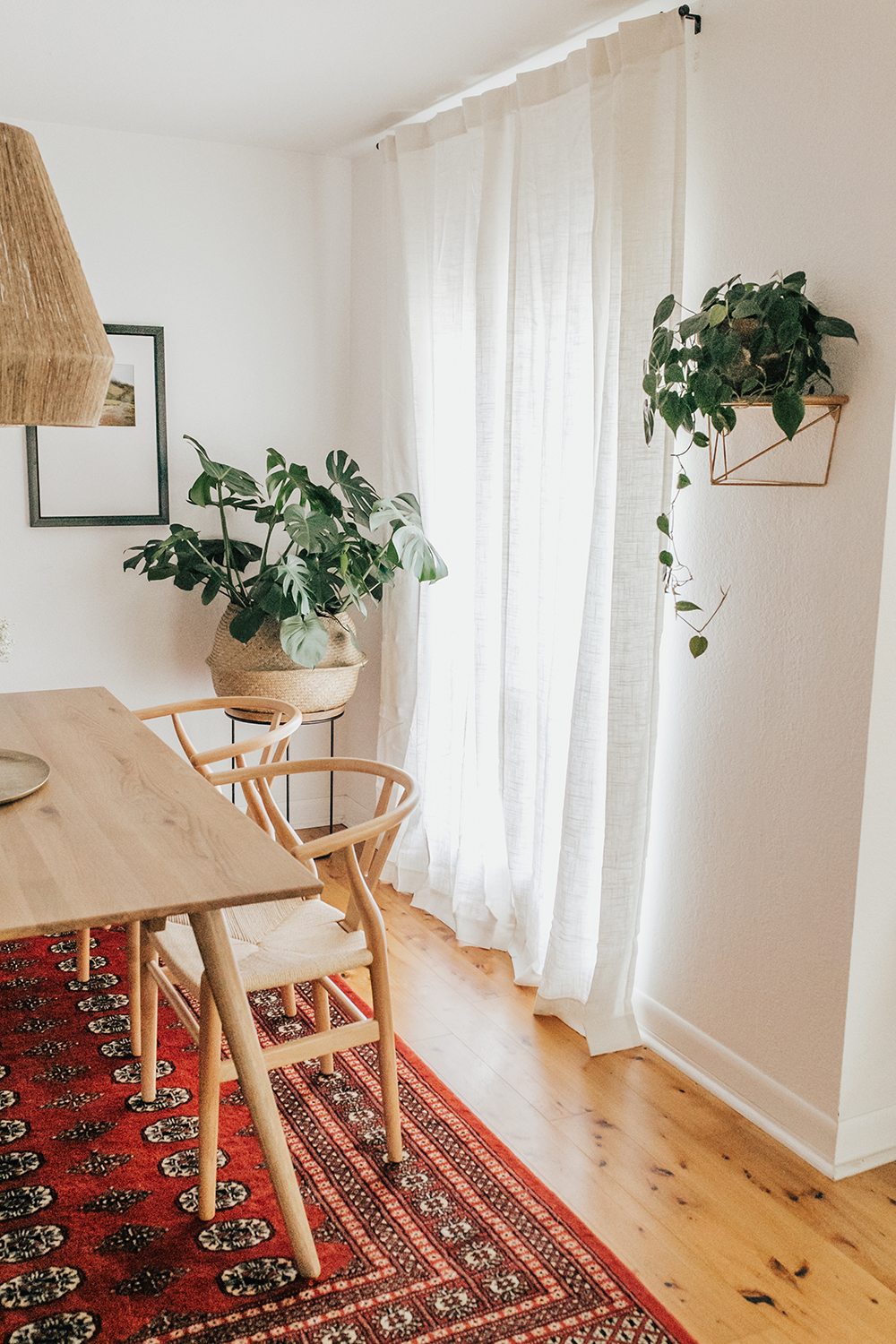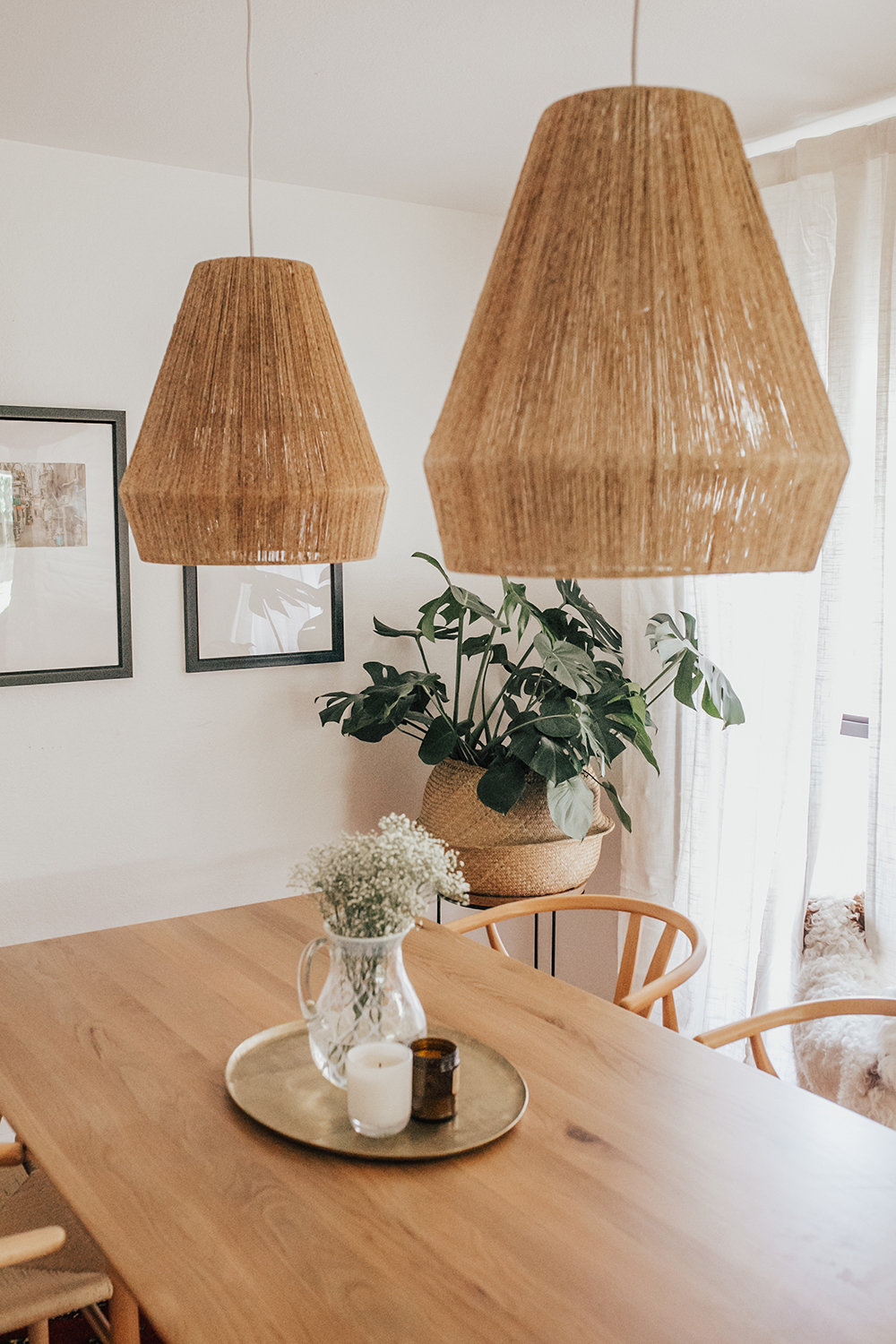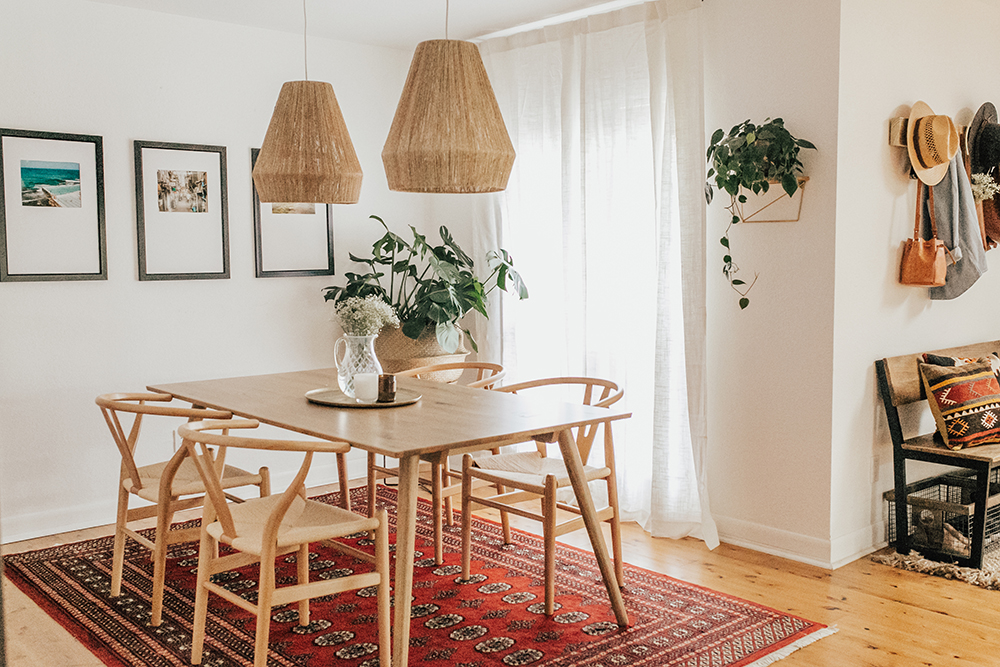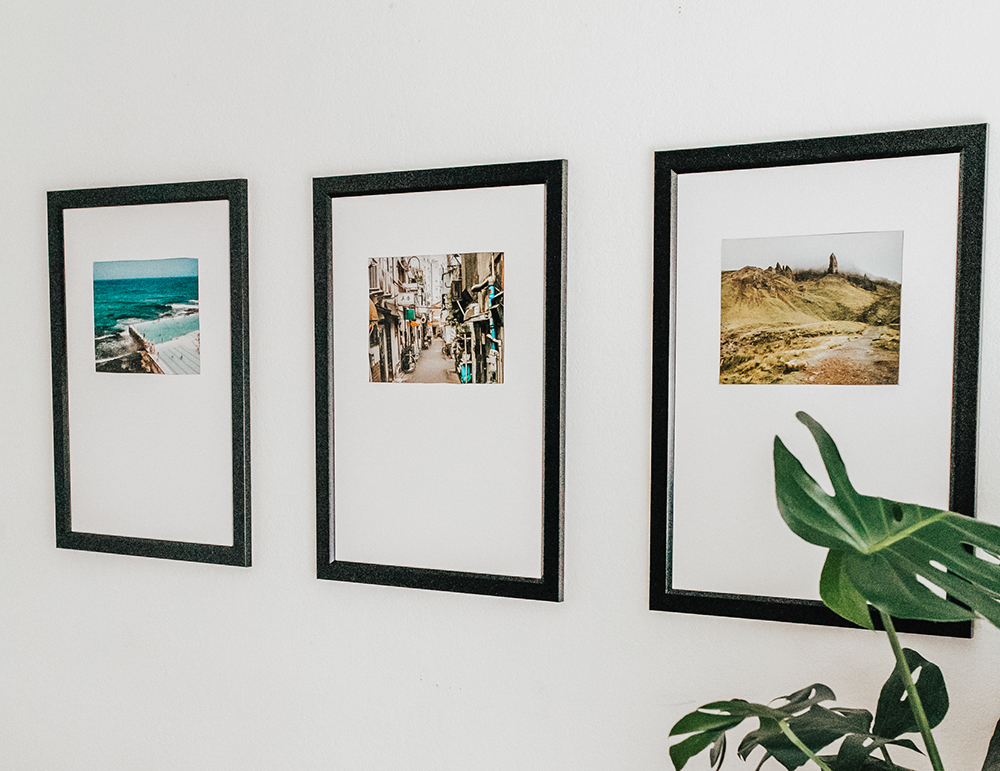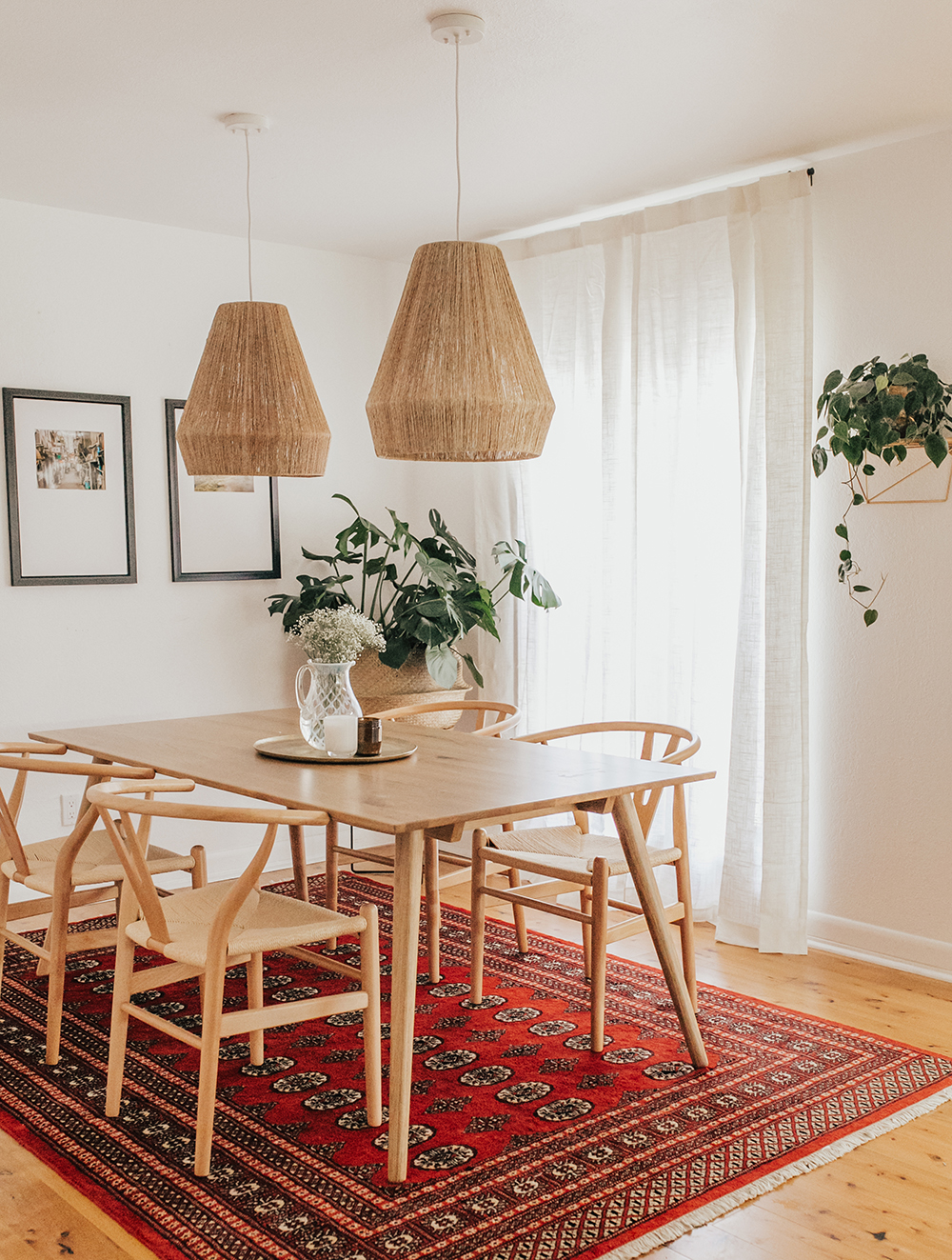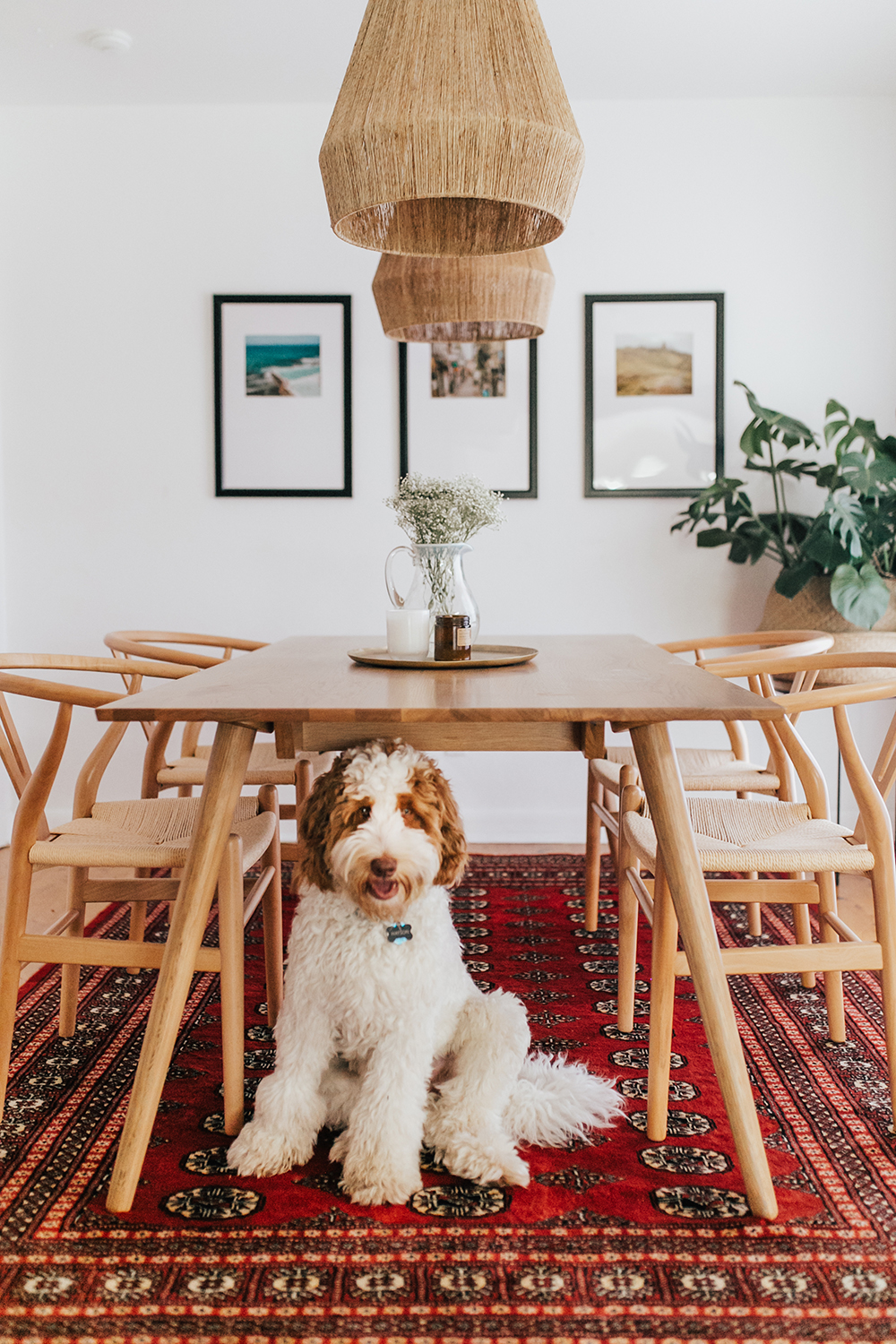 If you've followed me for a while, you might remember that our old table and chairs were more industrial (see this blog post for reference) – they were dark in color with metal hairpin legs. I love this vibe when I go to coffeehouses, but it just felt a little too masculine for my liking in our home. After deciding to change out the chairs and go with something light and airy (like these…swoon!), the next bullet point on my list was to find a table to match. It took a few months of browsing online and at different stores around town, but I finally found this STUNNING table from Article.
If you haven't heard of Article before, this brand is lovely (the products, the customer service, the installation team…everything!). They're also an online-only brand, meaning that without the costs of showrooms or retail stores, they're able to offer a better value on their furniture to their customers. Seeing their furniture in person (this table is seriously solid) I'm sold on not only their prices but the quality of their pieces, too.
Speaking of, their selection is so versatile and timeless. I feel like if we get the itch to change this room over time, this table can easily be paired with French style chairs and a gallery wall filled with colorful paintings, etc., to totally transform the room. It's sturdy (made from solid oak), the perfect neutral color (…and omg it matches the chairs perfectly!), and the silhouette is clean and minimalist. This is my first piece from Article and without a doubt we will continue to shop with them!
After finding the chairs and table, next on the list was to change out our light fixtures. When we first moved in, the fixtures were super small and dinky (see this post for reference)…especially given the size of the room and table. I have a slight obsession with woven, wicker, rattan… you name it, that earthy and wooden look is my faaavorite, and thus, when I spotted these fixtures during a flash sale at Anthropologie, I scooped them up asap! They're pretty bold, but I think they really fill out the space nicely and create that bungalow aesthetic I love so much.
I get a ton of questions about our rug every time I post it to my IG stories – the Macy's in Austin has a Fine Rugs department and it was my first "big girl" purchase when we moved into the house last year. The colors are so rich and beautiful and it's incredibly durable. One of those special pieces I continue to cherish and will hopefully pass down to our future kiddos one day!
Lastly, the photos and prints! I saw this gallery wall style on the Frame Bridge IG feed and LOVED it. It feels less cluttered than a usual gallery wall (which of course, I love a big gallery wall, but given the big light fixtures, the space needed something more minimalist) and has a design-y look to it with the extra amount of clean white space in each frame. Blake and I did a DIY version and printed out a few of our favorite travel photos, then went to Michael's for the frames. He used a box cutter to cut the mat so that the 8×10 images would stand out. It's so fun to have wonderful memories displayed – and photos always make great conversation starters with guests, too. (Pictures are of Bondi Beach in Australia on the left, then Shinjuku Golden Gai bar district in Japan and the Isle of Skye in Scotland on the right).
We are so pleased with how the space turned out…now it's time to sit back, relax and enjoy it!
Sharing links to everything in this room below, XO.
table – (courtesy of) ARTICLE / chairs – HOUZZ / light fixtures – ANTHROPOLOGIE / plant stand – TARGET / woven plant basket – AMAZON / shelf – WORLD MARKET / rug – MACYS (similar HERE) / bronze tray – SEZANE