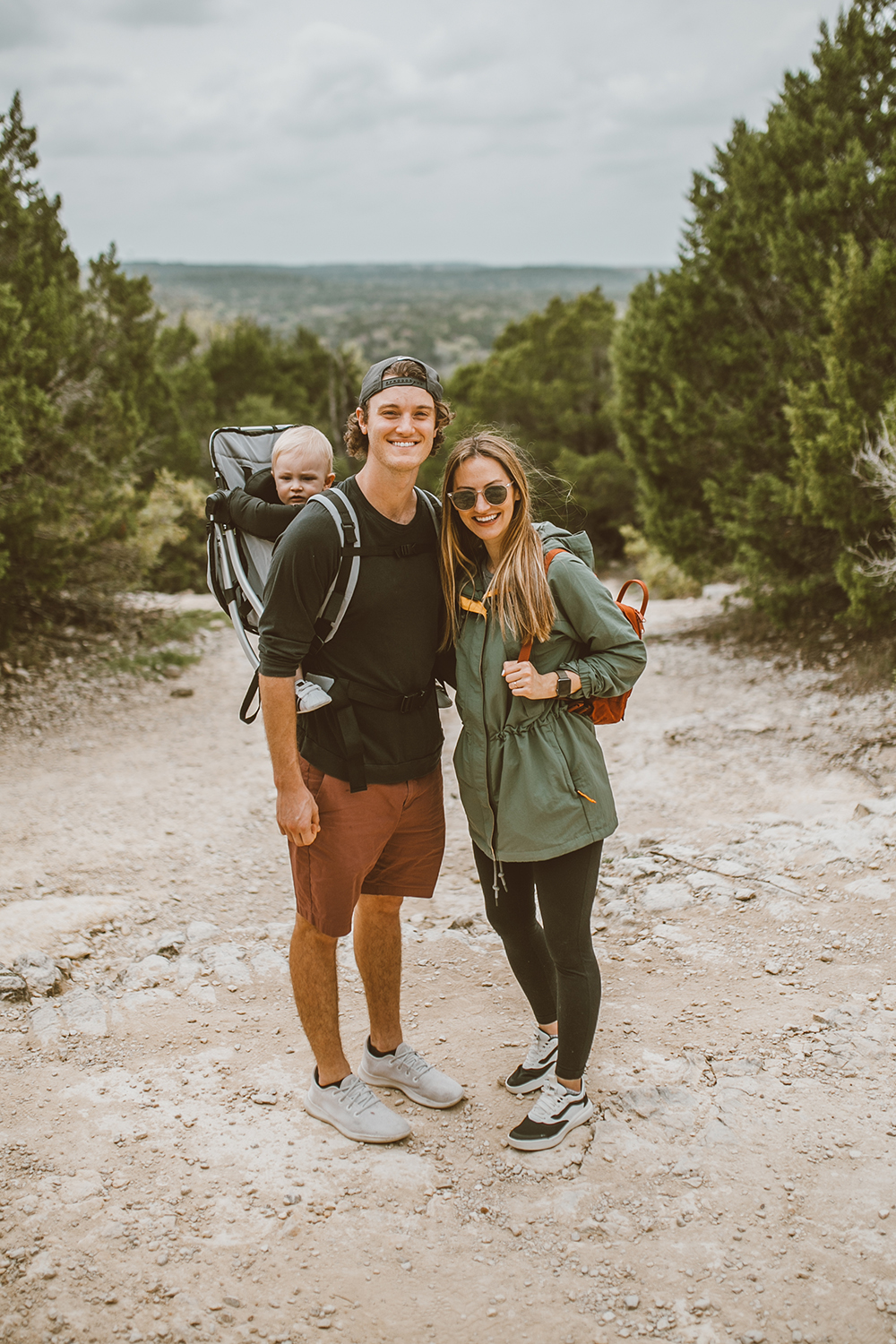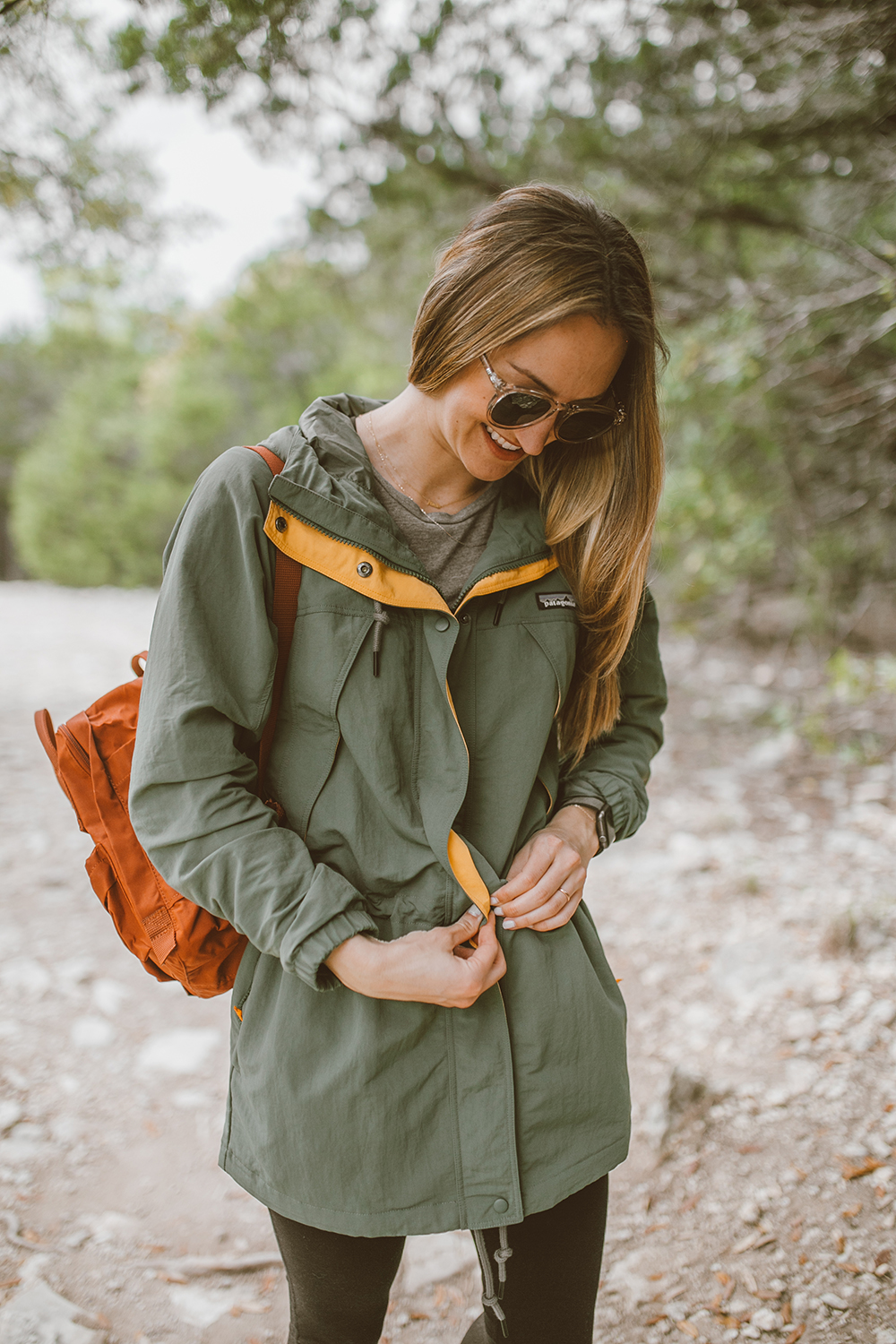 Our current routine: wake up, hang at home, take Jude on a walk outside, come back home, eat dinner, bath time, bedtime, repeat. We're taking this social distancing thing very seriously, with small outings here and there to pick up the necessities (our toilet paper search finally ended today, thankfully! Phew, that stuff was tough to find!). In the midst of the caution and stillness, we're all itching for some fresh air. Whether that be in the form of sitting on our back porch and sipping morning coffee, going for a stroll around the block or hiking through the local greenbelt. Now more than ever, we are cherishing those short bouts of time outside. (And of course, making sure we're not in close contact with others while doing so).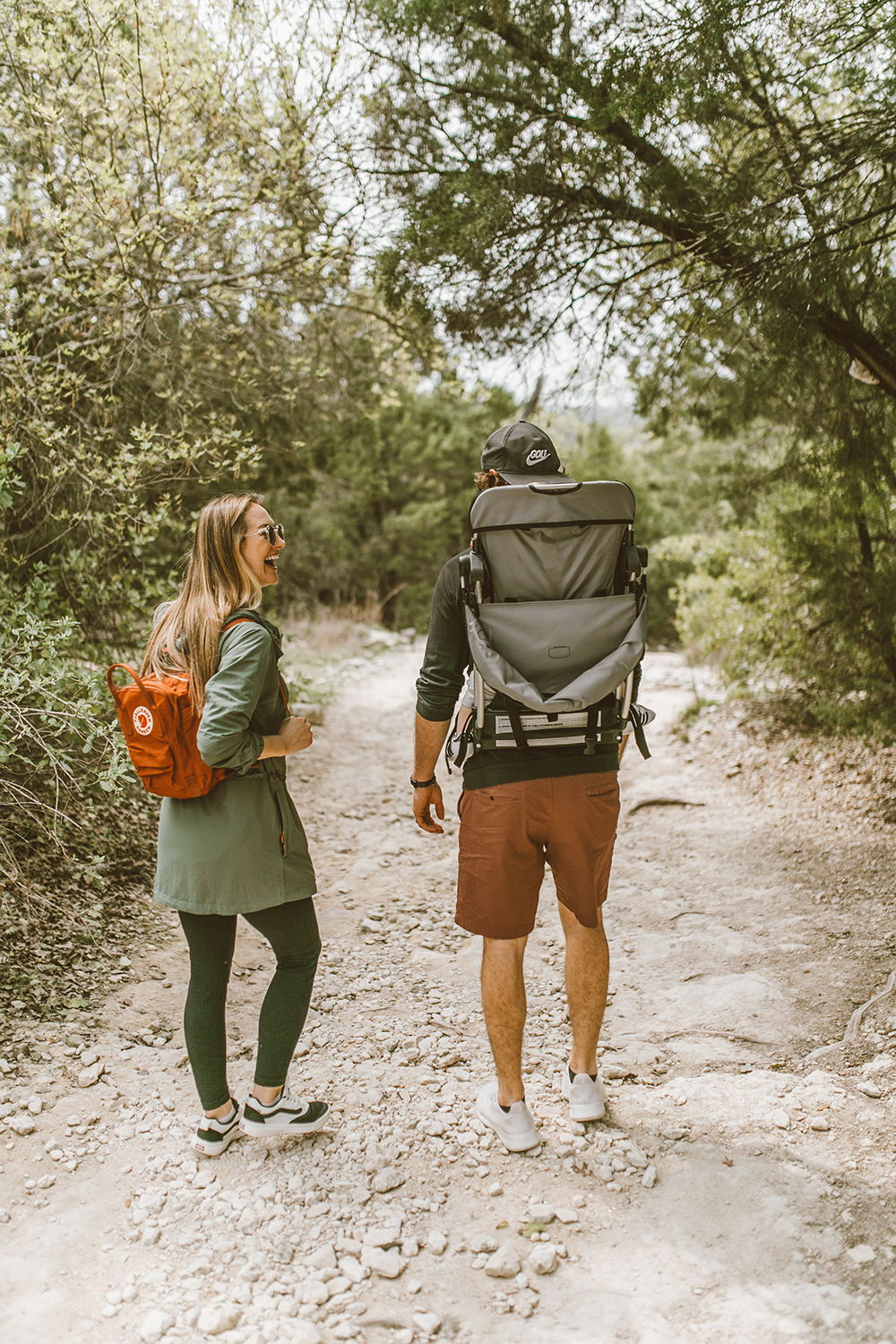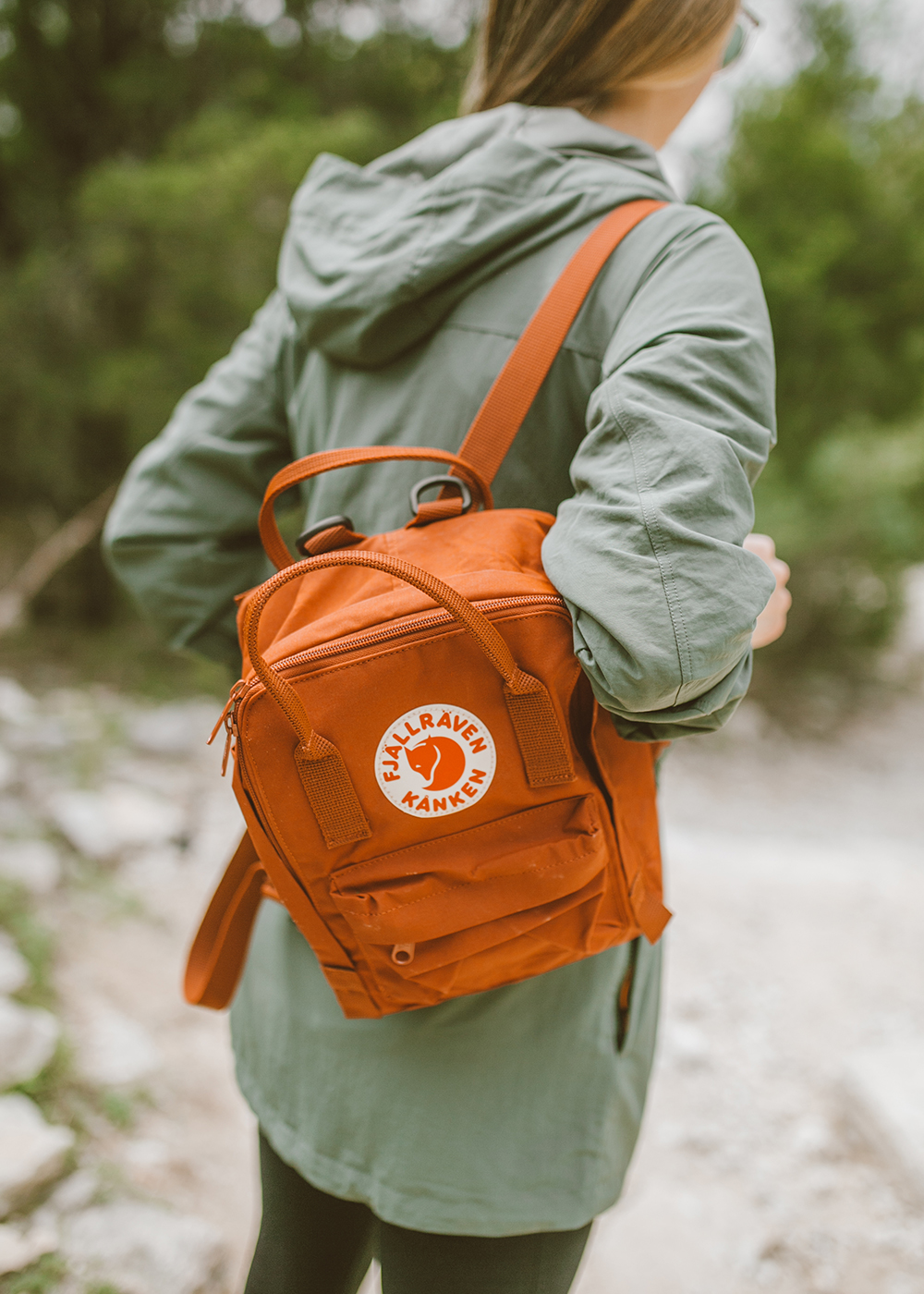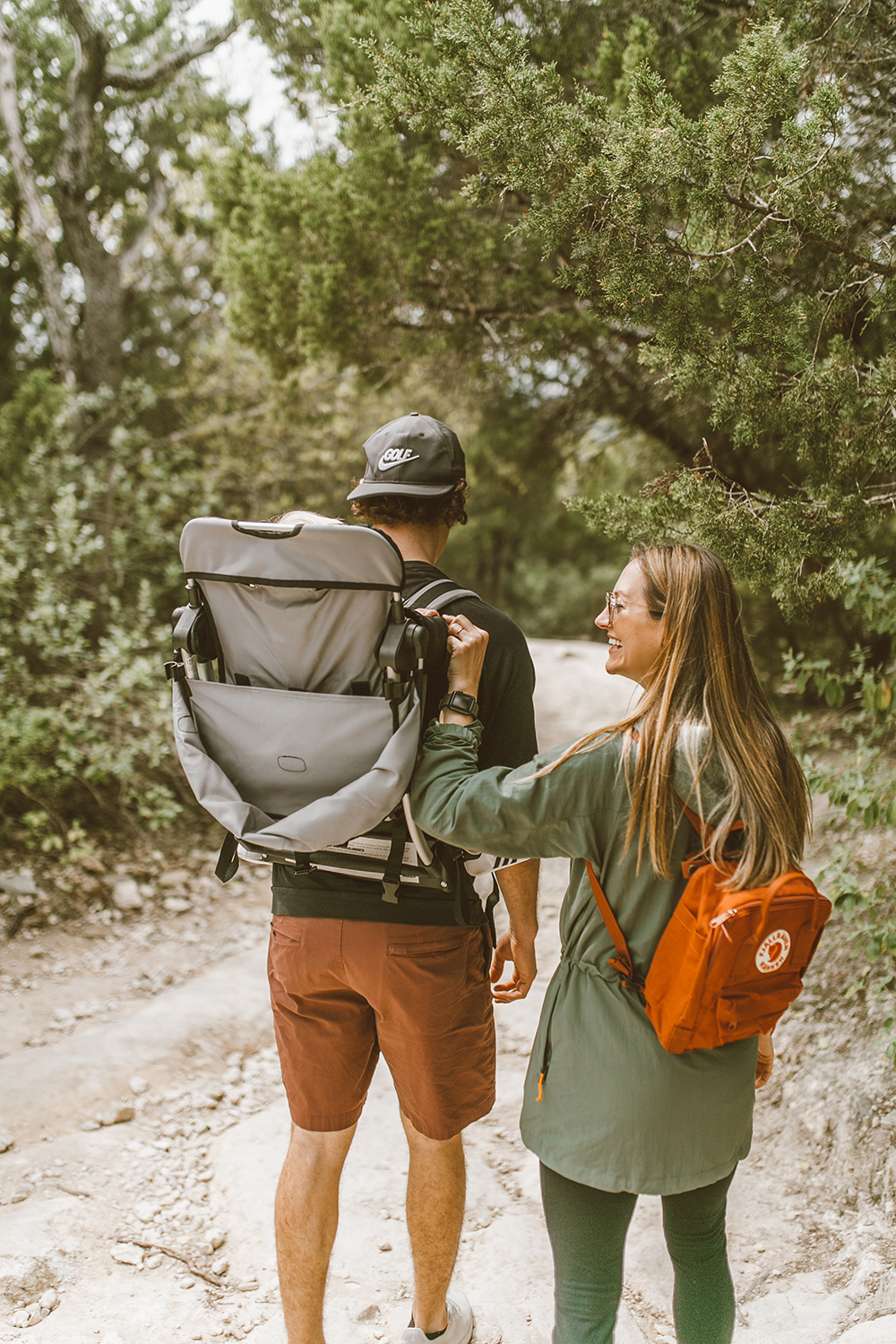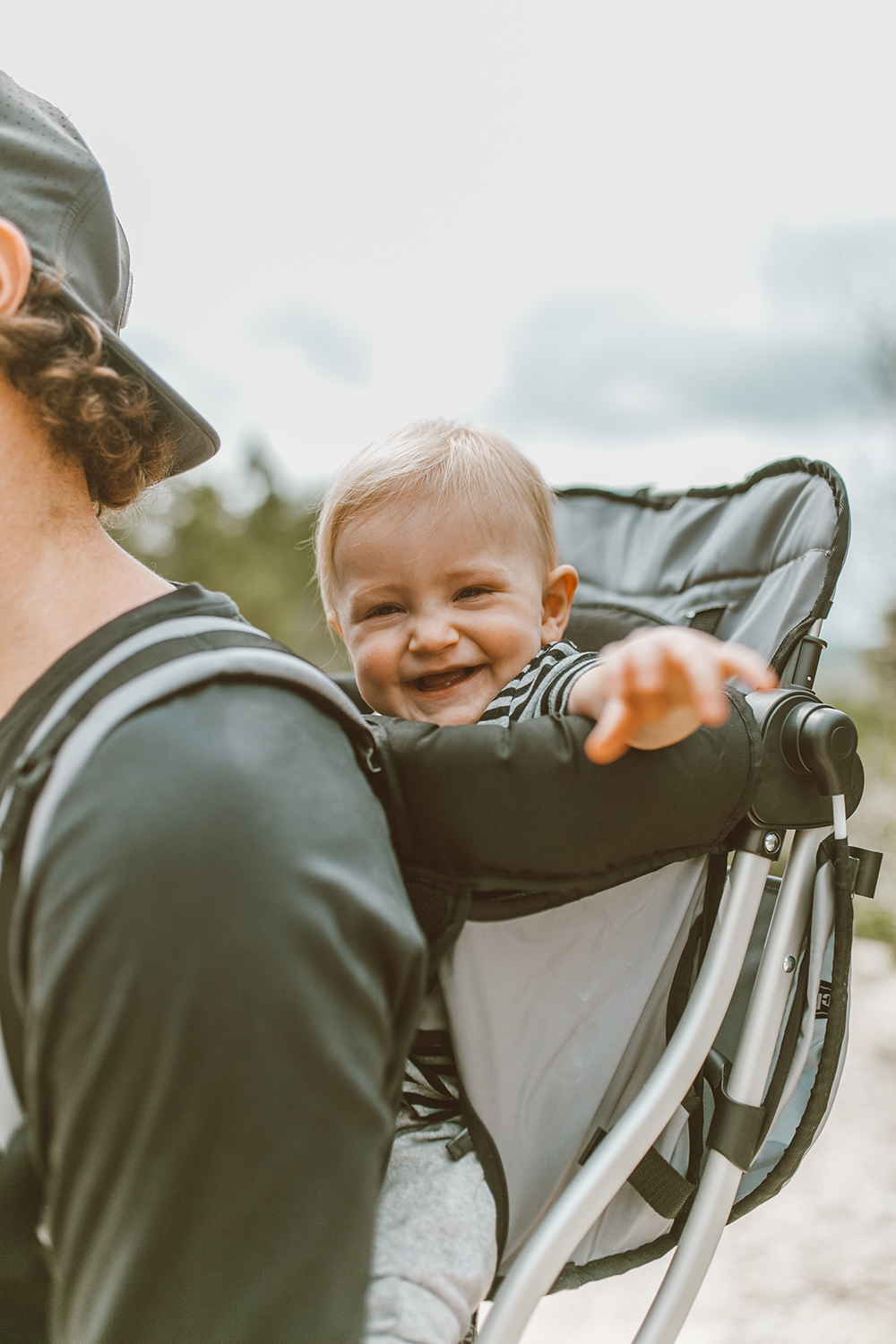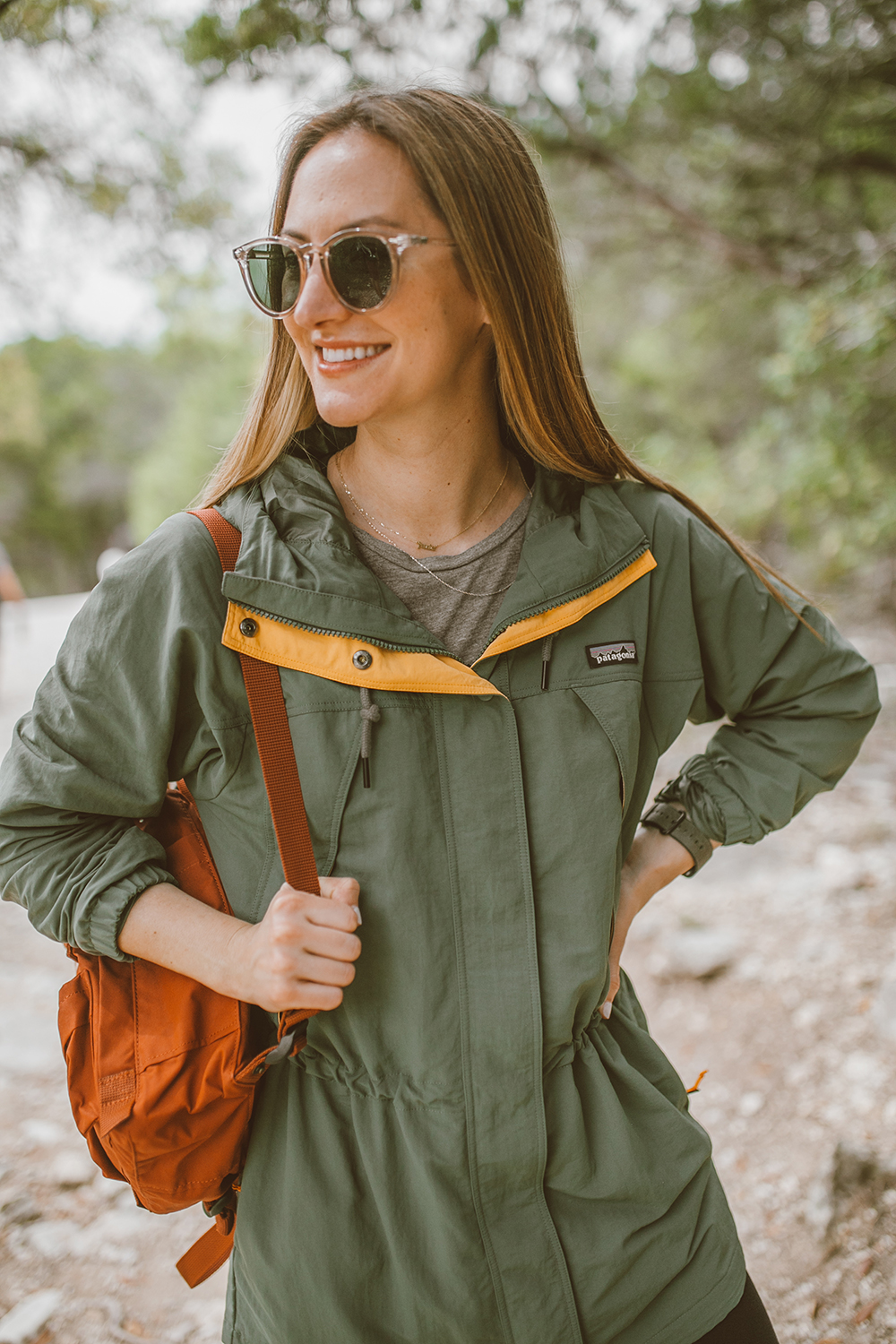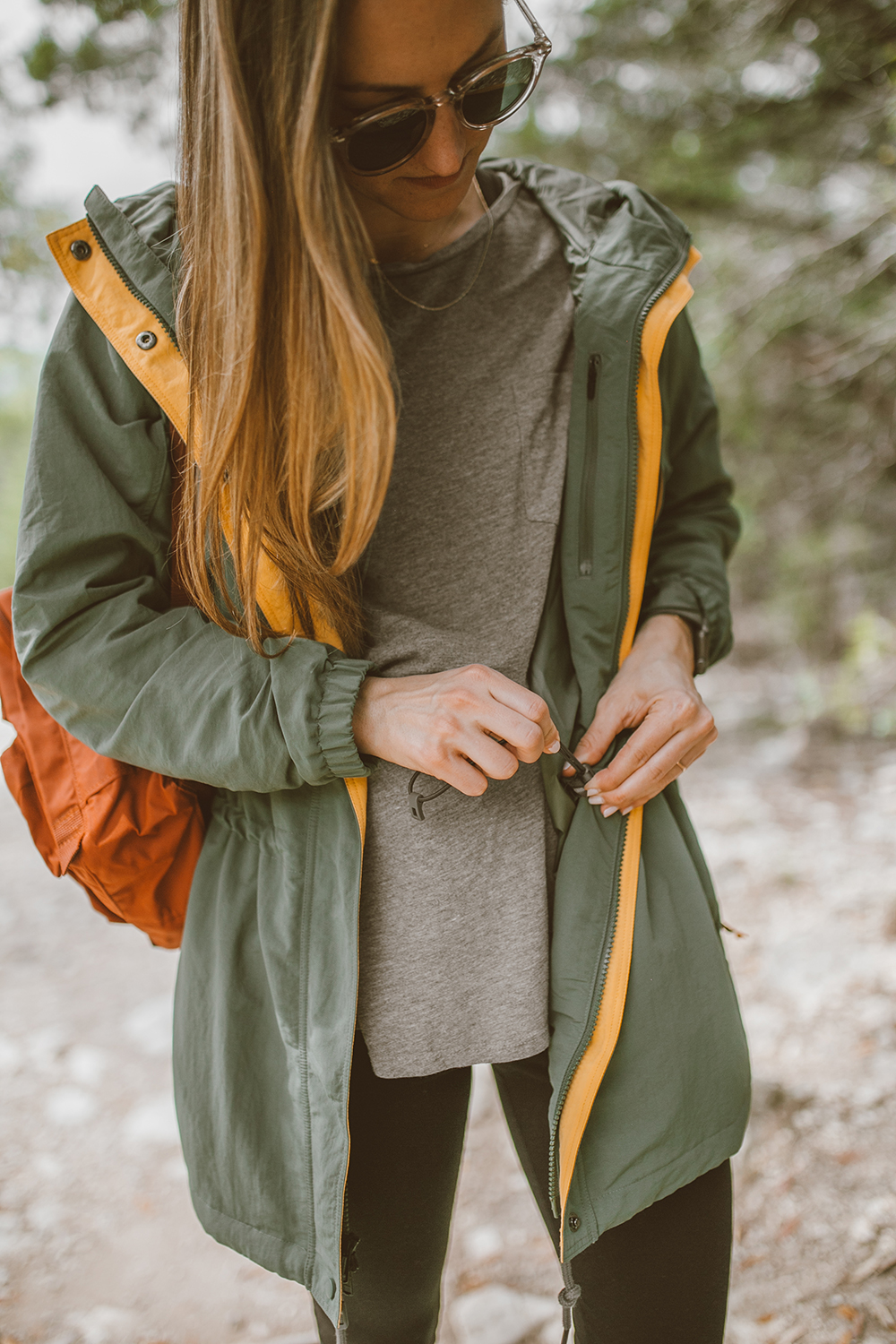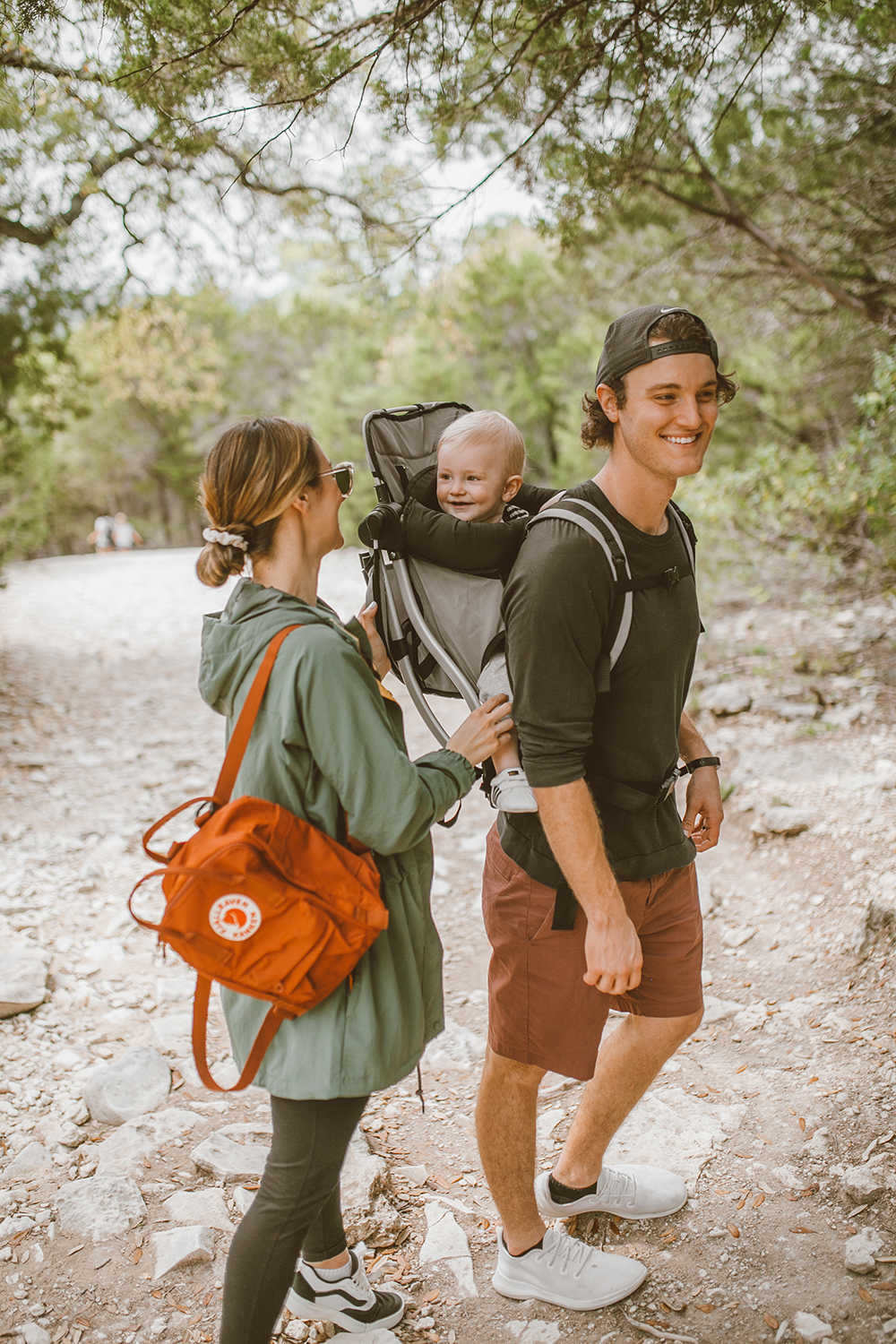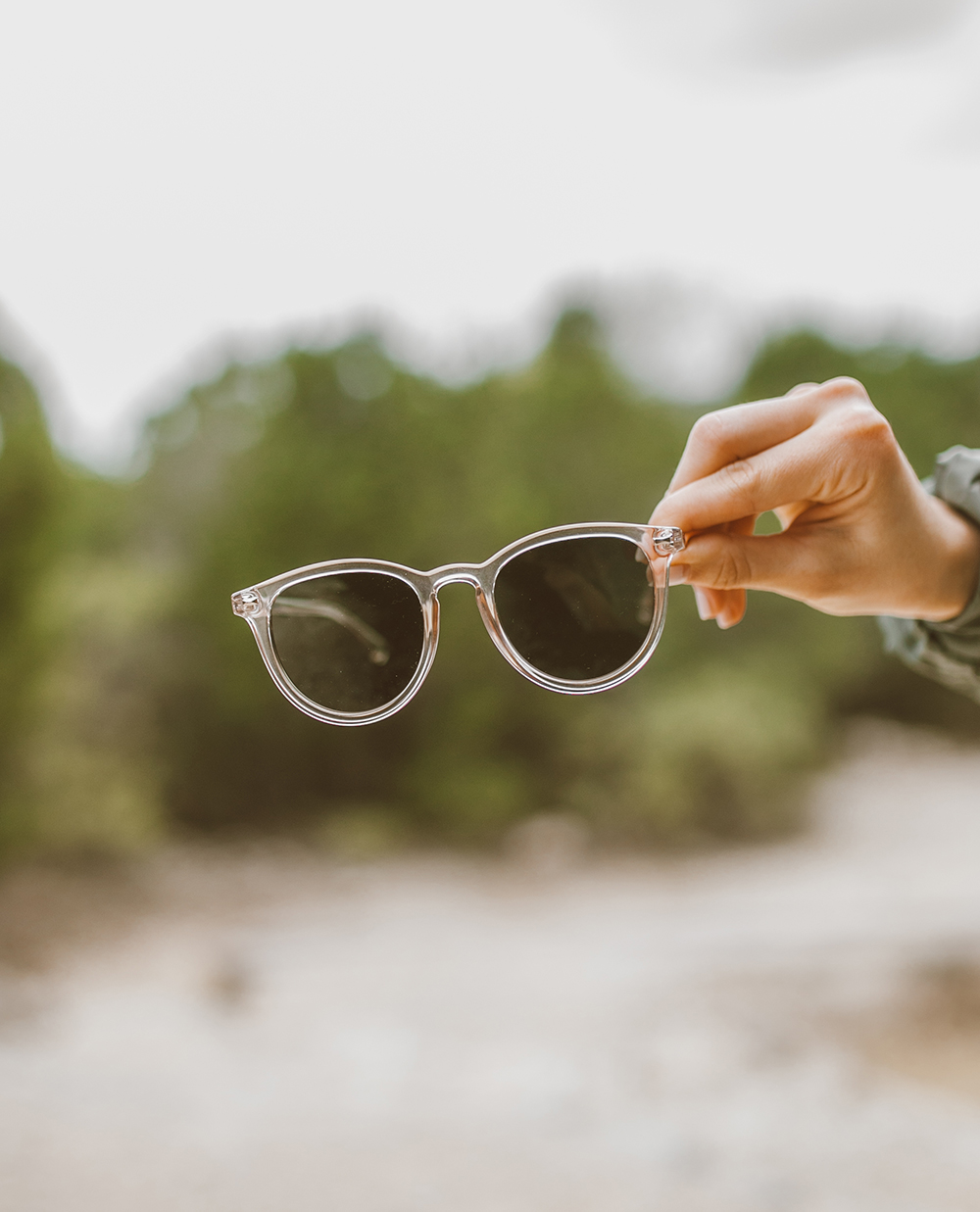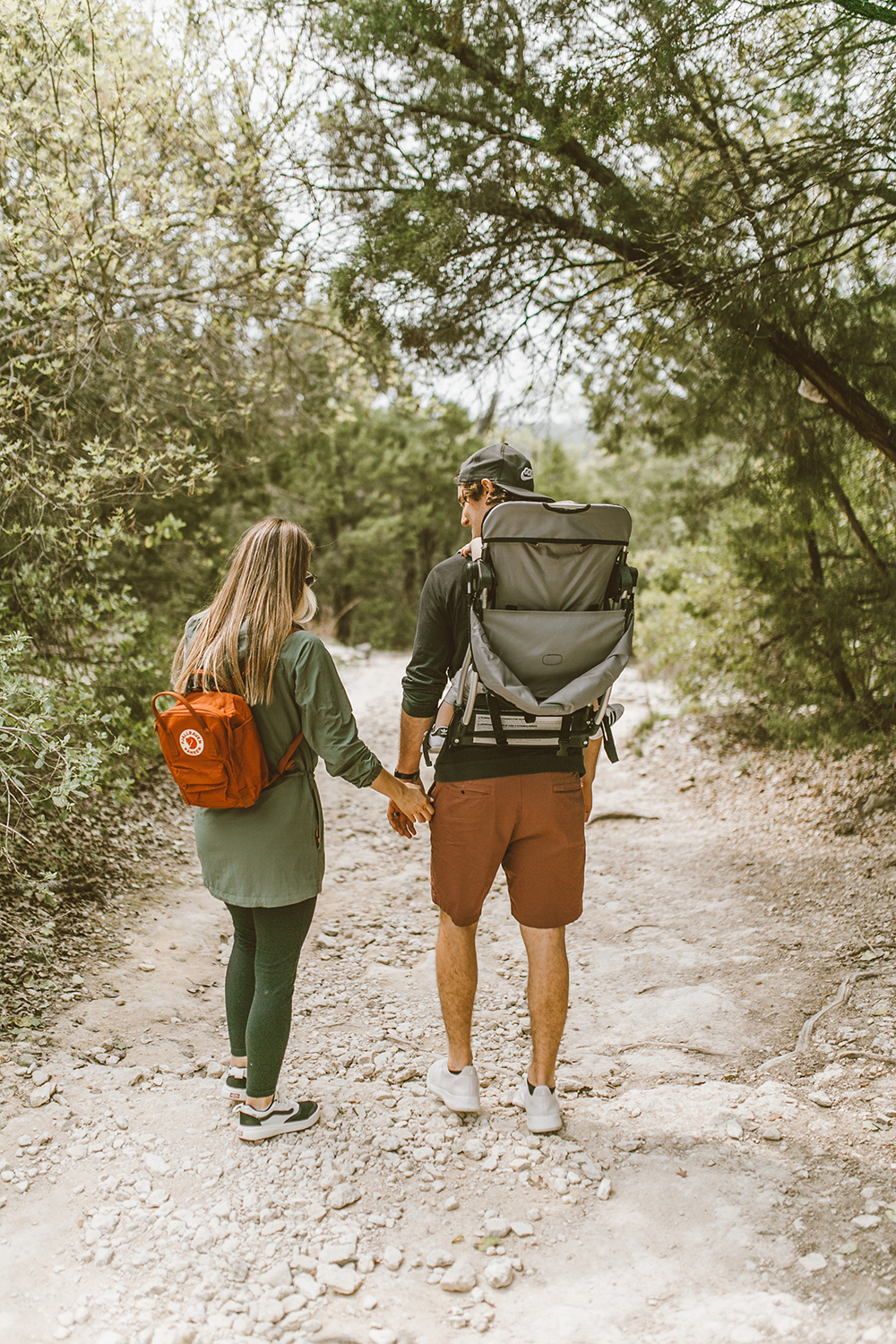 Over the weekend, we hiked down to Barton Creek and brought Jude along for the first time! He LOVED sitting up high in the backpack, it was pretty darn precious. He got his first tooth two weeks ago, so his gummy smile with that lone tooth is just the cutest thing we've ever seen, ha! (It's on his bottom gum, you can see it if you look closely at the photo of him smiling above). It was a lovely break in the day and Jude passed out shortly after we got in the car, while Blake and I felt energized and refreshed. Even just one hour outdoors really can change your mood for the rest of the day…we needed it!
As the weather changes from winter to spring, I'm reaching for light layers like the Patagonia Skyforest Parka I have on in this post. It's extremely lightweight, folds up nice and compact for travel and I LOVE the length. I'm a big fan of jackets that allow you to cinch at the waist with a drawstring…much more flattering, in my opinion! I'm wearing a size small for reference. Also, I have to make a callout to my new sunglasses! Y'all know I'm a tried and true Ray-Bans gal, but when I saw how cute the Le Specs selection was – and their price! – I immediately added to my cart. Glad I did, these will take permanent residence in my purse moving forward!
When it comes to finding the best gear for outdoor adventures – even one as simple as a walk in our neighborhood, Backcountry is my go-to retailer. Tons of brands we trust and love (Patagonia, The North Face, Van's…the list goes on and on) and a huge selection of gear for activities ranging from running, hiking, cycling, climbing, skiing…I mean, they really do have it ALL, it's pretty amazing.
As always, my friends over at Backcountry are offering LL readers 15% off your first purchase with code LIVVY15 at checkout. If you're looking for some transitional staples, now is a great time to shop!
Hope y'all are staying safe right now – sending big hugs from Austin!
PARKA / LEGGINGS (similar, mine are maternity)/ SNEAKERS / SUNGLASSES / BACKPACK

SHOP MORE TRANSITIONAL JACKETS

A big thank you to Backcountry for sponsoring this post! All opinions are my own.