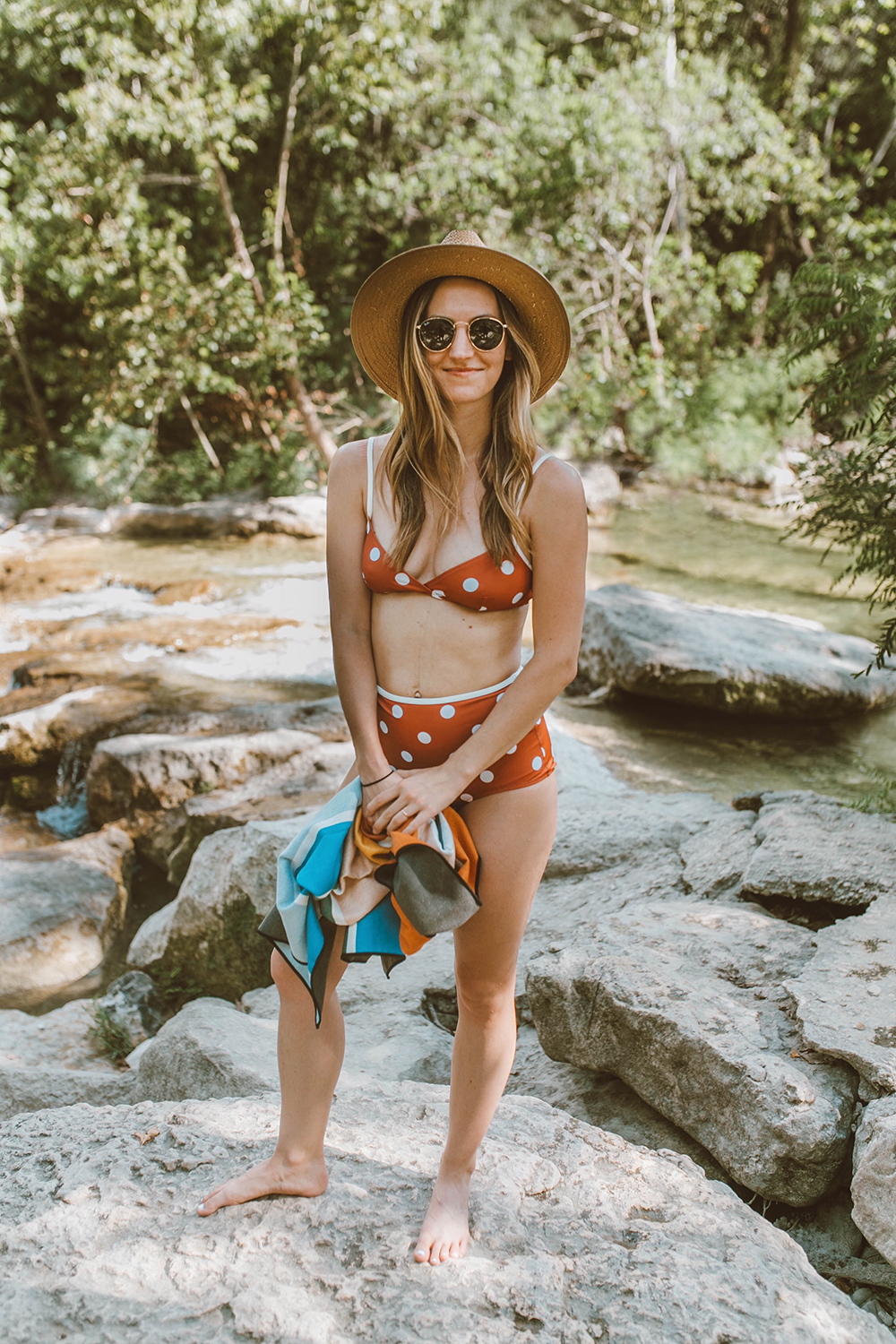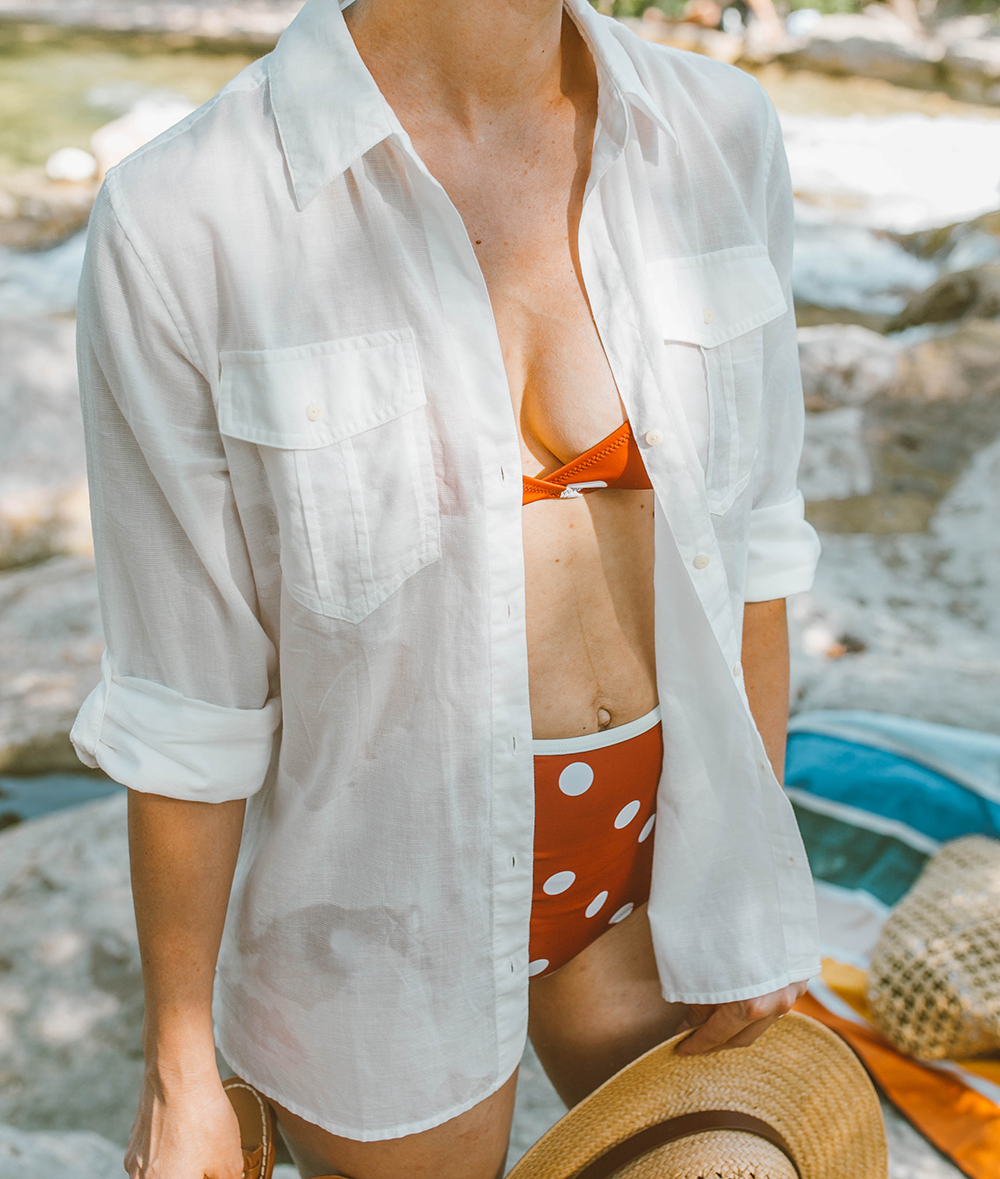 A magical summer afternoon in Austin: a light breeze is blowing, the sound of a flowing stream brings instant calm and the warm sun kisses my skin. A dip in the water with nothing but trees on the horizon is oh-so-good for the soul – and this tired mama could use a dose of nature to revive and reset. I sit on a rock with the water rushing around me, my eyes lightly closed and for a moment I am completely present. Listening, breathing, listening, breathing. I make a promise to myself that I'll do this more often…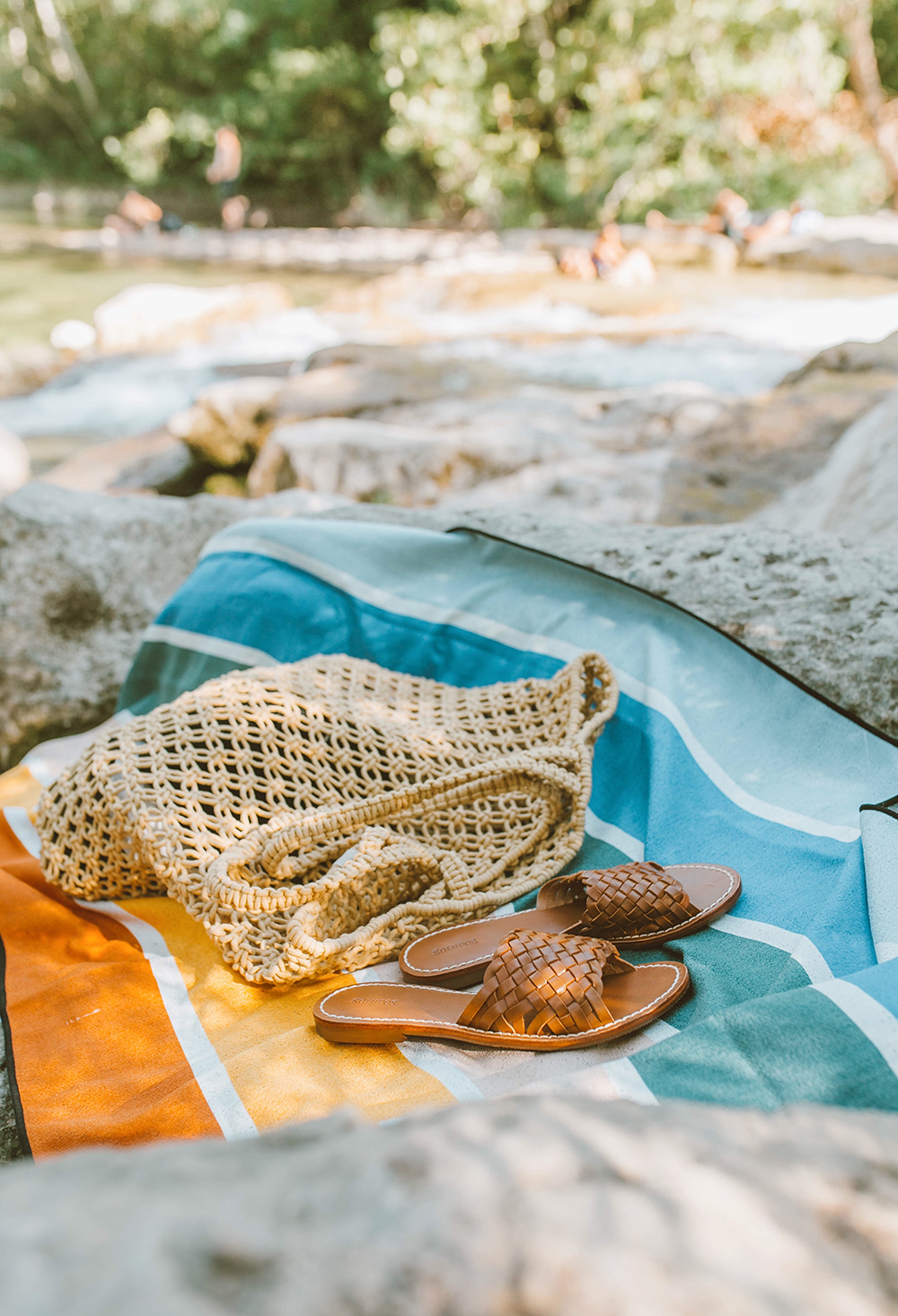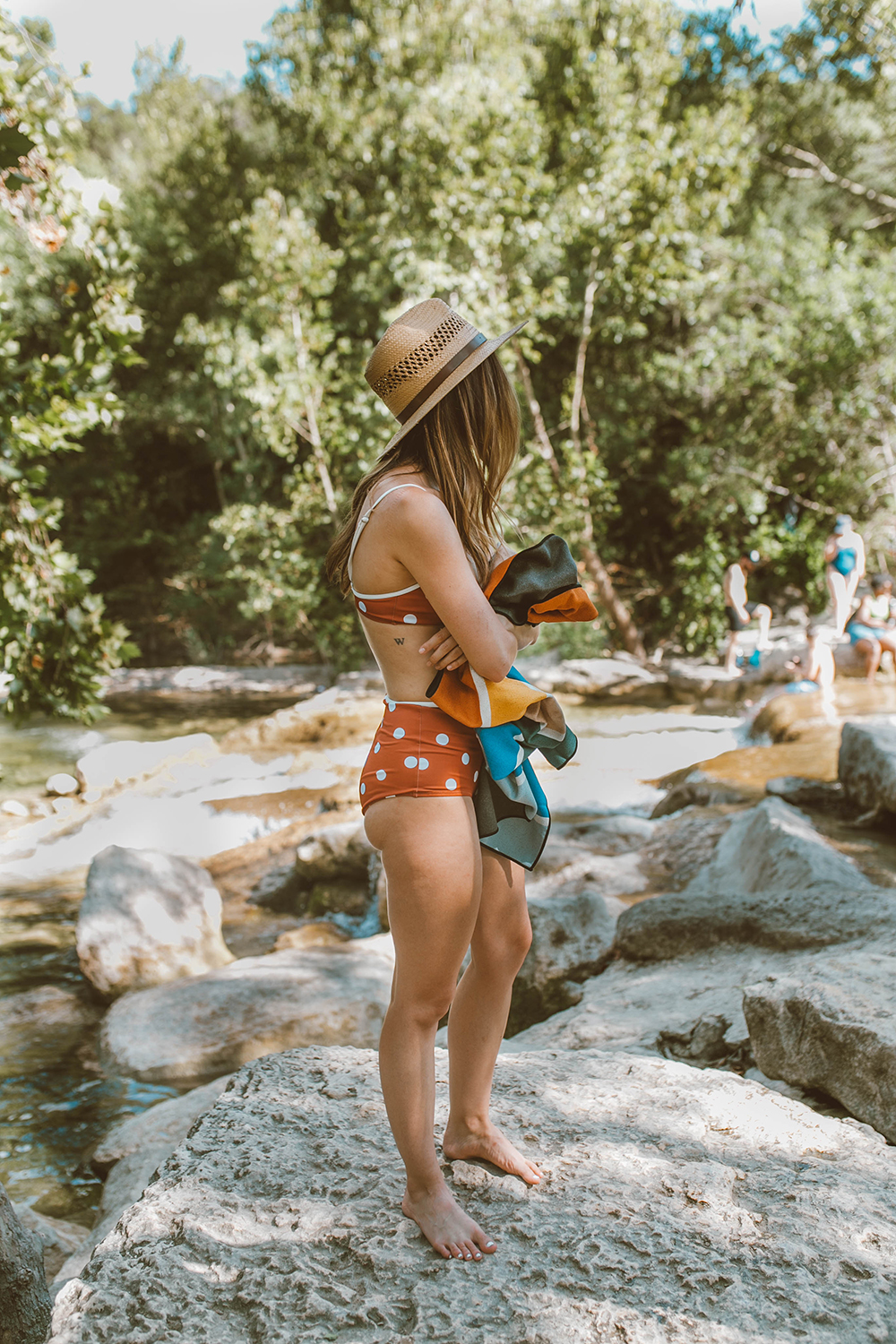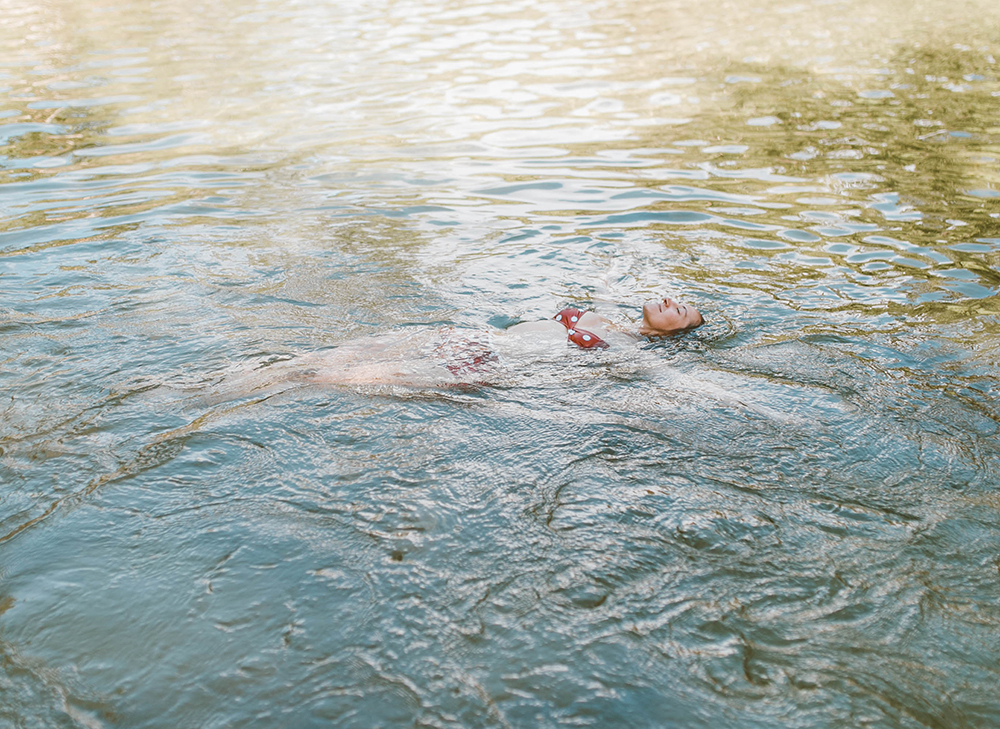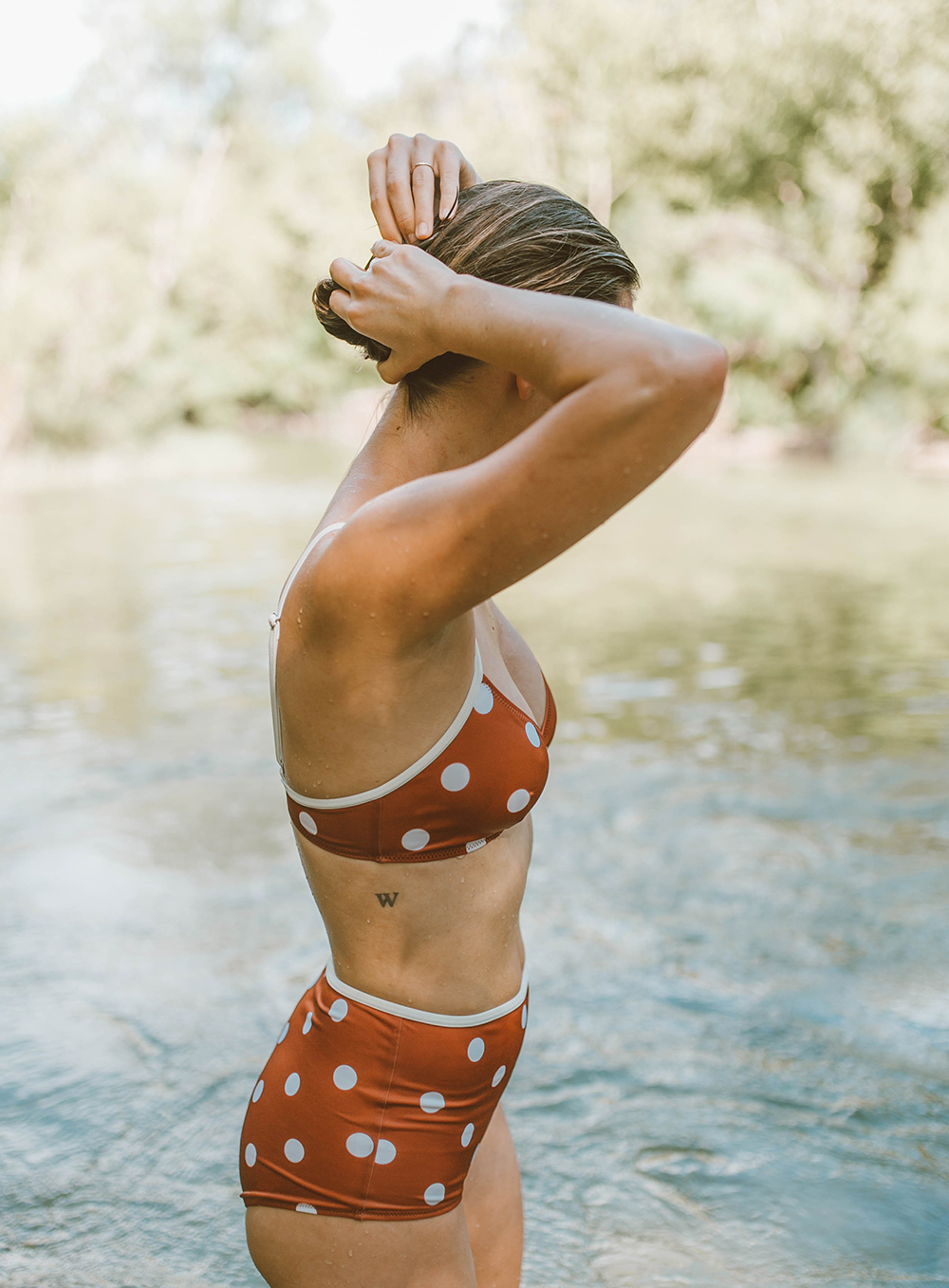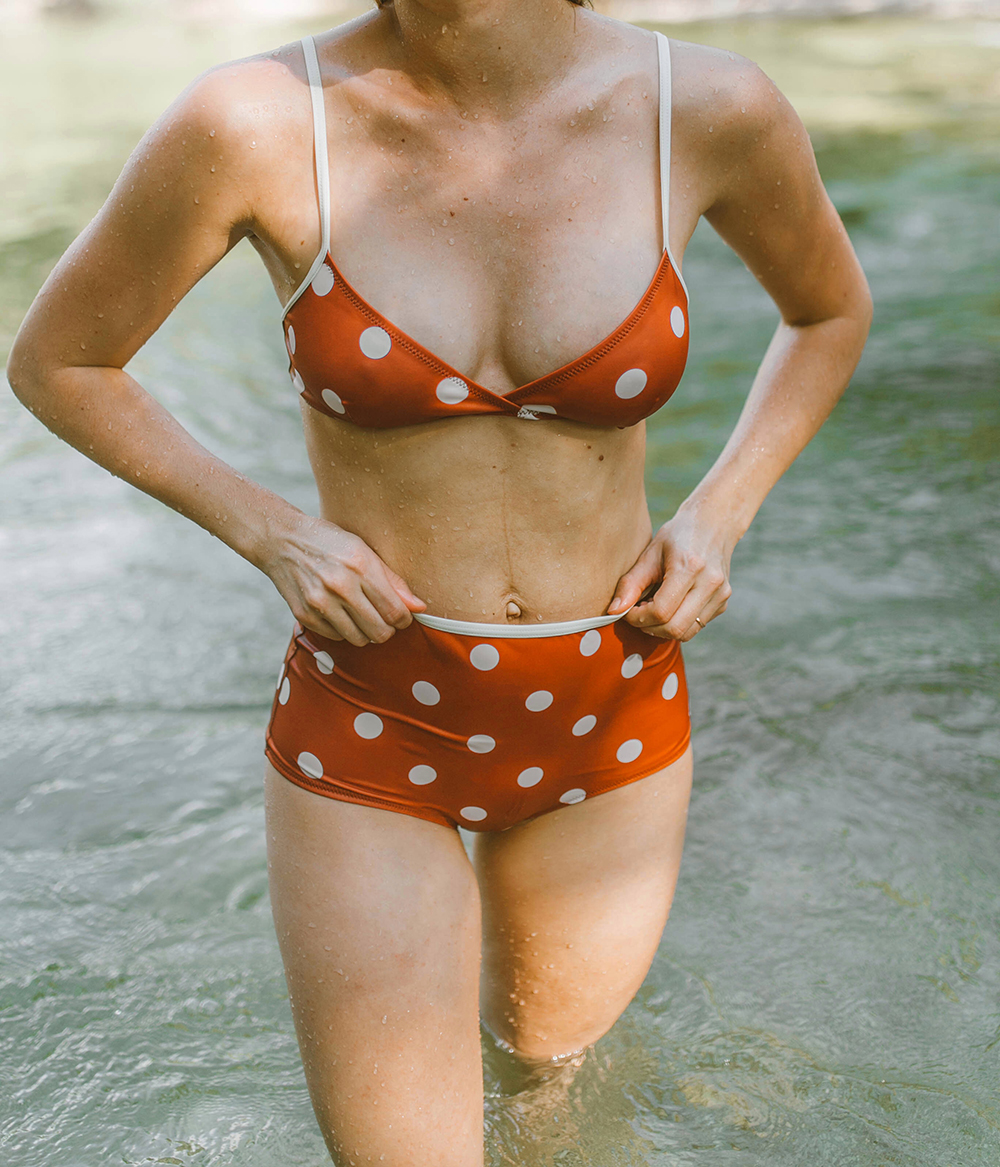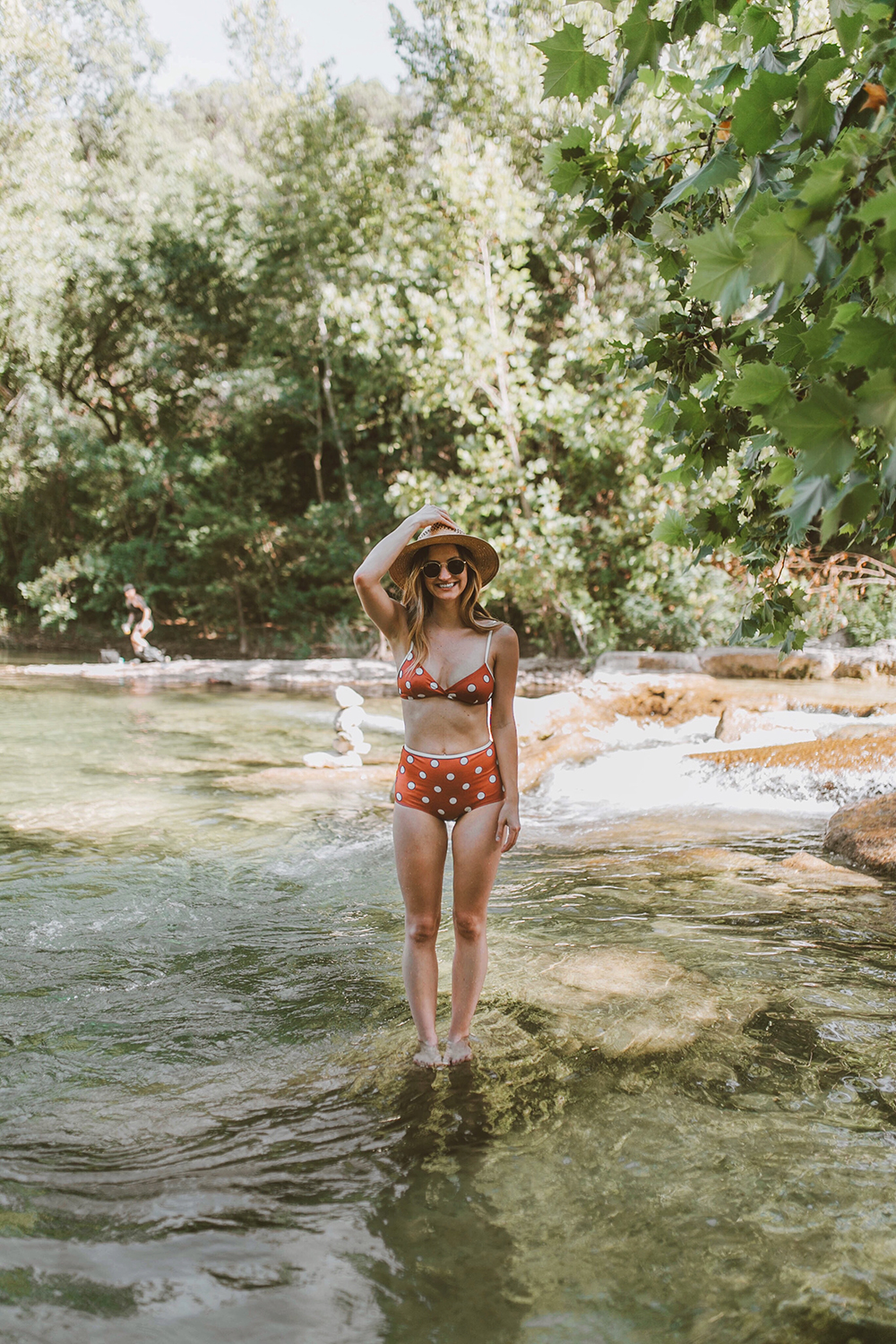 My sister and I ventured to the Greenbelt this week and it was pure heaven. I prepped a bottle and Blake had Jude for the afternoon while I snuck away for a few hours. And while, yes, the mom guilt was strong…I'll admit I needed this time to myself. Blake and I have been talking about how getting out in nature brings more happiness – and I couldn't agree more. That first dip when you put your head under the water is so freeing! It felt so good to bask in the sun and then hop in the water to cool off.
I've talked a lot about my postpartum journey on my blog and swimsuit shopping is another part of the process. Not a single pre-pregnancy swimsuit fits my current body, so it was time to scoop up a new swimmie that made me feel fantastic. Solid & Striped is a brand I adore (like, MAJOR heart eyes!) and I'd been eying their Brigitte high waist bikini for ages. Backcountry had it in the red and white polka dot style and I couldn't resist – also it's 40% off!! A little retro, super flattering and FUN! When I added this suit to my cart I envisioned myself wearing it with cat eye sunglasses, a silk hair scarf and the Mediterranean Sea as my backdrop. Alas, I'll add that daydream to my bucket list…and I'll be sure to pack this swimsuit when that day comes… 😉
Backcountry is my tried and true everything-outdoors-and-more retailer of choice. The customer service is wonderful (I ordered two sizes in this suit and returned the one that didn't fit…SO easy!), the brand itself is all about getting outdoors and experiencing nature (which 100% I am on board with!) and their product selection is amazing. Whether you're swimming, running, yoga-ing, cycling, hiking…you name it – they have the gear you need. I also love that they carry lifestyle brands, too (like Solid & Striped, Soludos, Free People, and SO many more!).
If you're hitting the creek, beach, lake (…or a blow up kiddie pool in your backyard #realreality)…they've got you covered with cute swimsuits and accessories (…like my beach bag and rainbow towel…LOVE these!). Linking more of my favorite summer swimwear and my Greenbelt look below.
PS. Use code LIVVY15 to take 15% off your first Backcountry order (exclusions apply).
swimsuit top – SOLID & STRIPED (wearing size small) / swimsuit bottoms – SOLID & STRIPED (wearing size medium)/ towel – NOMADIX / sandals – SOLUDOS / bag – THE BEACH PEOPLE / shirt – PATAGONIA
SHOP MORE SWIMWEAR
A big thank you to Backcountry for sponsoring this post! All opinions are my own.