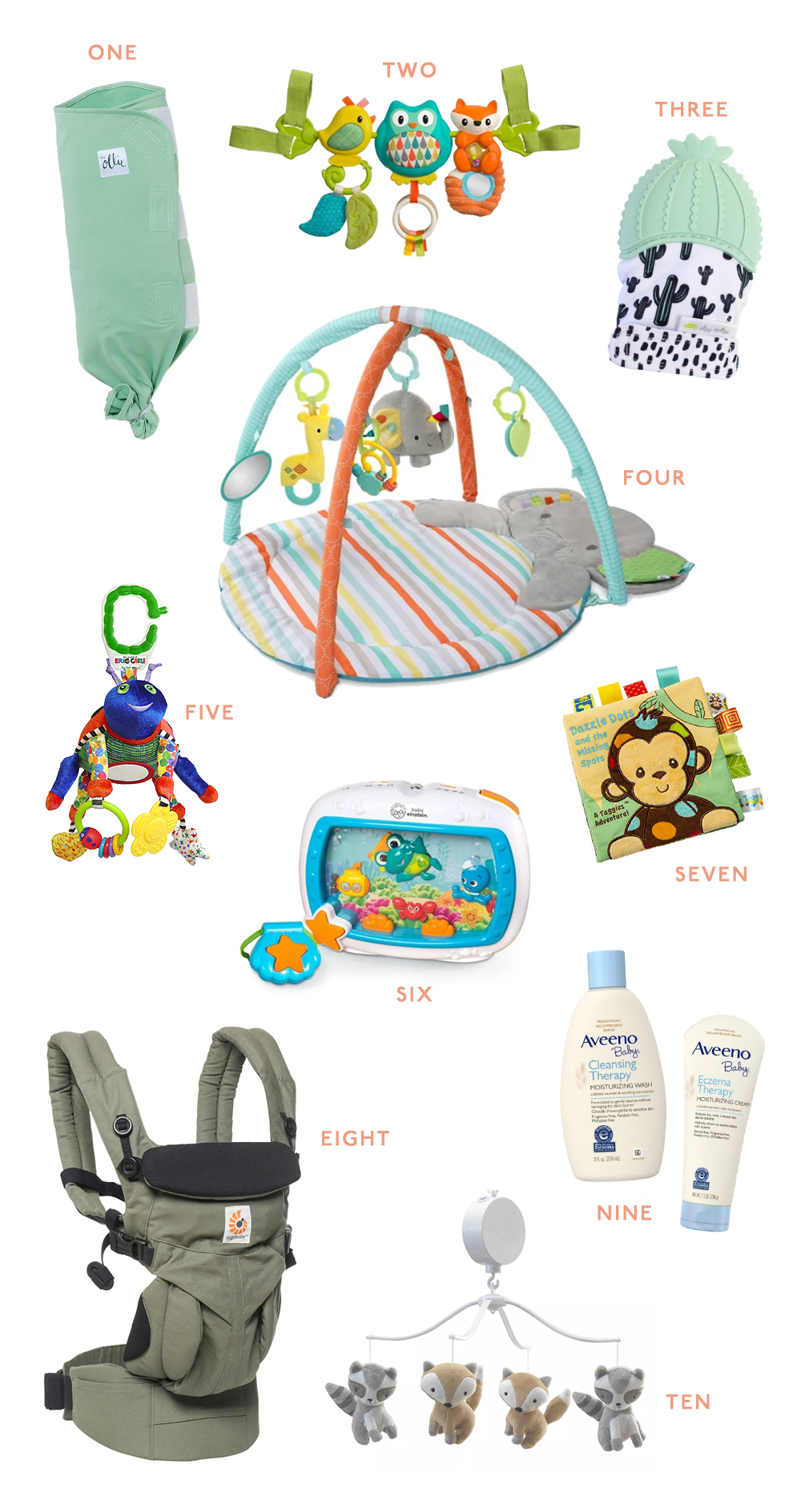 Okay so I am clearly delayed in getting this post up! BUT lots of this stuff is still fantastic, even with Jude turning five months tomorrow (omg WHERE has the time gone?!). But for those of you with lil babes around this age, I hope you find these things super helpful! As of right now, the only thing on this list we're currently no longer using is the #1, the Ollie Swaddle (now that Jude can roll over, our swaddling days are done!). Everything else is still high up on Jude's list of favorites. Let's get to it!
1. Ollie Swaddle: Jude was 100% that child that broke out of EVERY swaddle, no matter how much it promised to be "break out proof" haha. Our determined little fella, ha! I had published on my IG stories that we were having some struggles keeping his arms down (…and when he got them out, they basically looked like on of those crazy balloon figures on a car dealership lot haha, hitting himself in the face and of course, waking himself – and mama – up every few minutes…). Lots of folks messaged me about the Ollie Swaddle and it WORKED! It's pricey, but we are saving it for baby #2 in the future. Definitely recommend…! My only negative review would be that the Velcro is SO LOUD. To combat that one tid-bit, I would top off Jude by nursing him for a short time right after I fed and changed his diaper, then re-swaddled him. He fell back to sleep super easy after that.
2. Musical Travel Bar Activity Toy: So this is technically meant to strap onto the carseat handle and keep their attention…but with our carseat (Uppababy Mesa), it hangs down super close to Jude's face and just didn't work well in that way. However! I strapped it onto the side of Jude's crib and OMG it holds his attention for at least a solid 10 minutes, even now at five months! (…It's also how I wash my face, brush my teeth…all that jazz). It has a few songs it plays and great little dangly things for babies to grab onto and play with. The songs are actually pretty good, too, ha! We LOVE this toy.
3. Munchie Mit Teether: We think Jude's been teething a bit since he was three months old, so this teether gets lots of use – even now! It makes a crinkly noise and overall Jude has really enjoyed it. A good one to keep in the diaper bag and bust out when baby gets fussy.
4. Floor Activity Gym: This is 100% a must in our house! Jude LOVES it and you can hook different dangly toys onto it once baby gets bored of the ones it originally comes with. I also like it for tummy time since the elephant ears make crinkly noises and he can reach for those colorful taggies.
5. Very Hungry Caterpillar Ladybug Toy:  My sister passed this one onto us after both of her kiddos loved it, and it's Jude's new best friend. I hook it onto his carseat so he can play while we drive, then I pack it in his diaper bag…it never leaves our side, ha! Definitely our staple toy!! So many bright colors, a mirror on the ladybug's belly, a couple of teethers and crinkly legs. It's by far the toy that holds his attention for the longest stretch!
6. Baby Einstein Soother: This one lights up and plays lots of lovely instrumental songs…Blake and I love it, too! Super calming and also can strap onto the crib. It plays for a set amount of time, then the lights go off and the music keeps going (with hopes by then, baby will be sound asleep!). We never used it as a nap helper, but it did allow Blake and I to finish our morning coffee on numerous occasions haha. I really love all of the Baby Einstein products (we recently got the musical octopus and Jude can't take his eyes off of it!).
7. Dazzle Dots Soft Book: Another one that still goes everywhere with us at five months…Dazzle Dots & The Missing Spots soft book! We LOVE it and Jude goes nuts for it. He can grab onto it, crinkle the pages and spend tummy time hanging out with it (while we watch, of course). I didn't realize how useful soft books would be during these earlier months, but they're a hit with Jude. Highly recommend this colorful book!
8. Ergo Baby Carrier: Jude outgrew our trusty Solly Wrap and thus, we're onto our Ergo carrier! Given that we live in this crazy Texas heat, we opted for the breathable Omni 360 version. It's on the expensive side, but you can throw it in the washer and it carries up to 45lbs, so it has been a great investment for us. Plus, both Blake and I can trade off wearing it and we plan to save it for more future kiddos. We take this thing everywhere with us – Jude isn't one for the stroller (…still hates his carseat…), but he will chill in the carrier, which is great!
9. Aveeno Sensitive Skin Wash & Eczema Lotion: We quickly learned that Jude has very sensitive skin when we used some baby products we received from our registry (popular baby shampoo/wash brands!). He also would get eczema flair ups every now and then, as well. Immediately, I switched to using the Aveeno sensitive skin line with eczema lotion and it's made a world of difference. No eczema in sight and it's extra gentle on him – I won't use anything else!
10. Crib Mobile: Okay sooo, the mobile I initially bought for his crib was definitely gorgeous, but not the most practical now that Jude is actually here haha. A mobile that spins on it's own AND has music is by far the better way to go. My mom scooped up the one featured from Target and it's sooo wonderful! At five months, Jude is sleeping with me, but he was still in his crib at three and four months so this mobile was fantastic. It held his attention and the music is really peaceful, so it made him drowsy and was a good bedtime routine signal. We're big on using lullabies for bedtime, so we go through batteries pretty frequently with this one. Just something to scoop up while you're making that weekly Target run! 😉
Hope this list was helpful for all my fellow mamas (or maybe even gals with mama friends looking for gifts!). It's been so cool to watch Jude grow and develop before our eyes…everyday is something new! XO