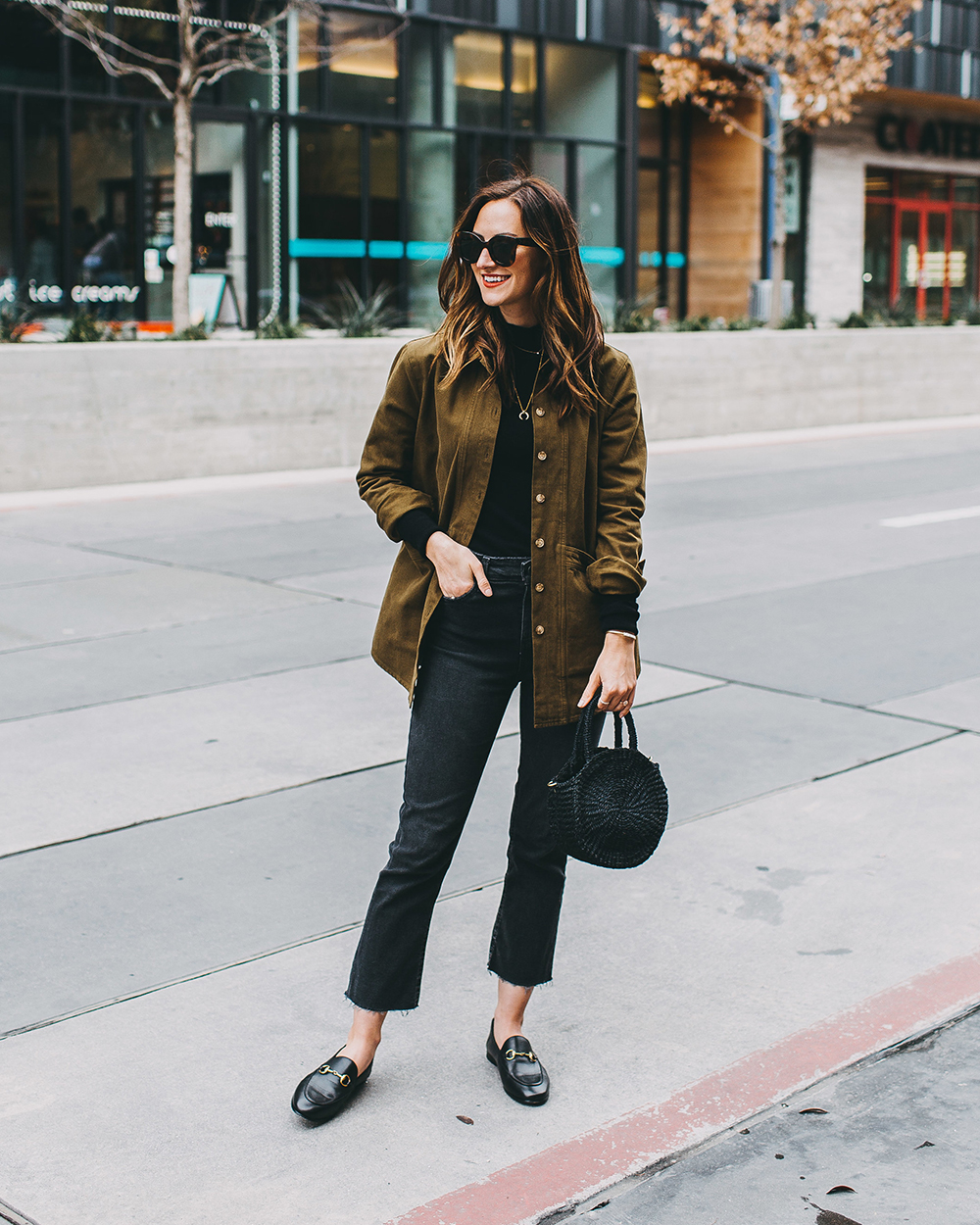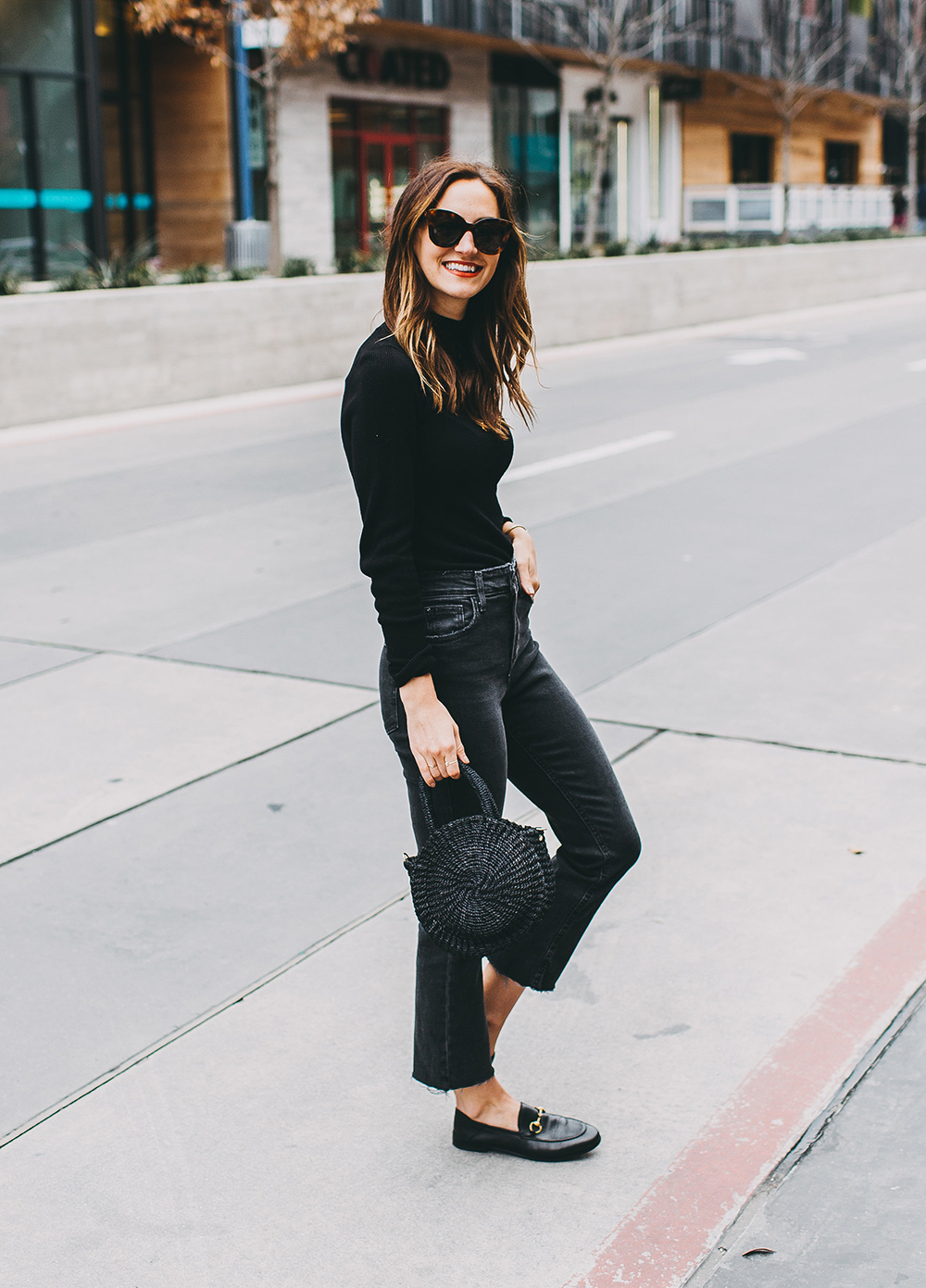 Hello there, gals! How's your week going? I'm in full-on SXSW mode over here…hence my lack of blog posts in the past week! Last week I had the absolute honor of teaching an hour long class about blogging and OMG I was completely blown away by the turnout and incredible feedback from all of YOU! Y'all are the reason I am fueled to keep doing this crazy blogging thing…and meeting my readers in person sure is the most gratifying feeling. A very big virtual bear hug and thank you to everyone who came out to the event or sent me an encouraging DM on Instagram – it has all meant more than you know!
/ Sappy rant over! 😉 (…I feel like I've had so many of those lately…haha ah!). Onwards to this beautiful and classy everyday outfit idea!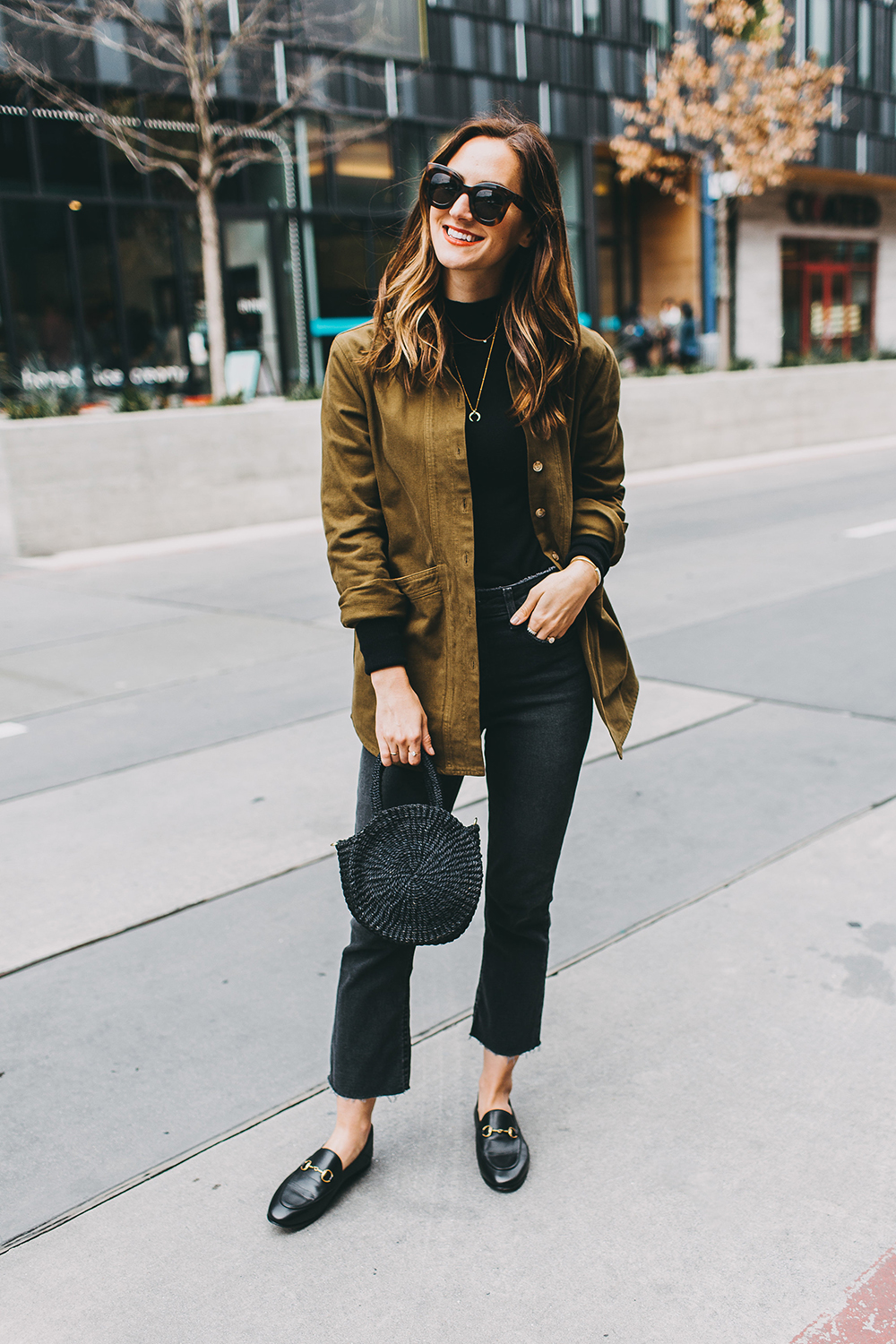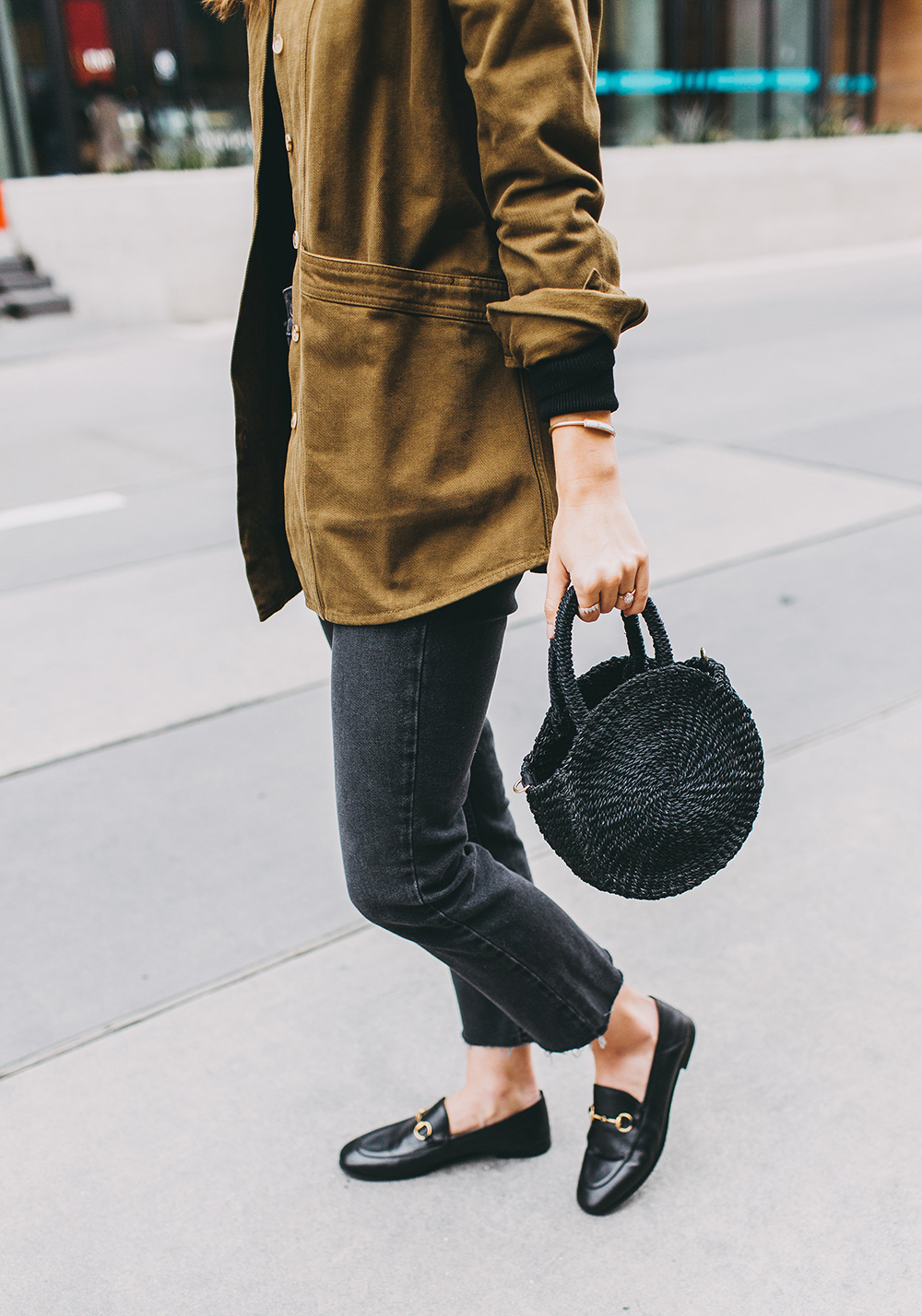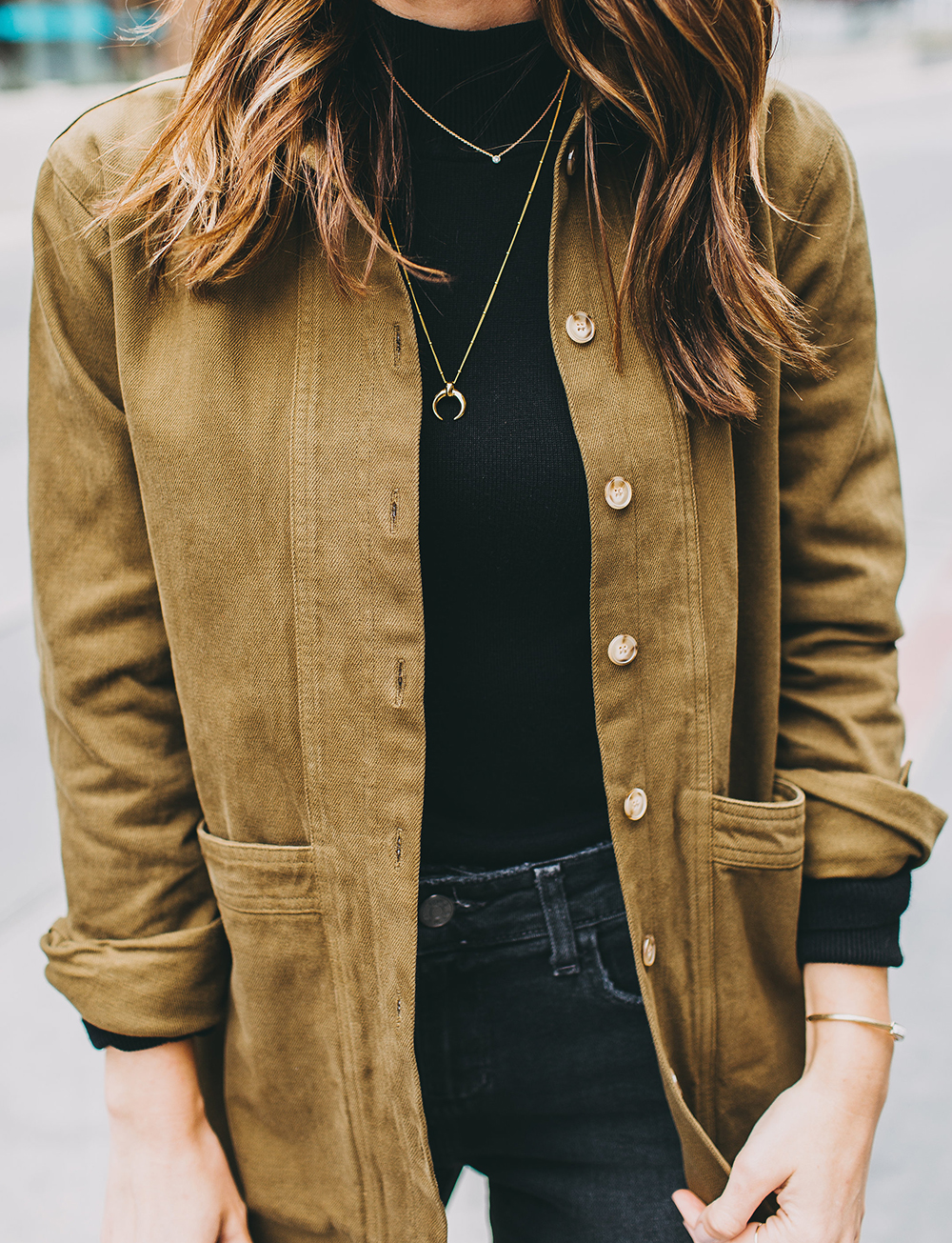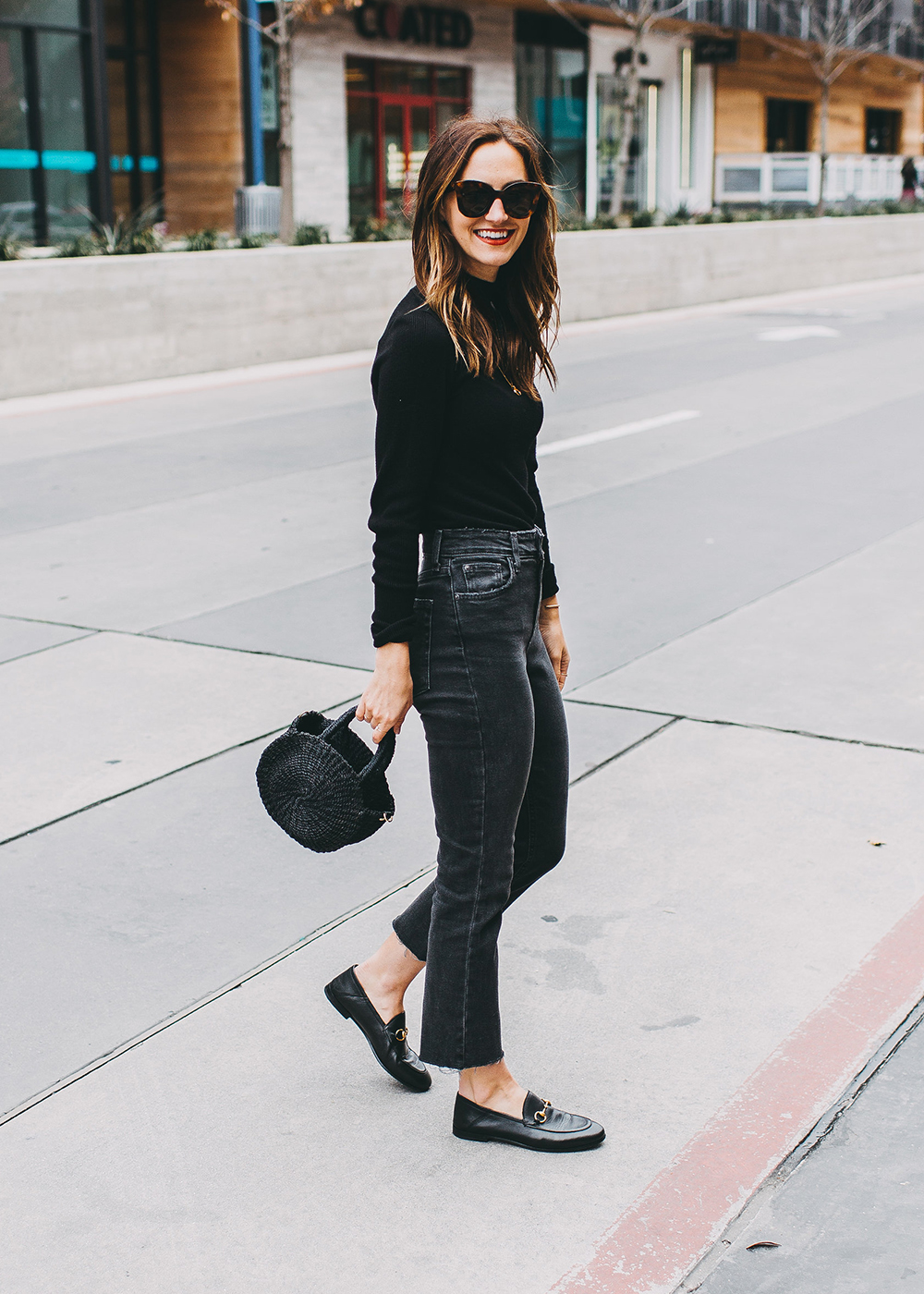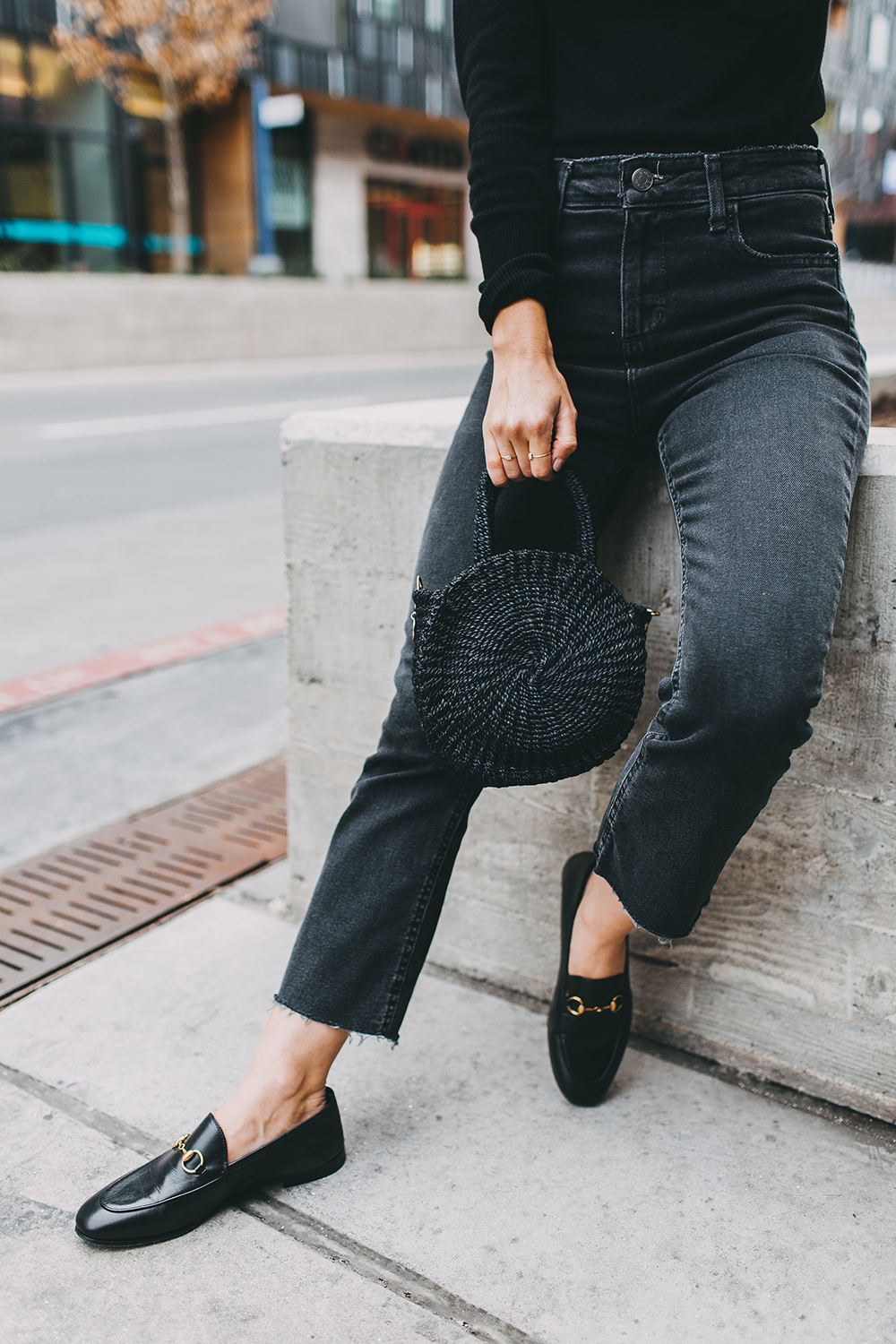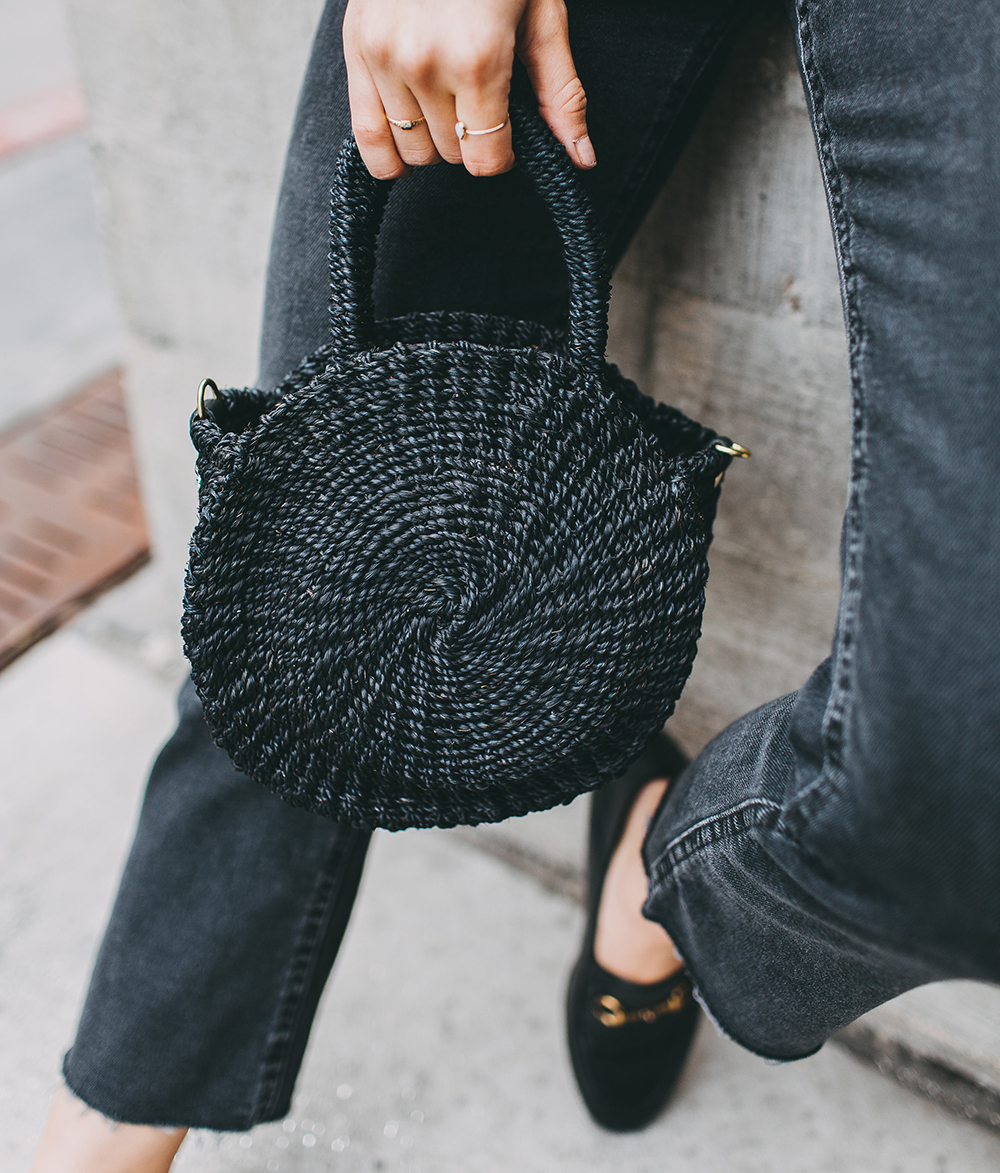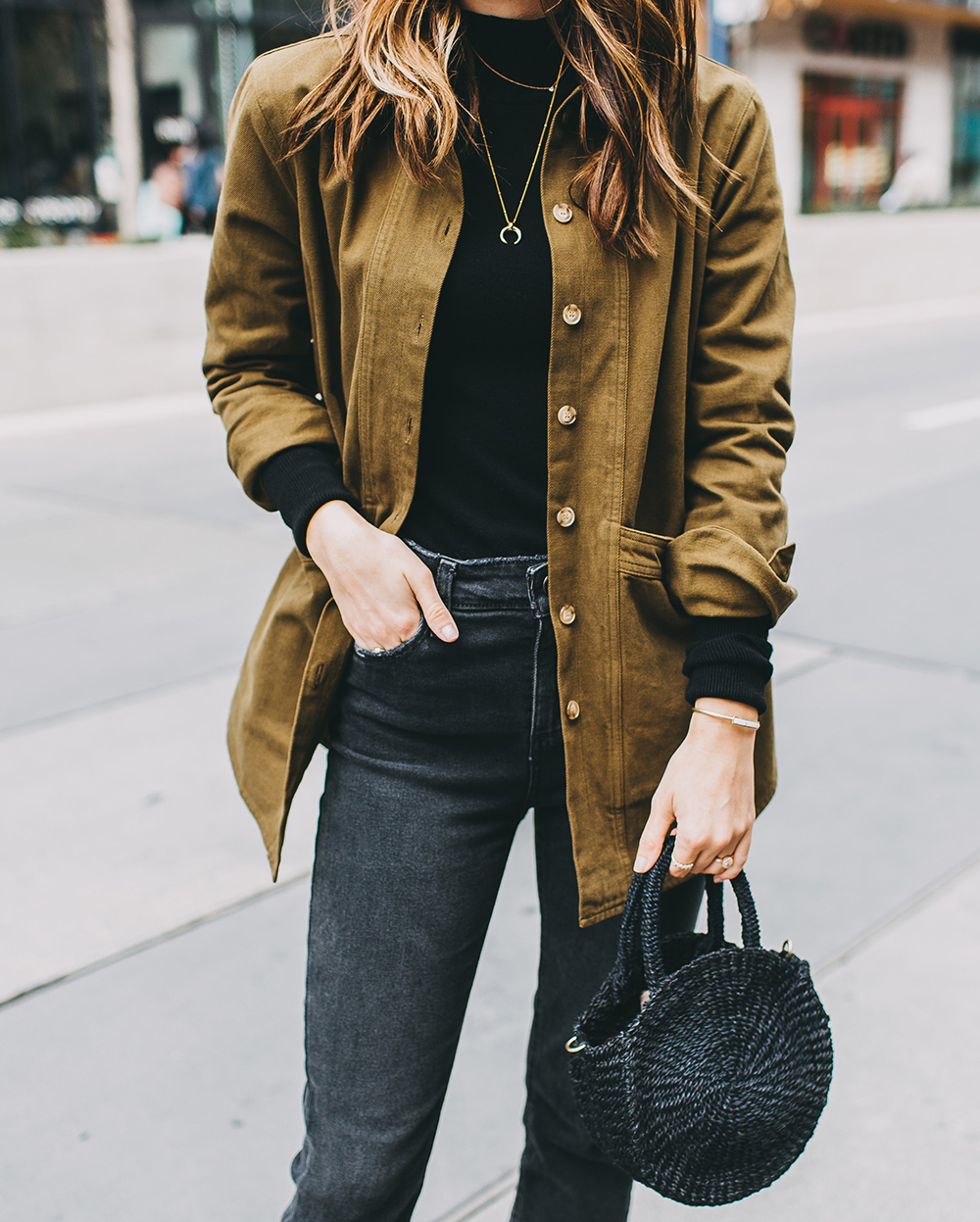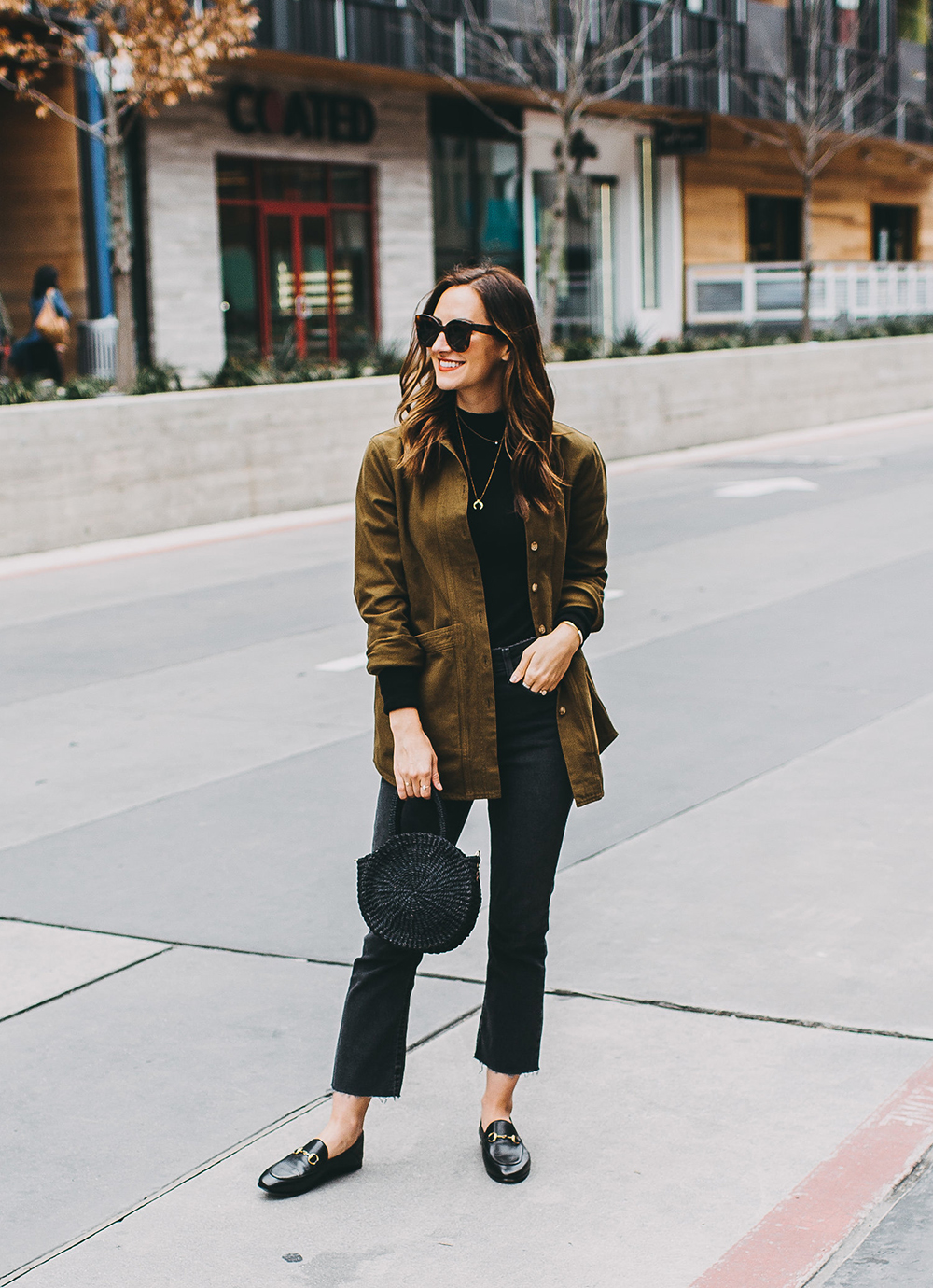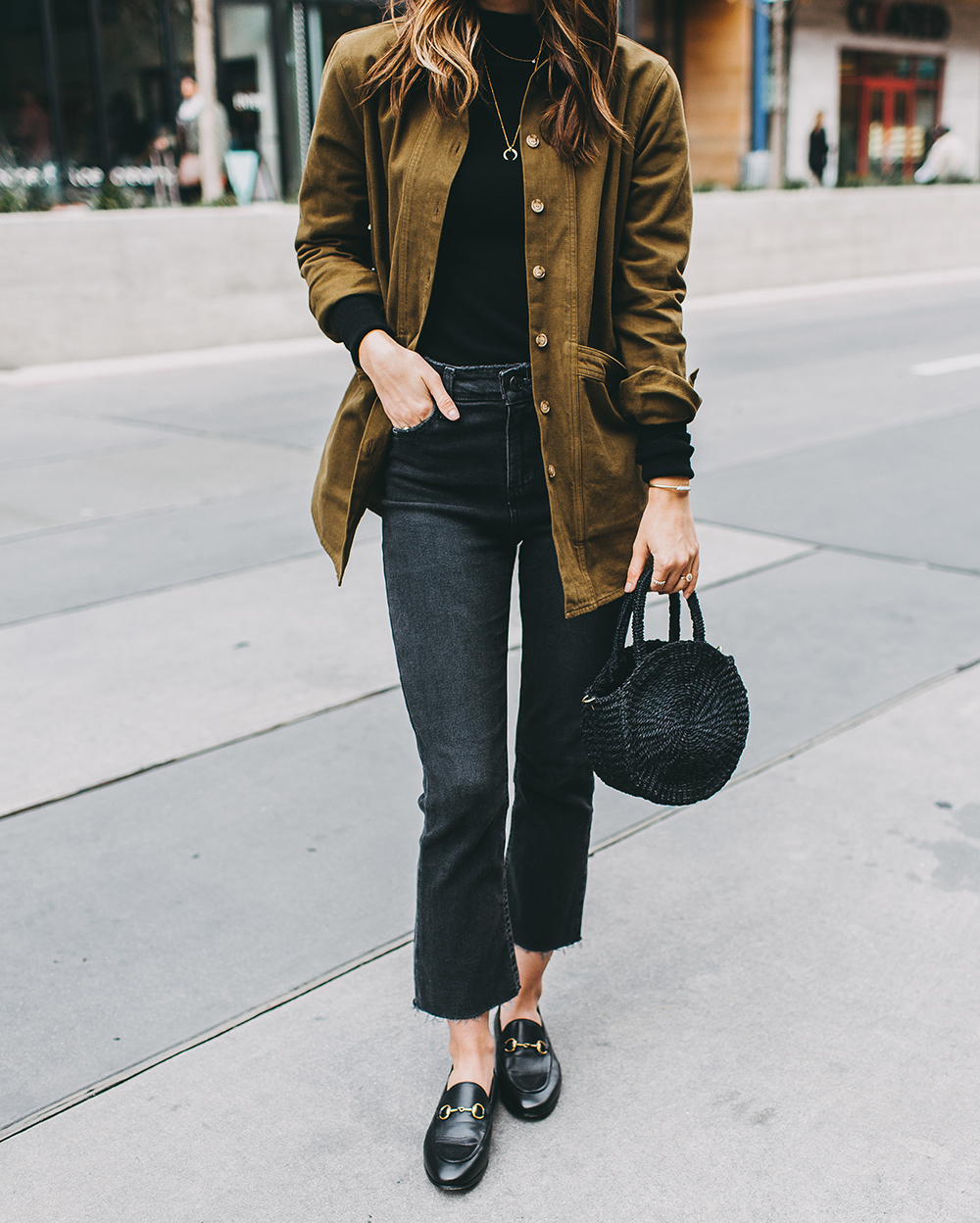 Something I will always stand behind is investing in key pieces that you whole heartedly LOVE and can wear forever. When I think of items I will save up for and big time splurge on, I often feel like if I am extra good to them, maybe I could even pass them down to my daughters (one day!) in the future. My mom and grandmother have such cool pieces they'd treated kindly and kept in great condition, and my sister and I get to enjoy and treasure them now. I am all for investing in those extra special pieces – like my Gucci loafers (I feel strange even typing that out…but I worked really hard and it was such a fun day to go pick them out!) and that darling little Clare V. handbag I scooped up from Anthropologie. (Side note: Clare V. is quickly becoming one of my favorite brands…sooo lovely and feminine!).
That adorable canvas jacket is by Sezane and I had been eyeing it forever! I was debating between the denim version and the khaki color, but realized I wear my olive utility jacket so frequently that I figured it would be good to add a similar color to my list of wardrobe staples. I am so glad I did because this thing is SO warm and the perfect length! I got the XS and it's 100% cotton so after washing it, it actually fit a little better – now it's perfect!
Lastly, I wore these kick flare jeans to a SXSW event yesterday and after posting my outfit on IG Stories, I had so many people reach out wanting product details. Thus, here we are! Under $65 and I am in LOVE! So flattering and such a great length. I am 5'6 for height reference and wearing size 25 (they run TTS).
Do you live in Austin and are out and about during the festival? If so, what's been your favorite part so far? The Create & Cultivate conference was pretty darn magical…still feeling inspired after watching all the panels on Sunday! I've got a few more fun events to attend then it's back to loungewear and puppy cuddles for me…ha! You can follow along on Instagram. 🙂 XO!
**Photos by Anna Szczekutowicz Photography
jacket – SEZANE / jeans – URBAN OUTFITTERS / top – similar URBAN OUTFITTERS (mine is old) / shoes – GUCCI (lower priced, nearly identical version HERE) / handbag – CLARE V. / SUNGLASSES – CELINE / crescent necklace – MISSOMA