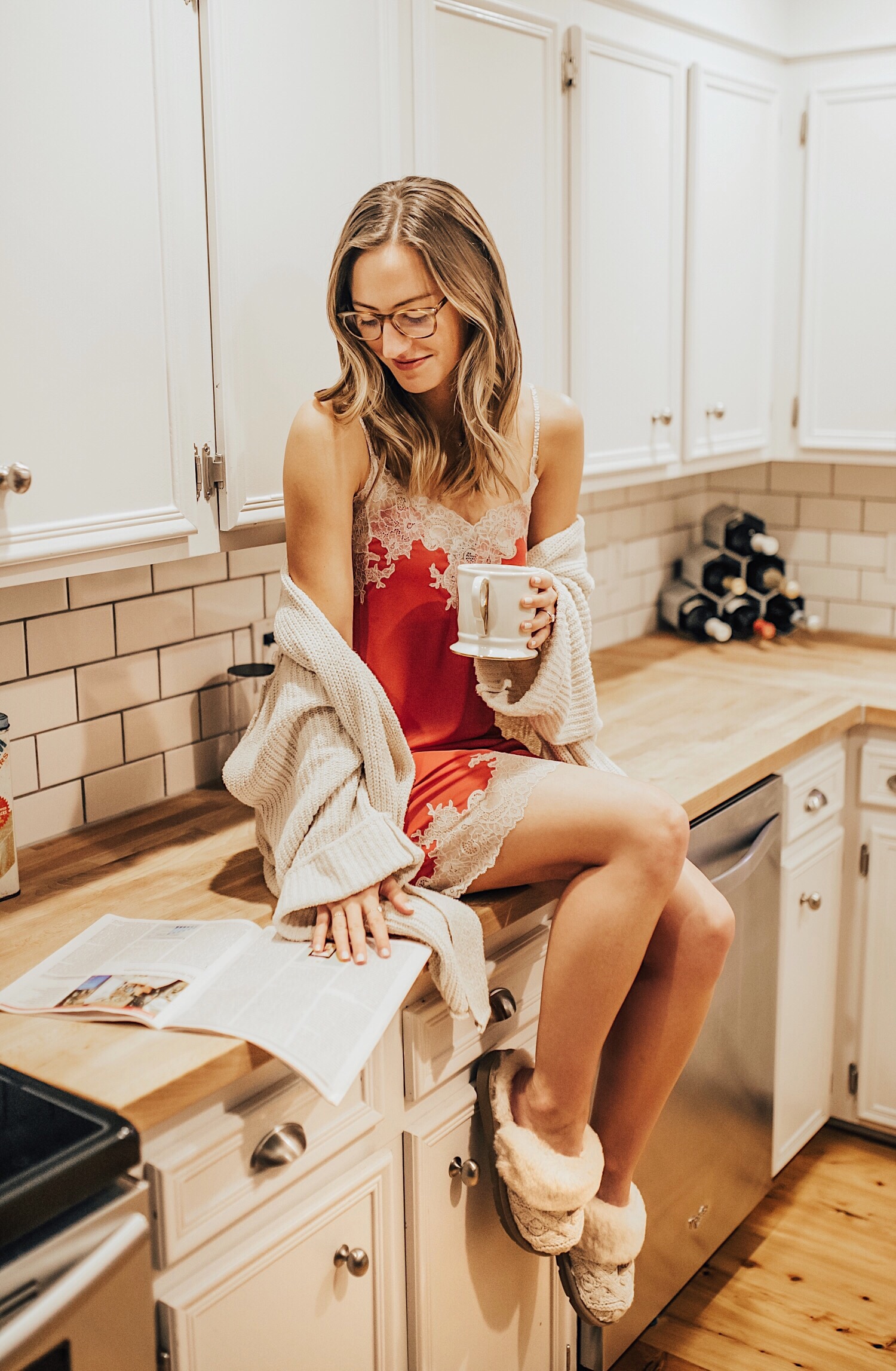 Happy Sunday, ladies! How is your weekend going? If you follow me on Instagram, you may know that yesterday was a BIG day for me and Blake…we got a dog!!! His name is Watson and he's an 8 week old Aussie Labradoodle…and we are so in love! We have been patiently waiting for him to be ours (…that's the "big news" I've hinted at in my recent posts), and we were finally able to bring him home and join our little family. (Psst…here's a glimpse at the sweet angel in case you want to see!).
In other news, cozy mornings at home have always been big in our abode…and now with a pup in tow, enjoying time at home is even more important! While most of the time I am admittedly wearing a mismatching oversized tee and sweatpants that I have likely had since high school (attachment issues, ya know? haha), there are certain days and nights where I want to feel extra beautiful and wear a pretty chemise (omg this thing is the softest piece of lingerie EVER!) and layer up with a cozy cardigan (one of my favorites over the past couple of years) and some ultra plush slippers. Today I'm excited to partner with Nordstrom and share the details on this perfect sexy yet classy and oh so cozy look!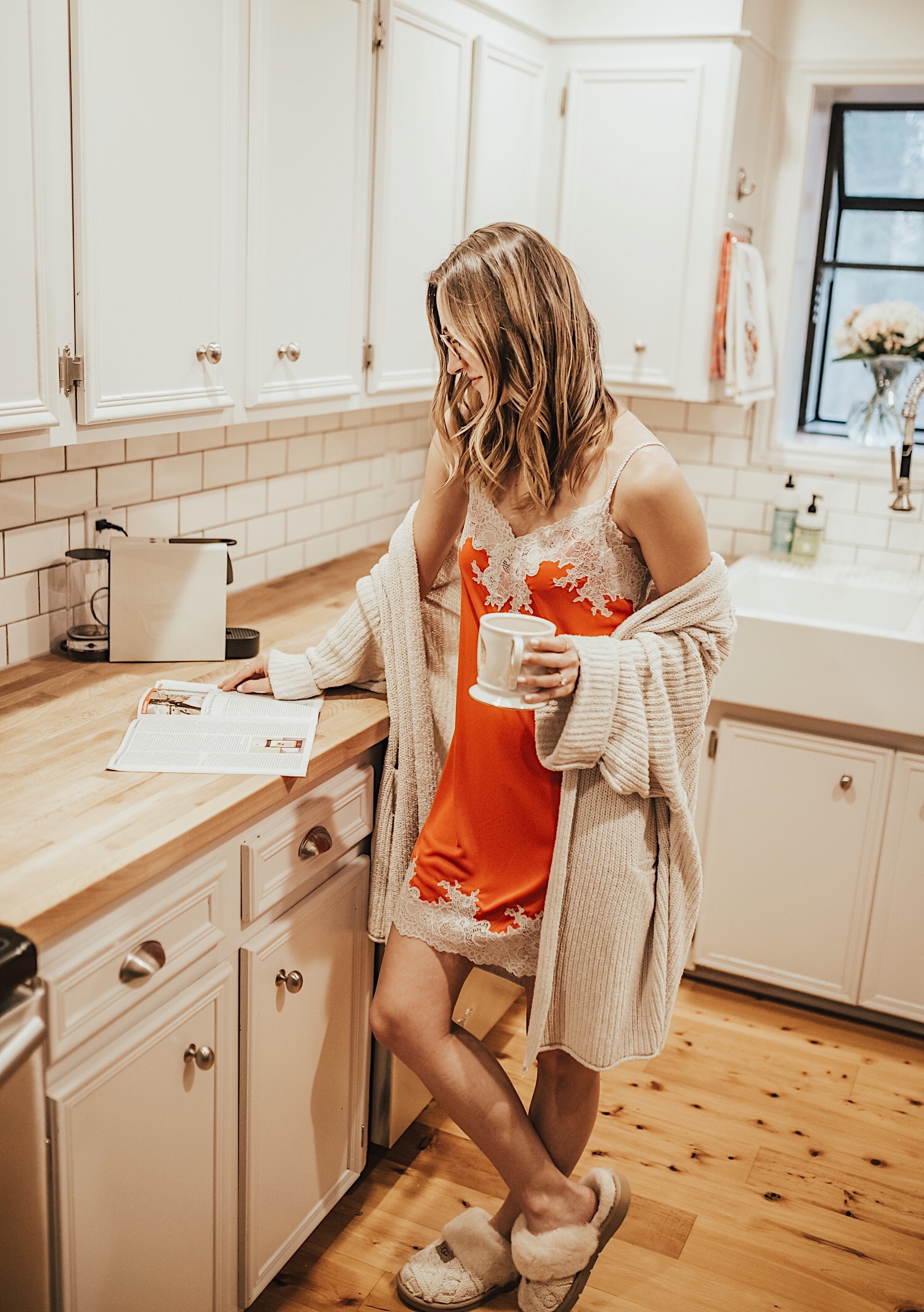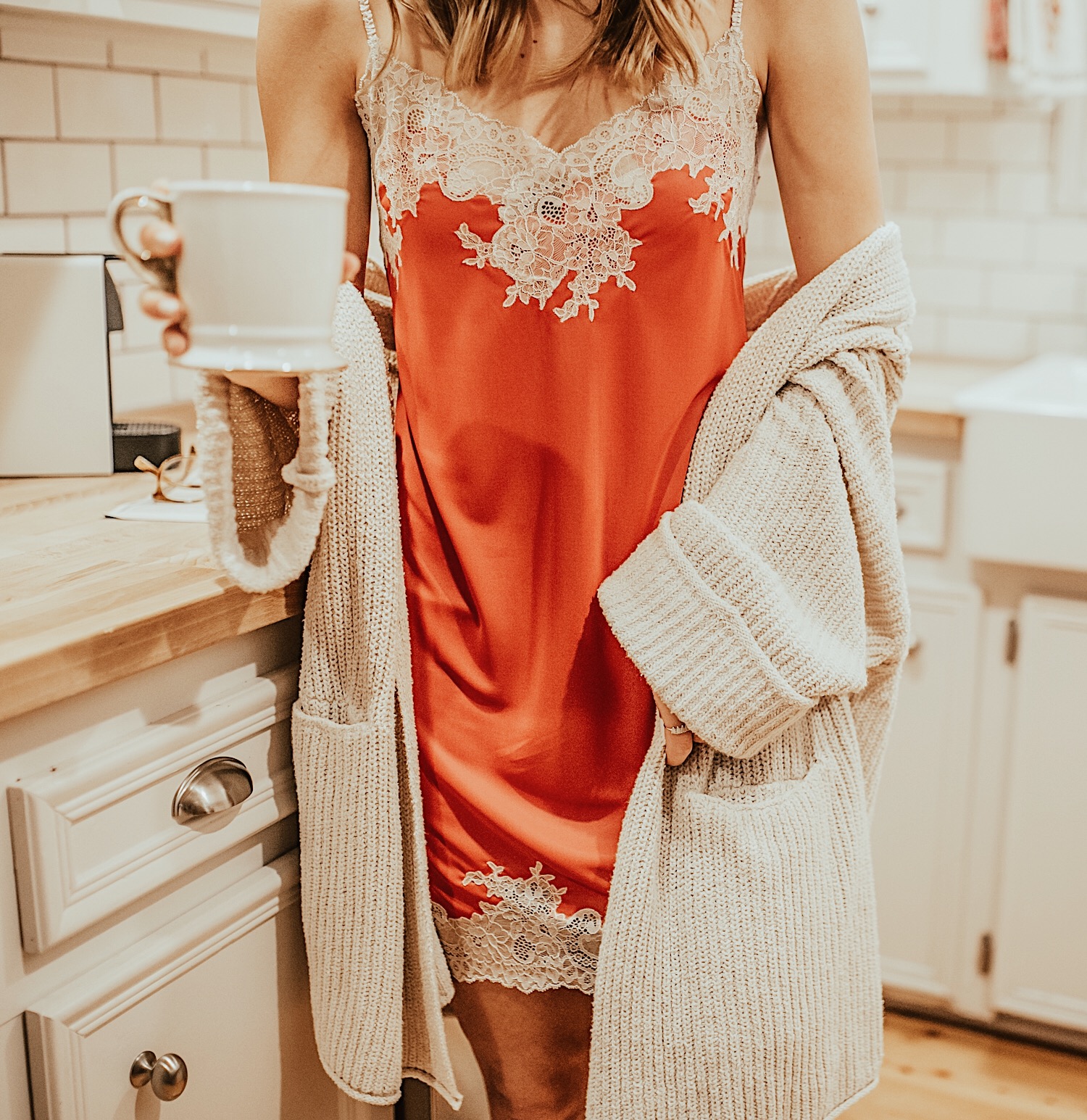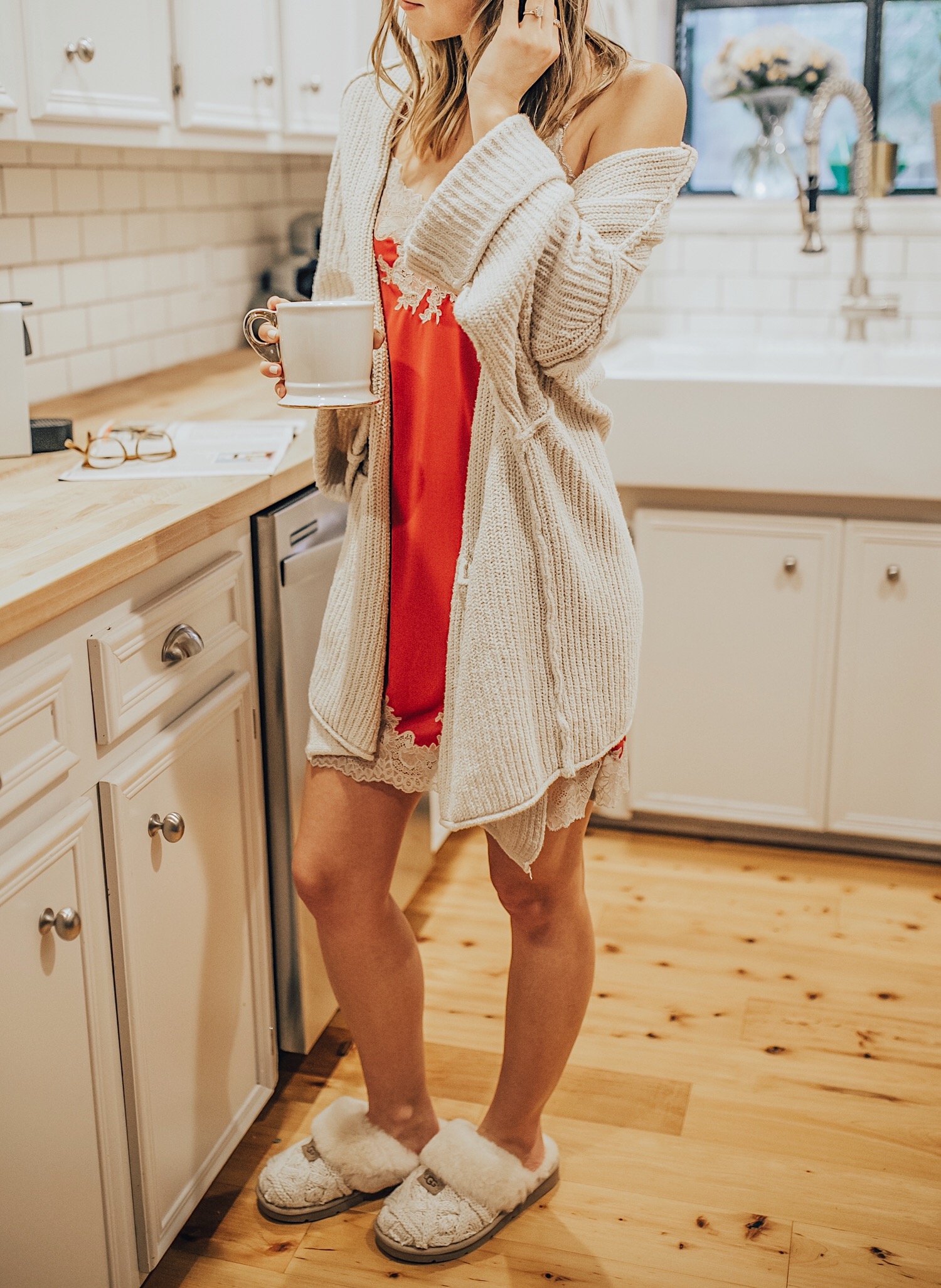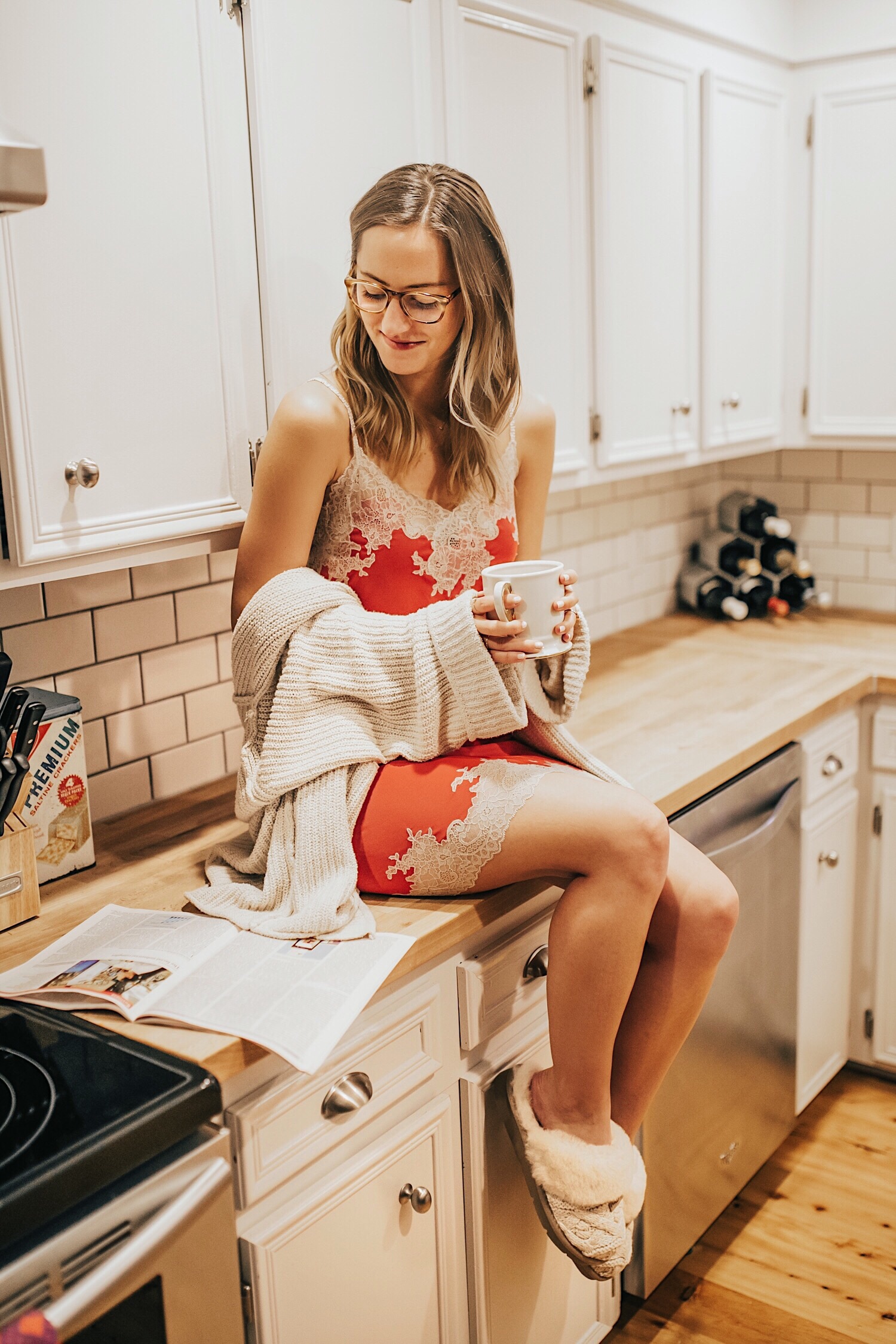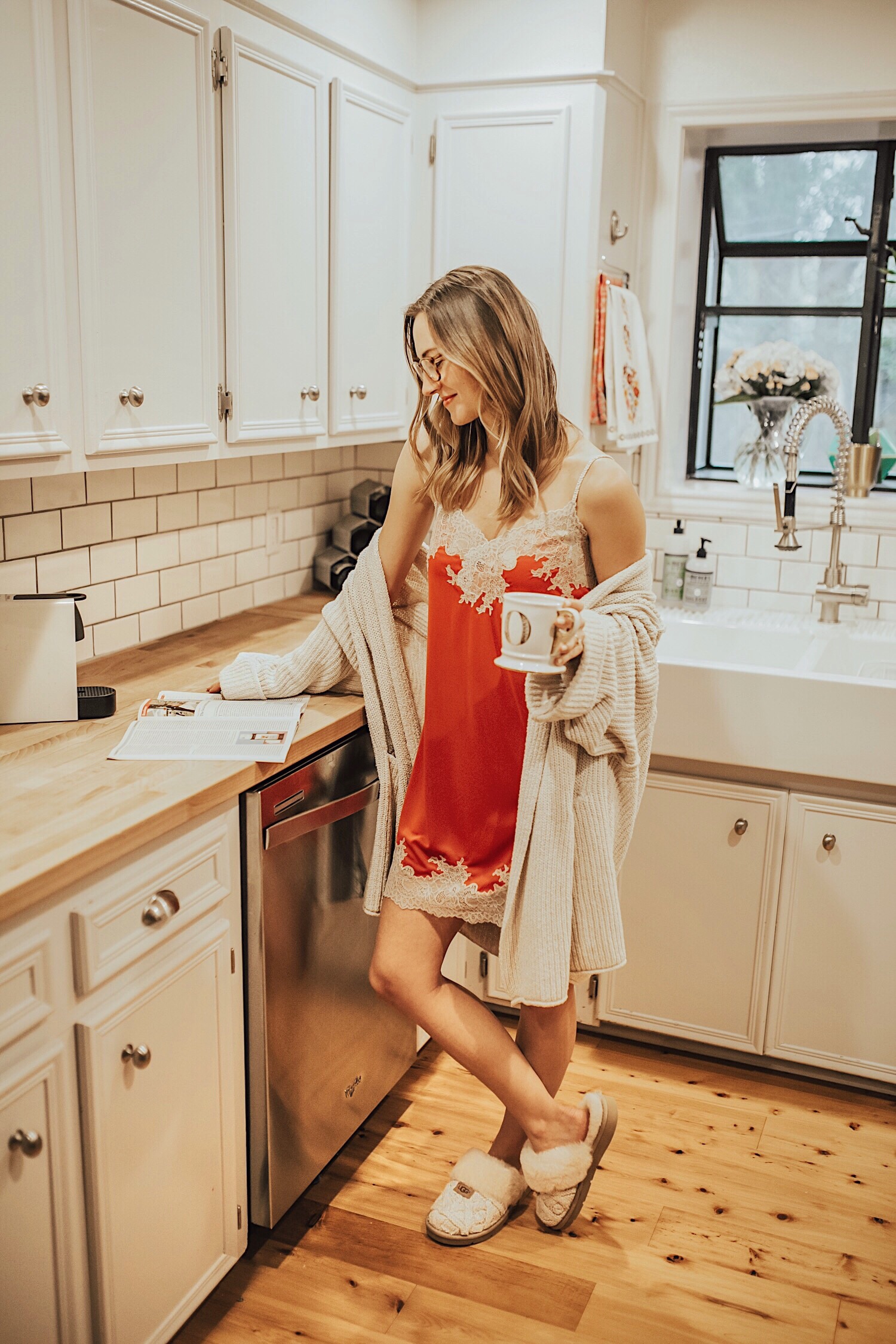 I've mentioned quite a few times that I used to work at Nordstrom through my college years (and for a few months after!), and the activewear department was directly next to the lingerie department at our store. During the slower days, I'd stroll through the lingerie area and admire the beautiful fabrics, pretty lace teddies and underwear – and among them I always seemed to reach for the anything by Natori. A well known brand in the lingerie world, Natori is SO classy and beautiful…they have absolutely perfected that balance of sexy and timeless lingerie. From chemises (the one I am wearing comes in 4 color options…sucker for crimson at the moment!), silky robes, bra and panty sets and so much more, this brand is one of my favorites. Though Natori is a higher price point (truly, the quality is outstanding), I love that Nordstrom carries so many beautiful lingerie brands at all different prices.
On that note, did you know that Free People and Madewell have lingerie at Nordstrom, too? Such a sucker for those brands and everything is SO cute and practical for everyday wear (LOVE the colorful bra tops!). You can check out the lingerie and underwear here.
Wishing y'all a fabulous, relaxing Sunday! XOXO
chemise – NATORI / cardigan – FREE PEOPLE / slippers – UGG

A big thank you to Nordstrom for sponsoring this post! All opinions are my own.