Hi there! How's your week going? I'm currently writing this post from our cozy hotel in Newport, Rhode Island…looking out our window at the harbor filled with sailboats and mini yachts, coffee in hand (…can you tell I'm in my happy place right now? Ha!). Y'all, the east coast is breathtaking! My friend Veronica and I flew into Rhode Island yesterday and will be here for four days with the wonderful Brahmin Handbag team (…note that gorgeous bag in this post, eh eh! 😉 ), then we'll part ways as she heads to San Francisco for a girls weekend, and I'll take the train to NYC to spend some time with my besties in the city. Needless to say, we are so excited to be traveling, experiencing new cities and meeting the team behind a brand I have worn and adored long before I started blogging… this is truly a dream come true! It's mornings like this where I find myself full of gratitude and feeling more motivated than ever to keep pursuing a career that I whole heartedly love.
Aaand now that I've ventured into "sappy" mode (ha!), let's get this adorable, simple & chic look, shall we? 😉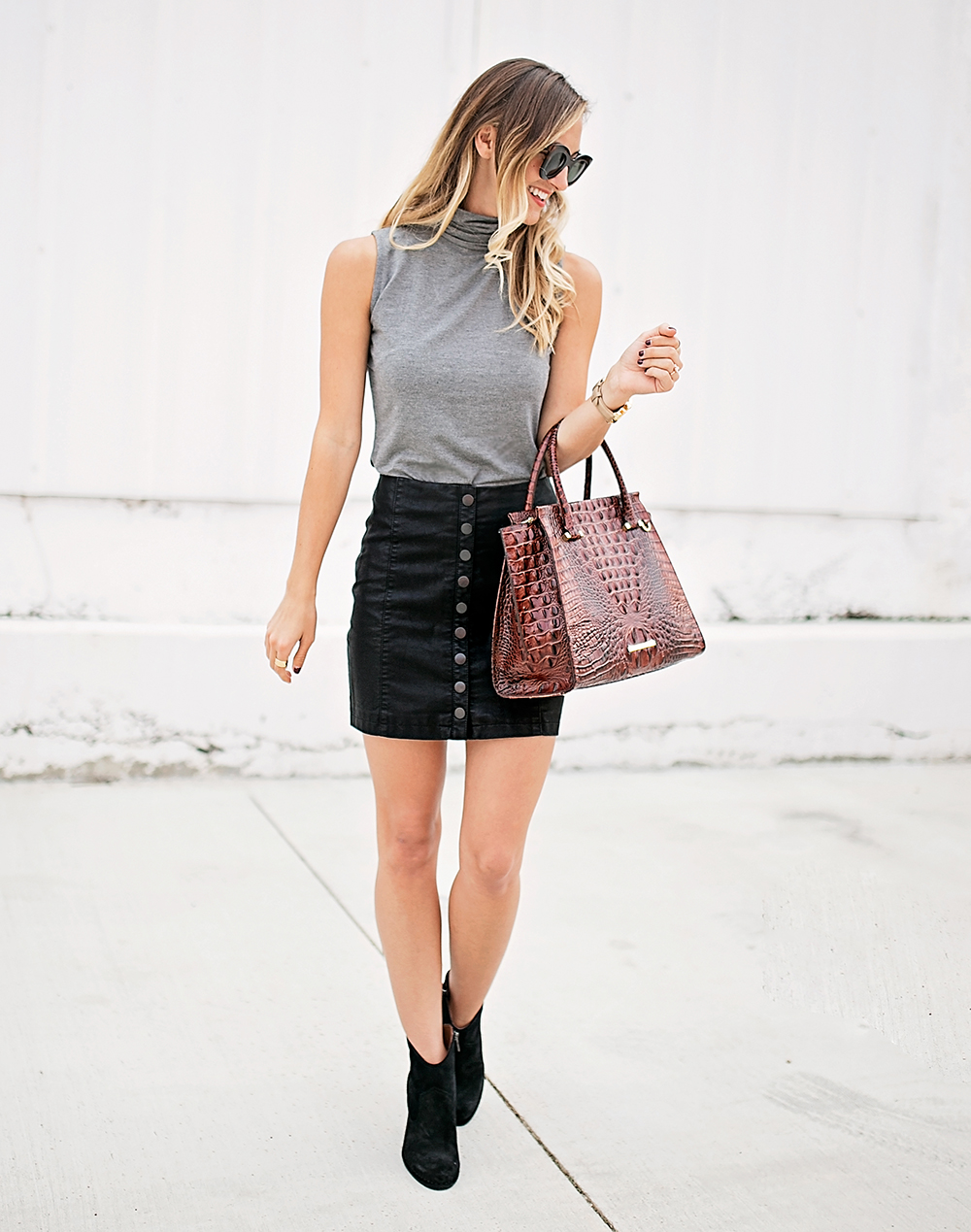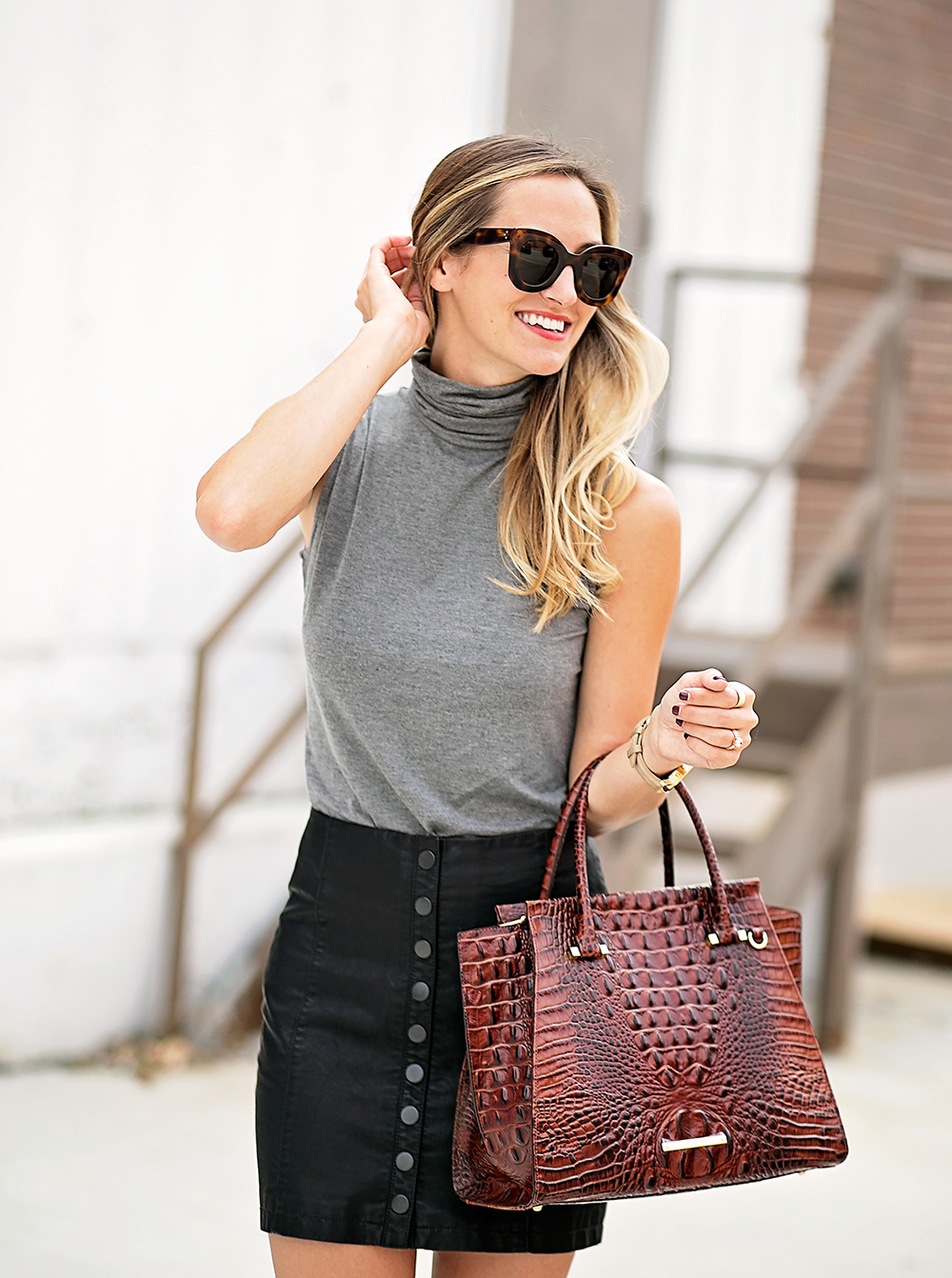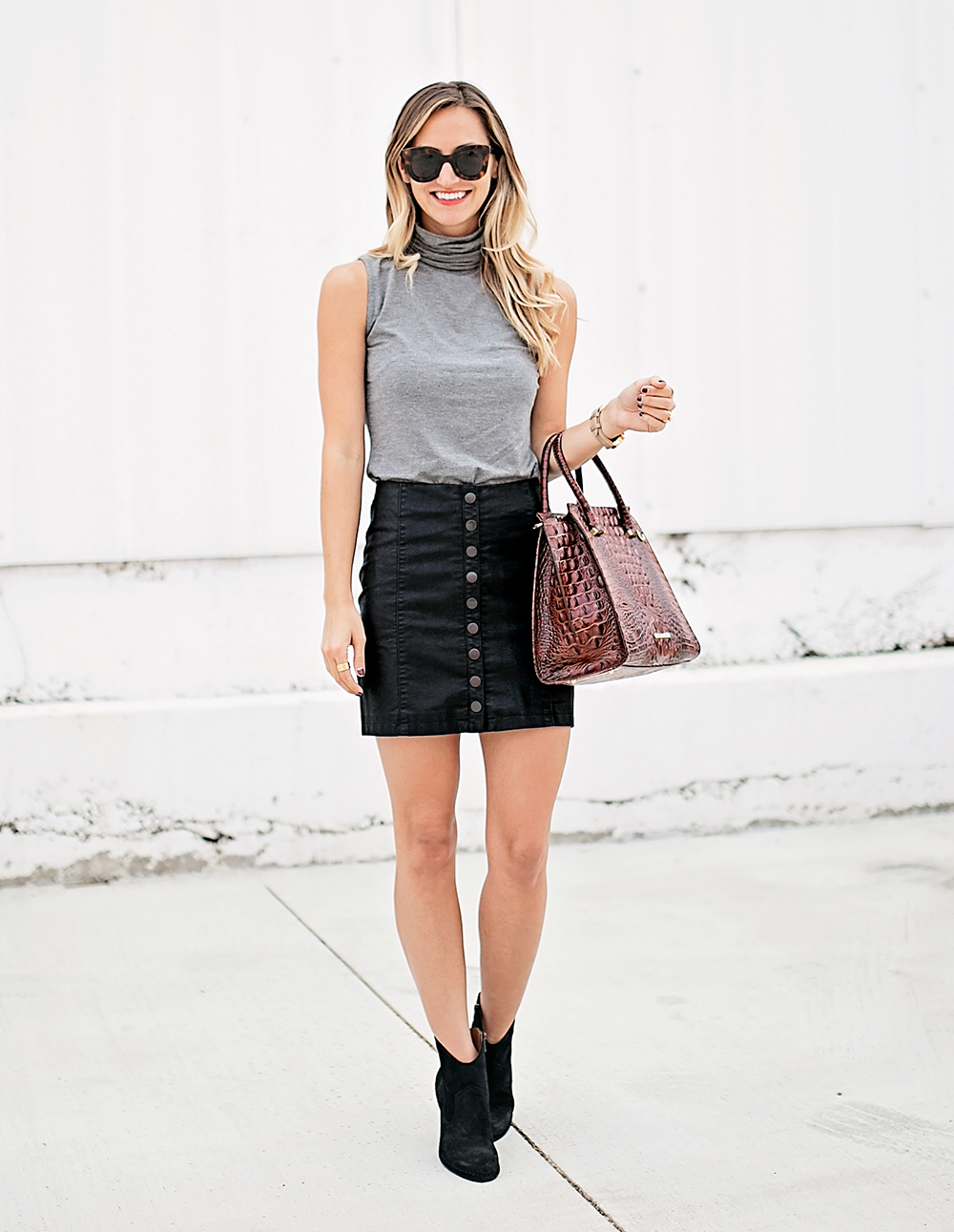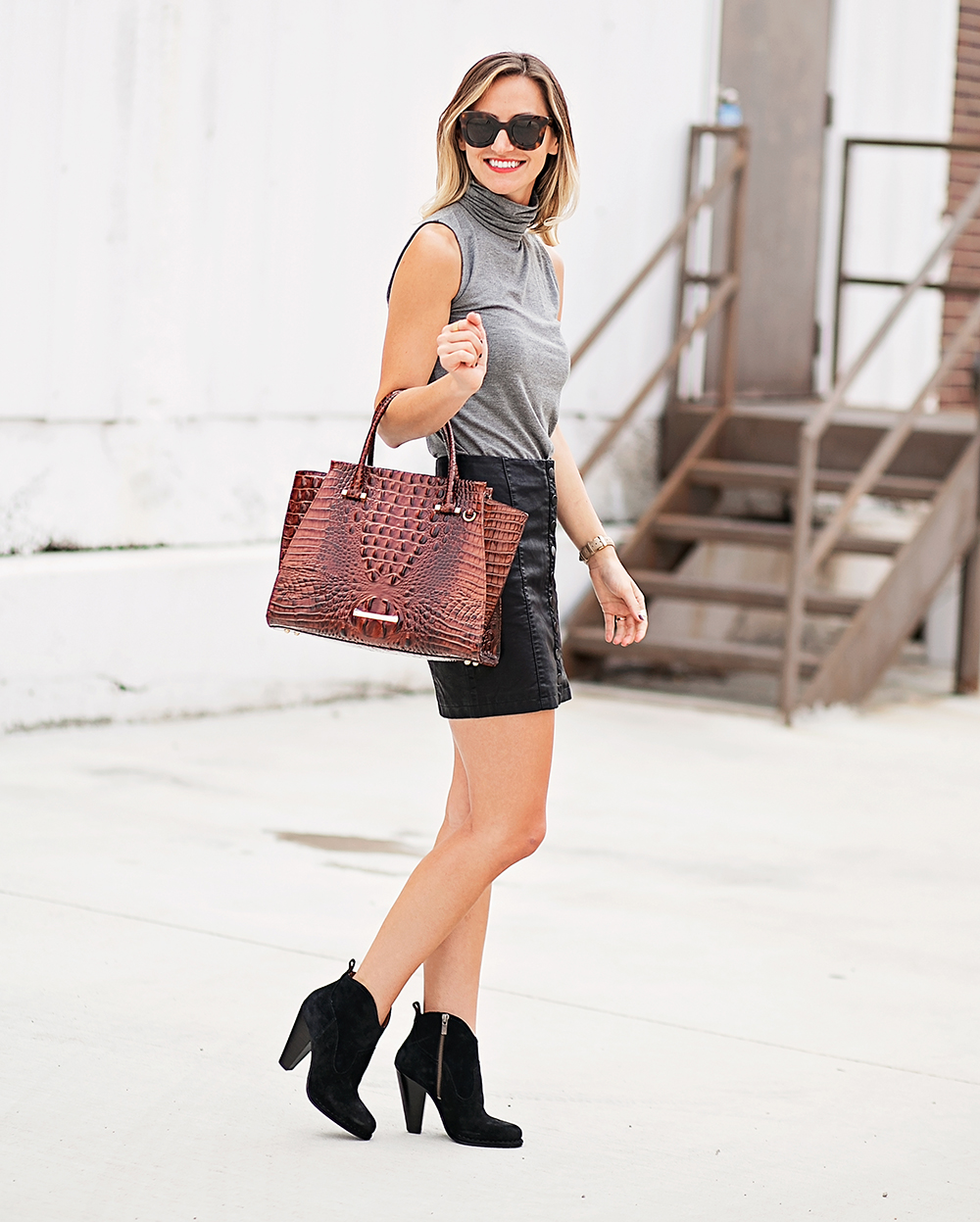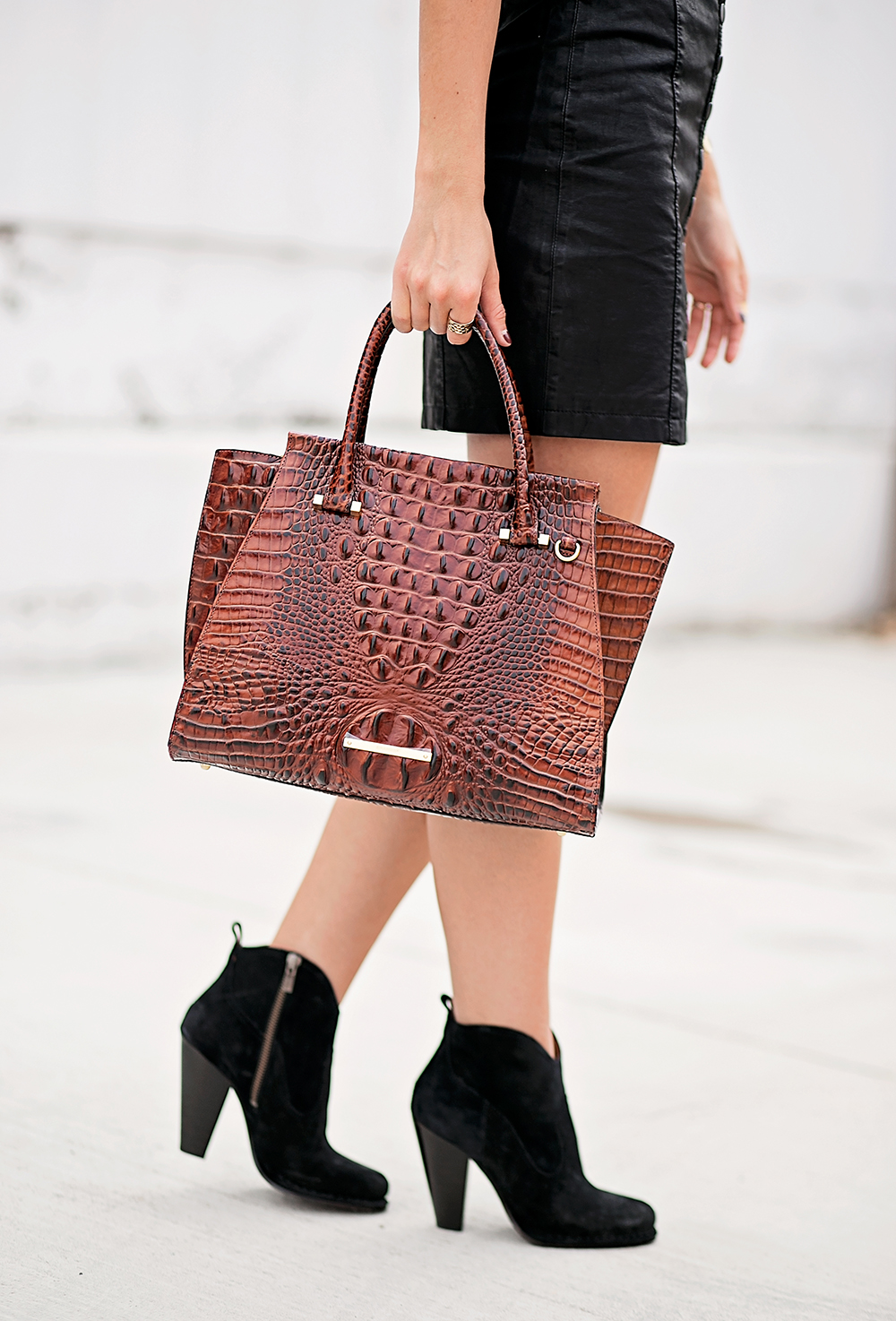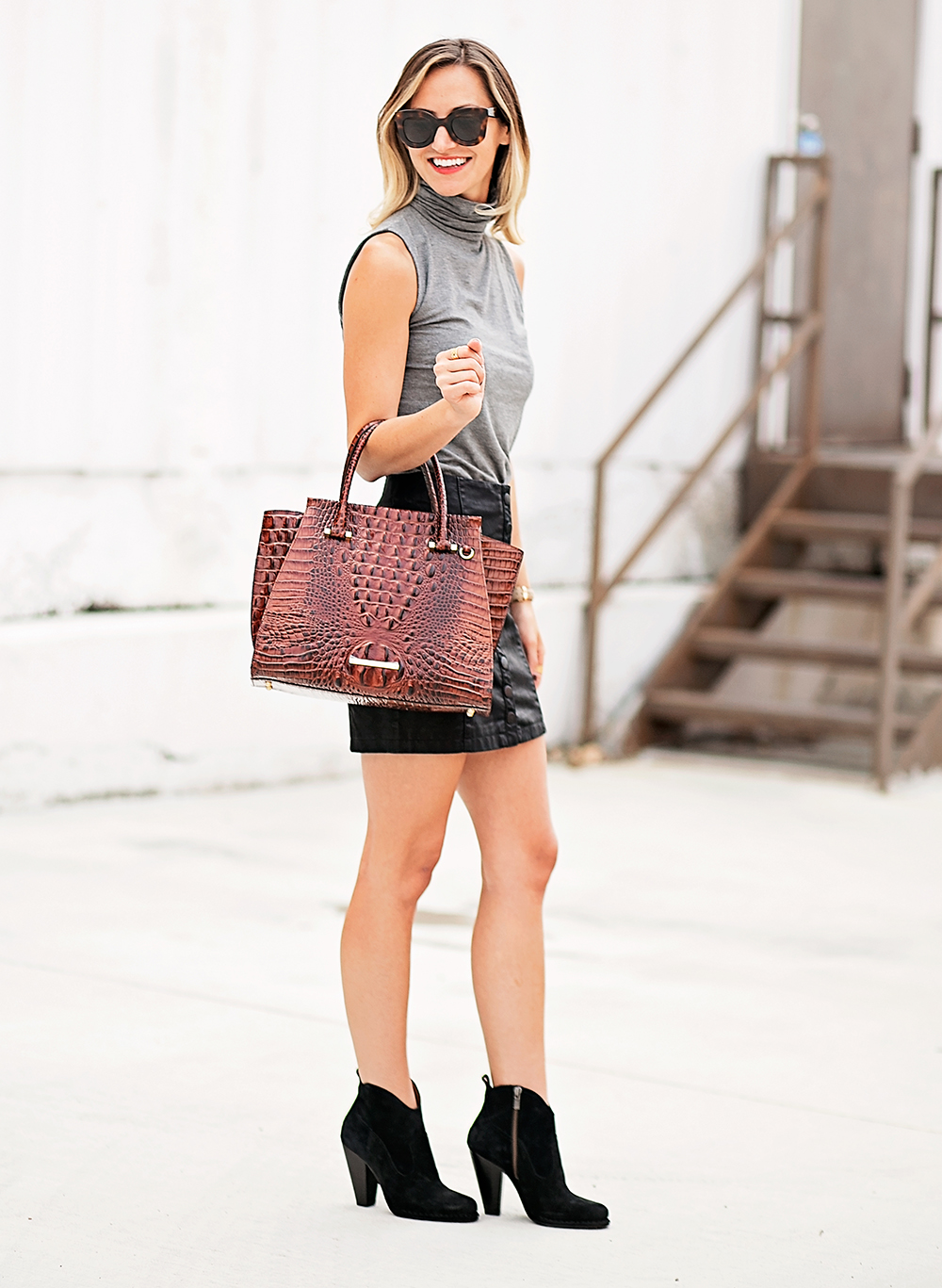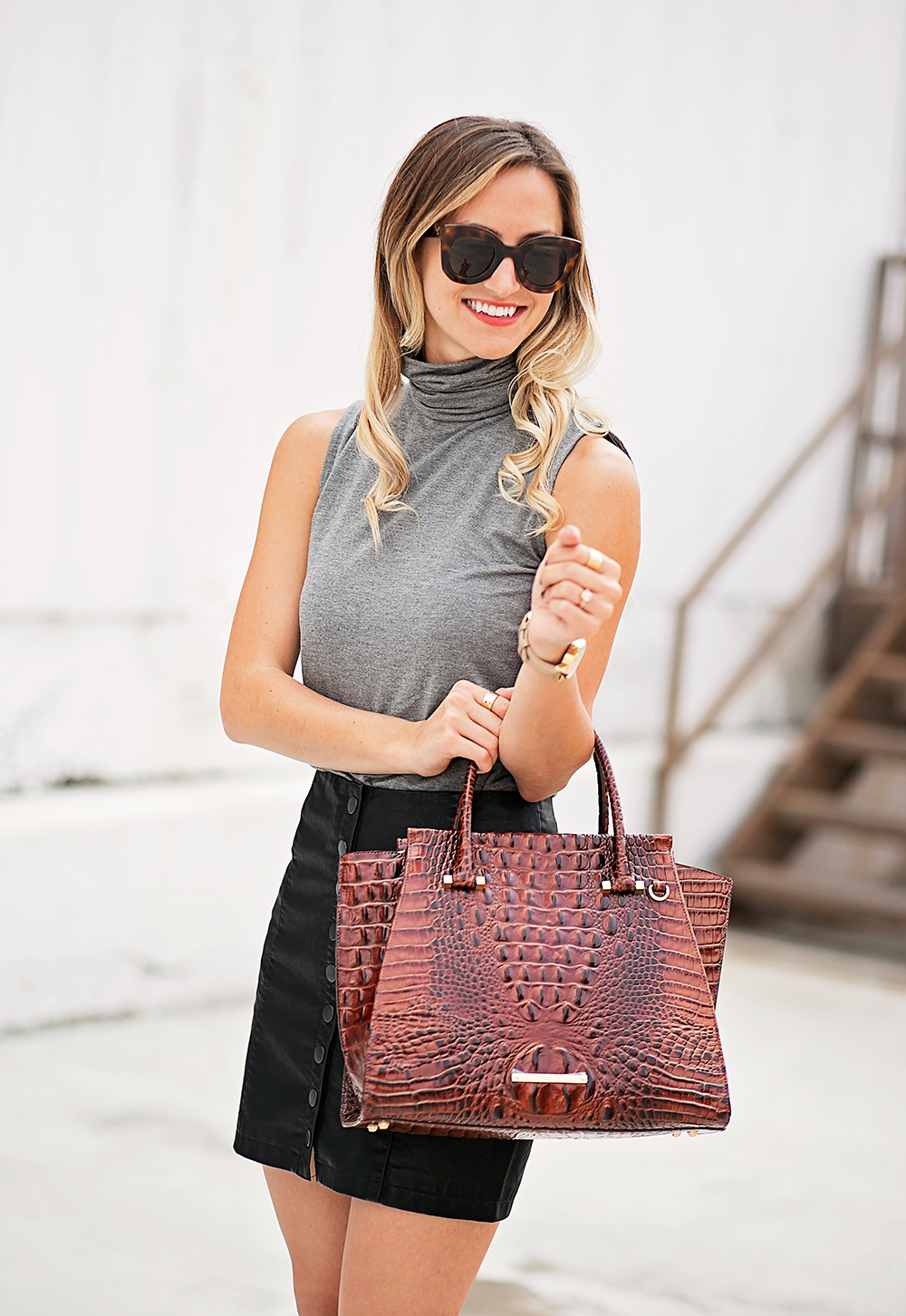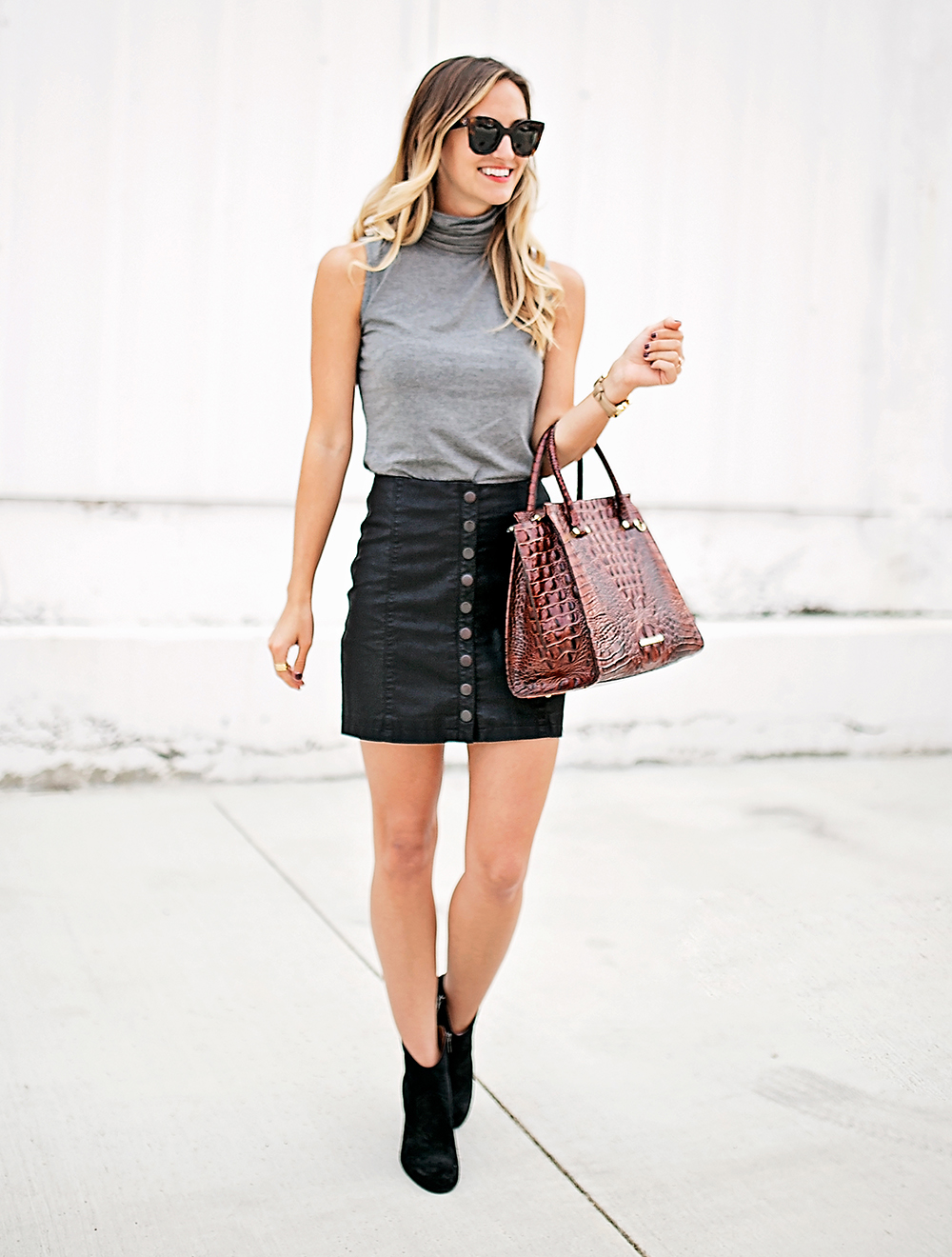 A-line skirts are a big trend this year – and I can totally see why! Ultra flattering, comfortable, fabulous with ankle booties or heels or OTK boots and such a great transitional piece to keep around in your wardrobe for years to come. As y'all know, I've been slowly but surely doing my best to incorporate more black pieces into my outfit repertoire (…I kind of alwaaaays gravitate towards brown hues or earth tones) – and this black skirt was a must as soon as I saw it! It's by Free People (ps. it's not real leather but feels super soft + amazing quality!) and for reference, I am wearing a size 2 (I ordered both the 0 and 2 just to be sure, sometimes I vary in FP sizing) but the size up fit much better – so if you're in between sizes, go up!
My turtleneck tank is SO cozy and would be perfect for layering (…when it's not still 85 degrees in Austin, ah!) – also such a great neutral and classic top that will always be in style (thus, it's a great investment piece!). My top is by Bailey44, which is known for their high quality items that last forever. I also linked to a few more similar tops at lower price points below! (Just scroll through the product photos at the end of this post).
On the subject of branching into the black clothing realm, my booties are by Frye (..which just opened up a store front in Austin, wahoo!) and these are SO gorgeous…like, really…I "ooh'd and ahh'd" a LOT when I opened the box haha. They fit TTS and look fabulous with skinny jeans, leggings and a flowy tunic, dresses and of course, skirts – and they come in a ton of color options, too. I also linked to a very budget friendly secondary option if you like this look but not the price point!
That gorgeous handbag is by Brahmin and I wear it ALL the time – the color is absolutely perfect for fall! Such a beautiful structured bag and the reddish/brown ("pecan cherry" is what I like to call it) color is so rich and beautiful with any outfit. It has quickly become my go-to "neutral" handbag because it matches both my black and brown shoes and accessories, which is amazing for everyday wear!
Last but not least…my new sunglasses! If I could insert a hundred heart eye emojis right now, I totally would. They're by Celine and they are GORGEOUS! When I hit 100K on Instagram, I treated myself to these.. 🙂
Alrighty ladies, sorry for my novel today! Hopefully this gives you some fall transitional inspiration and shows you another way to wear a-line skirts, ankle booties and turtlenecks! Shop my picks and a few more below – XOXO!
Photos by Angie Garcia Photography
skirt – FREE PEOPLE / top – c.o. BAILEY44 / booties – c.o. FRYE / handbag – c.o. BRAHMIN / sunglasses – CELINE