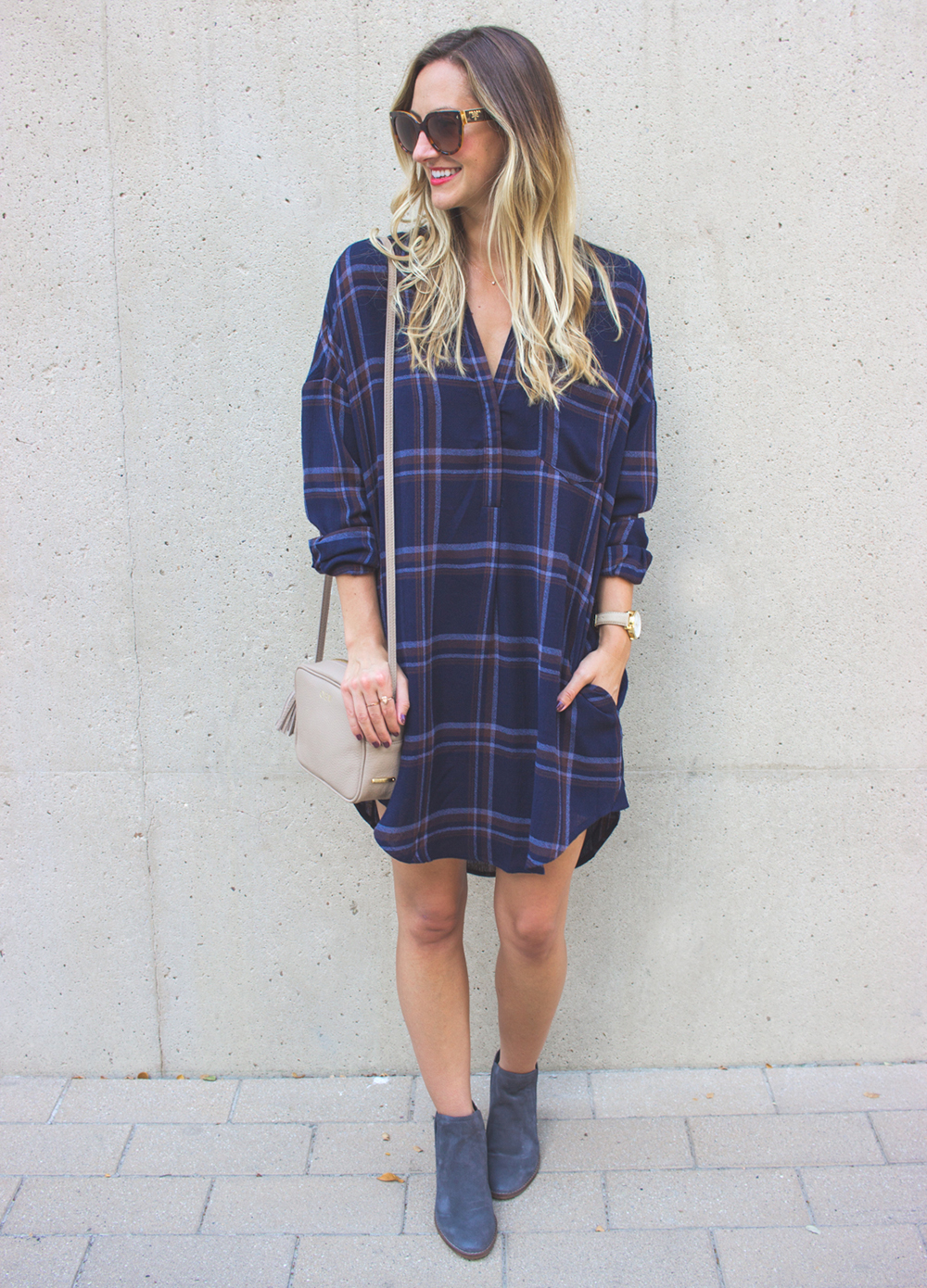 A big thank you to Zappos for sponsoring this post! All opinions are my own!
Hello there! How was your weekend? We stayed extra busy doing some deep cleaning, visiting with family and packing for my east coast getaway (…and while doing so I caught up on the latest Saturday Night Live and it was SO funny! Seriously, this election season is pure gold for SNL…I was crying I was laughing so hard, ha!). We also snuck in a date night on Saturday – Blake and I went to one of our favorite college spots (the UT game was on) for some yummy Brazilian food and margaritas! If you're in Austin, you've got to try Sao Paulo near UT campus and get the puffy chips and queso, you won't be disappointed! 😉
Though it's technically fall, Austin weather is sticking to those 85 degree temperatures during the day. That means we're still in that transitional attire mindset, so shift dresses and boots has been part of my wardrobe routine for a few weeks now. I am loving plaid shirt dresses paired with cute ankle booties (like these adorable Dolce Vita navy boots!).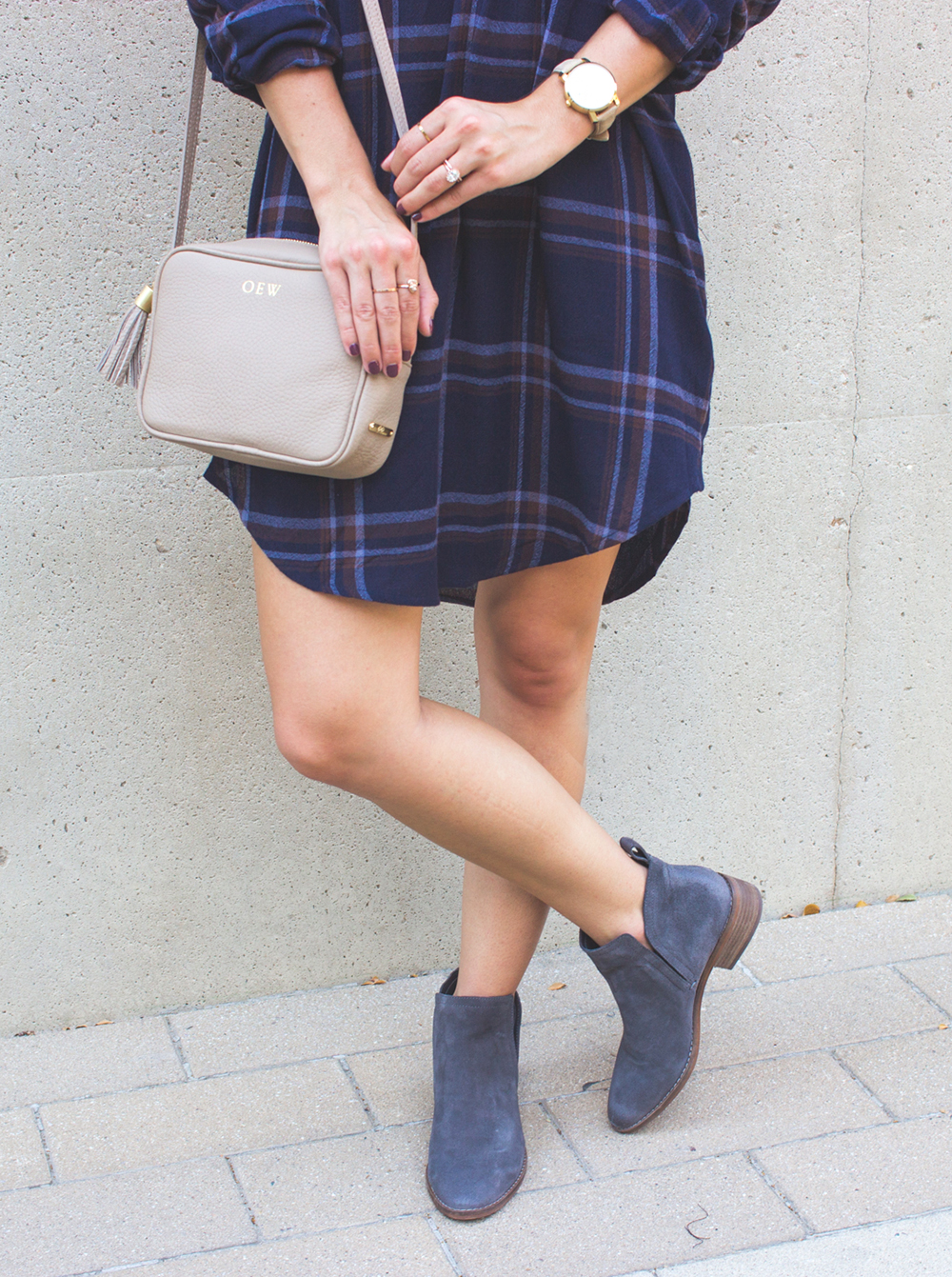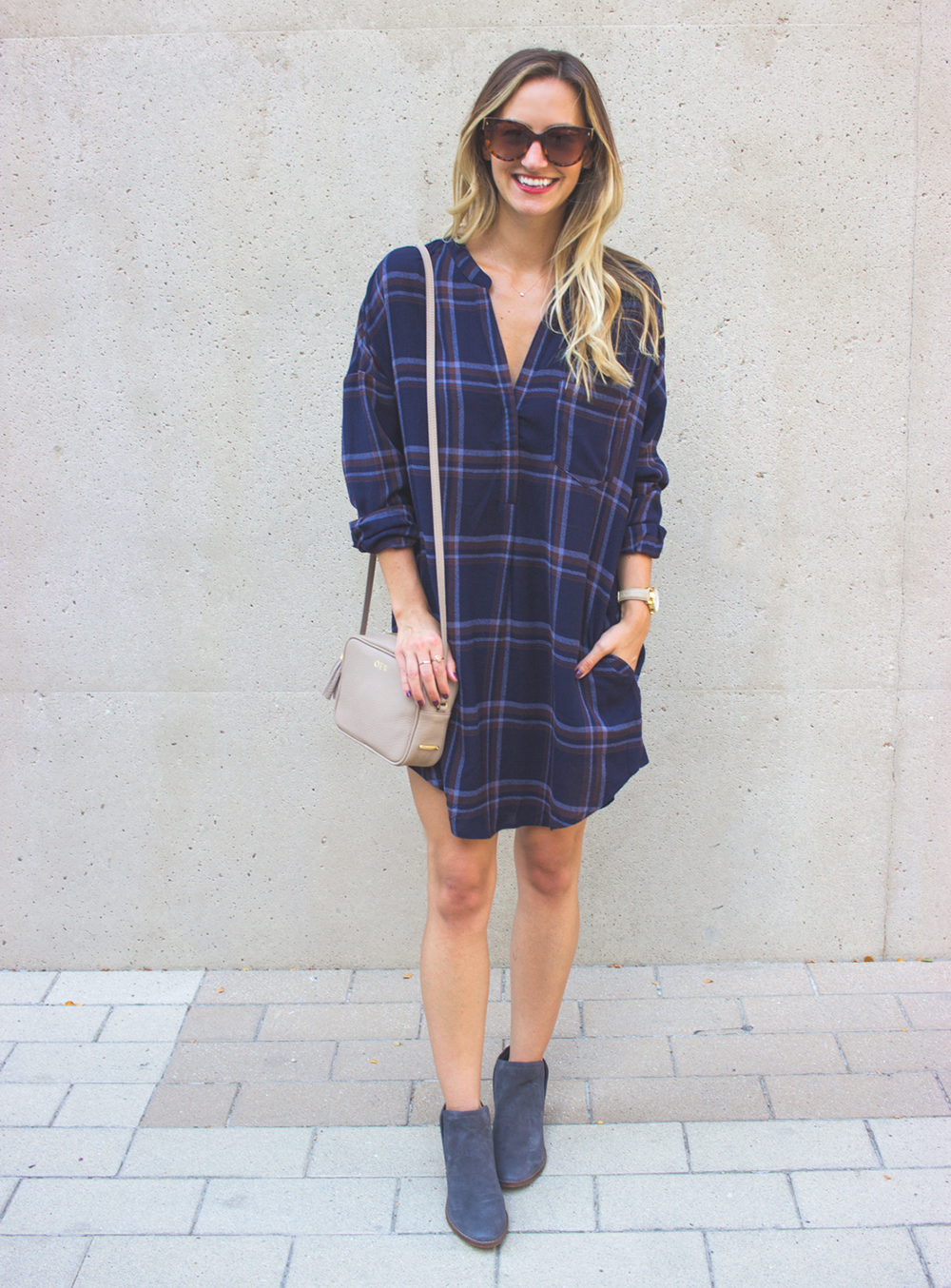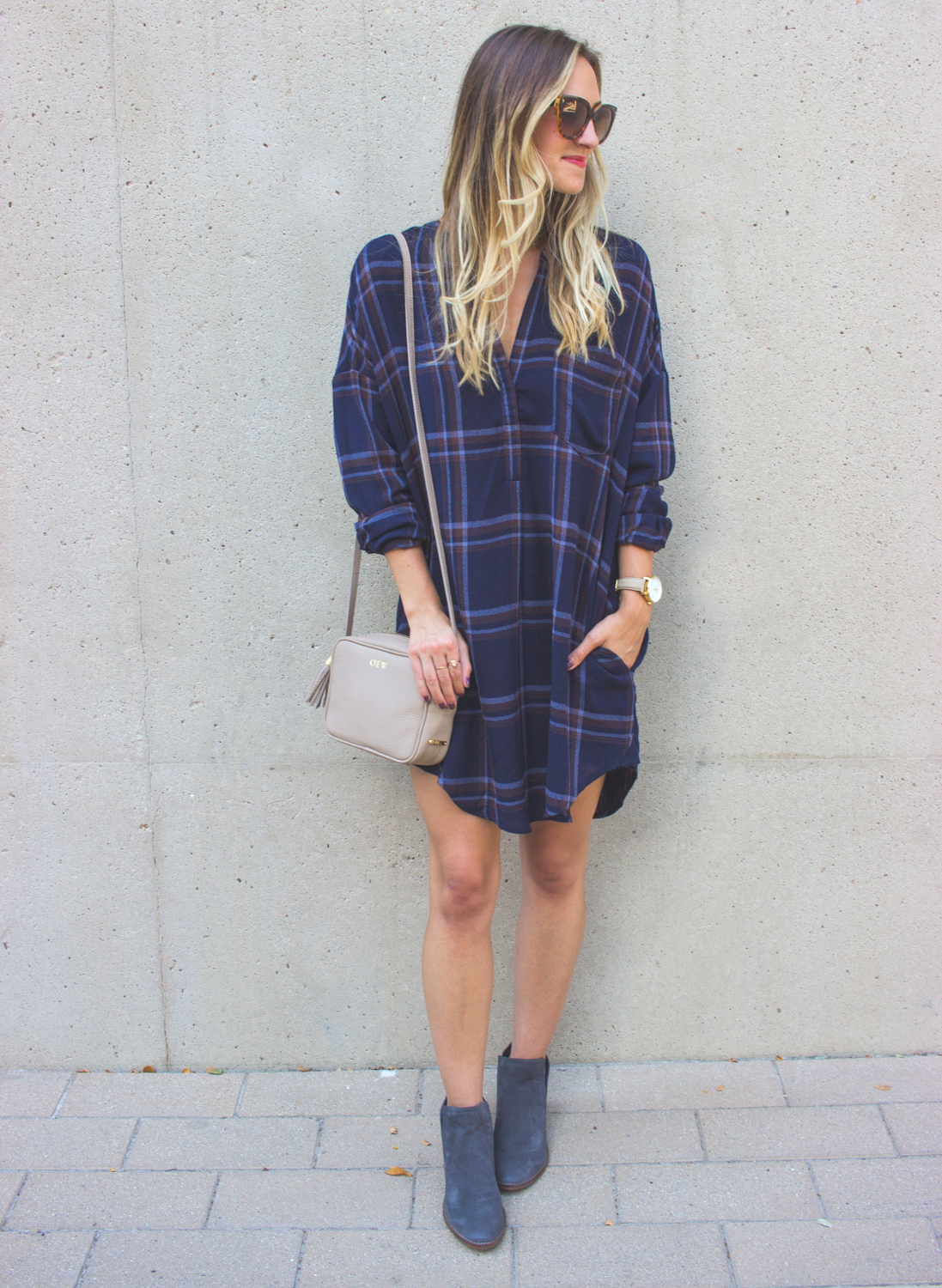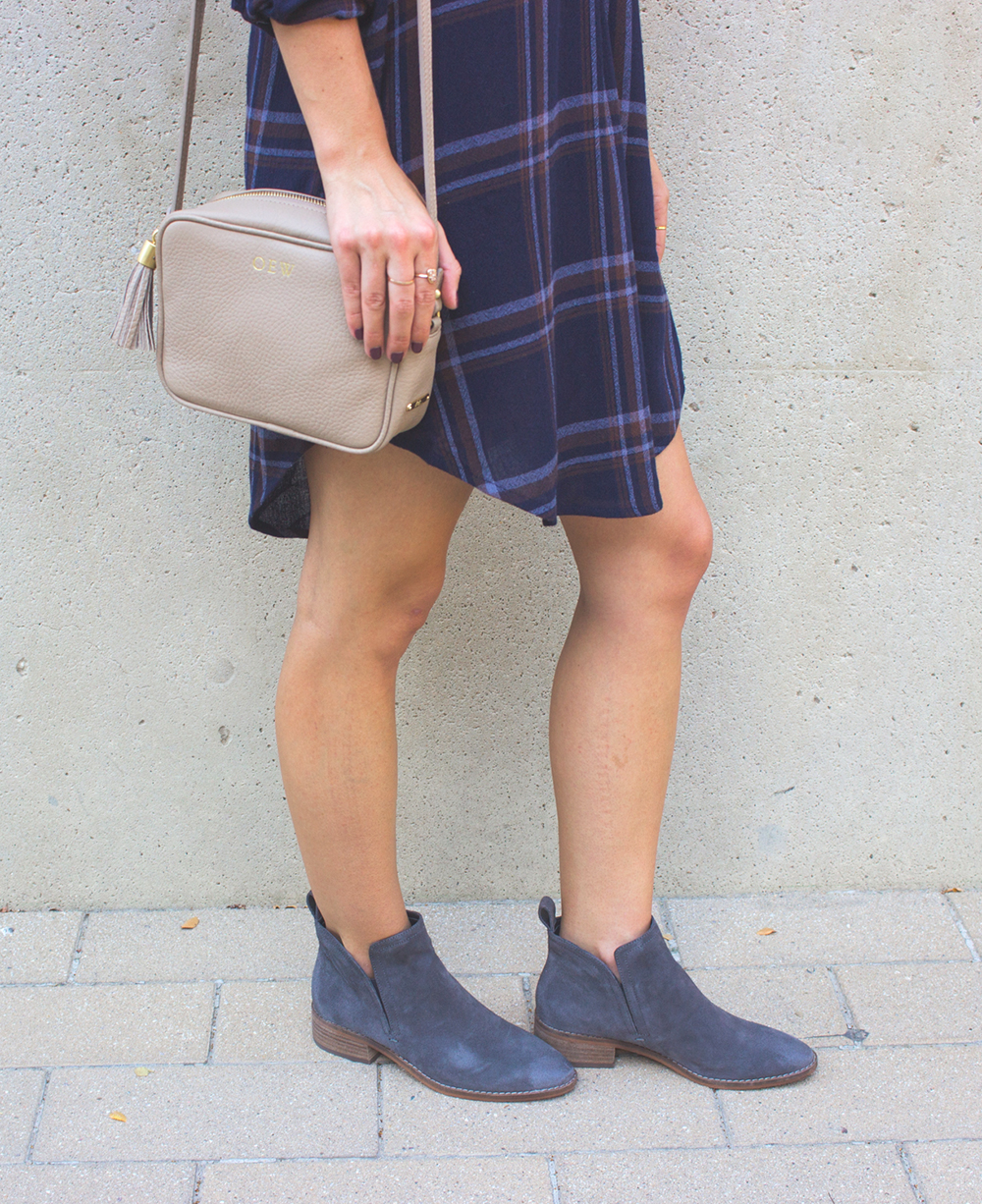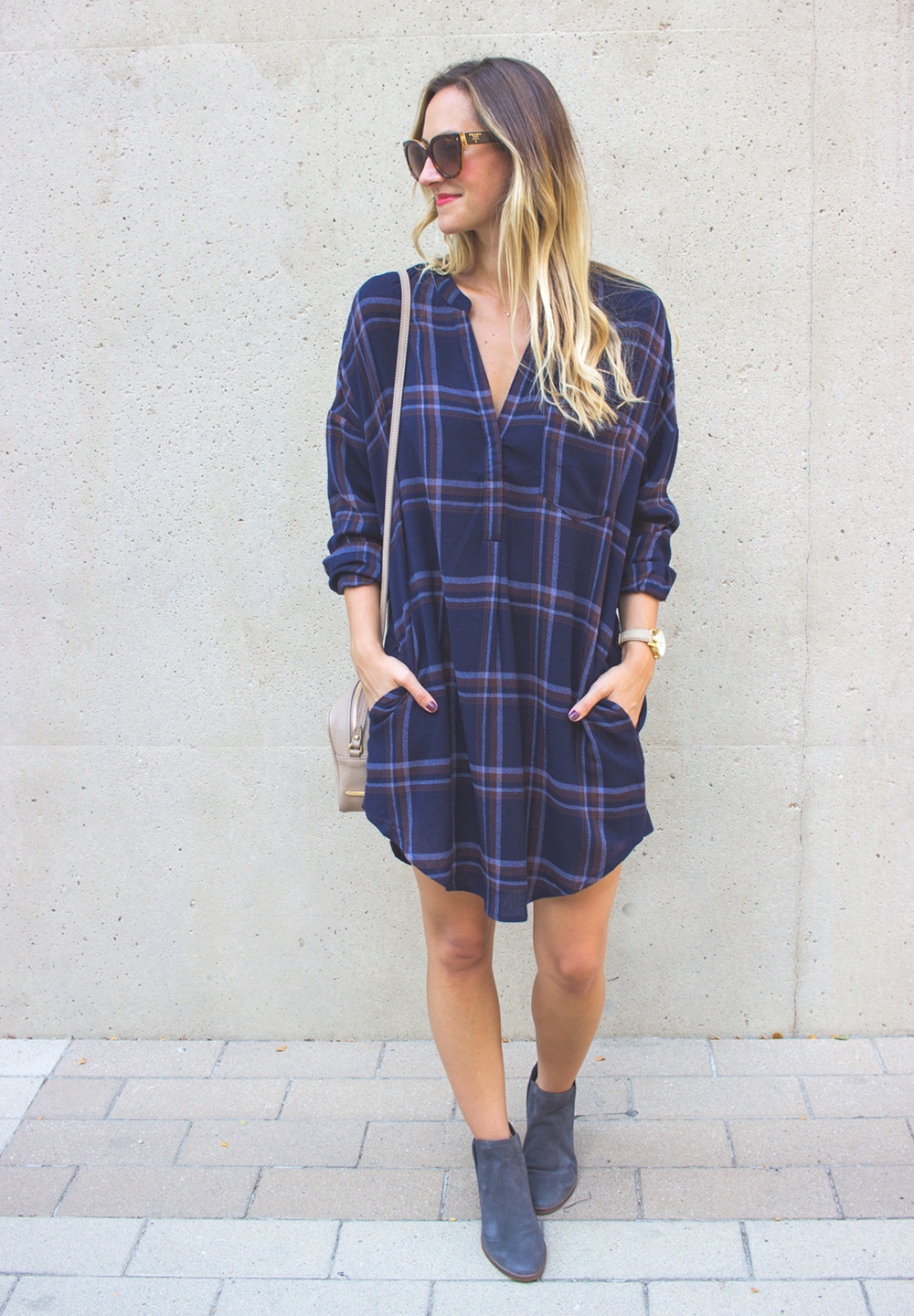 I don't know about y'all, but I've always wanted a pair of blue suede shoes.. 😉 (…My mother would be so proud of that Elvis reference, ha!). But seriously, are these Dolce Vita cuties not so perfect?! They're the "Tessey" style in "Anthracite Suede" from Zappos and come in a ton of color options, but I opted to branch outside my usual cognac or black realm and scoop up a color with a little personality…and I LOVE them!! (For reference, they fit true to size and are super comfy!). Zappos has always been one of my go-to retailers when it comes to shoes and handbags – they're known for their wonderful customer service, awesome selection and of course, their fast, free shipping and returns – 365 days a year! (Y'all, that is awesome…I'm a major online shopper, so that's literally the best!).
My dress is by ASTR and when I checked this morning, there was only one size left in stock! I am wearing a XS for reference. I linked to both this one and a second style below in case your size is sold out, it's equally adorable. 🙂 Big fan of plaid for fall and of course, I adore shirt dresses (they're SO comfy!).
Alrighty gals, I'm off to finish packing for my trip to Rhode Island & NYC! But first, time to pour myself a glass of wine… 😉
I hope this gives you a little cozy, breeze fall transitional outfit inspiration! Happy Sunday!! XOXO
dress – ASTR (similar HERE) / shoes – DOLCE VITA / handbag – GIGI NEW YORK / watch – MVMT / sunglasses – PRADA
Thank you to Zappos for sponsoring this post!