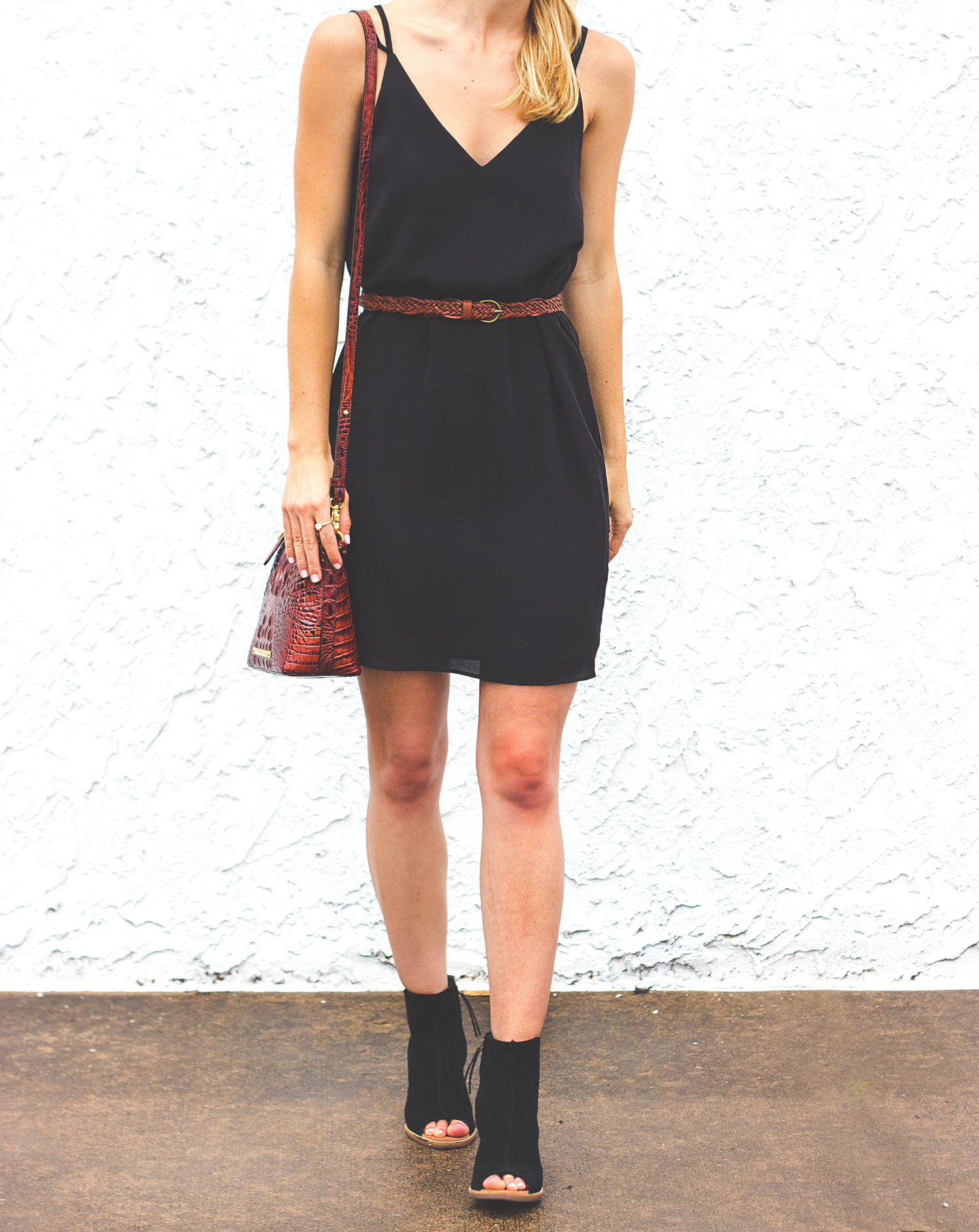 True story: it was a torrential downpour when I shot this look…Can you tell?! Ohh that hair is a hawwwt mess! (There's the Texas accent comin' in strong with that one.. 😉 ). Last weekend I went to brunch with Veronica (one of my bestie's who also happens to agree to take my blog photos and I appreciate and love her for it!!!) and after a lovely little coffee/mimosa/stuff-ourselves-silly date on the cutest patio at Hillside Farmacy, we decided to quickly snap some photos while we were out! But alas, midway through this "shoot," it started crazy storming. Thus, we sat in Veronica's car (she just got a super awesome Jeep that is about 3x the size of my 'ol Versa & it has a moonroof (..sold!), so it's always the obvious pick when deciding who's car to drive!) to stay dry for a bit and watch the radar, then as soon as it cleared up for 30 seconds, we'd run out and go at it again, ha! Anyhoo, this is basically the outcome of a cute outfit combined with excessive rain and humidity…!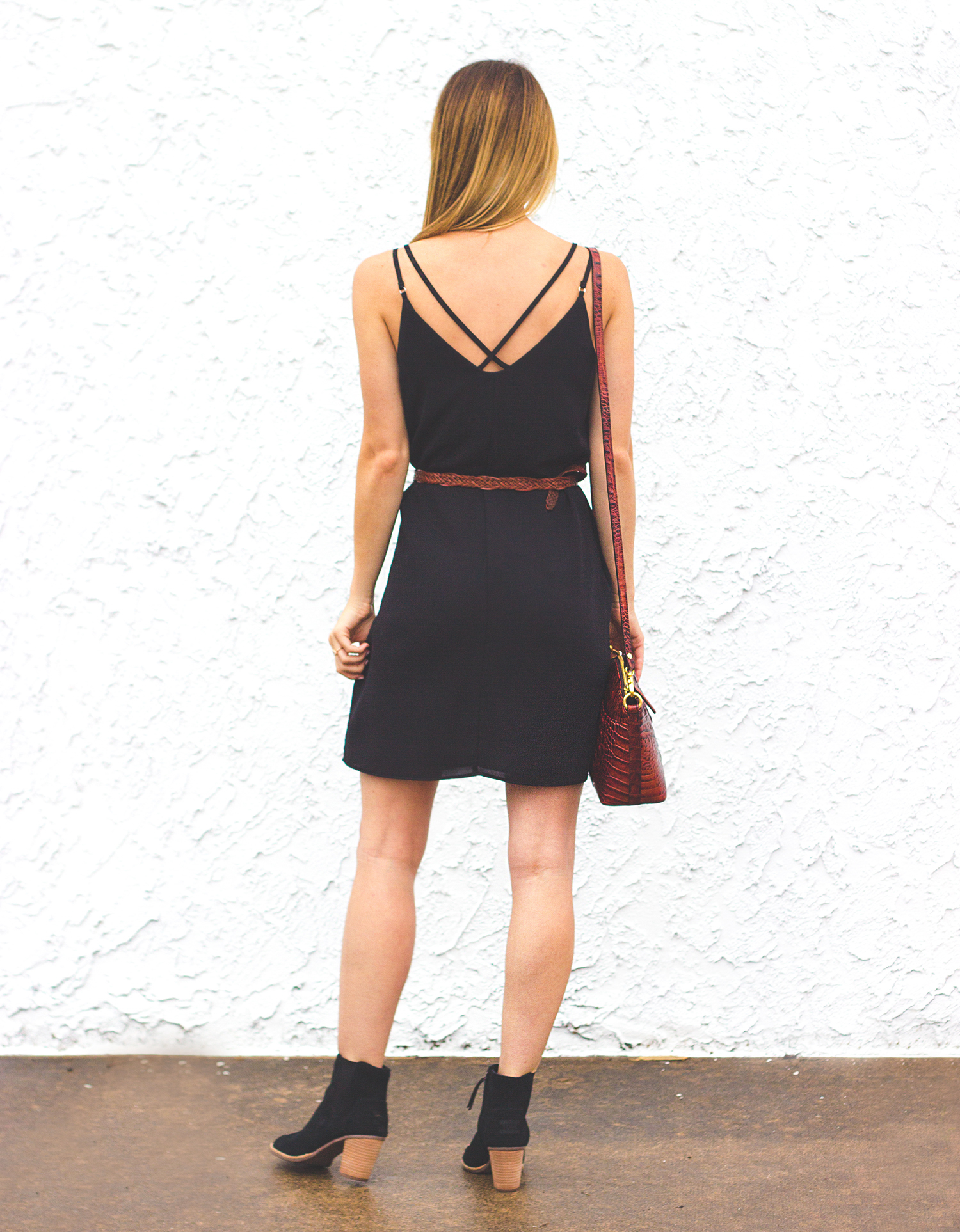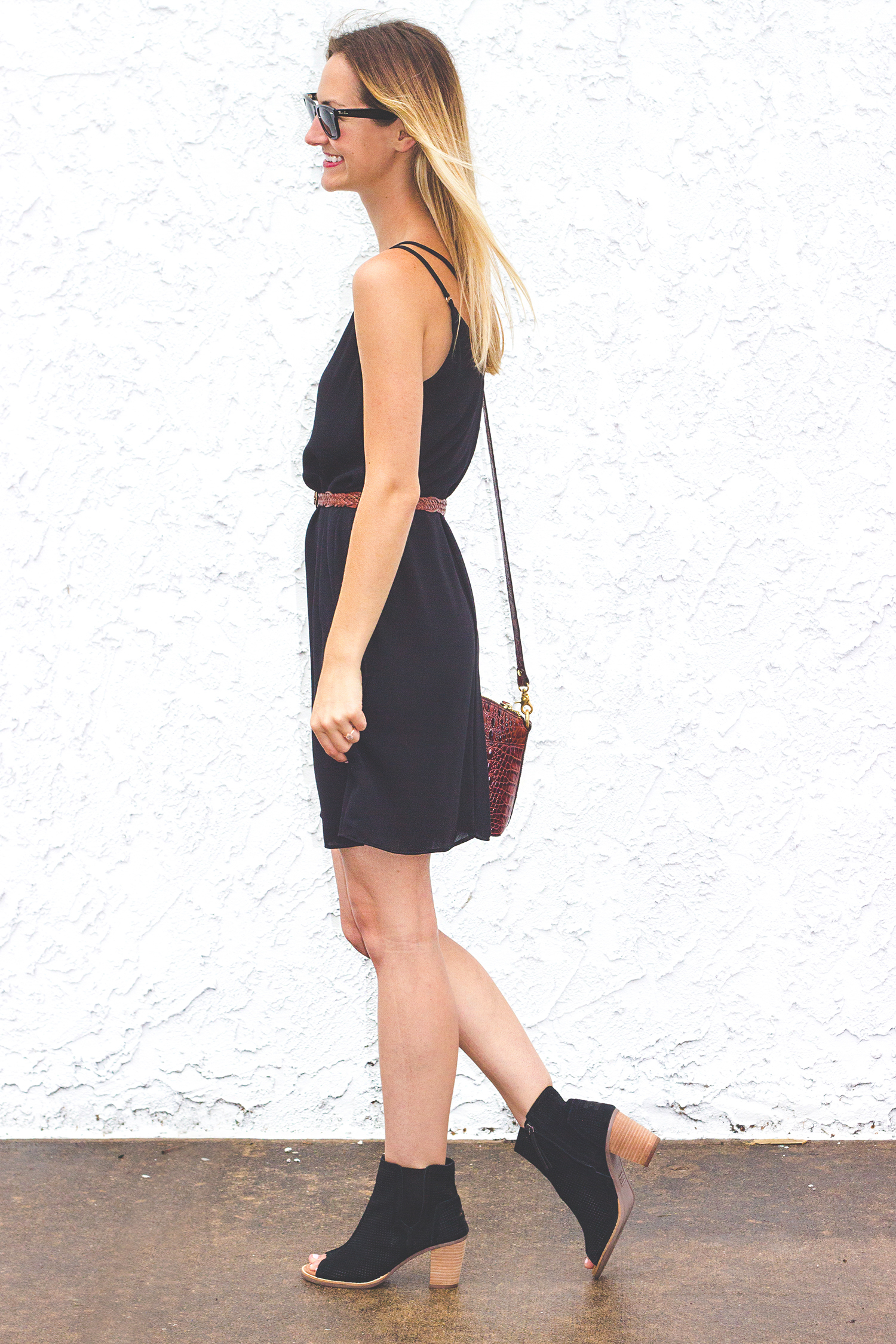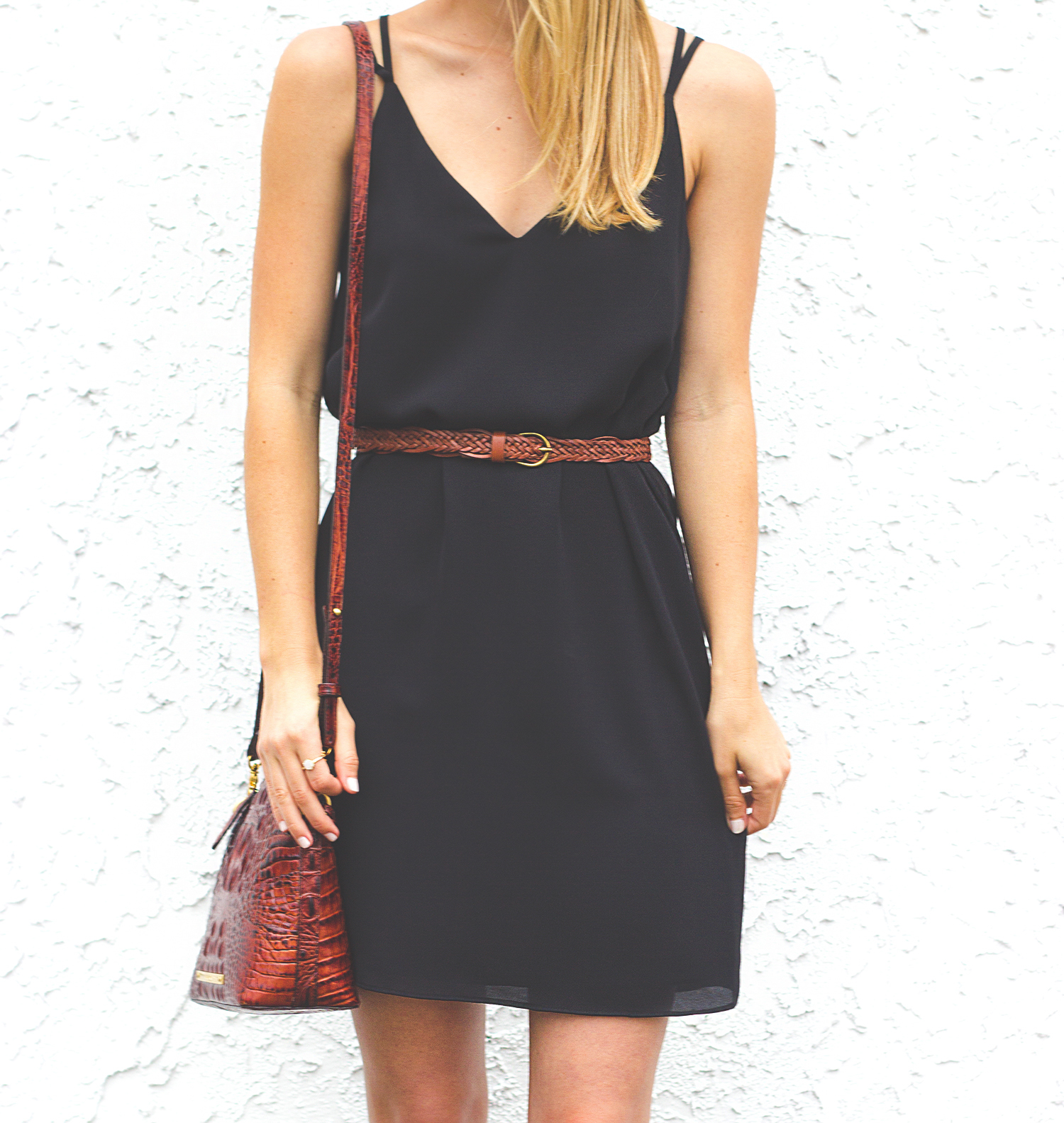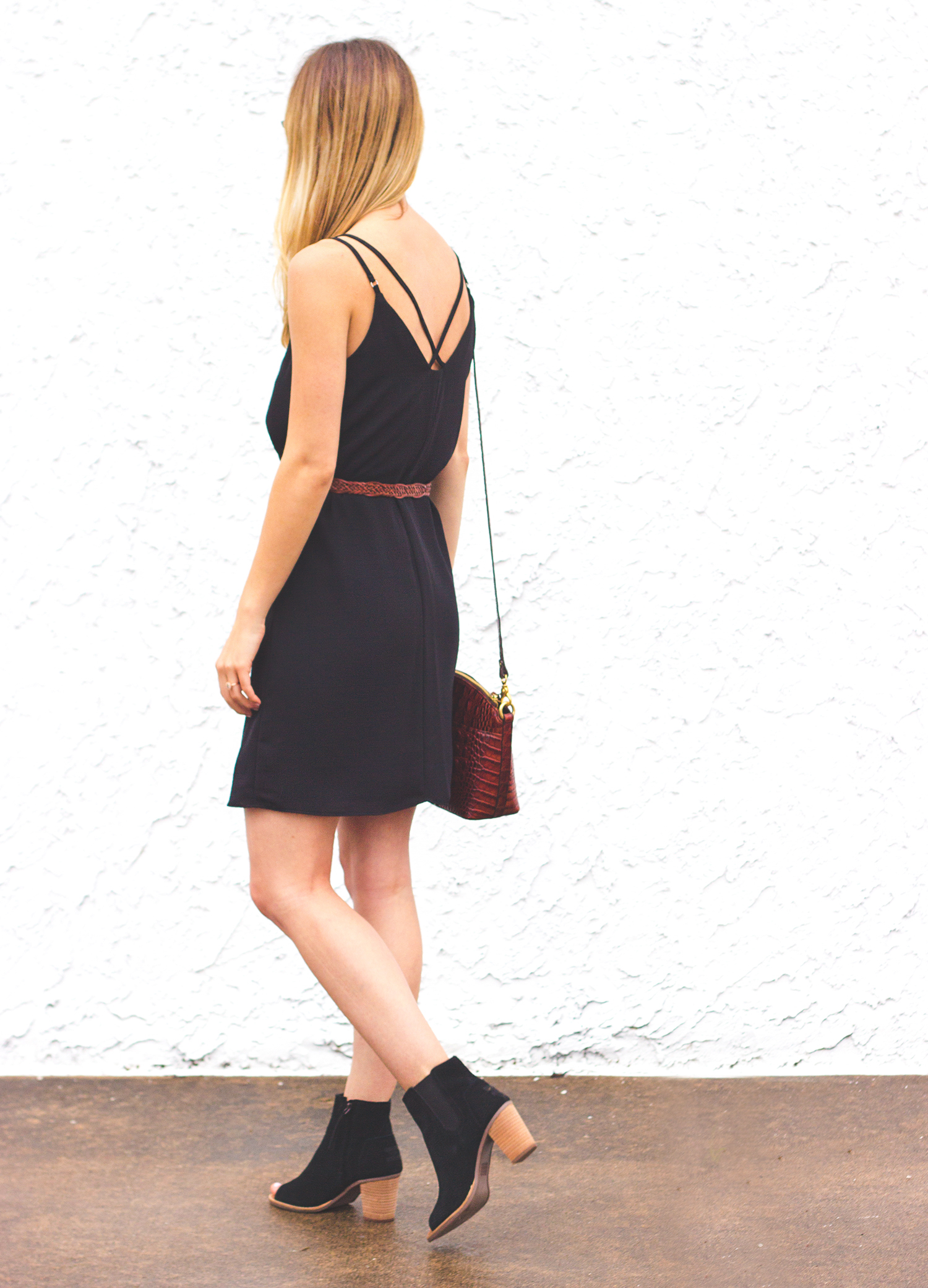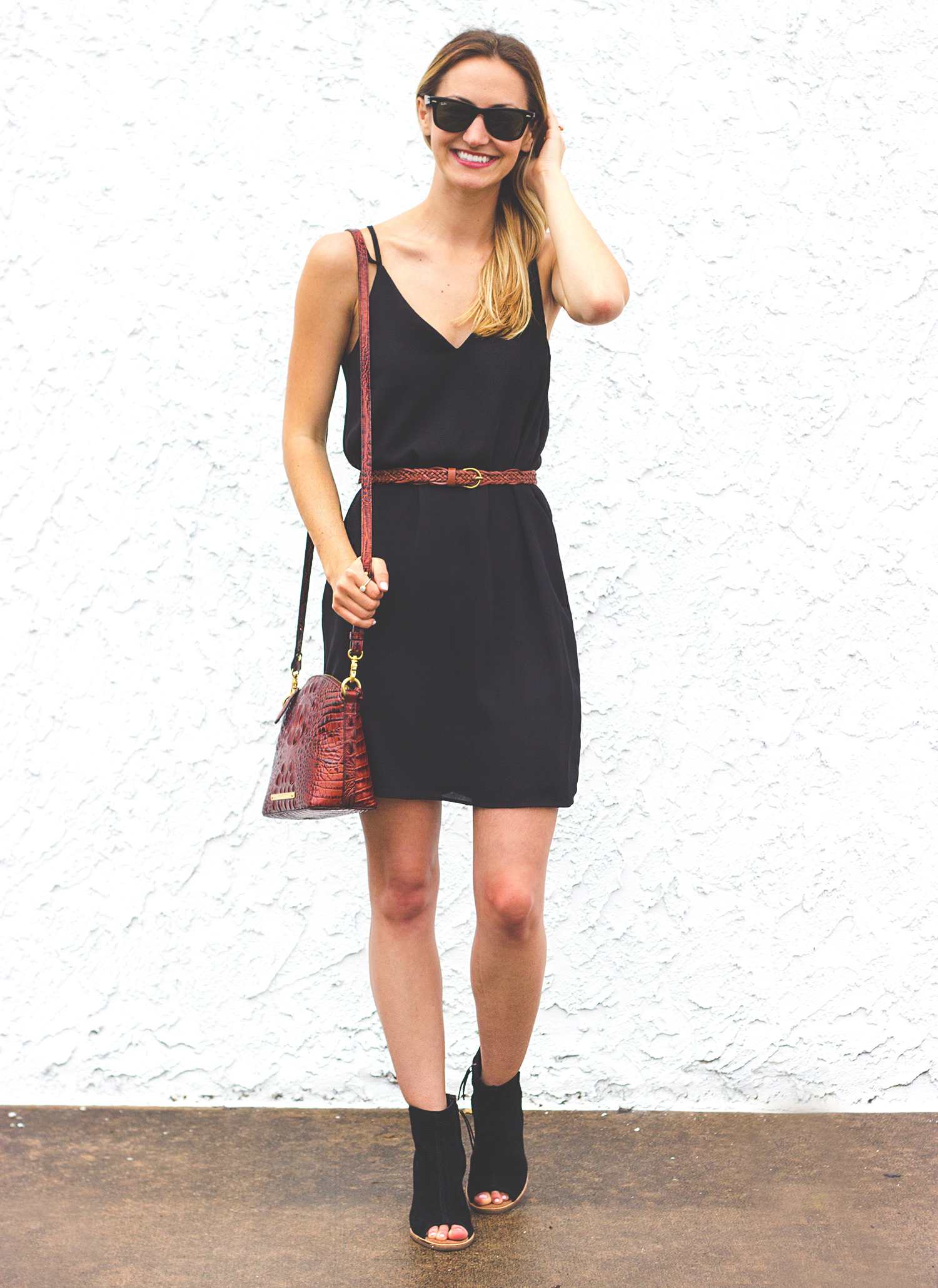 On the subject of this outfit…how AMAZING (one of my classic "worthy of all caps" moments) is this adorable strappy back slipdress?! Actually, I change my mind…it is magical…which is about 10 notches above "amazing" and that is saying a LOT. We all need that go-to little black dress and I can assure you, this one will suffice and make you feel gorgeous – trust me! Whether you wear it as a classic shift dress (..like when you plan on hitting Chipotle on the way home and need some "must-finish-entire-burrito-bowl" breathe room – hey, I know I'm not alone with this thought! ) or add a belt to give you a defined waist (…big fan of being able to see my figure…when Chipotle isn't on the agenda 😉 ), this dress is a versatile and timeless pick. For reference, this dress is by Topshop and I'm wearing a size US4 which fits like a 0-2.
Take this dress from work to play by adding a slim tailored blazer or leather jacket and ba-BAM, instantly effortless, cool and ultra stylish. I paired the dress with my Toms booties (o-b-s-e-s-s-e-d with these & own them in both color options, SO comfy and look incredible with jeans or dresses – they fit TTS), my go-to Brahmin handbag (gorgeous and the perfect size!) and a pair of classic Ray-Ban Wayfarer sunnies (…these are actually Blake's, but he basically hasn't seen them since I realized that I reaaaaaally like them haha).
Alright gals, that's a wrap on this look! I hope your week is going well – hooray for making it to Wednesday!
dress – TOPSHOP / belt – HINGE / shoes – TOMS / handbag – BRAHMIN / sunglasses – RAY BAN