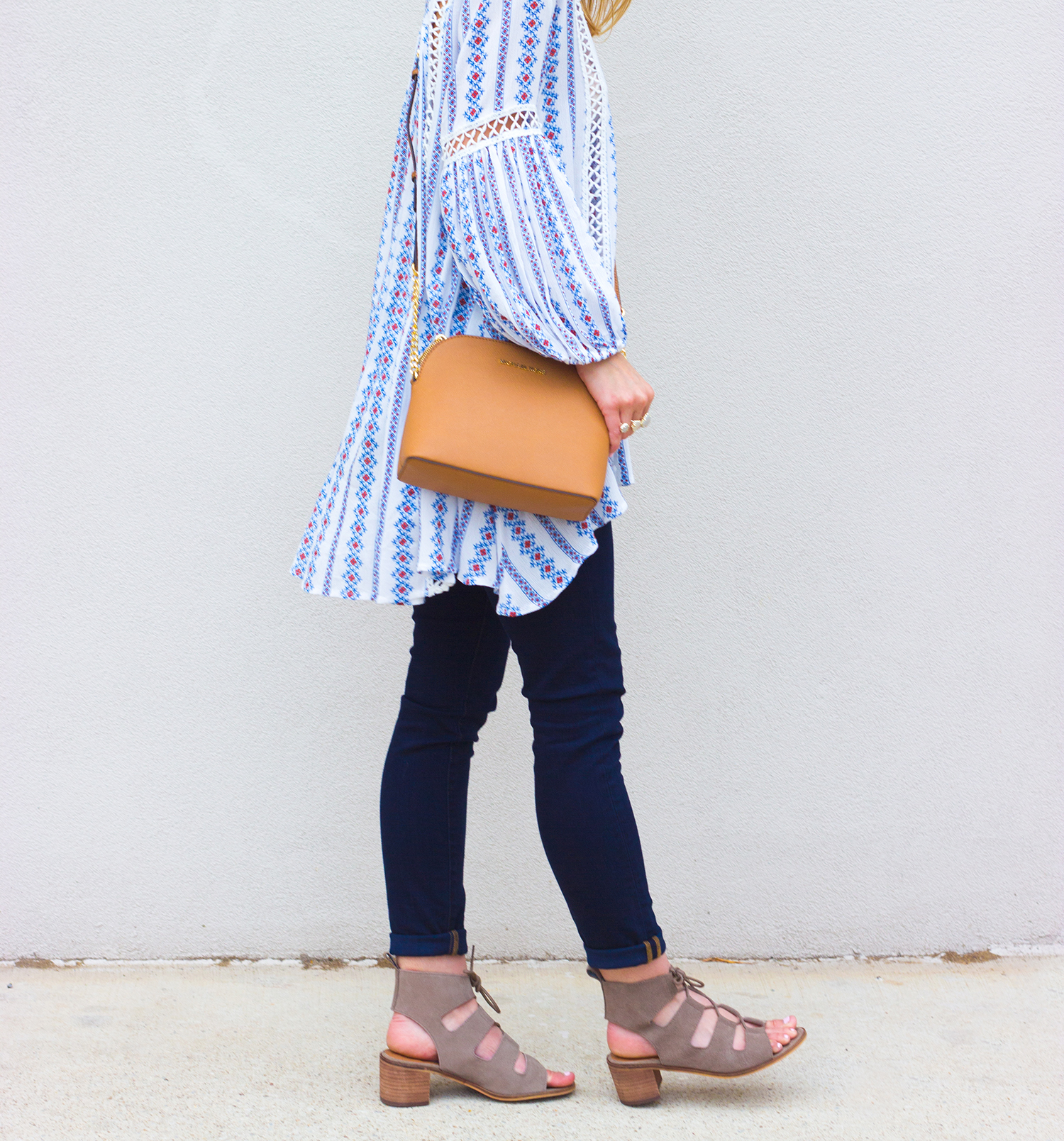 Hey there! How is your week going? We're nearly to the weekend (YAY!) which means I can finally relax for a minute and hopefully hibernate inside (..apparently Austin is supposed to get some very rainy weather…which I'll happily take if that means lounging in my pajamas for more than a socially acceptable amount of time..! 😉 Oh and a movie/cozy cuddle sesh with Blake doesn't sound so bad, either!). Sooo.. y'all, tomorrow is my LAST DAY at work before hitting the blogging world full time…AH! Not going to lie, today after I left the office I definitely got emotional in my car (and called my mom to talk it out, obvs haha) just thinking of how wonderful the past year and a half has been…today I had multiple people come up to me and tell me how proud they were of me for creating this space and pursuing what I love to do..and that just hit me really hard – in a good way, of course! Just SO sweet and thoughtful and so incredible to hear from people I really respect and admire. However, as happy-sad as I am to leave a workplace I truly enjoy, I'm pretty darn excited to wake up on Monday morning and know the day is all to myself to do what I love most of all…let's just say the anticipation for that day (and that feeling) is kind of killing me, ha! Let the countdown begin! 😉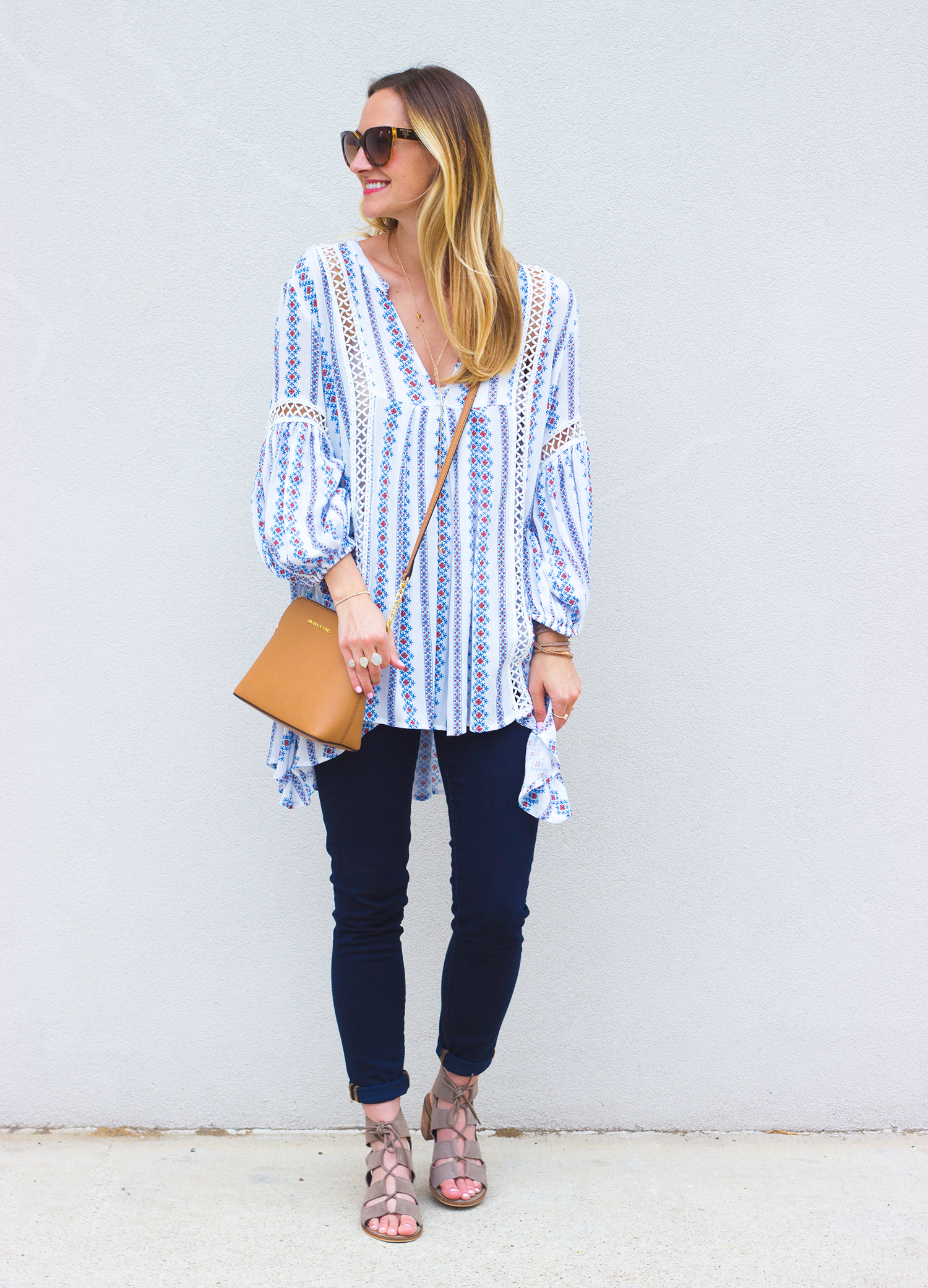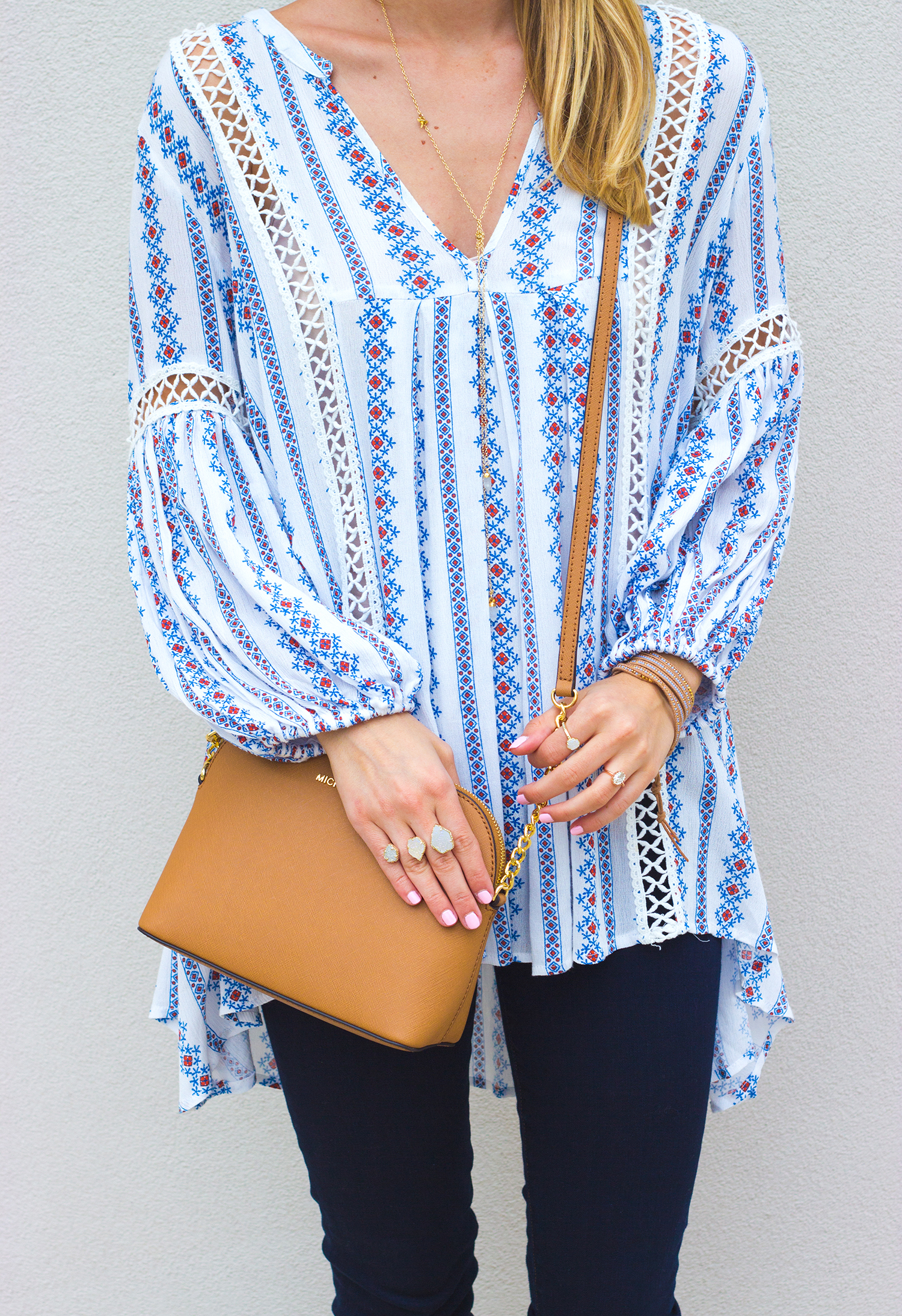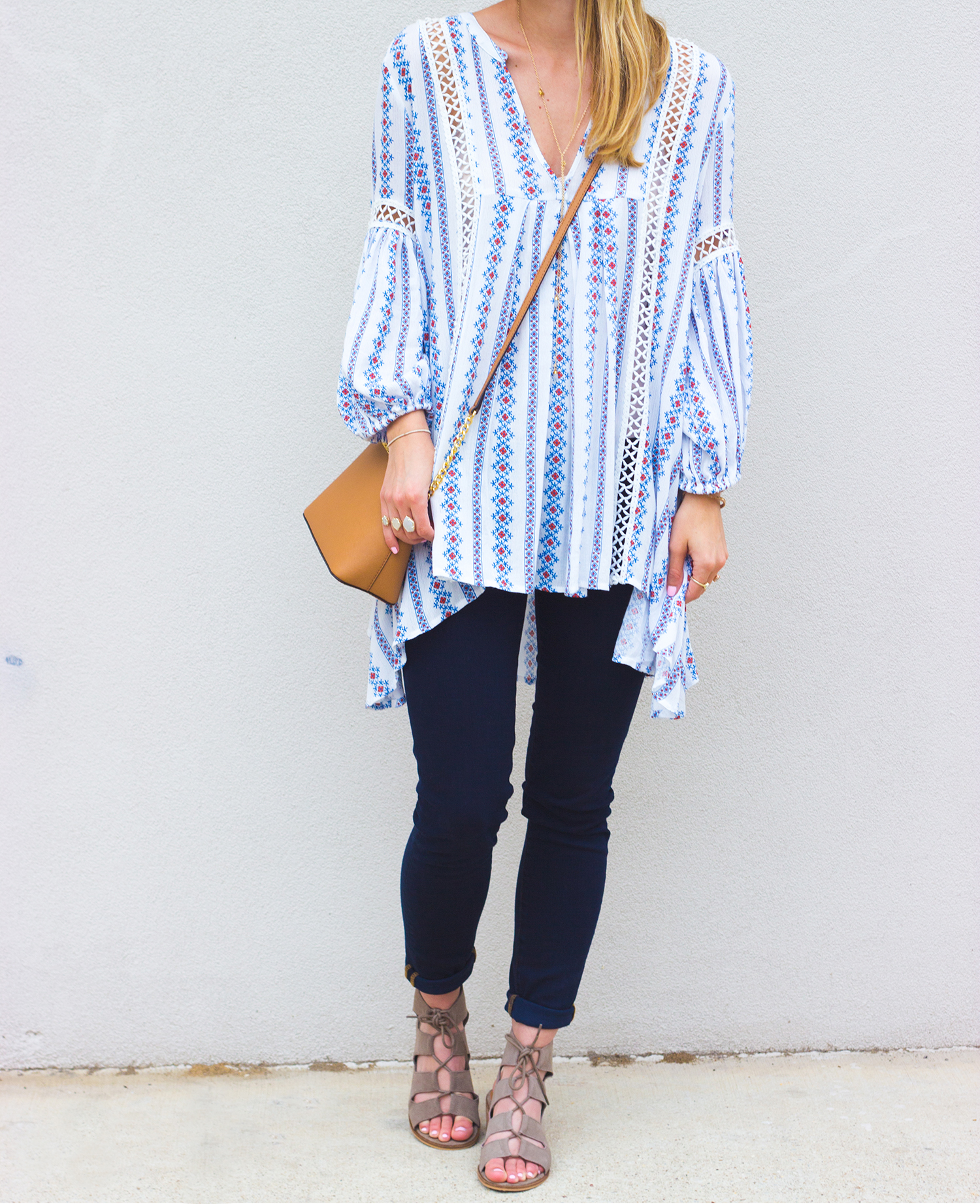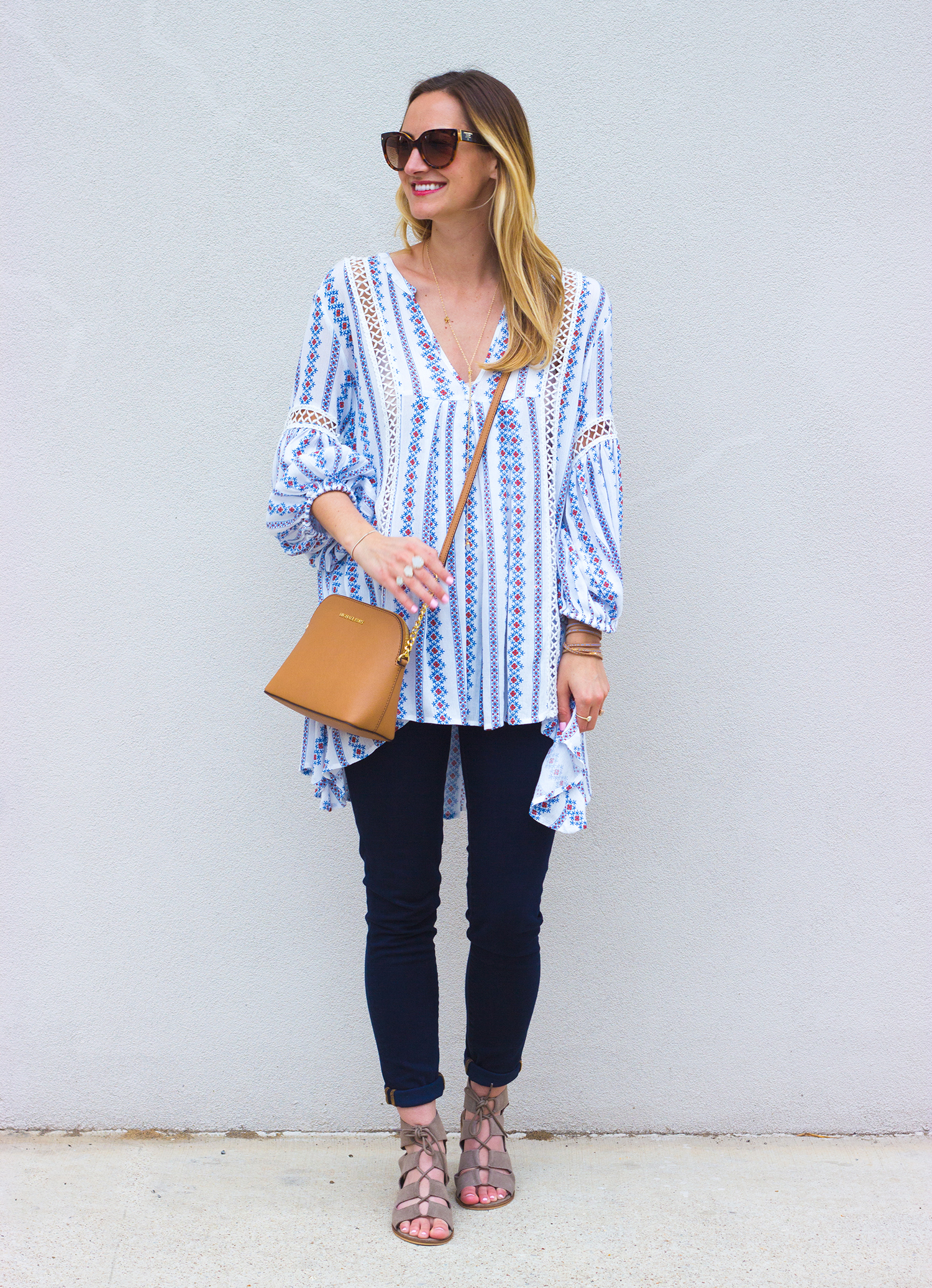 Now that my life update is out of the way…let's get to this CUTE outfit! I am a major sucker for a bohemian-style tunic and especially one as gorgeous as this! This printed beauty is from Chicwish (love this retailer, great quality and very affordable!) and it looks fabulous over a pair of dark wash denim skinnies and lace up sandals or would also be cute with a pair of cut off denim shorts, or even over a swimsuit at the beach for a quick cover-up option.
My adorable sandals are by Steve Madden and I'm wearing the taupe color. I kind of went a little "spring sandal" crazy last month and bought 3 pairs of gorgeous (and very budget friendly, hey…about to leave my job = can't go too crazy juuust yet! 😉 ) sandals for these warmer temperatures – and these lace ups made the cut! They're super comfy and make your legs look amazing with jeans or dresses, I'm obsessed! In case they're out of your size, I linked to few more similar options (nearly identical) in the product scroll bar below, just click the arrow to the right to see those!
As for accessories, I'm wearing my dainty moonstone and gold lariat necklace by Nashelle (big fan of this necklace, I love the length but also how thin it is – looks great layered with other itty bitty pendant necklaces, too!). That fabulous "double ring" in white drusy is by Kendra Scott and lemme tell ya, you will wear this ring ALL the time – dressed up or down! My other ring on my left hand pointer finger is also a Kendra Scott drusy ring and it's on super SALE for half off right now, just $30!! Definitely a good time to scoop this cutie up! Finally, my wrap bracelet is by Chan Luu and it's SO PRETTY I honesty can't handle it haha. I have loved Chan Luu pieces for a long time (learned about this brand when I worked at Nordstrom in college) and though the price point is high, the packaging and overall quality of the pieces is soooo stunning. Highly recommend if you'd like to treat yourself to a layerable wrap bracelet that will last forever! (I also linked to a similar wrap bracelet that's under $30 in the product scroll bar as another equally fabulous option!).
Finally, my sunglasses are Prada (looooove these and basically wear them ALL the time…and if I don't have them on, I make sure I know where they are at all times…ha! That's how much I love these right now! #crazysunglasslady ). My handbag is Michael Kors and I can already tell this is an instant go-to for me… perfect size, shape, color… so classy but also practical with the crossbody strap. Loving this bag and it's under $200! Rarity for a designer bag..!
Alrighty gals, that's a wrap for me this evening! Wish me luck as I finish strong with work tomorrow…I'll be sure to pack some tissues in my tote, ha! I'm off to go grab some cards and goodies for my department managers..things are about to get sappy as I crack open a beer and get to writing some sentimental stuff when I get home…ha!
Hope you loved this look as much as I did! Shop it for yourself below + scope out more cute tunics…XO!
tunic top – CHICWISH / jeans – similar NORDSTROM / shoes – STEVE MADDEN / handbag – MICHAEL KORS / necklace – NASHELLE / drusy double ring – KENDRA SCOTT / sunglasses – PRADA / wrap bracelet – CHAN LUU /ring (now half off!) – KENDRA SCOTT

SHOP THIS LOOK
SHOP MORE TUNIC TOPS