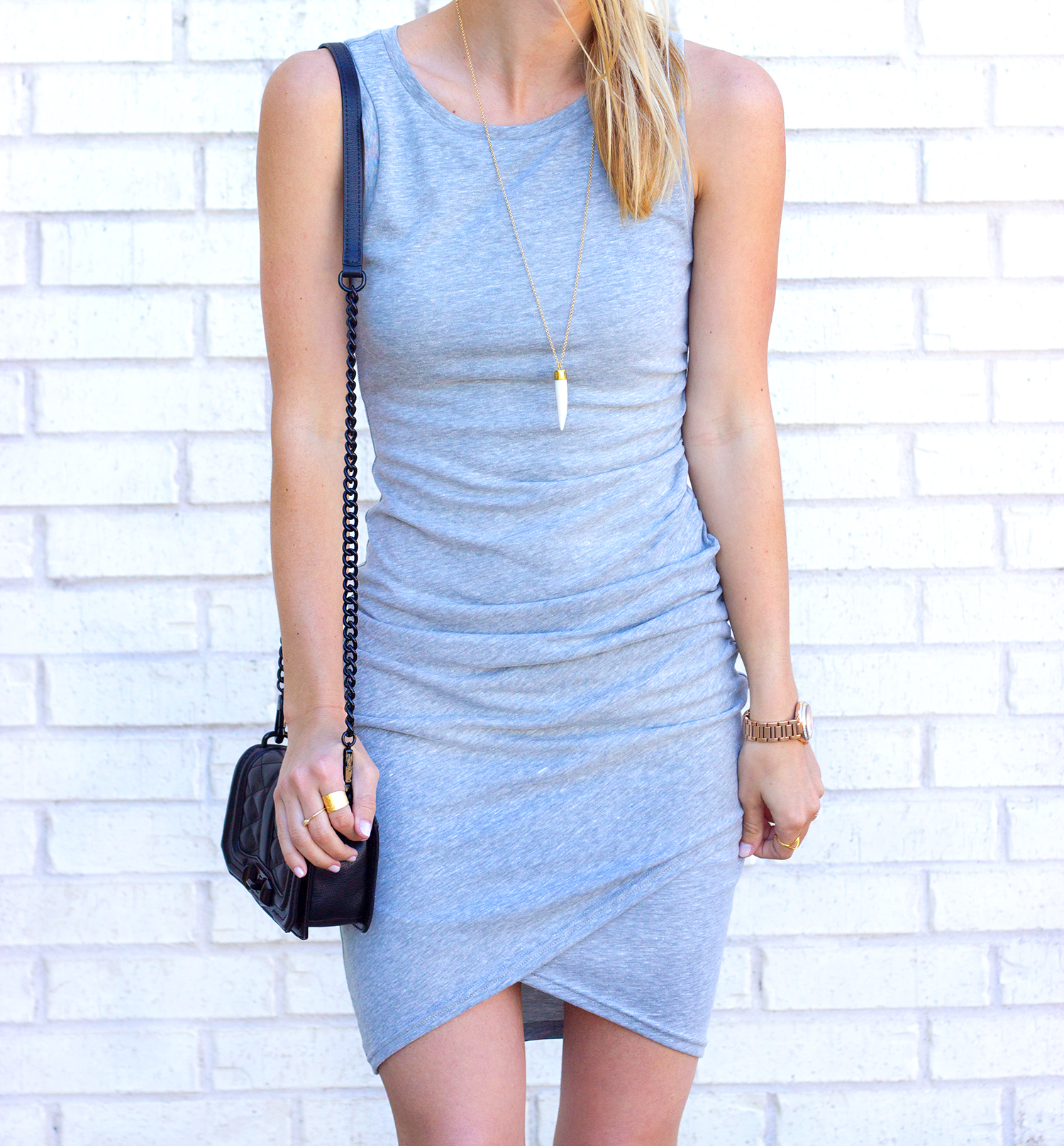 Hello there! I hope your week is off to a great start! Today was kind of a "meh" day in my world…felt like I haven't stopped moving ALL day. Perhaps that's just Monday for ya…either way, after cleaning our apartment (true story: I count scrubbing the bathtub as a real workout…I broke a serious sweat, ha!) I treated myself to a beer and some sweatpants. Now, that's my kinda Monday night! 😉 As y'all know, I am working on getting myself a new car, which means trying to sell my current one! Thus, I sat at the automotive shop for over an hour this afternoon (…and edited these images, ha – might as well get in some editing while I waited) and was very proud to call Blake afterwards and report that even though the man tried to talk me into buying wiper fluid and a new air filter (…I was determined NOT to be taken advantage of as a young lady who has minimal knowledge of cars) that I walked away with JUST an oil change. Hooray! (Anyone have this happen to them, too? You go in for something routine and suddenly you "need" 5 things done to your car and you walk out with a crazy bill? I'm SO over that!!). Anyhoo, my wonky Monday consisted of car services, grocery shopping, some time at the office, cleaning… you see what I mean? Not the best Monday I've ever had, ha!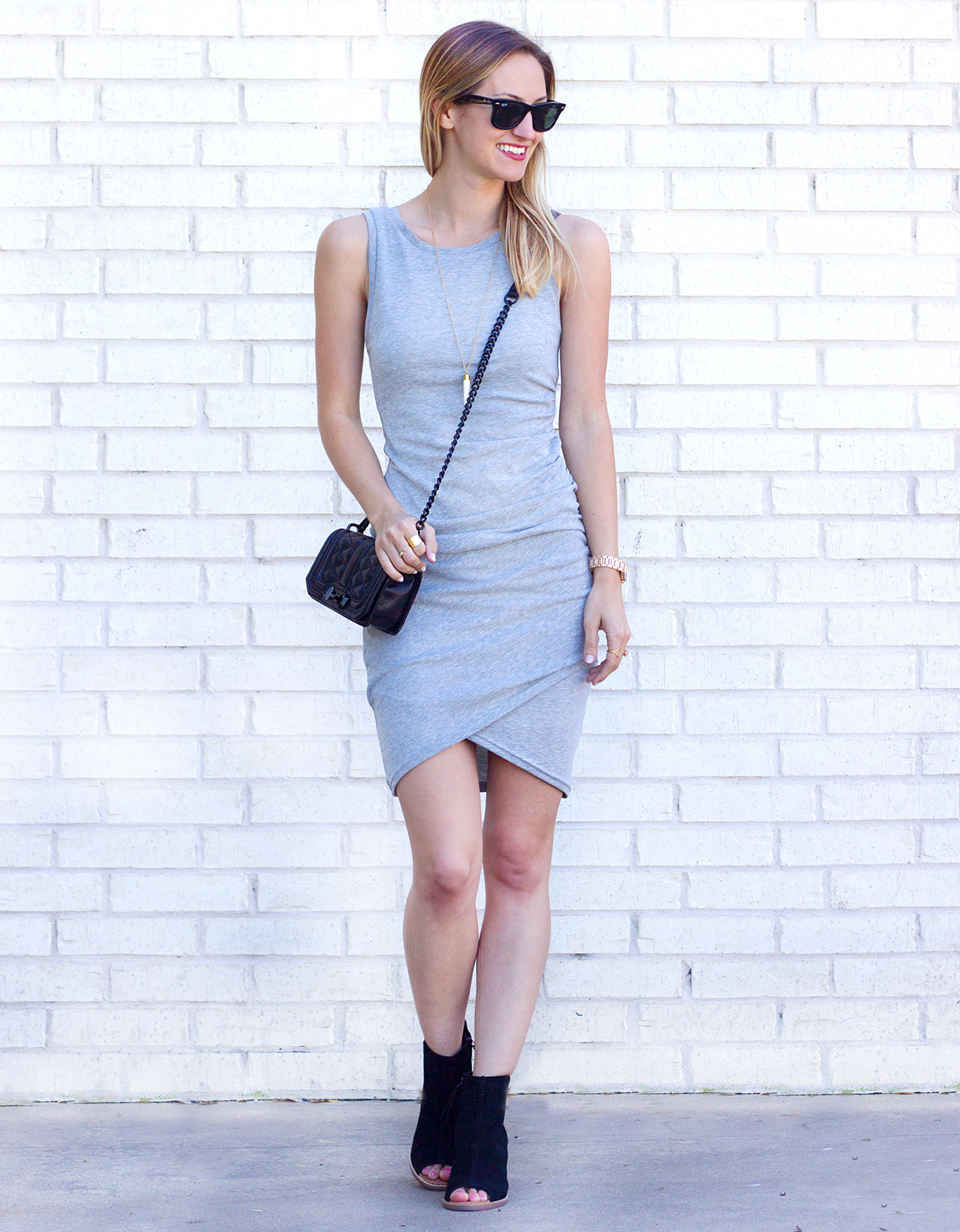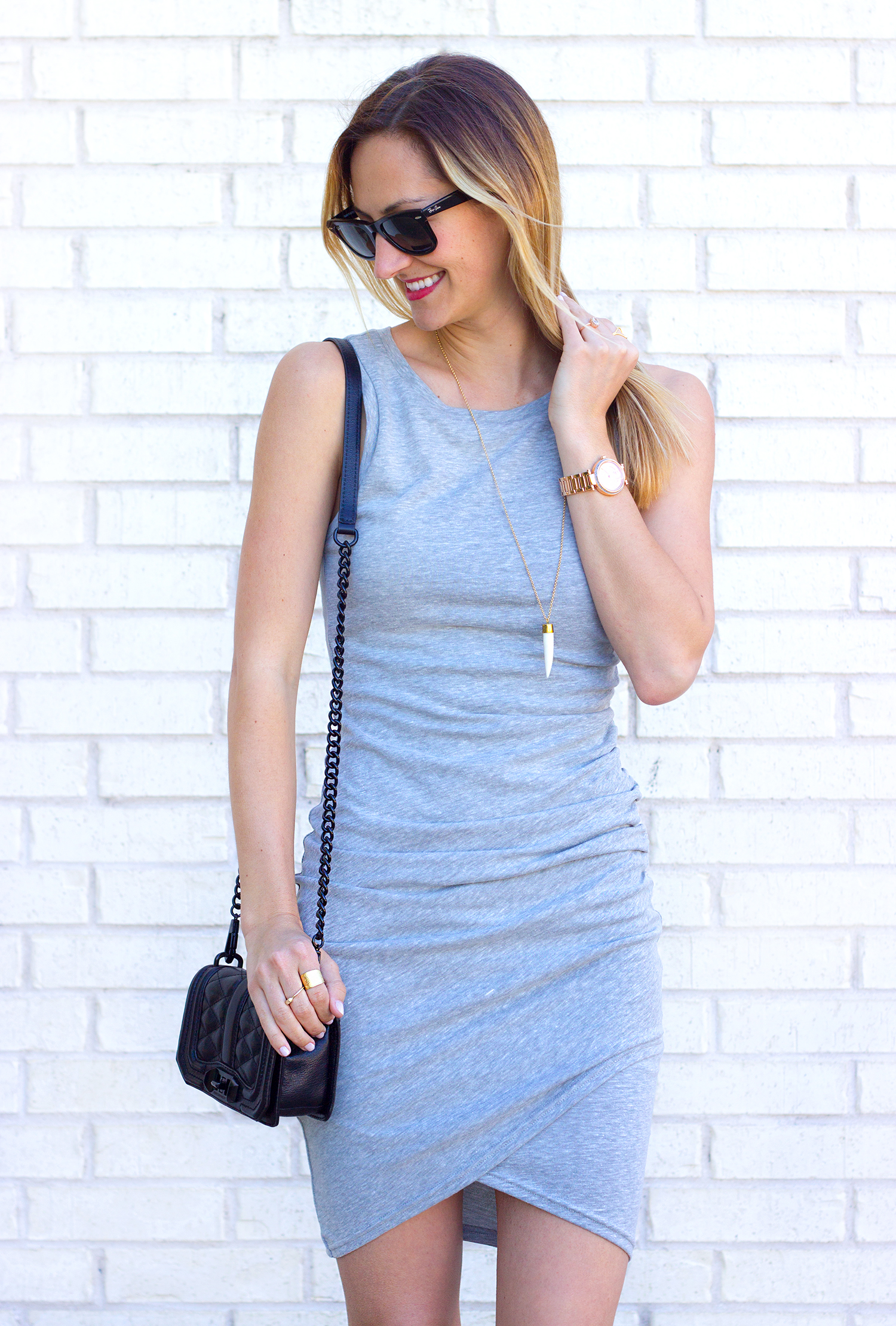 Okay, now that my auto spiel is out of the way…ha! 😉 Moving on to something I find a lot more exciting – THIS ridiculously adorable, everyday bodycon dress! The heather grey and cotton material give off a much more casual, day to night vibe – which is totally more my style than the typical "ultra sexy" bodycon dresses we see quite often (…errr, or what I saw a lot of back in my college days, ha! Definitely guilty of that one!). I love the angled cut at the bottom of the dress, it's SO flattering to your legs! …And speaking of flattering, the ruching at the waistline and the high tank style neckline are both so pretty on an array of body types. Ps. Totally loving this dress for a music festival, too! Swap the structured mini bag for a fringe handbag and you're golden – SO stinkin' perfect!
I paired the dress with my new Toms booties (yay! Scooped up my fave pair in black, finally!! Obsessed with these, they're so chic yet VERY comfy – and under $100), the precious little gunmetal and black Rebecca Minkoff handbag that Blake got me for Christmas, a long pendant necklace and finally, my Ray-Ban sunnies.
Alrighty gals, that's a wrap for me! I feel like I am a zombie as I type this…I can barely stay awake! Perhaps a bubble bath in my squeaky clean tub is on the agenda this evening… 😉 Hope you loved this look as much as I do!! XO
**Wearing an XS in the dress for reference.
dress – LEITH / shoes – TOMS / handbag – REBECCA MINKOFF / necklace – similar STELLA & DOT / sunglasses – RAYBAN / watch – MICHAEL KORS
SHOP MORE BODYCON LOOKS