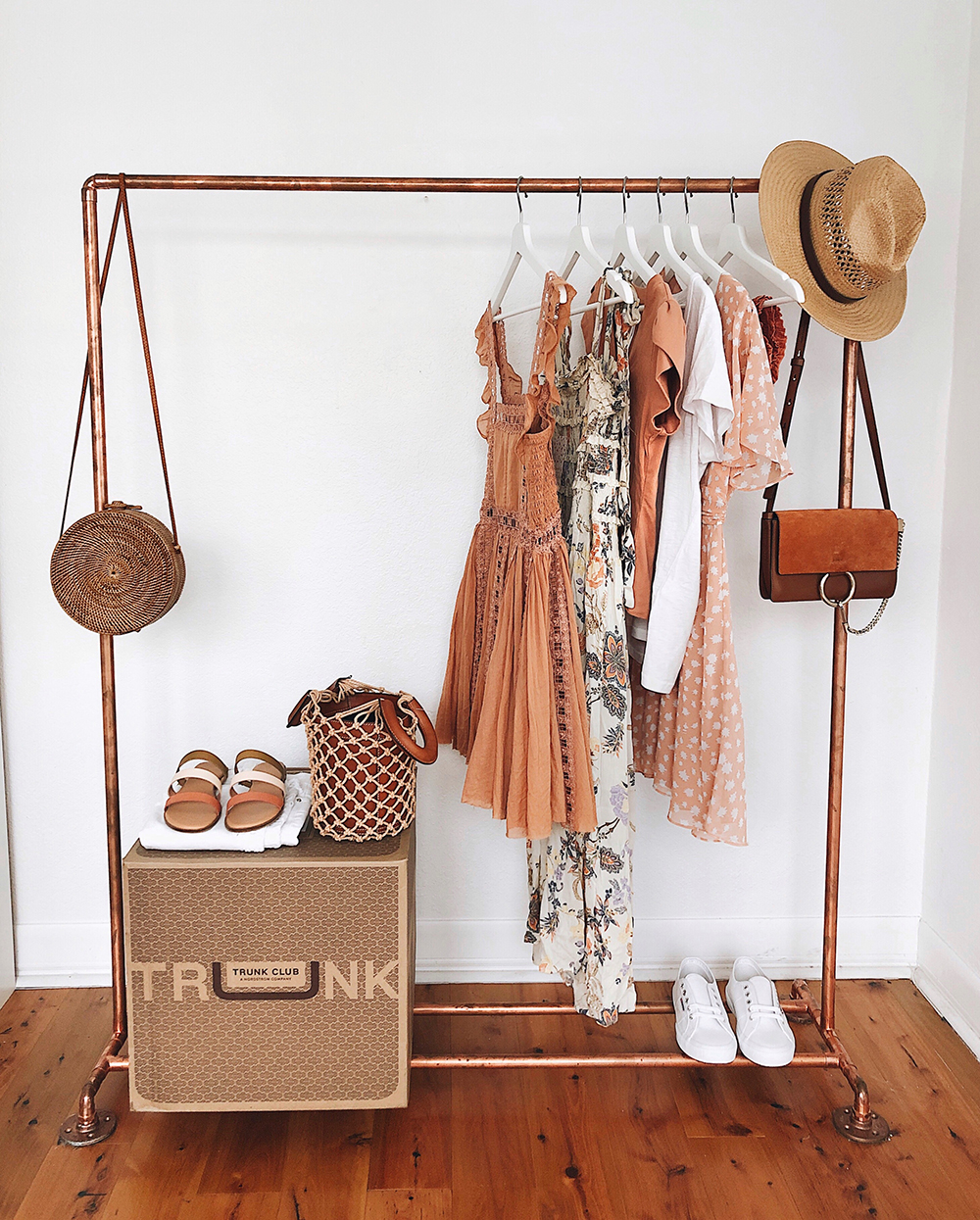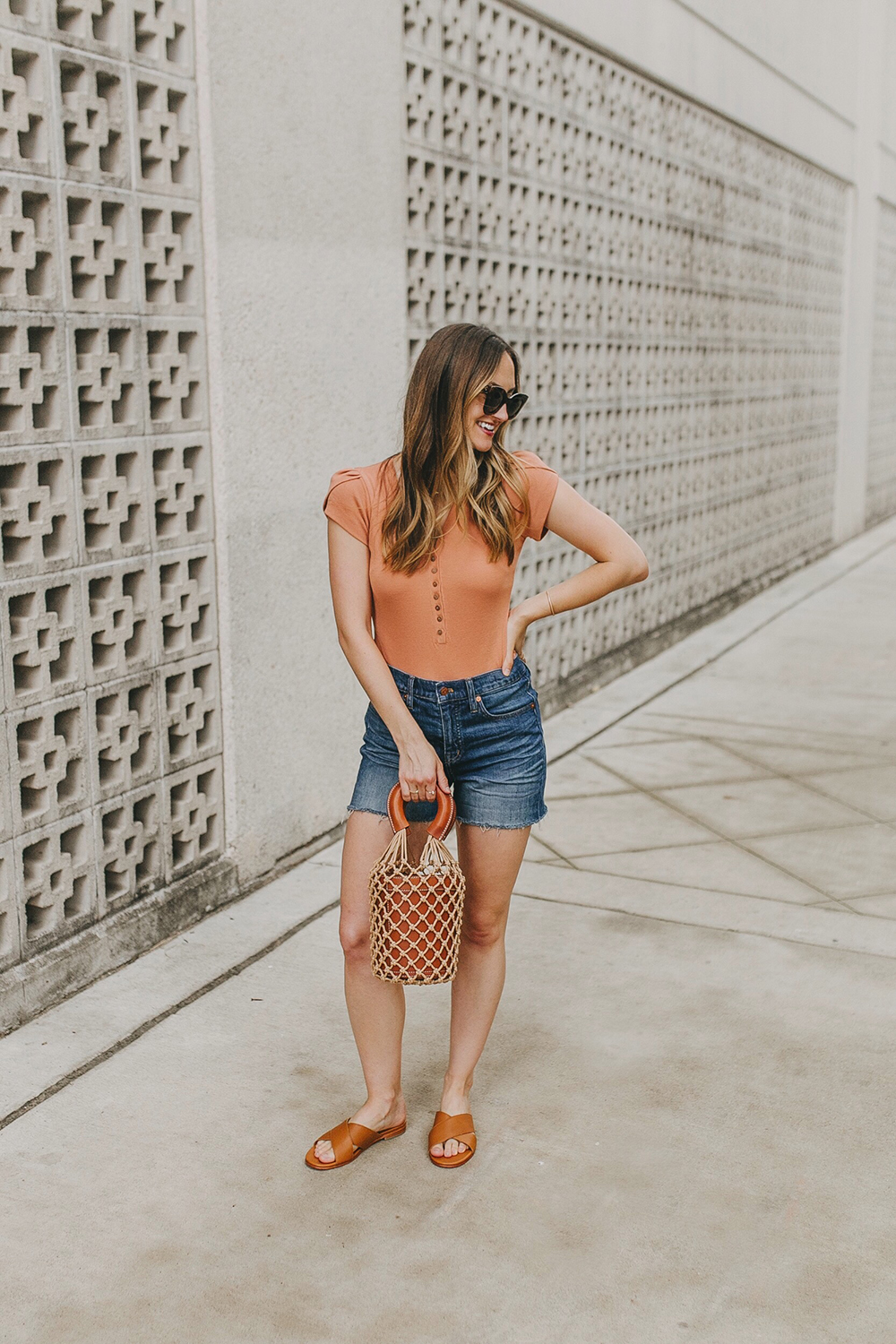 If there's one color that screams summer, it's certainly that pretty peachy pink! It looks great on every skin tone, feels ultra feminine and can be paired with just about any other color (…and y'all know I love my cognac accessories…what a combo!). Peach just feels warm and inviting, it's the perfect pop in a summer outfit. For my latest Trunk Club order, I wanted pieces that could take me from a sunny day around Austin to a warm weather getaway – and per usual, my stylist totally nailed it! Not going to lie, shopping these days can seem overwhelming when I've got a tight schedule (…my windows to shop at the mall are between naps and feedings…not to mention Jude normally sleeps ON me haha…doesn't make trying on clothing in-store easy…or even possible, ha!). Between minimal time to myself and so many pieces to look at (shorts, tops, dresses, shoes, bags…where do I even begin when I've got 20 minutes?!), Trunk Club is the easiest and most enjoyable way for me to shop…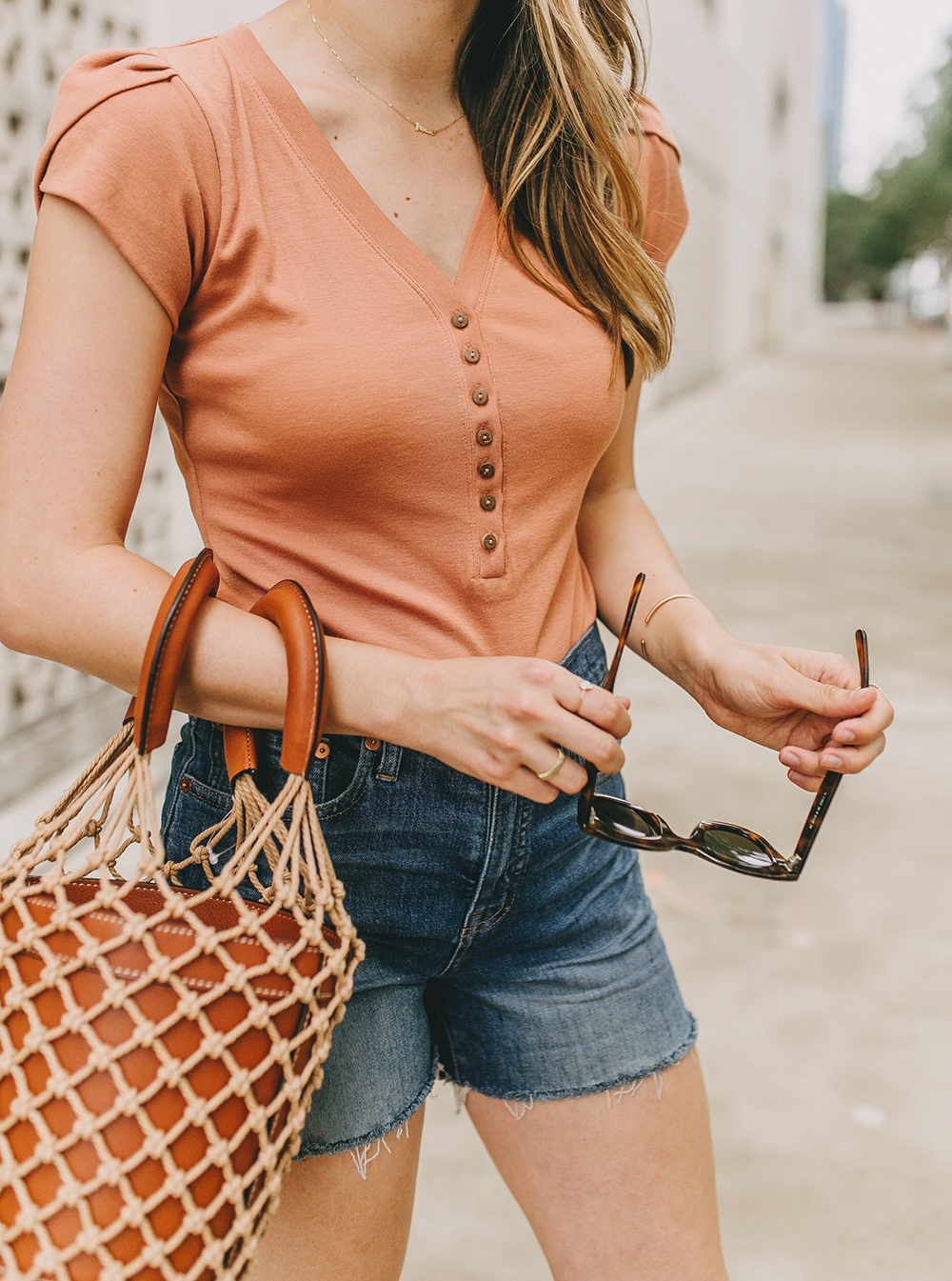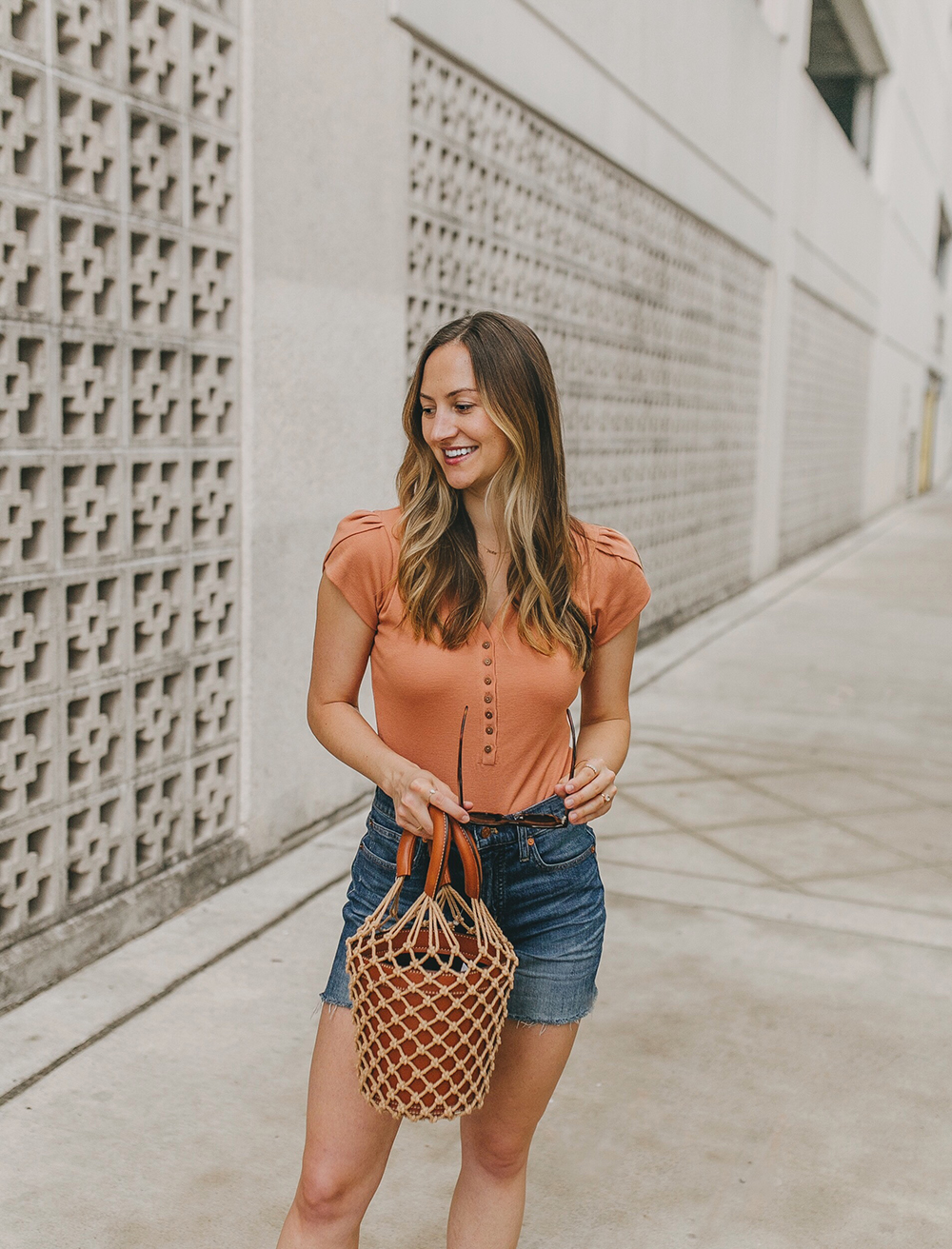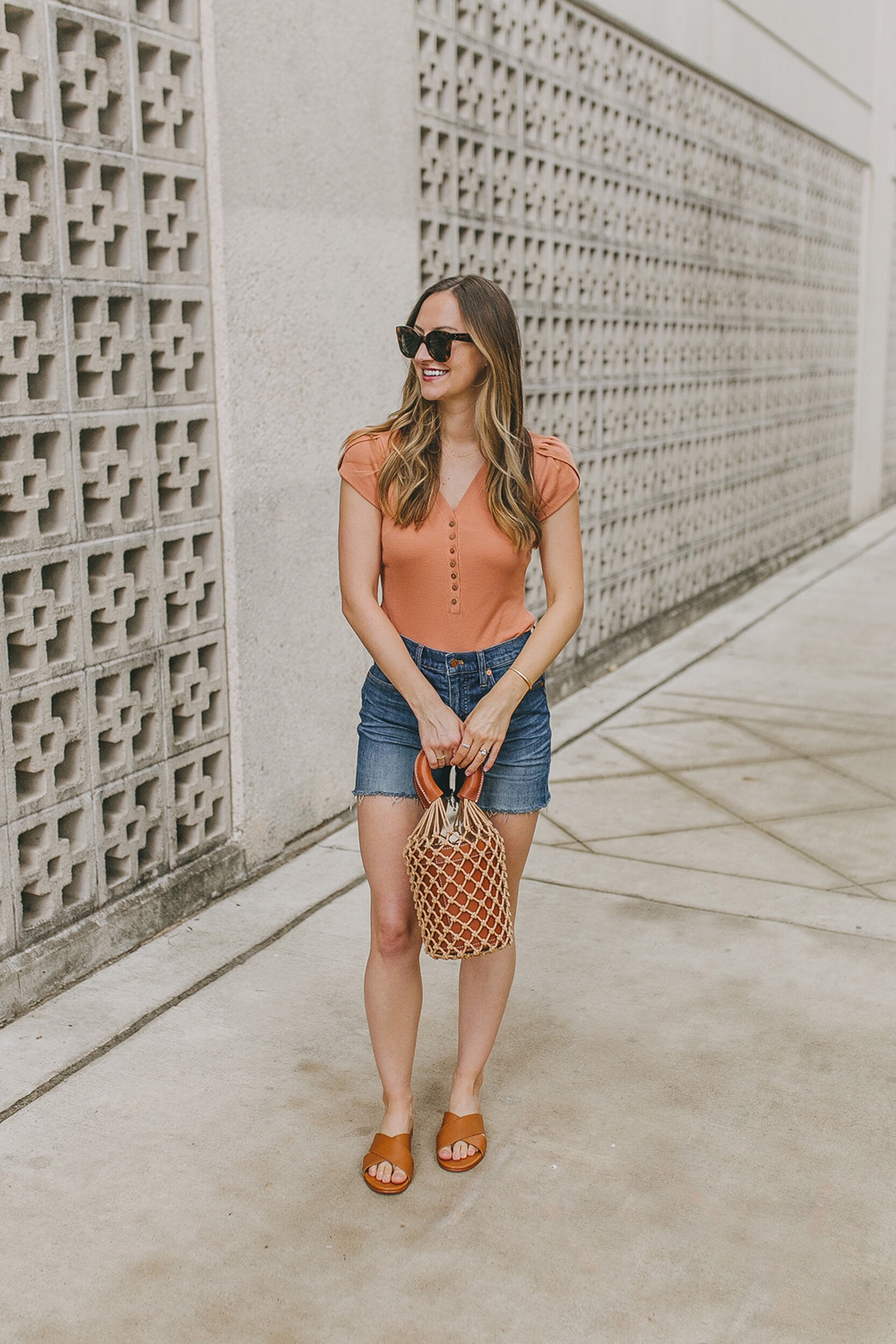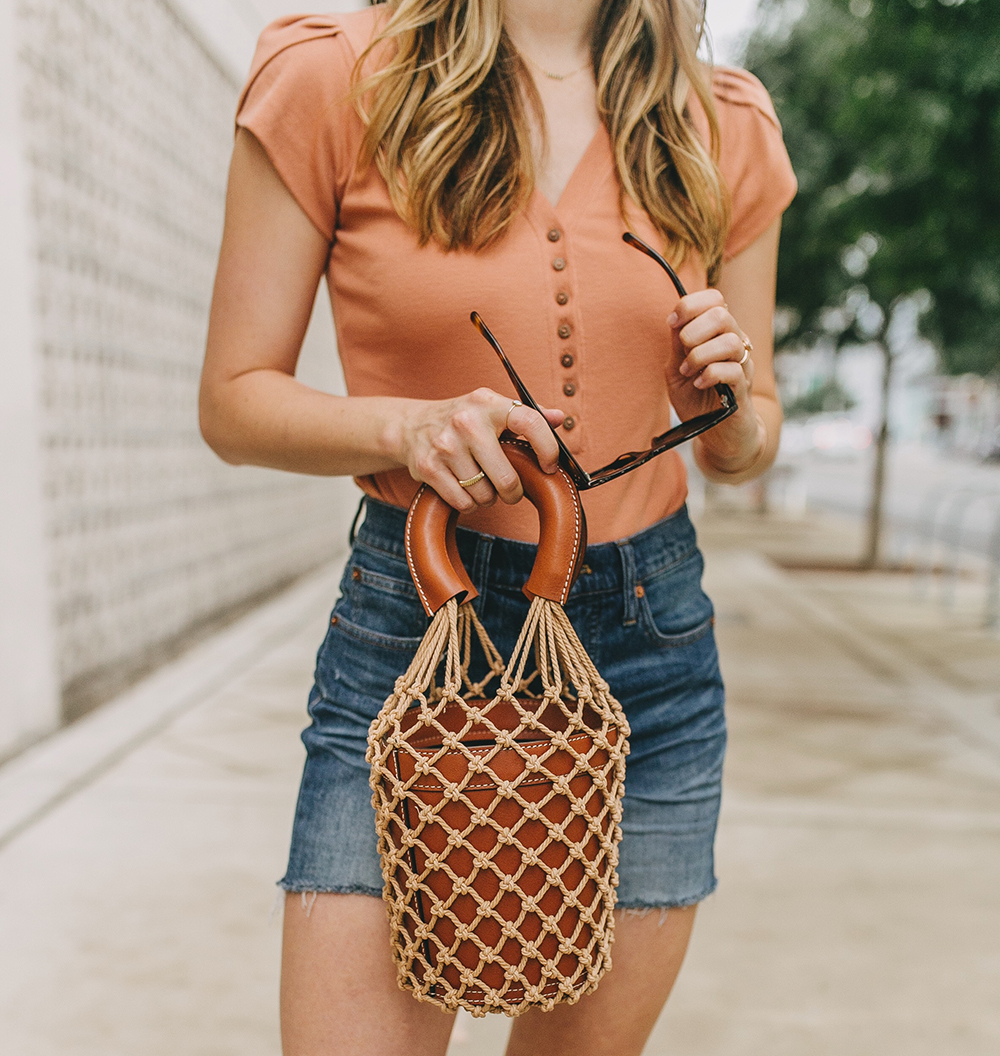 If you're looking for a wardrobe update but need some help in the right direction, Trunk Club is 100% a lifesaver. It's a Nordstrom company (um, yes!), you sign up here and get paired with a personal stylist who gets to know your aesthetic preferences and what exactly you're looking for in your Trunk. For example, a couple months ago I was in need of some new-mom-in-between-sizes outfits…I was in a rut and with a new baby, had zero time to hit the mall and leisurely shop for myself! Within one week, I touched base with my stylist, Maddie, and told her I needed some staples that I could wear while I'm still losing baby weight. She sent me such amazing items that I've been wearing non-stop (you can see more from that Trunk in this post). The best thing about Trunk Club is that you get to approve every item your stylist picks out – so when your Trunk arrives on your doorstep, you know exactly what you're getting and are SO excited to dig in and try it all on in the comfort of your own home. Plus, the $25 styling fee goes towards any items you purchase in your Trunk. Yes yes yes! 
Aaand now for this gorgeous summer outfit. My peachy top is by Free People and it's actually a bodysuit and OMG it's SO flattering! I paired with some Madewell high-rise shorts (such a great length!) and grabbed the most beautiful STAUD handbag. I've seen this bag on Instagram and it's even more stunning in person. Such a perfect summer accessory! I love that the pieces in my Trunk are always really versatile and totally my style…the perks of being able to chat one-on-one with your stylist!
If you need some new pieces to add to your closet or are shopping for a certain occasion (a summer vacation, work attire, a friends wedding, etc.), I truly can't recommend Trunk Club enough. This is my second year using their services and I RAVE about them! Feel free to learn more here! 
A big thank you to Trunk Club for sponsoring this post! All opinions are my own.