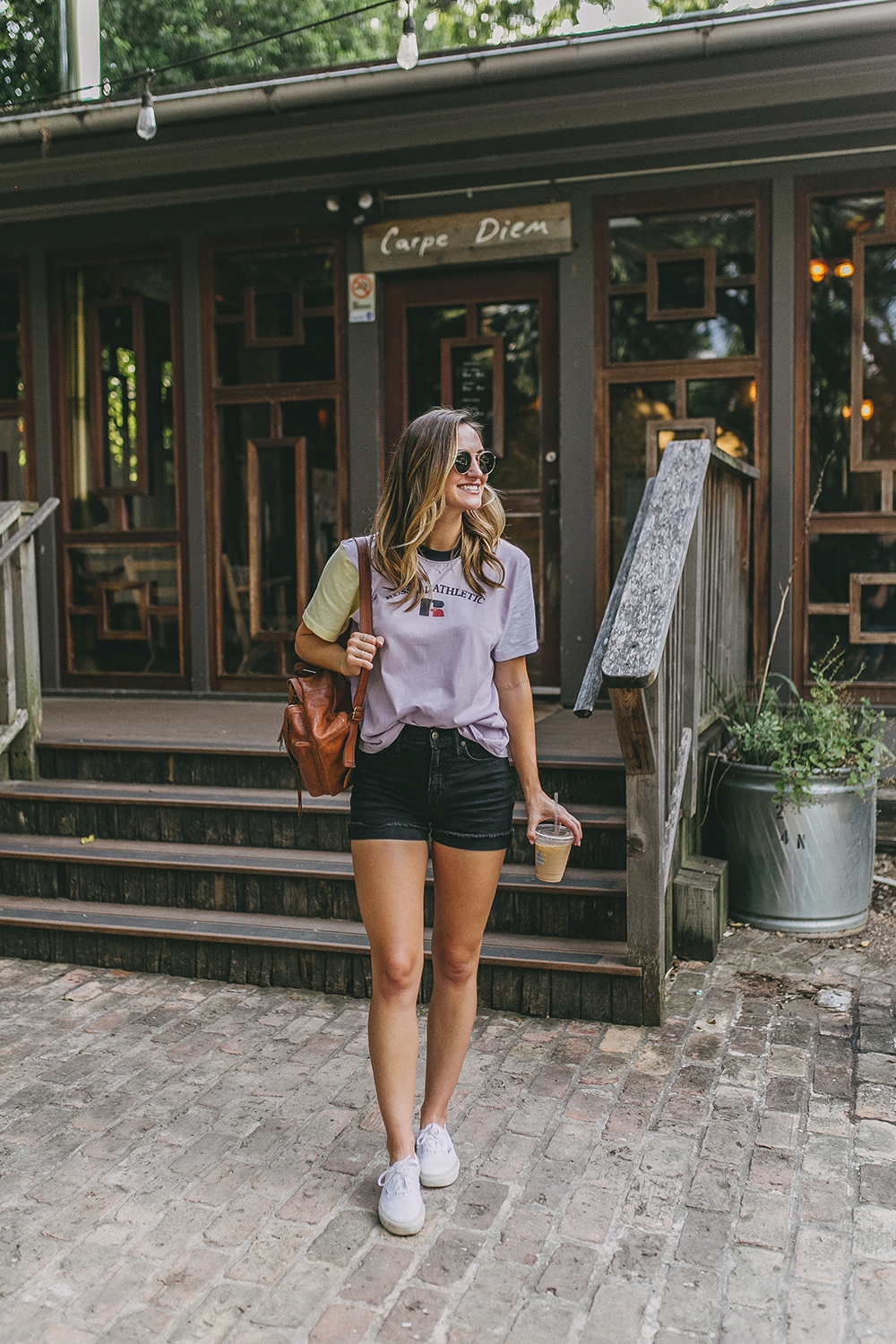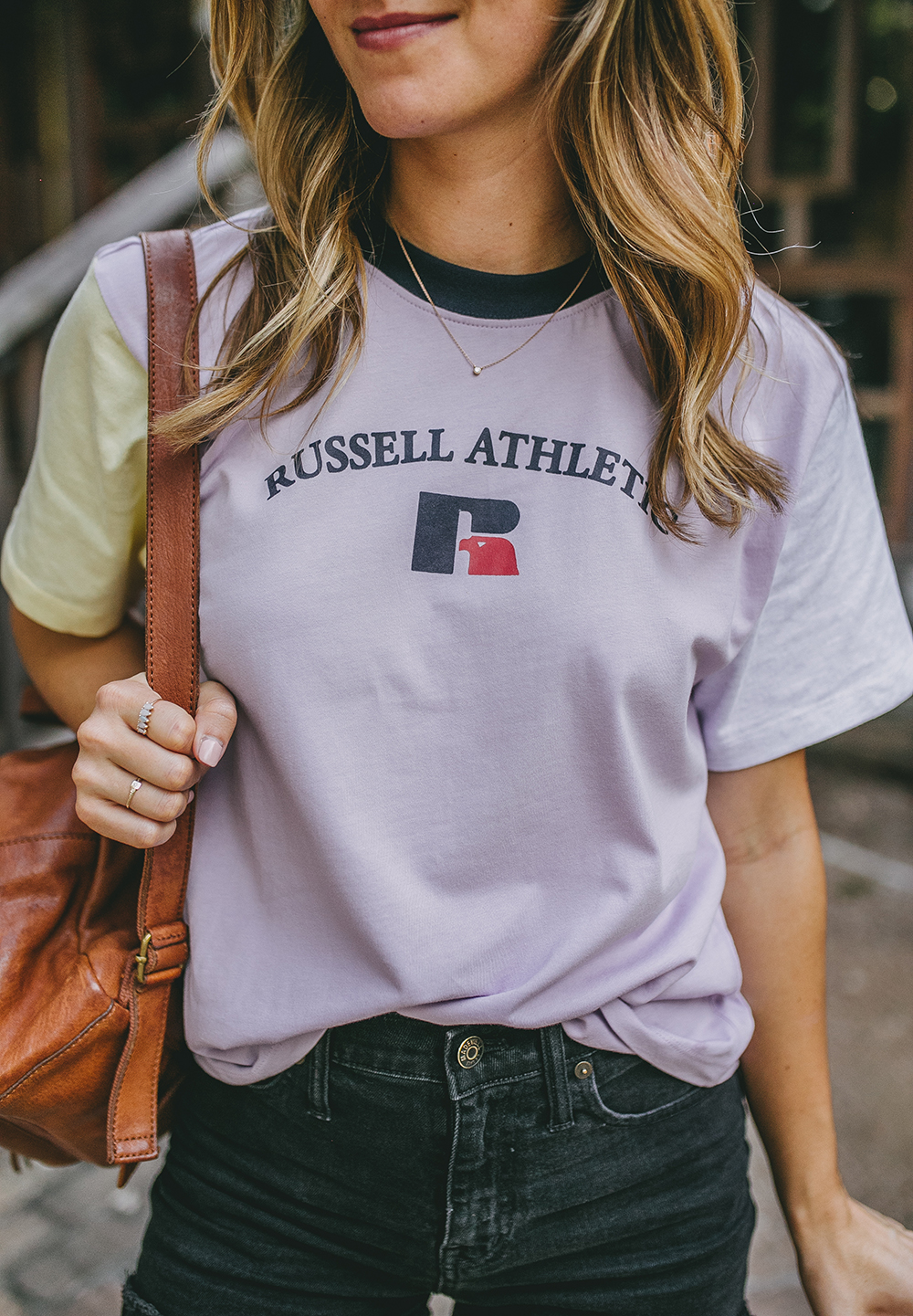 Two things I reaaaaally love: a midday coffee break and a cute, comfortable outfit. Combine the two and it's a recipe that can truly turn my day around. Yesterday morning was quite hectic as I have been trying to prepare for our two week trip abroad (we leave Monday), and when my sister asked to grab a cup, pastry and relax for a bit at one of our favorite spots in town (Tom's Coffee never fails us!), I immediately jumped at the invitation. By 1pm I realized I had yet to get out of my loungewear and was fading quickly. Caffeine (well…"half caff" given Baby P 😉 ), quality sister time, and a colorful tee + denim shorts combo to the rescue!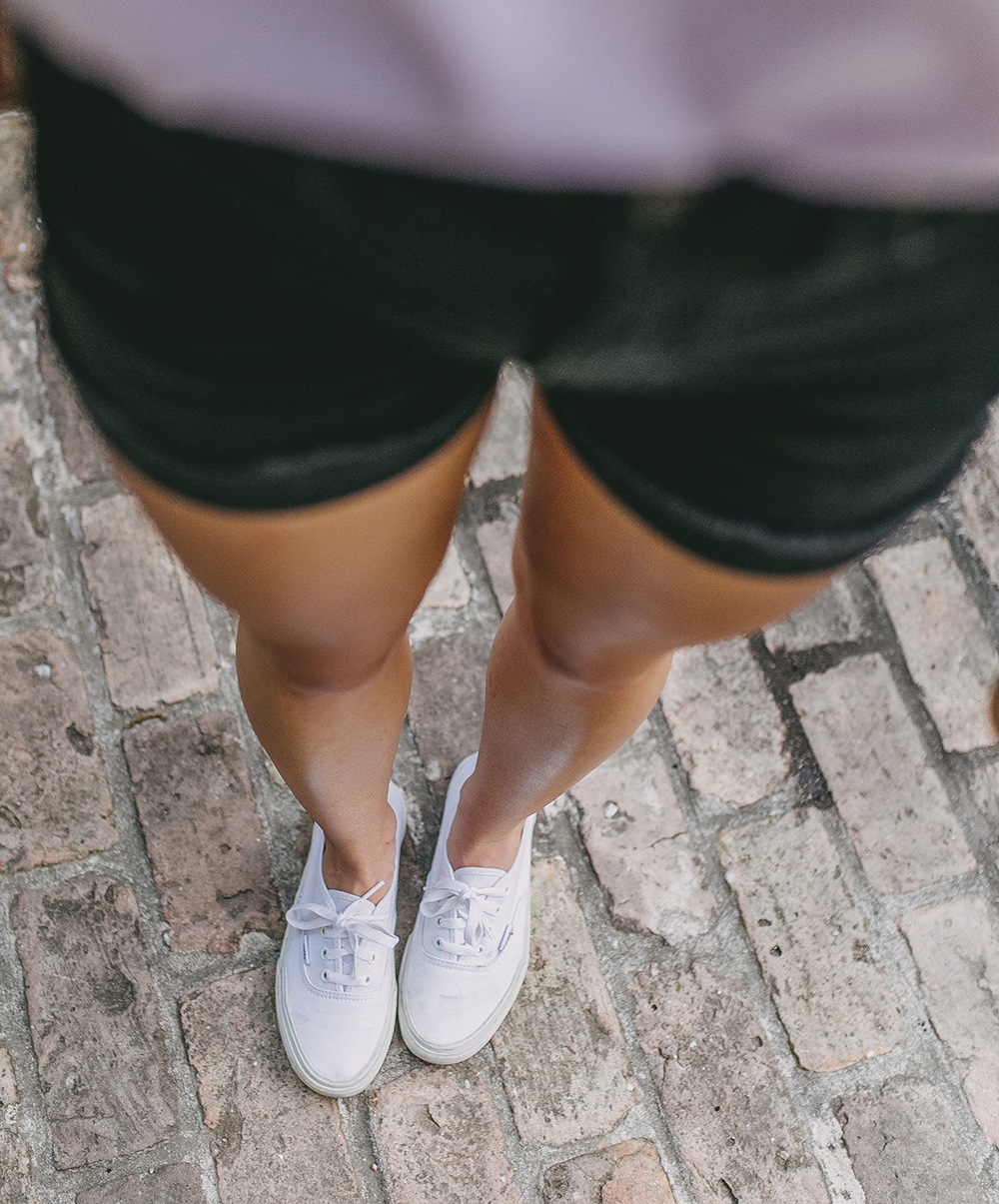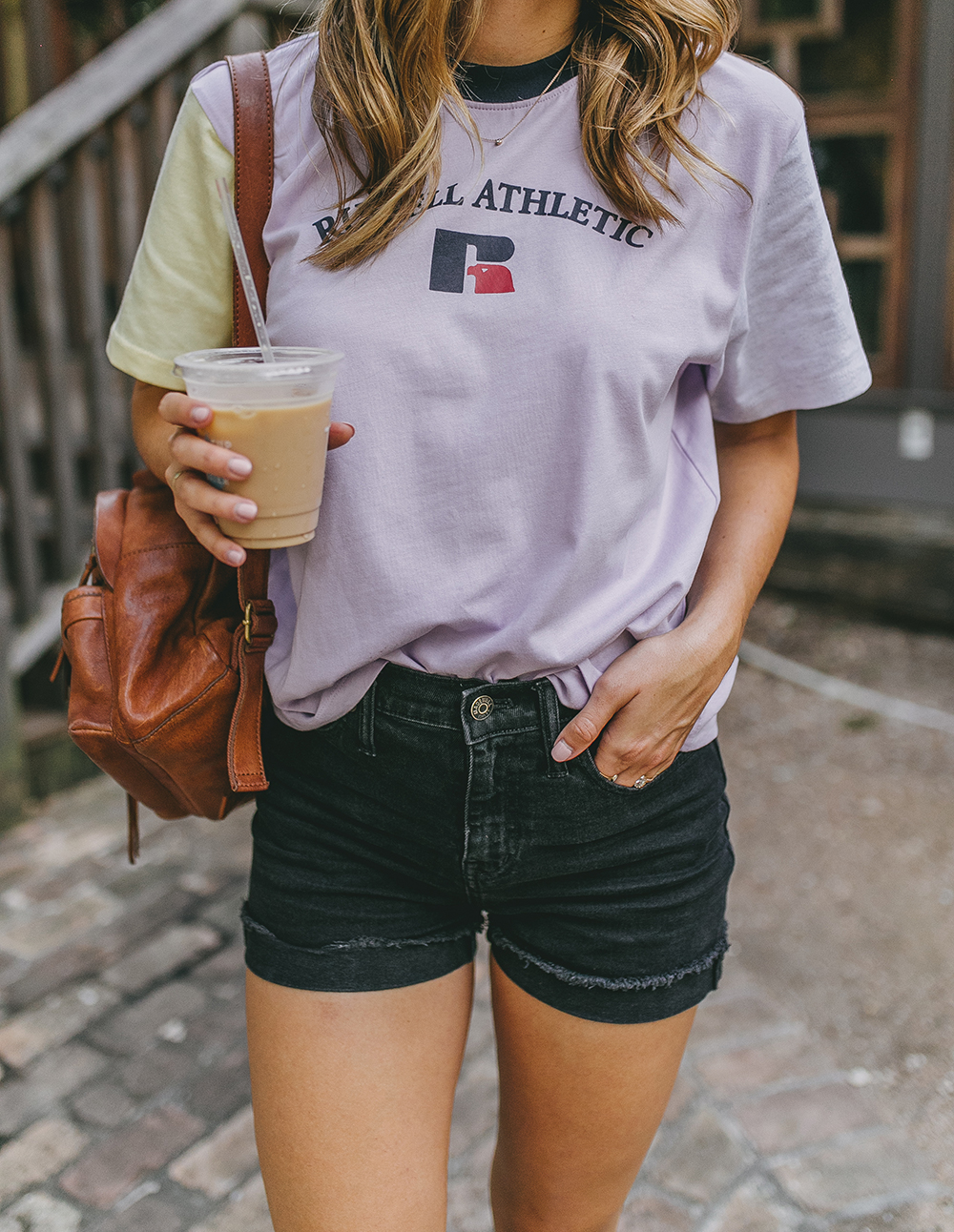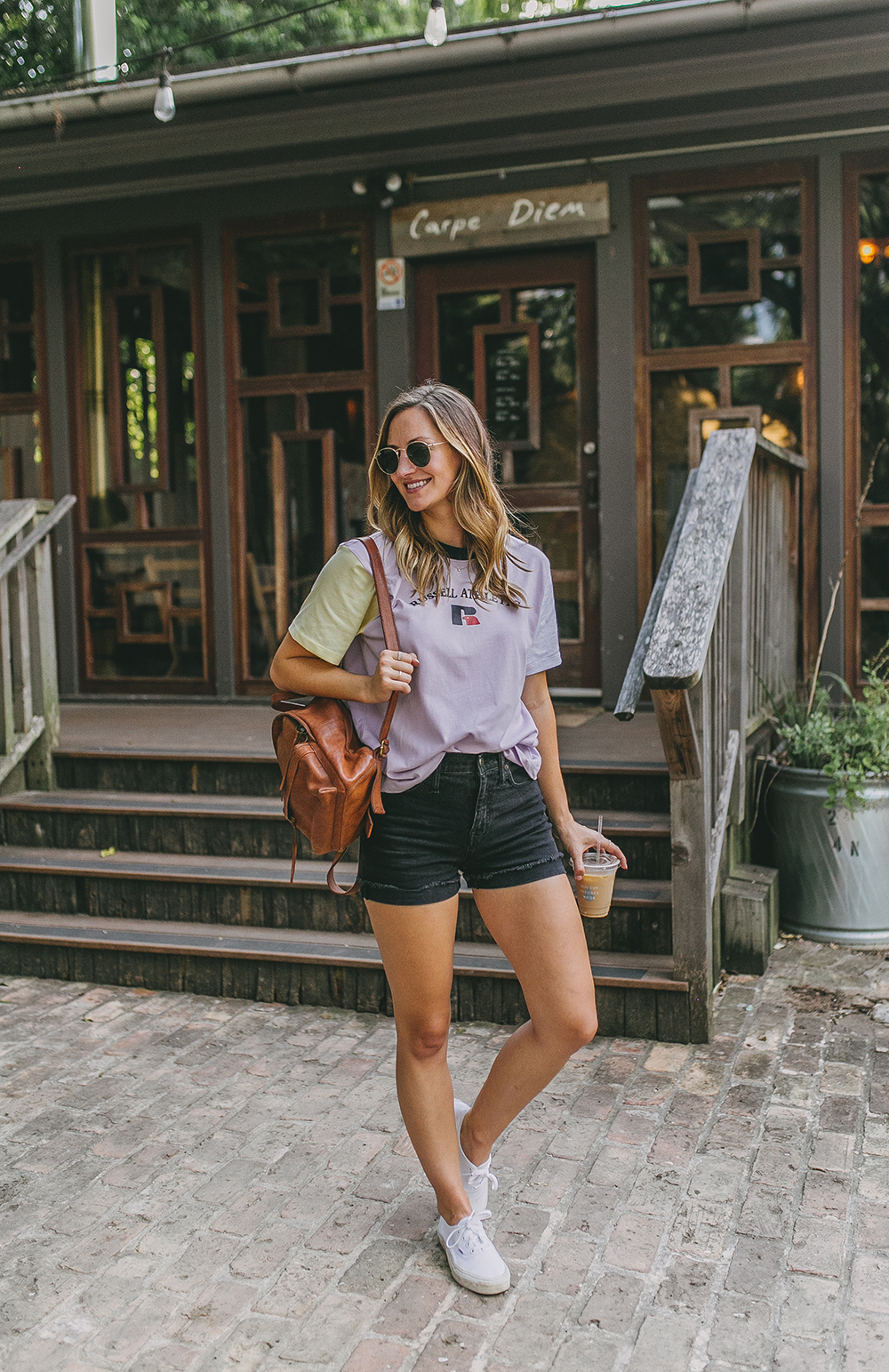 As y'all know, Urban Outfitters is hands down of my favorite places to shop. I love a good in-store visit, but honestly…nothing beats shopping online in the comfort of my sweatpants and pimple cream (ohh the things that I don't post on IG would shock you haha….!). I love that UO is SO good at bringing back brands from the past and instantly reclaiming that effortless "cool" factor. Russell Athletic is one of those brands that's easily recognizable (that signature logo – flashback to the 90s!) and also perfectly mixes athleisure and street-wear. The brand has such a cool, relaxed vibe and when I saw this colorblock tee, I knew it would be a fun one to wear – both with denim shorts around town or with joggers at home (or for a long flight!). Blake's wardrobe is made up of 99.9% sports brands….so let's just say he was into this outfit, too haha! (For reference, he is the type to question my love for rompers and neck bandanas…so this outfit was totally golden haha).
What's your go-to way to relieve yourself from a stressed out headspace? Sometimes putting on an easy outfit that makes you feel good, grabbing a galpal and sipping some fresh coffee is just the thing to turn your day around!
Linking to more Russell Athletic options and the rest of my outfit details below. Hope y'all are having a great week! XO
TEE / SHORTS (similar) / SHOES / SUNGLASSES

A big thank you to Urban Outfitters for sponsoring this post! All opinions are my own.