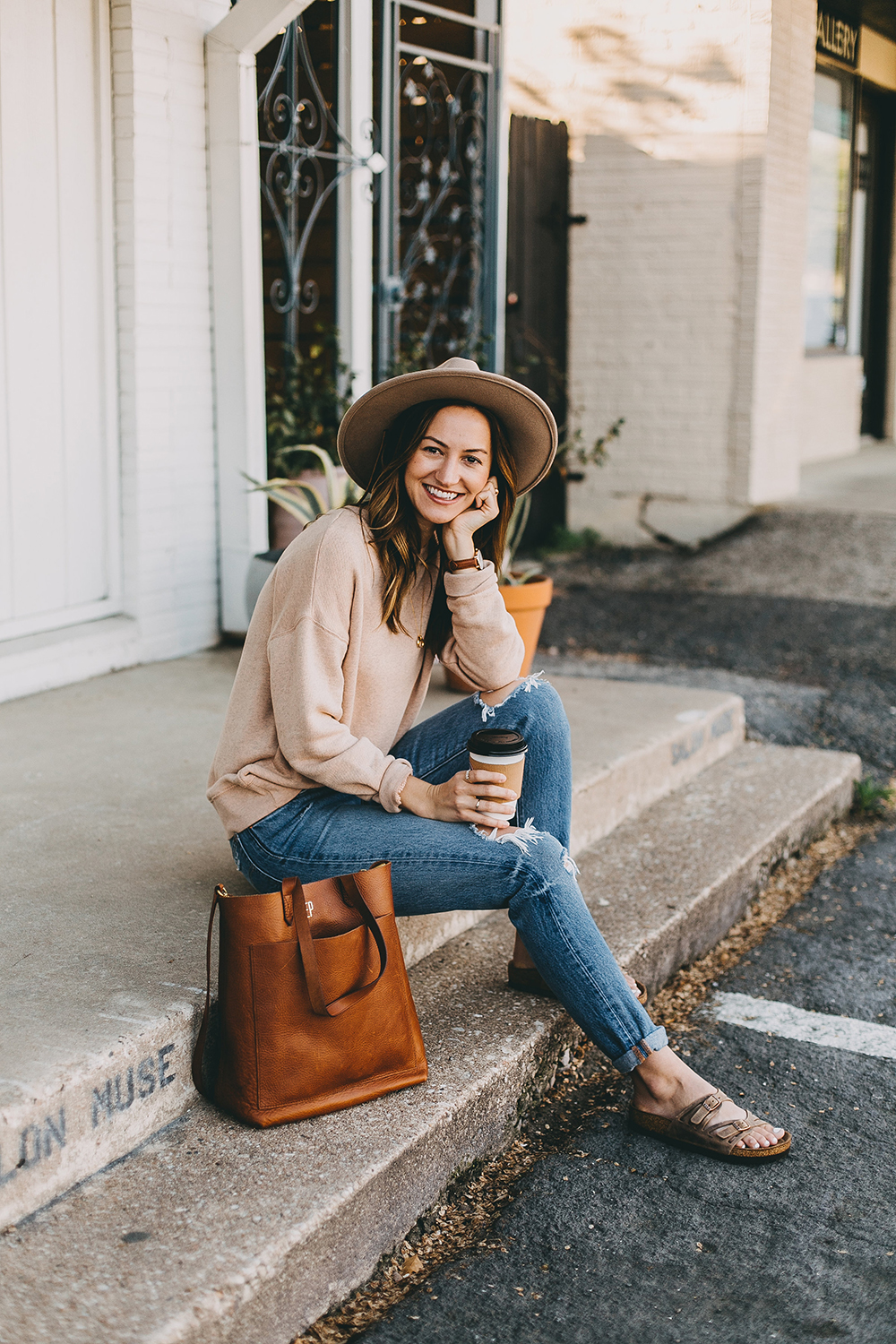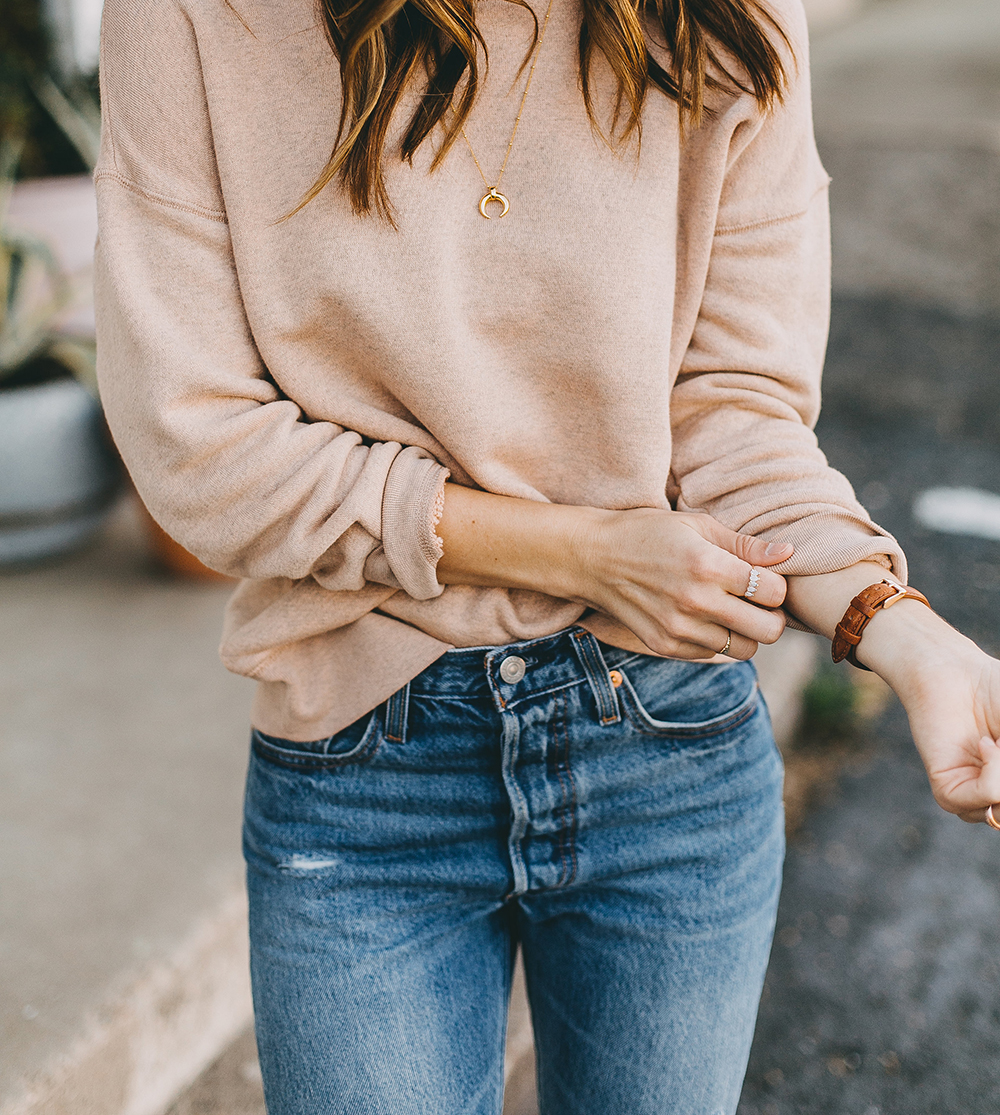 Happy Friday, friends! We're experiencing a torrential downpour in Austin right now and thus, sweatpants and movie watching it is. I was worried Watson would go stir crazy and in turn, cause me to go crazy haha, but alas, he has been THE biggest cuddle-muffin and it's this version of Watson that makes me say "ahh, so that's why we got a dog!" Those other times when he is eating our furniture or eating my hands always call our decision into question haha ah! 😉 As I am in full-on cozy mode – I am actually wearing this exact sweatshirt…which goes to show you just how wonderful (and versatile!) it can be. From pajamas to a presentable (…dare I say adorable?) and  veeeery comfortable outfit! (Note: my shoes are #1 for comfort…nothin' like good 'ol Birkenstocks!) …This full look screams "wear me three days in a row!" and lemme tell ya, this weekend I'll be putting it to good use. Ps. Don't act like I'm the only one who wears the same outfit for days on end… 😉 ). Repeat offender and proud of it!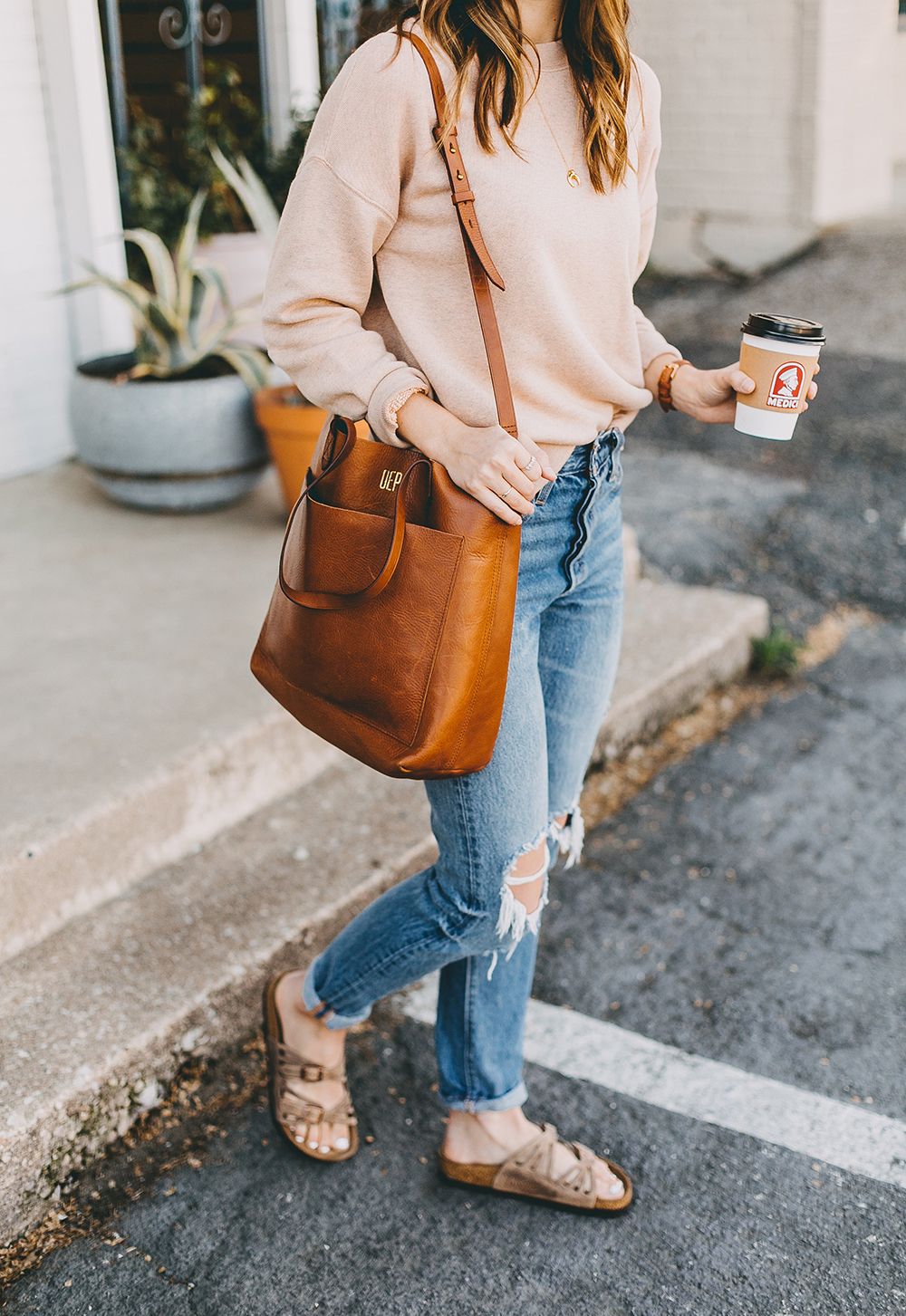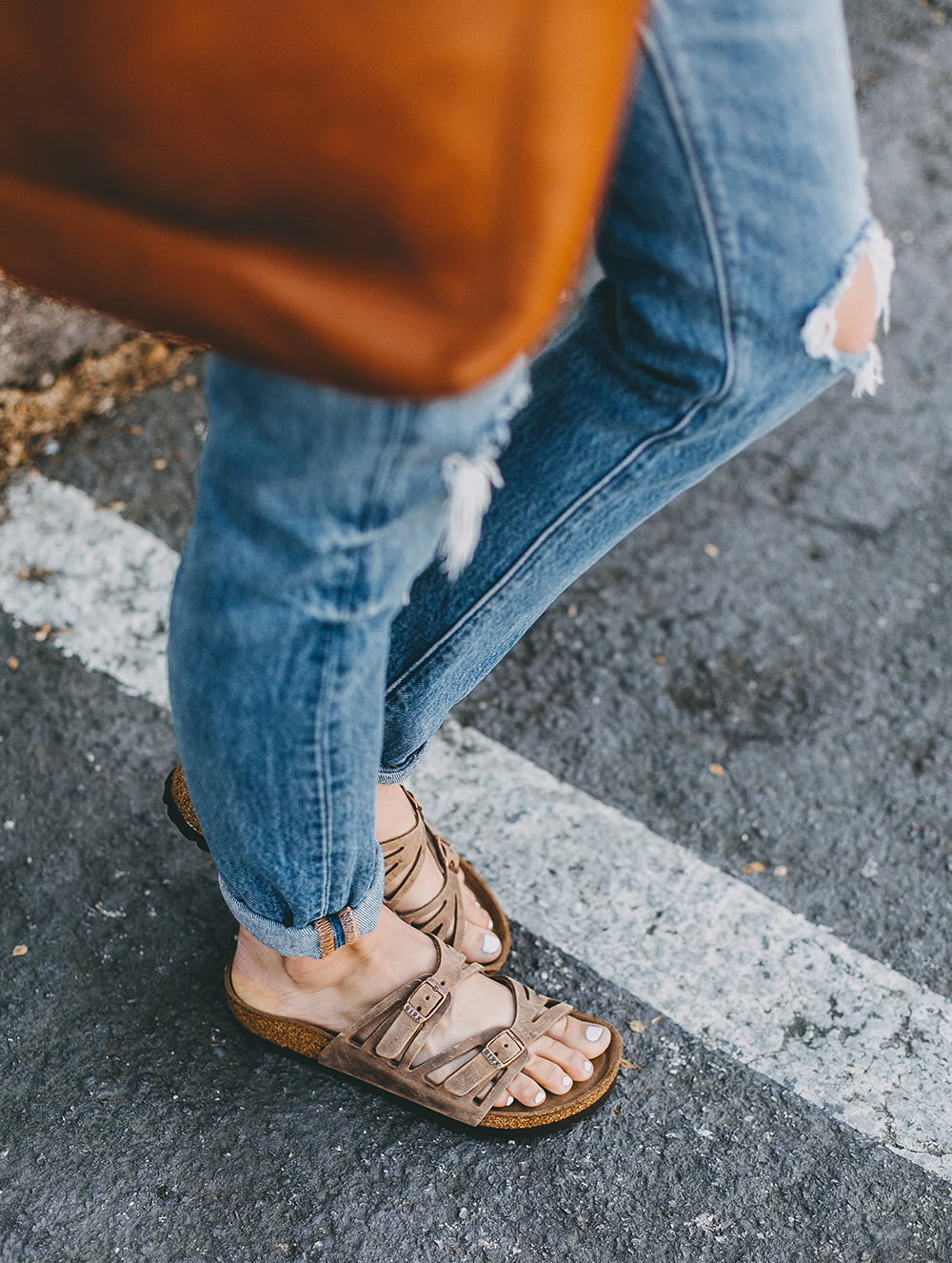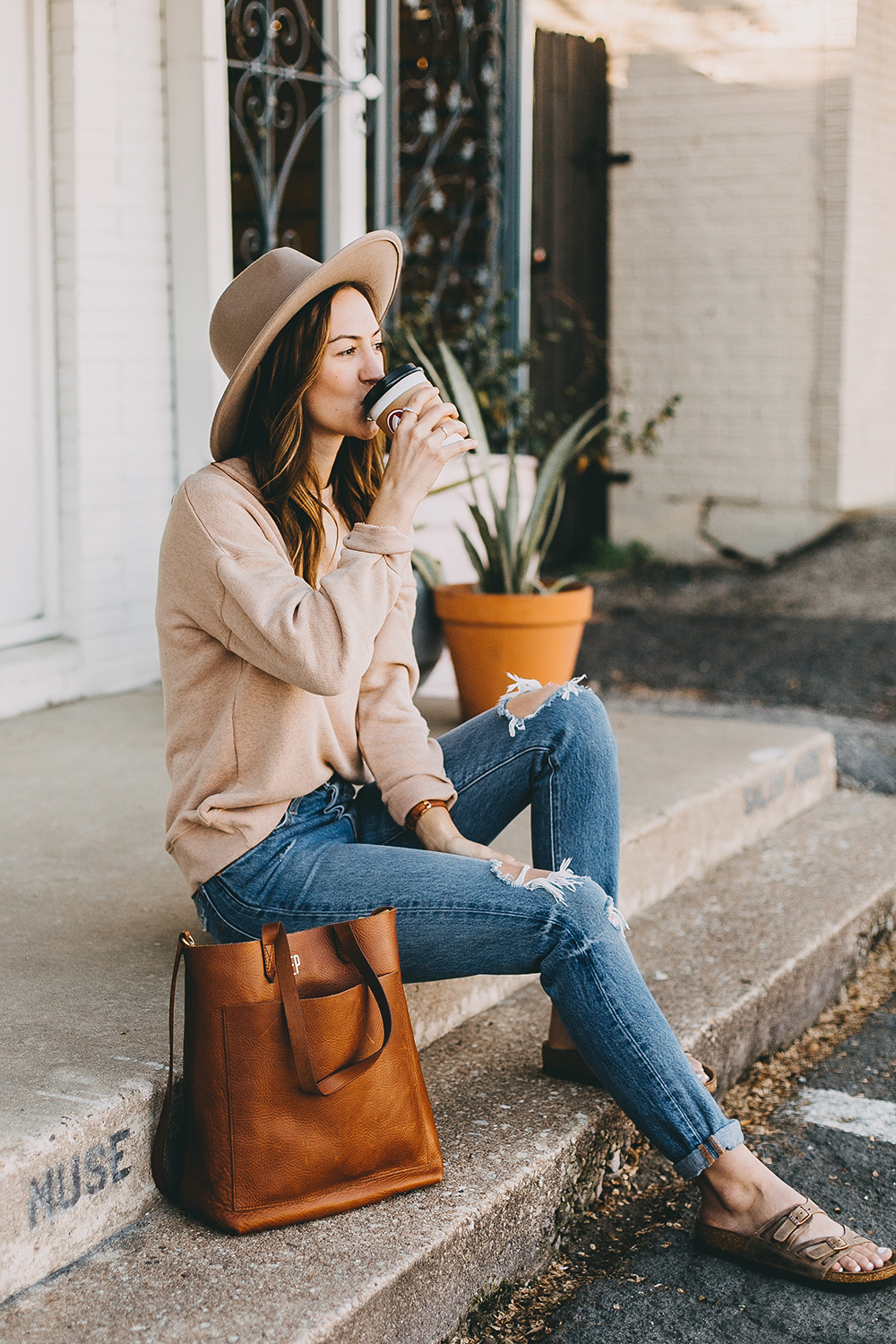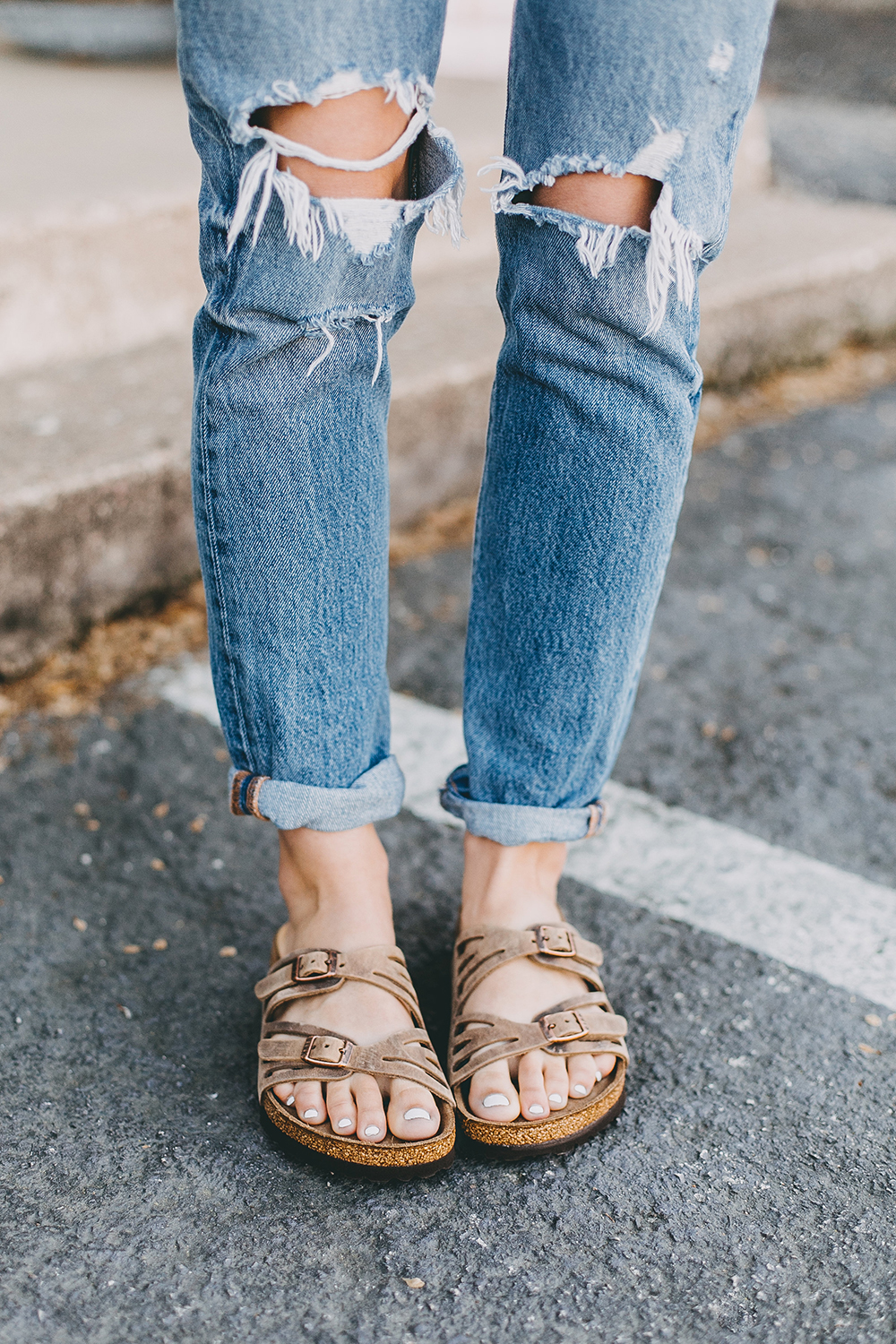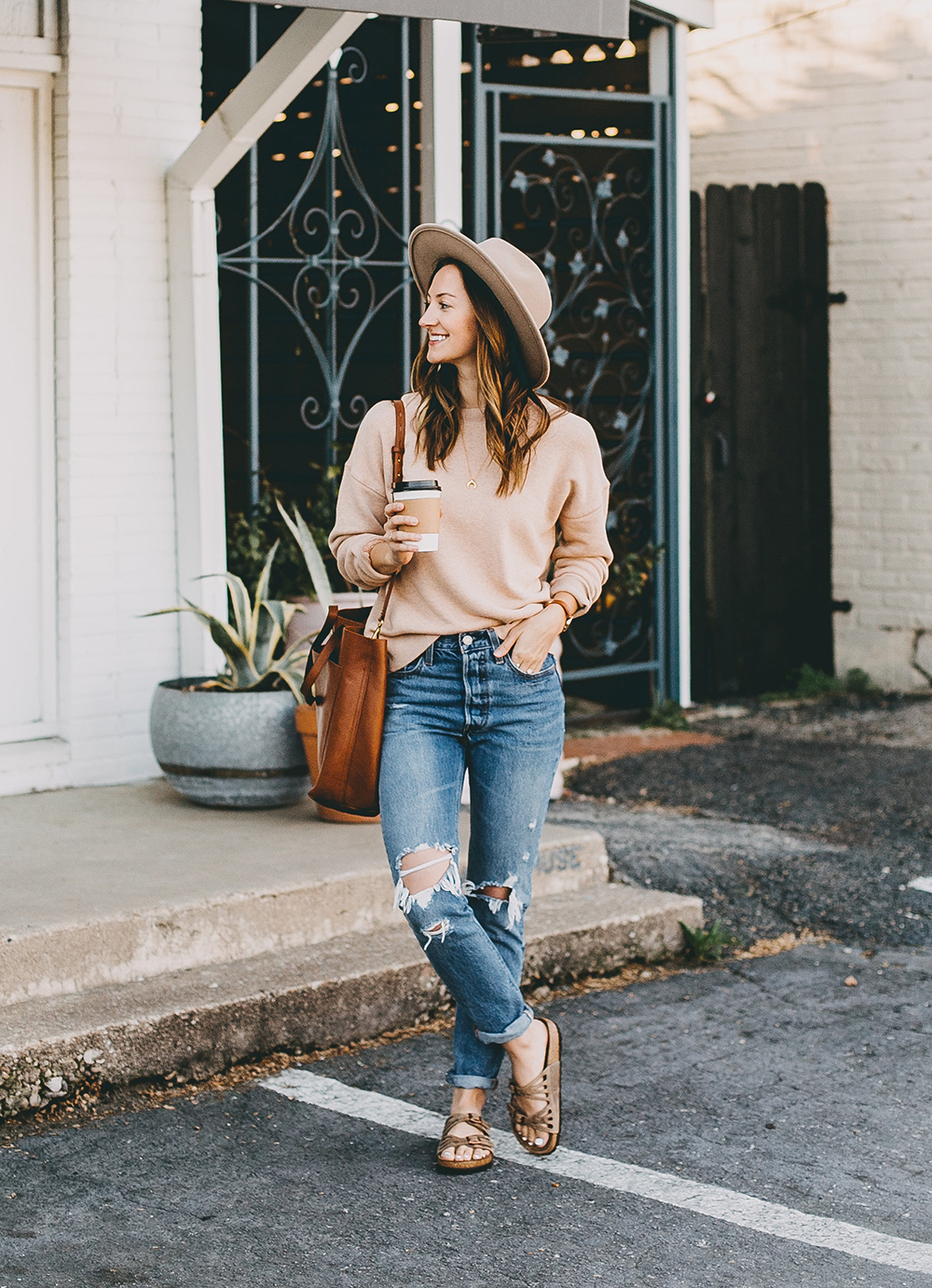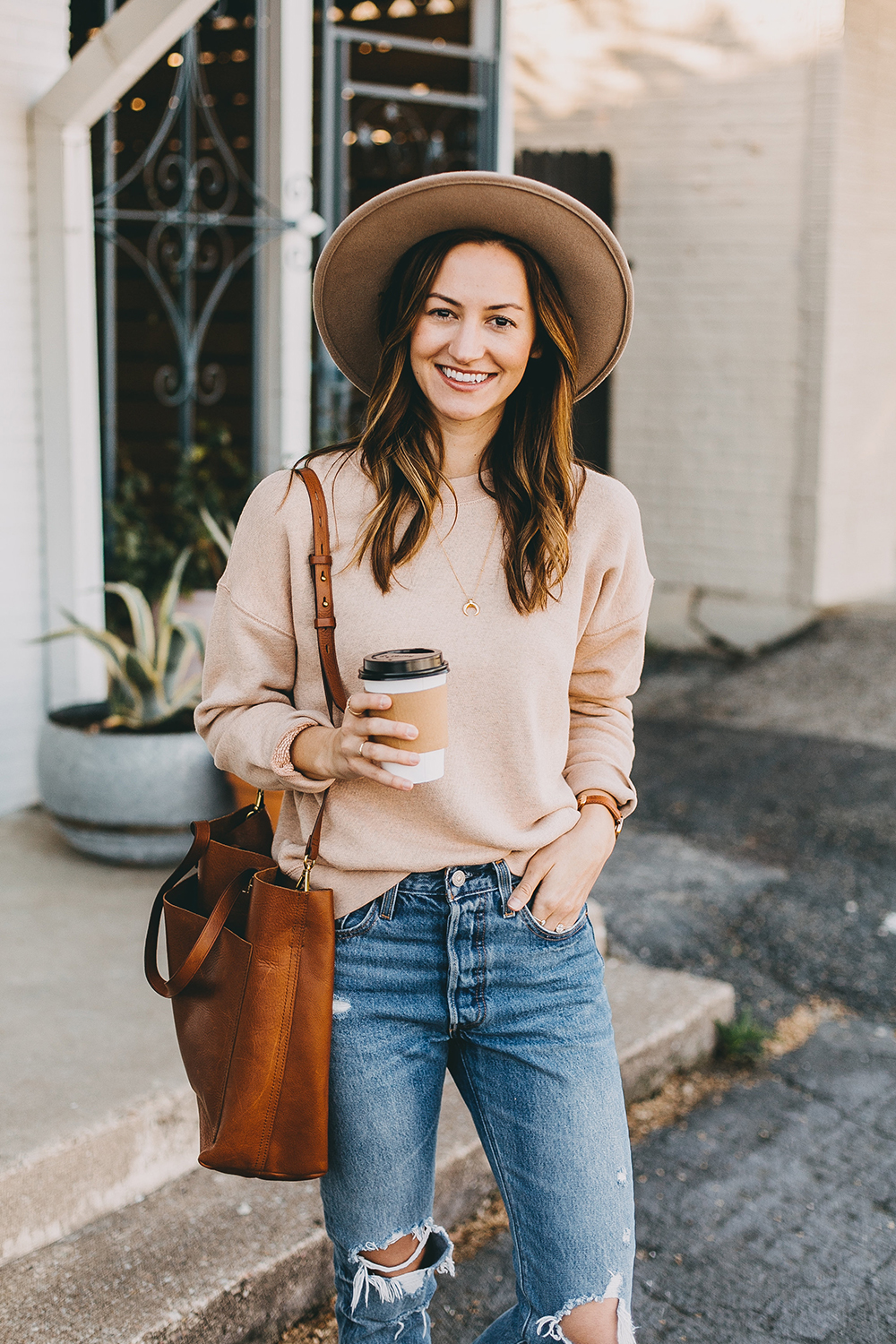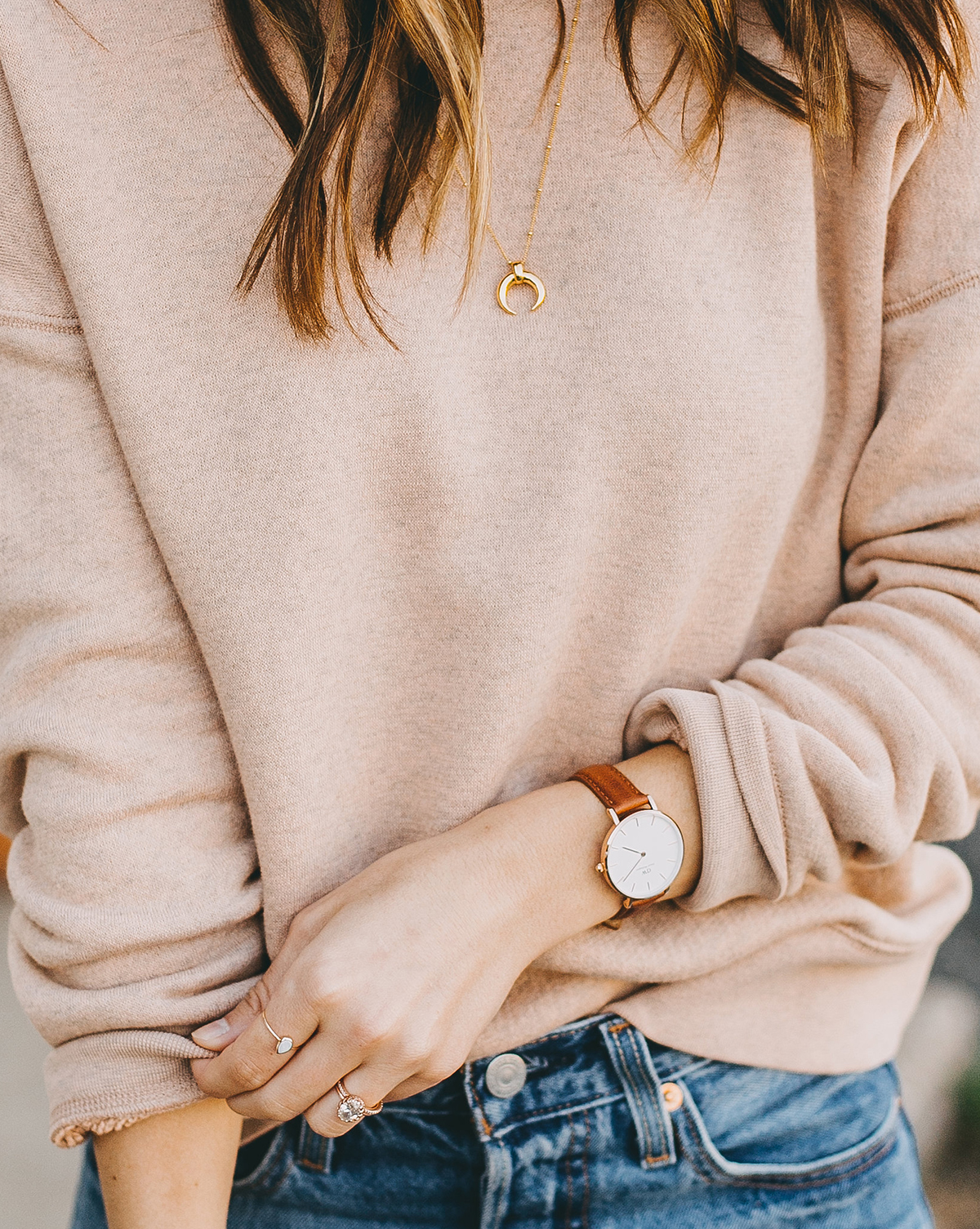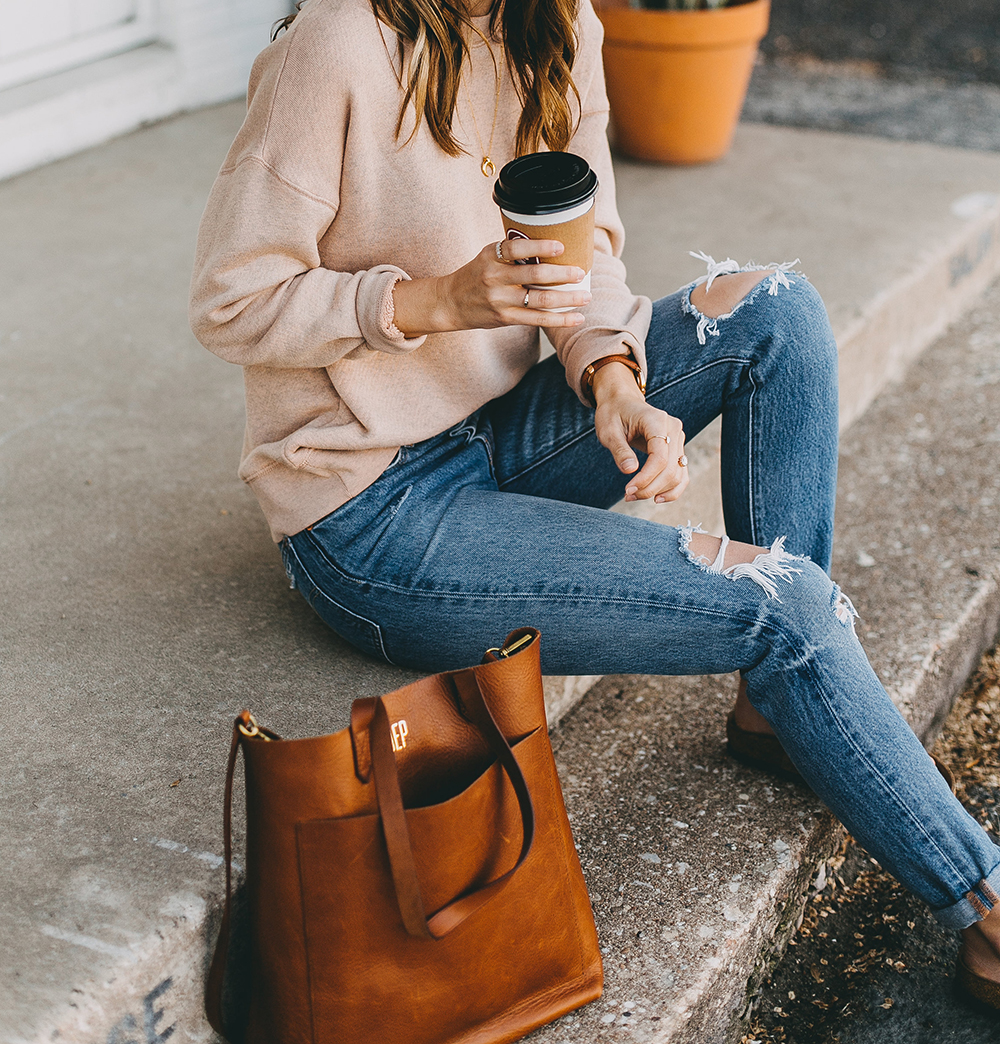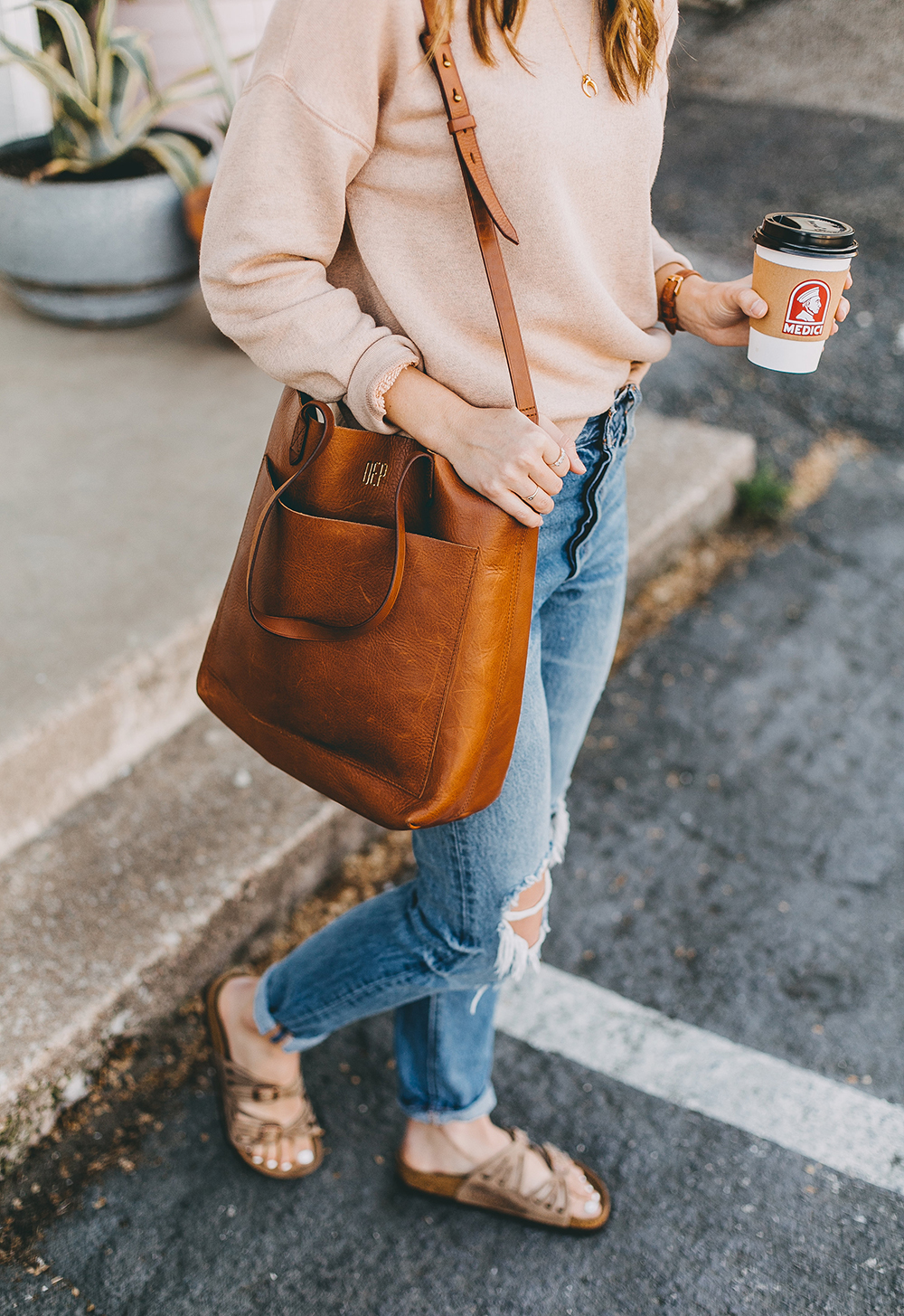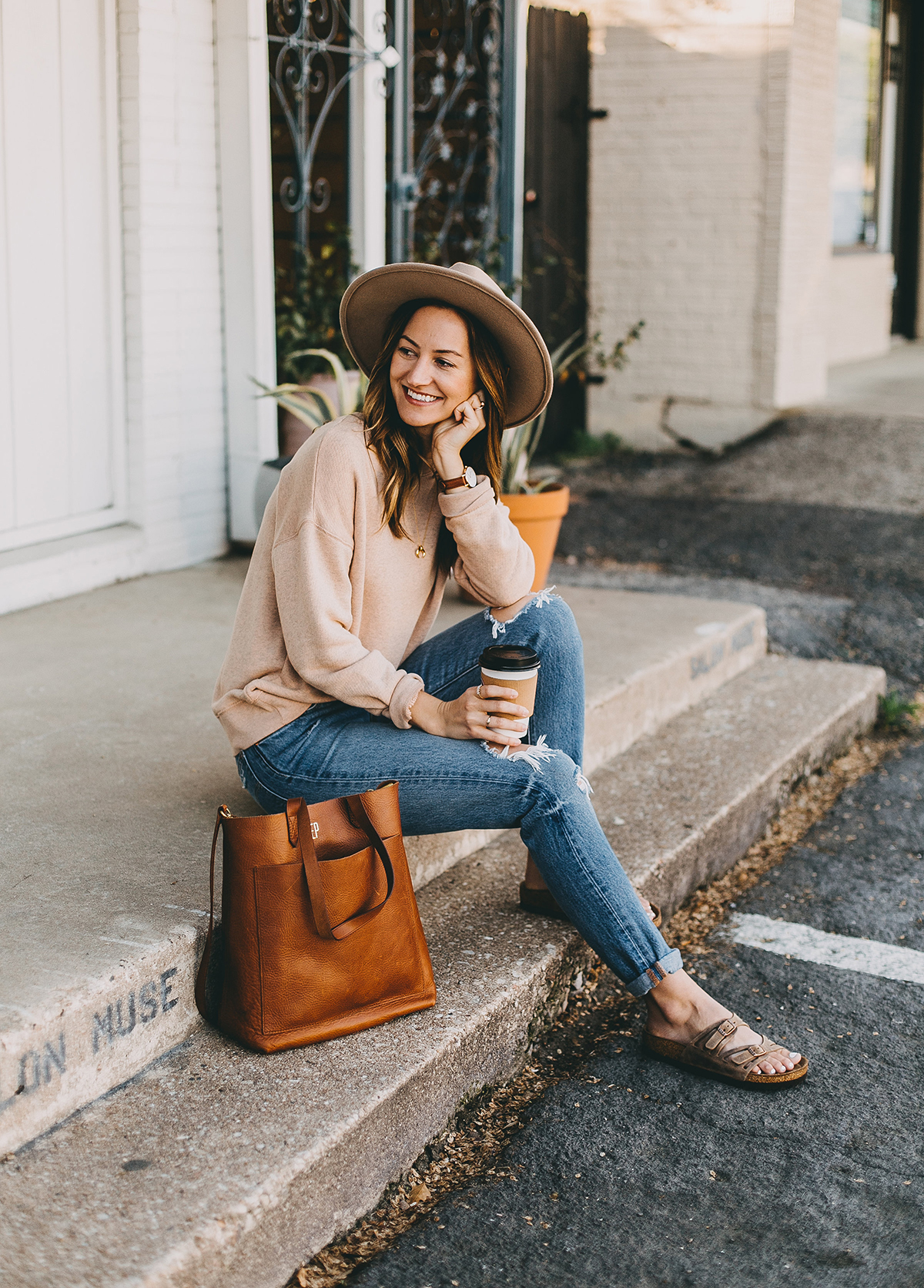 First off, did you catch the yummy close-up shot of my sweatshirt? Yep, we got in reaaal close so you could see for yourself just how magical this thing is. It gets better because it's actually a very lightweight material, so it's perfect for those crisp spring mornings or if you've got beach plans over the summer and need a little something to keep you warm. (…Also, can you image how cute it would be with cutoff shorts and a sunset beach backdrop?! Ohh the possibilities…). I am wearing a size small for reference – BIG fan! Also linking to a couple of other styles + colors I really loved (…and mulled over…ultimately deciding I needed some of this pretty peach color in my life).
Y'all have seen these jeans about a gazillion times and probably know by now that they're Levi's and they're wonderful. They have no stretch to them, so I recommend sizing up. (I've learned the hard way…don't go to a Tex-Mex dinner in high rise jeans with zero stretch…they limit your queso intake and nobody wants that). I am wearing my normal size but if I could re-order would definitely size up…luckily, I've had them for over a year now and I think they've stretched out a bit so I can breathe again haha. For reference I am wearing size 25 (…and wish I'd have gone with the 26).
Lastly, that monogram tote! Be still my heart. It's one of my prized possessions (is that weird that a tote bag is something I am super attached to?) because it's traveled near and far with me, the monogram is simply darling and overall the bag just feels very "me" if that makes any sense. It comes in quite a few color options (there's a maroon leather that's also stunning!) and it's the medium size. LOVE this thing, worth the $ and super durable! Pro tip: add some color by tying a bandana around the handle…ba-bam!
Do you have any exciting plans this weekend? I often feel like I am a lot more productive in snapping blog content/writing posts over the weekend (I think it's because my inbox hits pause and I have some mental clarity), so I've got plans to shoot a few blog posts (one in particular I can't wait to share!) and hole myself up at a coffeehouse to complete my Japan travel diary…bring on the bottomless coffee (…and probably this sweatshirt haha). Have a great one, y'all! XO
**Photos by Anna Szczekutowicz Photography
SWEATSHIRT / JEANS / SANDALS / HAT / TOTE BAG / NECKLACE