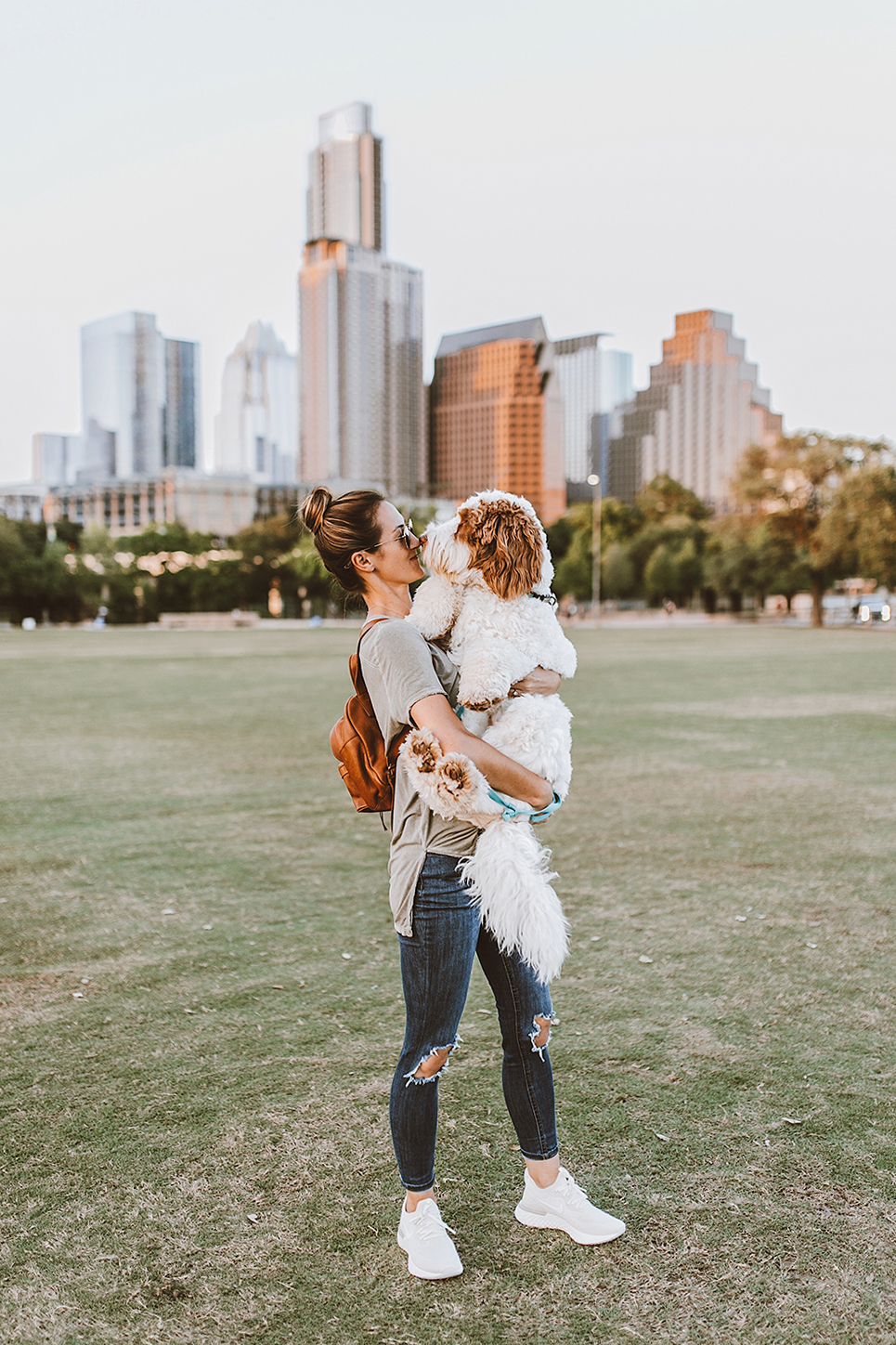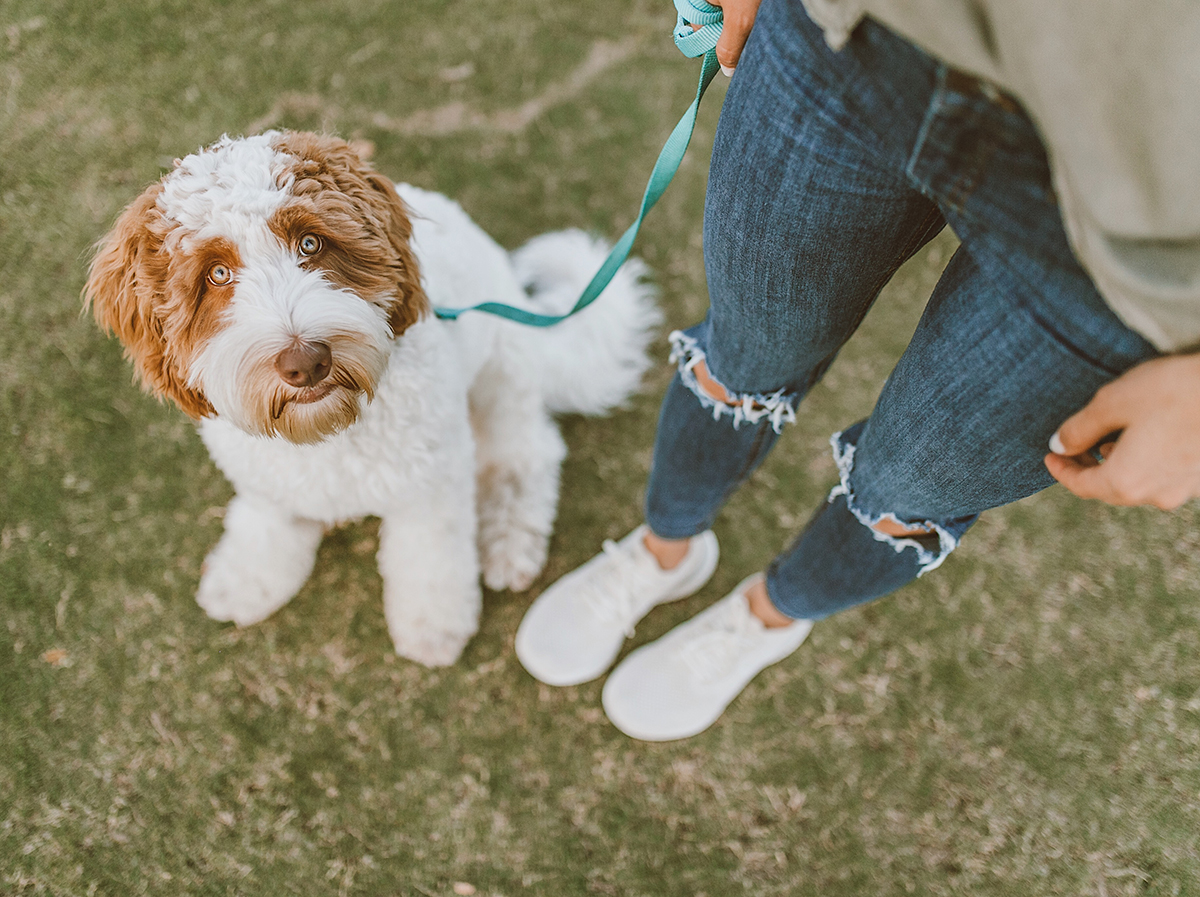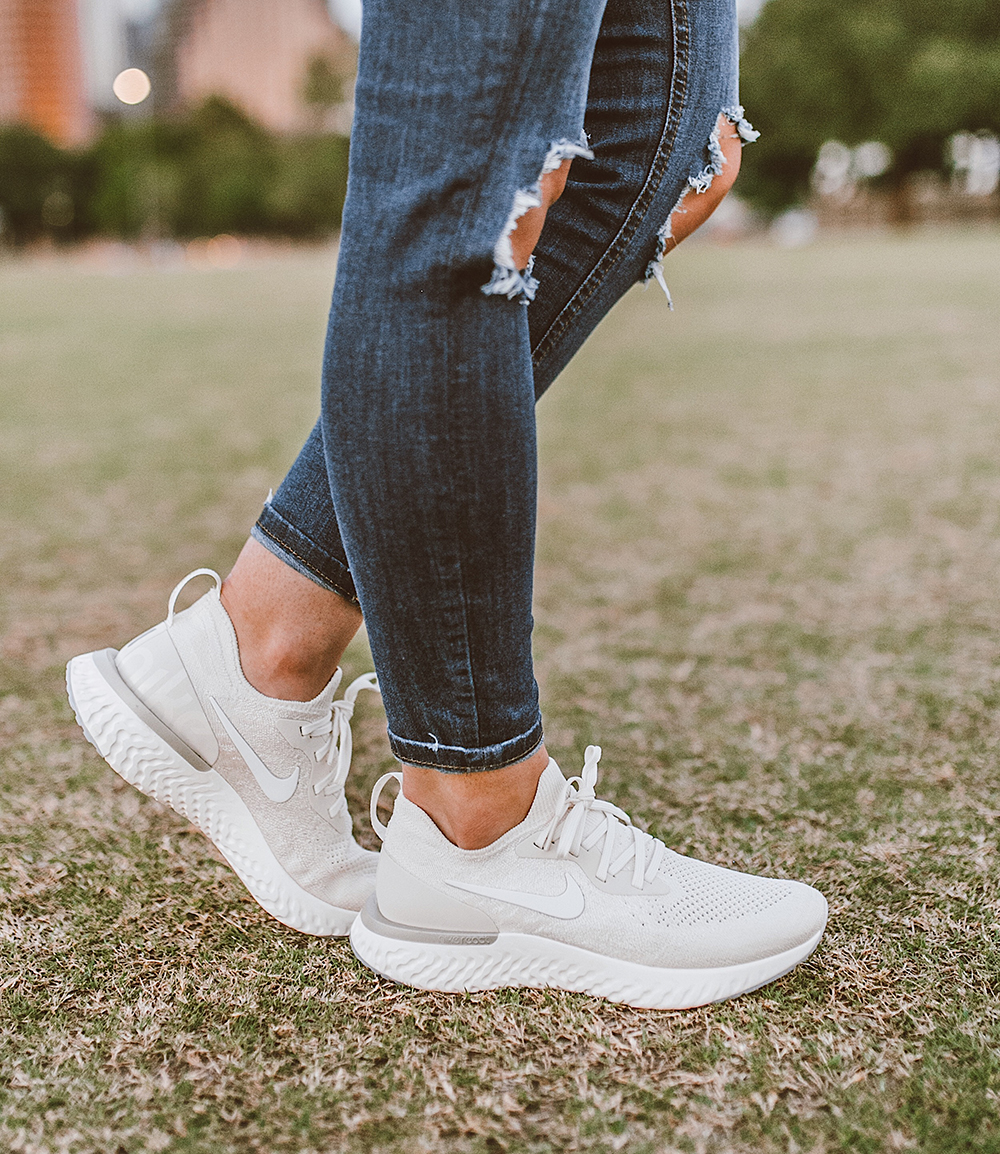 We've got a new normal around here…and it revolves around this pup! Watson is eight months old and has finally started to turn into a civilized puppers haha. I mean…don't get me wrong, he still jumps on everything and eats anything that hits the floor…but for the most part we can take him out in public without all the stress that comes with a puppy who has "zero chill." And lemme tell ya, we are LOVING it! Especially now that the weather is perfect for a day spent outside…that's exactly where we're hanging out. This weekend we hit the park at Auditorium Shores and let Watson get out lots of energy (…which means we got out lots of energy too haha…someone has to chase him!).
What I've realized about life with a dog: you will definitely be getting in LOTS of steps. It's been a complete (and welcomed!) lifestyle change for us but it's no surprise I have been swapping my cute sandals for a solid pair of sneakers on most days. I have been on the wait list for the pair of Nike sneakers I'm wearing in this post and they are FINALLY here (no joke, I have checked their site daily for nearly a month…this style is sold out everywhere! Nike added new color options in this style and basically they sold out asap). They are part of the Nike Flyknit shoes collection with hundreds of amazing reviews online, and I am very pleased to say that those are accurate – they are SO amazing. Comfortable, lightweight and multi-purpose: from a morning run to an evening at the dog park, these are the "do everything" shoes I needed in my life! (Also this color is SO PRETTY! It's a light cream).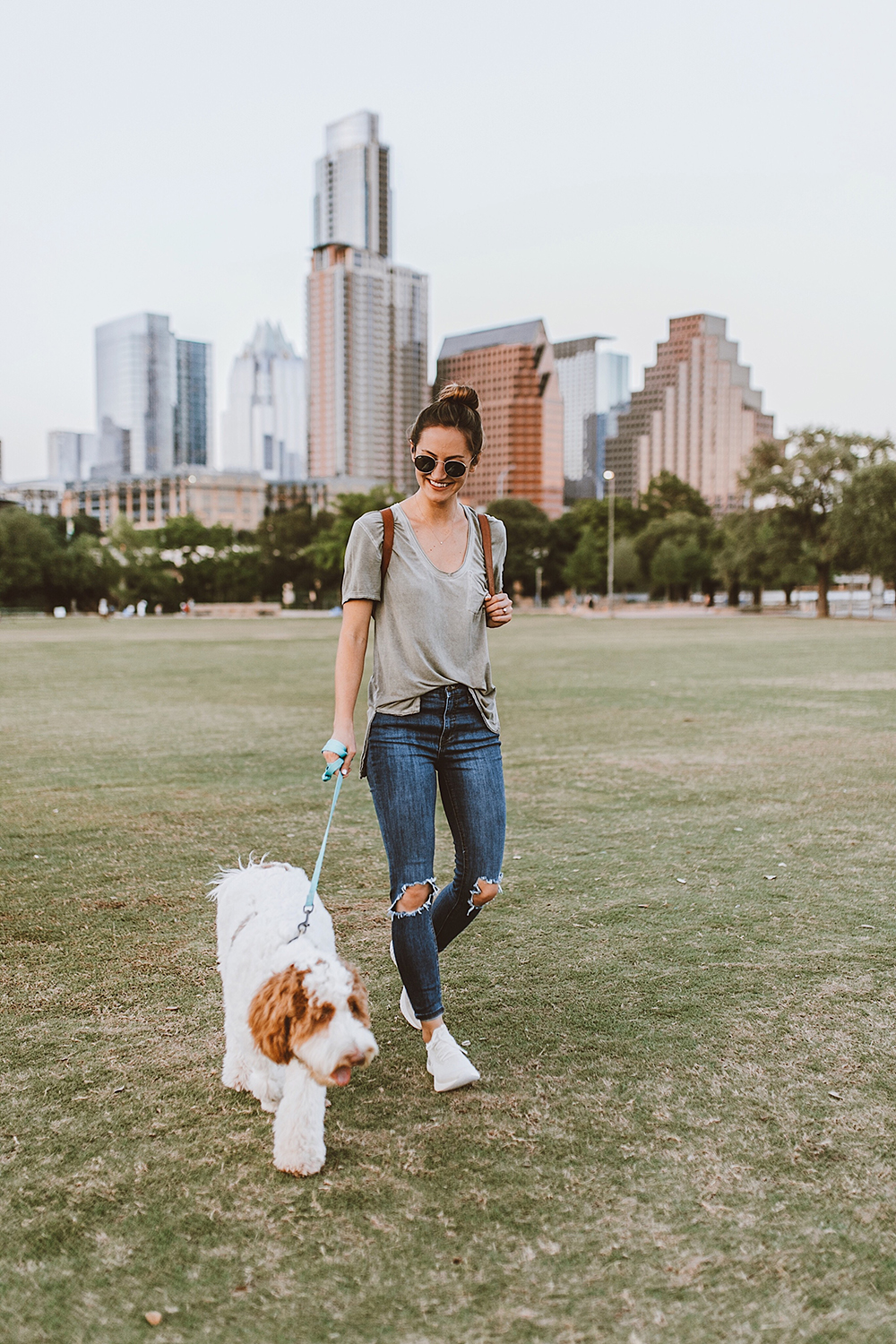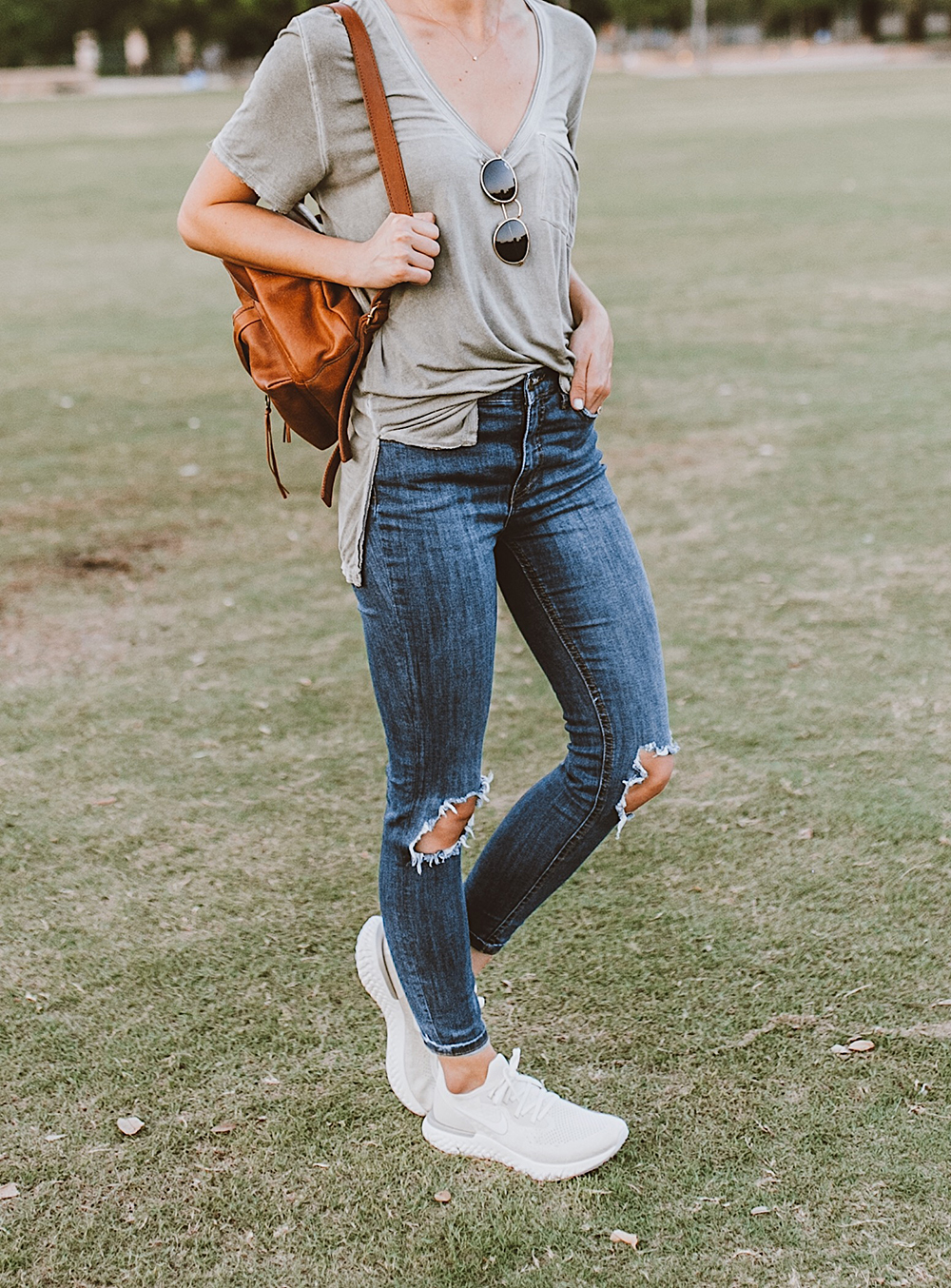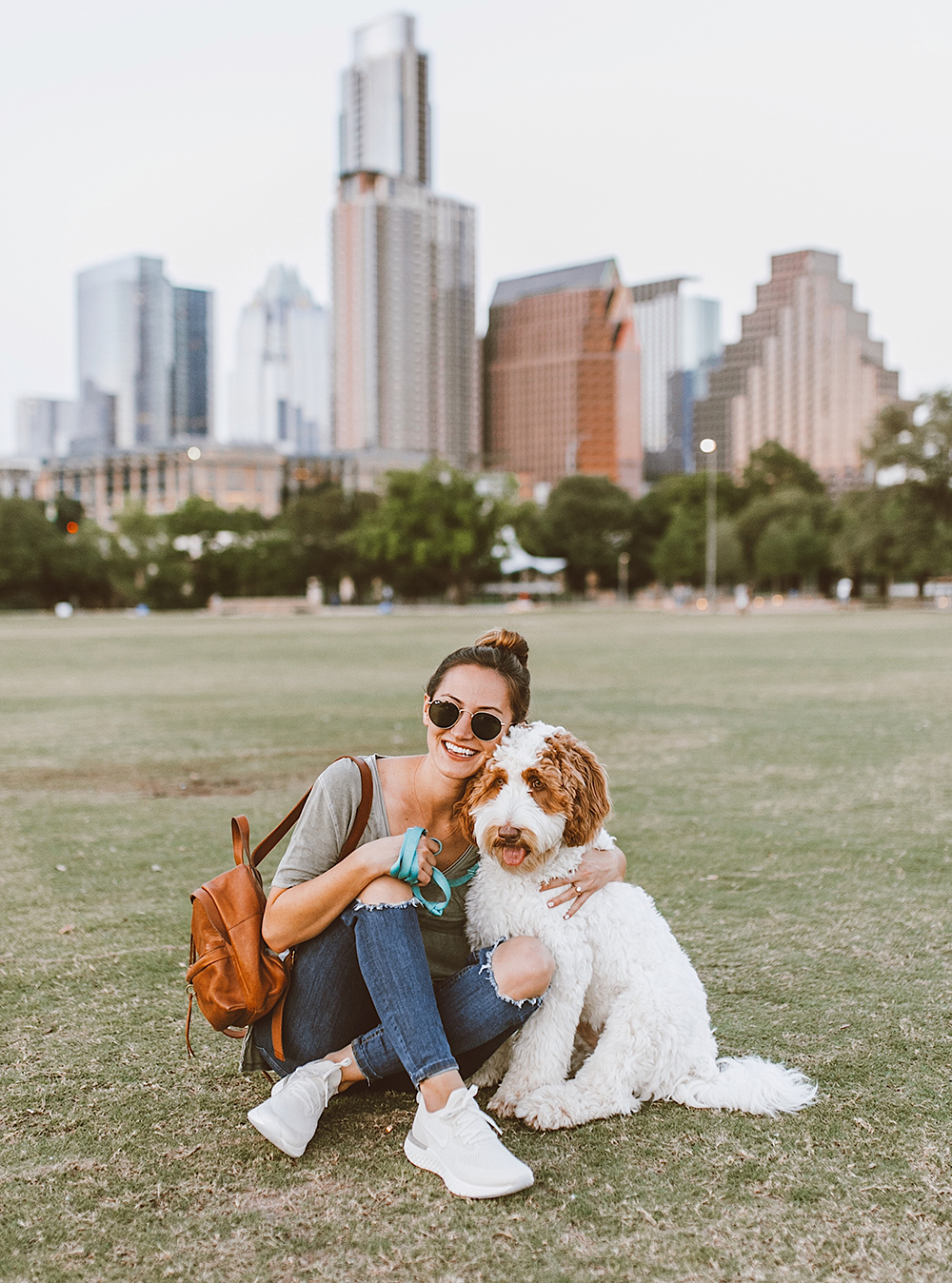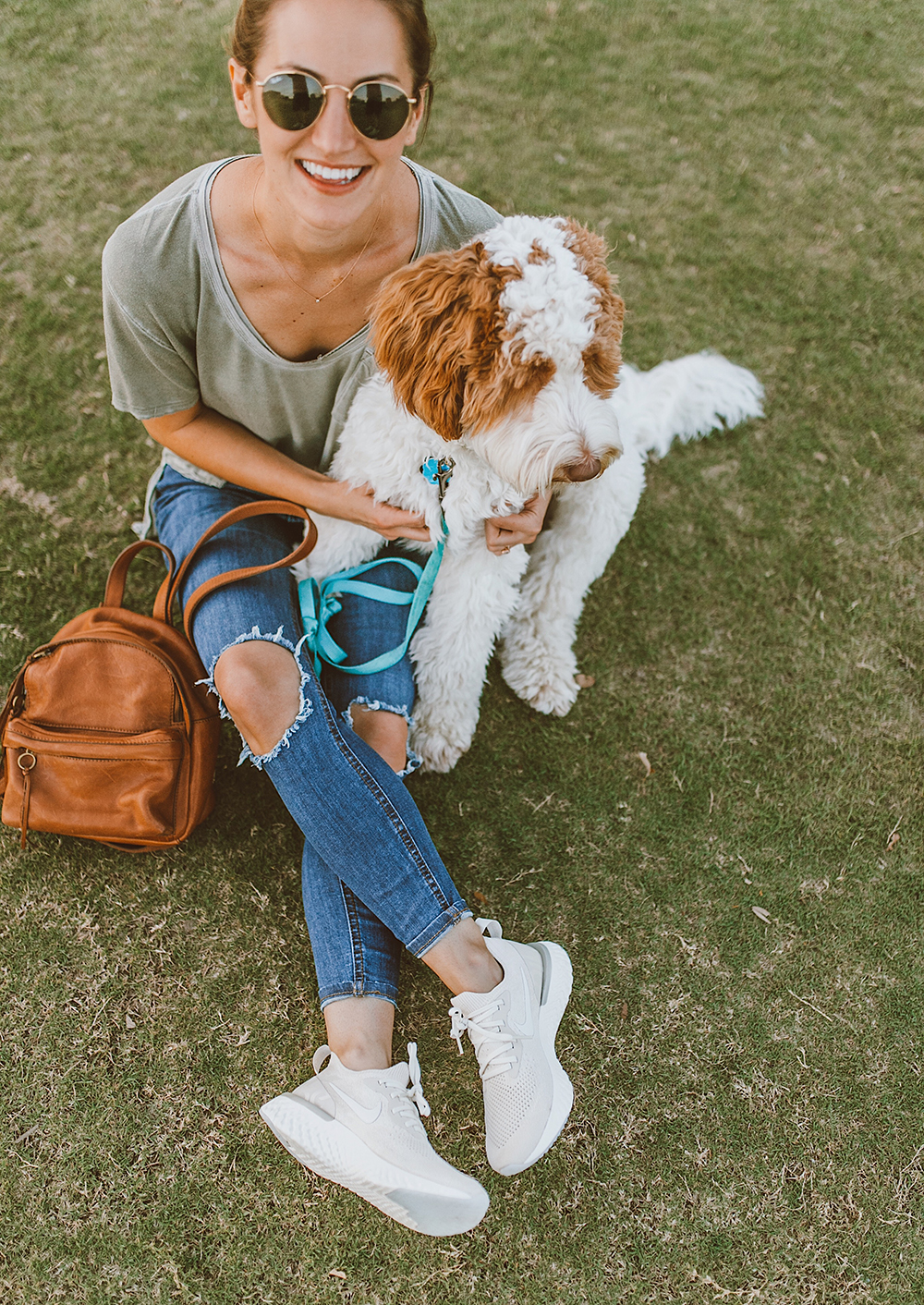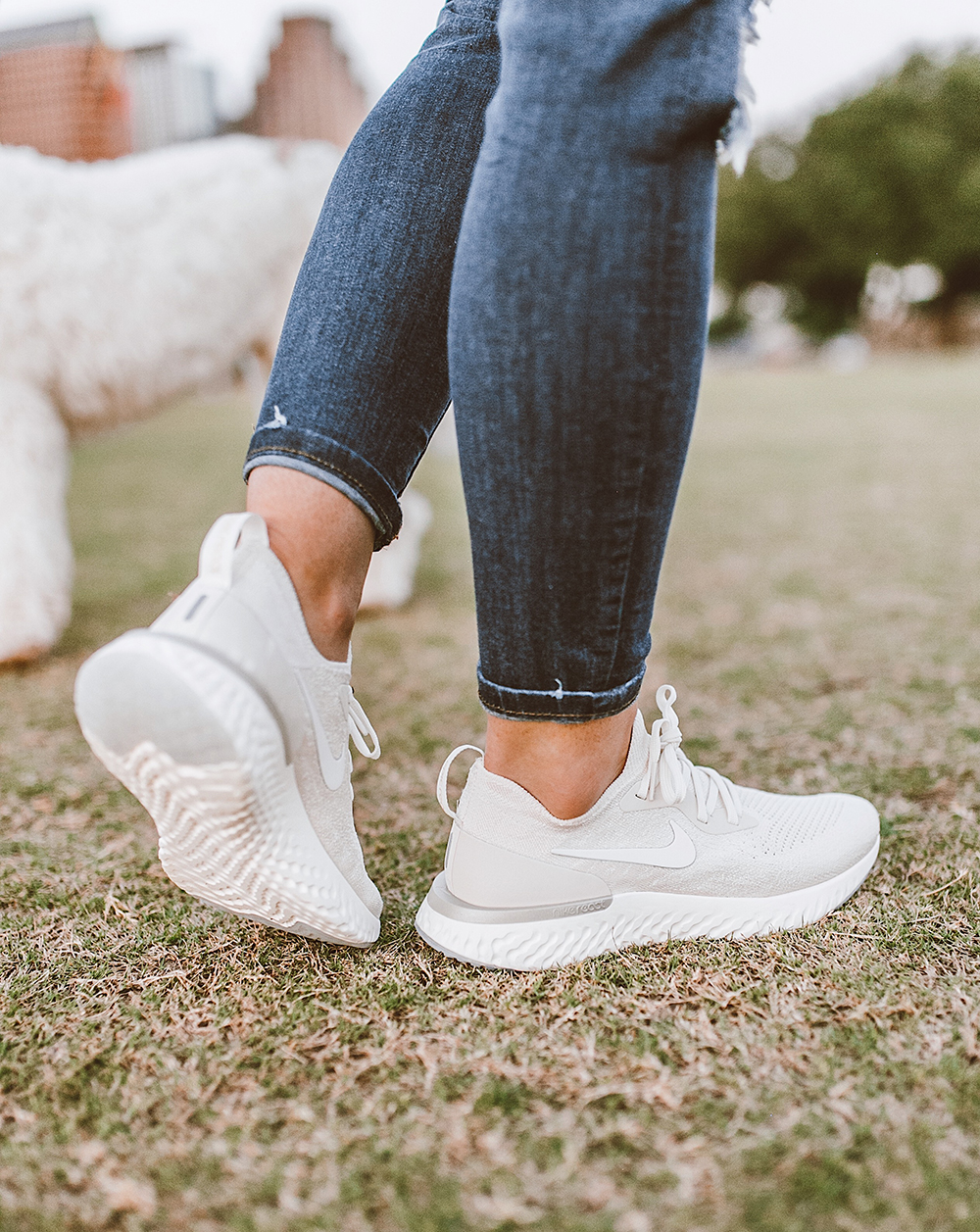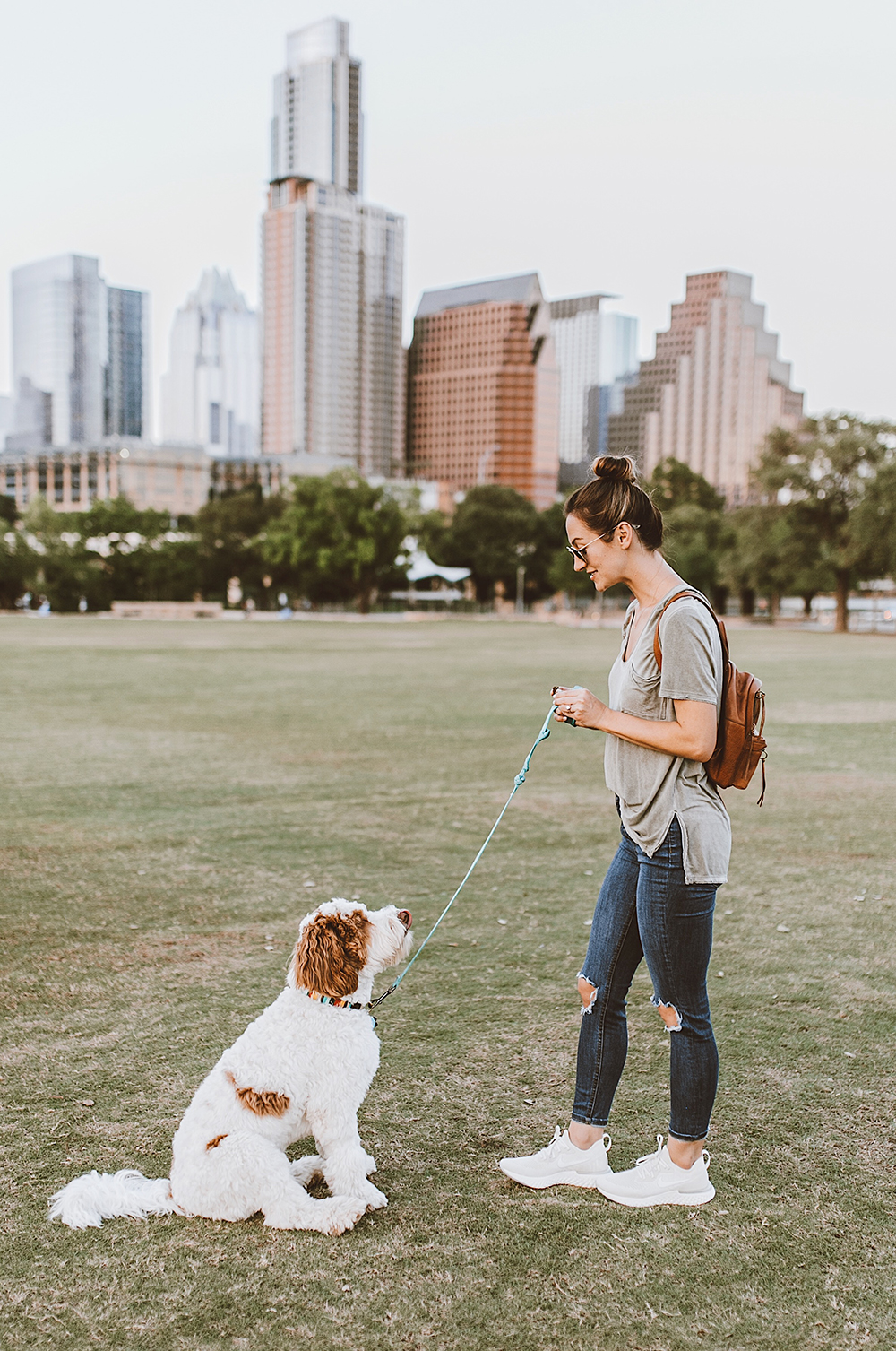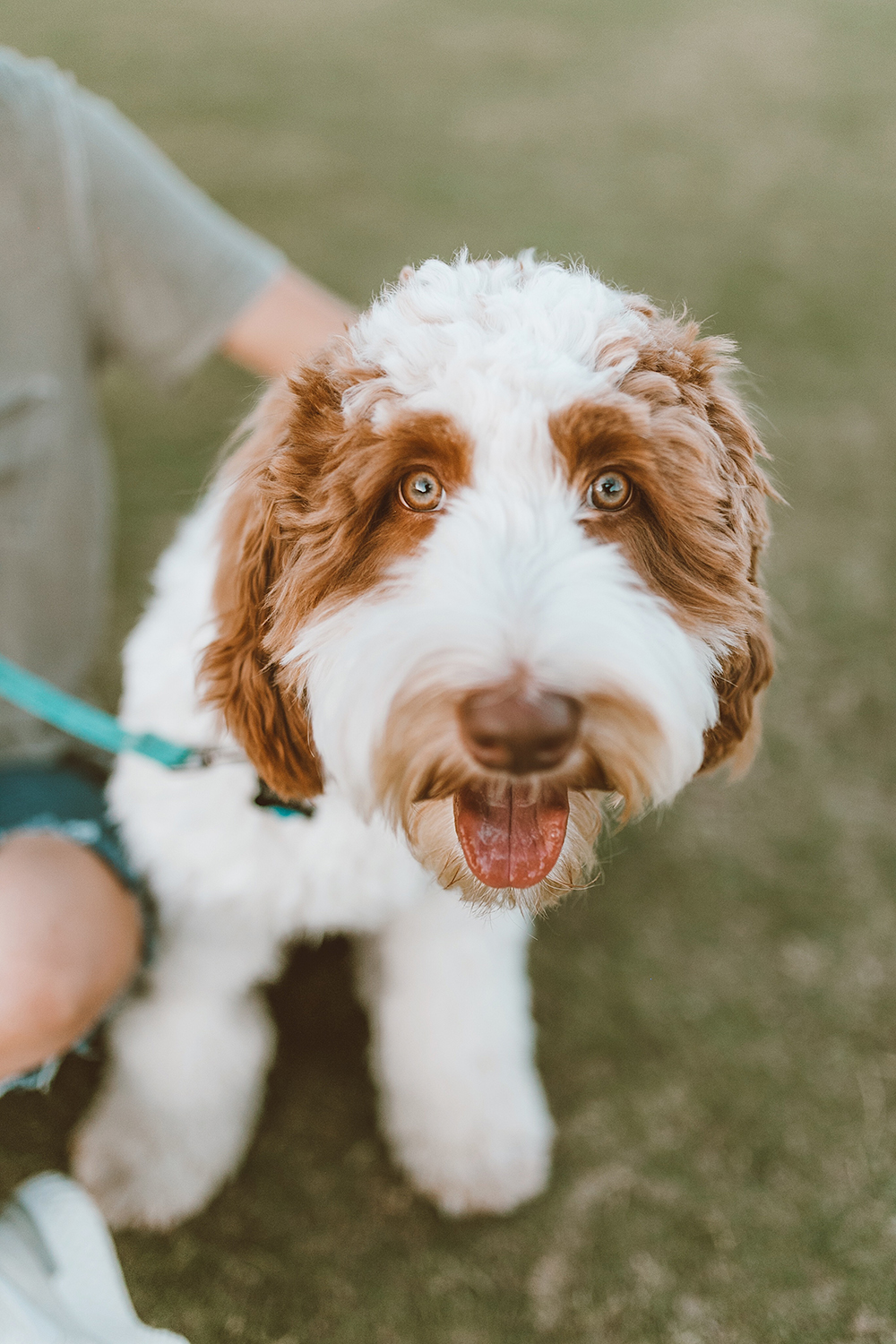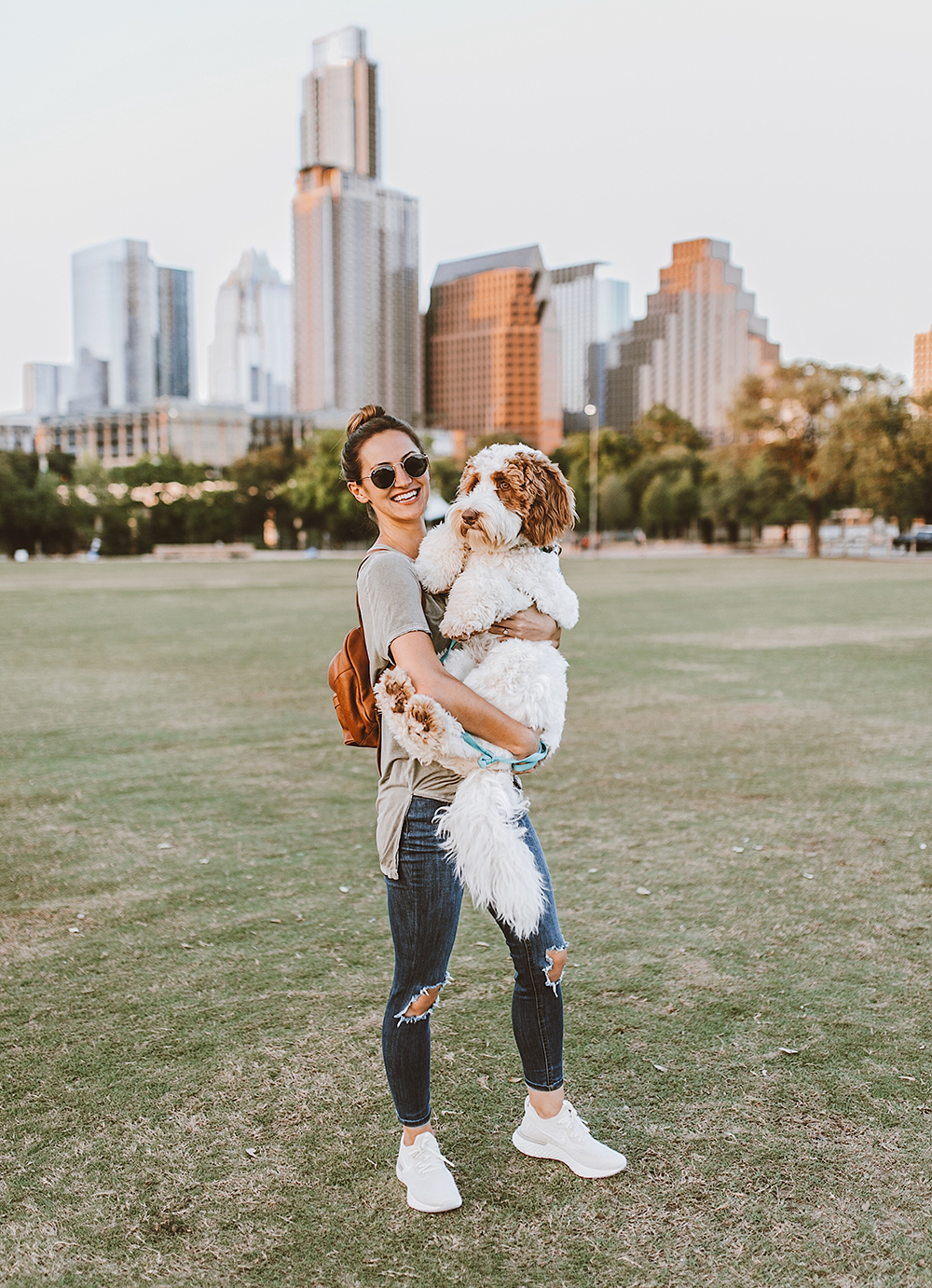 I don't know about y'all, but whenever I put on shoes that feel good, I am more inclined to be active that day. I am a big fan of wearing sneakers while traveling, but since becoming a dog-mom, they've been a more everyday shoe choice for me. Whether I am outside in our backyard watering the plants, hitting the treadmill (or the Hike & Bike Trail downtown), or making a quick run to the post office and local coffee shop, my Nike Epic React Flyknit kicks are keeping that pep in my step. They're lightweight and cushiony, yet durable and sleek…honestly can't say enough good things!
Nike is forever and always a go-to brand for high quality sneakers. (Also I think Blake's wardrobe – both clothing and shoes – is 90% Nike haha…we are big fans in our house!). I've tried so many different brands of running shoes and these live up to the hype. It helps that they also look reaaaally cool with jeans (…sometimes that's hard to do haha) so I can get more wear out of them than just being my gym shoes – BIG fan of that! They come in seven different color options, or you can create a custom color combination. *One thing to note* – this style runs small! I am usually a US7 but the 8 fit best. I recommend ordering one full size up from your usual.
Did you do anything active outdoors this weekend? Hopefully that spring weather is in full swing wherever you are! Linking to my shoes + more sneaker options below. Have a wonderful start to your week, XO!
Ps. Special shoutout to Watson for being such an angel during this shoot! He brings us so much joy (…and keeps us on our toes!) everyday. 🙂

A big thank you to Nike for sponsoring this post! All opinions are my own.