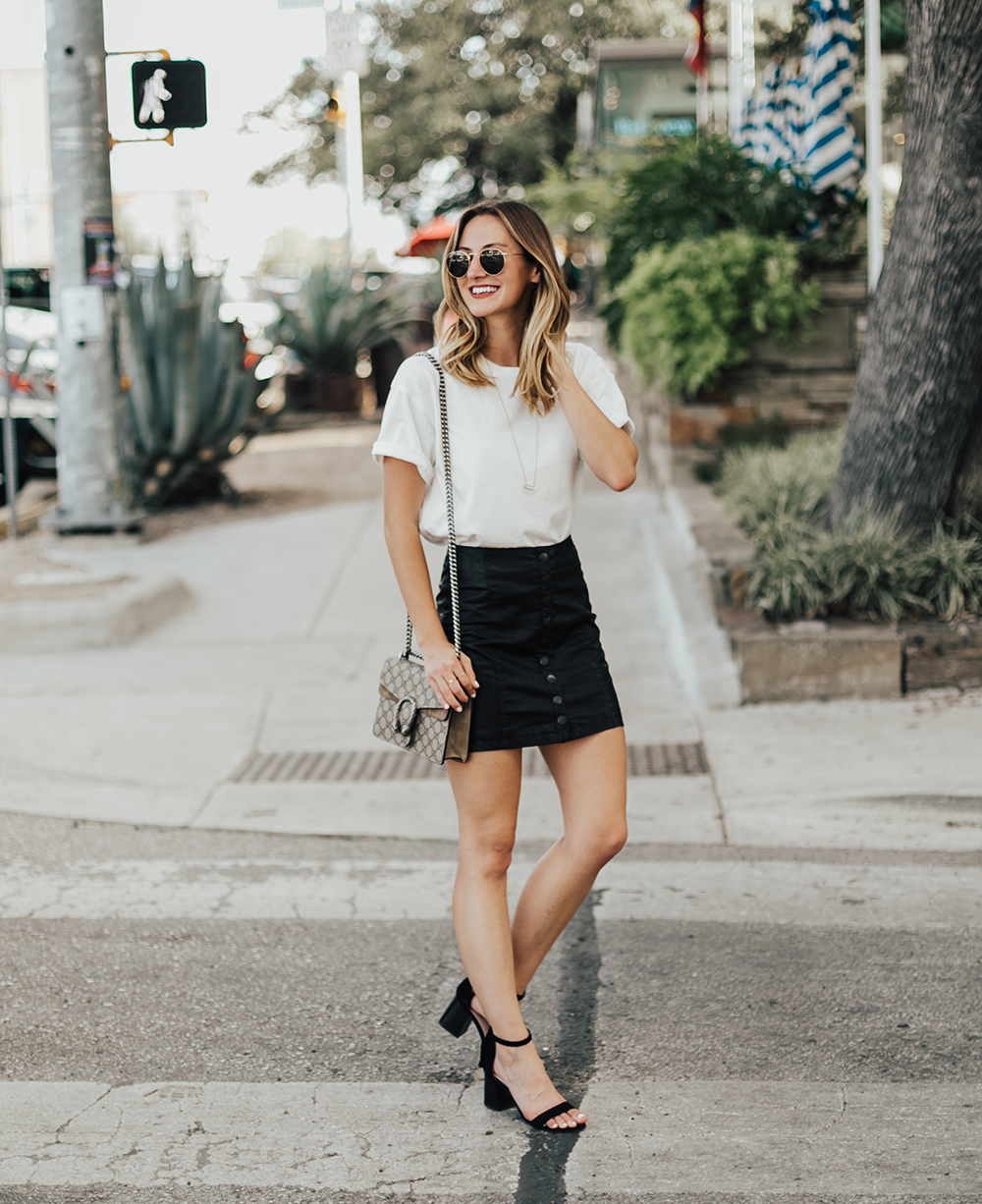 Haaaappy Friday, ladies! (Well, we're close enough now.. 😉 ). Phewww…this week was a doozy, very glad to have a weekend of recovery! Our laundry room renovation is SO close to being complete…adding final touches and making a couple changes, then it's time to snap the photos and share with the world. 😉 Can't wait…it's a beauty!
This weekend Blake and I are headed on a quick getaway to El Paso, Texas (I'm working on a fun project with ASOS that I'll share with y'all in mid-September…), and though we'll be busy bees snapping photos for this one, it will be wonderful to spend some quality time together and explore a new city. Any LL readers from El Paso? Would love any recommendations you have! (Coffee shops, restaurants, cute boutiques…).
Okay okay, now onto this outfit…ready to take you straight to happy hour or an evening out!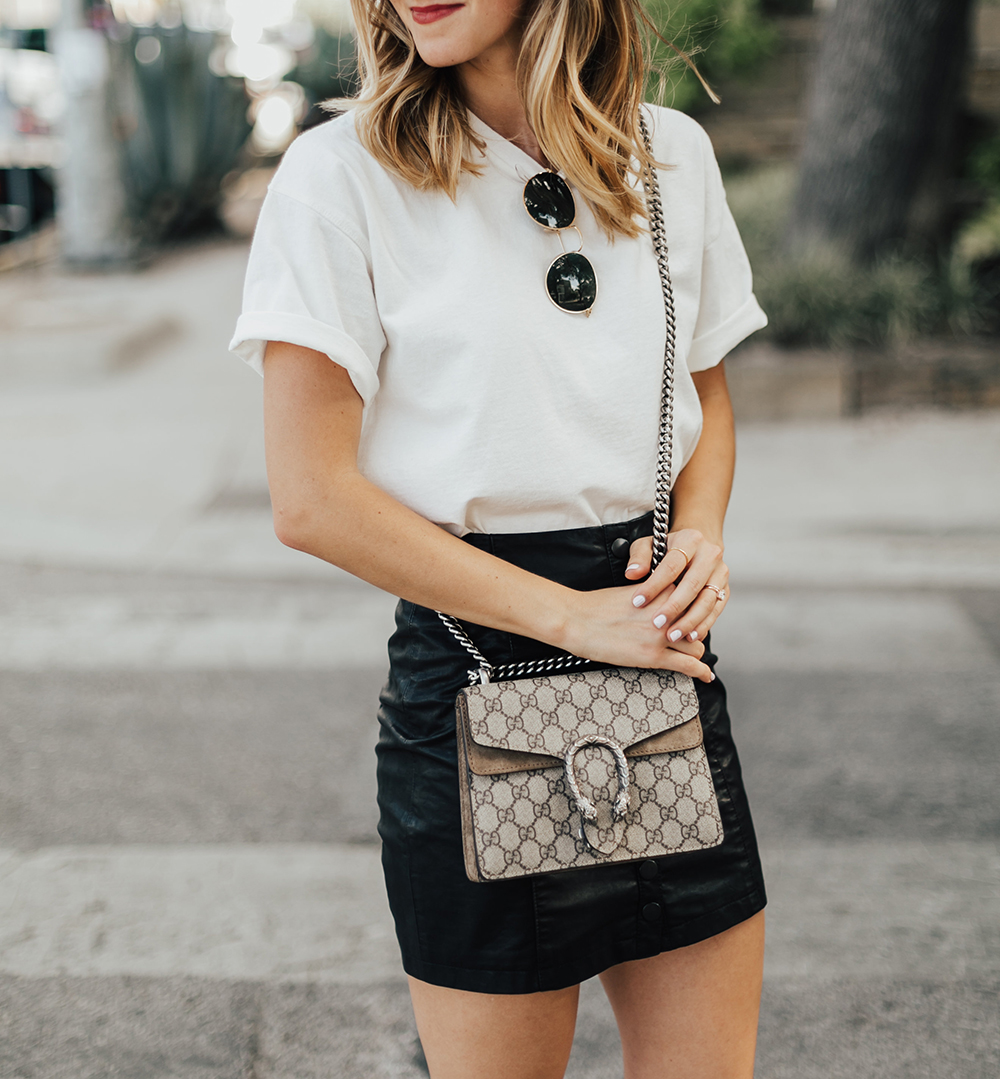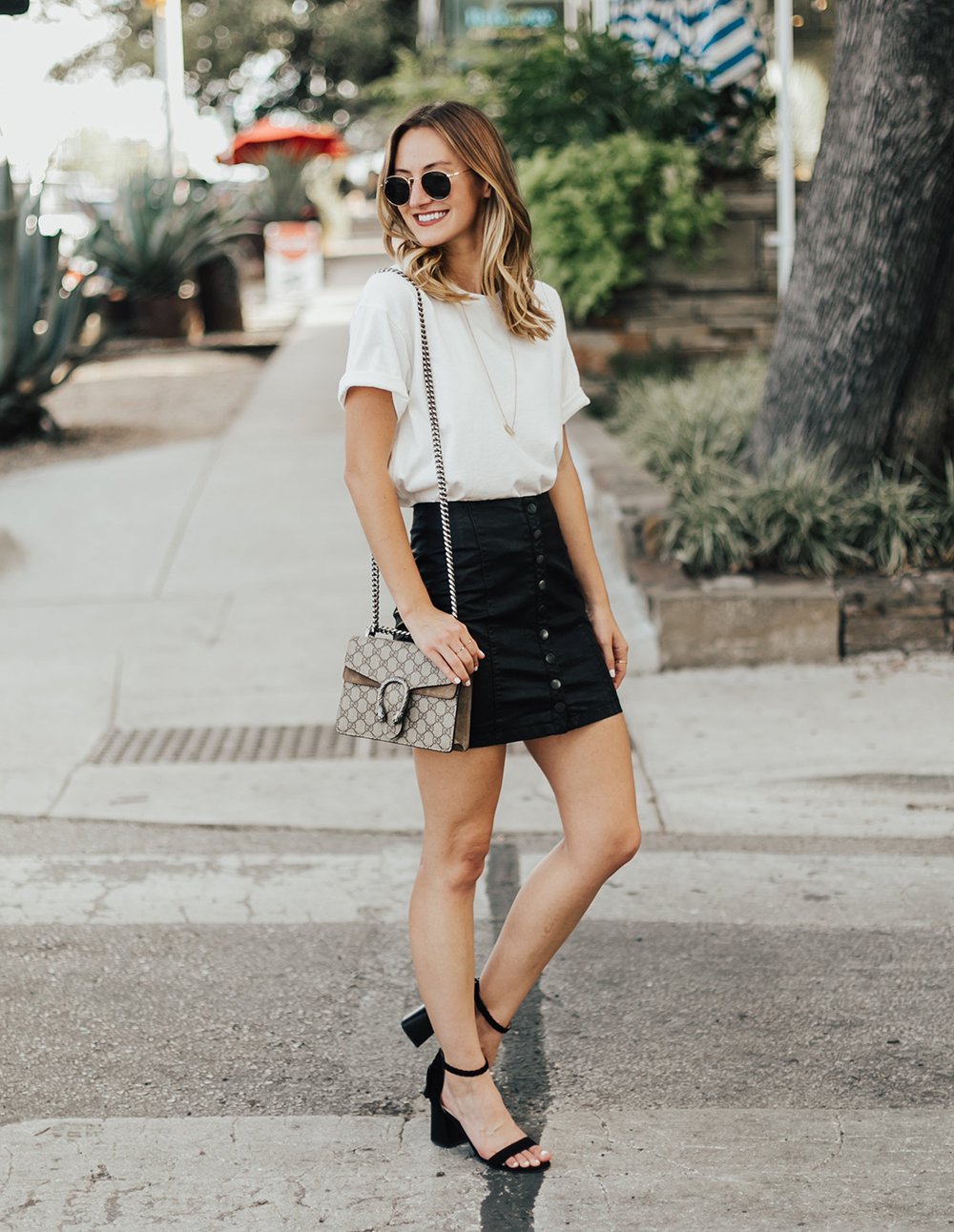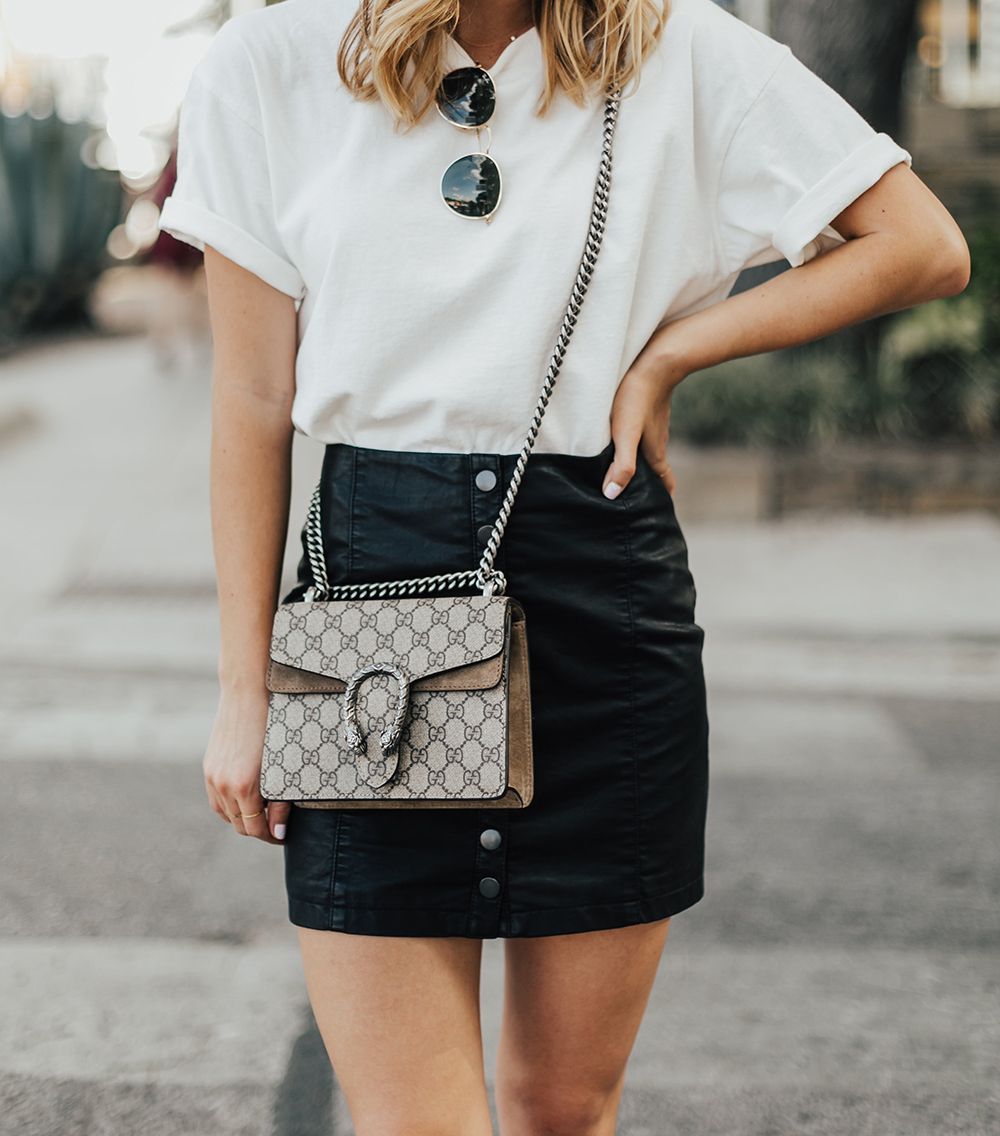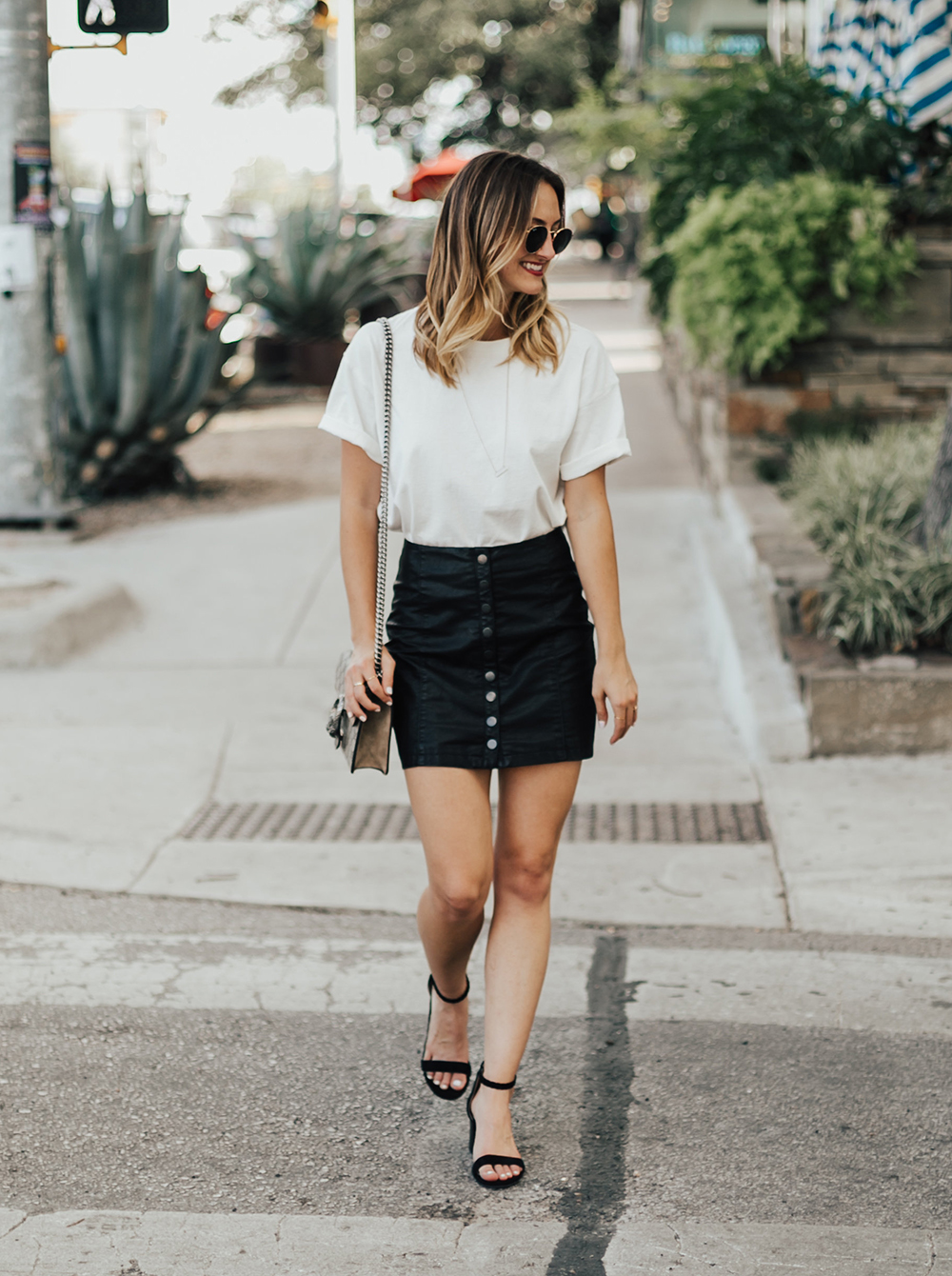 My skirt is "vegan leather" (a.k.a., the new way to say pleather…buuut hey, I'll take it, ha!) by Free People and it is GORGEOUS! This is from last year, but they have the same silhouette sans the buttons out this year. Can't recommend it enough – beautiful quality and SO flattering. I've worn this thing so many different ways (cute with sneakers on, too!) and it's easily become a "look put together and fashion forward" staple in my closet.
My tee is from Urban Outfitters and I'm pretty darn in love with this thing. Forever a sucker for a good tee over here, and I love the boxy, Tomboy fit paired with a sexy skirt that accentuates the waistline. Psst…you can score this shirt on sale during the UO Labor Day Weekend sale…you're welcome! 😉
Lastly, that Gucci handbag never ceases to fill my heart with joy…I treated myself to a three-year-blog-iversary gift and it's a fun (albeit excessive, yada yada 😉 ) piece that reminds me what hard work can accomplish! I'm a big fan and highly recommend a big 'ol handbag splurge. I have never regretted this one!
Okay gals, that's a wrap for me! Wine and a bubble bath is calling my name (yep, one of those weeks…haha). Hope you have a fantastic long weekend! XO
**Photos by Brandon Hill Photography
skirt – similar FREE PEOPLE / tee shirt – URBAN OUTFITTERS / shoes – SEYCHELLES / handbag – GUCCI