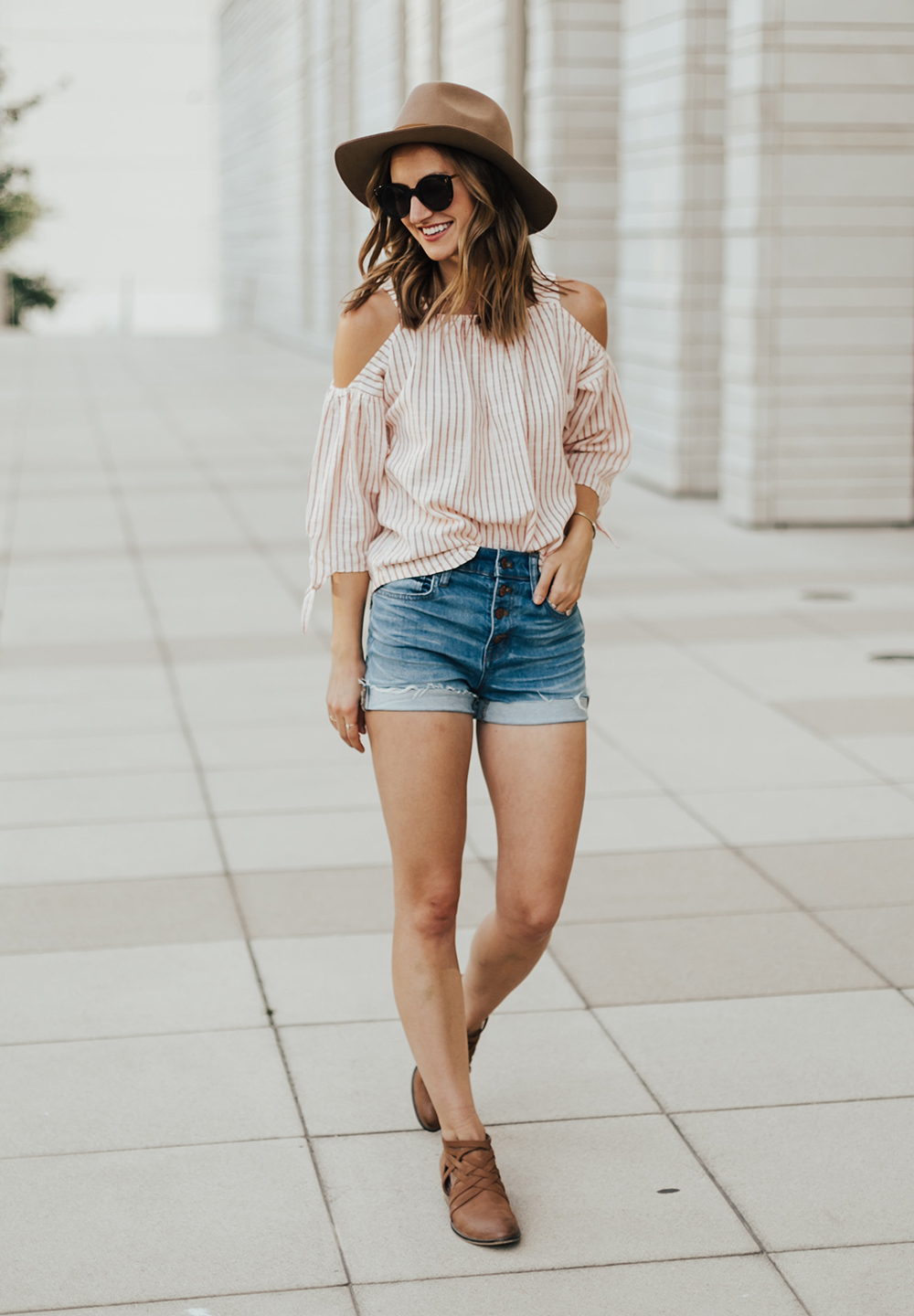 Summer weather has officially hit Austin…and I'm kinda loving it! We've been lucky to have a beautiful spring season, but come 2pm each day this week, that high heat is really in full swing. Growing up in Austin, I'm definitely used to the warmer temperatures and look forward to dressing for the season…hello, adorable cold shoulder top (…in stripes, of course 😉 ), with high rise denim shorts and my go-to ankle booties!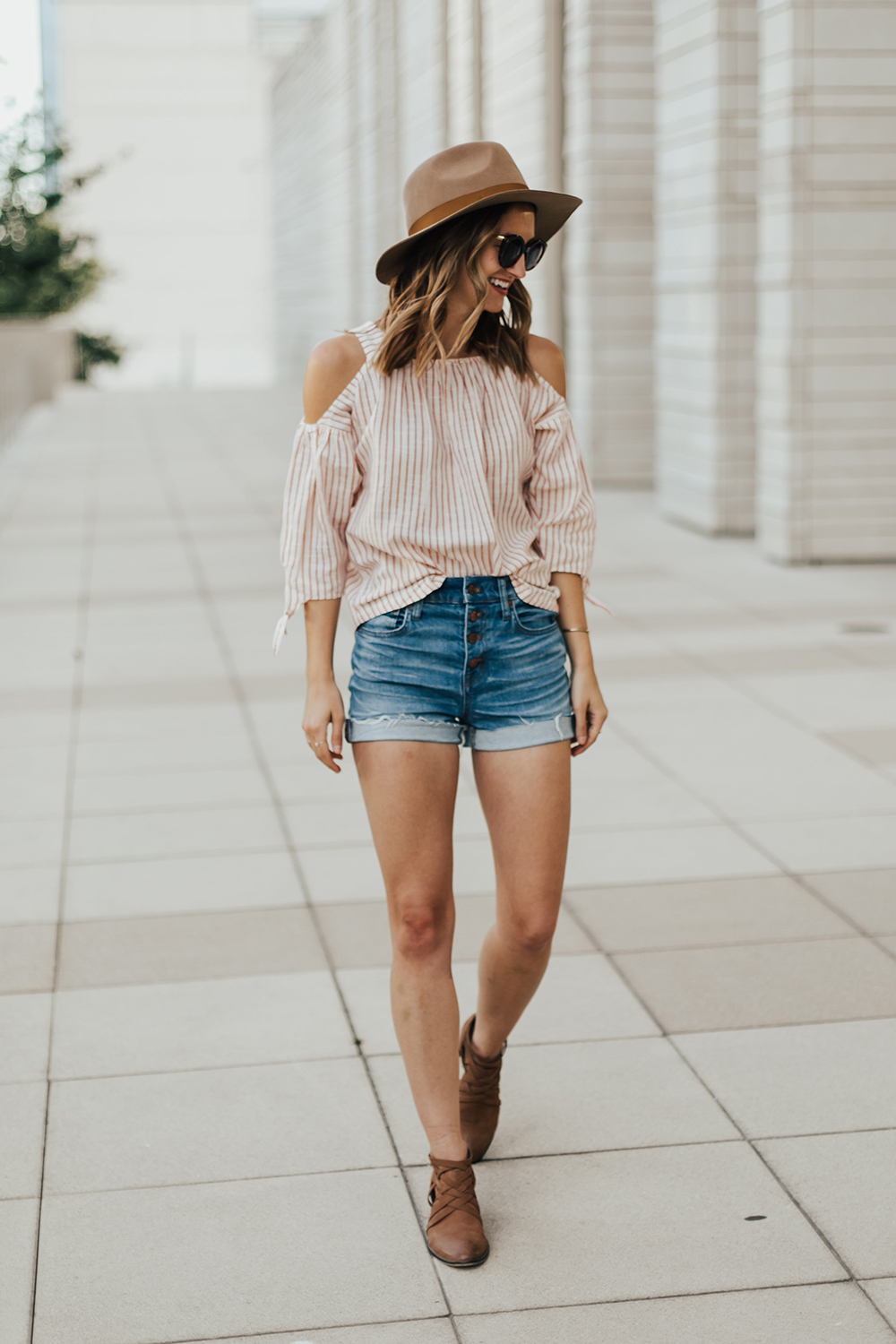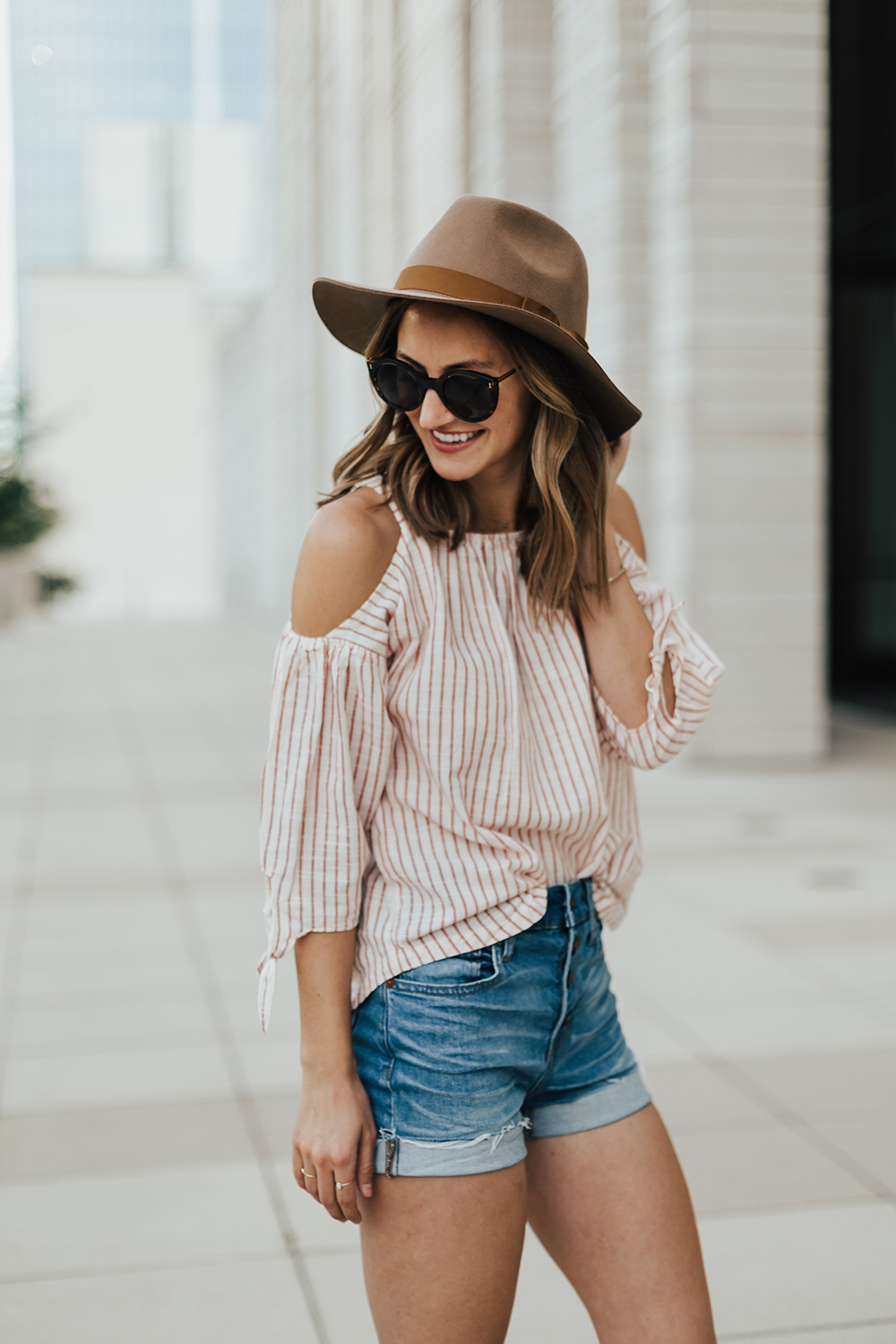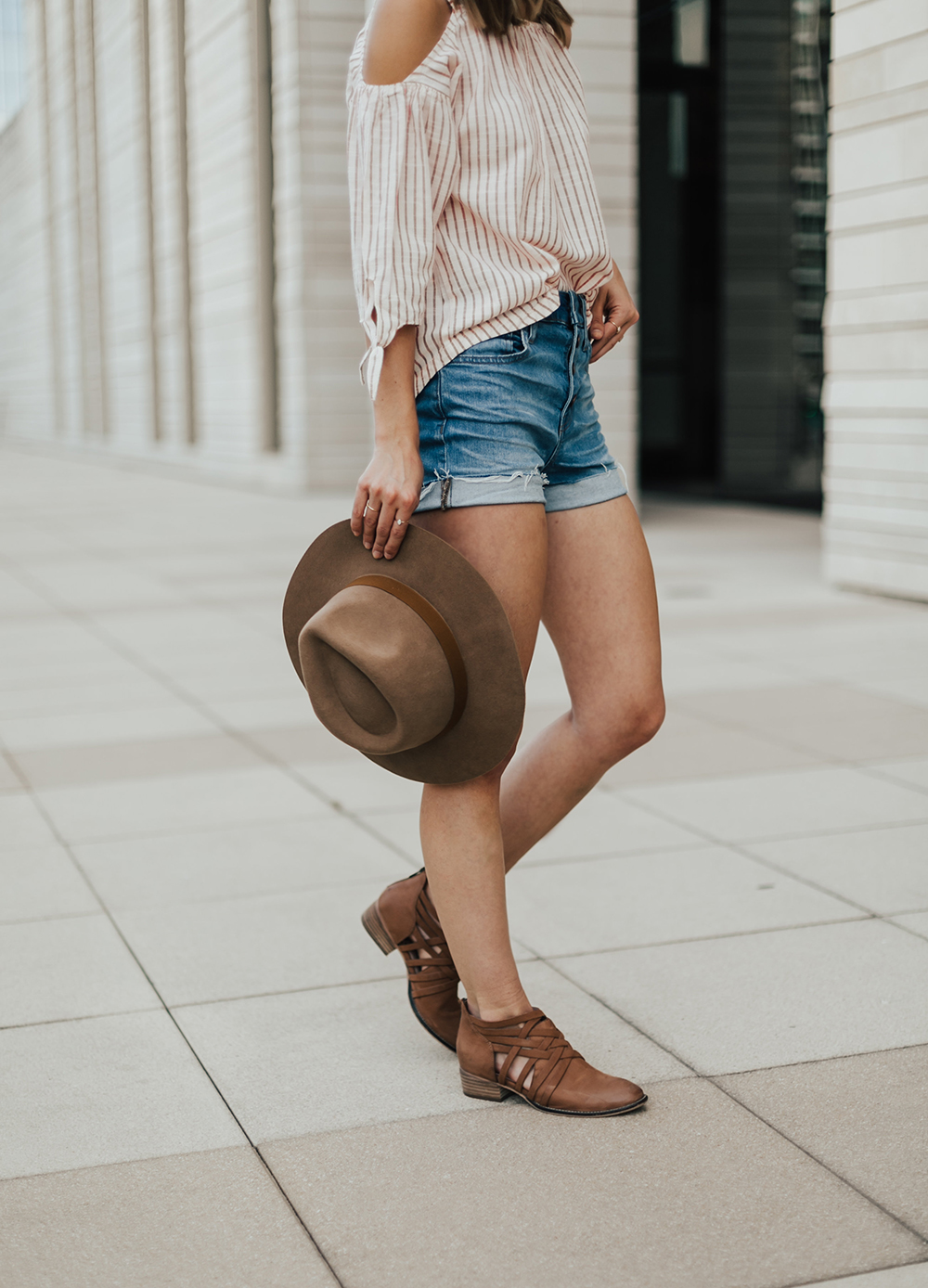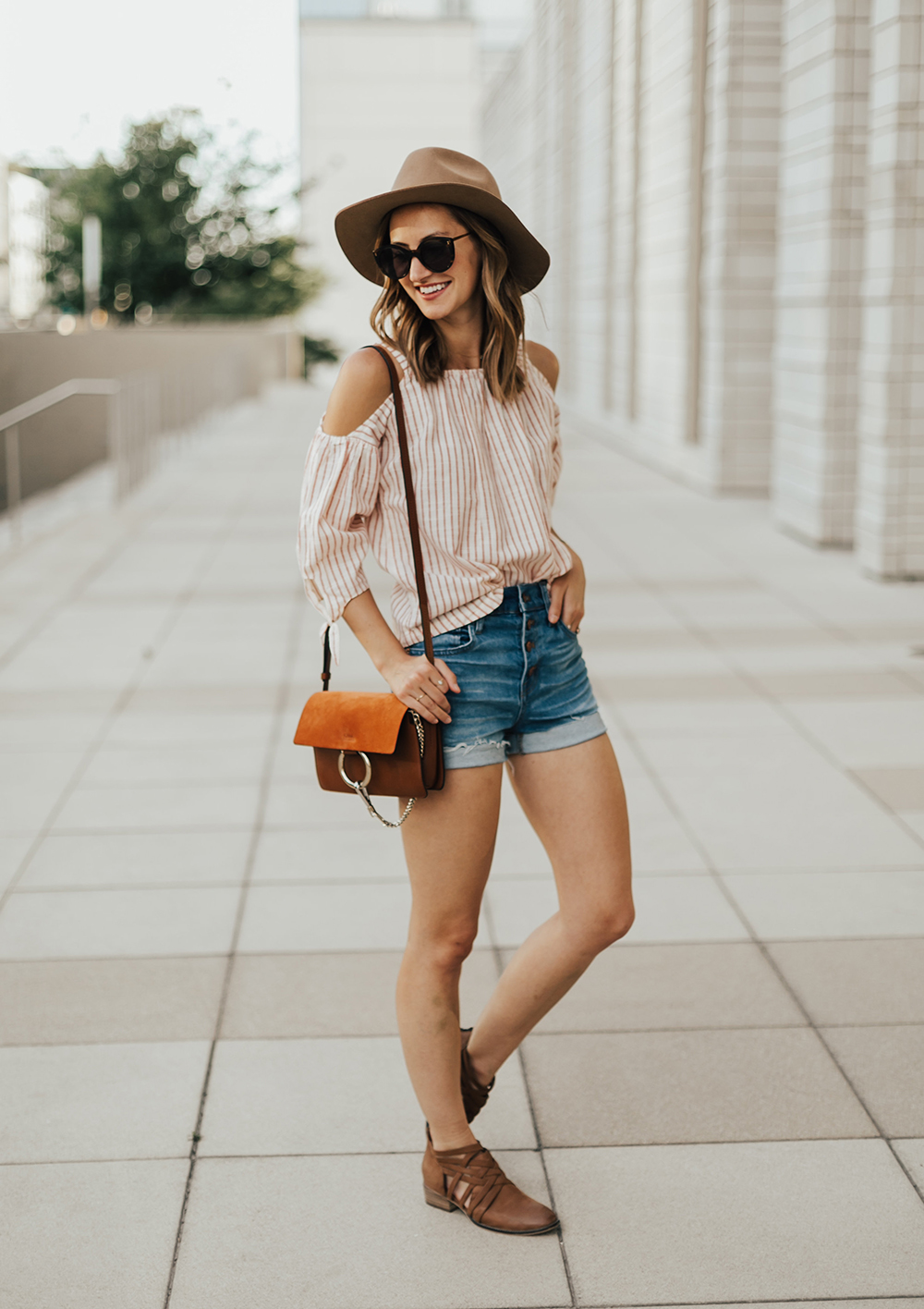 Whether I'm dressing for a home decor run (…which seems to be my reason to leave the house these days, ha!), headed to an outdoor patio dinner with Blake (…after two weeks in Europe, a margarita has been on the agenda…) or meeting friends for a drink and some live music, this outfit is casual-cute-everyday perfection!
Nordstrom is always my number one go-to for an array of brands, price points, and SO many different style options! I constantly flip-flop between buying classic and boho clothing pieces to build my wardrobe, and no one has more of what I love than Nordies. (…Yep, we're on a nickname basis, ha!). My head-to-toe look can be found at Nordstrom…denim, tops, shoes, accessories…I'm not so sure there's a store that just "gets" me like this place! Online shopping through them is honestly SO easy and actually enjoyable…I always look forward to grabbing my mug of coffee and perusing their new arrivals section.
Ps. My top was full price when I scooped it up and shot this look, but lucky you because it's now 40% off!!! Trust me, it's absolutely precious! Gorgeous quality and such a classy style.
Shop my look below and scope out a few more of my Nordstrom favorites, too! XOXO
**Photos by Brandon Hill Photography
TOP / SHORTS (similar if sold out HERE) / SHOES / HAT / HANDBAG (similar lower priced option HERE)

SHOP MORE SUMMER FAVORITES

A big thank you to Nordstrom for sponsoring this post! All opinions are my own.