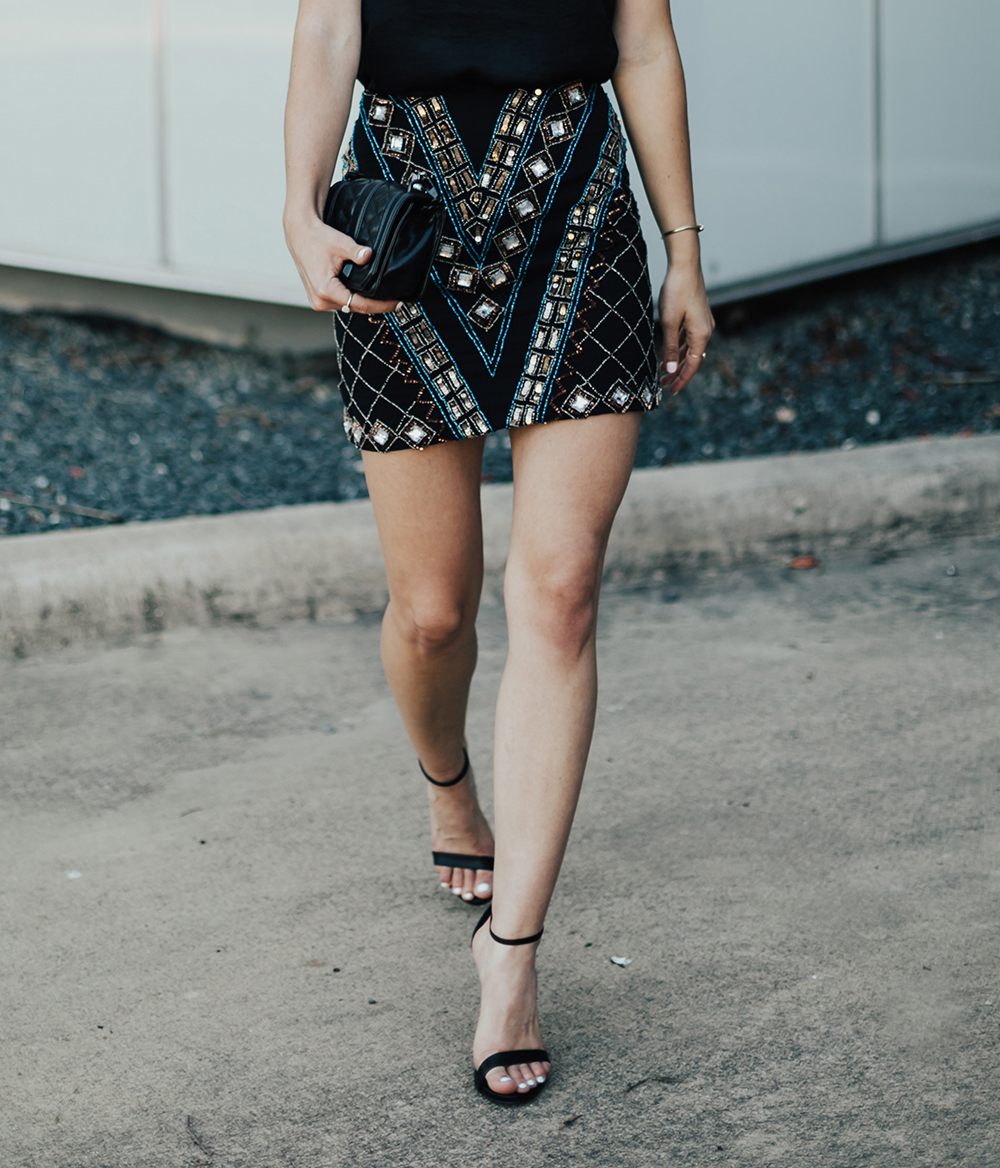 It's been a doozy of week in the Watson/Printy house – so fiiiiinally taking some time to curl my hair, shave my legs (ahh, necessary to feel refreshed), and throw on a sexy and seriously GORGEOUS mini skirt was what I needed to feel oh so pretty (…and clean! and confident!). I've been a sweaty mess in moving-mode for the last five days, so stepping out to shoot this post kinda revived my spirit. Always feels so nice to have one of those "Oh! So this is what I couuuuuld look like if I changed out of track shorts today…" moments, ha!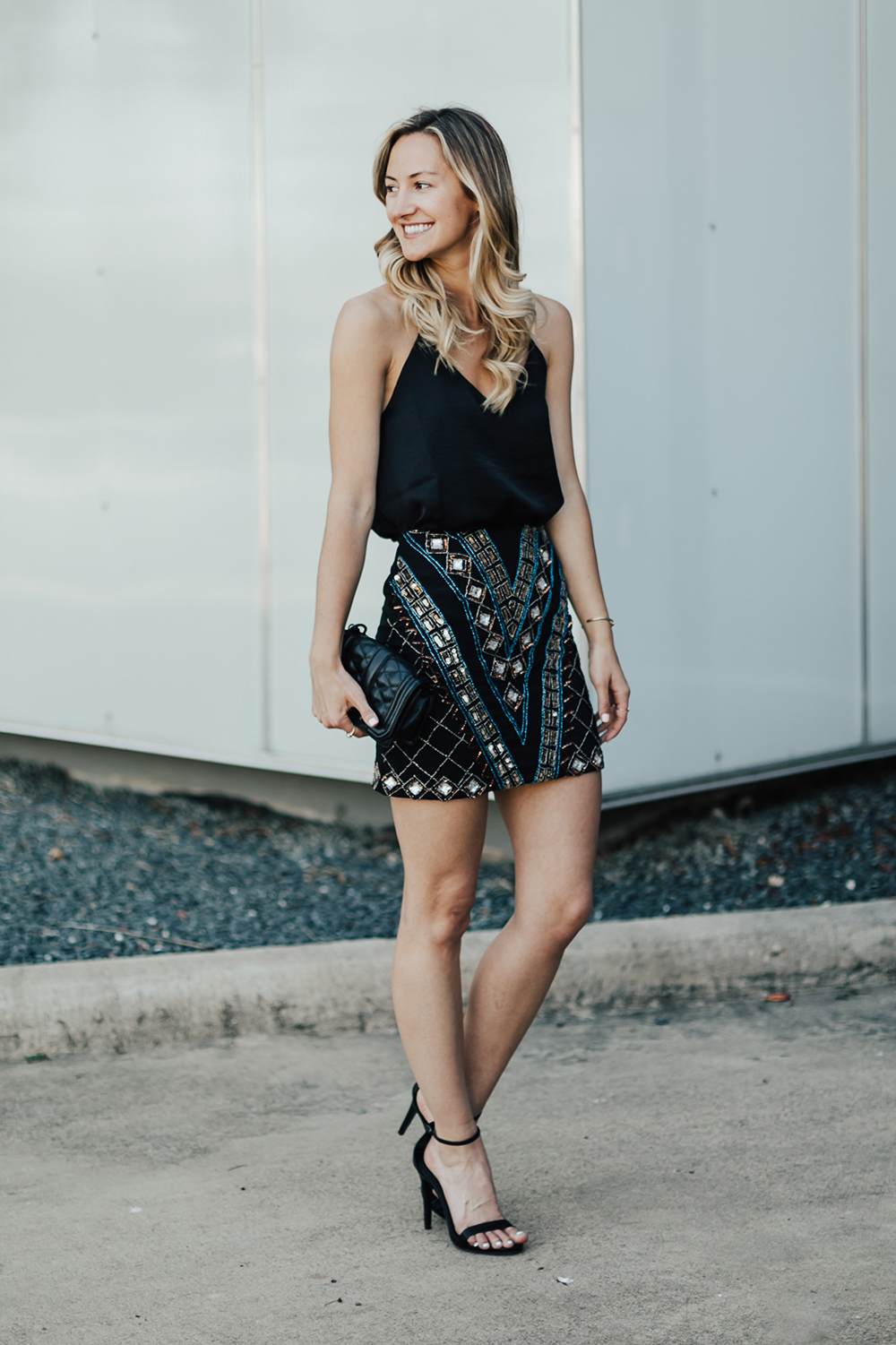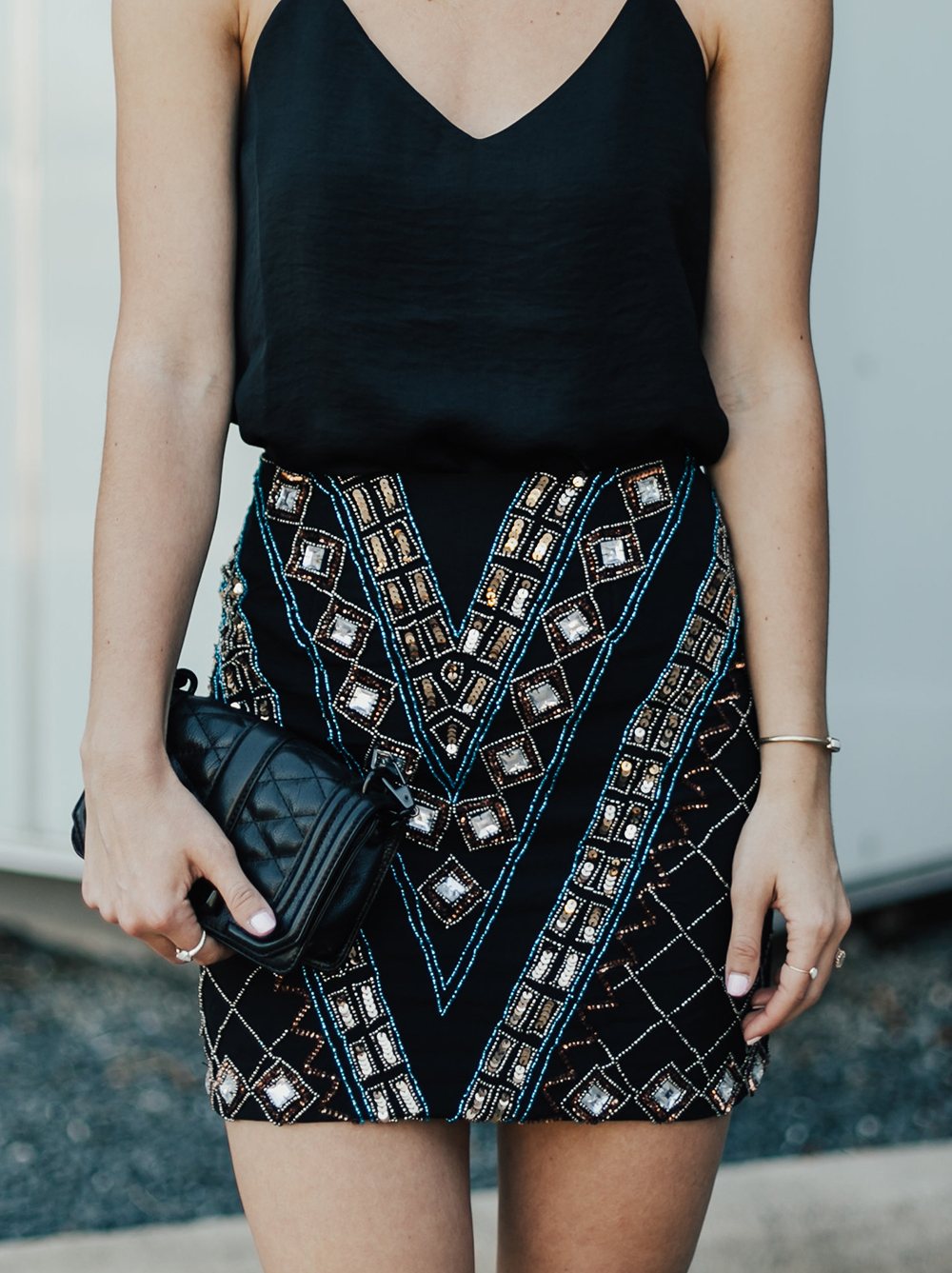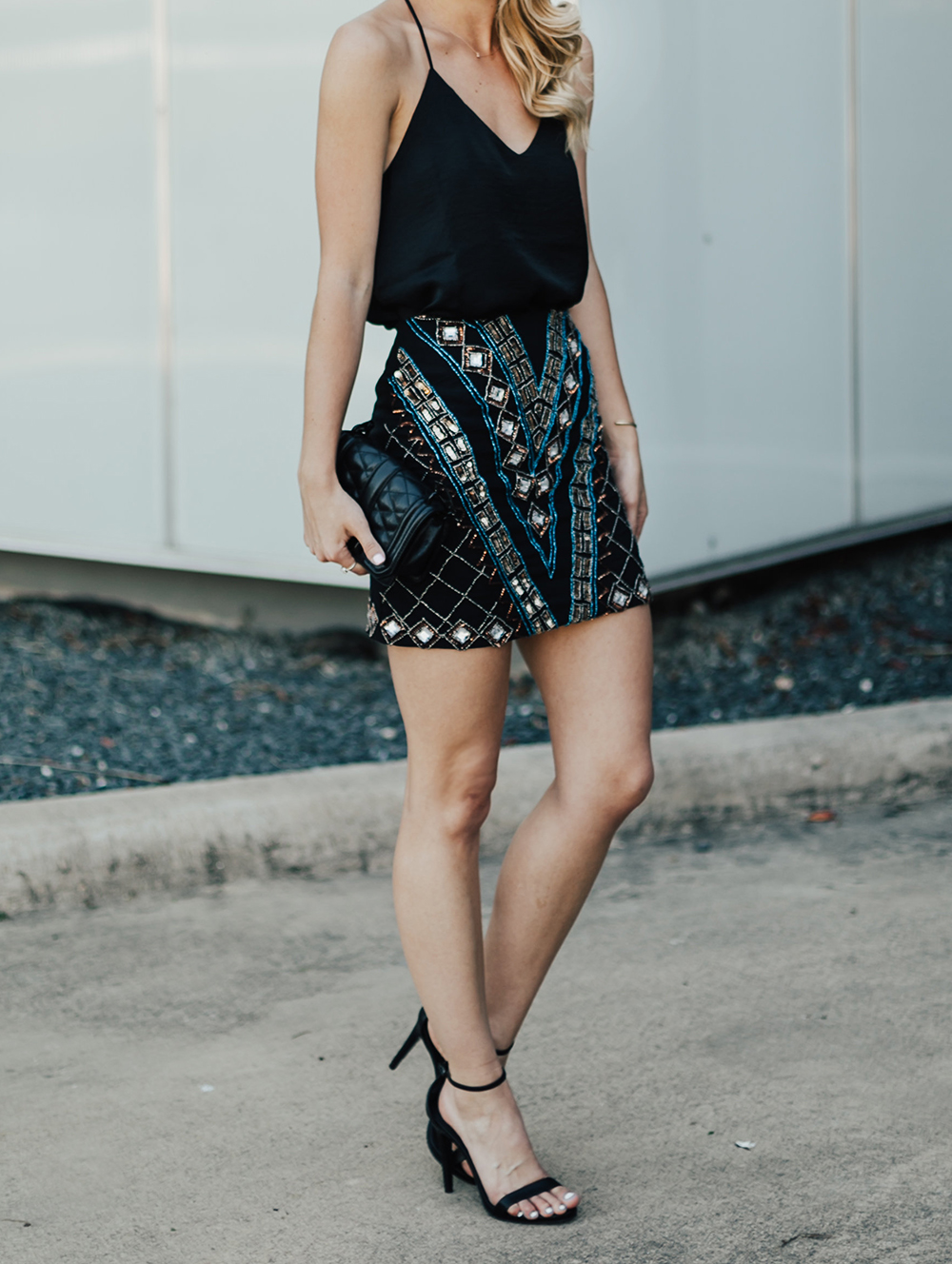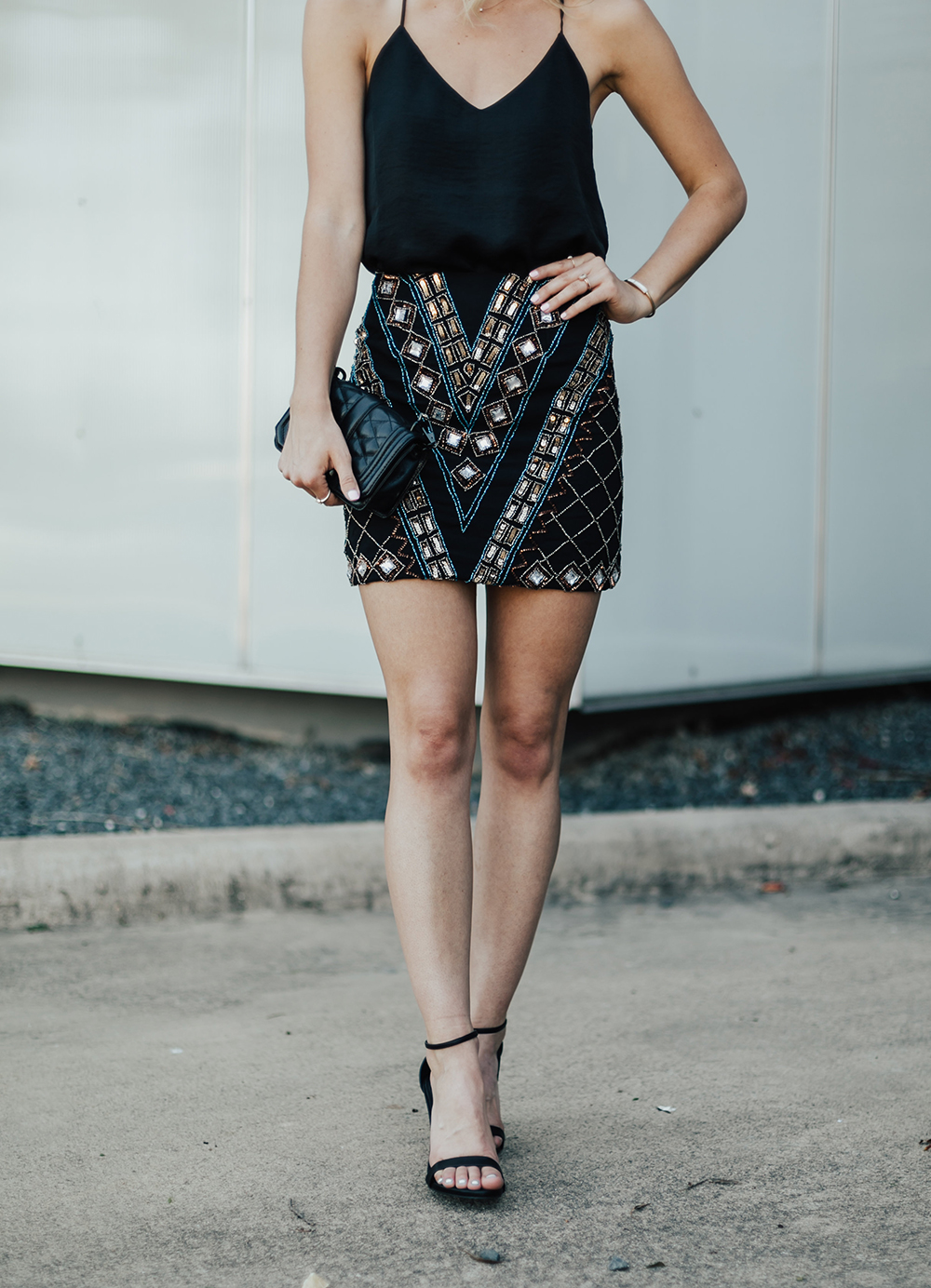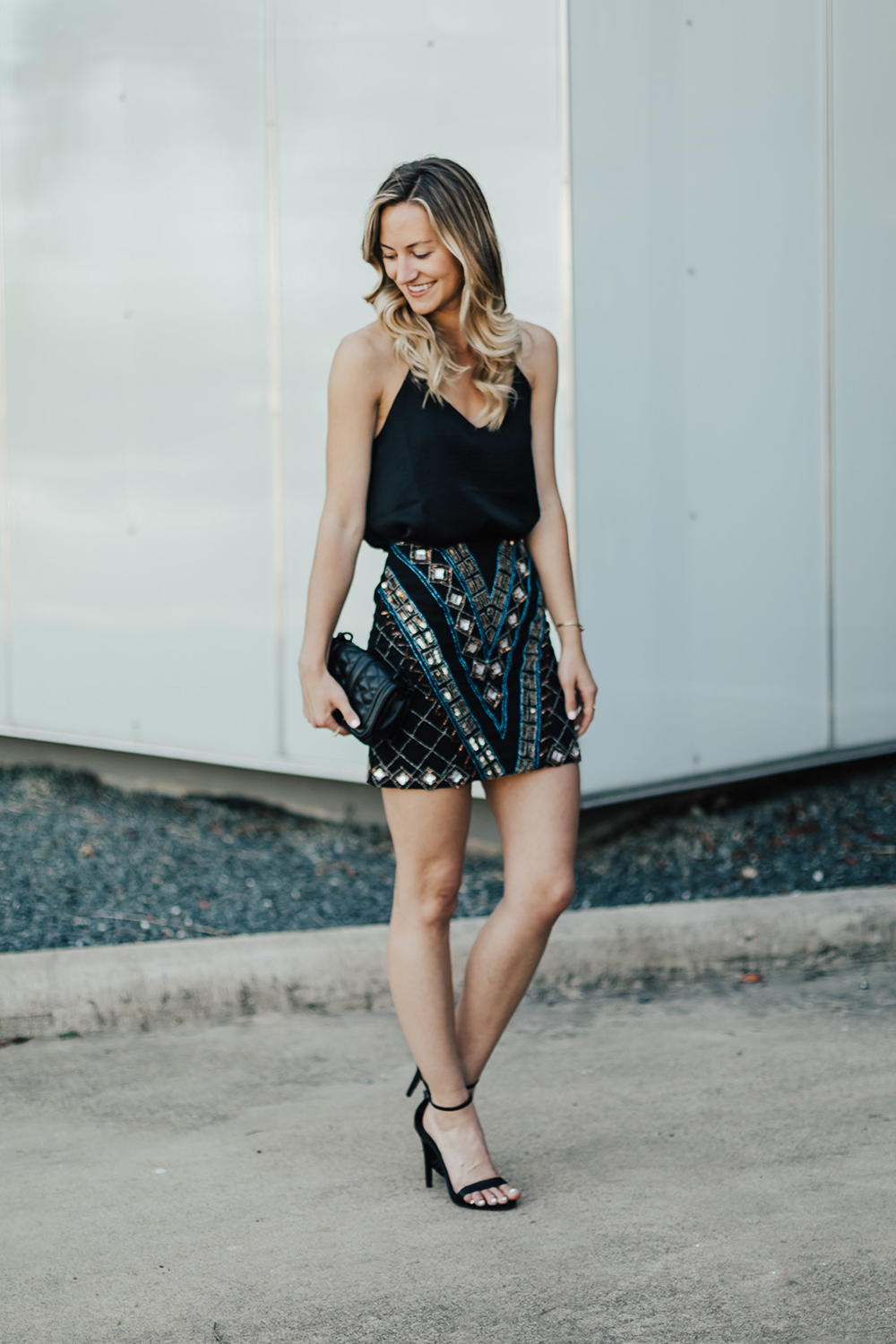 This skirt is a showstopper and truly, I can't recommend it enough! For one, the beadwork! Two, the price (always love Missguided for making gorgeous, affordable clothing), and three, it is SO flattering! I love a good high rise skirt (all about accentuating the waist), and this one stays put (…I hate when skirts rise up!). It's perfect for a dolled up date, a night of dancing with your galpals or perhaps a weekend trip to Vegas (..headed there a week from today!). It fits TTS.
I paired it with a classic black satin cami – this thing comes in handy more often than I can express. It has become a go-to for every season and the satin is something that can be easily dressed up or down, I can't recommend it enough! My exact one sold out, so I am linking to a gorgeous similar version from Urban Outfitters (that's also really affordable – yay!).
My shoes are by Steve Madden and I finally caved and bought them in black, I've had the nude for years and kept debating on whether or not to get the black, too. Safe to say I am very glad I did because these make your legs look tuhh-die! (…And black = a neutral I'll wear forever!). Love the dainty straps, that little detail always elongates the legs, especially when paired with a mini skirt.
Do you have any fun weekend plans? Blake and I are still in move-in mode and have a lengthy list of to-do's (…like pick up a washer/dryer…soooo very exciting! *sarcasm 😉 ). We're hoping to squeeze in some takeout + a movie at home tonight, I think we're both in need of a chill sesh together! Hope you have a lovely weekend! XOXO
**Photos by Brandon Hill Photography
skirt – MISSGUIDED / top – similar URBAN OUTFITTERS / shoes – STEVE MADDEN