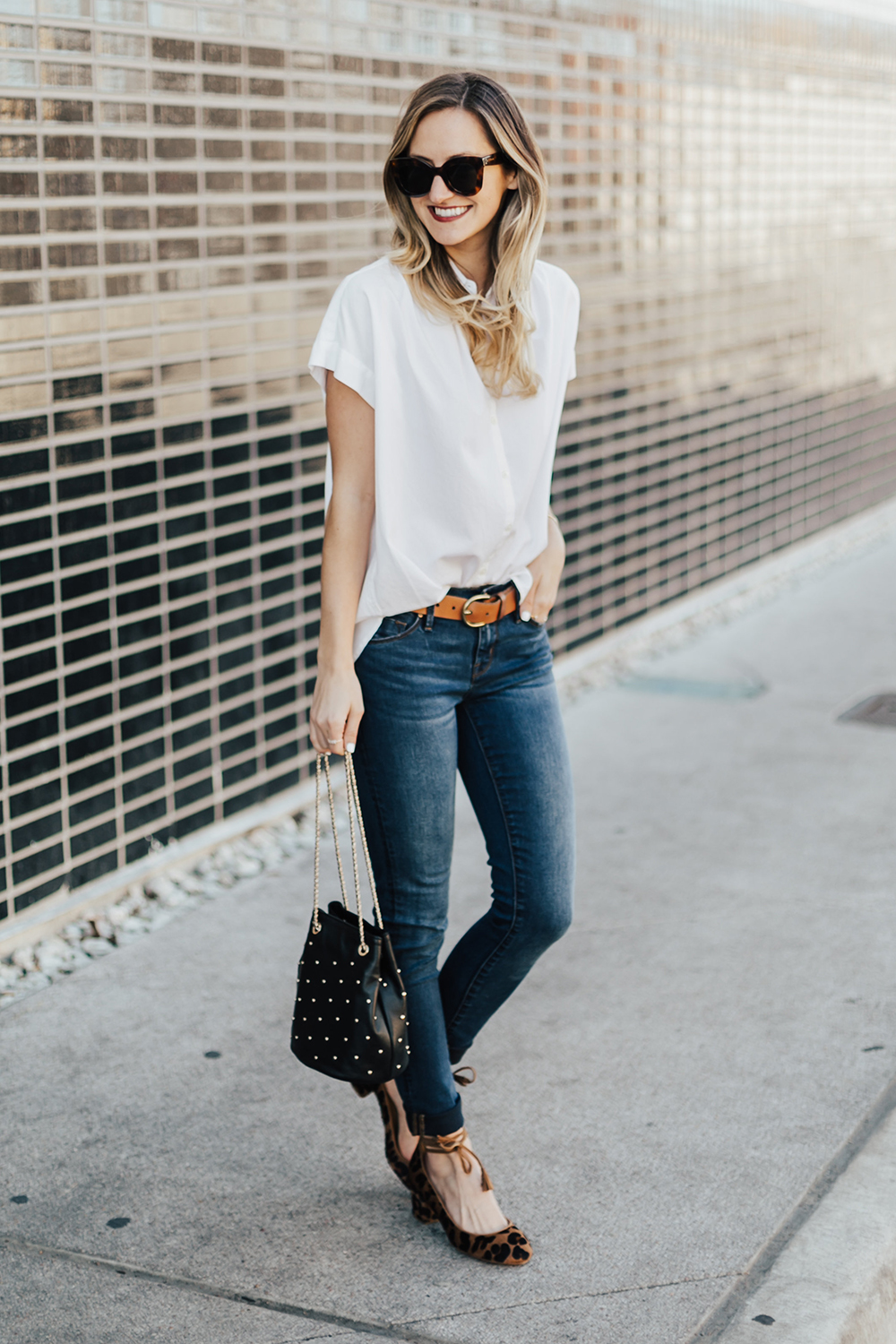 That moment when you step outside of your "shoe comfort zone" and go for the leopard print over cognac…(omg, this is a big moment for me, ha!). Not going to lie, I even texted a few of my friends juuust to make sure leopard wasn't "too crazy" for my wardrobe. Call me ridiculous (yes, I'm aware), but hey, the consensus was 100% "Olivia, you NEED these leopard shoes!"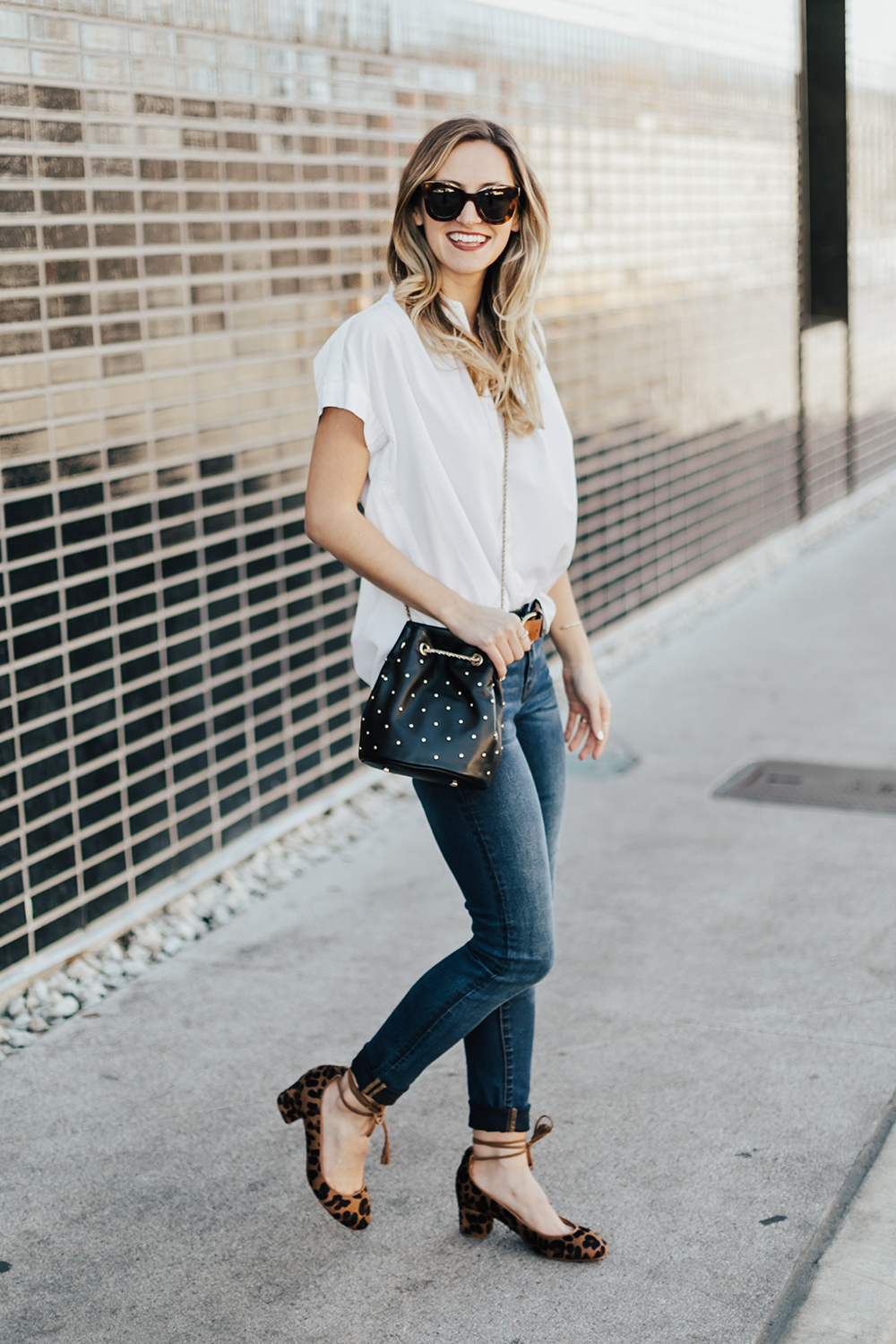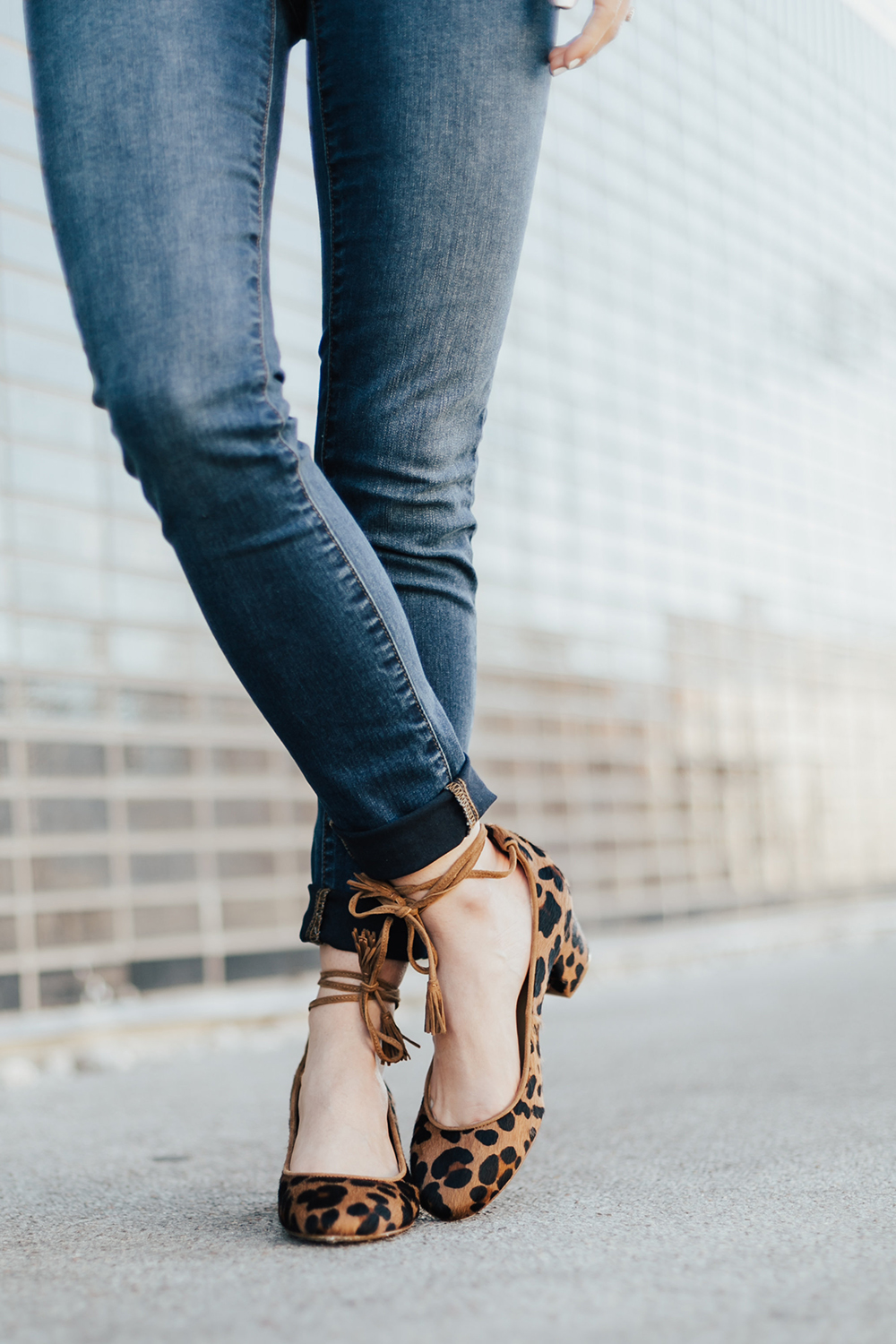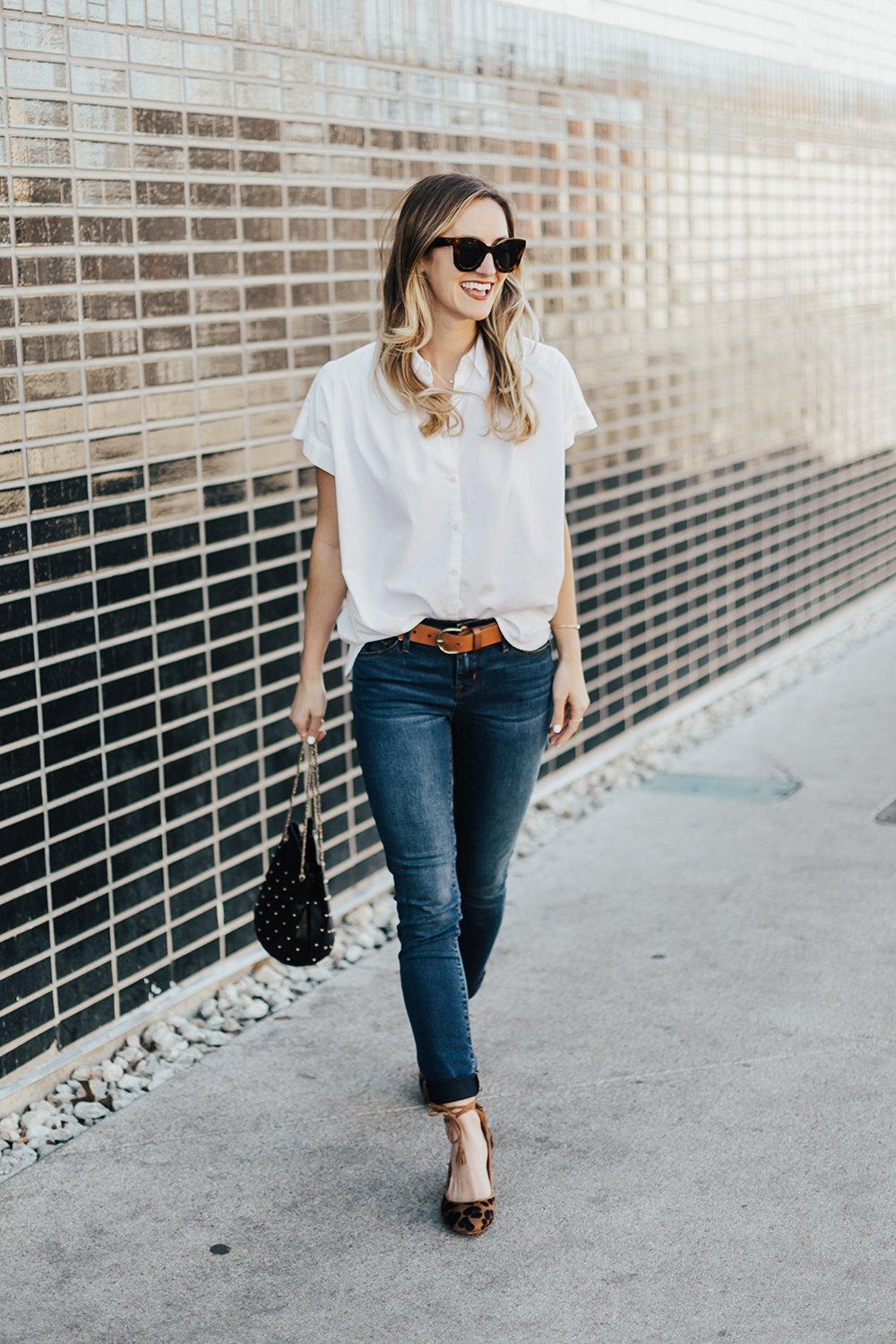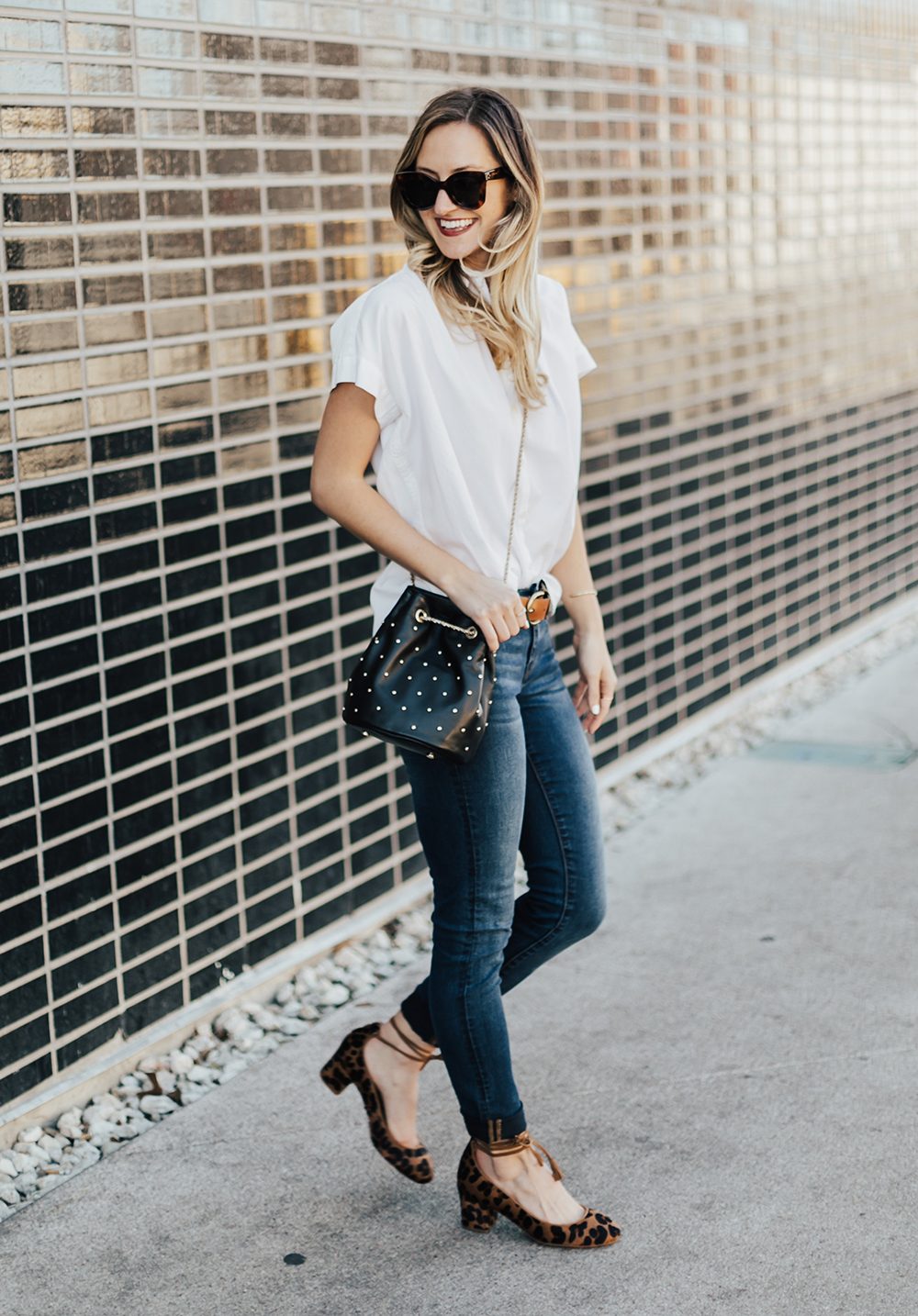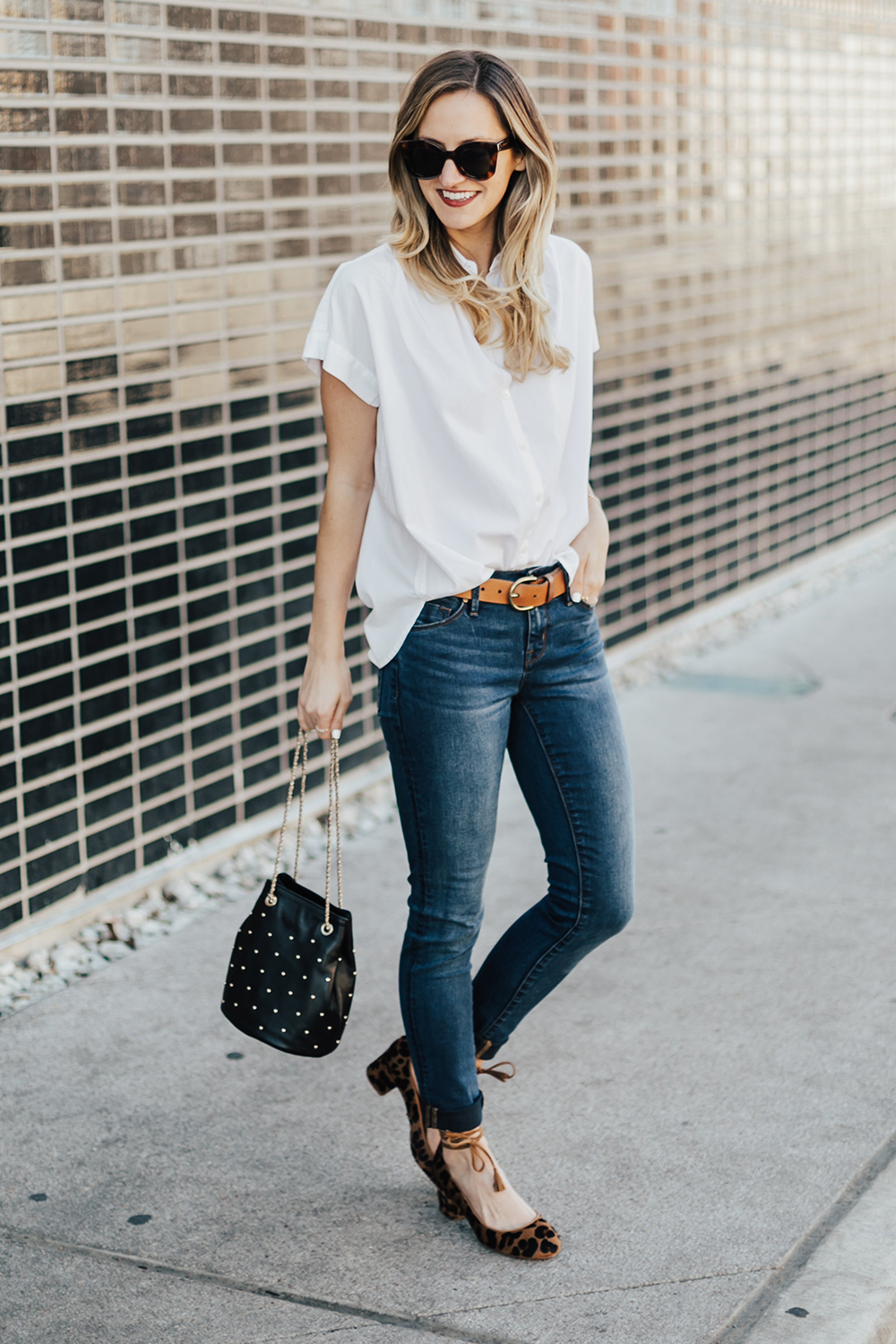 My shoes and handbag (how magical is that studded bucket bag?!) are both by the beautiful french brand, Sézane. I have fan-girled over their social media for months (trust me, their brand is sooo feminine, classy and whimsical), so I  was very excited to add a couple of their gorgeous pieces to my closet. In my opinion, you can never go wrong investing in timeless prints or a classic handbag! Ps. The handbag chain doubles up, so you can wear as a crossbody or over your shoulder – it's a showstopper, trust me!
My top is actually the same one I'm wearing in yesterday's SXSW post, but in white! I scooped this Madewell beauty up in two colors (…and I'm sure more soon enough haha, creature of habit over here). I'm wearing a size small and it's perfection! Rocking it with some Urban Outfitters skinny jeans, love these for an everyday, dark wash denim!
What are y'all up to this weekend? I'm headed out to some SXSW shindigs in a couple of hours, then off to the Create & Cultivate panelist dinner tonight! It's been a crazy week of no sleep, minimal appetite, basically I'm SO nervous I don't know what to do with myself haha. Would love some positive juju vibes right about now! I know it'll be fine once I'm up there and get started talking, but that initial "holy crap here we goooooo" moment is what gives me aaaall the anxiety. Cheers to conquering my fears this weekend! 😉
Hope y'all have a wonderful, relaxing Saturday! XOXO
**Photos by Brandon Hill Photography
top – c.o. MADEWELL / jeans – c.o. URBAN OUTFITTERS / belt – MADEWELL / shoes – c.o. SEZANE / handbag – c.o. SEZANE / sunglasses – CELINE