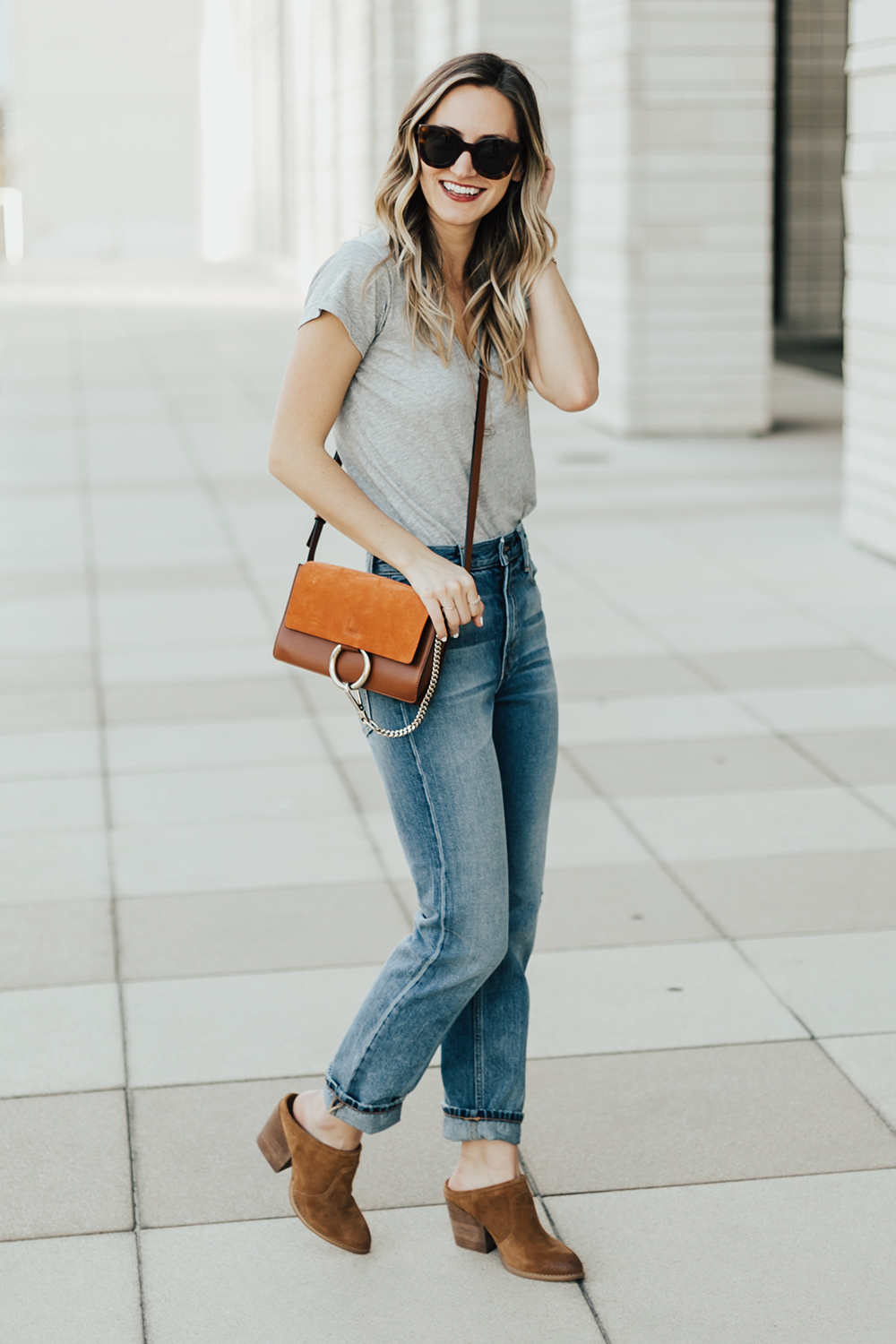 Earlier this week, I did a little closet clean out and quickly realized I am a major sucker for jeans (two shelves-worth in my closet = I have a problem). As I was doing the whole "keep or toss" thing, this glorious pair of Vince denim reappeared and I was reminded just how incredible these pretties are. I have always admired this brand for their chic, minimalist aesthetic – but lemme tell ya, these are jeans absolutely magical and well worth the price tag…(it's hefty, but in all seriousness, I don't think I've felt this good in denim in a while). As I hone in on the pieces in my wardrobe that really bring joy to my life (in other words, the pieces that make me feel confident and self-assured), these jeans 100% make the cut. I'm a believer in quality over quantity, and if I were to add up the cost of all the jeans I just got rid of, let's just say it would have been much smarter to invest in a few more of these, rather then spend hundreds searching for that perfect, effortless fit!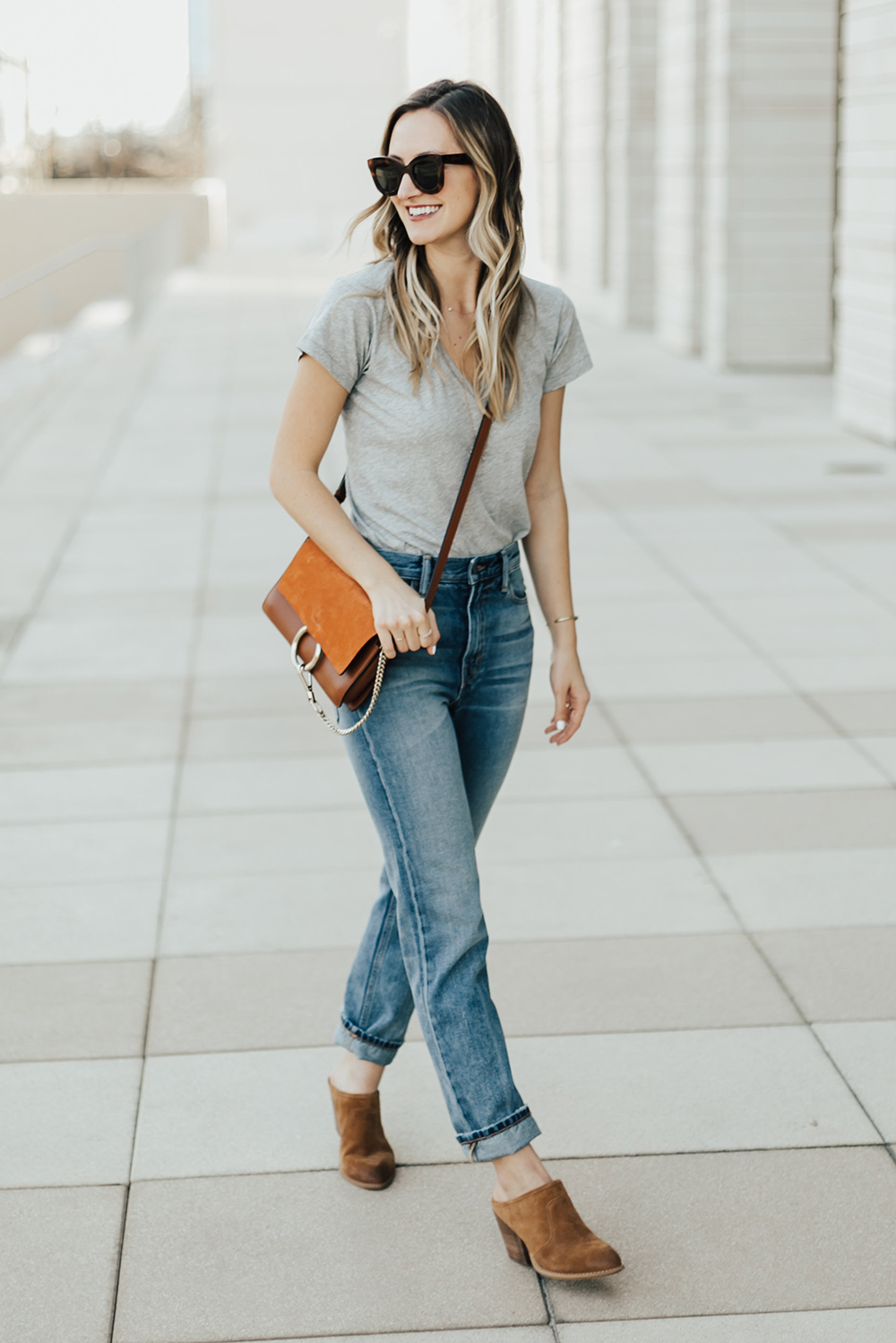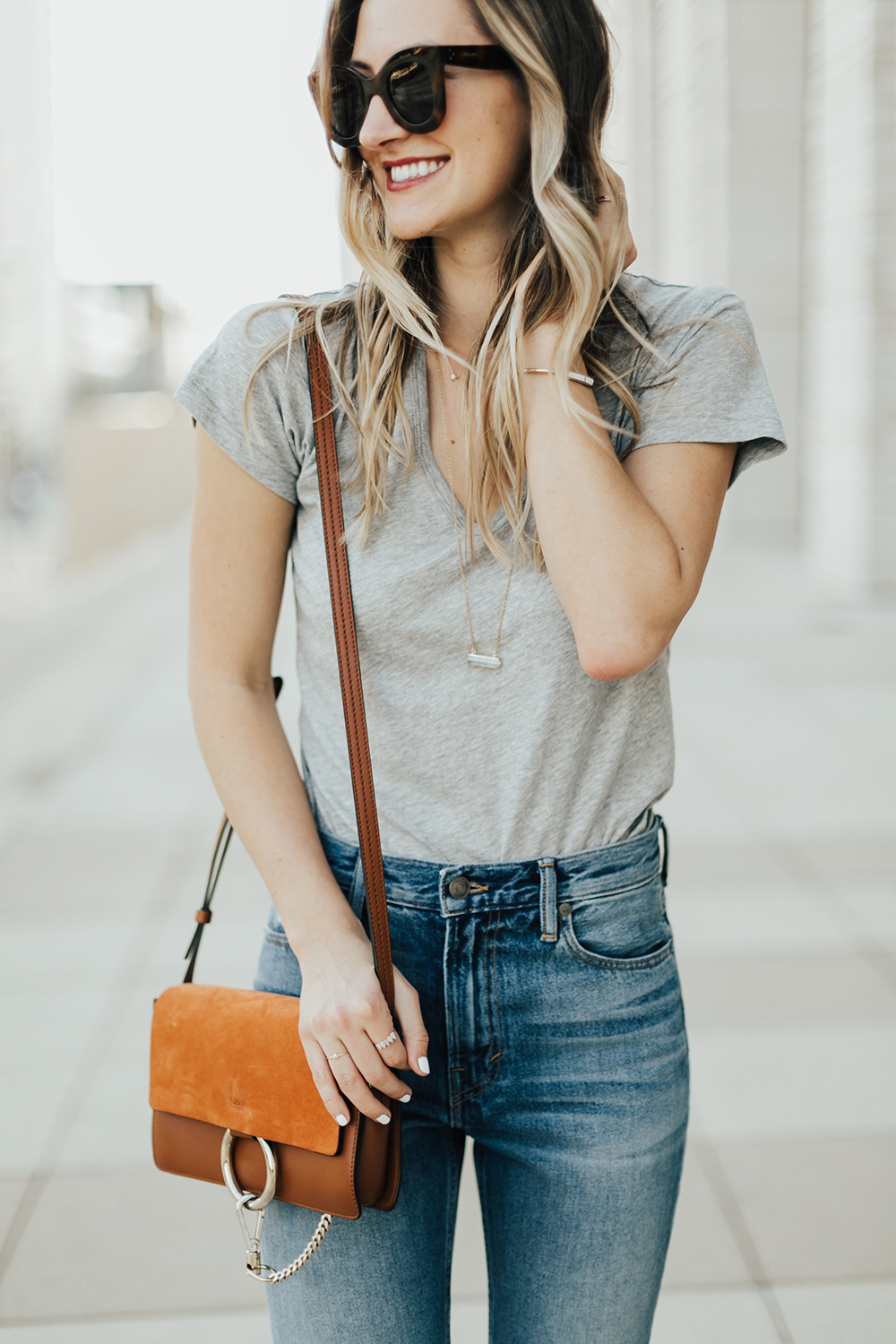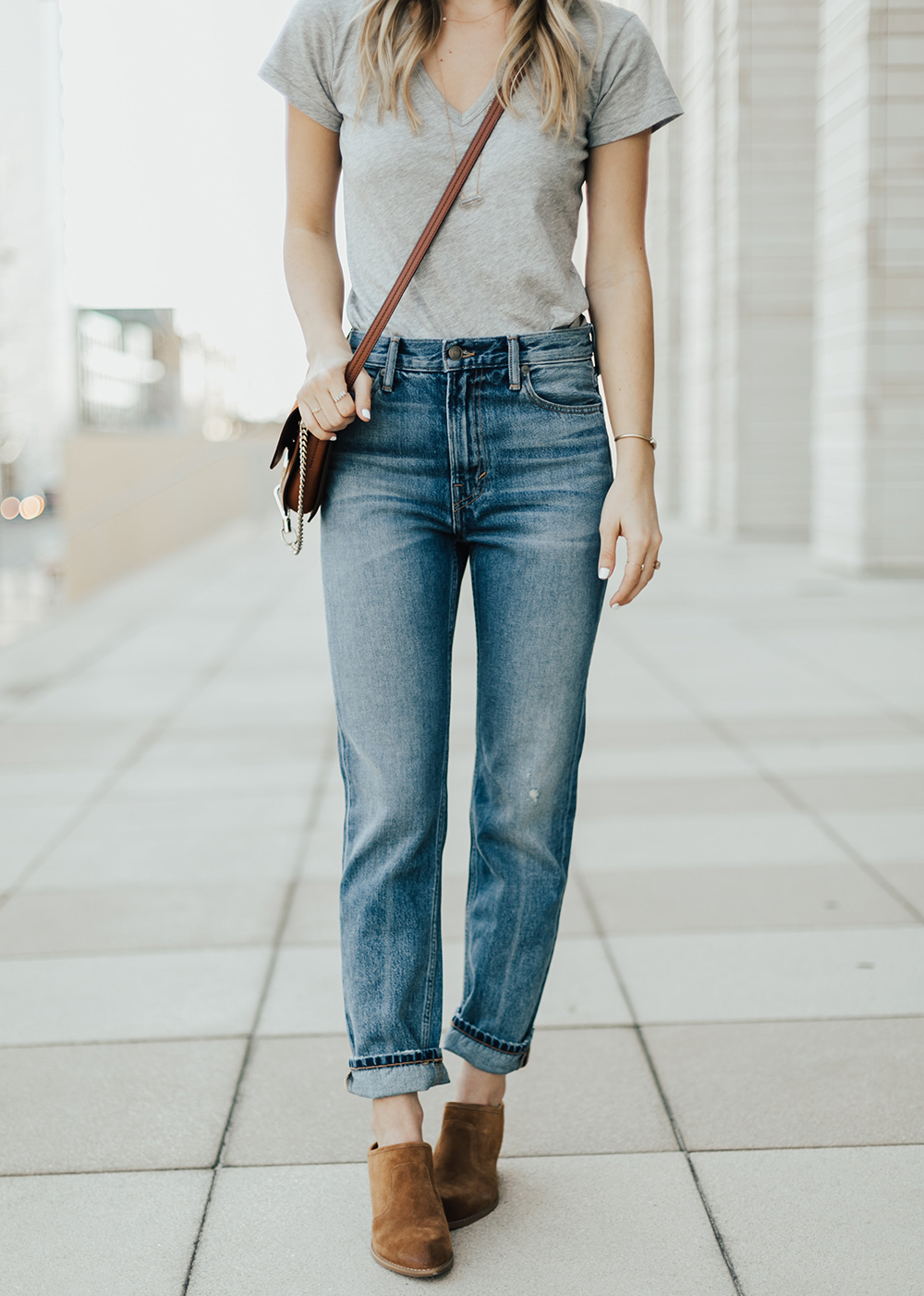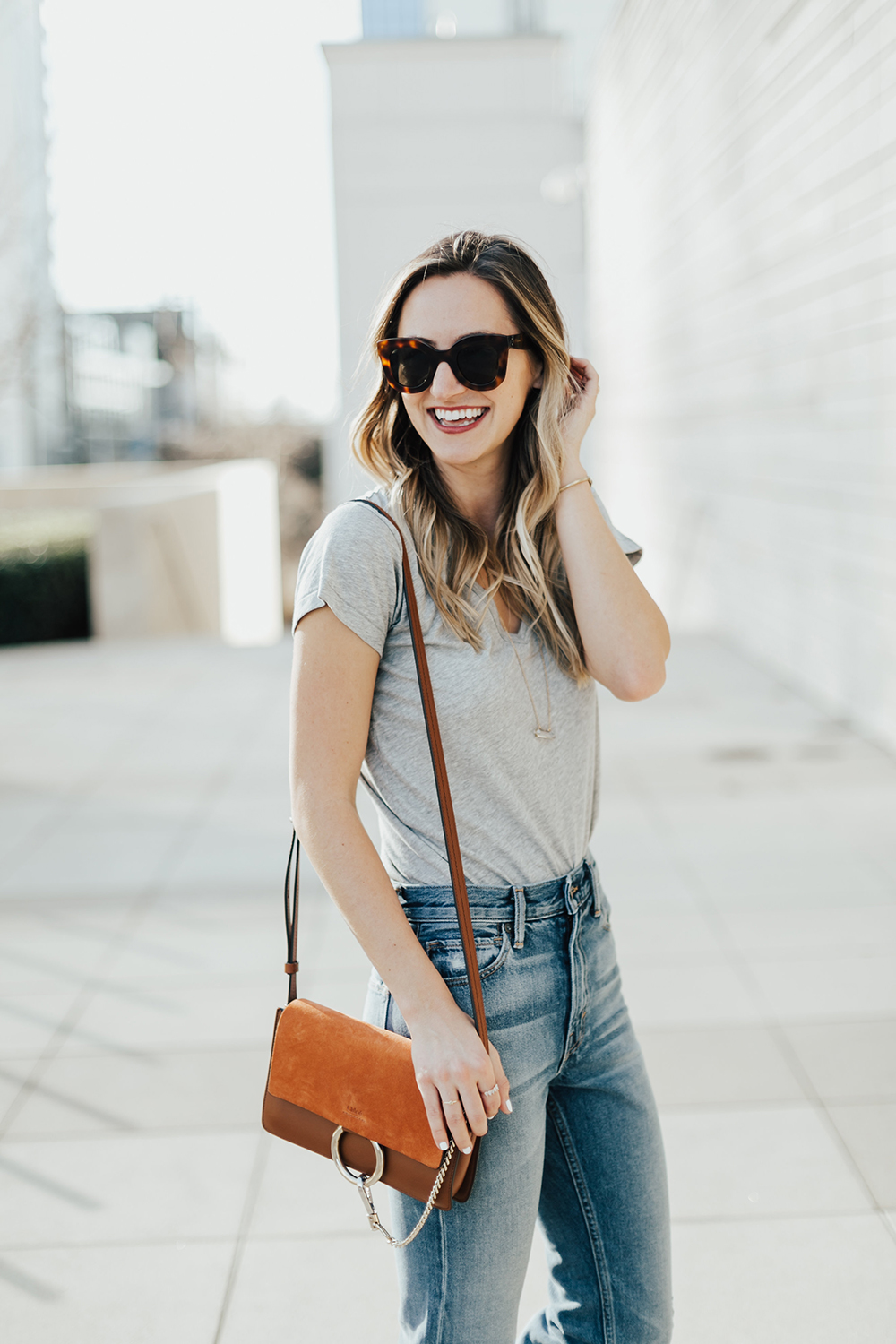 It's not often that you won't find in me in jeans and a v-neck tee – working from home (or a coffeehouse) and growing up in a city that prides itself on casual, approachability has given me a solid appreciation for comfort when it comes to getting dressed each day! I'm not even kidding when I tell you that my "off duty" uniform is literally this exact outfit above, but swap the heels for slides (you know, those tassel slides I wear ALL the time haha) and trade out the handbag for a tote filled with planners and my laptop. That said, spending a little extra on key pieces I wear constantly is something I have come to accept and put into practice. I used to feel guilty about "overspending" – but once again, I've spent way more in search of a pair of jeans that fits like these above…so in reality, it would have been smarter to just get these in the first place!
My tee and jeans are both by Vince from Nordstrom. As I mentioned above, Vince is a brand I've loved for a long time – I often feel like my style gravitates towards simple, classic and comfortable, and this brand really embodies that vibe. Nordstrom carries so many beautiful brands like Vince – from jeans to tees to shoes, they have such a beautiful range of staple basics and beyond from of the industries top brands.
For reference, the jeans fit true to size – I am in LOVE with where they hit at the waist and how they look with both heels and flats. I am 5'6 so I generally roll up all my jeans at the ankles. I am wearing a size XS in the tee and it's the softest thing, highly recommend for a go-to neutral tee!
**Photos by Brandon Hill Photography
jeans – VINCE / tee – VINCE / handbag – CHLOE / shoes – TREASURE & BOND / sunglasses – similar LE SPECS

SHOP VINCE DENIM, TEES & SHOES

A big thank you to Nordstrom for sponsoring this post! All opinions are my own.