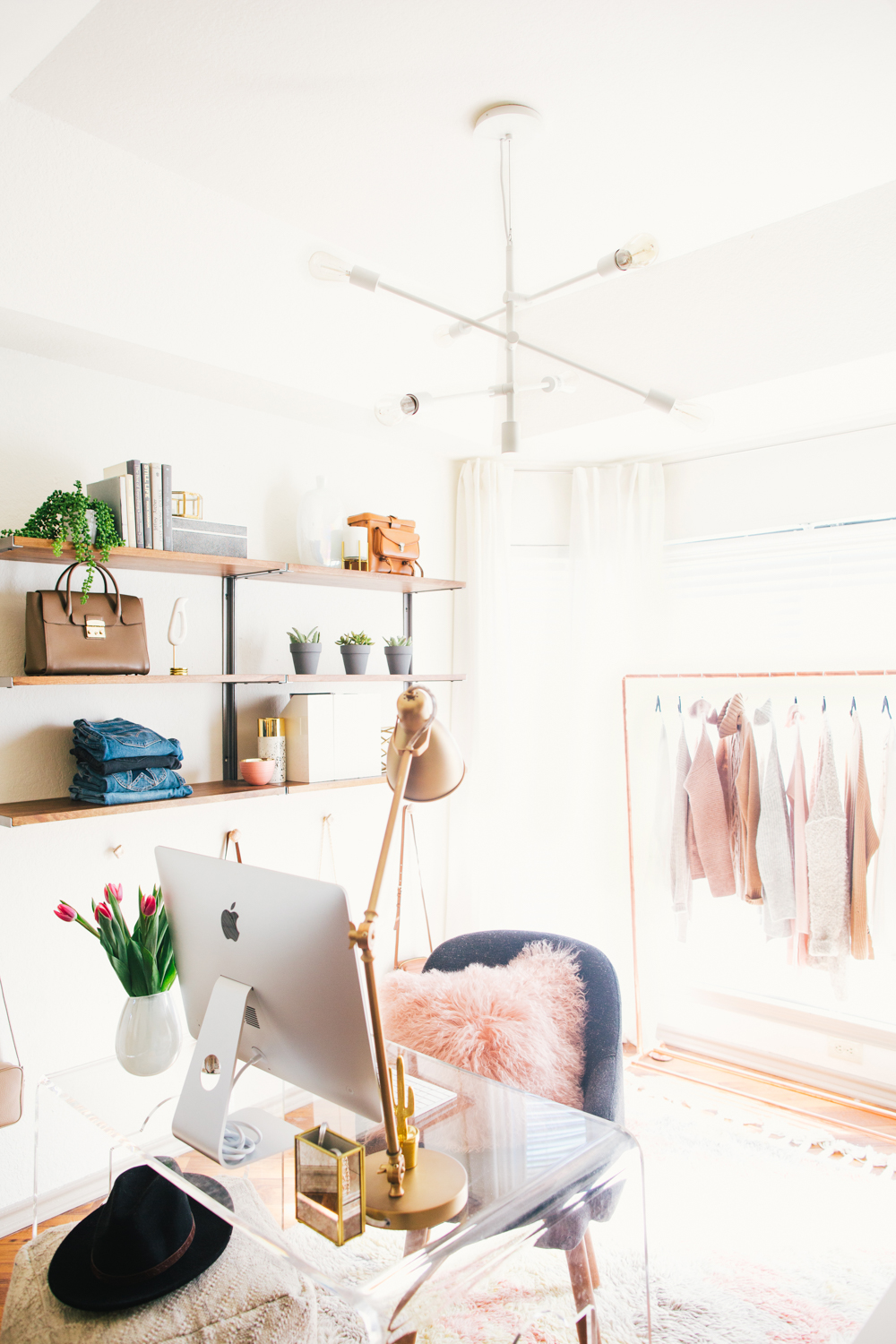 Hello friends! Oh my goodness, I am SO excited to finally reveal my home office makeover with you!! As we make our way into the New Year, one of my biggest goals was to create what I like to call a "home office sanctuary." After spending countless hours on Pinterest for inspiration (you can follow me on Pinterest here!), I teamed up with the wonderful team over at West Elm in Austin to make this dreamy space come to life! The vision was airy, feminine and above all, a place that inspired me to write, style and photo edit.
Here's the thing…Blake and I live in a one bedroom apartment and just re-signed a 14-month lease as we save up for a house! Sooo…given that we aren't going anywhere any time soon and the fact that my office is literally in our dining room (gotta work with what you got!), it was simply time for a major update – and one that was both practical (we need to use space as efficiently as possible!) and easy on the eyes!
Ps. Special shoutout to Blake for letting me do whatever I wanted to this common area…a fluffy pink pillow, bold rug and exposed shelves filled with pretty trinkets, shoes and handbags… You are THE man of my dreams! 😉 He has his own little desk space and jokes that he's going to put up Slipknot posters in retaliation…haha! Apparently, I won't be taking over the entire apartment juuuust yet! 😉
**Photos by Chelsea Laine Francis Photography
Before…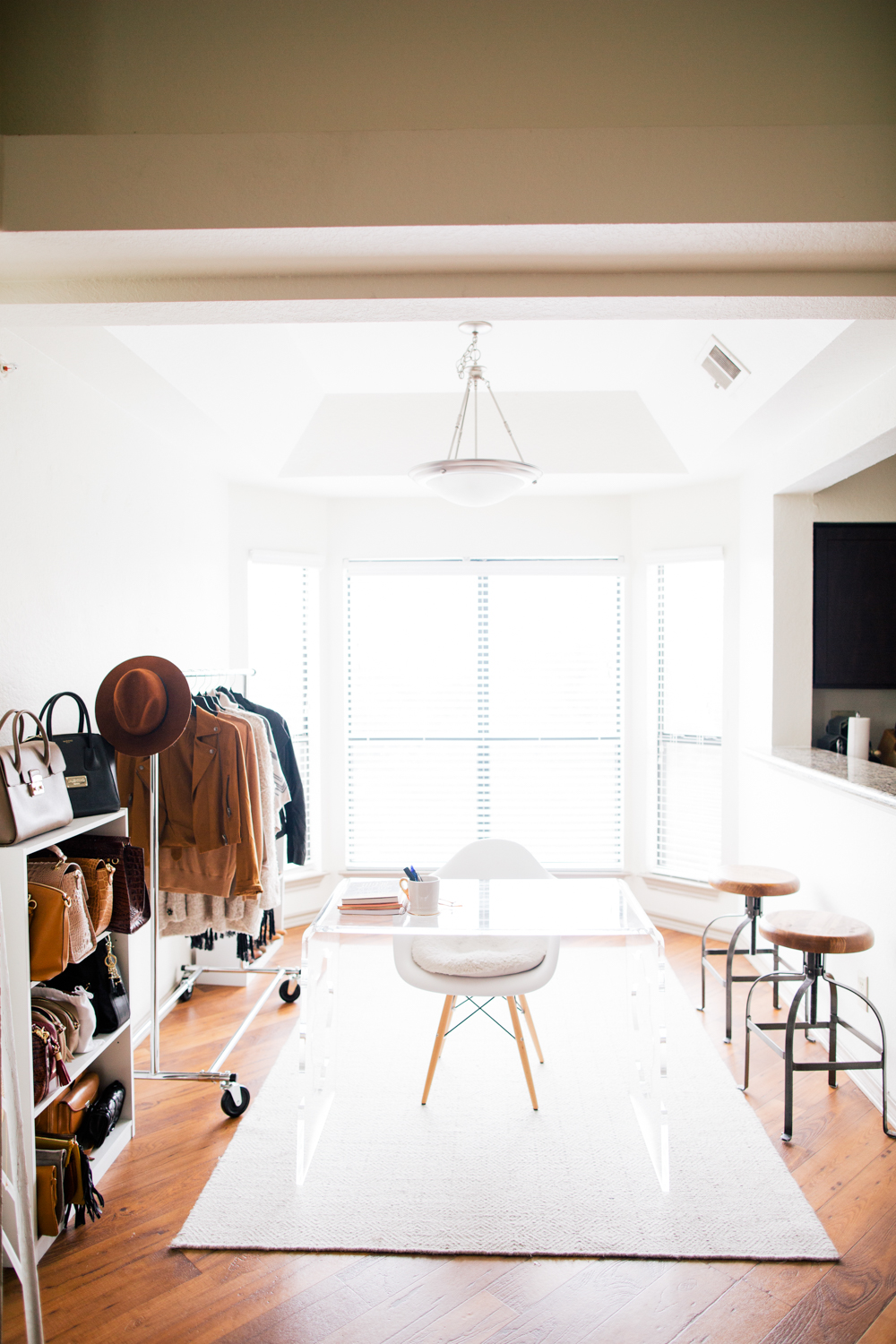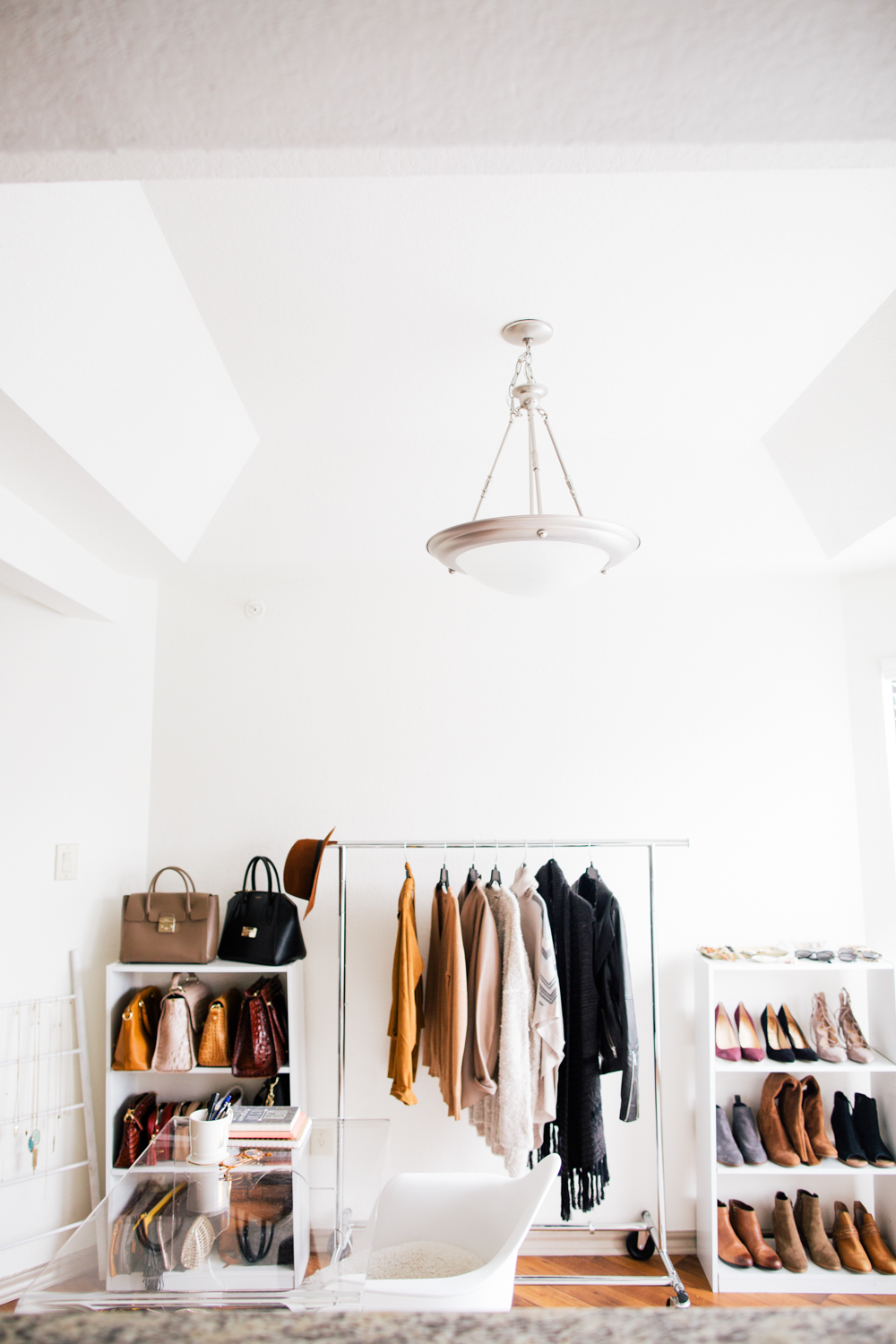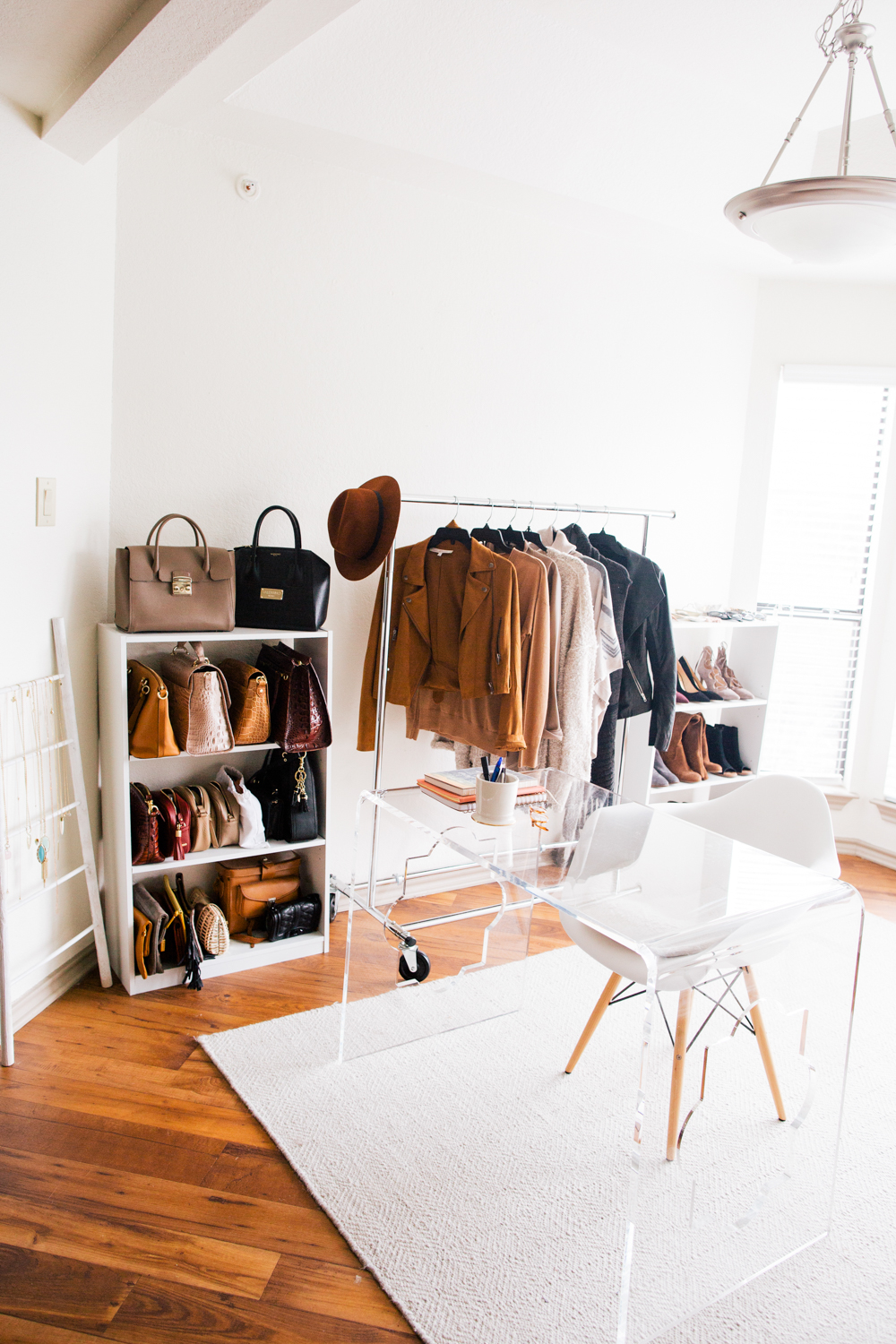 …After!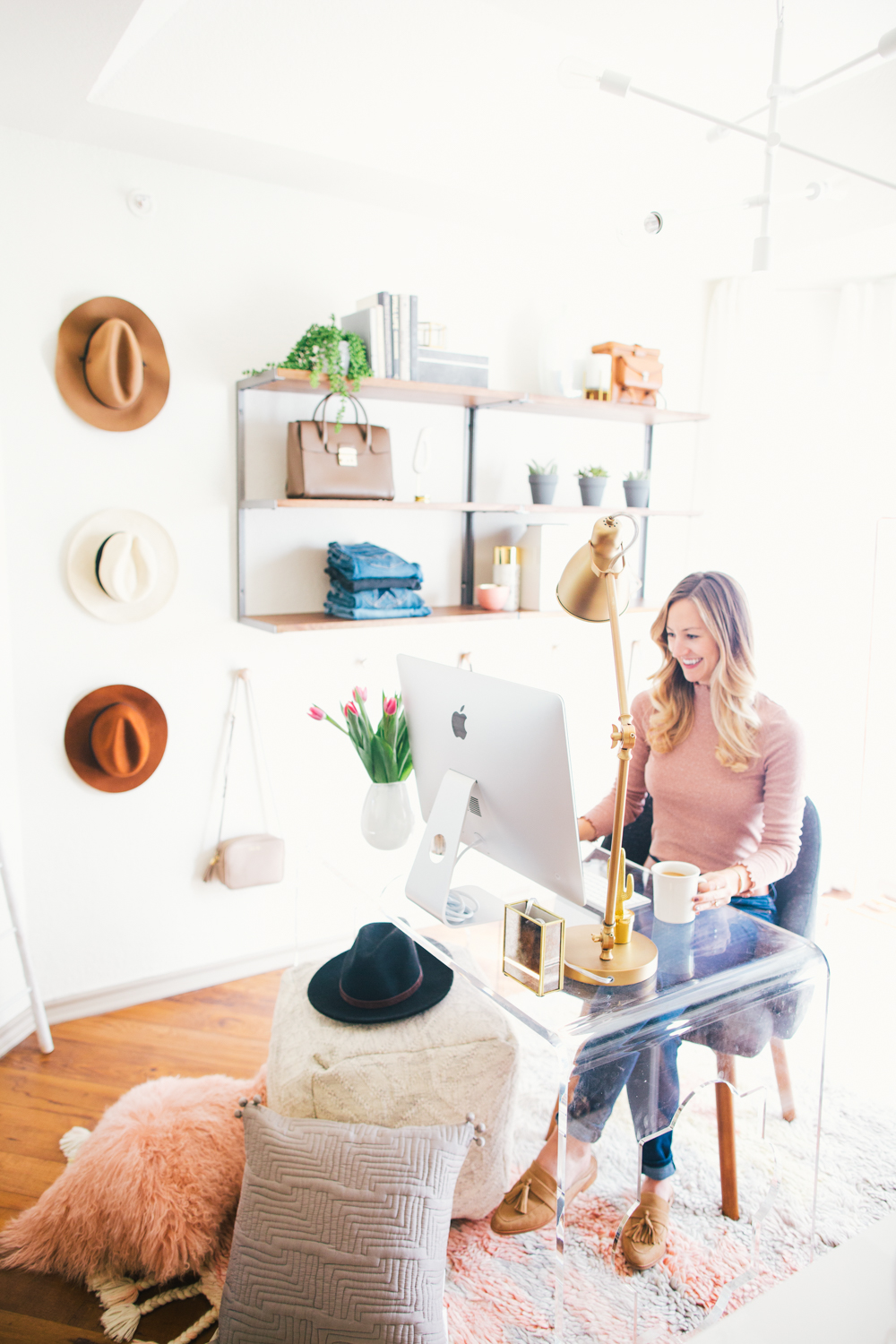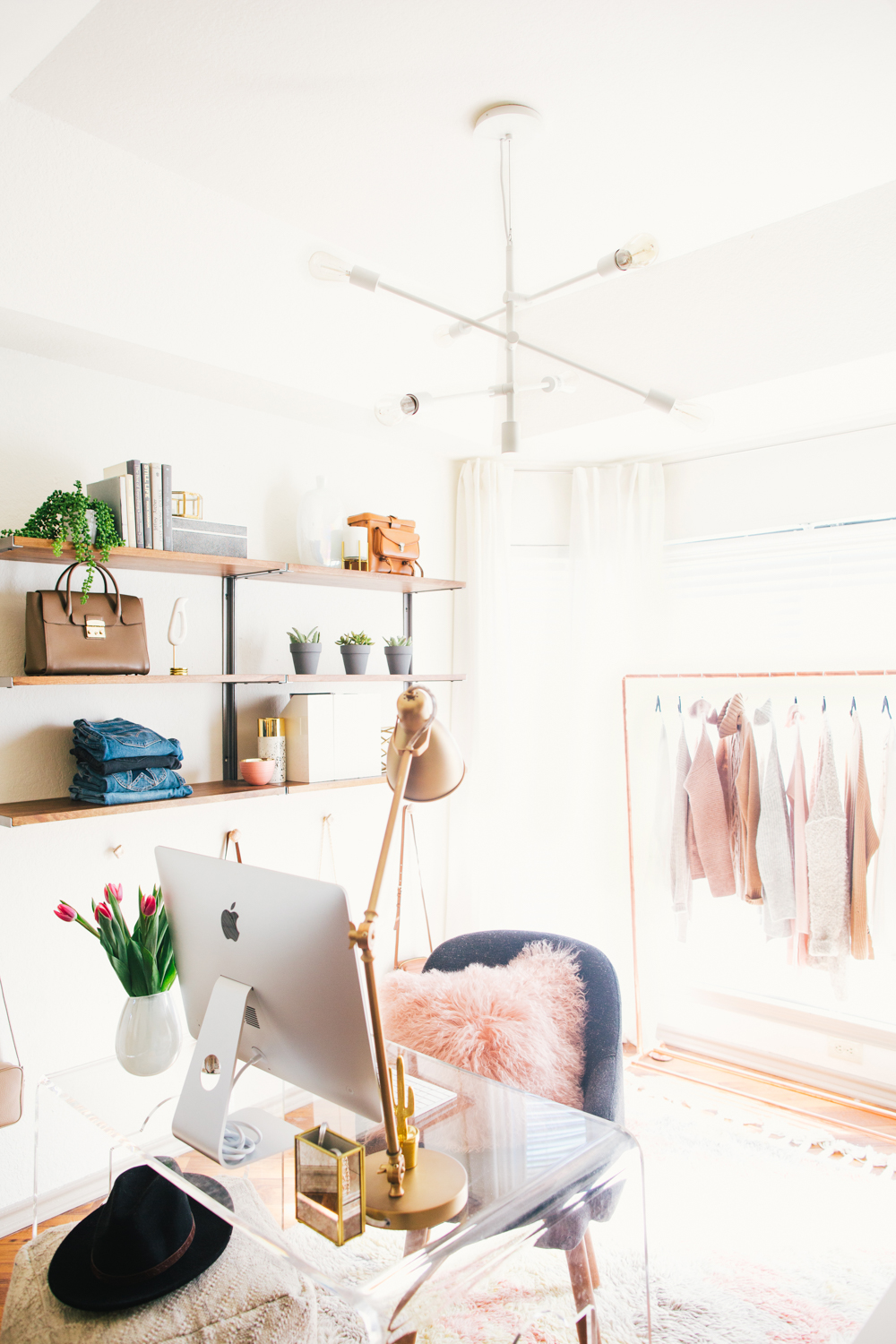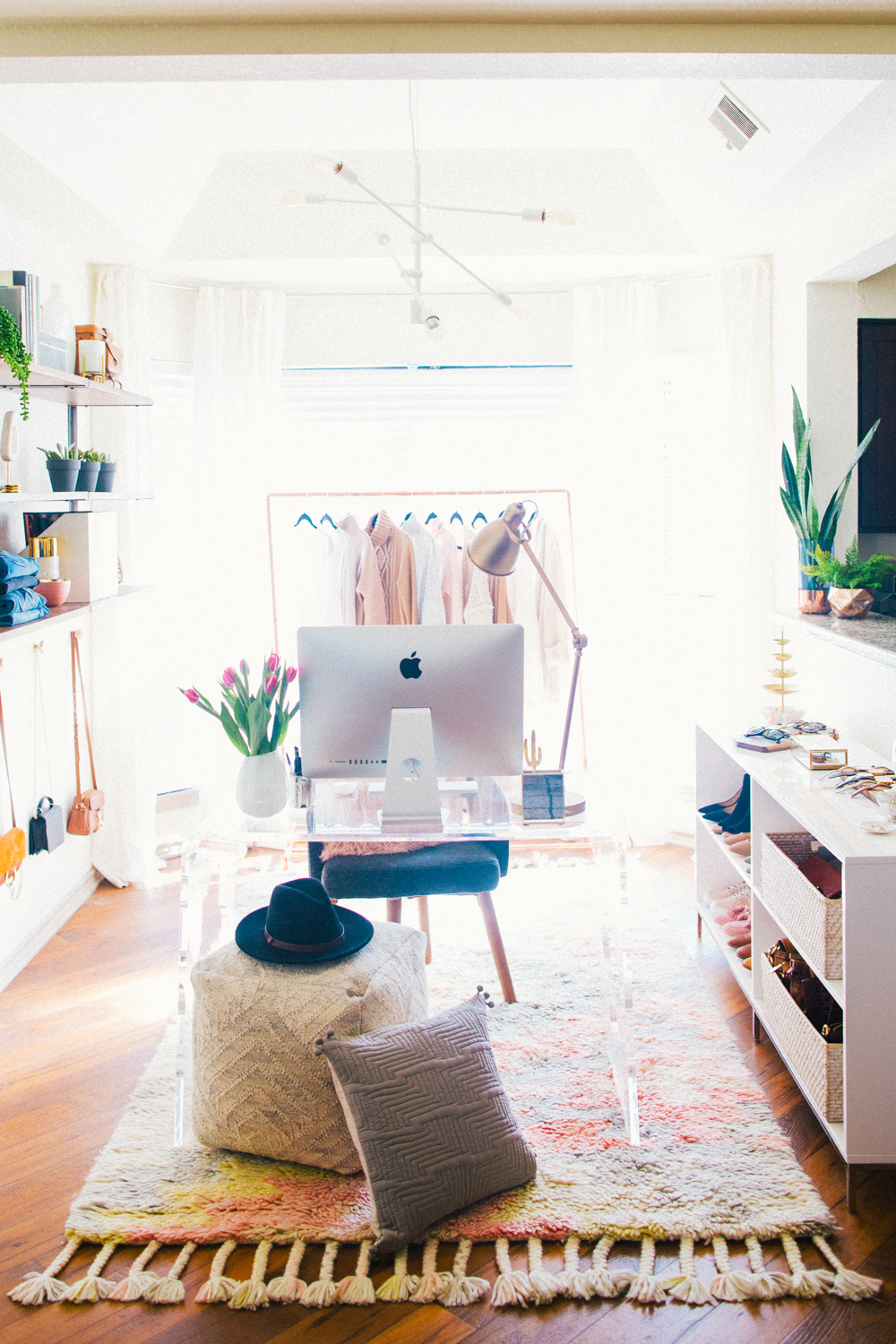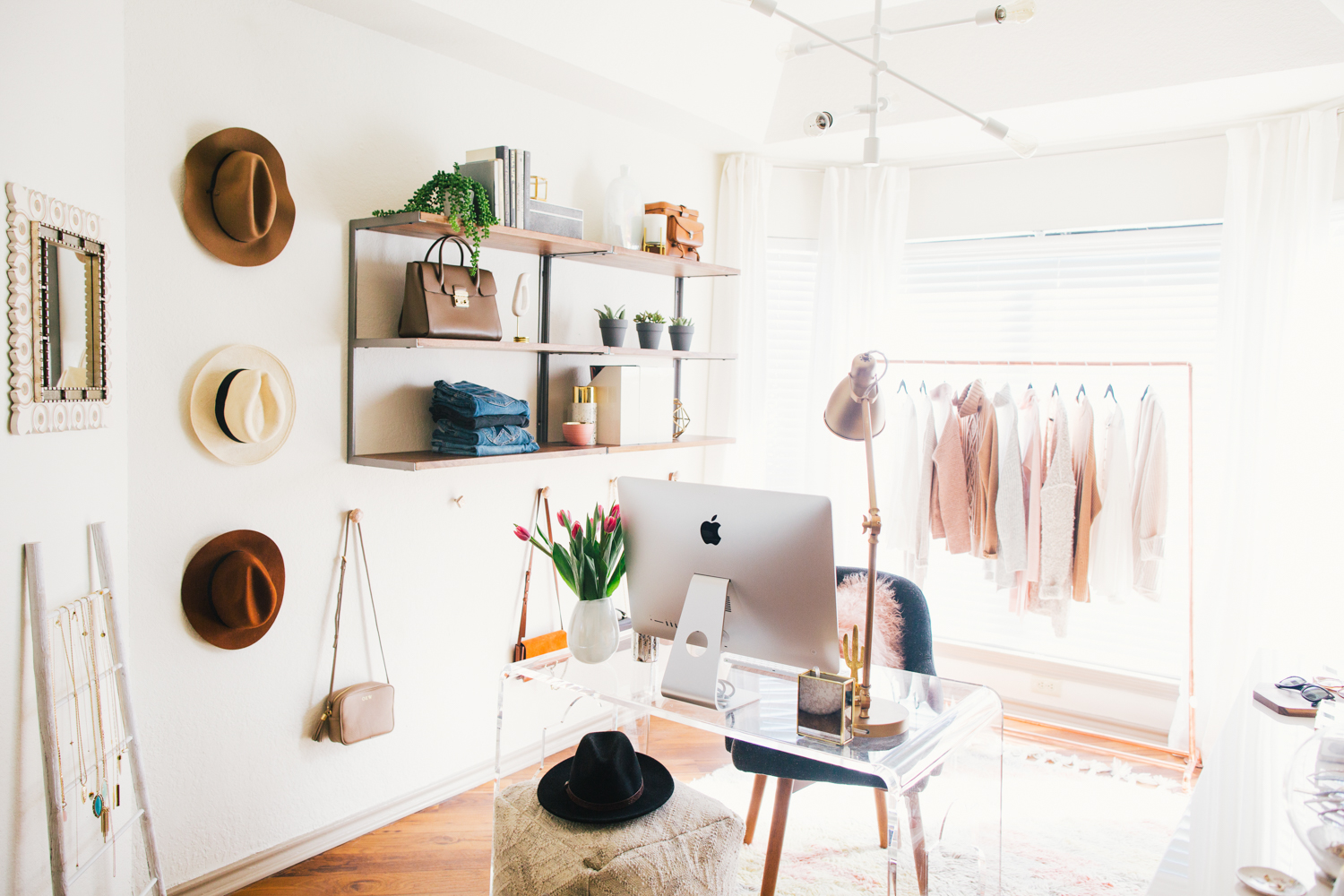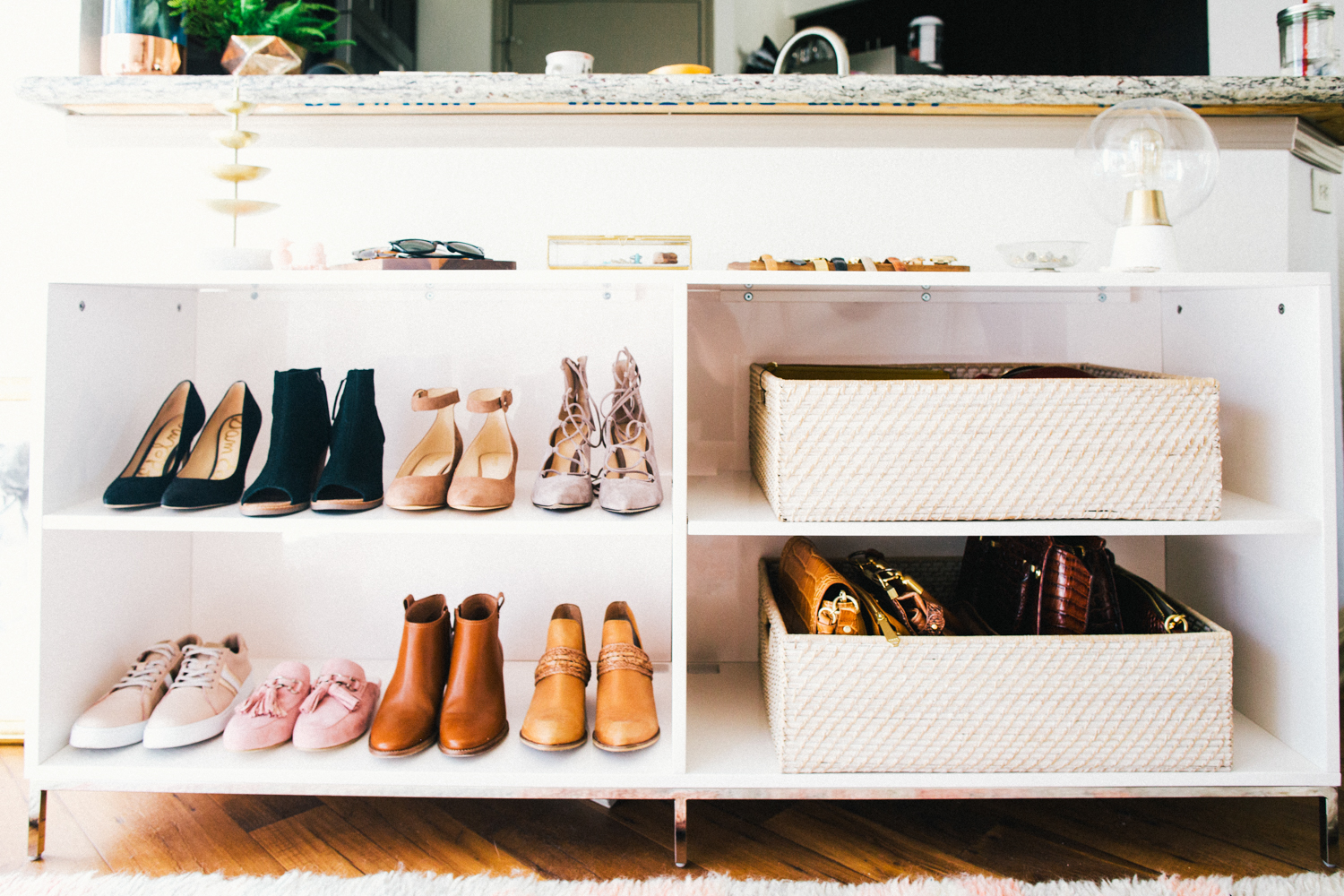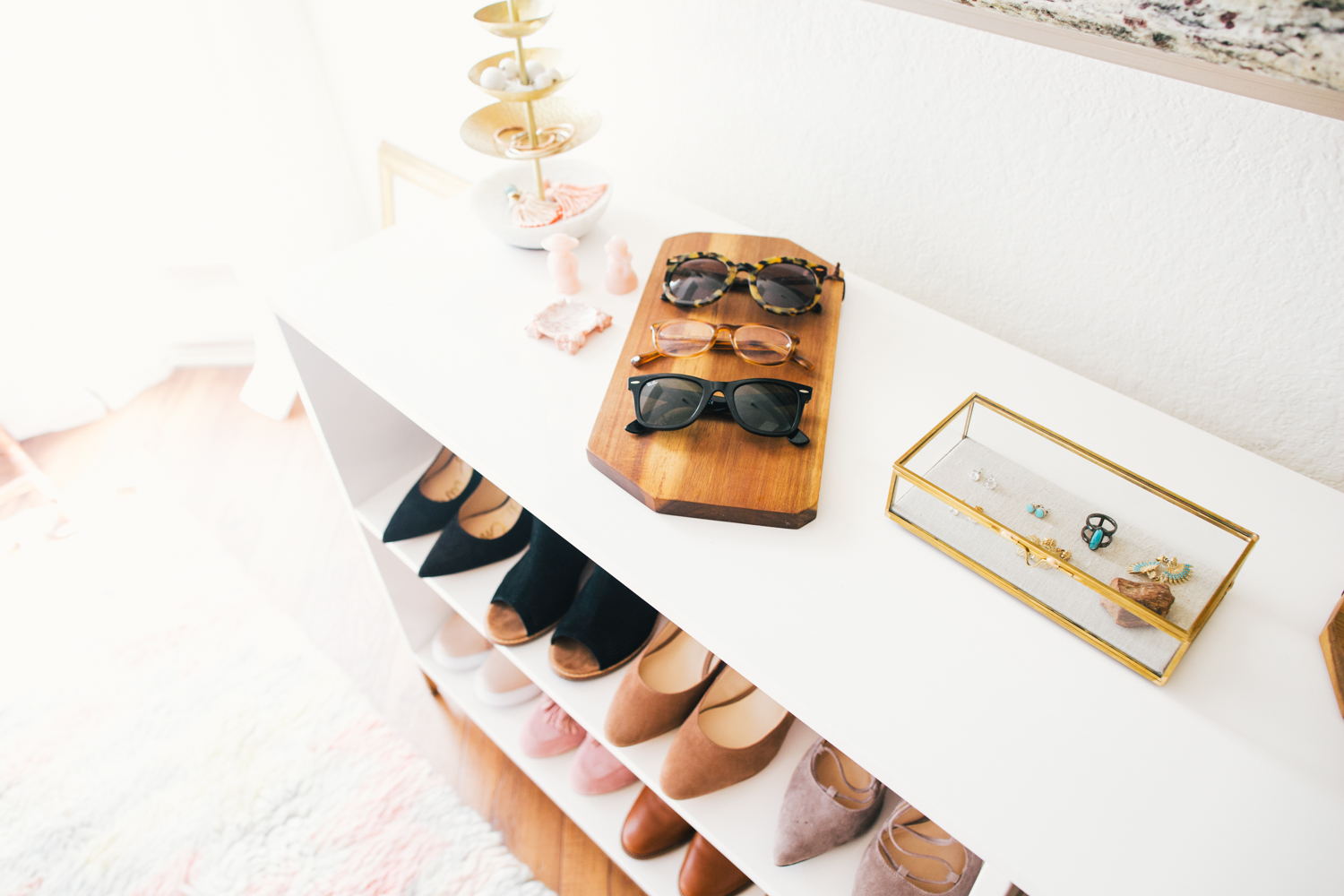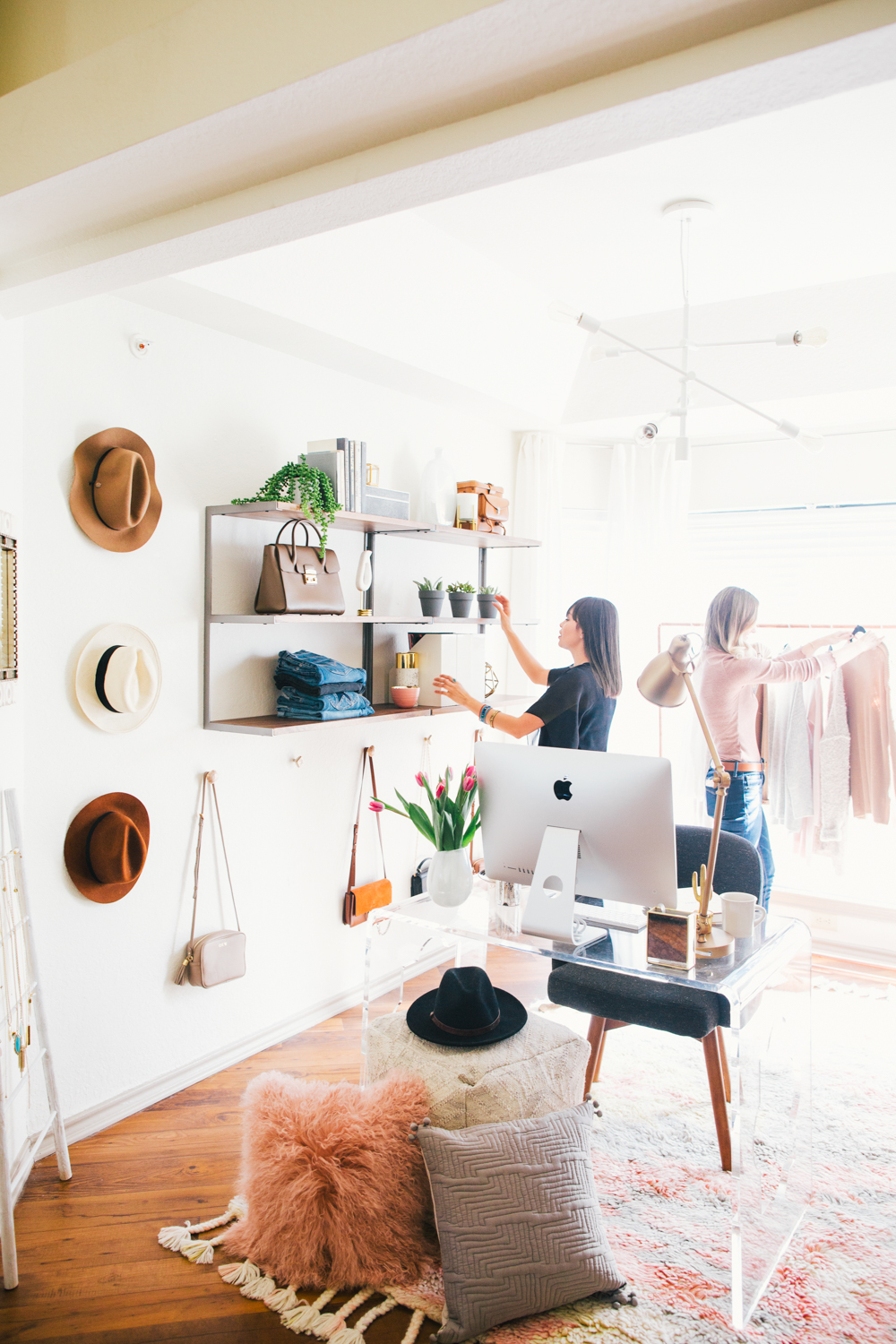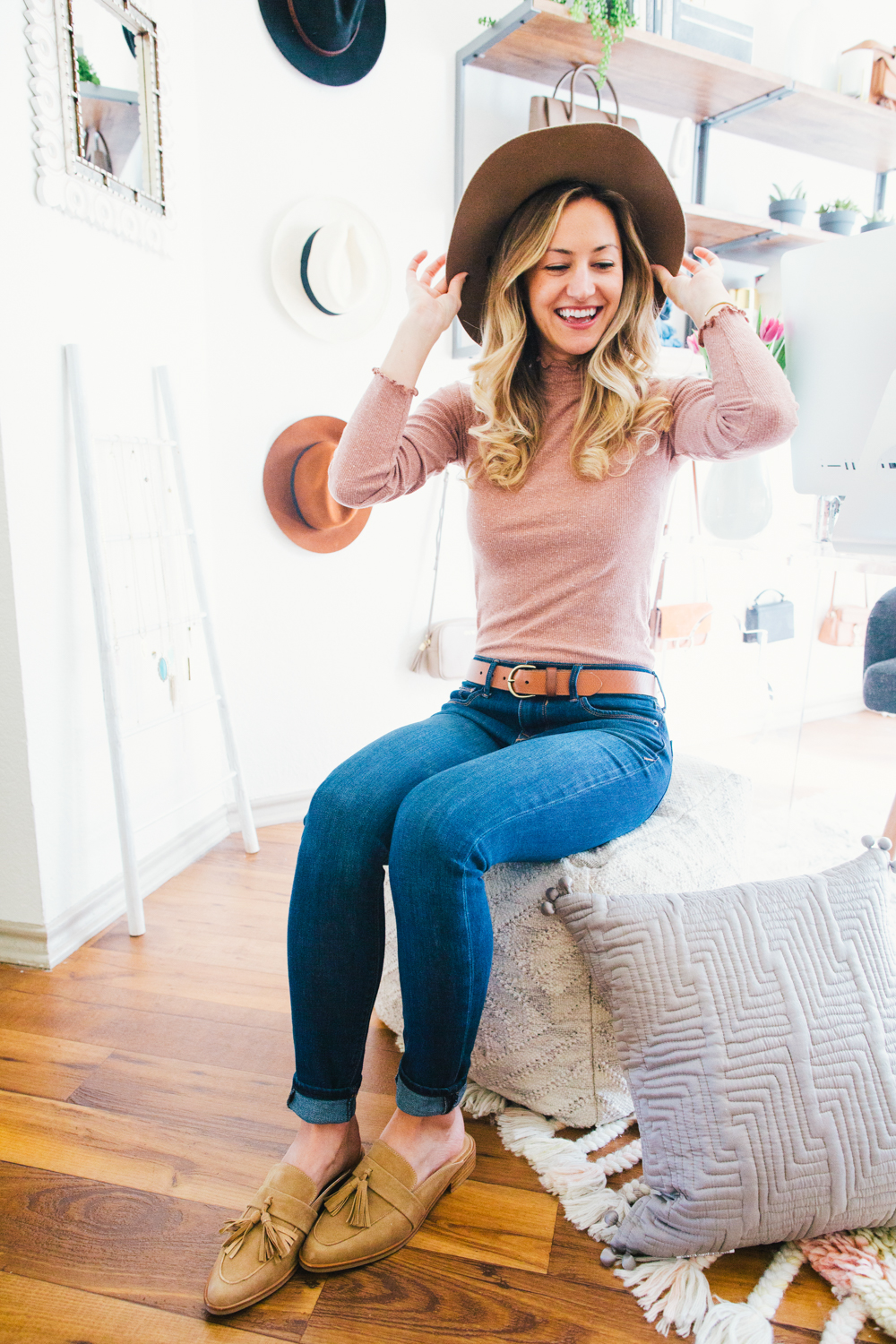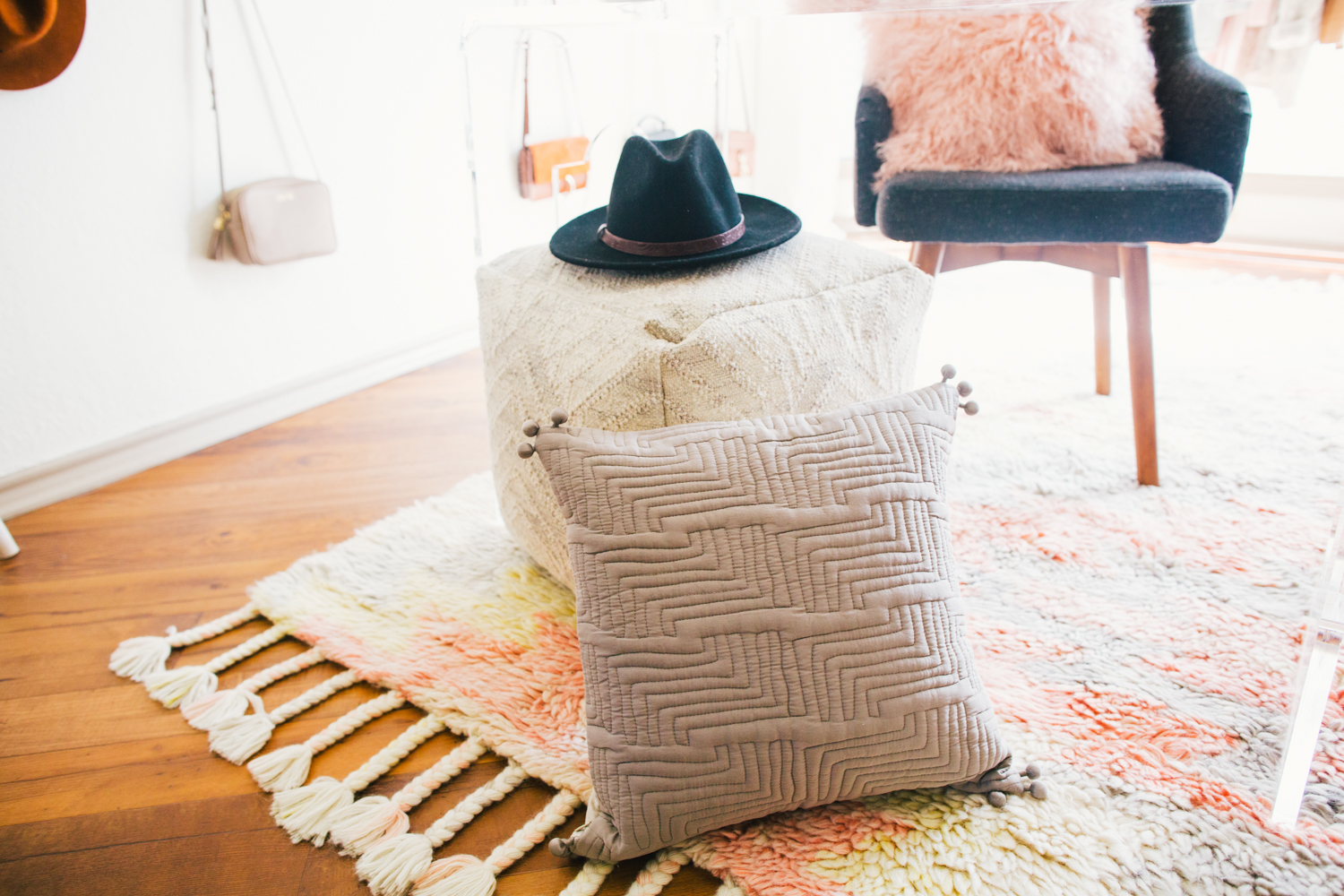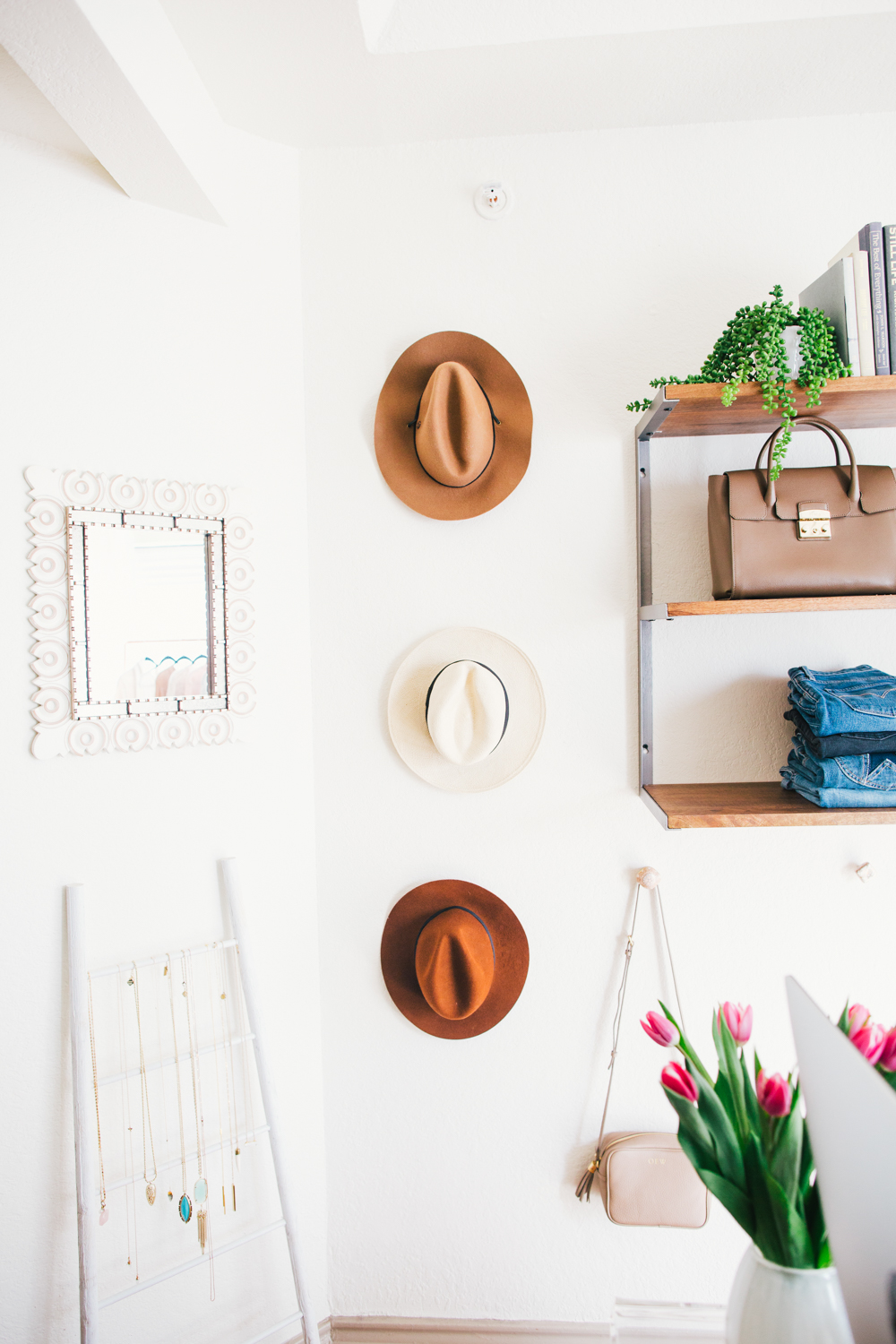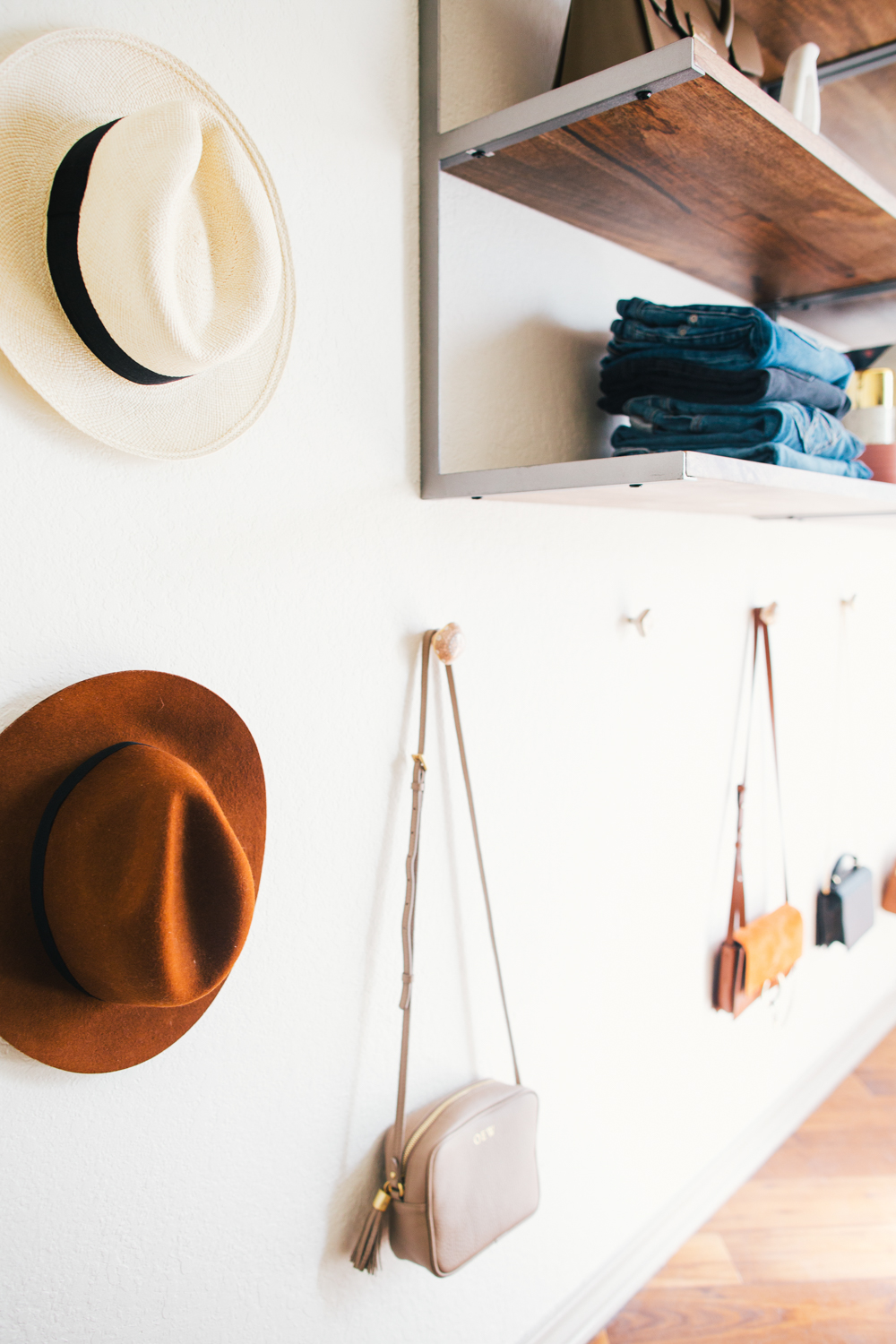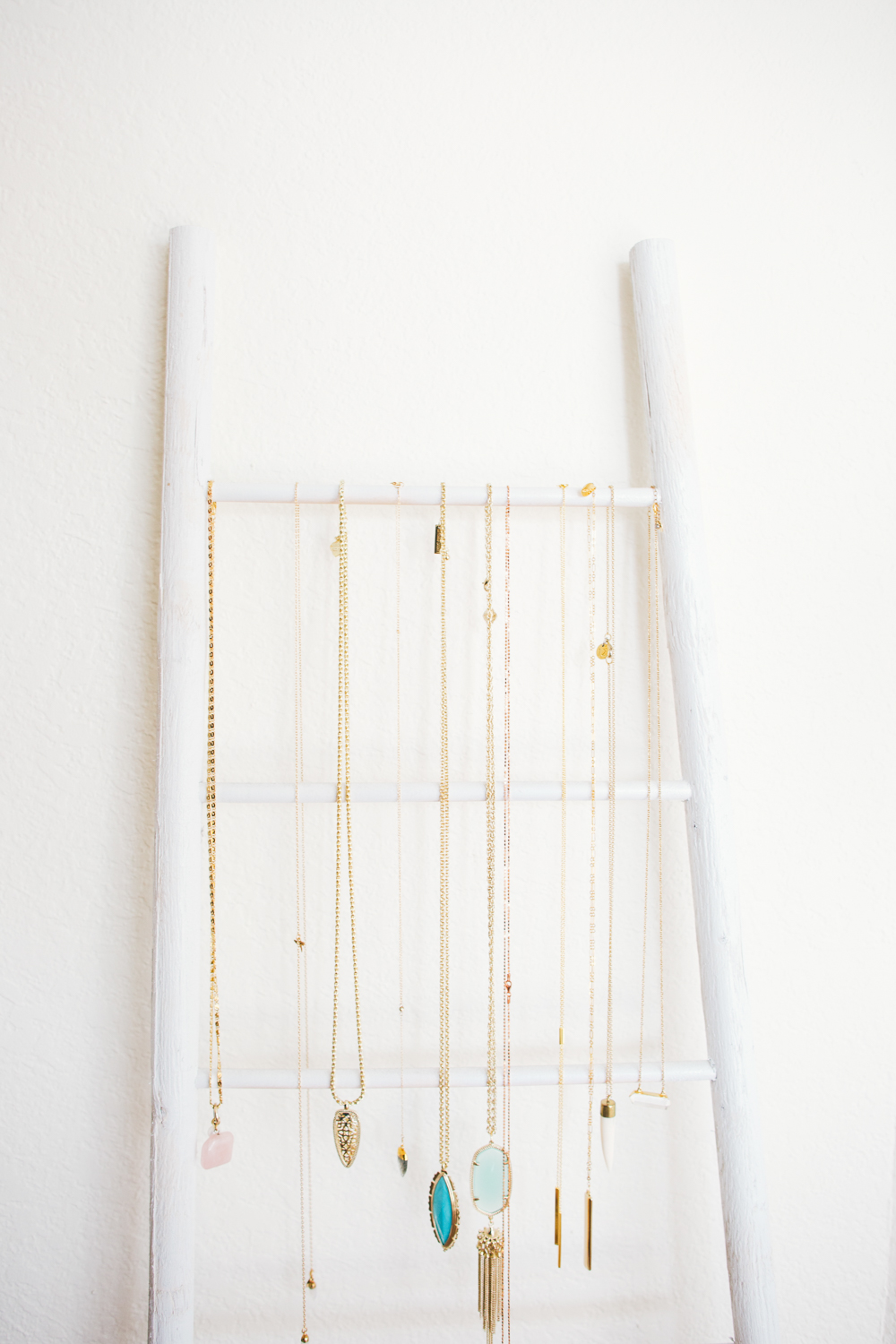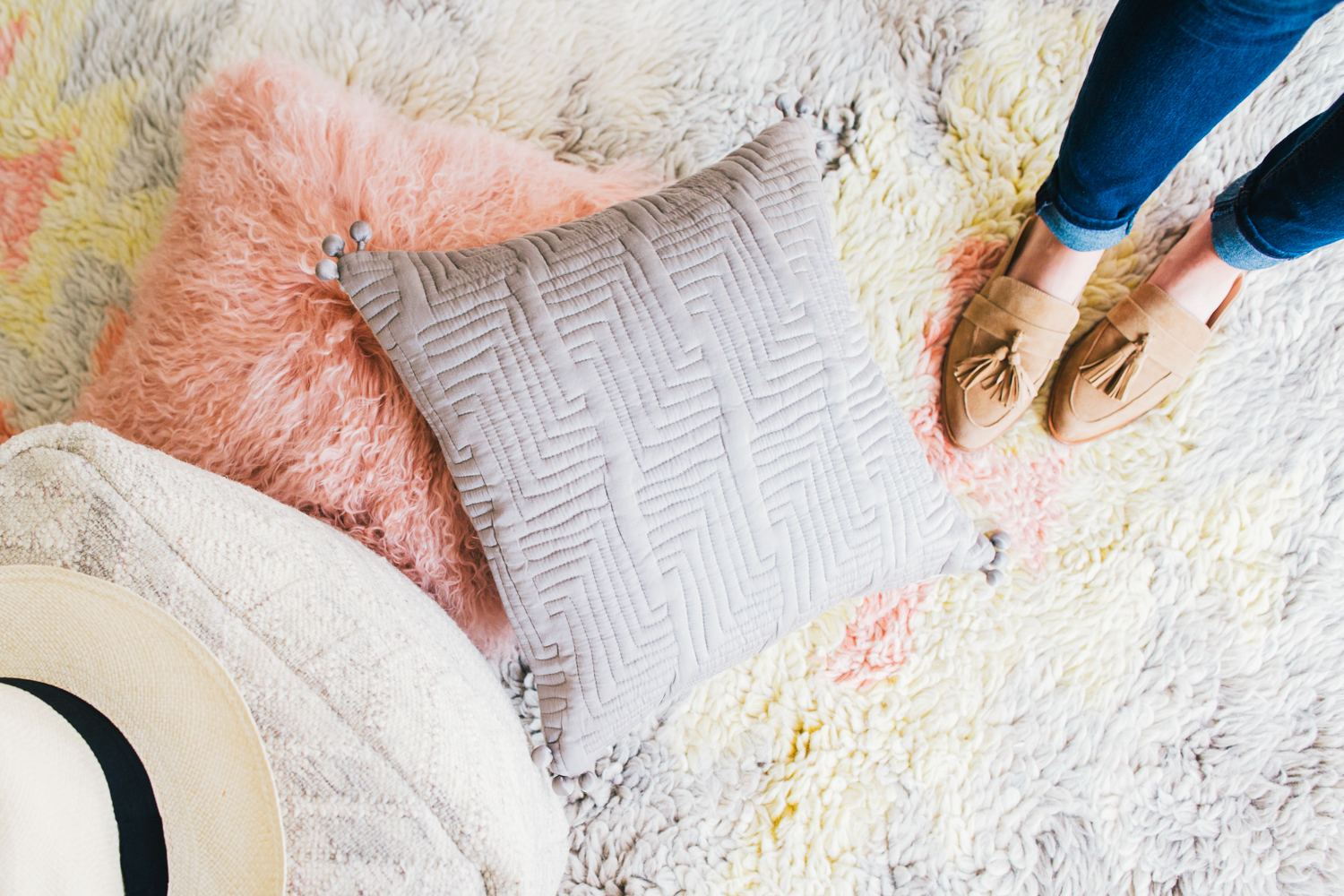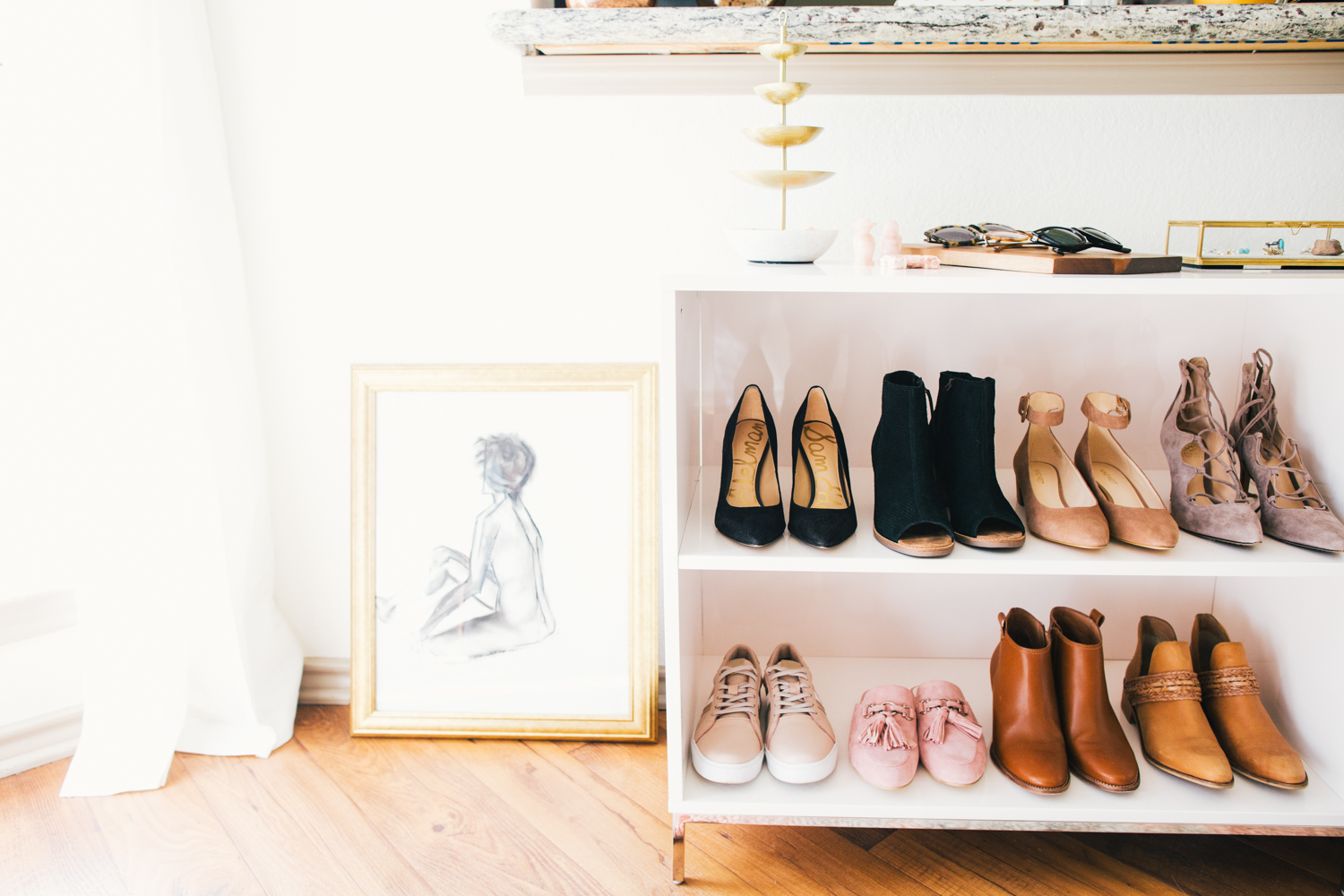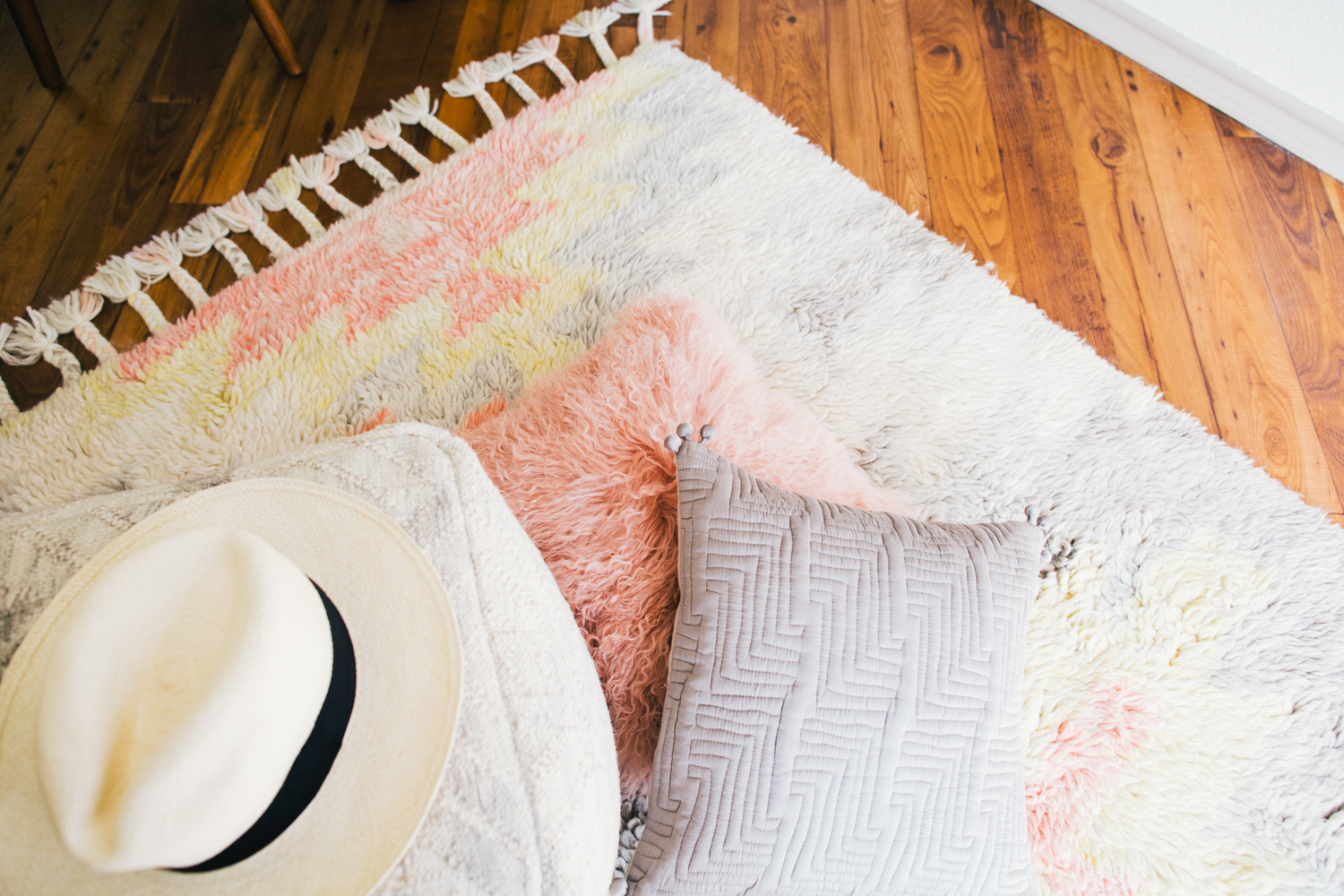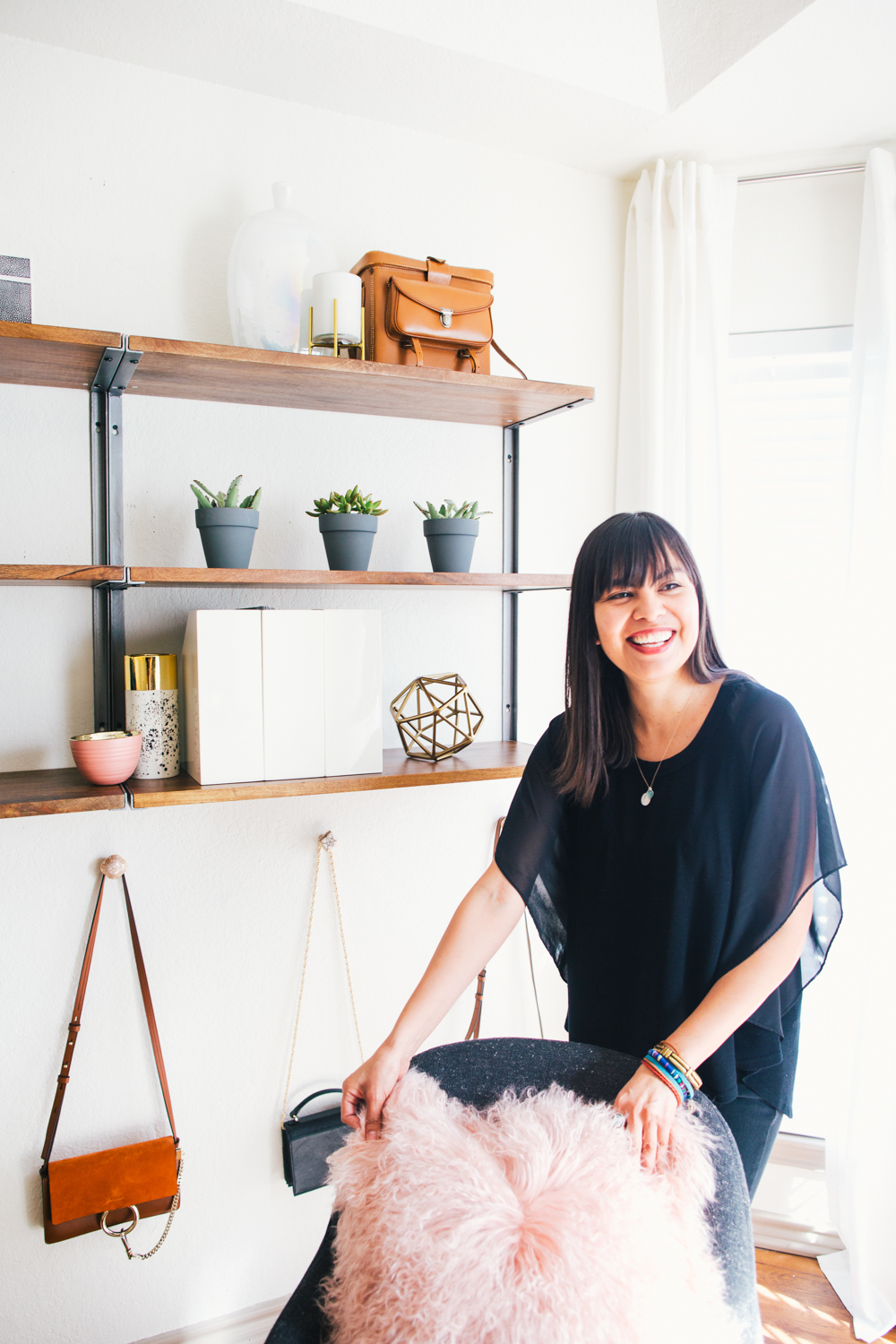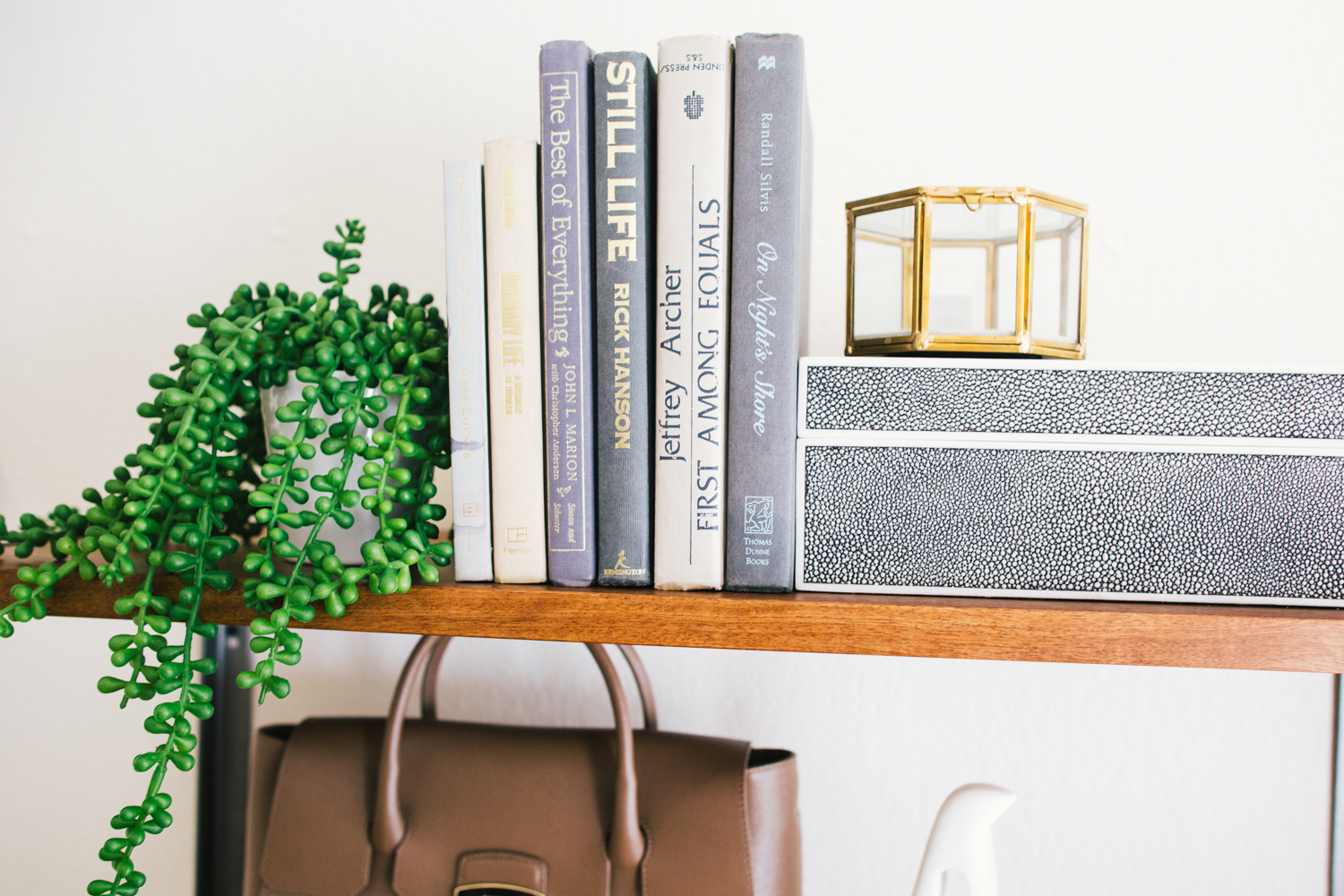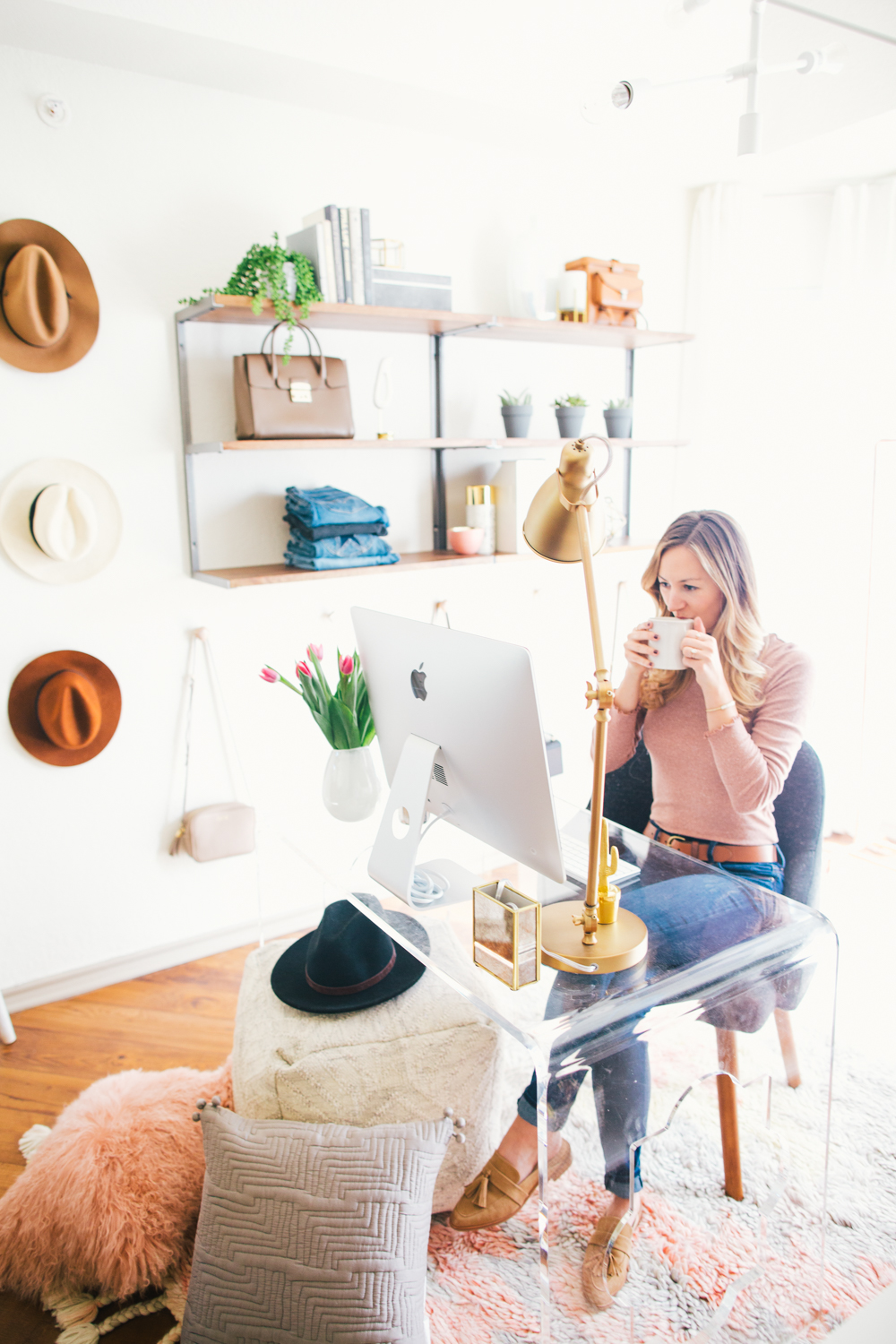 Given that the end of 2016 was basically shambles for me (remember this post? Being "too busy" is a real thing!), aaand the fact that home décor simply doesn't come easy to me, West Elm absolutely came to the rescue! I partnered with Christina Rodriguez (the cutie in the photos above!), she's the Senior Designer (and stylist guru) at Austin's West Elm store – seriously, this woman is talented! – and we worked together to update my space. Christina has a degree in Interior Design and has been with West Elm for 7 years – thus, to say she is an expert in working with clients and creating the home/rooms/offices/you name it – of their dreams, is an understatement! One of my favorite things she said about her job is this, "I get to help clients discover what their personal style is and create an environment that they can be excited about and want to share with others. How fun is that?!" In a nutshell, she's an interior design rockstar and I am VERY thankful for her help because I am exactly the client she described, ha!! I know what I like, I just don't know how to "complete" the space quite as seamlessly!
Before Christina and I had our first meeting, she did her research and scoped out my Instagram feed, blog and "Interiors" board on Pinterest. Thus, by the time we sat down to chat about the vision, she had already bookmarked products she felt would fit my style… it was amazing!! And the best part? She was SPOT ON! I literally said yes to every single thing she picked out…it was kind of crazy how perfect and easy it was. I had also sent along the room measurements, so she knew exactly what would fit into the space. After our meeting, she created a vision board with all of the products we had selected, then sent it my way for approval. Once I gave her the green light, we ordered the items and it was smooth sailing from there! (No really, it was THAT simple!).
When it came to my previous office area, I didn't really have a vision in mind… I was using a rug that was three years old (…and covered in coffee and wine stains, oops! Can y'all tell I spend a lot of time in my office area? Ha!), shelving units that cost me $10 (…and surprise surprise, they were $10 quality, too!), a not-so-practical desk chair (note to self: measure the chair and desk height before purchasing!) and a bulky clothing rack that served its purpose but wasn't aesthetically pleasing. Overall, the space felt bleak and boring, definitely not a room I felt inspired by or was excited to spend a ton of time in.
When thinking about what I needed in my new home office, shelving and storage was at the top of my list. Blake and I share a small closet and let's just say that doesn't cut it with all the things I have for blogging! Shoes, handbags, jewelry, seasonal pieces I want to photograph…I was in major need of some floating shelves, a low bookshelf nestled perfectly under our kitchen island and a few large bins to store things in. Christina came up with the "handbag hooks" idea and I totally fell in love with it, too! It was a perfect way to neatly display a few pieces without feeling cluttered.
Once we had storage under control, it was time to focus on décor. I'd call my office style "cozy-chic," so that entailed mixing fun textures like the pillows, rug and poof, combined with brass jewelry cases, modern-industrial light fixtures and pops of wood (how cool are those cutting boards as jewelry displays?!). Once we set everything up, the finishing touch was to add curtains and voila, my new home office was complete! …And SO stunning!!
Truly, I could not be more enamored with my new office area… I still pinch myself every time I step foot into this space!
Hopefully sharing my before and after photos provides some inspiration as to how you can fill out a space of your own – whether it be a home office, family room, kitchen, etc. Working with Christina allowed me to make my visions come to life and I am SO excited to walk into 2017 with a beautiful office that makes me excited and motivated to get up and take on the day!
A special thank you to Christina, Lisa and the West Elm Austin team for all of their hard work to bring this space to life! Another thank you to Chelsea Laine Francis for snapping the photos for this post –  you're a total GEM!
Every West Elm offers help from their design stylists, so whether you need help styling a bookshelf or completely redecorating a room, you can sign up for some assistance right here!
This post is in collaboration with West Elm Austin. All opinions (and embarrassing amounts of excitement) are my own.
SHOP MY OFFICE
CHAIR (available in chevron print) / DESK (oldie but oh so pretty from Home Goods!) / DESK LAMP / PINK PILLOW / GREY PILLOW / POOF / RUG / FLOATING SHELVES / HANDBAG HOOKS / WHITE BOOKSHELF / WOODEN BOARDS / JEWELRY CASES (OCTOGON CASES) (RECTANGLE SHADOW BOXES) / CURTAINS / SIMILAR LADDER / WHITE LIGHT FIXTURE / ROUND NOVA TABLE LAMP / GOLD GEOMETRIC DECORATIVE / BRASS CACTUS / COPPER CLOTHING RACK / SMALL MIRROR / WOVEN STORAGE BINS