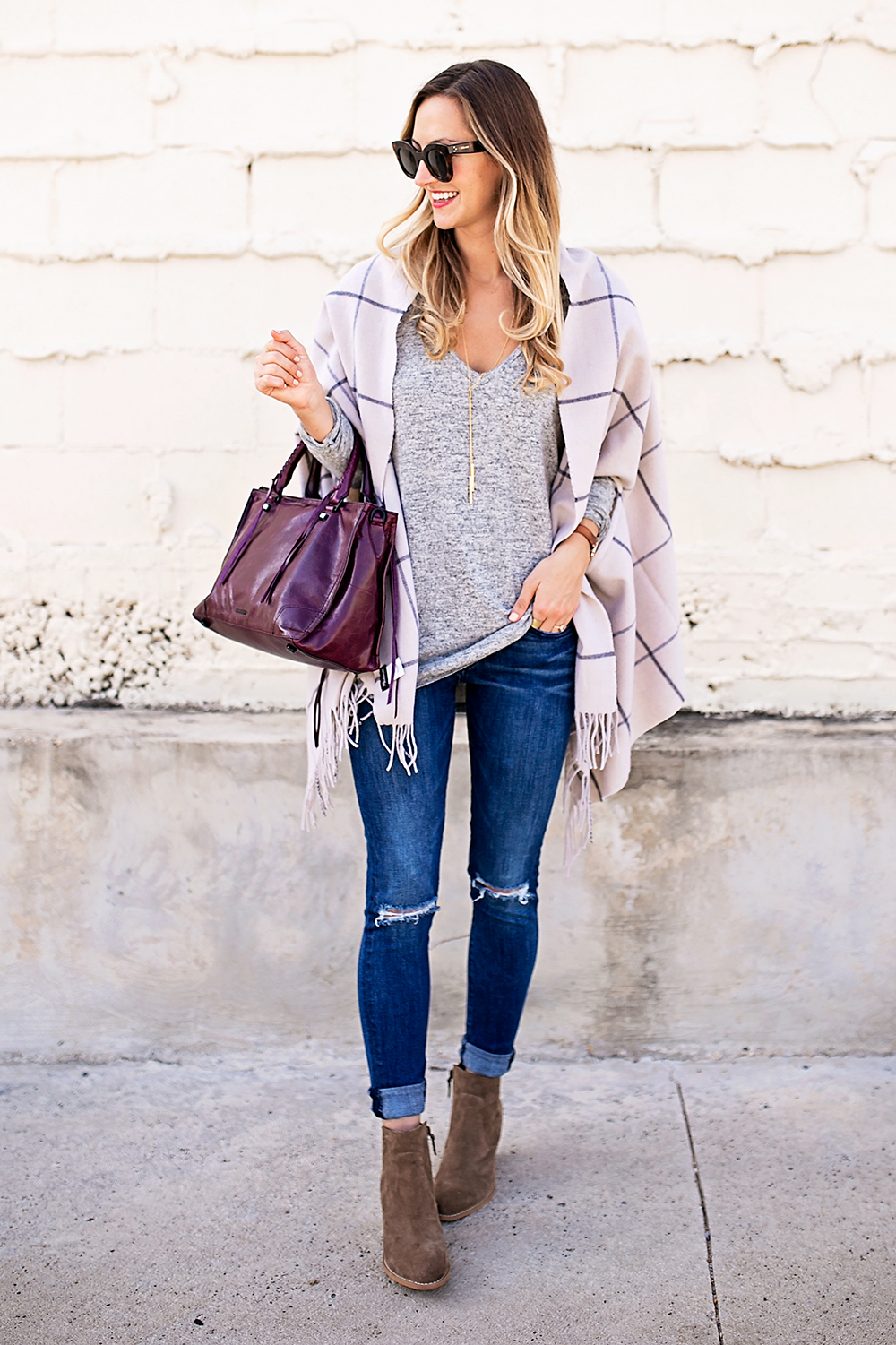 Happy Tuesday, friends! 🙂 Today is a good day because it's absolutely stunning outside and I actually made time to go for a run and enjoy it (truly, it's a Christmas miracle, ha!) – and also because I've been practicing my latte art skills (new espresso machine thanks to our lovely wedding guests) and there's currently a lopsided foam heart staring me in the face…and it tastes delicious, too. I've got a TedTalk playing as I write this (it's this one – quite inspiring!), my windows are open so I can hear the breeze among the trees and the natural light is pouring in… I am content in the stillness and feeling grateful for this calm afternoon. Sometimes I dislike being alone so often (woes of working from home), but in moments like this, I am very happy and thankful.
I think the beautiful weather has a lot to do with todays mood boost. It's been so wonderful to be outside lately, and that just seems to have such a positive impact on everyone in this city. With the crisp air and cooler temperatures comes more reason to try out fun, fall outfit options, and a plaid poncho layered over a light sweater makes for a perfect autumn look. Grab a gorgeous burgundy leather handbag and some fun sunglasses and you're all set! So, let's get to these outfit details…
**Photos by Angie Garcia Photography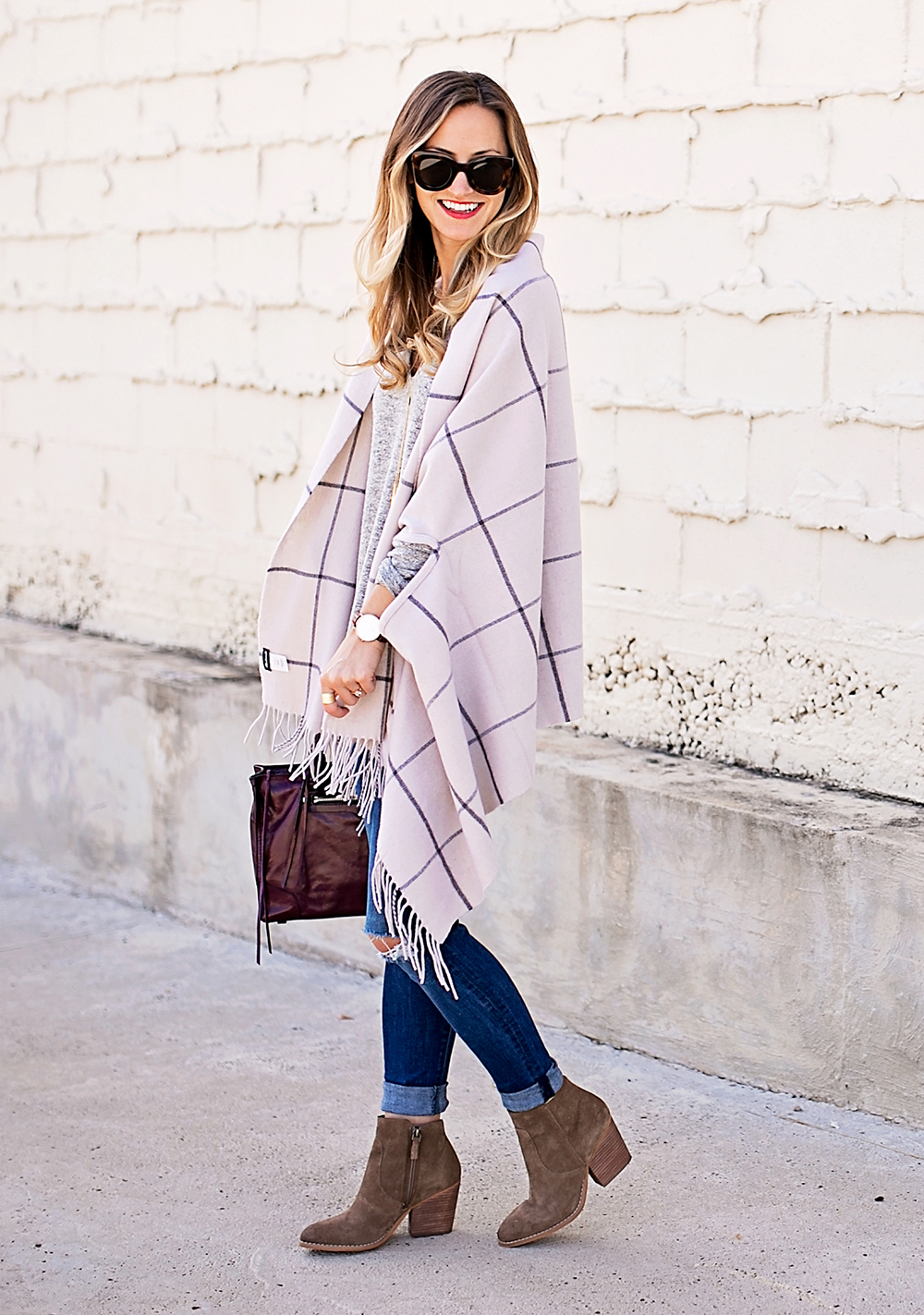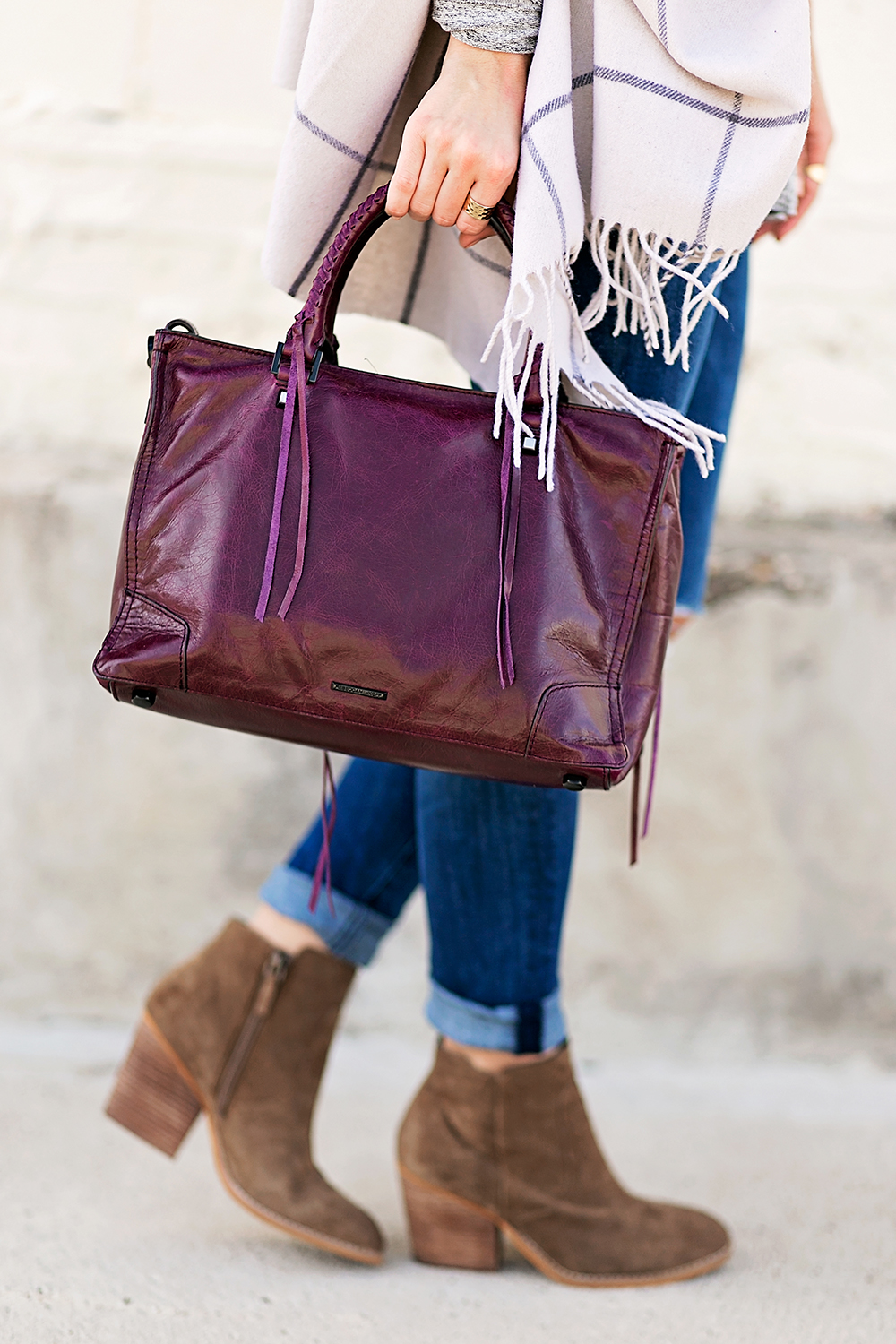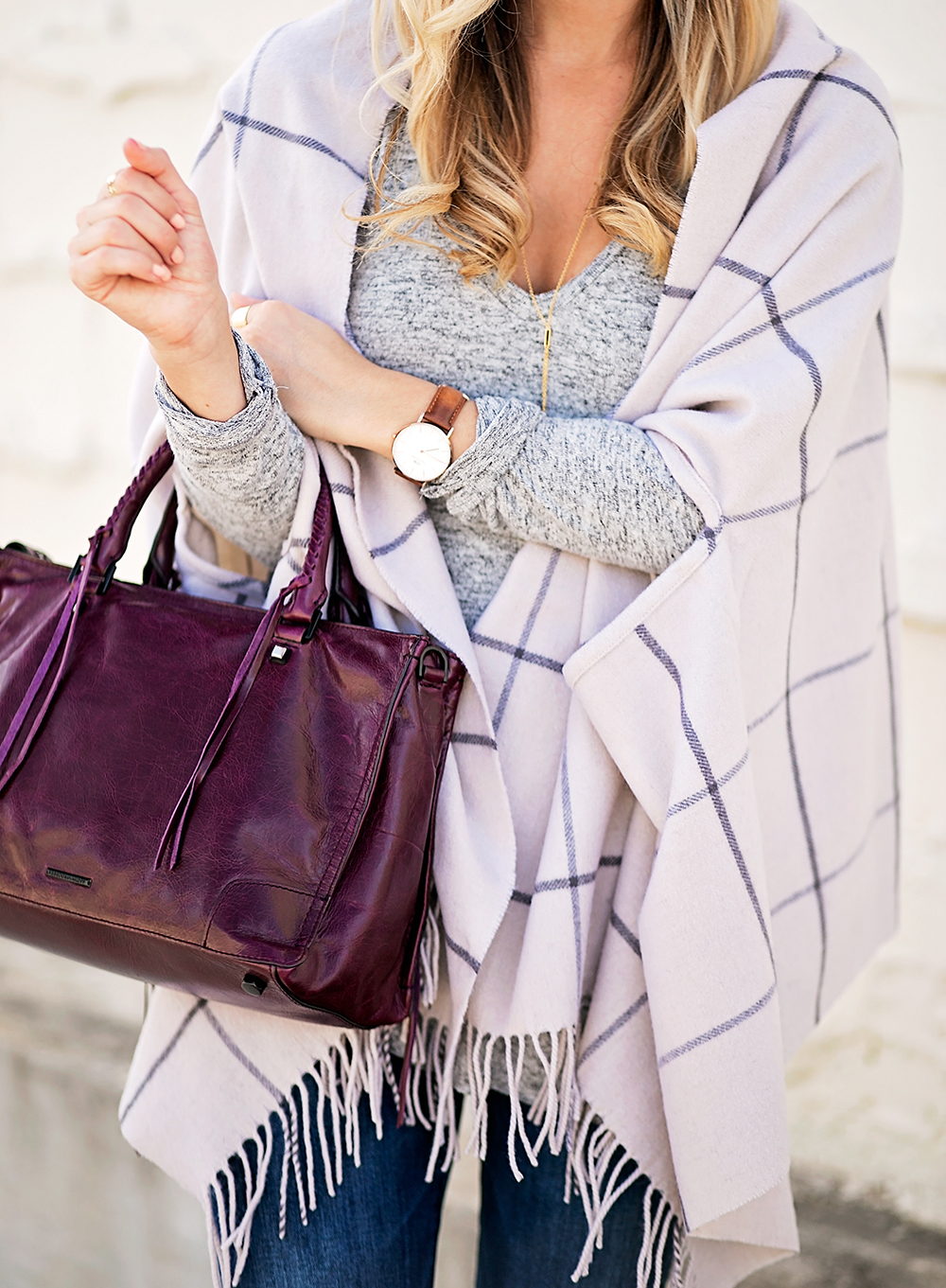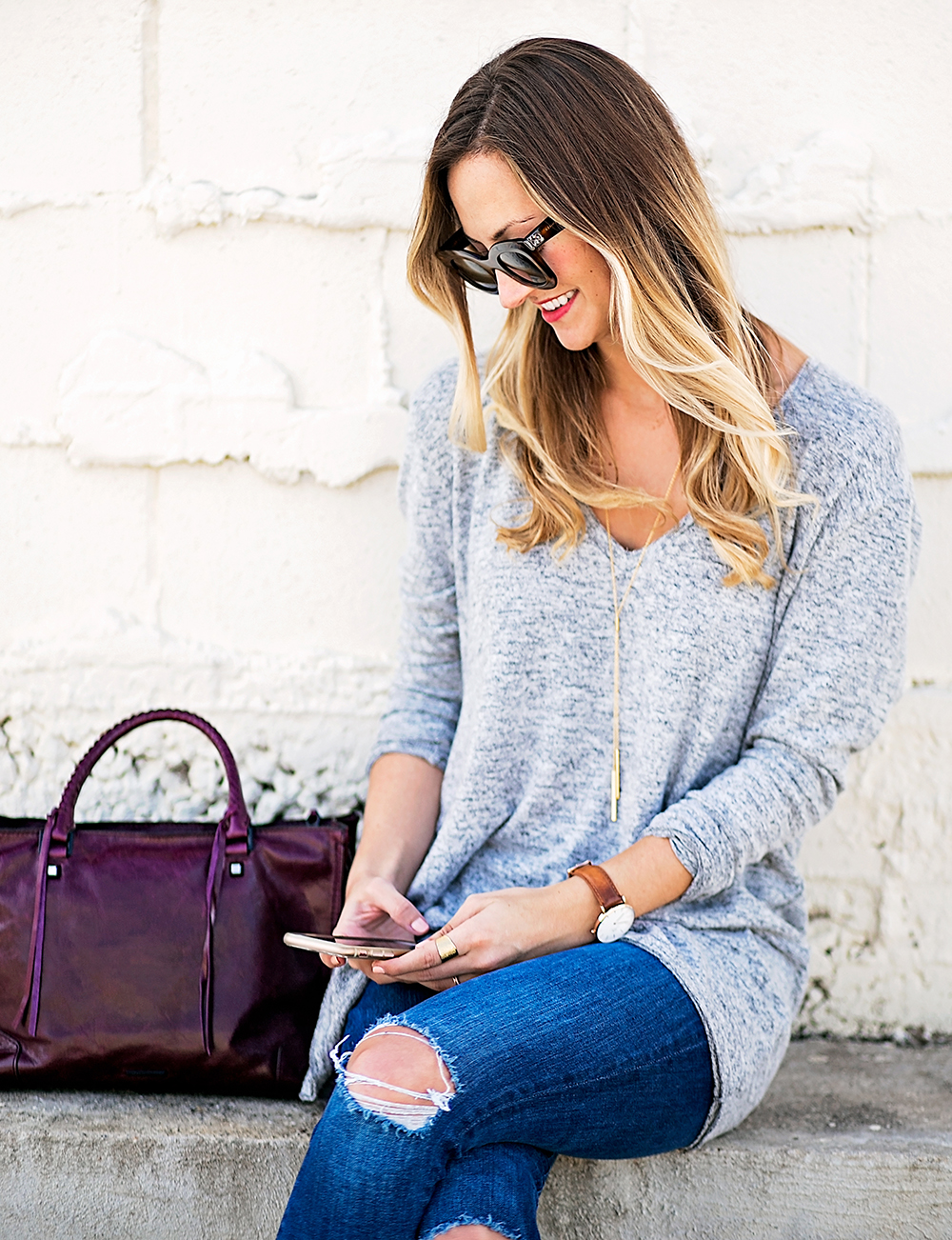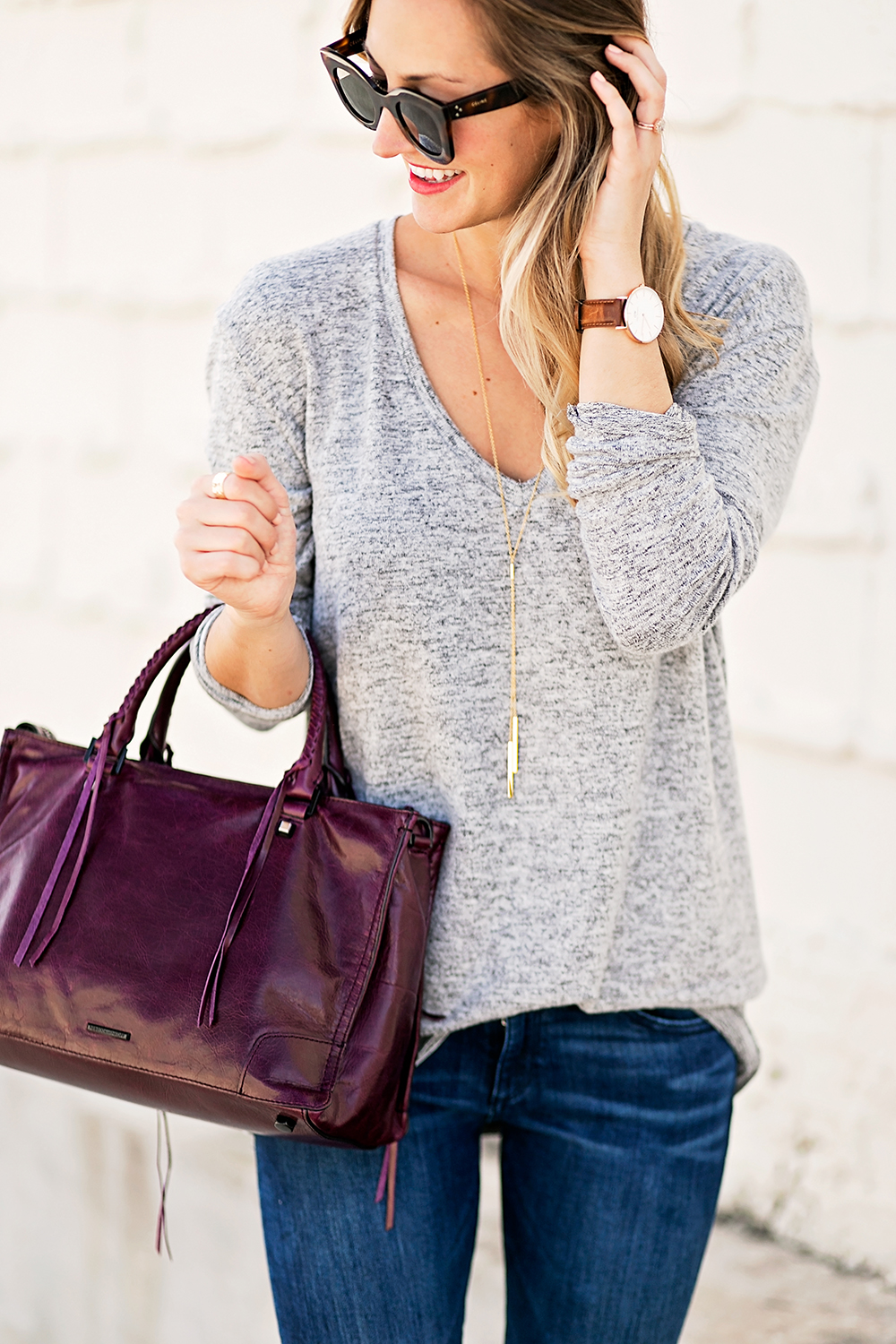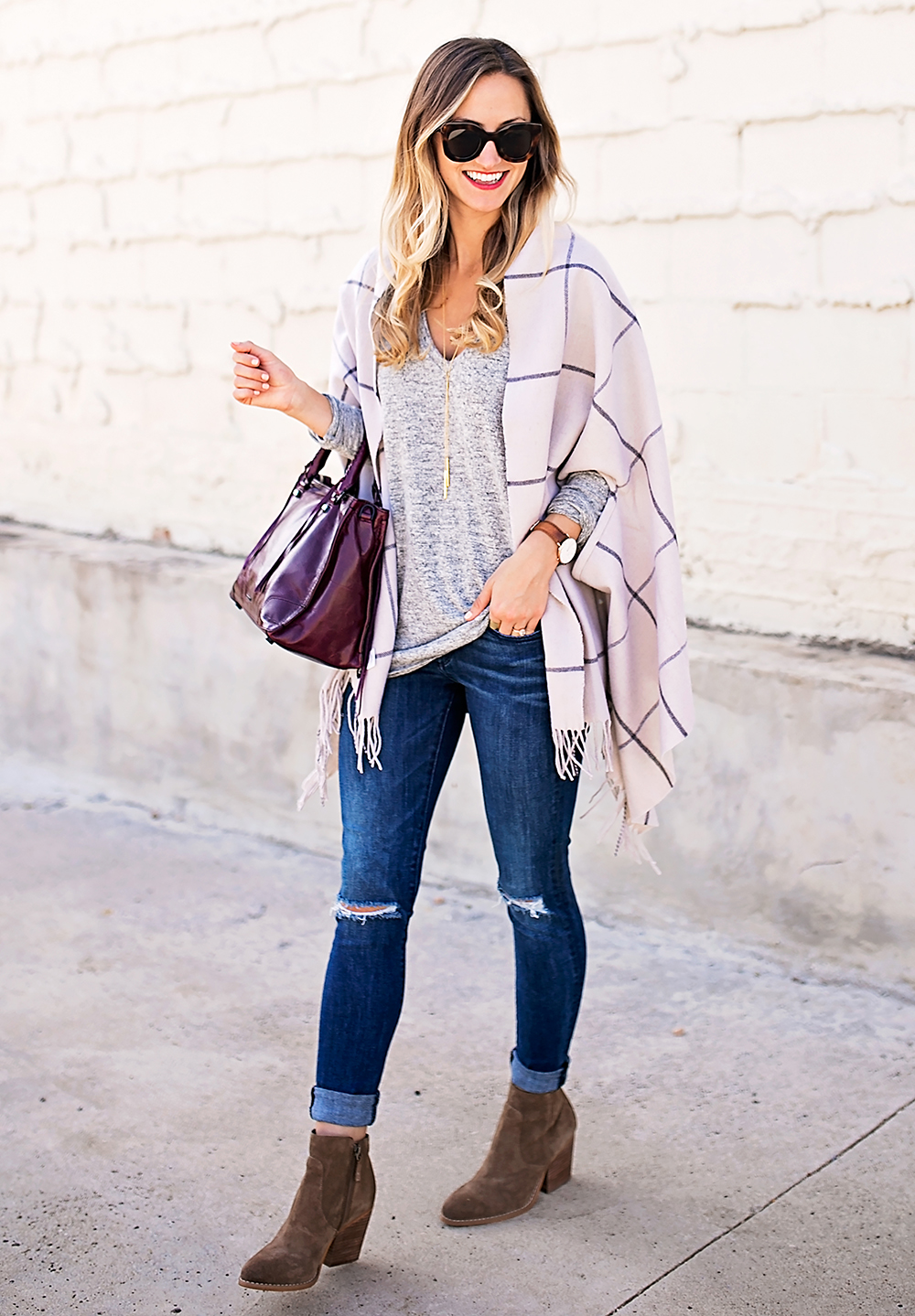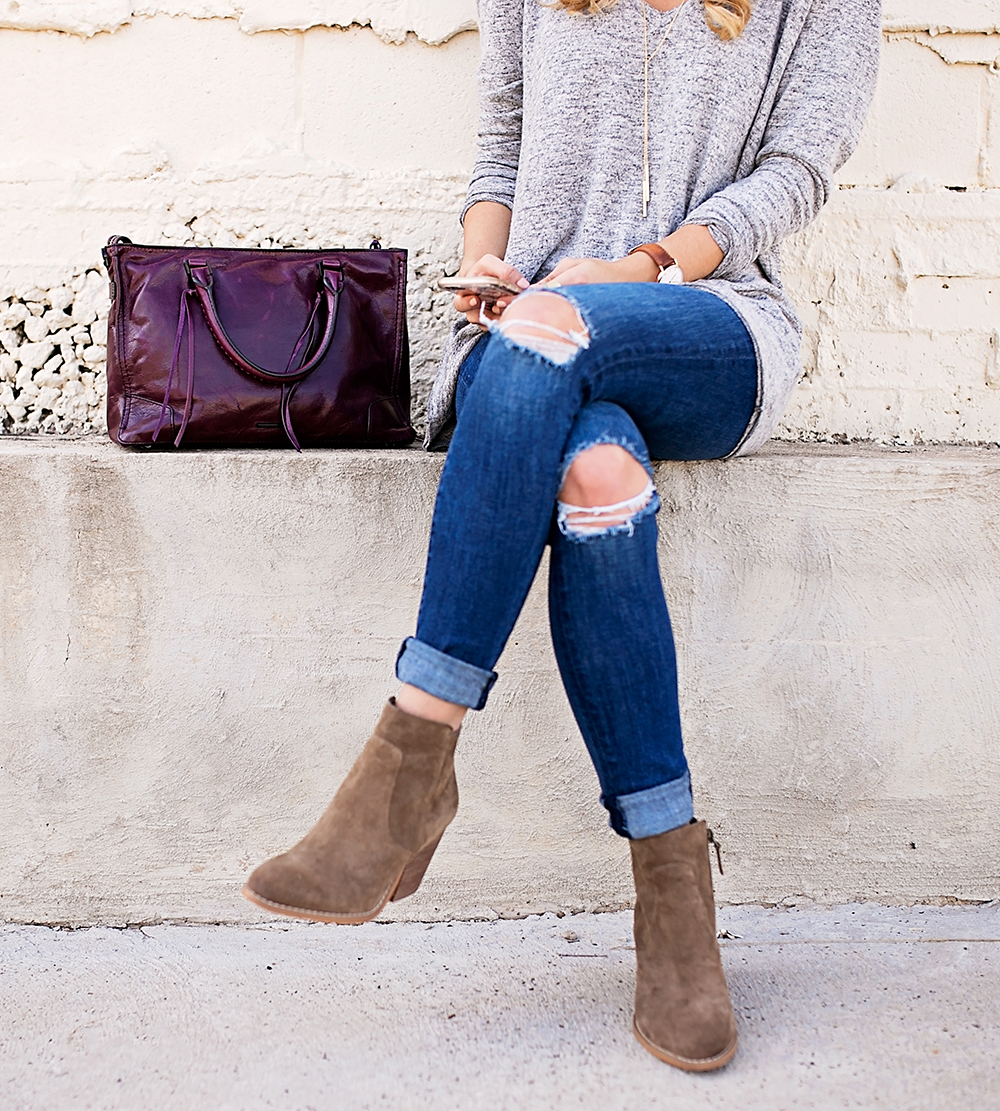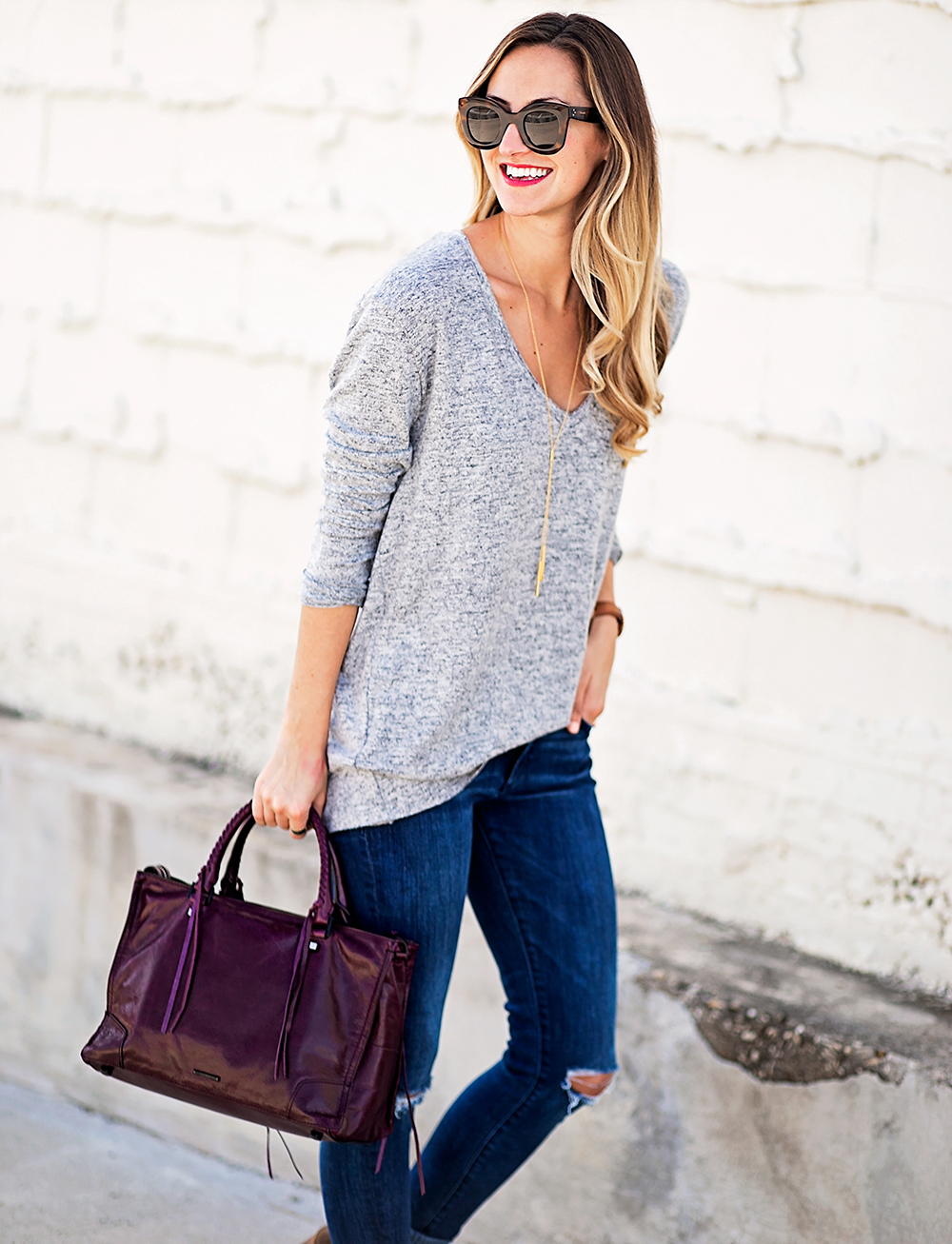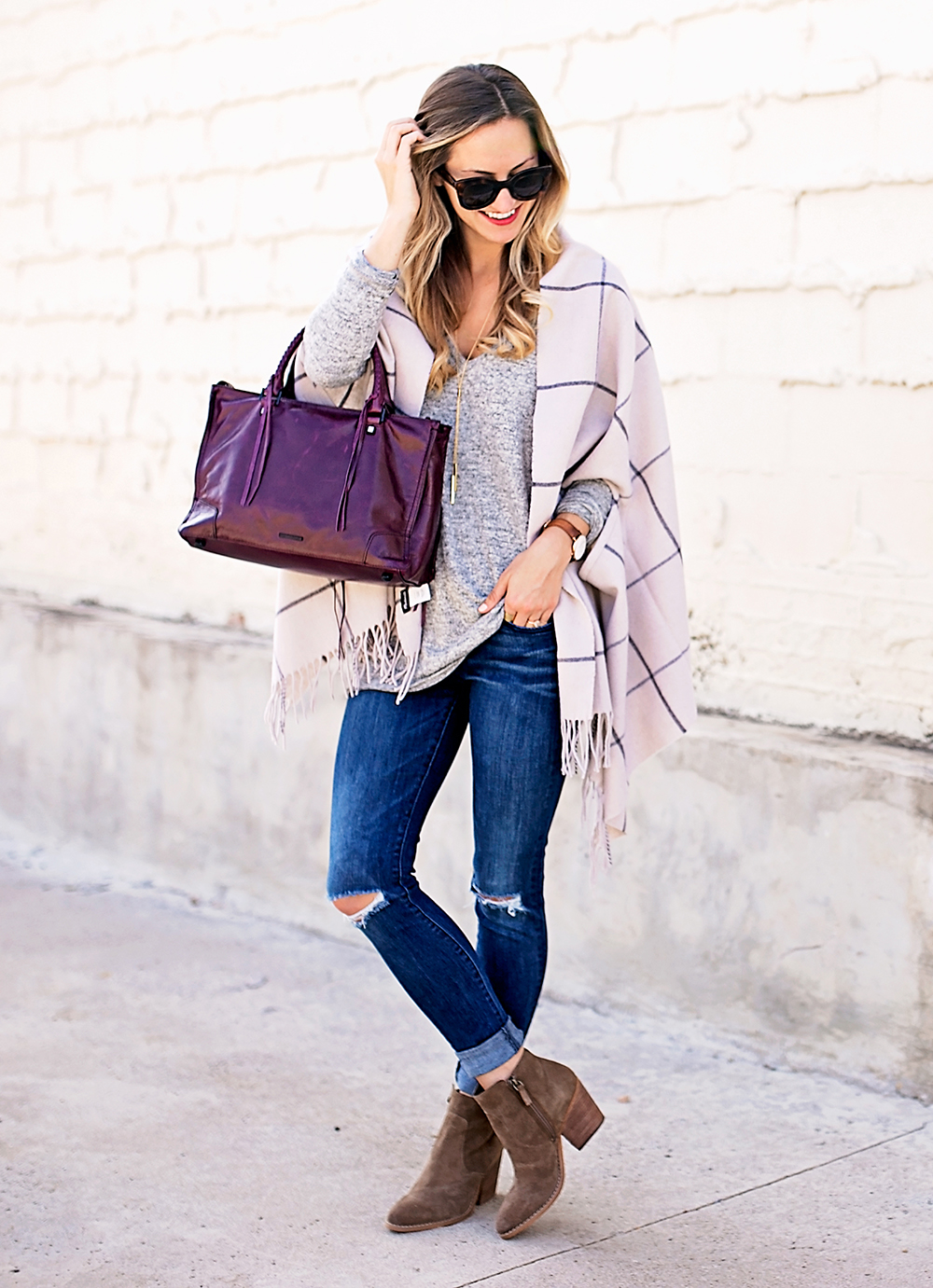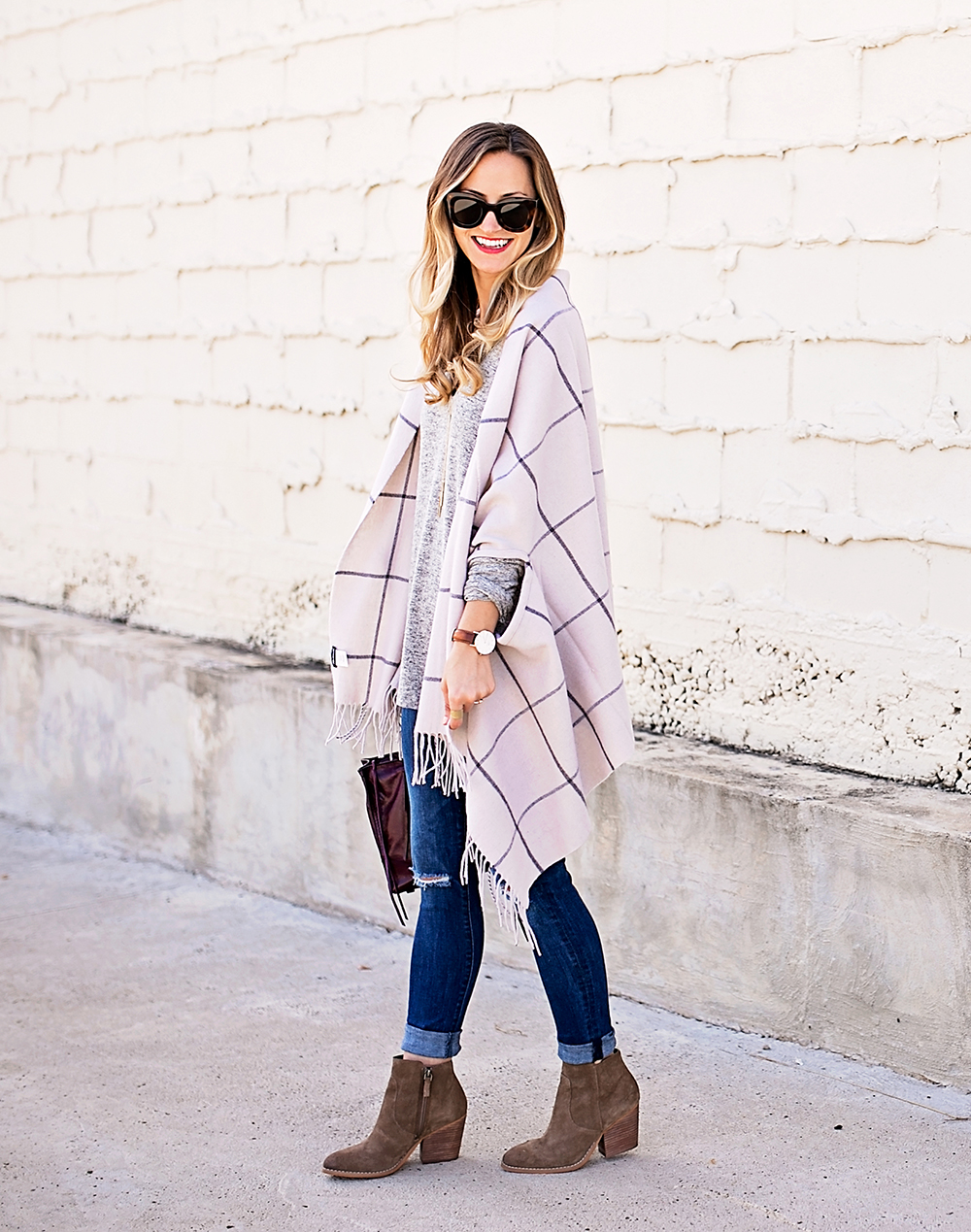 More than ever, I've become super interested in playing up an outfit with a fun handbag. When I used to work for Kendra Scott Jewelry, we would say that "clothing is a canvas for accessories" – and in some instances, I completely agree! (Of course, there are always those unique clothing items that can stand alone without a statement necklace or colorful handbag, etc.). I think this outfit is certainly adorable without the color pop from the handbag, but this gorgeous Rebecca Minkoff purse is really makes you do a double take. I scooped up this leather beauty from Nordstrom and I'll admit, it was tough to narrow down my shopping cart after perusing their stunning assortment of handbags! From Chloe (hey, a girl can dream, right? 😉 ) to Kate Spade, to Rebecca Minkoff and a ton more, Nordstrom carries something for everyone. I am also enamored with all things burgundy this season, so going for that color just made sense (especially when the majority of my closet is filled with neutrals!).
My poncho is by Madewell and it is daaaarling! It has armholes, so you're not moving about awkwardly or trying to keep it up on your shoulders while running errands, etc. It also comes in a charcoal color, but as y'all know, I am all in when it comes to anything "oatmeal" colored!
That cozy grey v-neck sweater is a MUST (yes, worthy of an all caps moment!) because it is insanely soft (as in, you'll wear it all day then basically want to wear it as pajamas, too, ha!) and it's super flattering! It comes in a bunch of color options and is under $40. I'm wearing a size small for reference.
Alright gals, I hope you loved this classic fall look! Feel free to shop my outfit details below and take a look at the fabulous handbag selection at Nordstrom. Wishing you a beautiful day! XO
grey sweater – BP / poncho – MADEWELL / jeans – DL1961 / boots – TREASURE & BOND / sunglasses – similar NORDSTROM / handbag – REBECCA MINKOFF
SHOP MORE BURGUNDY HANDBAGS
A big thank you to Nordstrom for sponsoring this post! All opinions are my own.