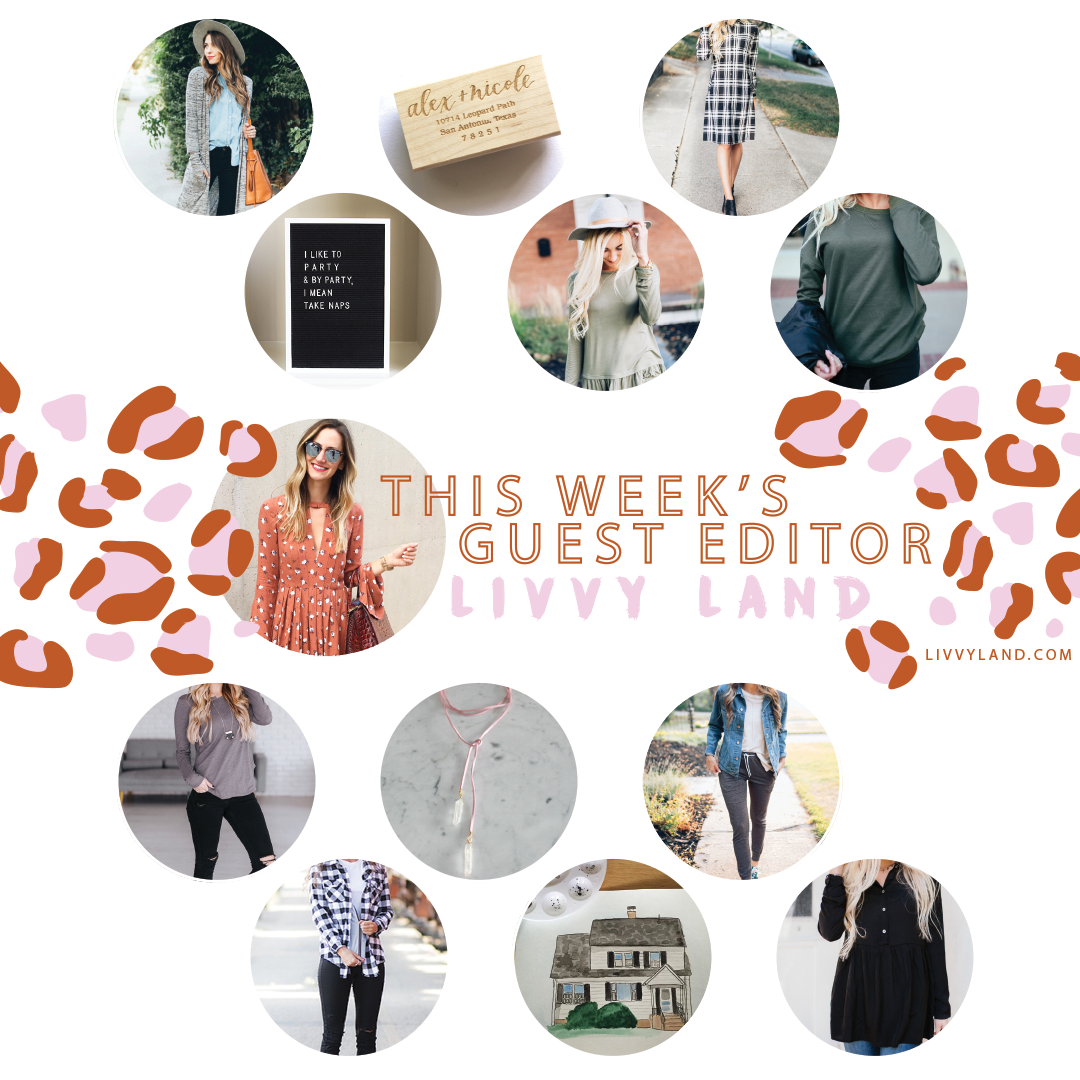 Happy Monday, friends! I'm SO excited to share that I've been chosen as this week's Guest Editor of the Week over at Brickyard Buffalo! I have been a big fan of this site (and the amazing deals they provide each week) for quite some time, so when they reached out to collaborate, I immediately jumped at the opportunity! For one, their clothing is adorable (I'll share more outfits from my BB picks on my Instagram this week) and two, I get to feature some of my absolute FAVORITE small business brands with y'all – oh, and you get major discounts all week long, wahoo! 😉
Just in time for the holidays (hey, we're one day away from November, it's officially holiday shopping season in my book!), I am so thrilled to showcase a few online shops that will either help make your holiday snail mail a lot easier (…and cuter, obvi! 😉 gotta have fun with those family photo cards!) by way personalized address stamps by Exquisite Squid, or the prettiest trendy blush pink choker necklace by CJK Designs, and lastly, a custom watercolor painted home (trust me, these make for THE sweetest gifts to parents, siblings, grandparents!) by Kimberlee Artworks.
So! Without further ado, I'm giving you a closer look at the vendors that I love dearly (and a few favorite clothing picks on major sale) currently featured in my BB picks of the week! Enjoy!!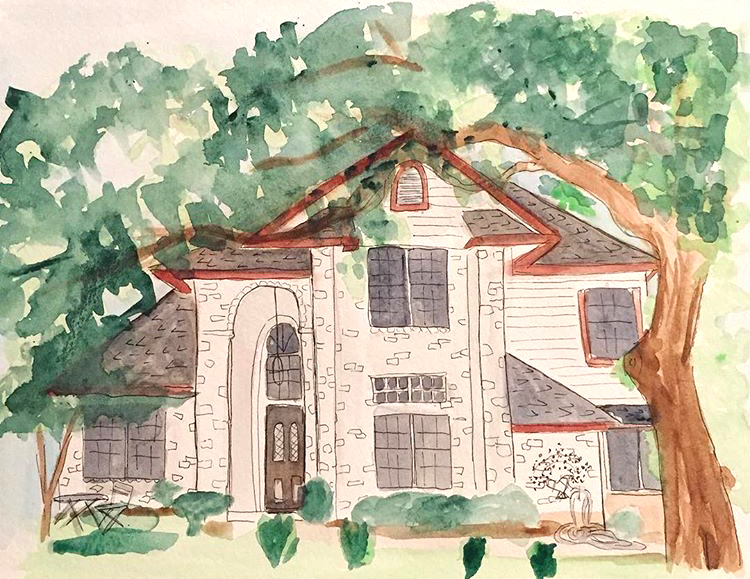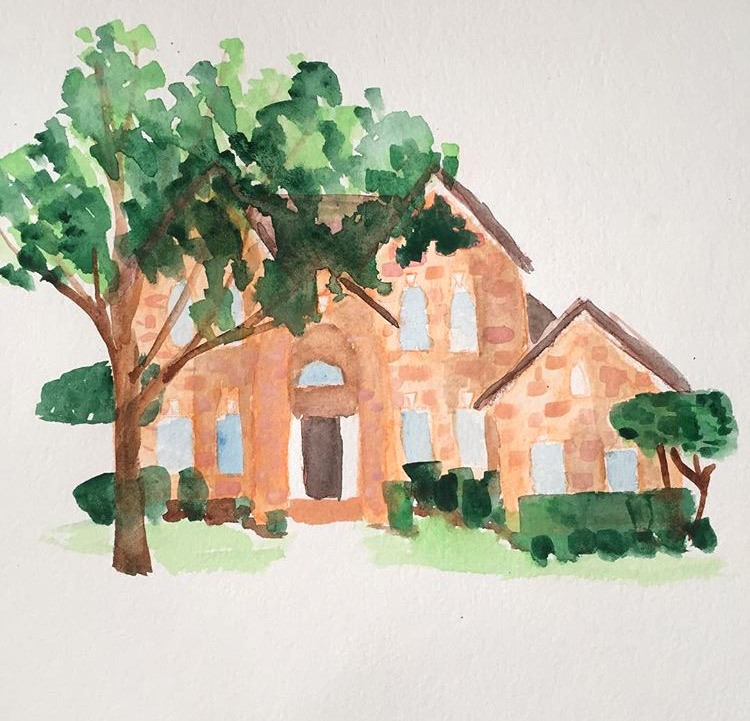 Y'all have likely seen me gush about Kimberlee Artworks paintings because 1. Kimberlee is my sister and she's a wonderful person (sistaaas = built in BFFs) and 2. her paintings are SO AMAZING! Blake and I basically only have art by Kimberlee in our apartment (ha! hey, perks of having an awesome artist in the fam), but I knew I wanted to feature her custom house paintings in particular for this post because they make for THE sweetest holiday gifts! She painted one of my parents house and gave it to my mom last year for Mother's Day, and even I cried when I saw the painting because there's something so personal and sentimental about a childhood home. Whether it's a gift to your parents, grandparents or perhaps someone you know is a first time home owner and you want to surprise them with something extra special, a custom watercolor home painting is a definite tear jerker and overall magical gift to give and receive. This week through BB, you can get a custom painting for $80 (regularly $100). Shop it here.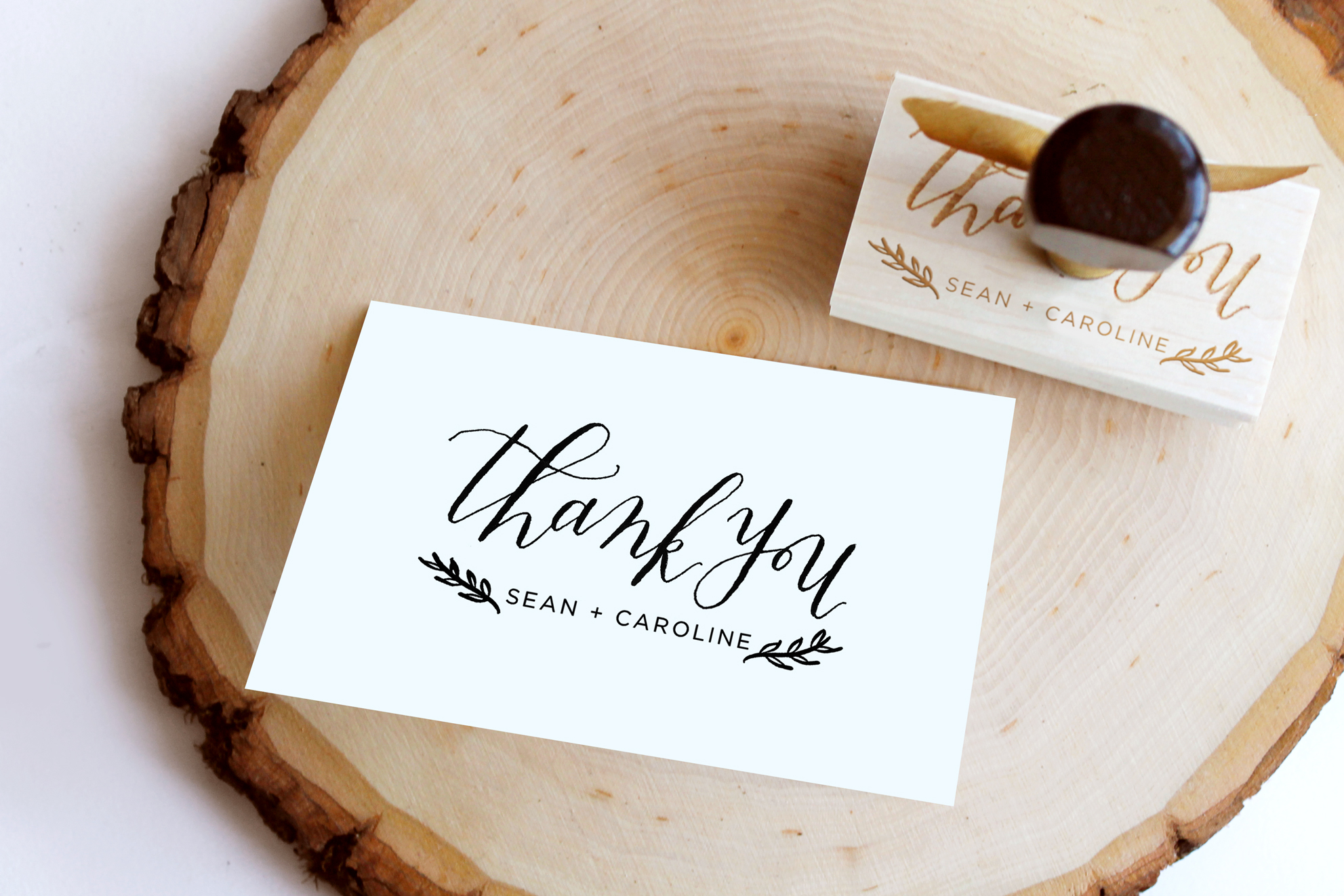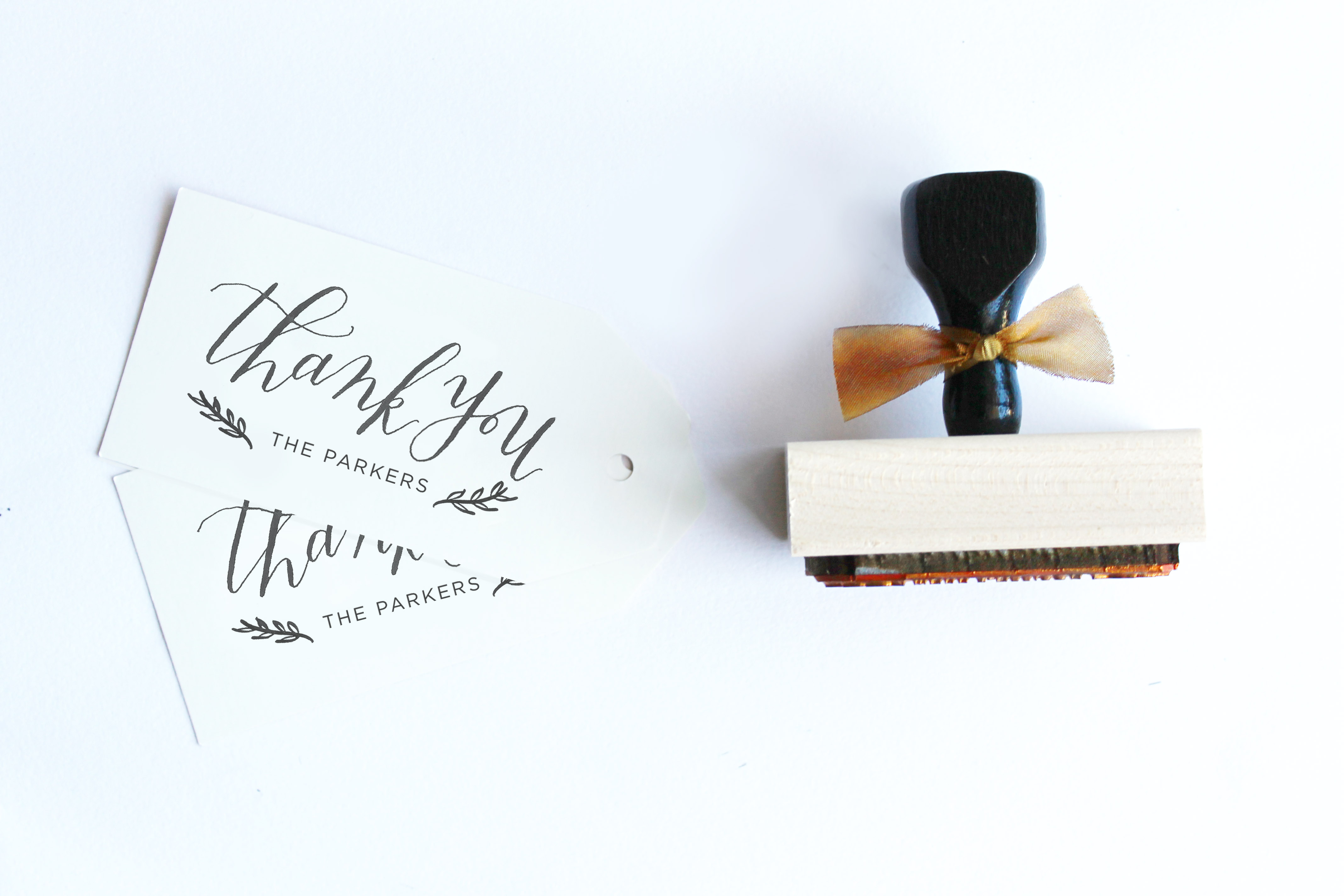 Another favorite vendor of mine is Exquisite Squid, owned by one of my good friends Allison Hembd (we met in college and have both been major supporters of each other as we pursue and run our own businesses – she is an absolute doll and so talented!). By now it's very clear to see that I like personalized gifts, bags, notes – you name it, I am all about that custom, personal touch! Thus, scooping up either a personalized address or "thank you" stamp is really a gift that keeps on giving for years and years to come. Whether it's for yourself just in time to send out those holiday cards, or perhaps you just got married and have hundreds of thank you notes to send out (…hi, that's me! 😉 ), a personalized stamp in Allison's gorgeous calligraphy handwriting is a must. This week through BB, you can get a personalized, hand lettered stamp for $19.99 (regularly $28). Shop it here.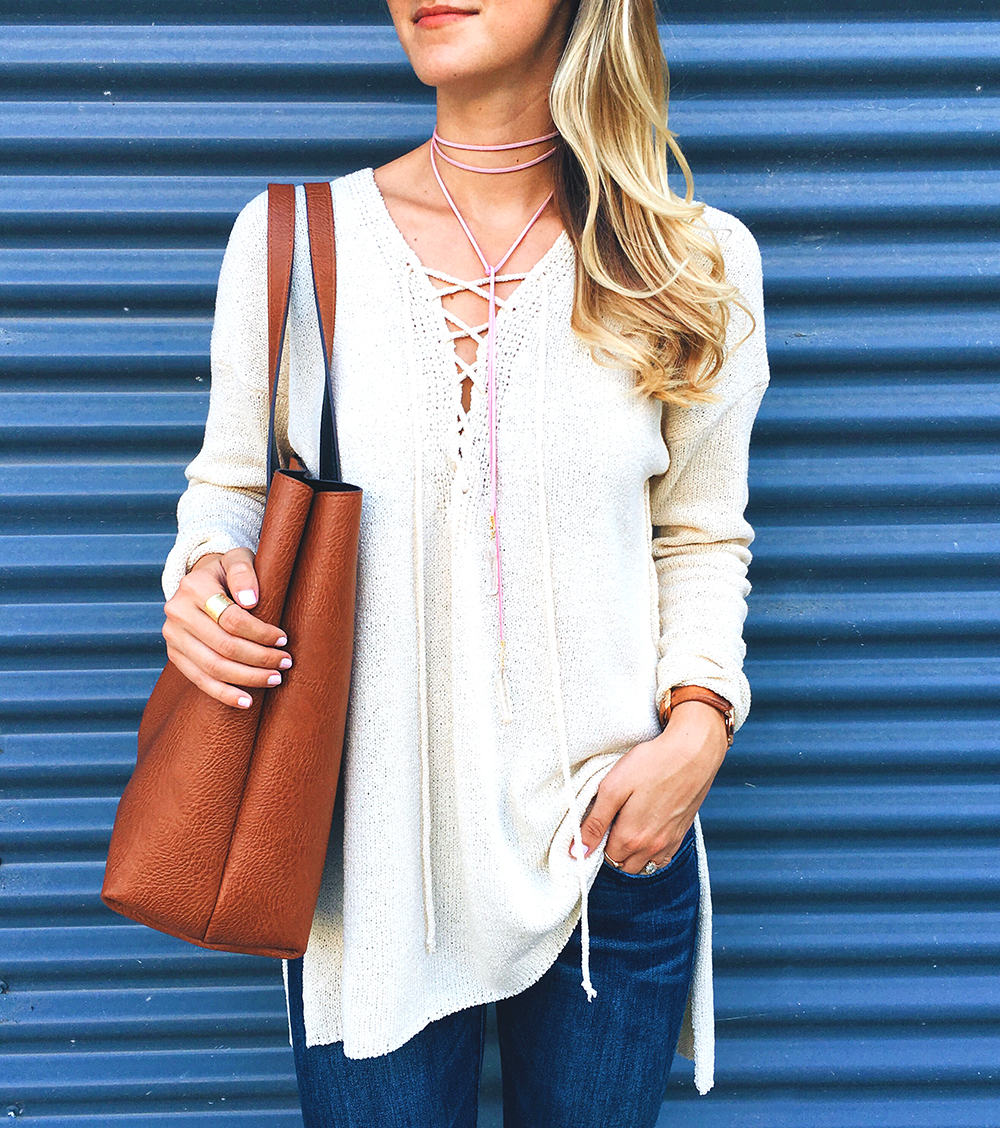 Last but not least, another brand I'm excited to share with y'all is CJK Designs, by Colby Kruger – another talented fashionista who makes handmade suede wrap choker necklaces (…that I can't seem to get enough of these days!). Though I love every color she sells, the blush pink is my favorite because it's still has that boho vibe, but it's sooo feminine and lovely – which you don't generally see when it comes to choker necklaces! The choker necklace trend will definitely be sticking around through 2017, so if you need a foolproof gift idea for a fashion lover in your fam, definitely scoop one up while they're 20% off this week! (Ps. The packaging is quite adorable, too..I'm always a sucker for that "butterfly effect" when you open up an online purchase). This week through BB, you can get a pretty blush choker of your own for $25 (regularly $30). Shop it here.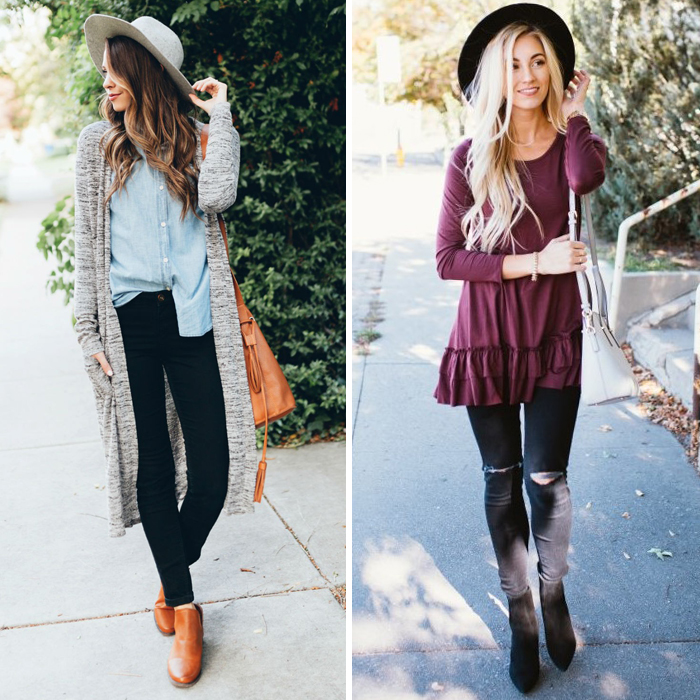 The BB team selects a few extra deals to add to the mix, but I got to pick out some clothing items I am loving for fall! Like this long cardigan (so cute) and ruffled tunic – both on sale for under $25 this week!
There are SO many amazing deals in my BB picks of the week, so definitely go scope out my full list of favorites! 🙂 Enjoy, XOXO!!