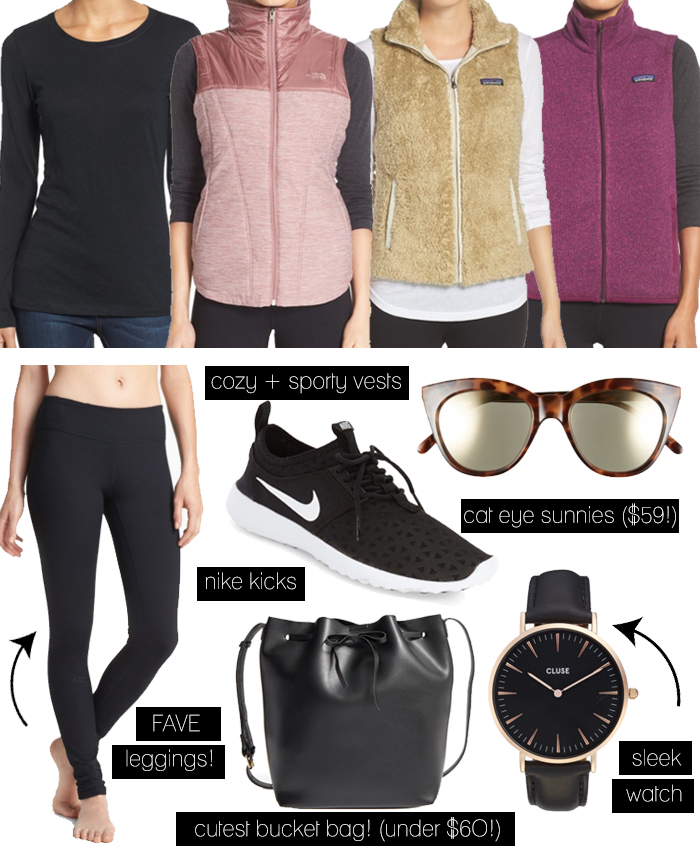 Happy Friday, ladies! I'm excited to partner with Nordstrom today and share another fabulous outdoors-y outfit option with y'all…and in particular, this gorgeous vest + leggings (trust me, these are a must), sneakers combo!
Given that fall weather is still making its way to Austin (…please hurry up! 😉 ), opting for light layers that you can easily take on and off and re-wear time and time again is a definite do in my book! I've never met anyone who isn't into the "sporty-chic" look (…I mean, who wouldn't be? It's cute and SO comfy!), so I knew this would be a fun one to share today! Plus, perfect timing as we mosey on into the weekend…I kind of feel like this is the perfect Saturday outfit, anyone else? 😉
Ps. I made a collage of my go-to activewear favorites and included a few fun accessories to add that fashionable touch. The vest I'm sporting in this post is actually closer in color to the product image (more of a "dusty rose" and less a vibrant pink). Scroll to the end of this post for all my product links!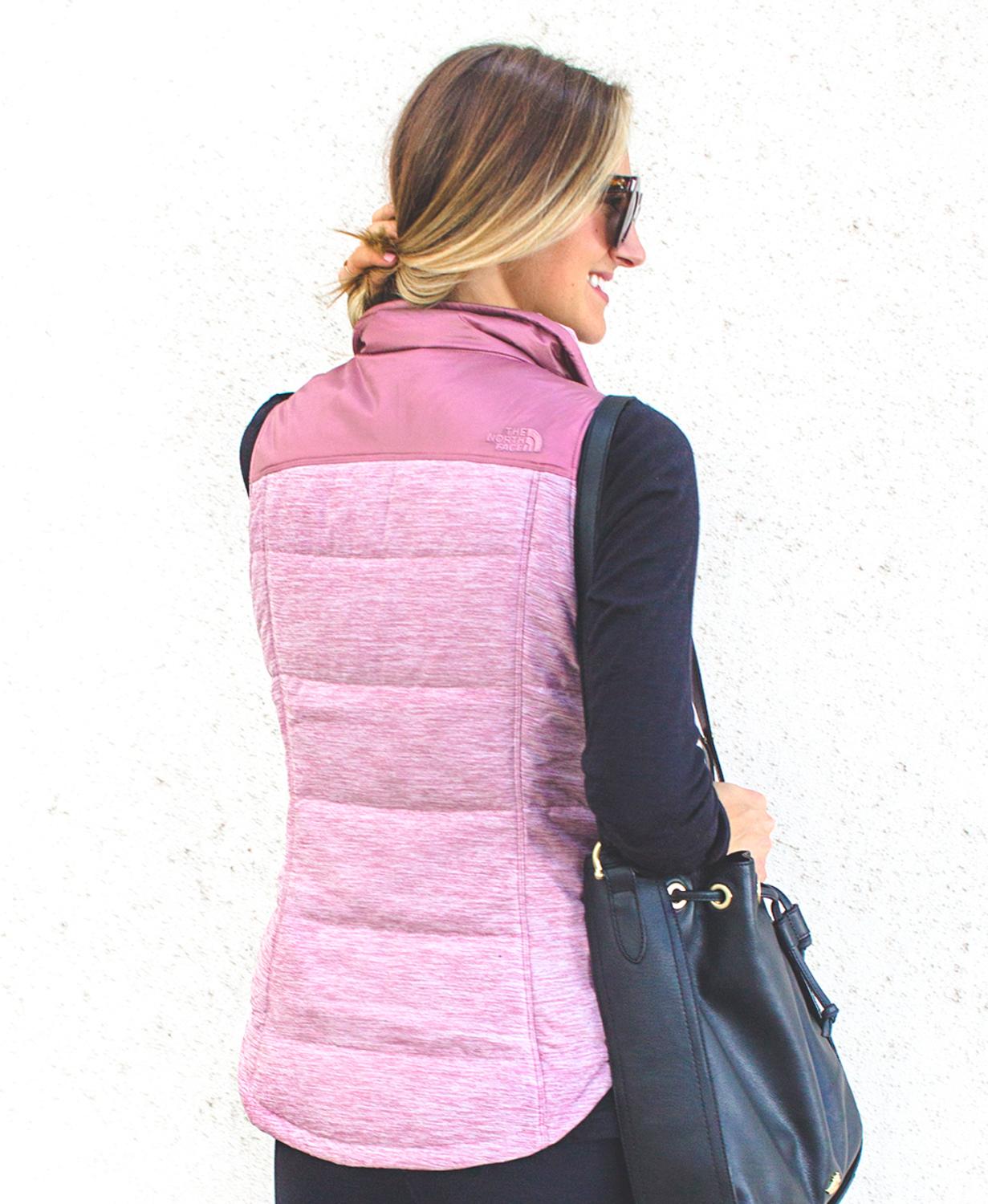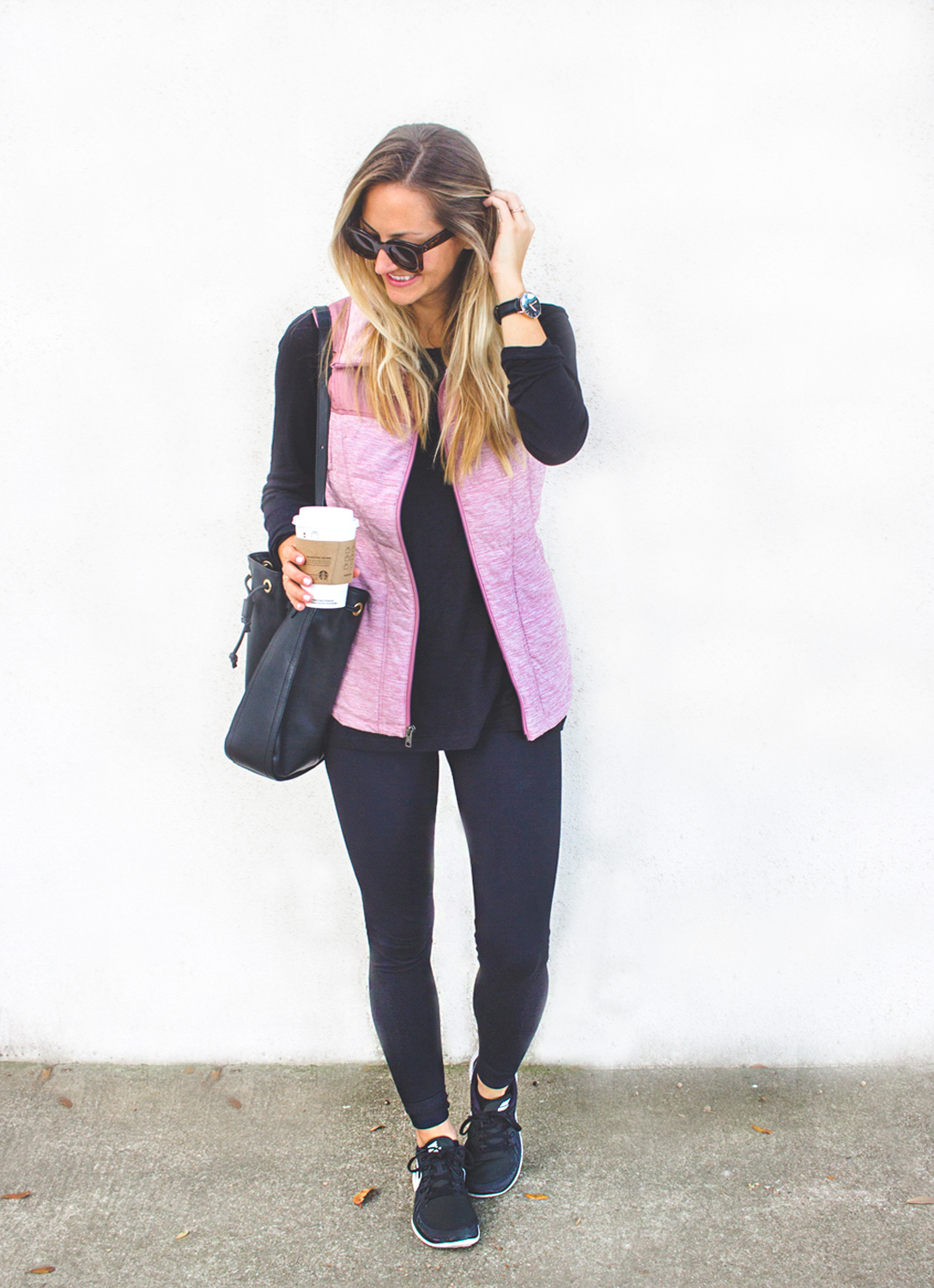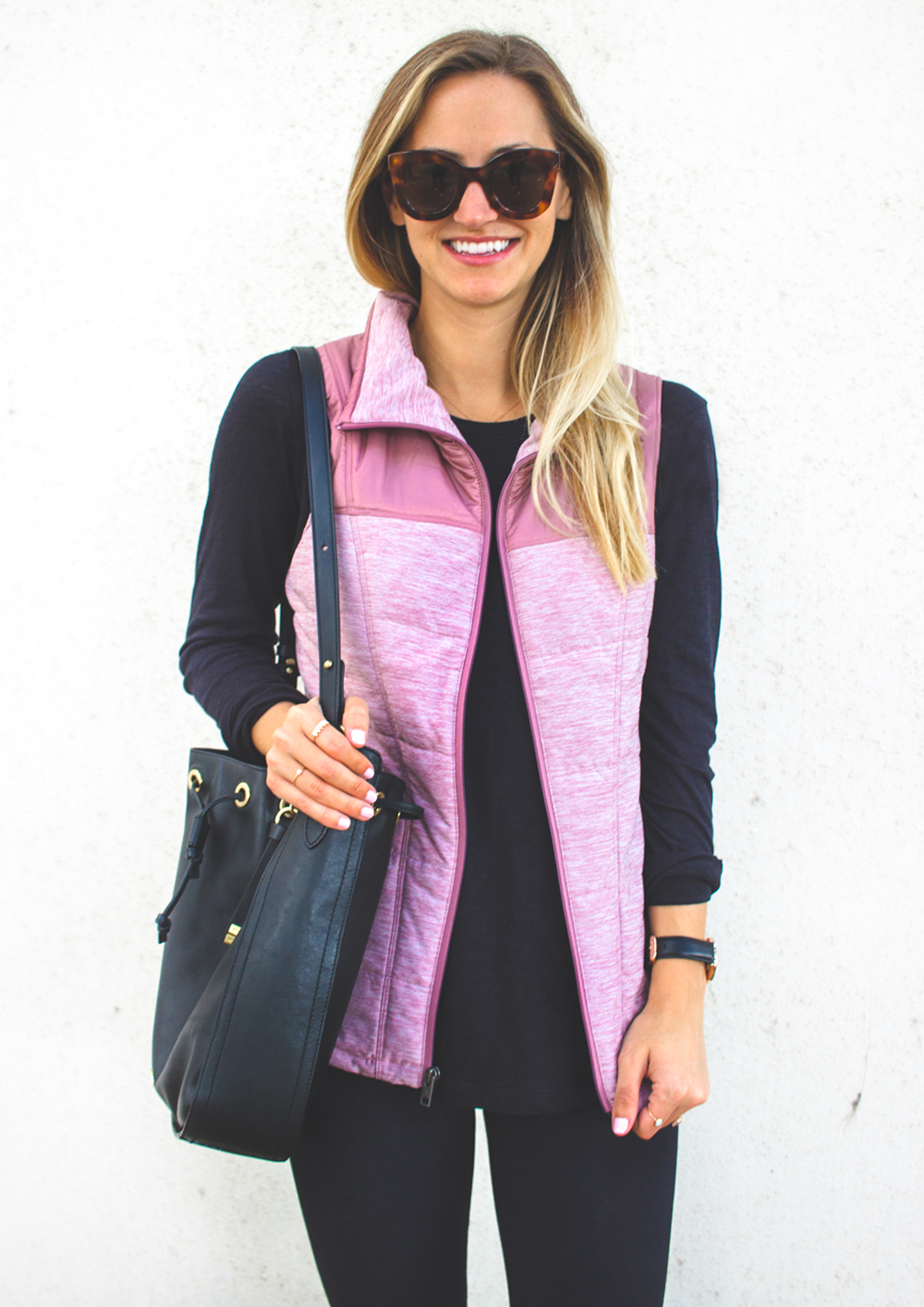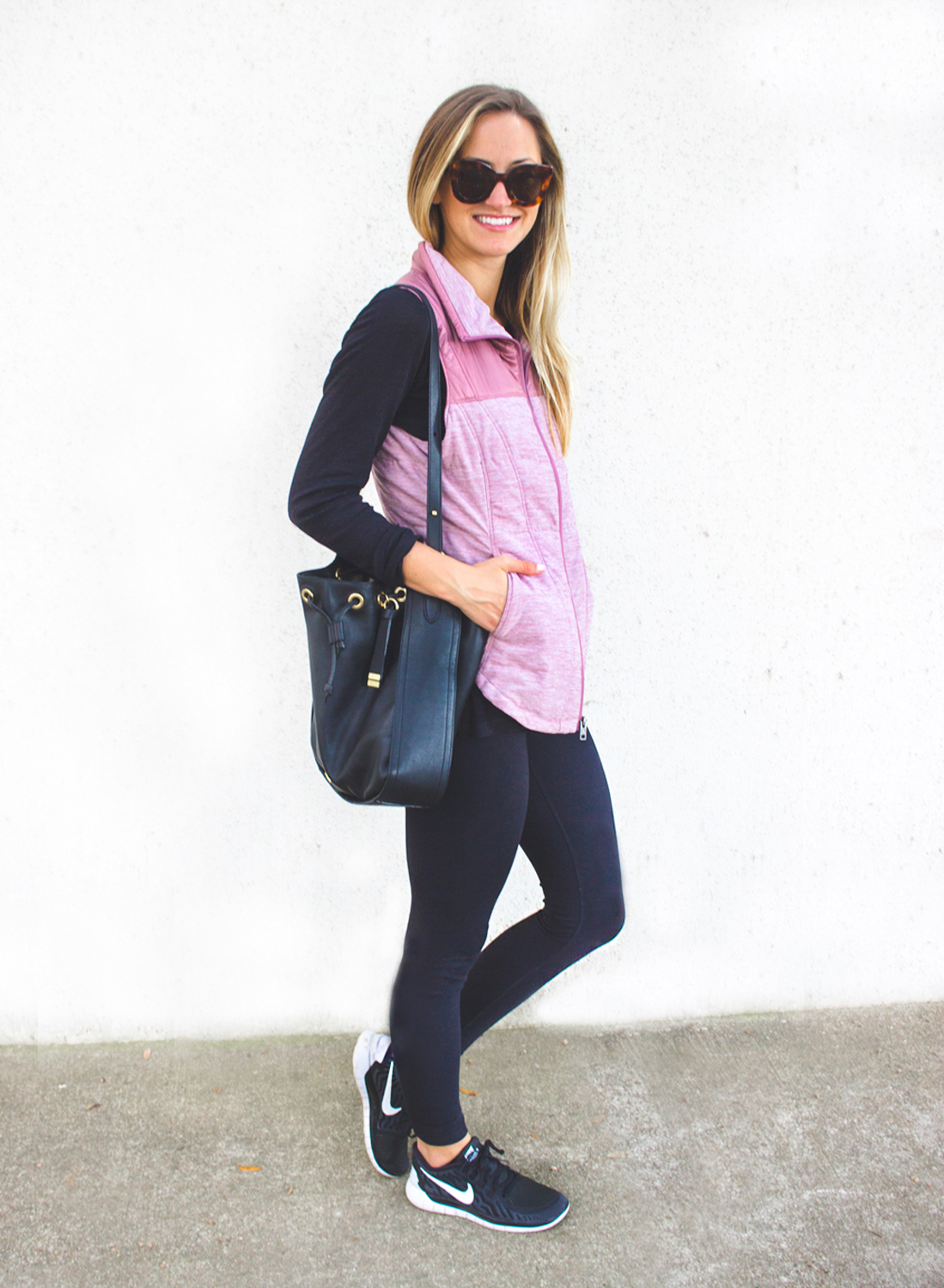 Though I'd love to be on a proper exercise schedule, my recent travels (…and overwhelming daily to-do's) won't exactly allow for that at the moment. However, I still try to get outside as much as I can – I'm a firm believer in the power of Vitamin D and have always felt that natural light gives me such a boost of positive energy. That said, though I may not be doing squats or running three miles in this look (…although you totally could if you nix the Starbucks and handbag, ha!), I am however tending to errands all over town, grabbing coffee (of course 😉 ), playing with my nieces and nephews in my parents backyard (toddlers = climbers) and taking a nice little stroll to our mailbox (one of my favorite parts of the day!).
Oh! And I should also mention that this outfit = SO GOOD for the airport and traveling! Leggings are a must for a long plane ride and the vest keeps you warm without overheating, highly recommend for a fall getaway!
Nordstrom carries so many amazing activewear brands, and one that I've always loved The North Face (the maker of this pretty vest I have on). When I worked in the Activerwear department at Nords years back, I bought myself a North Face zip up and I am not even kidding when I tell you that I am still wearing today as I write this blog post, ha! Needless to say, the quality of this brand is outstanding and timeless (…a zip-up that's 6 years old? Umm, yes please!)…big fan over here! (In case you're wondering, my zip-up style is no longer available, but there's a very similar one here).
I think I have probably gushed over this pair of leggings before (I know I know, I just used "gushed" in reference to leggings…totally aware..!) buuut truly, I cannot say enough amazing things about them! I wear them to run in, to hit up the drive-thru line at Starbucks (shoutout to Ruby for always coming through with a hot latte and chocolate croissant!), to wear under dresses with boots…you name it, these Zella Leggings can do it all. I've also probably had this pair for way too long, but seriously…when they look good as new 5 years later, that's the type of thing worth investing in! Ps. They're super affordable, too!
If you haven't taken a peek at the amazing assortment of activewear at Nordstrom, today is THE day! From cozy vests, pullovers and jackets, to leggings, sports bras and light layerable tees, Nordies has you completely covered. Ps. Wearing a size small in the vest, medium in the Caslon tee for reference.
Have a fabulous Friday, gals! XOXO
featured vest – NORTH FACE / furry vest – PATAGONIA / magenta vest – PATAGONIA / leggings – ZELLA / tee – CASLON / shoes – NIKE / sunglasses – similar LE SPECS / watch – CLUSE / handbag – similar SOLE SOCIETY
A big thank you to Nordstrom for sponsoring this post! All opinions are my own.