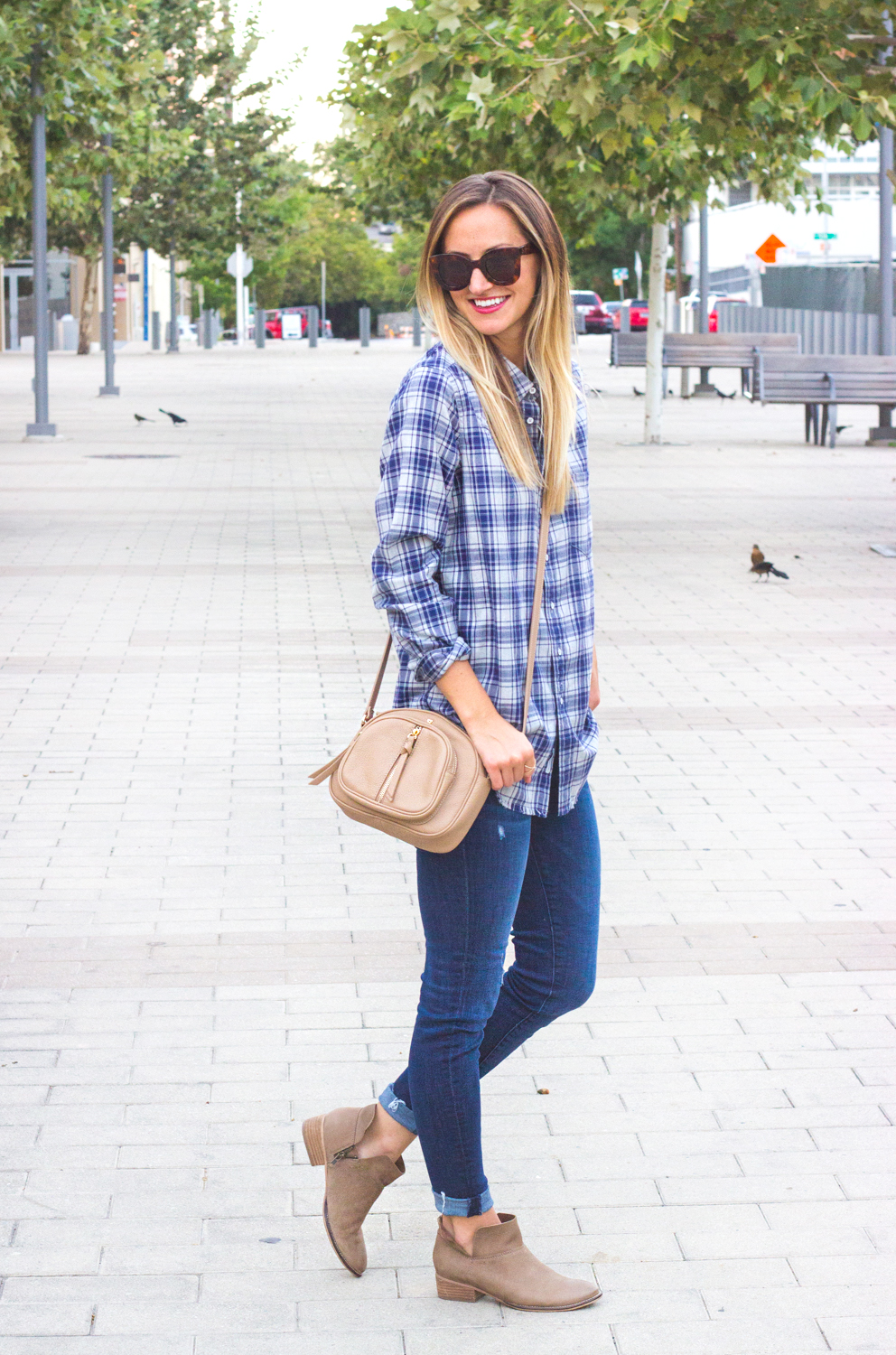 As y'all can tell, I am constantly gravitating towards casual, simple pieces that can be worn time and time again. That said, once the weather in Austin stops making us melt (ah!), it's time for me to bust out one of my go-to fall looks: plaid flannel, skinny jeans & ankle booties!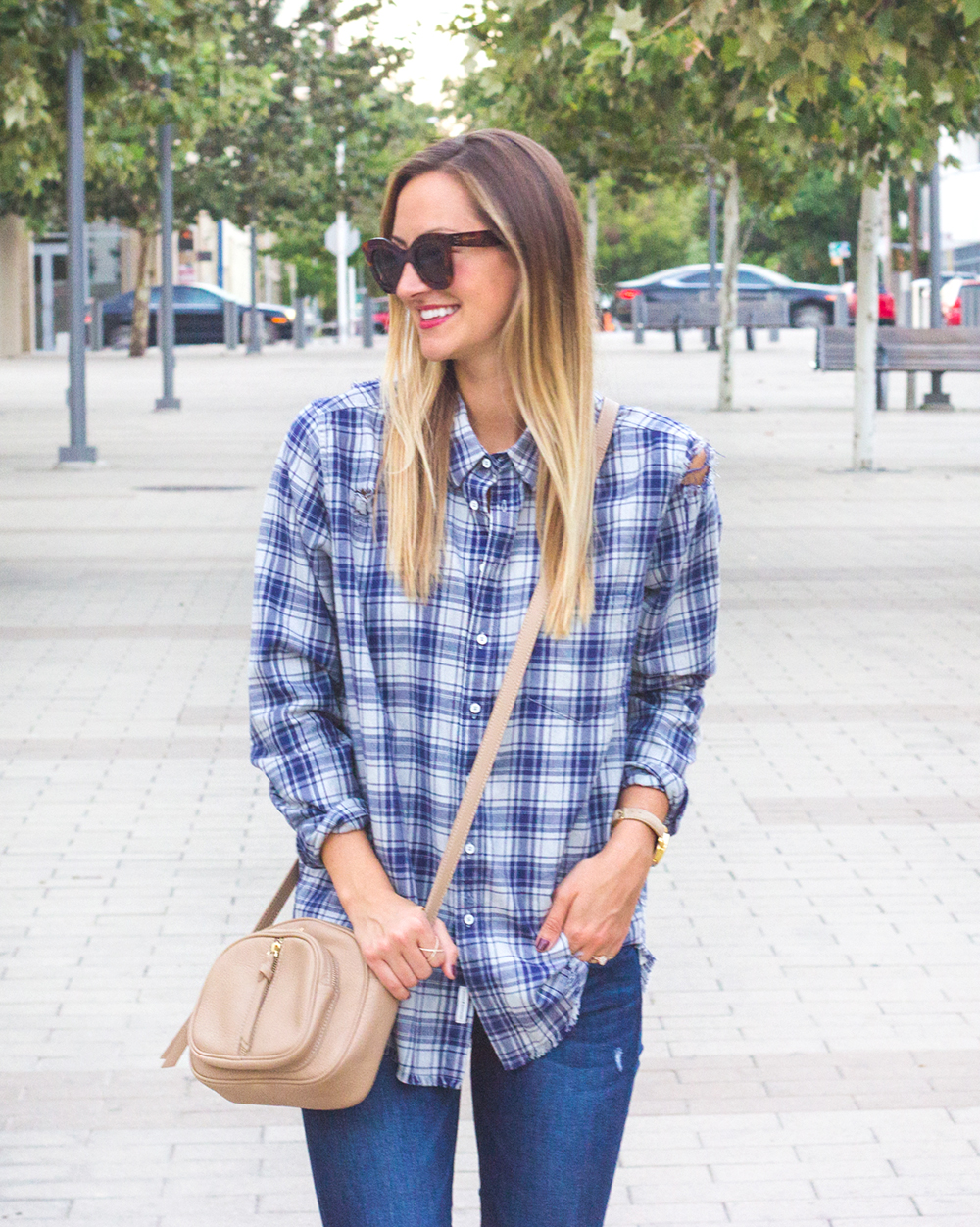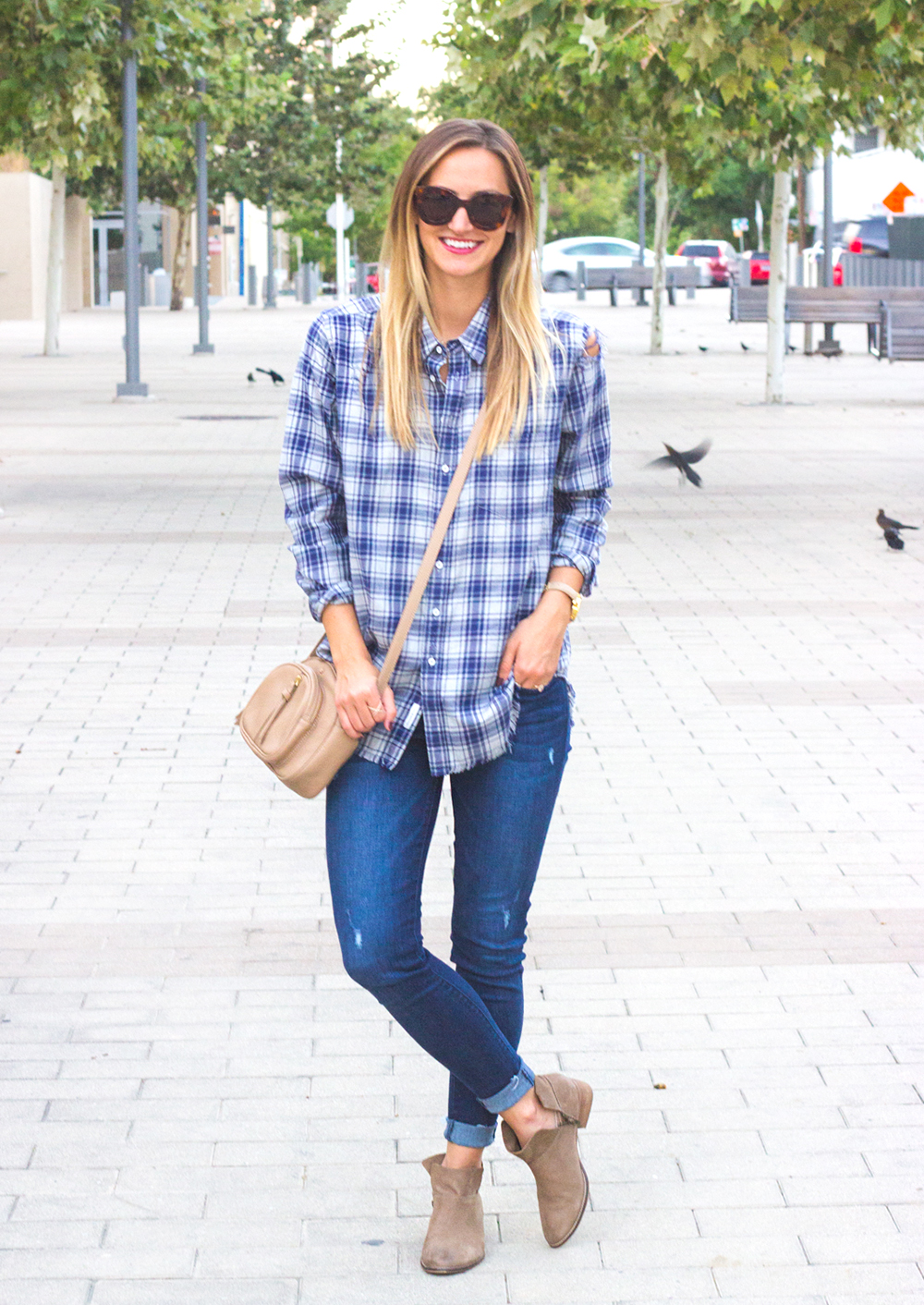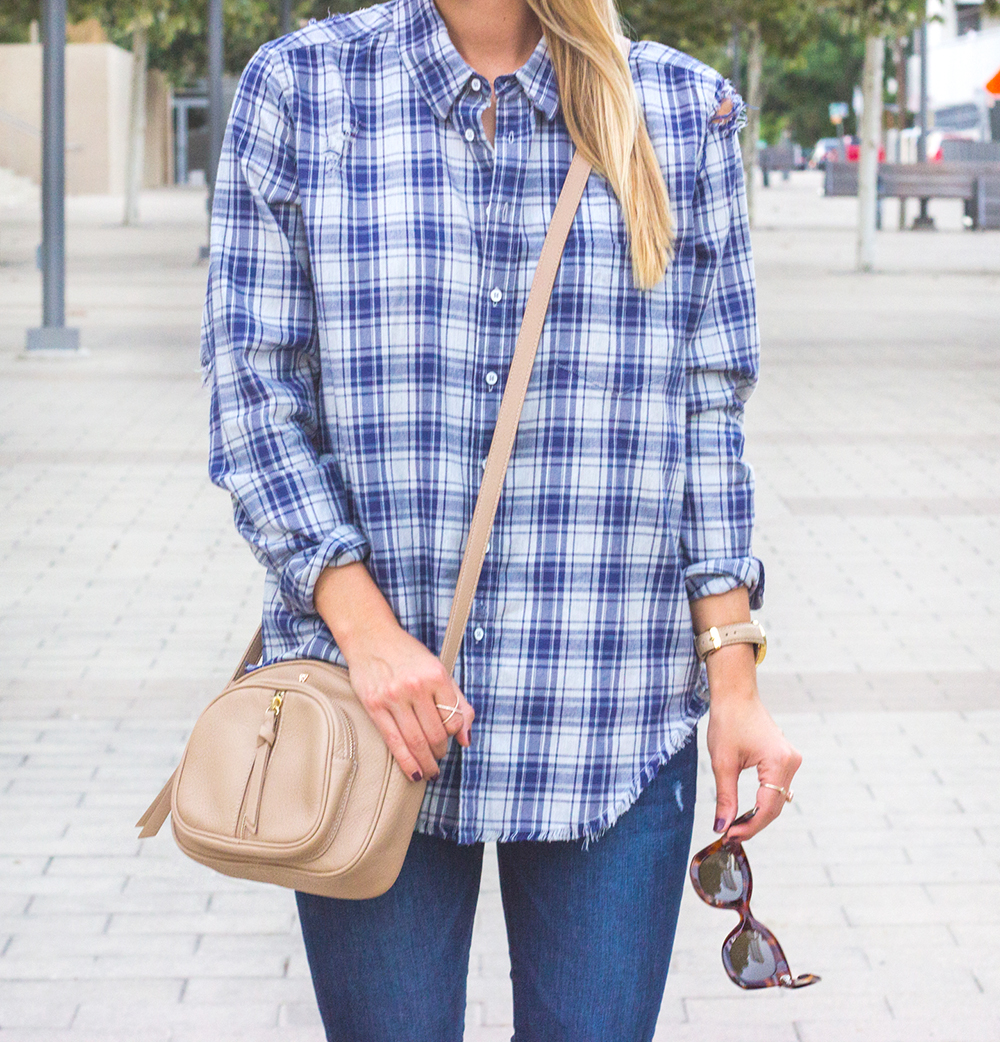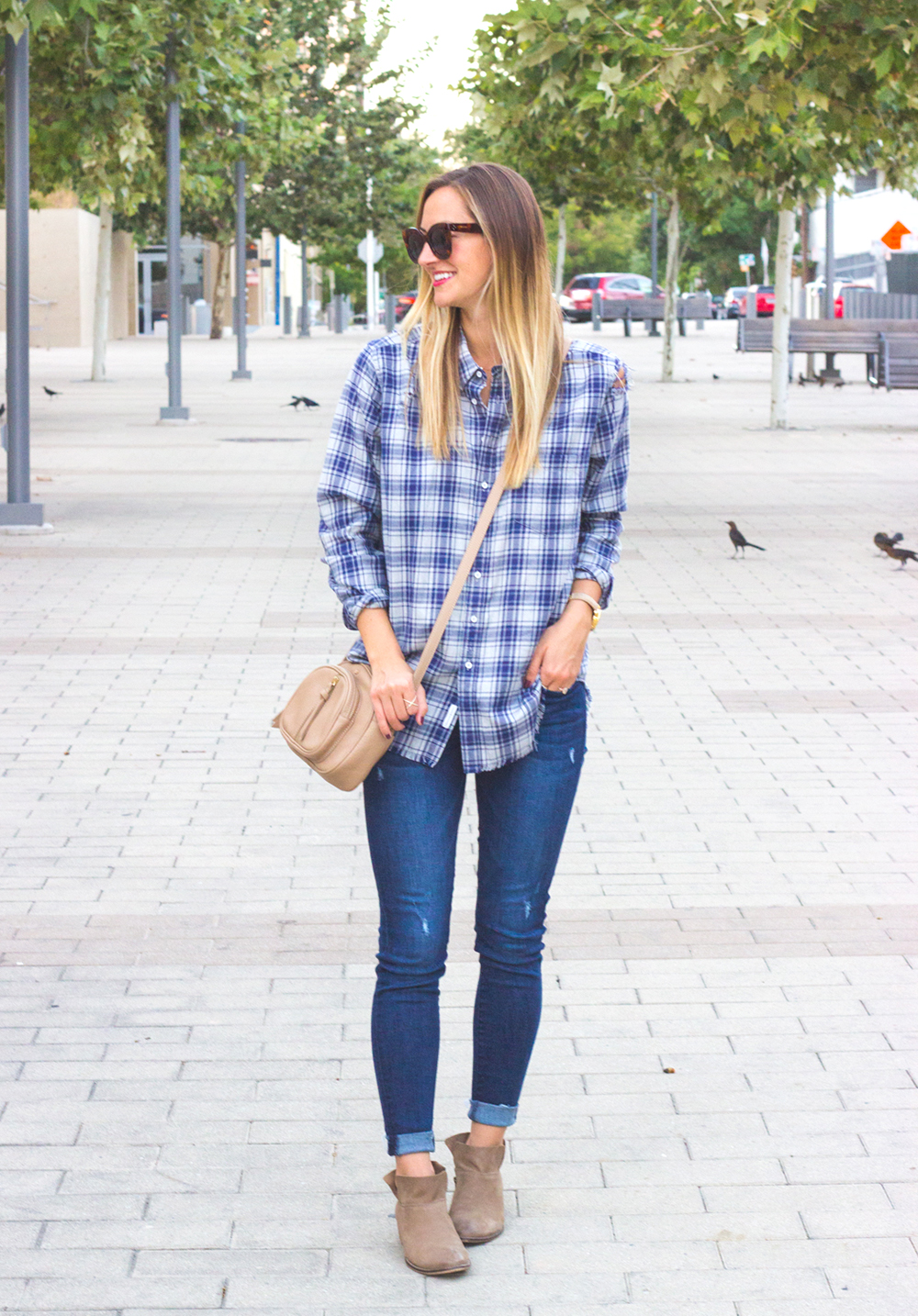 When I first started blogging two years ago, I scooped up a pair of ahh-mazing jeans by DL1961 (which I actually wore to dinner last night!) and have been a big fan of this denim brand ever since! Their jeans are truly incredible quality and last forever (..hence the higher price point – but yes, totally worth it!). Given the nature of my job, I am pretty tough on my denim…from running errands all over town, to rocking jeans while I create my Instagram posts (those flat lay images I like to post = lots of bending and squatting to get things just right, ha!), to traveling for days on end, let's just say I need jeans that can withstand the amount of moving I do in them! As you can see, I adore DL1961 and am onto my fourth pair (hey…when you find a brand that fits just right, why not get aaaall the colors, right? 😉 ), and this gorgeous pair in the photos above is one of them! I love the dark wash and little hints of distressing. They fit true to size for reference.
DL1961 also has tops on their site – everything is made beautifully but with a little edge, hence the frayed trim of my button up top and a few intentional rips here and there. I think these small details is what sets their Blue Shirt Shop apart from the rest, it's all very structured and made to fit just right, yet has these unexpected design details. I am wearing a size small in the top and it fits perfectly!
My shoes are by Seychelles (one of my faaaavorite brands for booties! Seriously, they're the best!!) and my handbag is SO gorgeous by Kelly Wynne – an Austin-based handbag designer. This purse is from her "Dear 512" line and I am LOVING the beautiful soft leather and the versatile color, such a fabulous bag to wear year round!
Alright gals, signing off to head to a meeting with West Elm! I'm staying mum for now, but let's just say my office is in need of a re-vamp (…we just signed another 14 month lease on our apartment, thus…I better get comfortable, ha!), excited to chat with their team and see what we can dream up! 😉 More on that later.. XOXO!
PS. Use code DLOCT16 to take 30% full-priced DL1961 denim, wahoo!
top – BLUE SHIRT SHOP / jeans – DL1961 / handbag – KELLY WYNNE / watch – MVMT / booties – SEYCHELLES