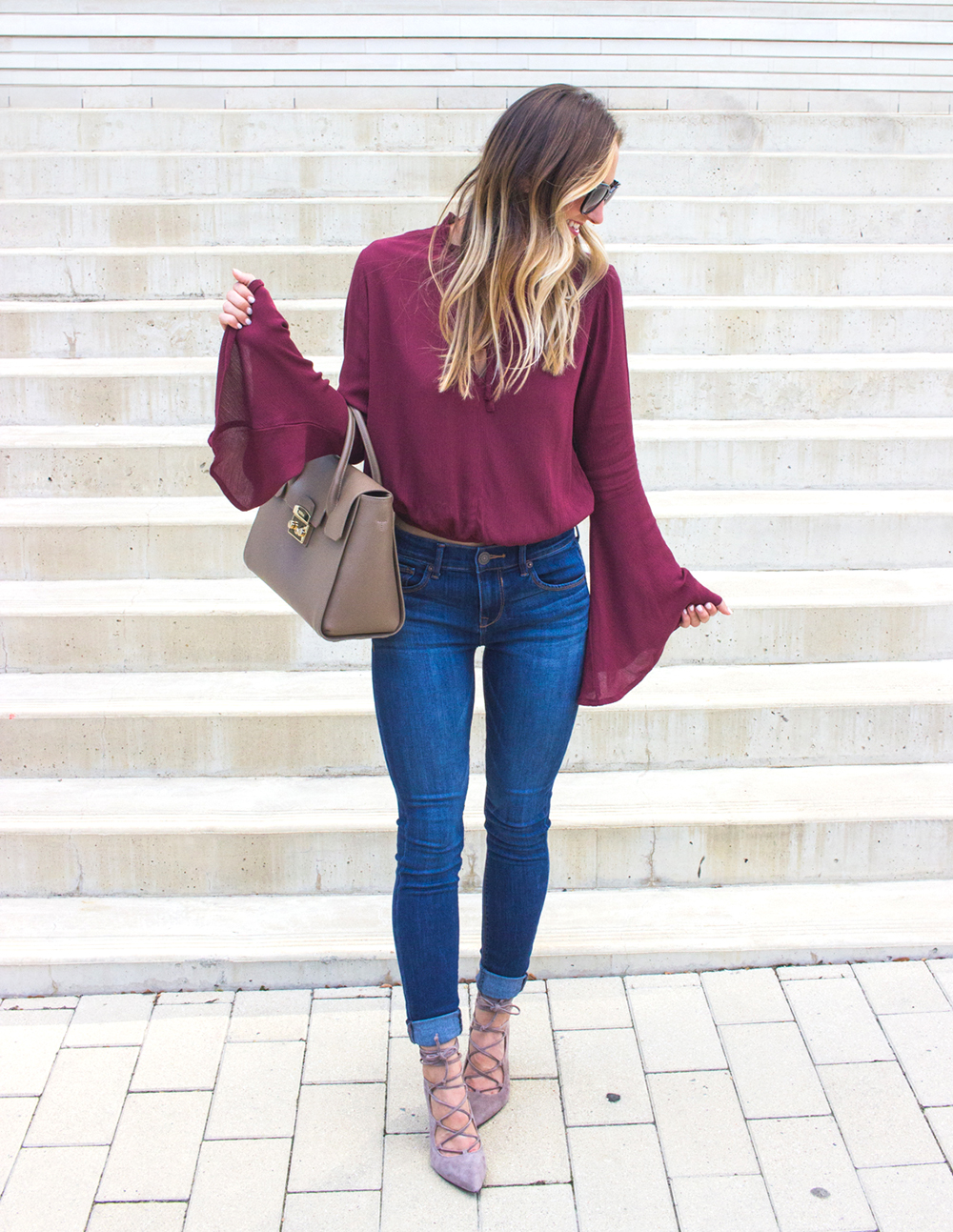 Well, hello there! It's been about a week since my last post and I must say, I'm feeling so refreshed and happy and relaxed…and basically this whole honeymoon thing is pretty darn wonderful! Blake and I have two days left in Greece, then we're headed back home! We both hit "lobster status" yesterday after failing to load up on sunscreen during a catamaran tour (ah!), so today we're spending some time indoors sipping greek coffee and hiding from the sun…ha! I must admit, it feels pretty lovely to sit down and work on a new blog post…getting the best of both worlds here as I write this post in our cozy room with the the cliffs of Santorini in full view from our open balcony doors…absolutely zero complaints here!
Though I'm still in summer-mode in Greece (currently dressed in a crop top & denim shorts!), I hear it's finally fall back home…so onto fall fashion, it is! A few fall trends I am super excited about are bell sleeves and of course, lace up heels. Classy, flattering, sexy…all of the above. 🙂 I'm spilling the details below, so keep reading to get the scoop!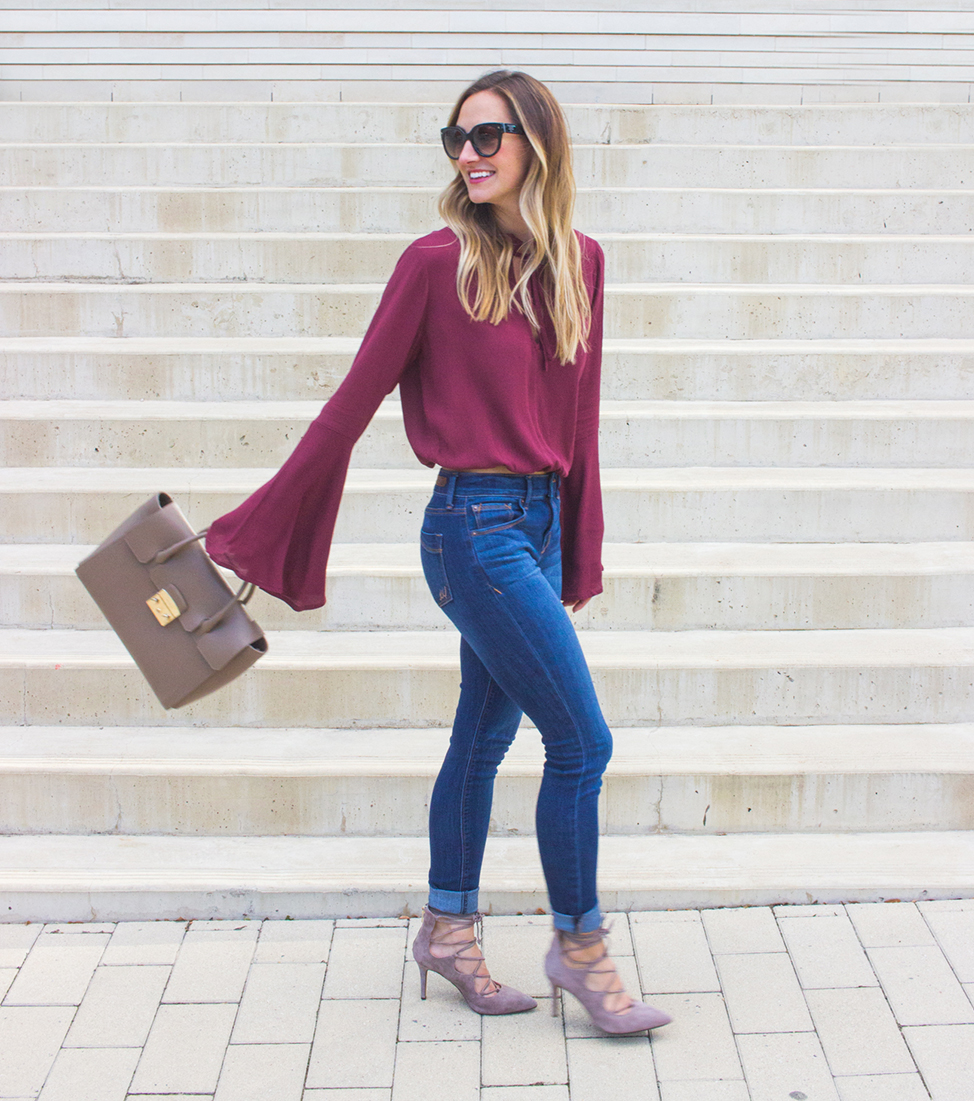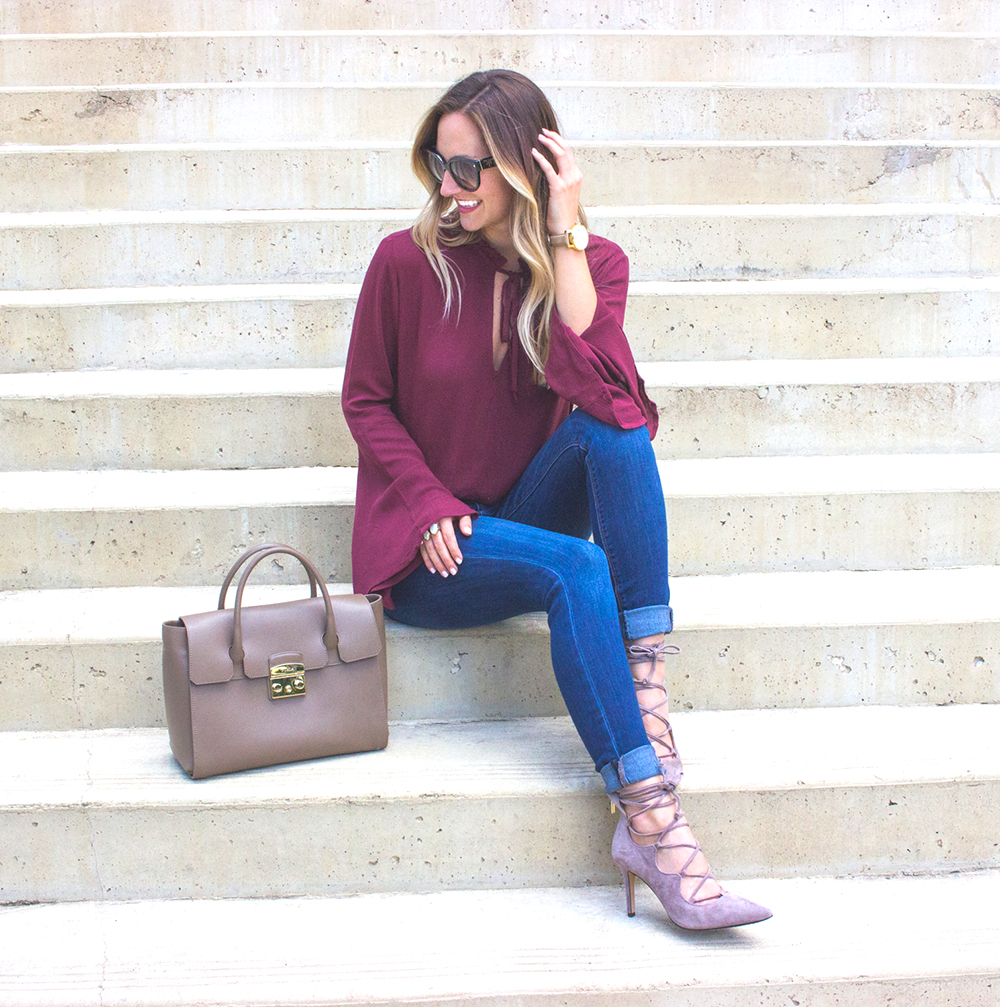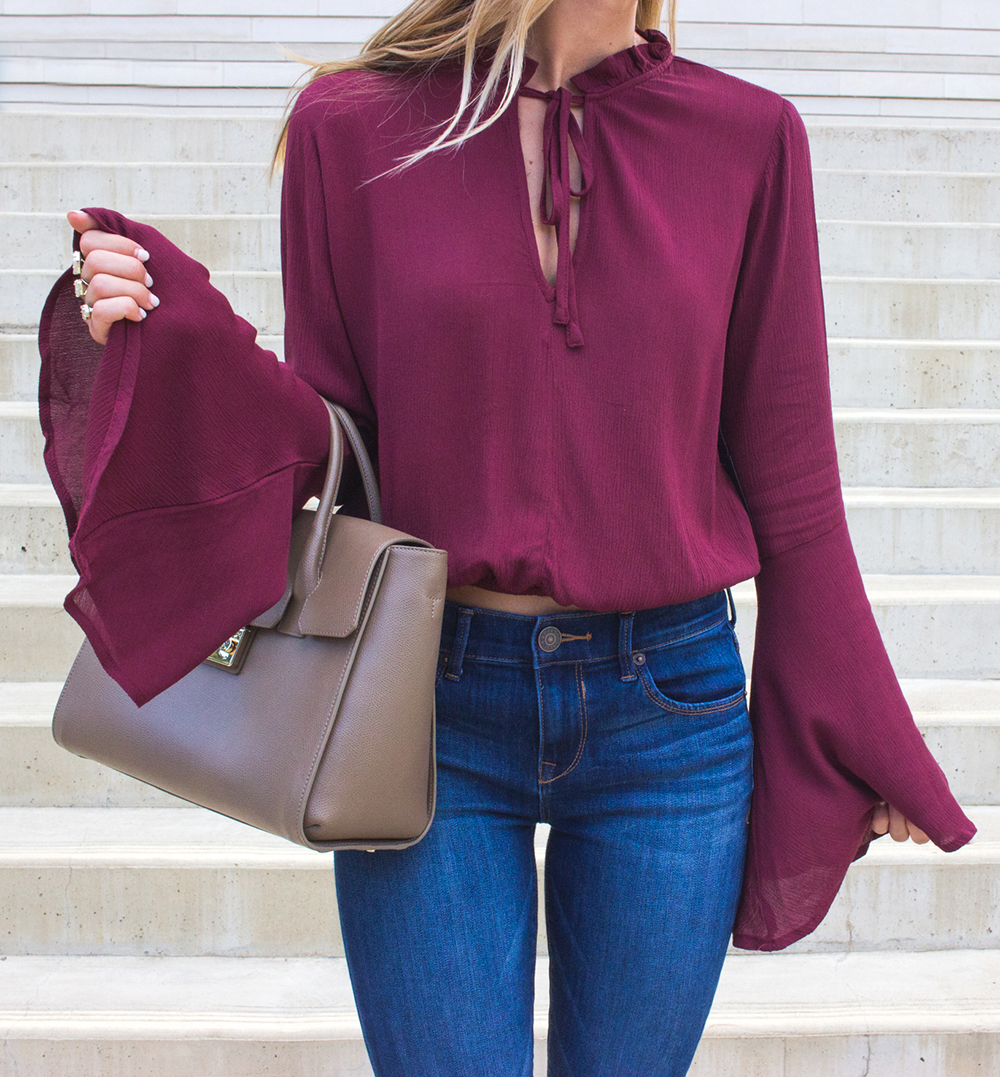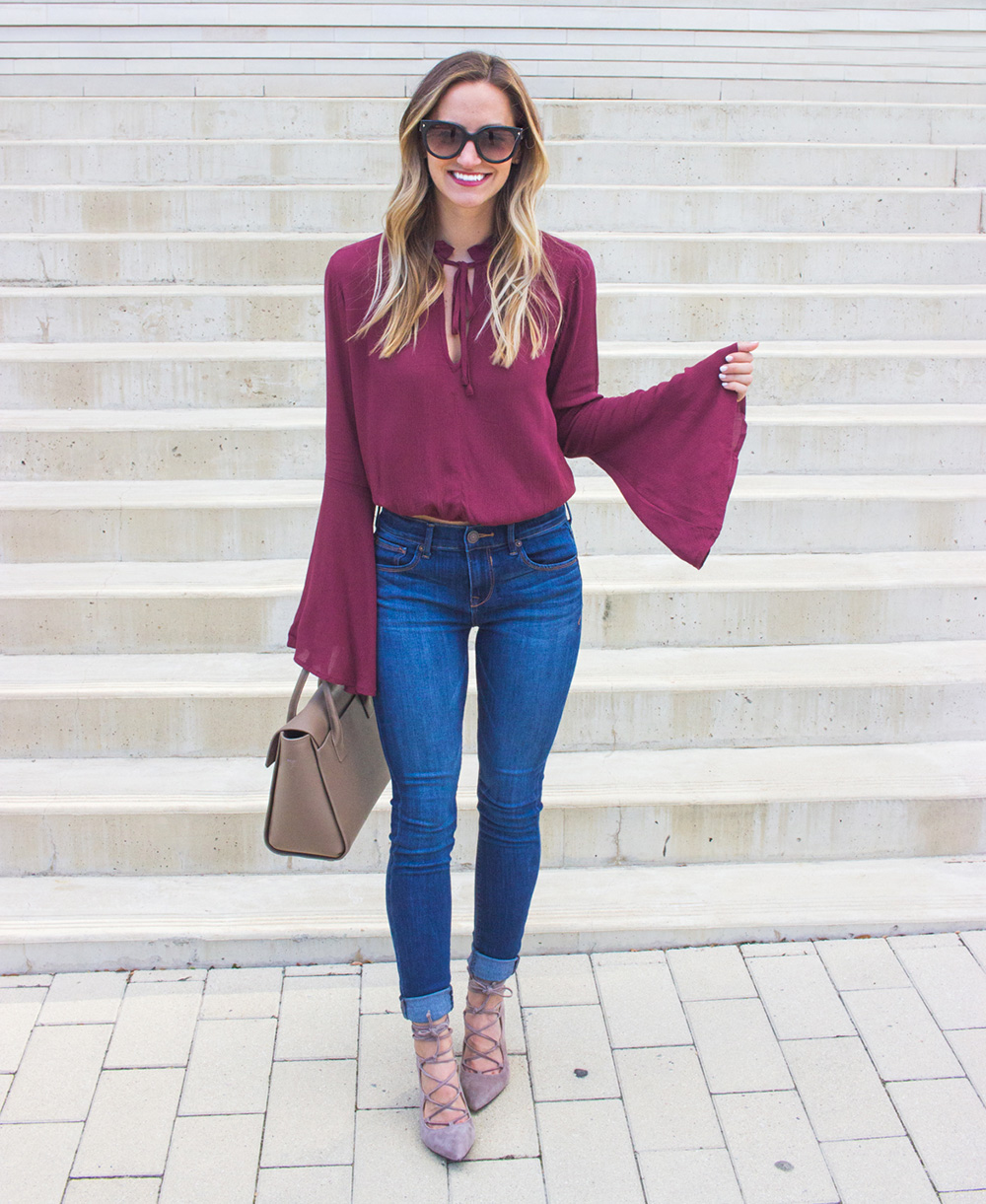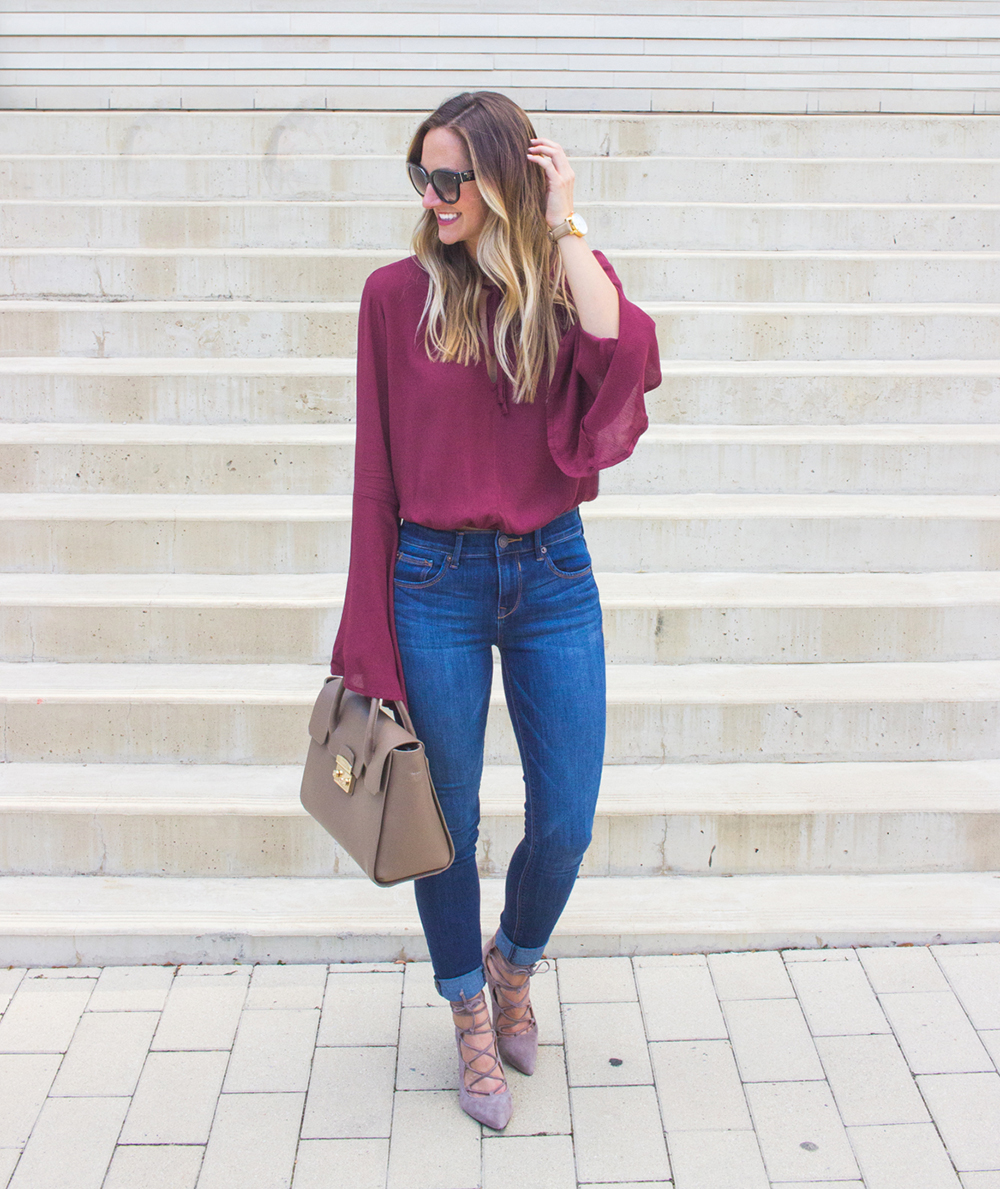 First off, the color of this top is gorgeous on every skin tone (…and it's under $50!) – I am obsessed with this pretty burgundy/maroon hue for fall! This top has such a beautiful neckline and I love the elastic trim, it hits perfectly above the hips so it looks killer with a great pair of jeans (these cuties are from Express, huge fan of them!!) and would also be fabulous paired with a high waist skirt and ankle booties or OTK boots (…if it actually feels like fall in your city, ha!). I am wearing a size small in the top and the jeans fit true to size for reference. 🙂
Oh, and these SHOES are absolutely stunning and I ensure countless compliments every time you wear them…they are beautiful! Nothing says autumn quite like suede, and I'm really loving the lace-up take on a classic pair of pointed toe pumps – it definitely elevates the look and keeps it on trend…and these shoes won't break the bank! They fit true to size and come in more color options (…may have to scoop up the burgundy pair, too…they're so pretty!).
My handbag is by Furla and lemme tell ya, if you decide you're ready to invest in a GORGEOUS handbag (…truly, this thing is very worthy of all caps!), I highly recommend this pretty sidekick. The taupe color goes with everything (and I tend to lean towards neutrals when it comes to handbags/shoes), however if you're a little more colorful and daring, it also comes in red and blue – or classic black (which you can never go wrong with!). I love how wearing a structured handbag really completes and polishes a look – big fan of Furla, they make incredible bags!
Alrighty gals, time to shut my laptop because we've got a gelato date on our agenda! 😉 …Can I keep this current life forever? Ha! Hope you enjoyed this look – click the links below to shop it all! XOXO
top – CHLOE & KATIE / jeans – EXPRESS / shoes – VINCE CAMUTO / handbag – FURLA / watch – MVMT / sunglasses – PRADA
SHOP MORE BELL SLEEVE TOPS