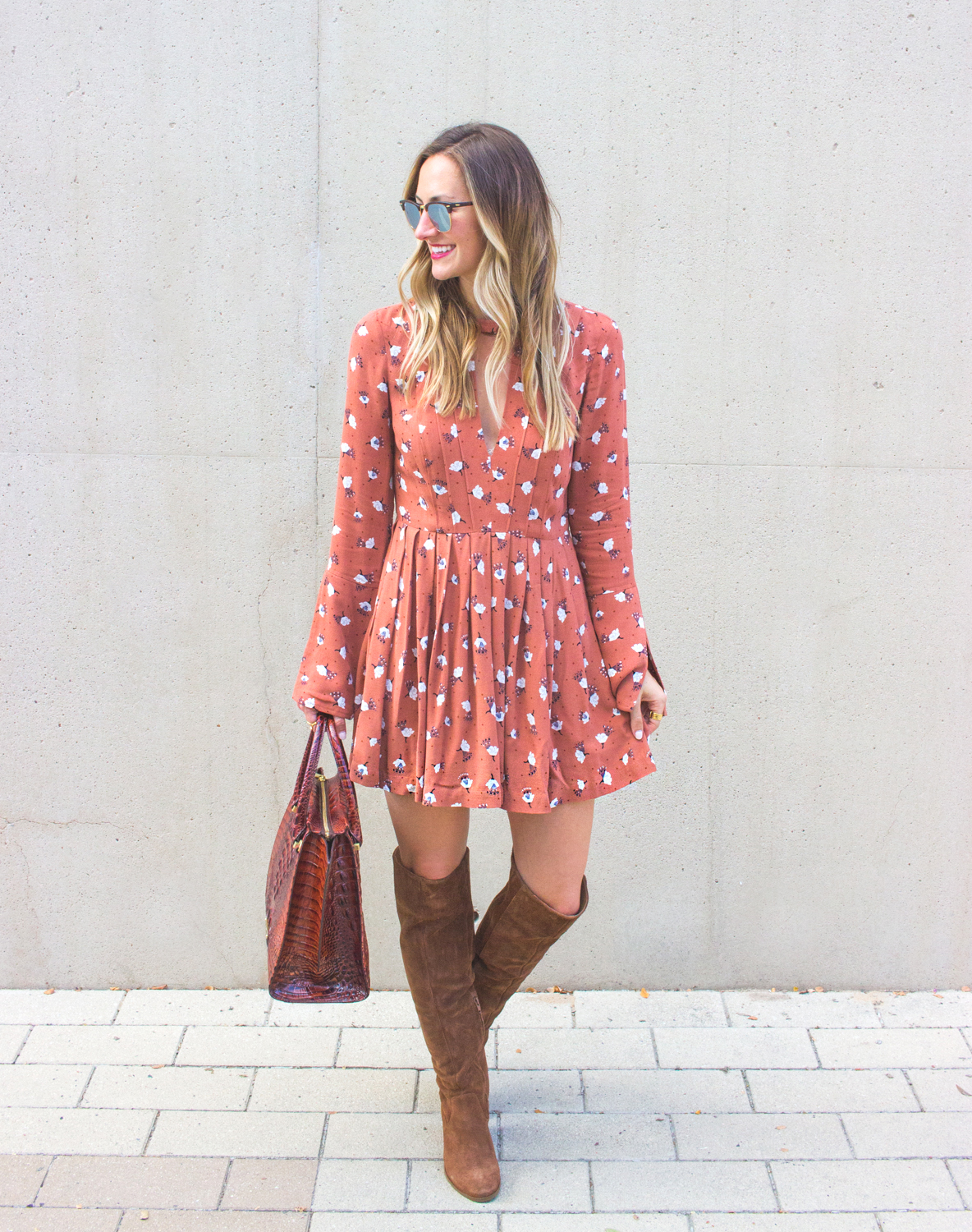 Ohh the 'ol boho dress and over the knee boots combo…one of my absolute favorites for fall!! This pretty floral Free People dress in particular is quite magical on its own, let alone with a pair of killer OTK boots (y'all, these are very budget friendly!!) and a stunning structured handbag in the most beautiful rust color. I posted a quick shot of this look to my Instagram stories and had an influx of gals wanting my outfit details, so I figured I'd pick up the pace and get this post up asap!
Ps. Did you notice I went a taaaad darker? I visited my go-to hair stylist, Kacie, over at Milk & Honey Salon (she is a hair-stylist-goddess woman…trust me, she's good!!) and she gave me more "natural" color and a deep conditioning pamper sesh over the weekend, just in time to get all beautified for the wedding! She is also THE best at those effortlessly cool beach waves (I soooo badly need to watch 20 YouTube tutorials to master this hair style, ha!) and of course I had to use my pretty new hair for some blog photos… 😉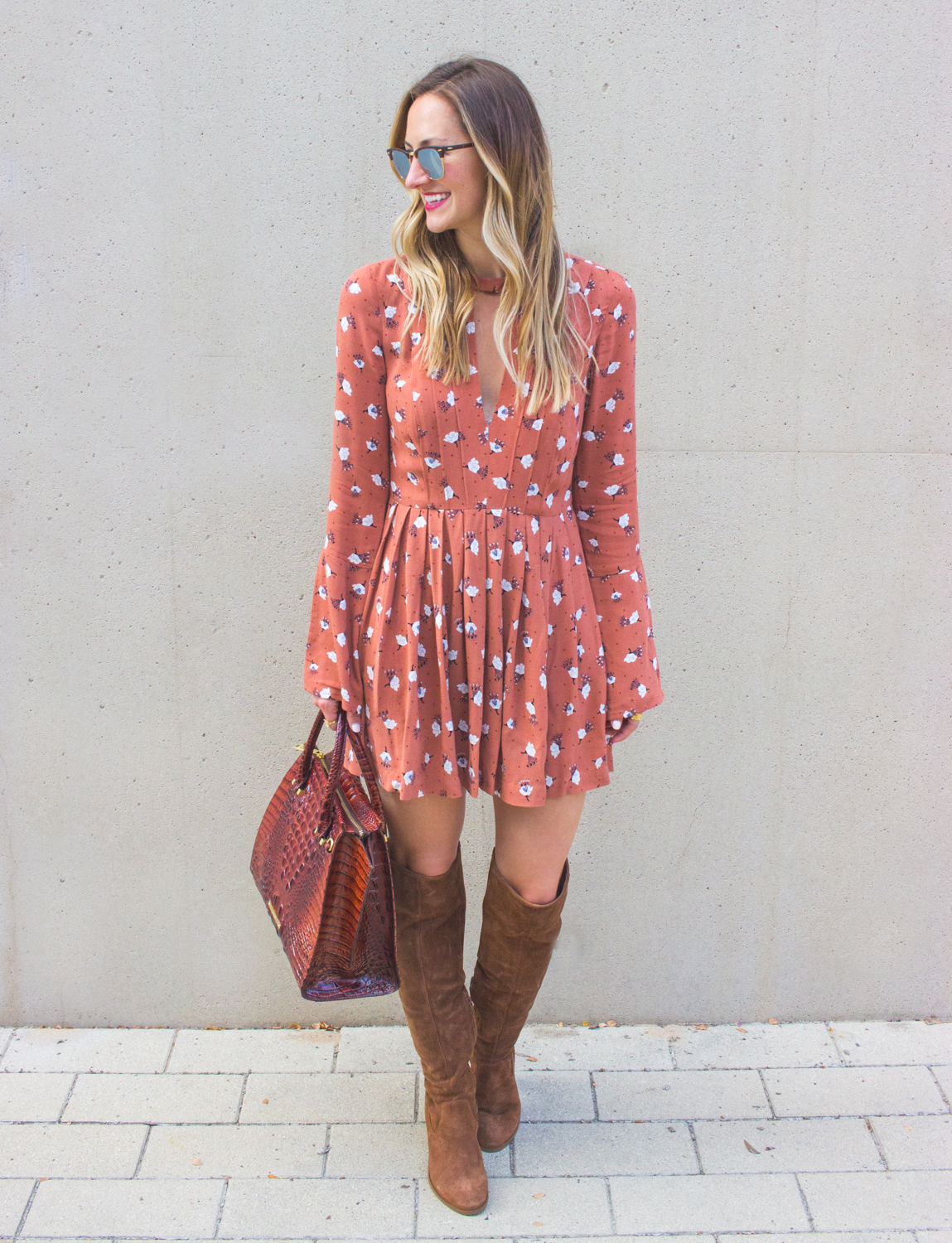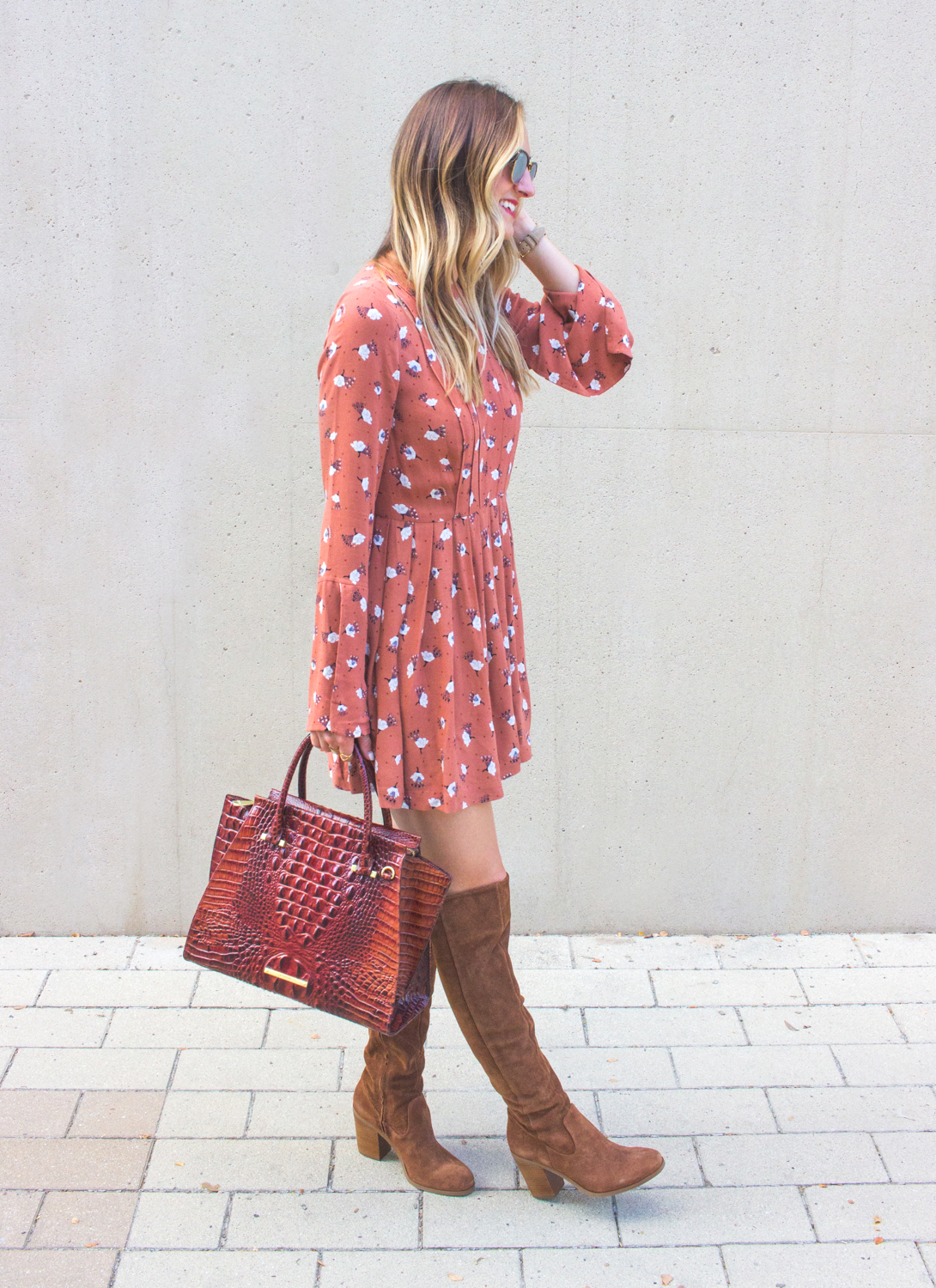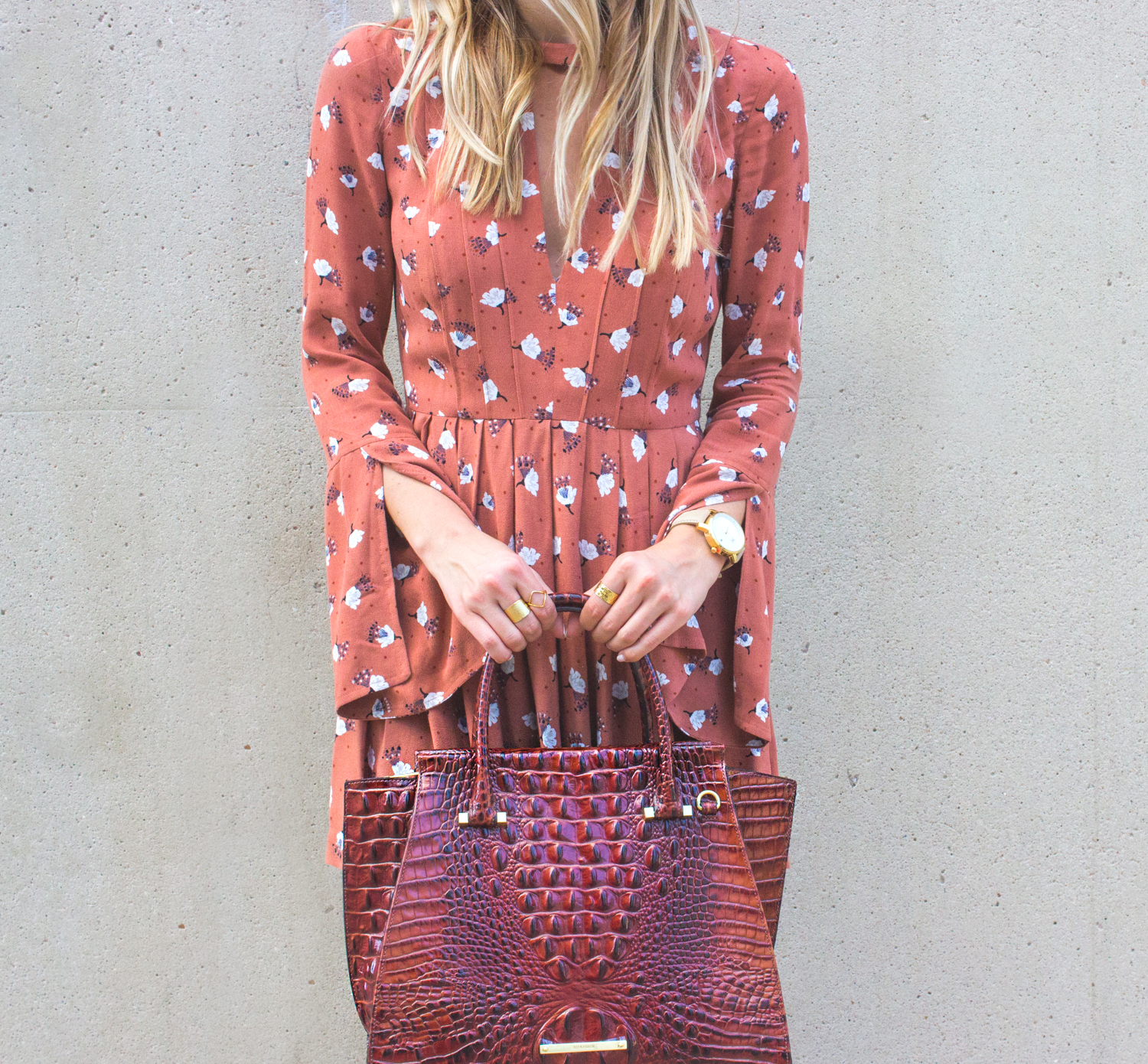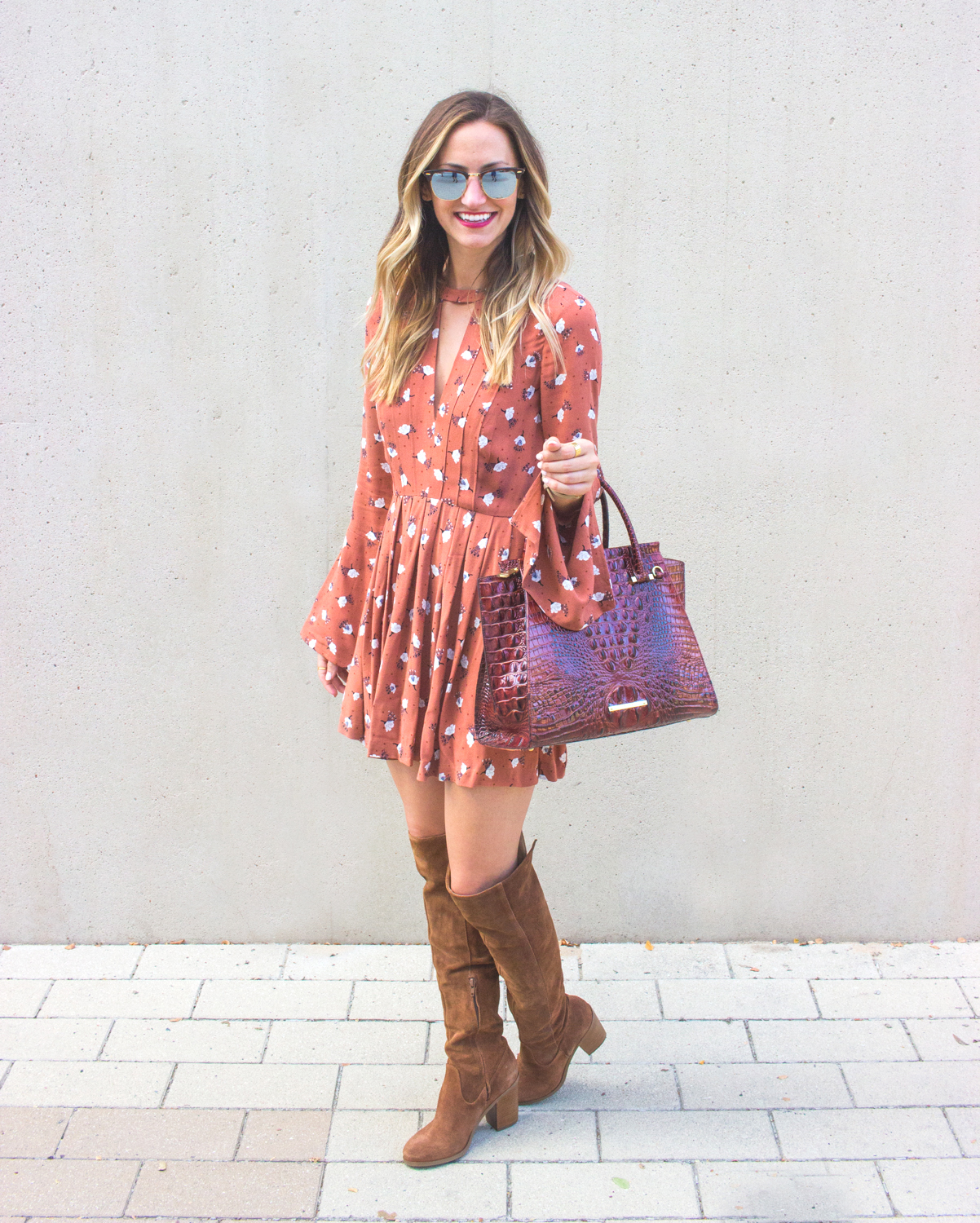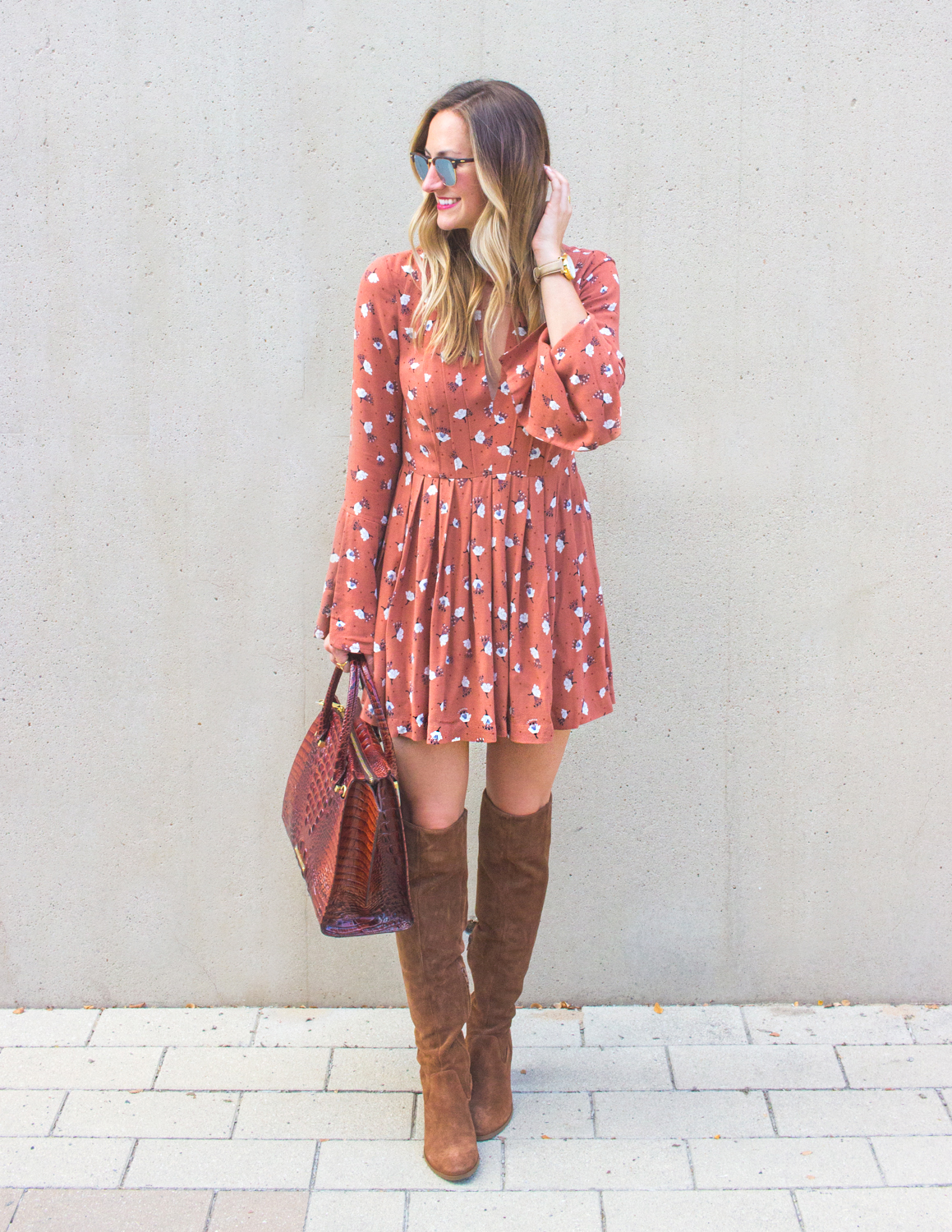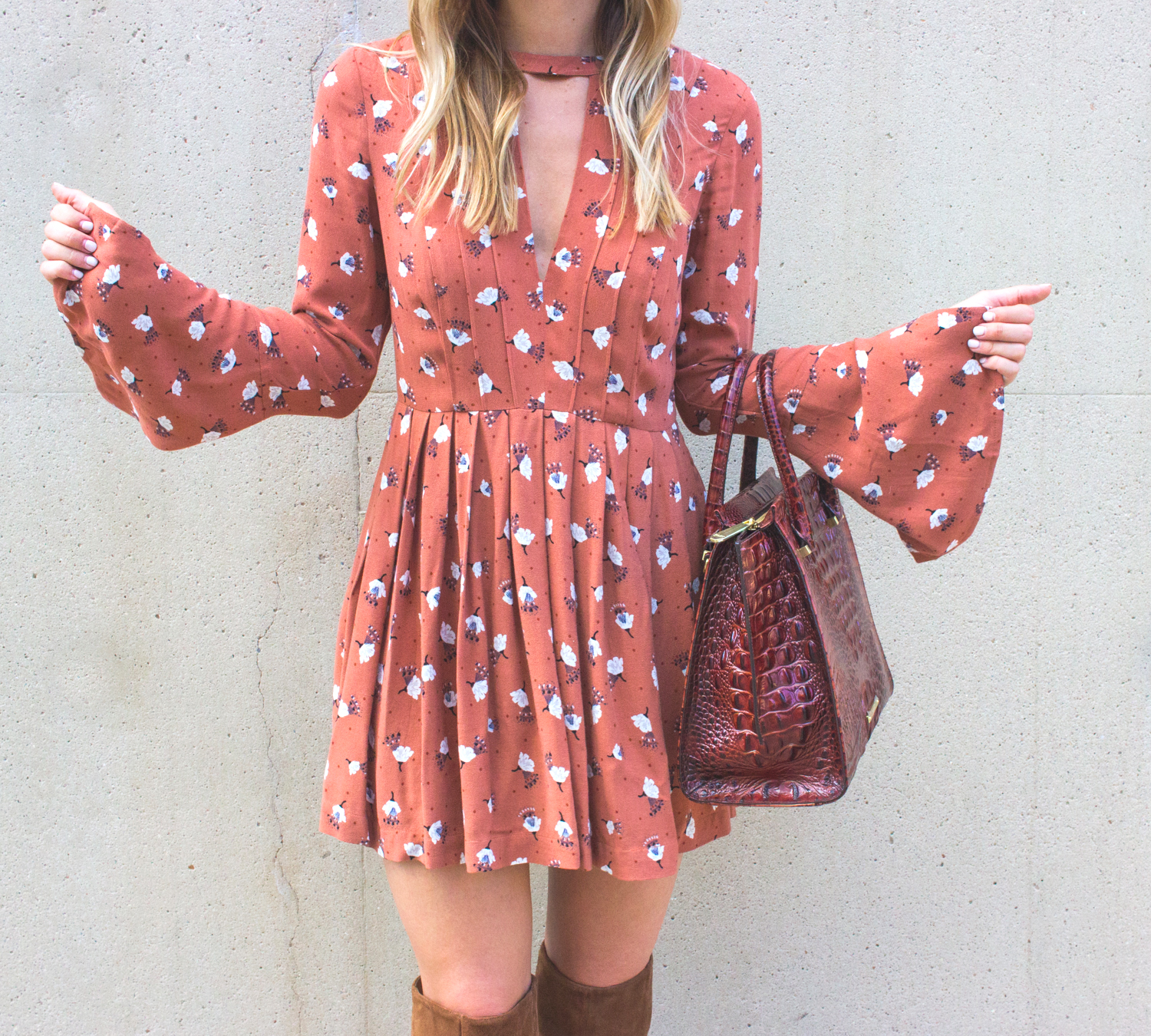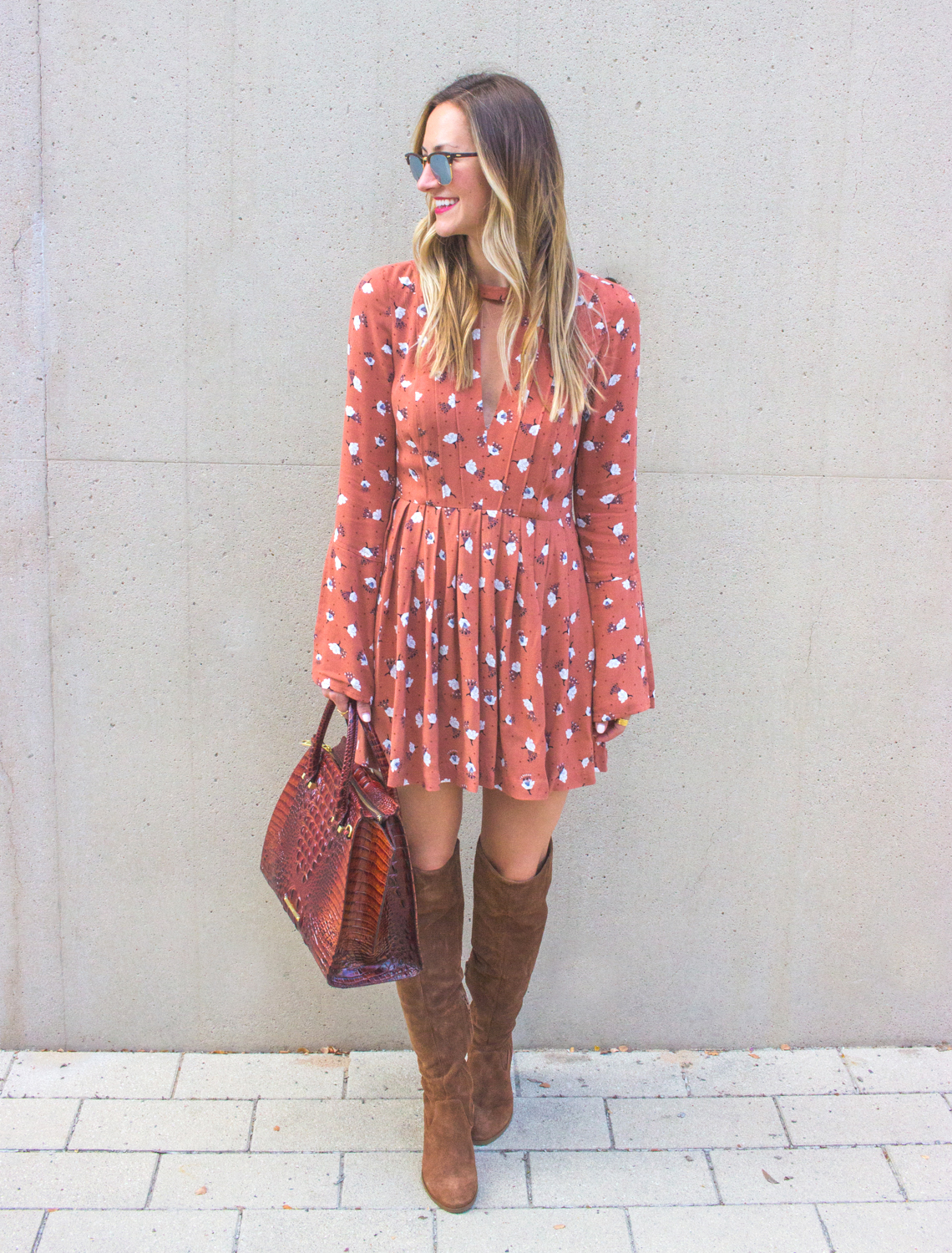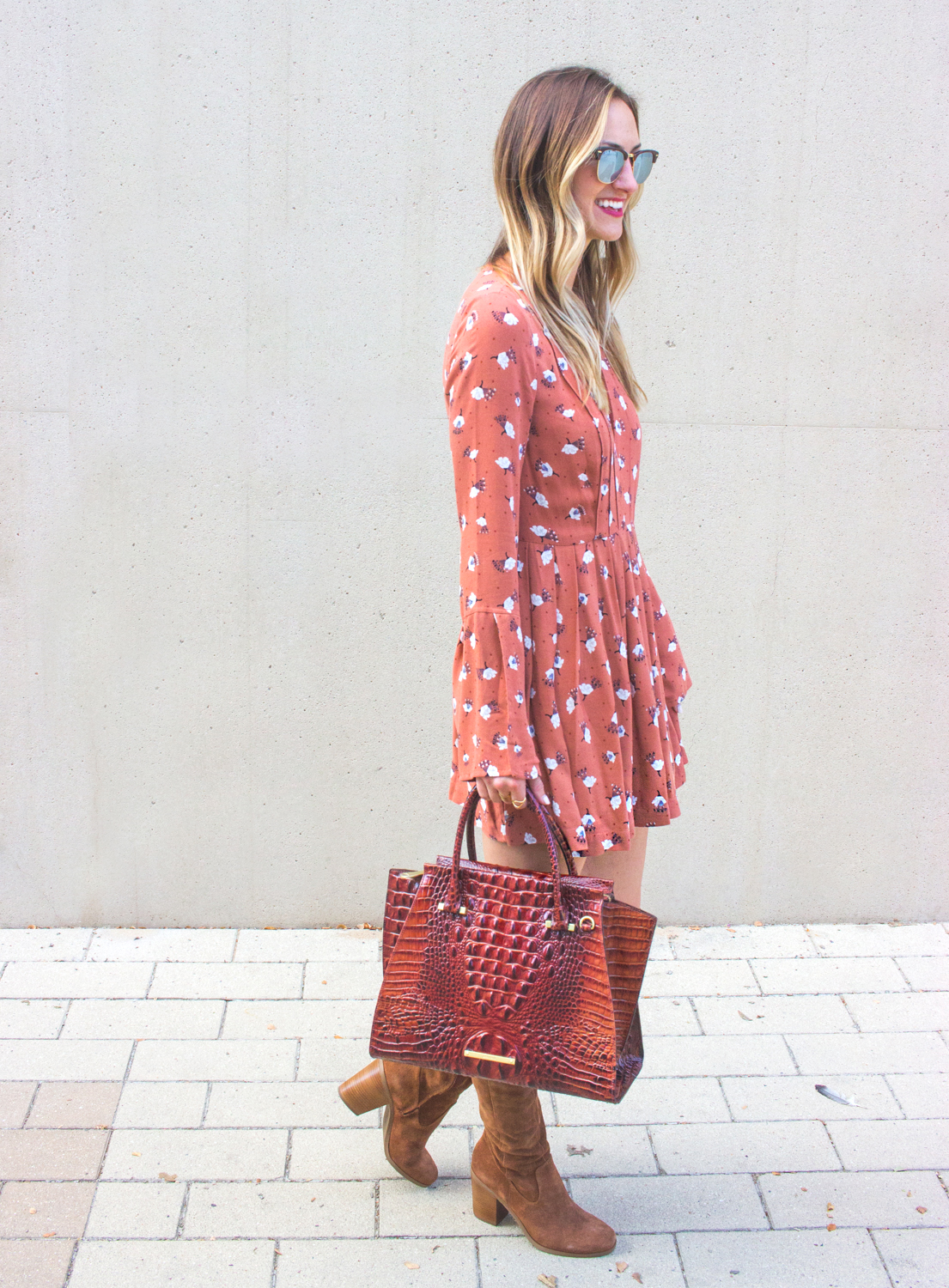 Soooo…back to this adorable bohemian outfit! 😉 Though Free People tends to be a higher price point (…relative in comparison to designer goods, though!), this dress in particular is an amazing price for the beautiful quality and cuuuutest/most flattering cut – under $100! It comes in a ton of color options, but when I think of fall I tend to think earth tones, so this muted orange color caught my attention above the rest. I am wearing a size 2 for reference – my body type is sometimes tough to shop for (especially when it comes to dresses with sleeves) because I've got exceptionally broad shoulders for my frame! I grew up swimming competitively and also played volleyball for 5 years when I was a teen, so I think that combination gave me some serious shoulders, ha! Thus, I was pleasantly surprised when I put this dress on and it fit beautifully all over! Sometimes I have to try a couple of sizes to make sure I can move my arms up and down, haha.
My boots are by Steve Madden and Y'ALL (yes worthy of all caps 😉 ), you neeeeeed these!! If you're looking for a gorgeous pair of OTK boots to wear with dresses or over jeans or leggings, these are THE ones! Once again, the price is pretty darn incredible (under $170!) because most good quality OTK boots are well over $250…thus, better shop 'em while they're still around. 😉 They also come in black if brown isn't part of your color scheme!
Finally, my handbag is crazy GORGEOUS and of course, it's by Brahmin! …But really, did y'all expect anything else from me? Ha! I certainly have my staple handbag loyalties, and Brahmin is just a tried and true brand that continues to create beautiful handbags that hit those high fashion trends without the high fashion price tag. This particular bag comes in a ton of colors, but I gravitated towards the "Pecan" because it actually makes for an amazing neutral color pop as we mosey our way into fall. Such a perfect color with a cognac, black, camel, olive green…see what I mean? It really adds to any outfit! I love the size and the winged details…y'all will absolutely see a lot more of this pretty on LL!! 😉
Shop my outfit details below, XOXO!!
(Ps. Wedding update: doing all the last-minute week-of things I am supposed to be doing and trying to stay composed (…but am pretty sure the bags under my eyes say otherwise, ha!)… I've had pasta 3 meals in a row and am currently drinking my favorite IPA beer because when ya get stressed, it's time to #treatyoself and not cry… 😉 A bubble bath is awaiting after this post goes up… Just 5 days to go, we can do it!!!
dress – FREE PEOPLE / boots – STEVE MADDEN / handbag – BRAHMIN / sunglasses – RAY BAN
SHOP MORE BOHO DRESSES