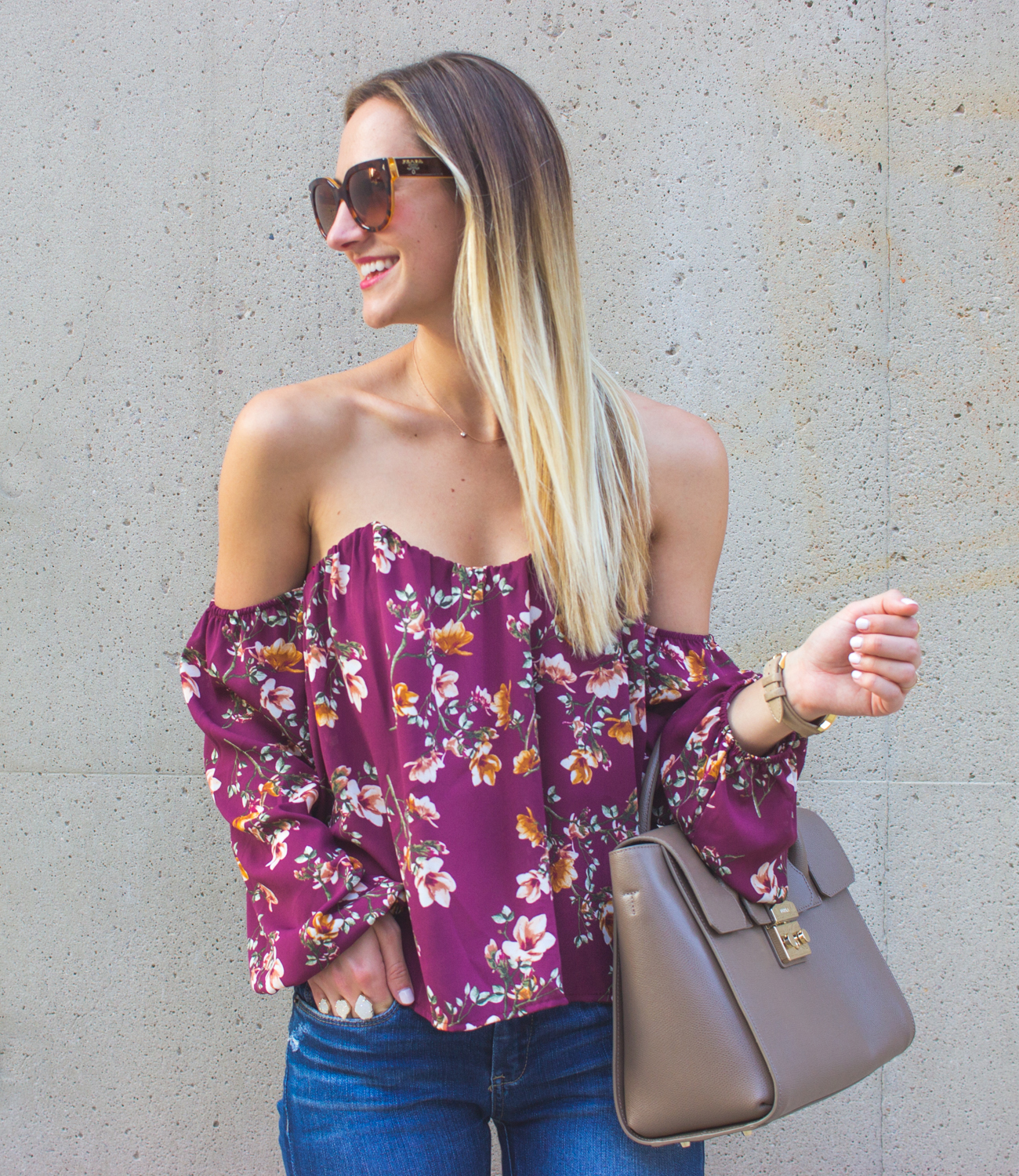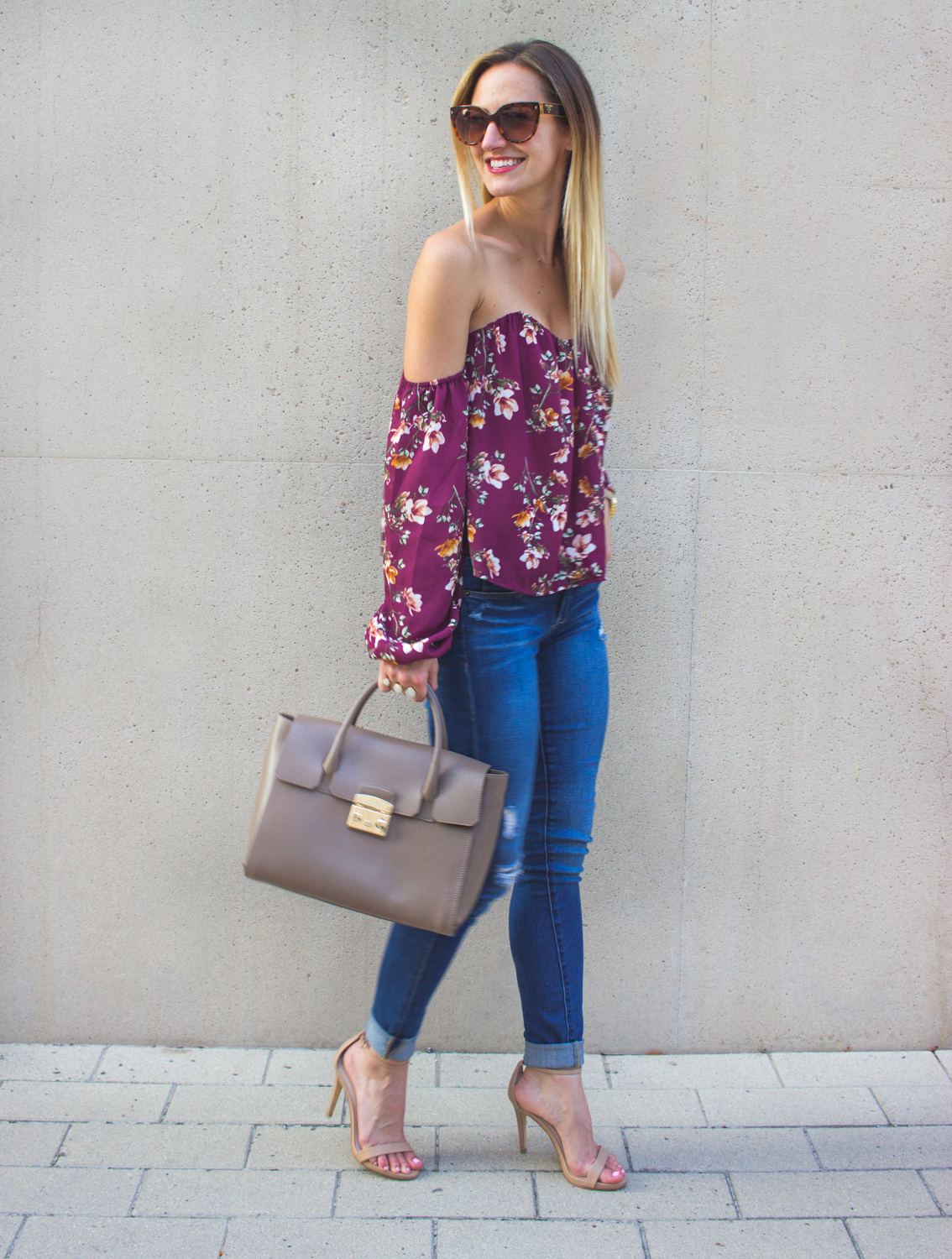 Happy long weekend, gals! Also…say whaaaaat we are TWO weeks away from the wedding, "I literally can't even" is a real phrase running through my mind…ha! Hold that thought while I go chug some coffee in the corner here…haha ah! All good…right about now is when it's necessary to throw on a super cute top & pair of jeans and grab a glass of wine (or just hand me the bottle, really..) and let all my stresses go for a couple of hours. Sounds pretty darn wonderful if you ask me! 😉 And hey, the Friday of a 3-day-weekend should not be spent feeling bogged down or stressed out. (…Yep, totally just going to keep telling myself that! 😉 ).
Now that I've joked/vented about my to-do list (thanks for listening, friends!), let's talk about this caaa-ute bustier off-shoulder top and denim combo!! Seriously…is this top not SO perfect?! I've got major heart eyes over here…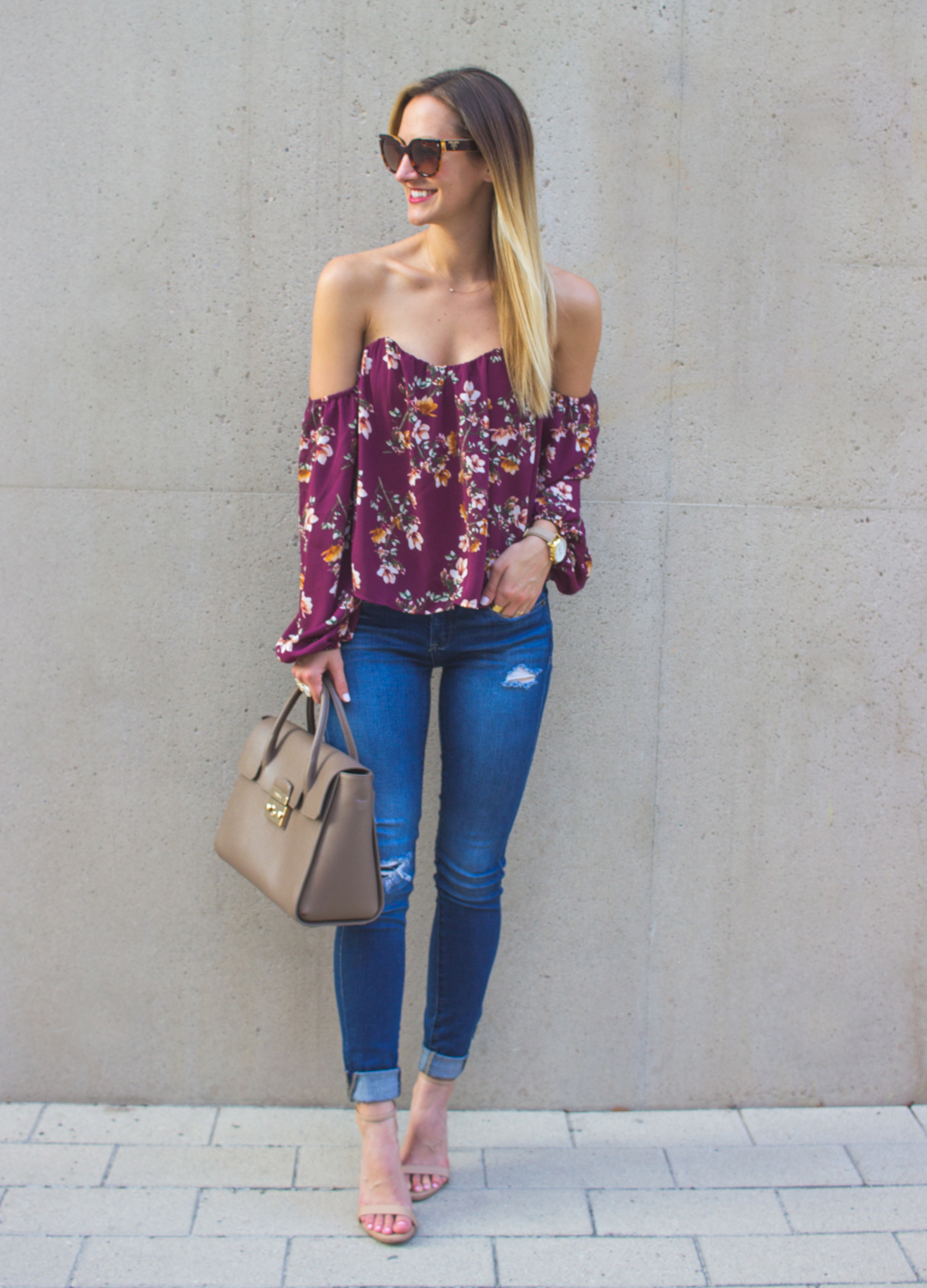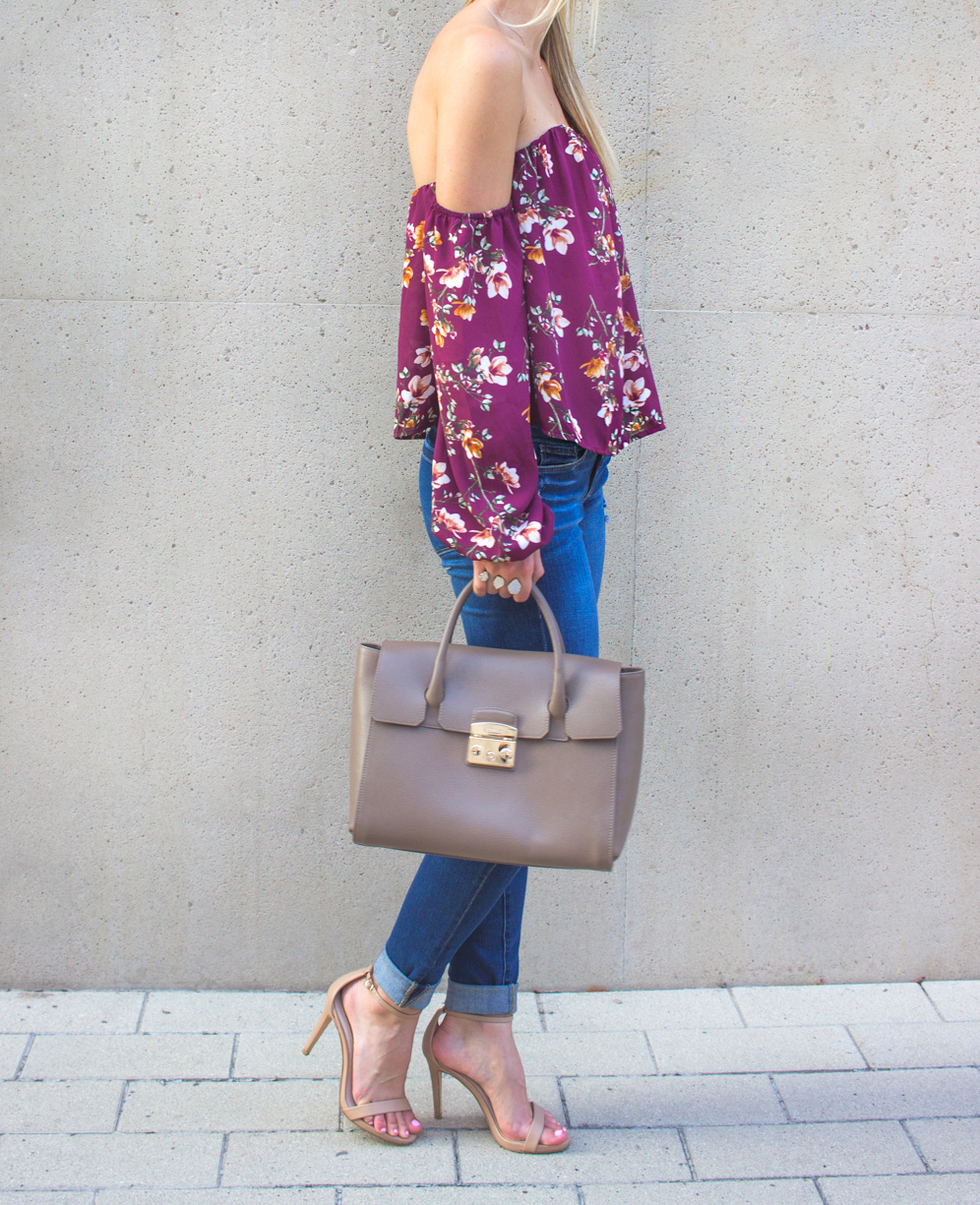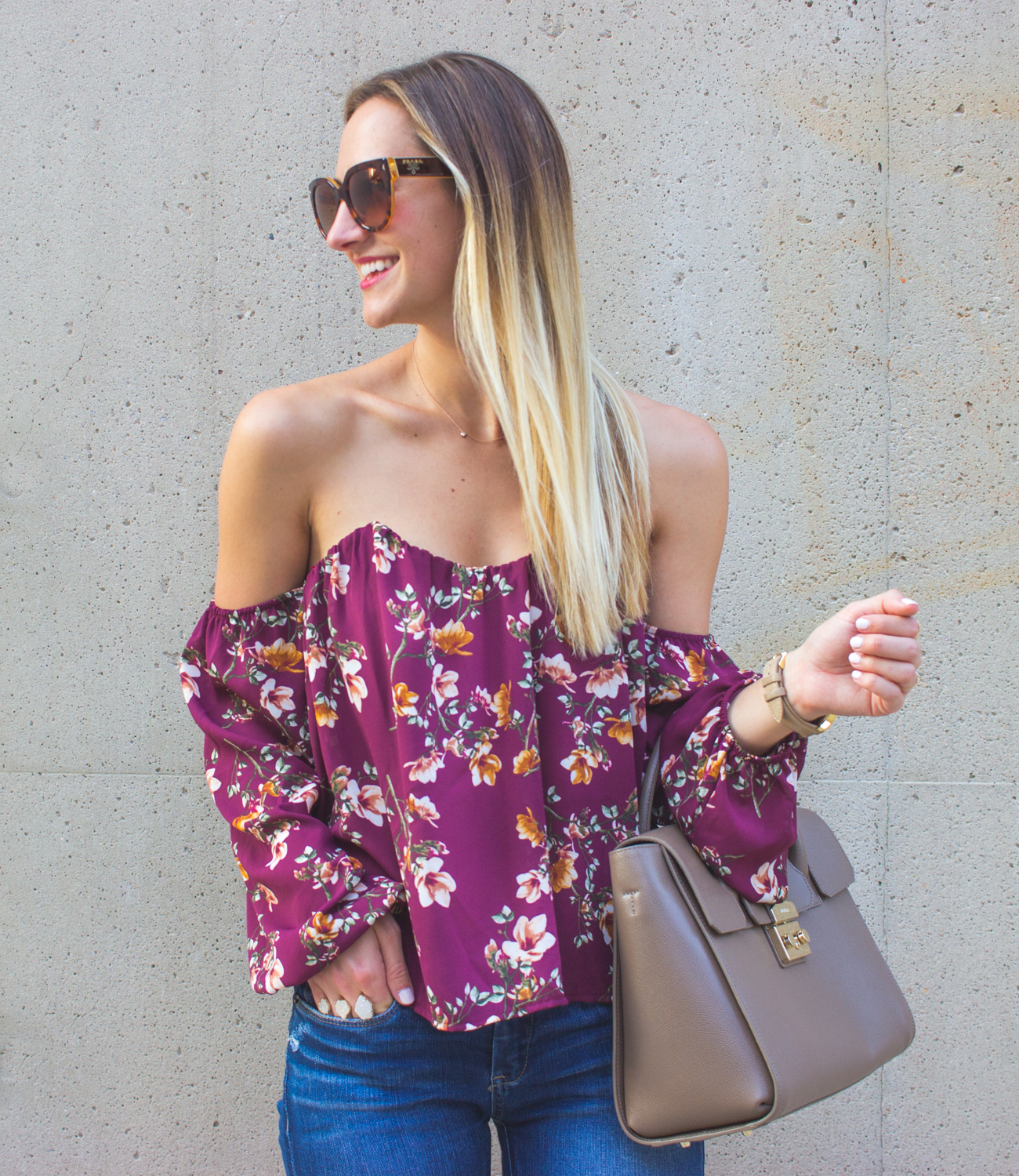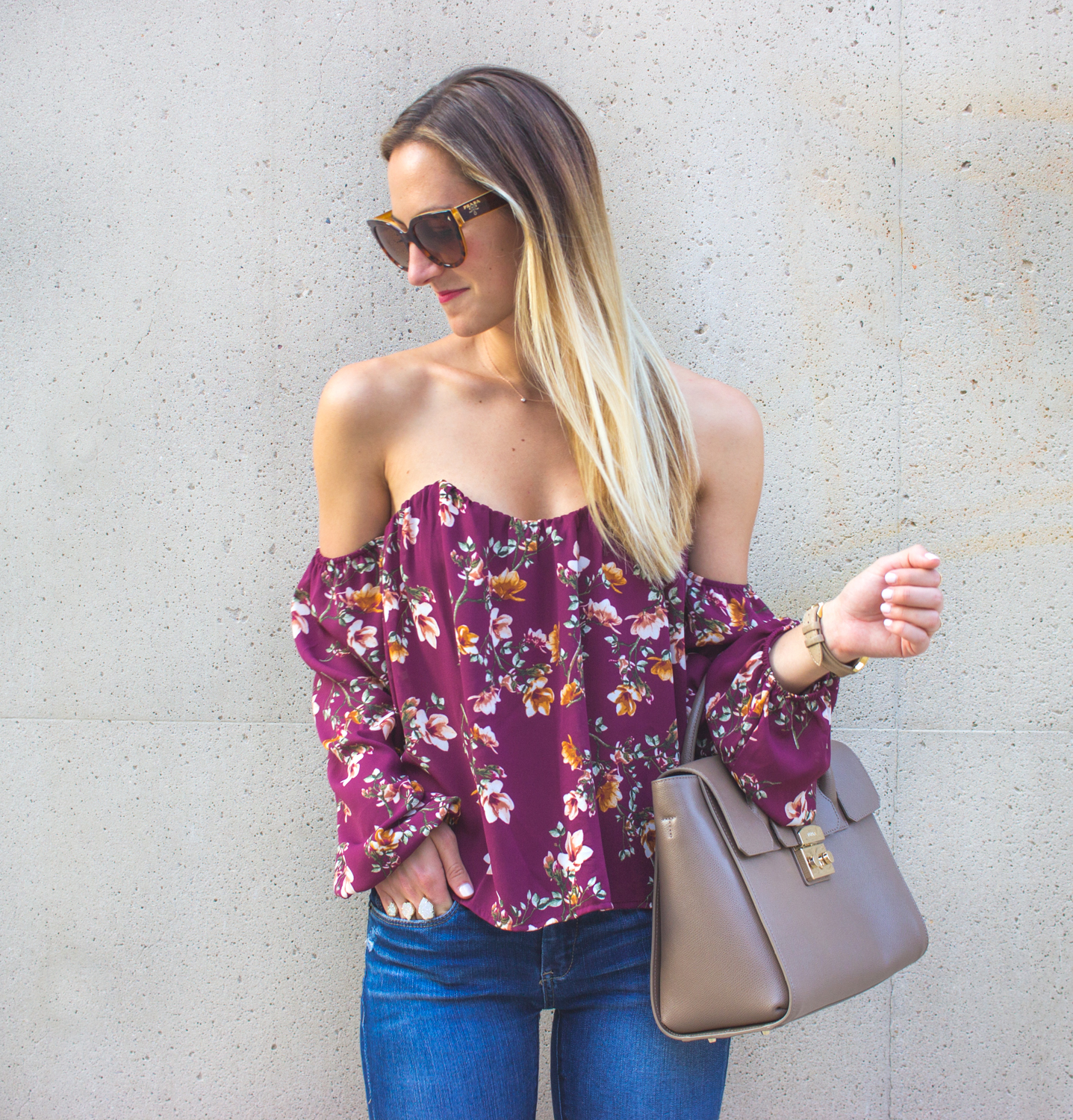 Head-to-toe, this look can be found at Nordstrom! Surprise surprise, right? 😉 Excited to partner with Nords today and feature a super cute summer to fall transitional look, featuring this gorgeous top with classic distressed skinny jeans and my favorite, go-to nude heels. (Y'all have seen me rock these a lot, they're the best shoes!!).
Though I thought shopping for transitional pieces would be difficult (we're technically very close to hitting fall, but it still feels like summer in Austin), after perusing all of the women's tops and jeans online at Nordstrom, I am actually feeling very excited for this in between period! Take this top, for example – it combines one of my favorite summer trends (the off shoulder look) but adds long sleeves and comes in a gorgeous plum/wine color that has become part of every fall color palette. Nordstrom has so many options to fit every style and budget, and I'm especially loving that this top can be worn through multiple seasons – and that it's ultra affordable, too! (…Y'all know me, that's always a win!).
I'm wearing a size small in the top and it comes with a built-in bra portion, which is awesome! It runs on the smaller size (I am normally a 0/2 in tops and the 2/4 in this one fit better), so I recommend sizing up if you're debating between sizes. It has a zipper and slits along the back, so it's ultra breezy and comfortable. I love the playful floral print with the sexy bustier bustline, it's the perfect combination of fun and classy. I highly recommend this top for date night or any event where you want to dress to impress, it's a definite head-turner!
My jeans are by BlankNYC (clearly I am obsessed with this brand…I have 3 pairs of jeans by them) and hey, when you find a brand that fits and each pair is under $90, it's totally acceptable to keep coming back for more! They fit true to size and I love the darker wash with some distressed details, they're great from day-to-night!
Alright ladies, that's a wrap for me. 🙂 Blake just got home and we're headed to dinner to celebrate the long weekend, wahoo! Wishing y'all a faaaabulous 3-day-weekend, enjoy some time with your family & friends!! XOXO
top – 4SI3NNA / jeans – BLANKYC / handbag – similar NORDSTROM / watch – MVMT / sunglasses – PRADA / ring – KENDRA SCOTT / diamond pendant necklace – NORDSTROM / shoes – STEVE MADDEN
A big thank you to Nordstrom for sponsoring this post! All opinions are my own.