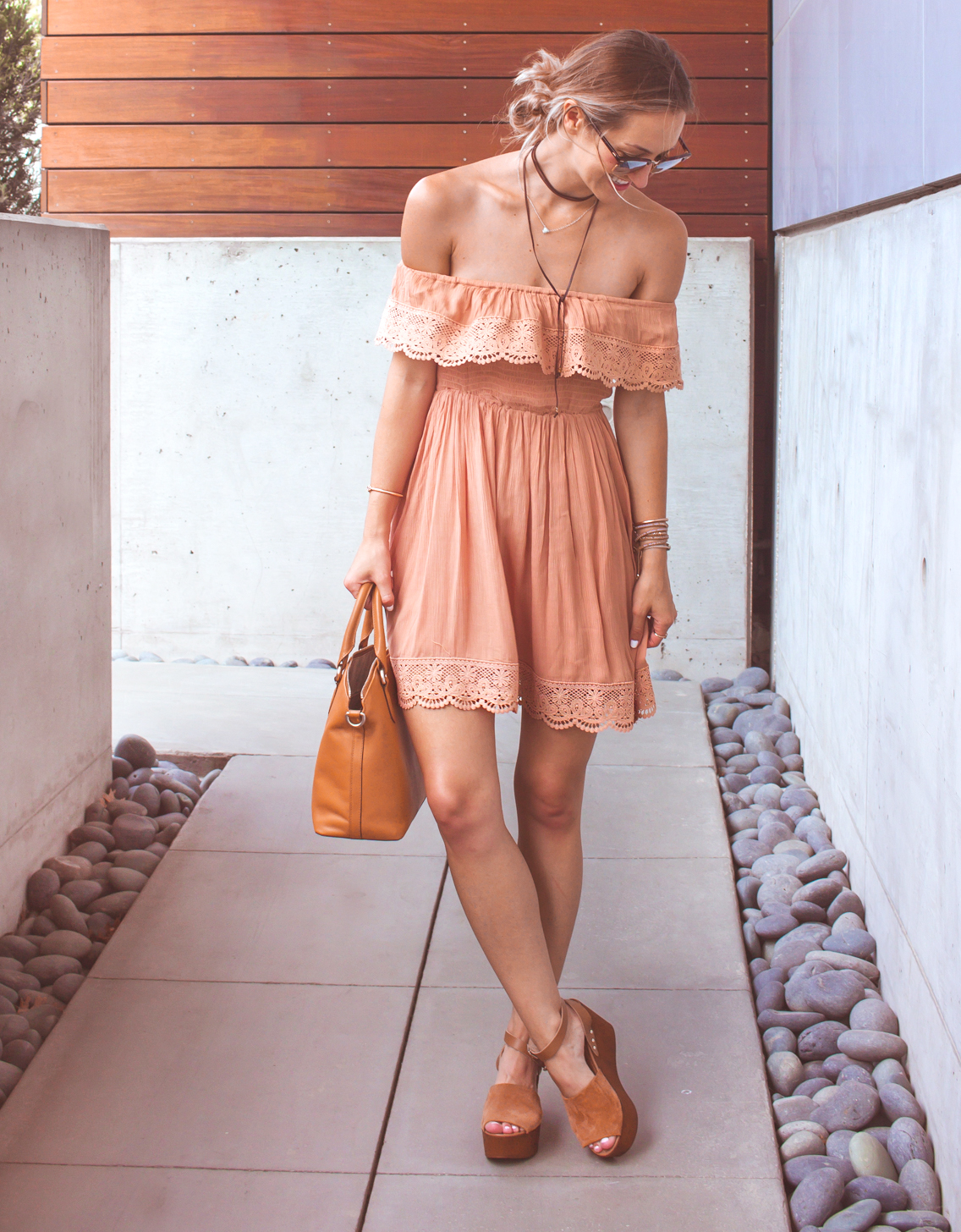 Hey there gals! How was your weekend? Blake and I were busy bees traveling home from Orlando the majority of the day yesterday and spent today playing catchup on laundry, dishes…ya know, all that fun stuff you get to escape when you're on vacation! 😉 Needless to say, it's back to reality for us! We had the best few days on our "theme park getaway" …which consisted of visiting the 4 main Disney World parks and then Universal Studios…sooo…basically we just acted like two big kids for the past week, and it was awesome! Mostly it's just that I like to spend quality time with Blake, so it really doesn't matter what we're doing…so long as we're not glued to our laptops or separately stressed out and running errands around town for work (y'all know me, I get stressed so easily!). I always feel like we come back from trips so much closer and more connected – it's the best!!
Okay, now that I've spilled the details on our weekend, I'm excited to finally share this pretty peachy off-shoulder dress with you! I posted this one on my Instagram last week during my stay-cation at W Austin (…can y'all time I'm reaaaaally not ready to get back to my normal routine? Literally planning "stay-cations" in my own city…if that tells you something, ha!) and it was a major hit!! It's seriously ADORABLE and can go classic and feminine or boho (just add a choker and some platform wedges!). Ps. Shot these images in a crazy wind tunnel…note the hair…Oh well, that's the 'ol "au natural" bun-it-up-and-out-of-my-face look. 😉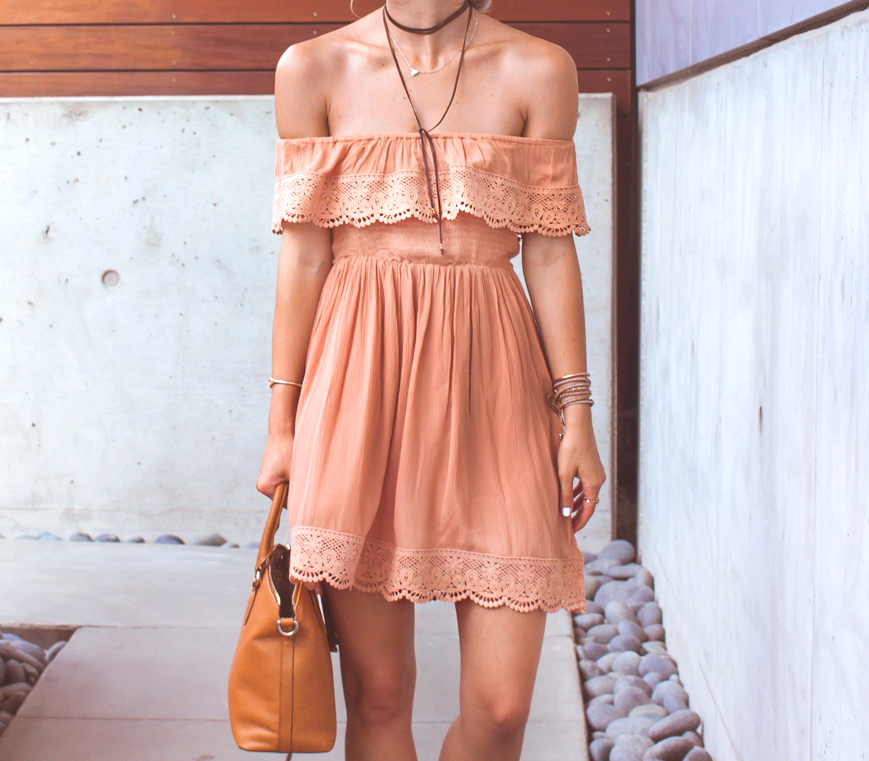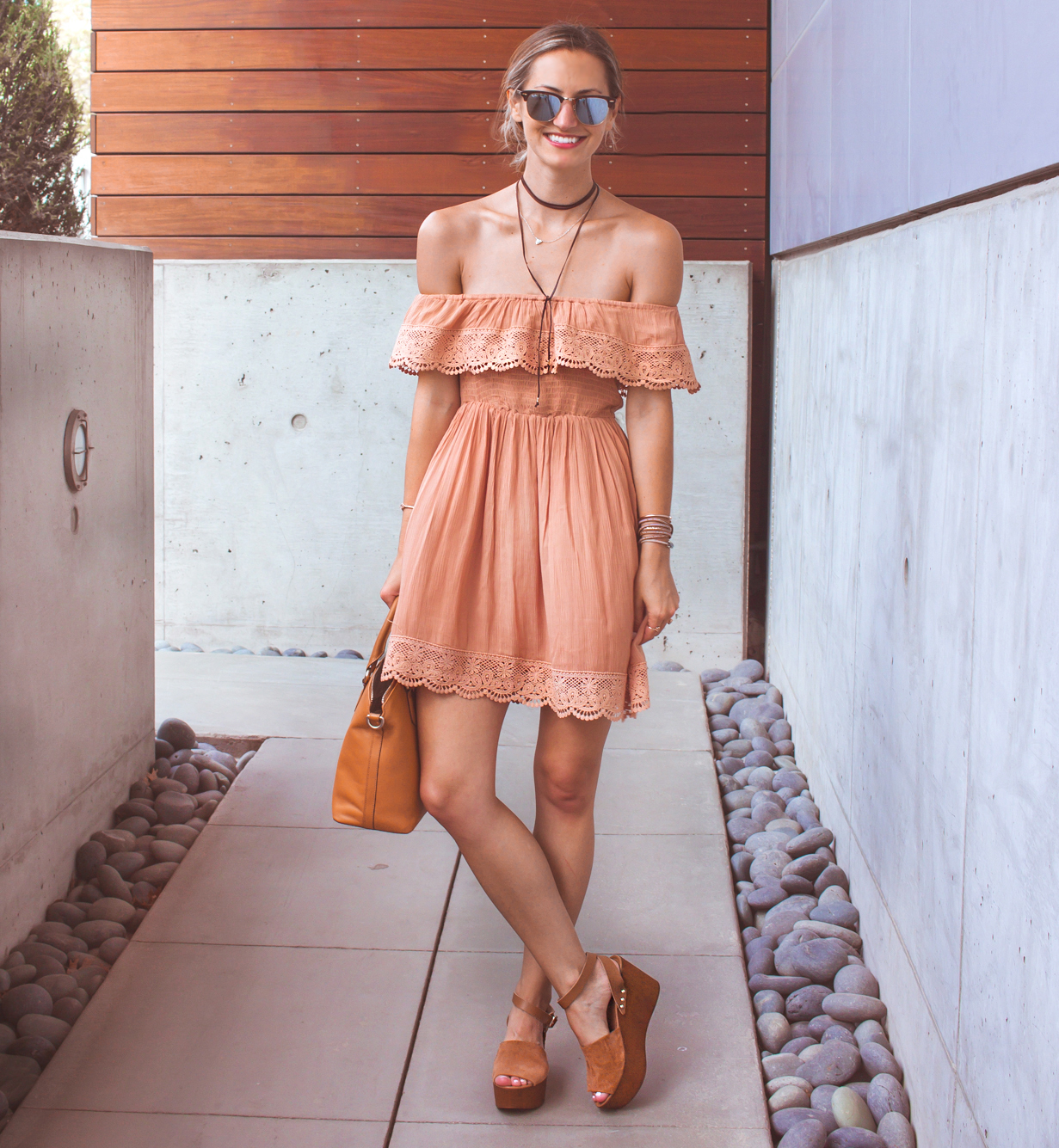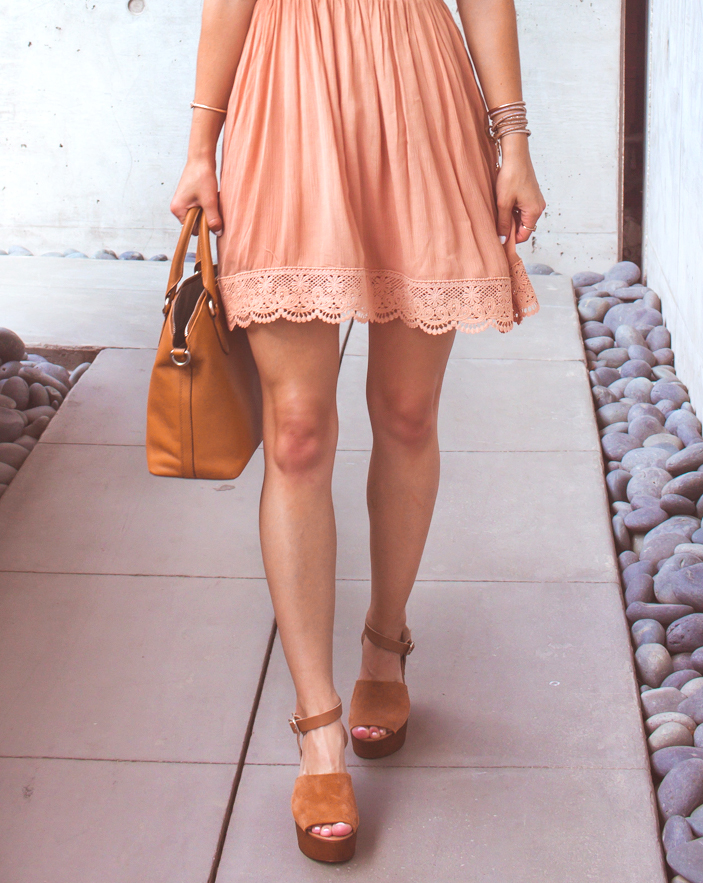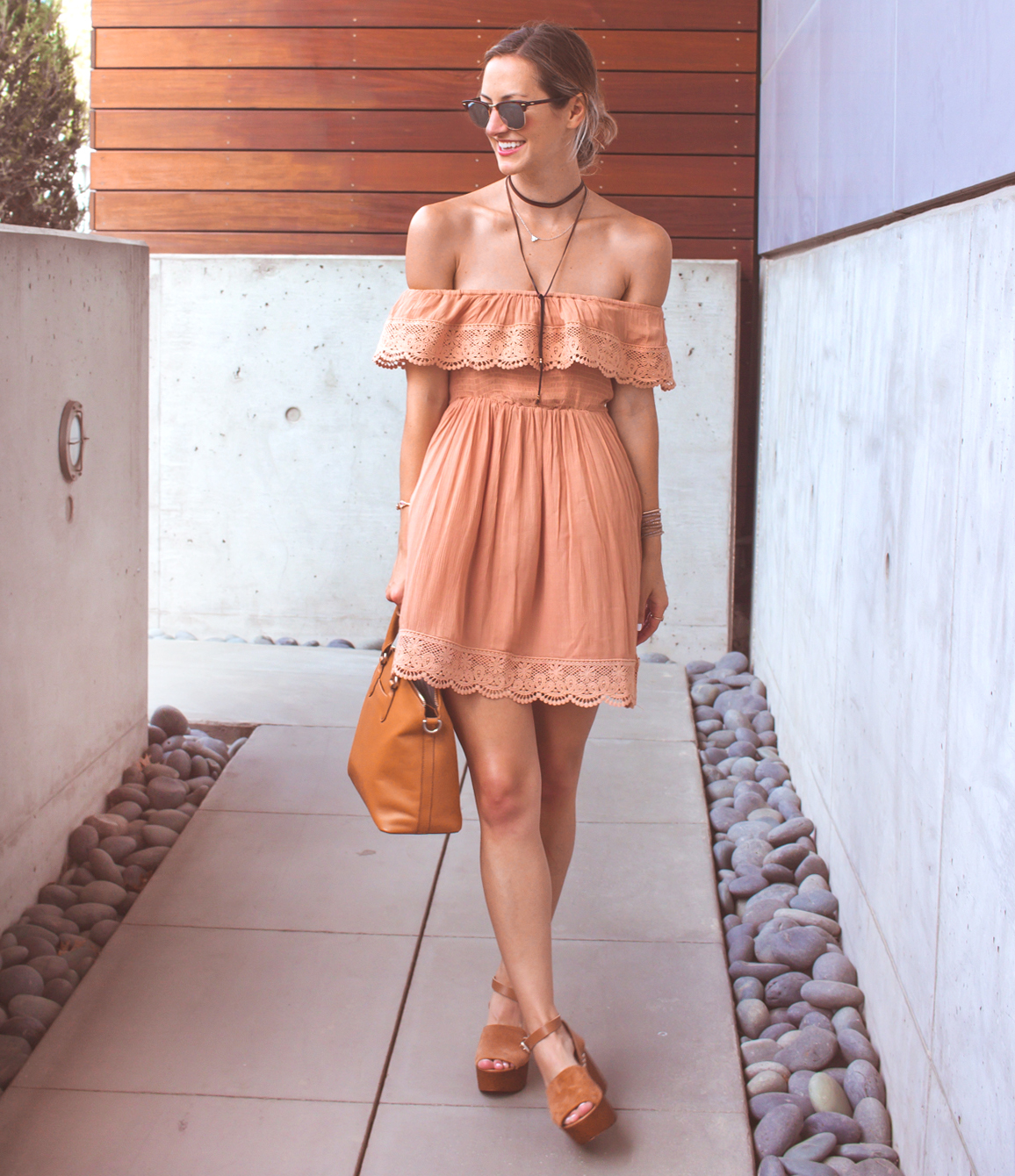 Anyone else super loving this pretty peach color for summer? It's one of those colors that looks gorgeous on every skin tone, and especially with cognac accessories! For size reference, I am wearing a US2 in this dress and it fits TTS. 🙂
I wore my go-to cognac wedge sandals by Seychelles – OBSESSED with these beauties!! They are so comfy and instantly make you feel incredible (…and make your legs look longer…perhaps that's it, ha!) and I love the platform detail and ankle strap for extra support. Highly recommend these (and they come in a few more color options like black and teal, too). Y'all know I'm through and through a Brahmin handbag fan, and this gorgeous handbag (that also comes with a detachable cross body strap) is THE perfect size, shape and color to match all of my summer shoes…and it will also be super perfect for fall fashion, too…big fan of earth tones over here! 🙂
Lastly, I topped off this look with reflective Ray-Ban sunnies (love the Clubmaster frames) and layered necklaces – how fun is that lariat choker with a dainty pendant necklace? I'm loving this 70s-meets-90s trend with choker necklaces lately, too adorable!
I hope you all had a marvelous weekend and are feeling rested and ready to take on Monday..! Thanks for stopping by!! XO
dress – MISSGUIDED / shoes – SEYCHELLES / handbag – BRAHMIN / choker necklace – similar NORDSTROM (just $18!) / pendant necklace – KENDRA SCOTT / wrap bracelet – SHOPBOP / watch – similar NORDSTROM / sunglasses – RAY BAN