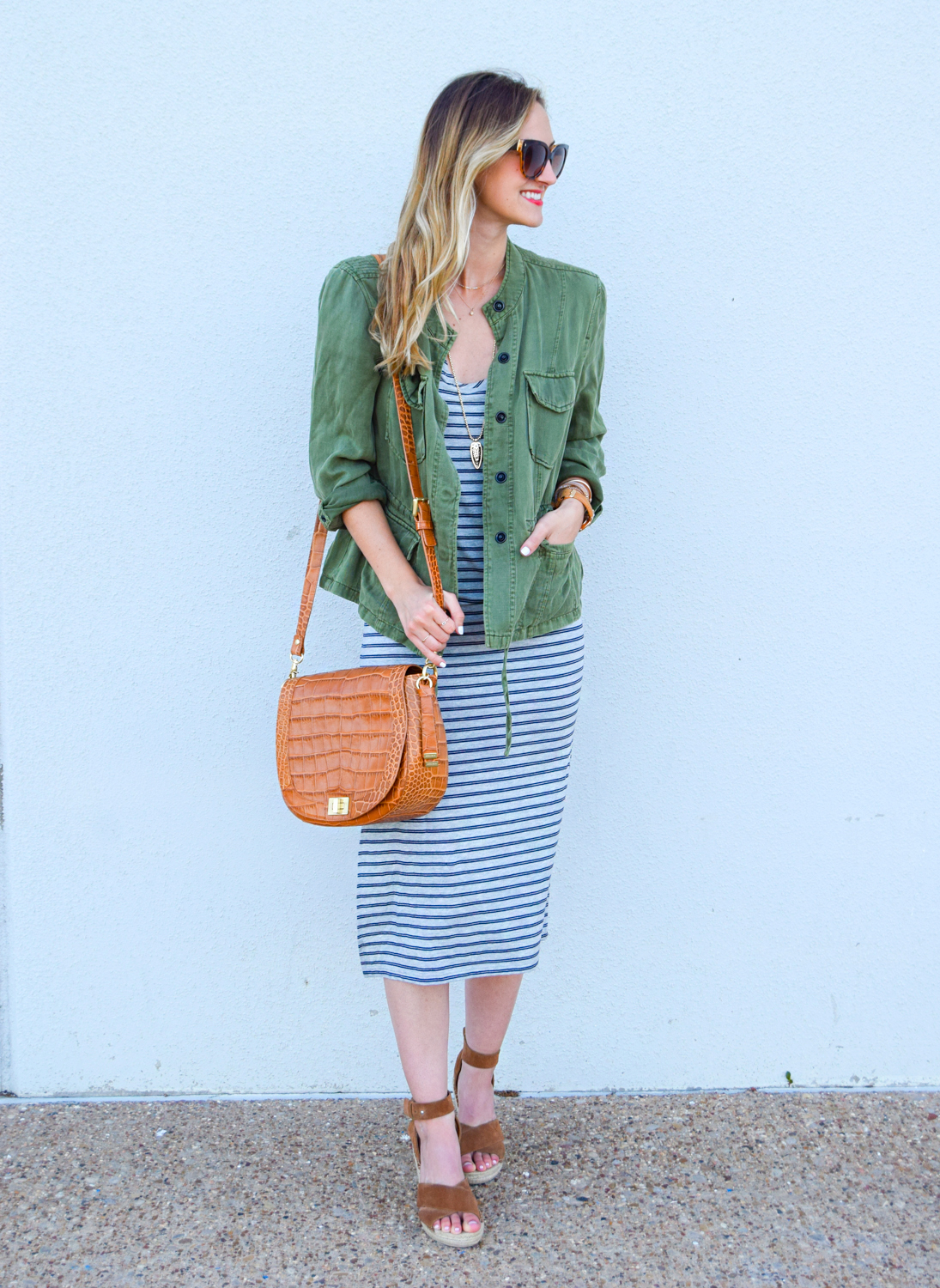 Ooh girls am I excited about today's post! As y'all know, I've been a HUGE fangirl of Brahmin handbags for years now, so when they asked me to collaborate and feature my favorite bag from their new Southcoast collection, you better believe I did a happy dance at my desk and immediately called Blake right after that email came in – ha! ;). Hey, we all have things we obsess over and after falling in love with their handbags while working at Nordstrom in college…let's just say my Brahmin obsession stuck around and has only grown stronger! (…Especially when they keep coming out with gorgeous new handbags that are totally my style, like the Sonny Crossbody Handbag in Tan Savannah).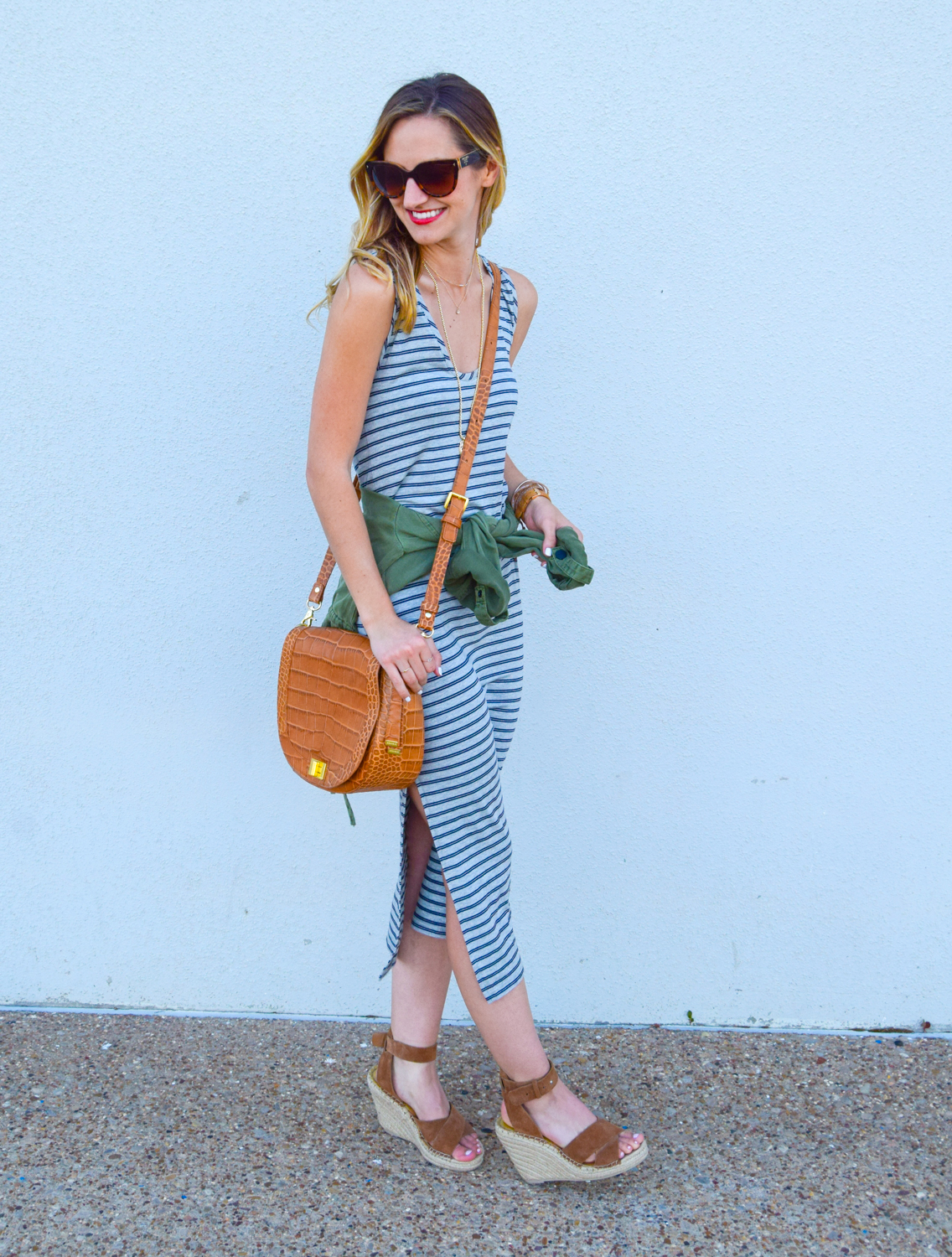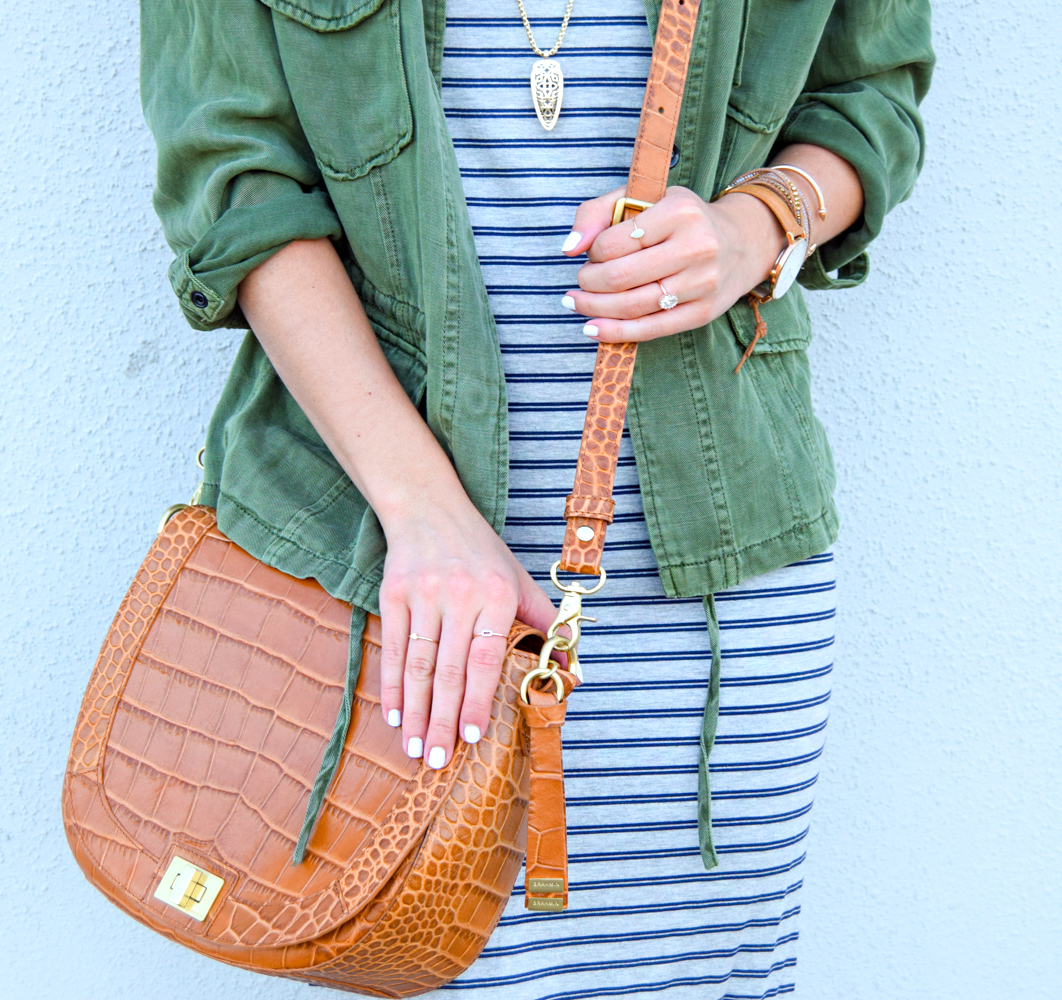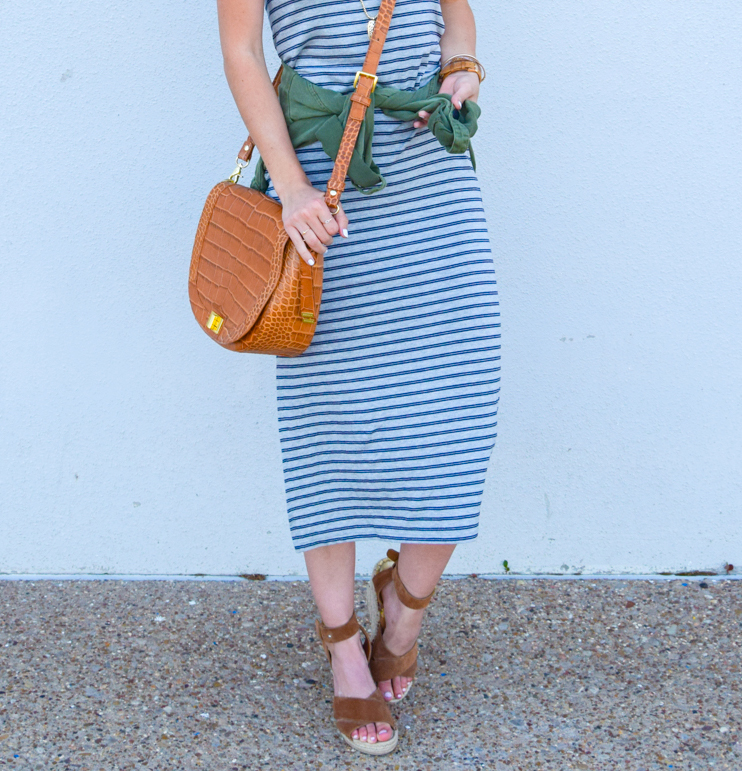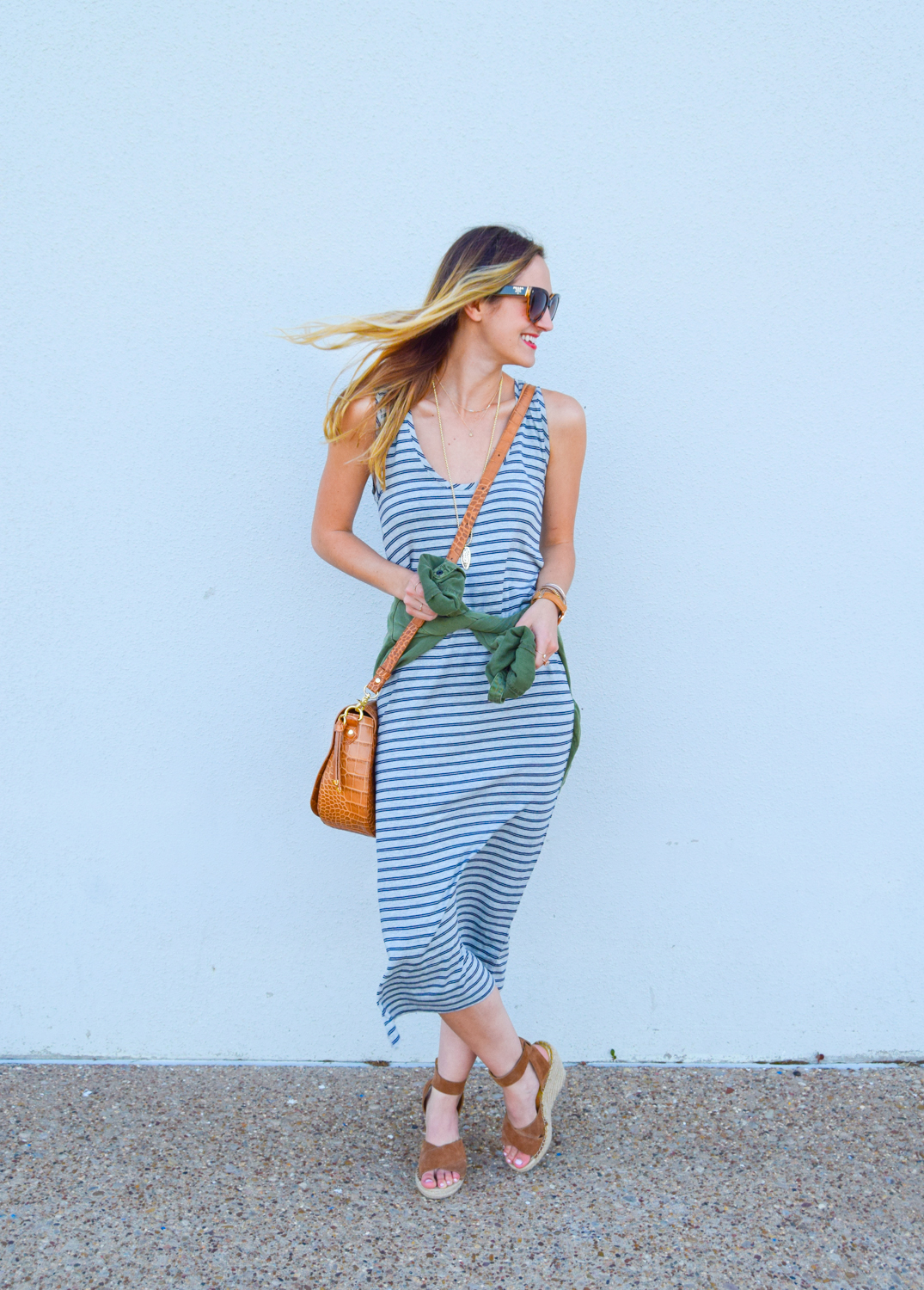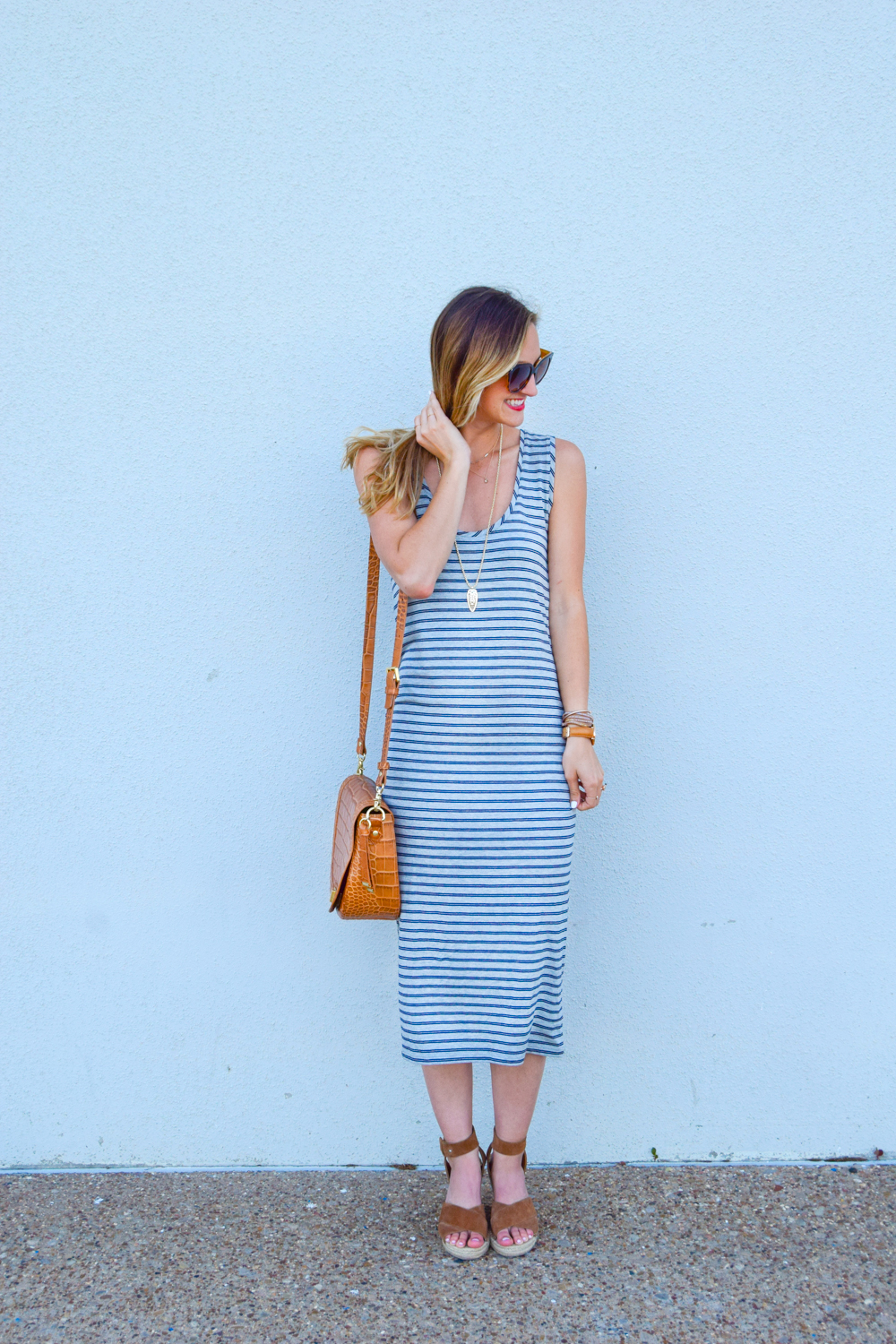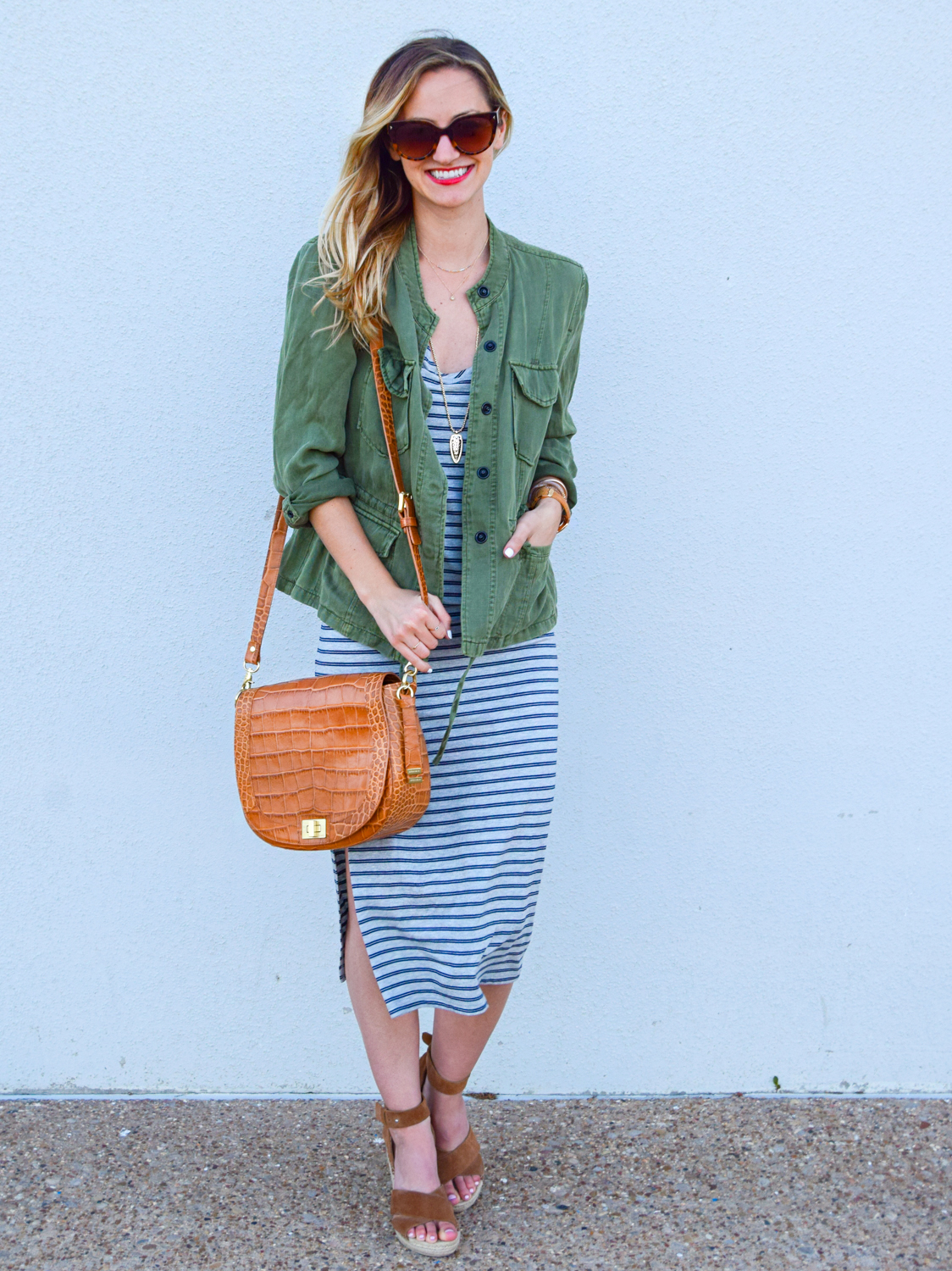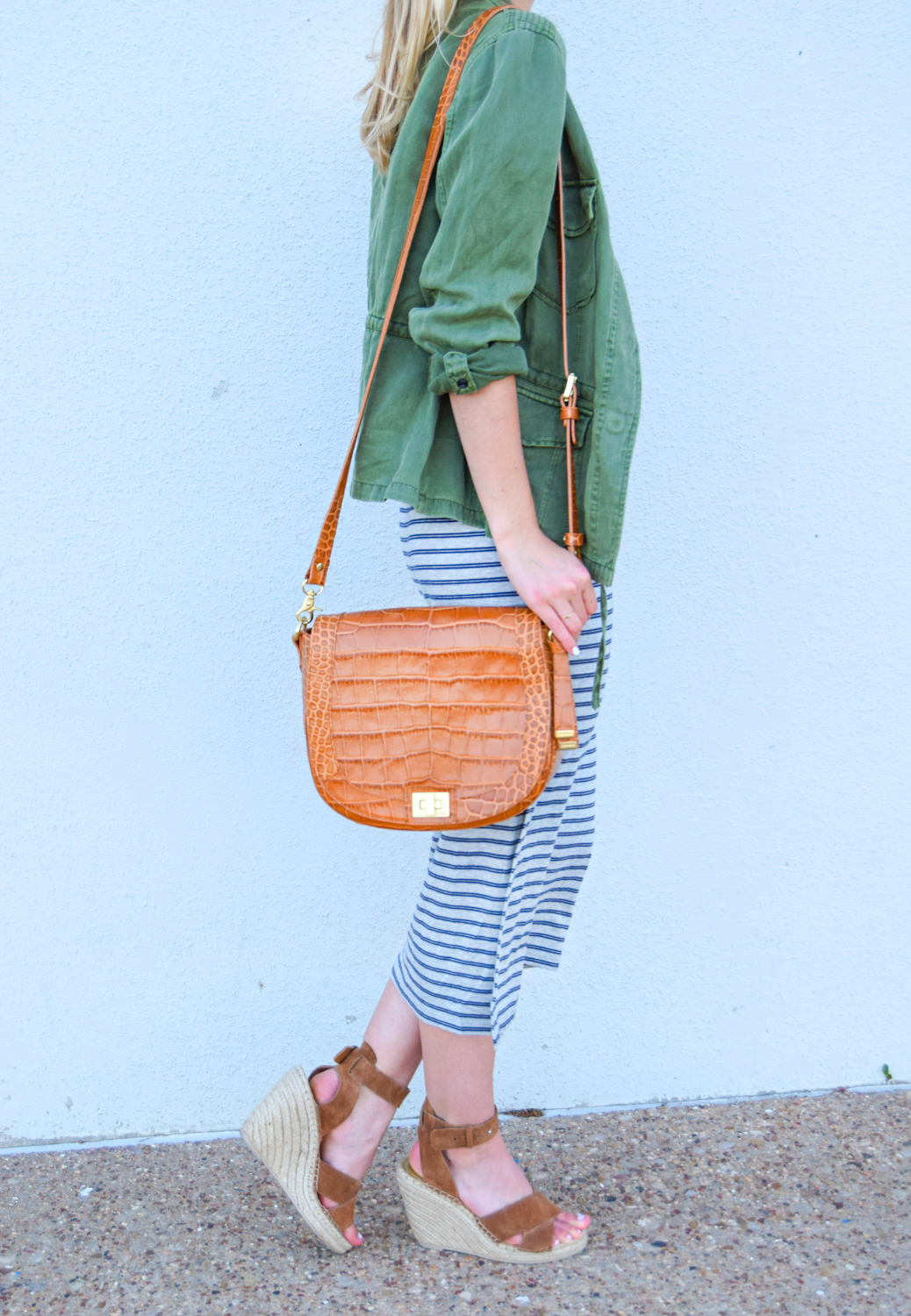 As Blake and I prep for our Mediterranean getaway (we fly out to Barcelona first thing in the morning, eek!), I am in full-on planning and packing mode…and of course have been keeping in mind what to wear on the trip! This striped midi dress is SO comfortable and I am in love with the length! It's not too tight, so it can be worn alone or if you like to layer up, add a utility jacket (..and when it gets hot, just tie that around your waist!). I am wearing a size XS in the dress and a small in the jacket. Which by the way, this jacket is that perfect light weight, ultra soft material (surprisingly cozy, I've had multiple friends comment on how unexpectedly soft it is!) that you can wear from season to season and especially on those cool spring to summer evenings. I'll absolutely be packing these adorable items for our trip! …Umm, can you imagine this outfit with Rome in the background? Mhmm, me too! 😉
My wedges are crazy comfortable and I scooped this up in that perfect cognac color that goes with everything. I love the soft and inviting look of wearing cognac accessories to jazz up and outfit – and between my shoes, watch, sunnies and pretty crossbody handbag, I'd say I'm all set with cognac goodies!
As this trip inches closer (as in, we're now counting down the hours!), I am keeping in mind practical yet fashionable items that can stand up to traveling around the country and keep me comfortable throughout our adventures. The new Brahmin Southcoast Collection exudes that effortlessly cool, understated luxe vibe so perfect for exploring the Mediterranean or simply running errands around your city – and the Sonny Crossbody I have on may appear a solid medium size, but this thing holds EVERYTHING! Yesterday I realized I left my big blog camera in my car, so as I was running errands I put the camera in my handbag (along with my wallet, keys, snacks…) and I still had more space to fill! This particular handbag also comes in smooth black or tan (they're soooo pretty, I am drooling over these!) – you really can't go wrong with any of the gorgeous bags from the new collection!
From handbags to gorgeous backpacks and wallets, take a closer look at the Brahmin Southcoast Collection here. Whether you're into smooth or croc-embossed leather, black or tan colors perfect for summer – they've got a pretty new purse with your name on it! 😉 When I worked at Nordstrom, women would shop with me and wear their Brahmin handbags (that's how I learned about Brahmin) and they always talked about how durable yet pretty the handbags are – and at a very affordable price point for a gorgeous, genuine leather bag. Five years later and I am now one of those ladies walking around spreading the Brahmin love. Funny how that happened!
Okay, now that I've gushed about a handbag line for an entire post…;) ha! I want to wish you all a fabulous week!! I've got a fun Style Me Pretty post prepped and ready to go live on the blog Friday morning and I am SO excited to finally share it with you! (Hint hint: if you're looking for a white cocktail dress for any occasion, check back on Friday because this list is pure magic!). Lastly, be sure to follow me on Instagram and Snapchat (both usernames are: livvylandblog) to get the scoop on our Mediterranean cruise over the next week or so – we'll be back in Austin June 5th!
handbag – BRAHMIN / dress – STEM / jacket – SANCTUARY CLOTHING (wearing a small) / shoes – DOLCE VITA / sunglasses – PRADA / necklace – KENDRA SCOTT / watch – NORDSTROM / wrap bracelet – CHAN LUU
A big thank you to Brahmin for sponsoring this post! All opinions are my own.