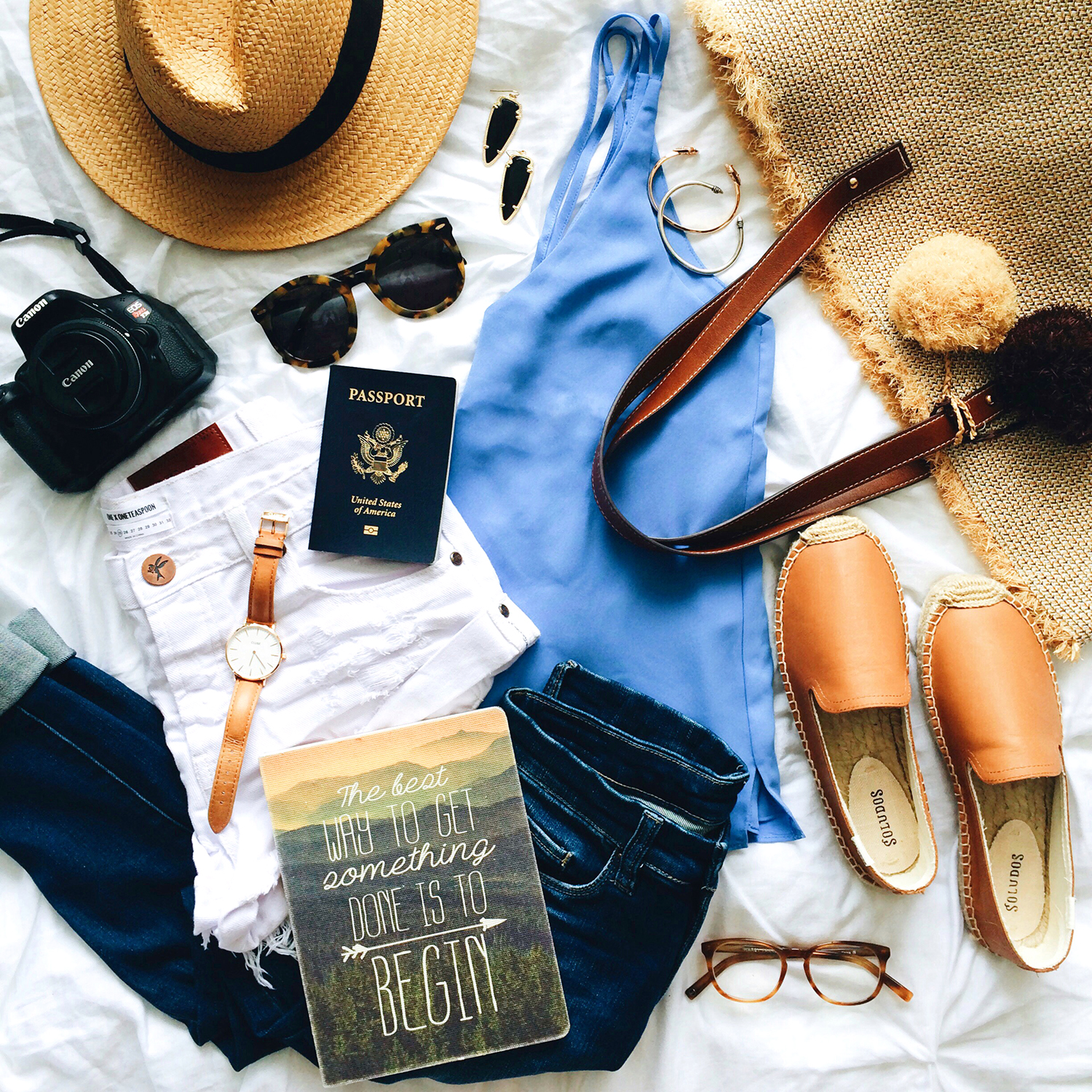 Hello there! Well… I have some very exciting news to share with you all!! Blake and I are headed on a Mediterranean getaway next week…and I am SO EXCITED! I am partnering with Princess Cruises to share our adventures as we fly from Austin to Barcelona and from there, board the ship and travel around the coast of Spain, France and Italy. Y'all…is this REAL LIFE?! I must admit, when I received the email from Princess Cruises I actually started crying tears of pure joy haha! GIANT goon over here, but it's not everyday you get to partner with an incredible travel brand and bring your love along for the ride! Needless to say, I am so thrilled to relax, enjoy the view and soak in the gorgeous scenery as we travel around for 8 days! We depart late next week and we finally booked our flights yesterday soo… it's. all. really. happening. AH!
SHOP MY PICKS ABOVE
From what I've read online and heard about from friends who've ventured on similar vacations, the way to dress is comfortable (we'll be walking a ton for excursions at every port…hence the Birkenstocks that will most definitely make a daily appearance, ha!) and more on the modest side (which I generally do anyway, so that works out!). The weather is in the mid 60s to high 70s range, so I am going to pack a few light jackets and layer up as needed. Always love that look as it is!
I wanted to create a fun little "what to pack/wear" list and share with y'all because each of these items would be SO cute in whatever city you live in – whether you're vacationing or not…and of course I am envisioning Italy as the backdrop with each piece…soo, that's where my head is at as I pack, ha! 😉 Maxi and midi dresses, light jackets, off shoulder tops, fab sunnies, killer shoes and fun accessories…can't go wrong! Not to mention the fact that my mind has been completely consumed with the "what to wear" part of this trip (surprise surprise haha) so I'm excited to finally share this with y'all! 🙂
**Scroll over the images above and click to shop!
I love the idea of wearing flowy maxi or short dresses and layering on a light jacket (I have that green utility jacket and am OBSESSED! And I actually just picked up this faux leather jacket yesterday while doing a little pre-trip shopping. It's only $90 which is a total steal, it's gorgeous quality and such a flattering fit, too!). I'd been on the hunt for the perfect faux leather jacket with a price point that didn't terrify me (even faux can get pricey!) and after trying on half of Nordstrom yesterday (ha, not even kidding!), this one finally had me grabbing the sales associate for a second opinion (love them for that!) – and it was a unanimous "mhmm, you need that!" So much fun & I can't wait to wear this on cooler nights in Austin (this weekend, perhaps?) and as we set sail next week!
You can't go wrong with off-shoulder tops (at home or on vacay), and I loved the feminine vibe of these two above (blue one here, white tie sleeves here). I'm a big fan of Goodnight Macaroon and have found that their tops just fit beautifully and the quality is really nice. I just ordered quite a few more tops from them and can't wait to wear them on our trip!
As for shoes – I am excited to pack for both comfort (lots of walking – I will absolutely be packing my favorite walking shoes ever, these ankle strap Birkenstocks) and for those fun dining experiences on the boat. We're supposed to get super dolled up one night, so that will be nice to slip on some high heels and grab a drink on the deck before we dine, etc. Wahoo!
Alrighty gals, just wanted to finally share our trip news and feature a few items I am loving and so excited to pack on our trip! Can't wait to enjoy a romantic week traveling through Mediterranean, will of course share posts of our trip throughout the week!
Until then, I better start my packing prep, ha! 😉 If you have any more recommendations, please share in a comment below! Or if you have any book recommendations, I'm all ears, too! (Will need some serious reading material as we're in the middle of the ocean and flying for hours on end…can't wait!).
Thank you to Princess Cruises for sponsoring this post!! All opinions (and overwhelming excitement) are my own.
SHOP SHOES
SHOP DRESSES
SHOP ACCESSORIES
SHOP JACKETS
SHOP SWIMWEAR