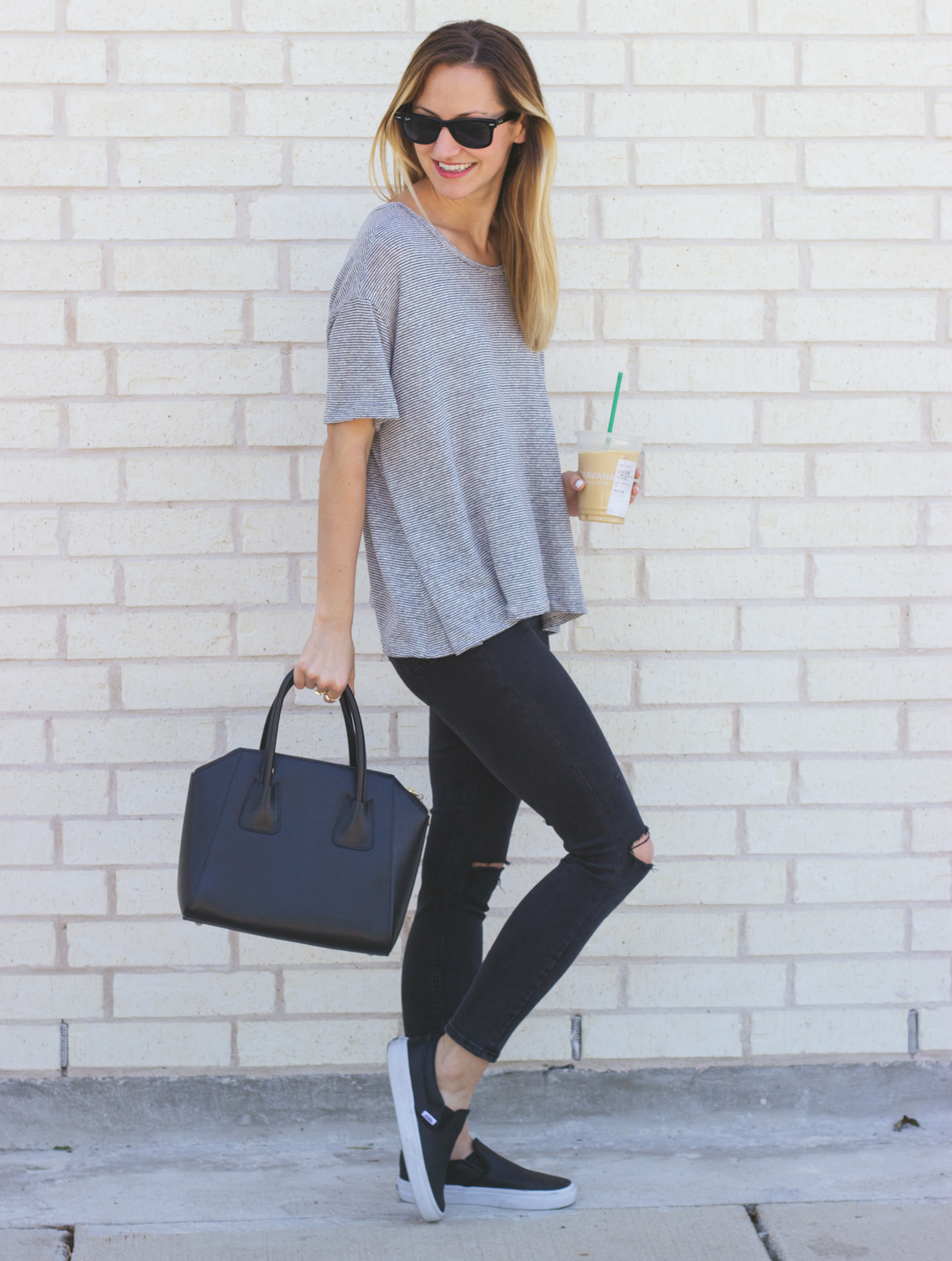 Wahooo, we made it this far! 😉 This morning I am headed to Dallas to visit one of my besties (Lauren from the fashion blog Vandi Fair) and I am SO EXCITED to see her! It's only been about a month since our last gathering, but she's one of those friends that when we're together, it's non-stop silliness and laughing…thus, I always look forward to seeing her! We're meeting a few other bloggers for lunch and then going to snap some photos around Dallas, then I'm headed right back to Austin – quick little day trip! I'll likely consume an unhealthy amount of coffee to make it through our busy day ahead, ha! Blake is headed to visit his best friend in Atlanta tomorrow, so I definitely want to get back and take him to the airport early in the morning (..like, 5am early..eek!)…all good, I always enjoy waking him up and having coffee while he packs, then giving him a big 'ol farewell bear hug and smooch at the airport…wouldn't miss that opportunity! 😉
Now that we're inching towards the weekend, I felt that sharing this casual skinny jeans, lace-back tee and slip-on sneakers combo was appropriate. 😉 It's pretty much the ultimate "oh ya know, just going for a casual coffee run!" look.. 😉 Ps. Every time I take blog photos I always start by grabbing coffee…for one, it's delicious and two, depending on the weather it either cools me off or warms me up… it's my photo shoot staple! (No surprise there, right? 😉 ).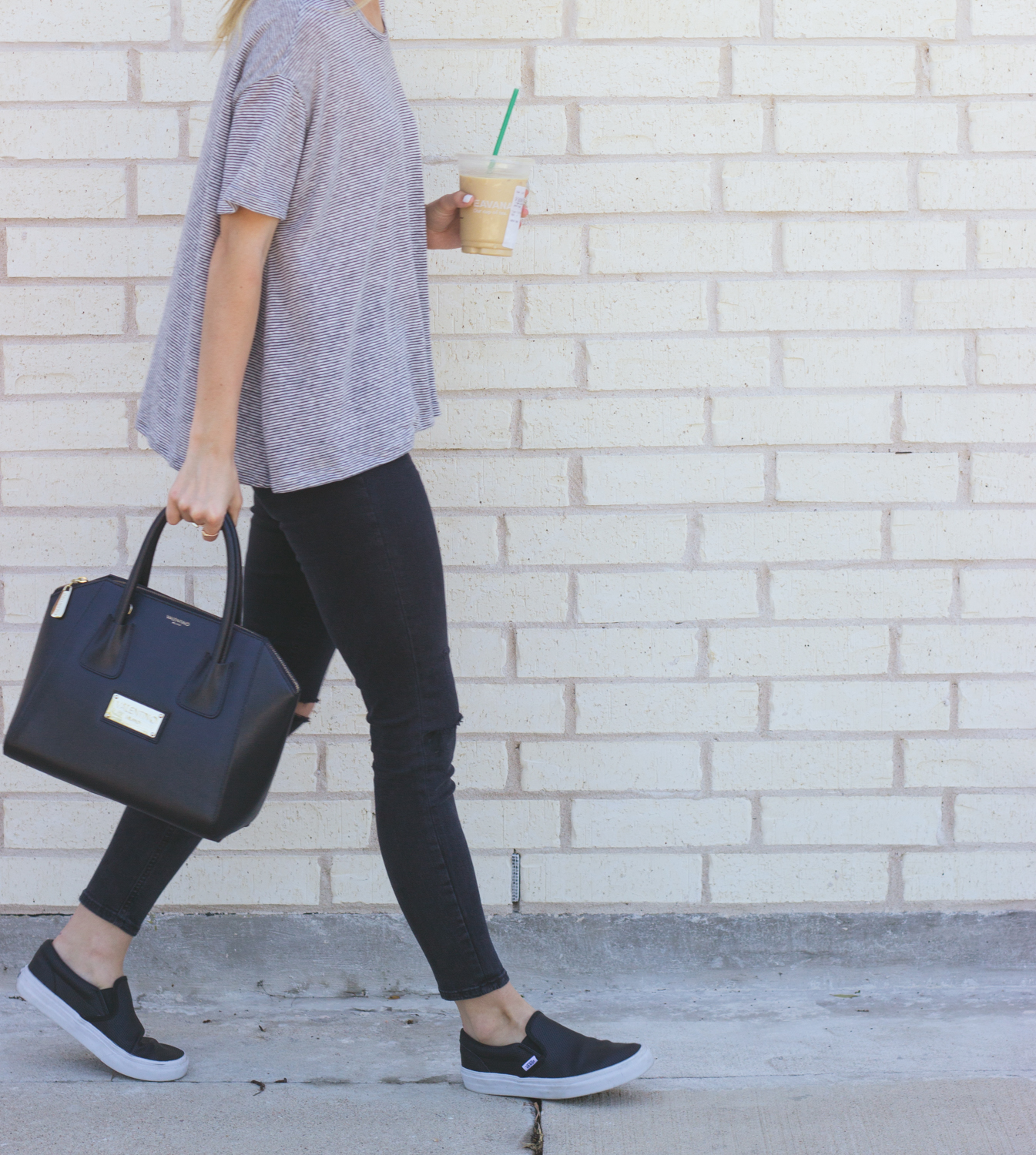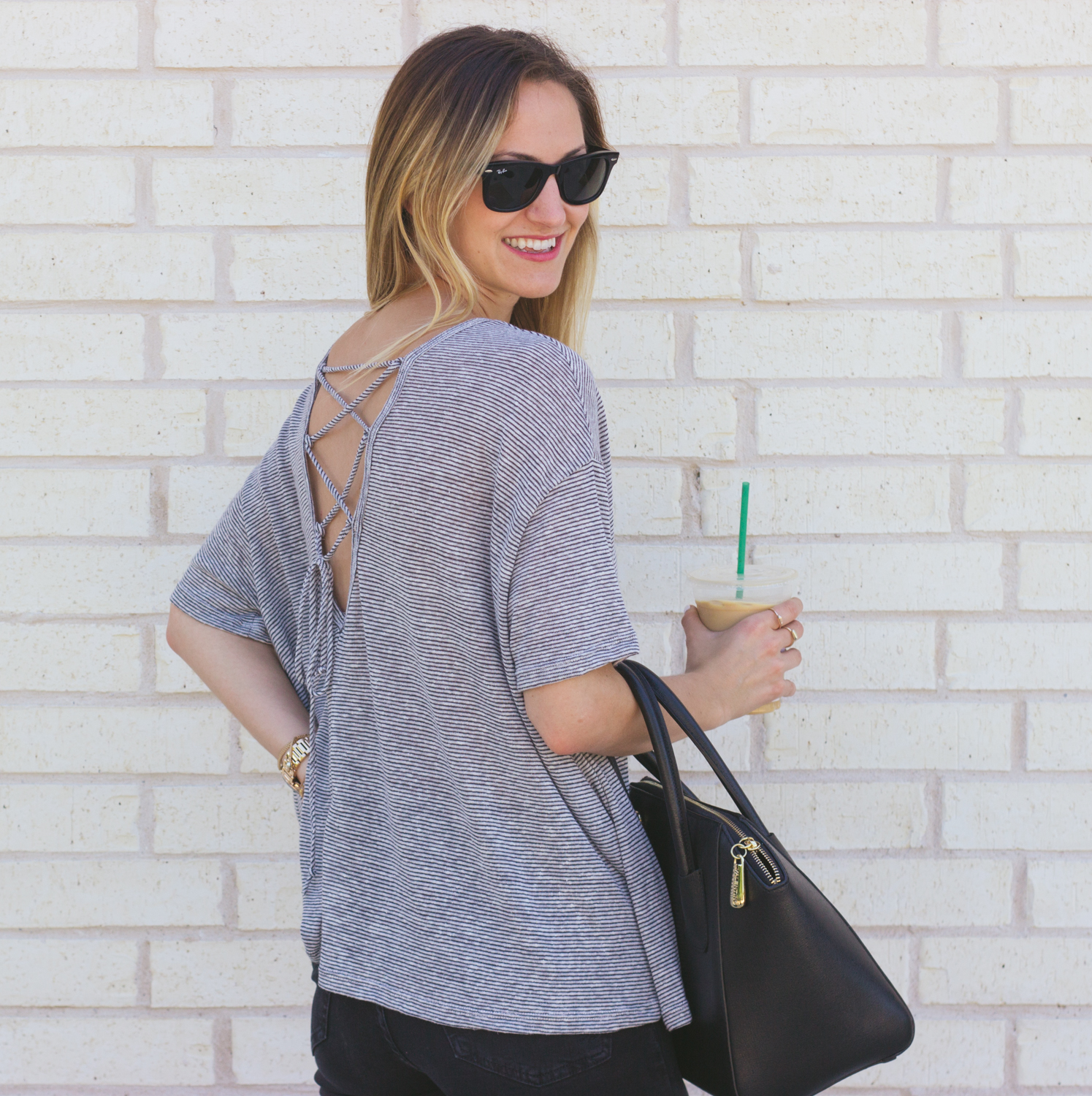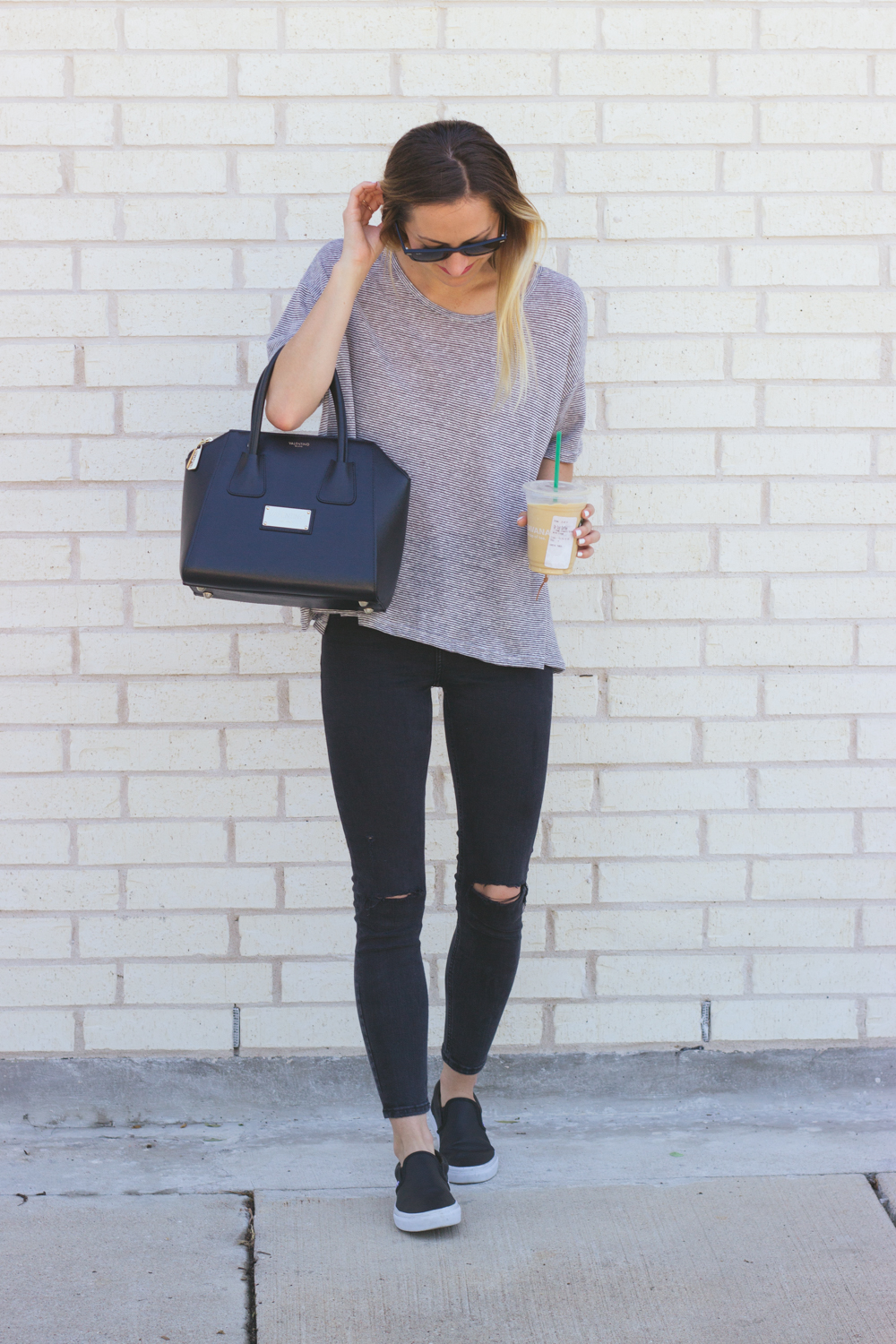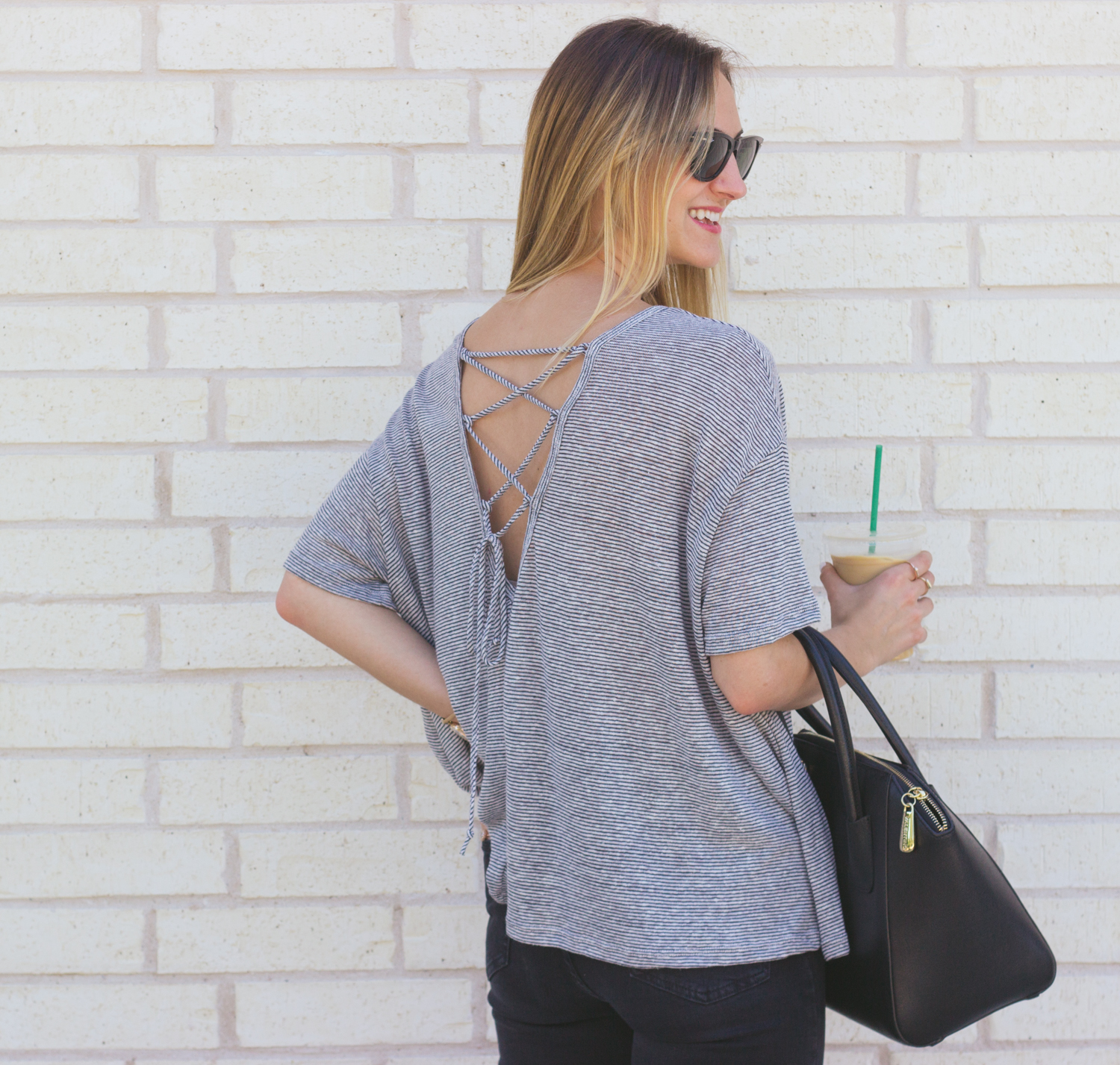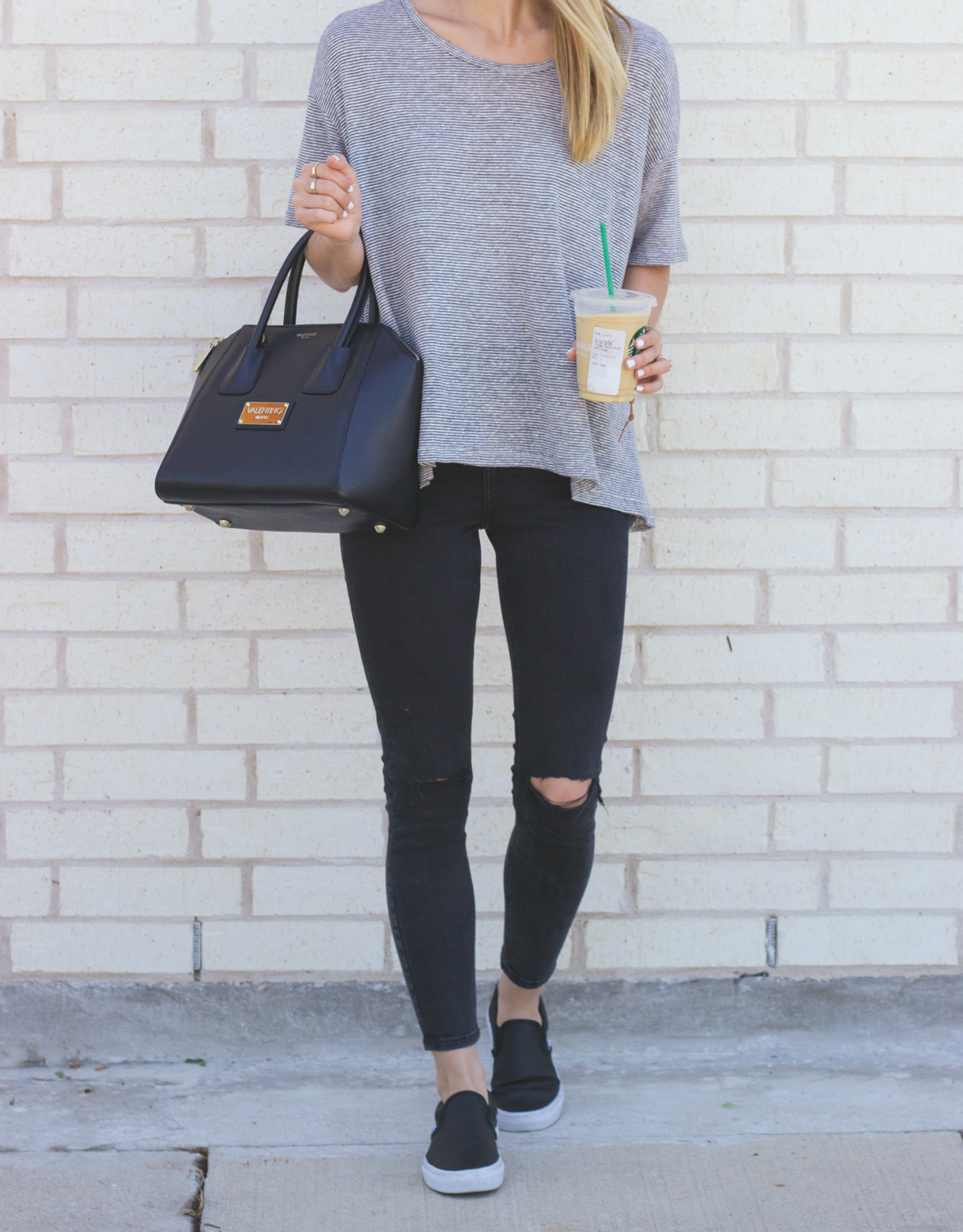 Happy Thursday, ladies! Sooo good/bad news: the bad news is this top has just one size left… the good news? I found a TON of very similar tops that are equally wonderful and have either that oversize, slouchy fit (which I LOVE) and/or a fun back detail (like the lace up…big fan of that!). Pheww, now that I got that out of the way.. 😉 it's time to talk about these SHOES. These black slip-on sneakers = magical and I promise you will wear them ALL the time…I say this because I really wear these aaaall the time (no really, ask Blake…like, all the time haha). The price point is amazing (under $60) and they fit TTS.
Lastly – my jeans are by Topshop and I've had them for over a year now and swear by them! I actually just scooped them up in white today (see those here – equally perfect, they're soo cute for summer). They fit snug, so I recommend ordering a size up. My handbag is an oldie but a goodie by Valentino, it's no longer available so I linked to a few similar options below at different price points (there's a very similar Kate Spade handbag & Michael Kors bag that are both  s t u n n i n g !!).
I hope y'all have had a great week! I've got a fun new weekly post in the works coming tomorrow (…thinking it'll be up in the early afternoon, can't promise I'll jump right on my computer after I drop Blake off, ha! My bed may be calling my name for another hour or so.. 😉 ).
Shop this look and more similar tops below! XO
TEE SHIRT / JEANS (order a size up, they run small) / VANS SHOES / HANDBAG (similar, mine sold out) / RAY BAN SUNGLASSES
SHOP SIMILAR TOPS