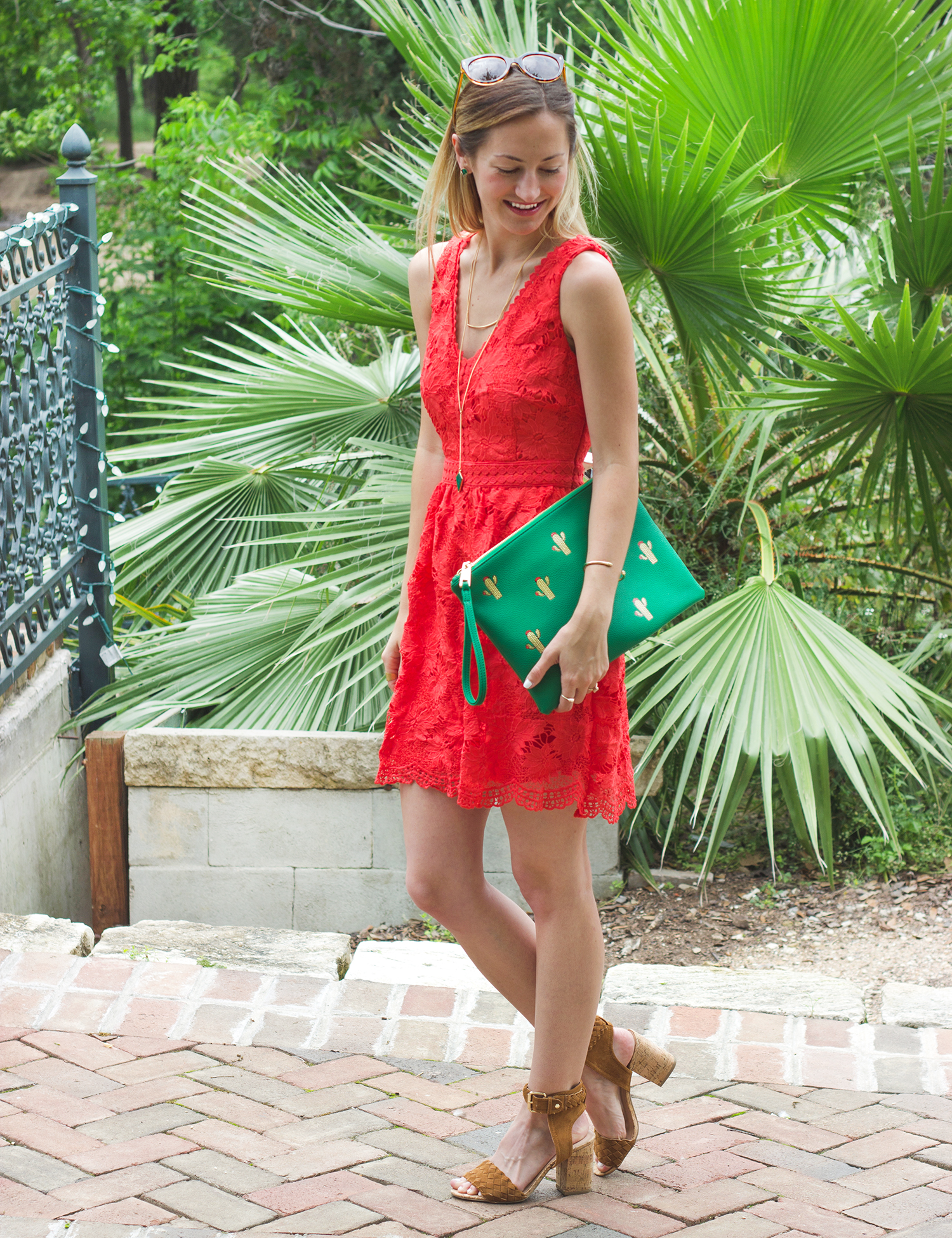 Hi ladies, hope your week is off to a great start! I am super excited to partner up with Modcloth today and feature a fun little wedding attendee look for y'all! In my last blog post, I touched on how I am definitely in that stage of my life where weddings are happening left and right (…and if it's not a wedding, it's a shower or engagement party or… okay okay, you get the point!) – thus, it's important to know how to dress for such occasions – and I'm here to help! 🙂
Given that I live in Austin (err…basically the most casual city ever) and most of the weddings I've attended here are primarily outdoor ceremonies or receptions, let's just say it's key to opt for a dress that flatters your figure and gives you plenty of breathe (…and breeze) room because let's be honest…between the Texas humidity and crazy heat (y'all, we nearly hit 90 degrees today), you'll want to pick a dress that accounts for all of the above and makes you feel beautiful! (Style tip to note: if you know you'll be sweating at an event (hi, that's me starting now through October 2016, ha!), prep in advance by wearing fabric that won't show it! Crochet (like the one I'm wearing) is an excellent choice!).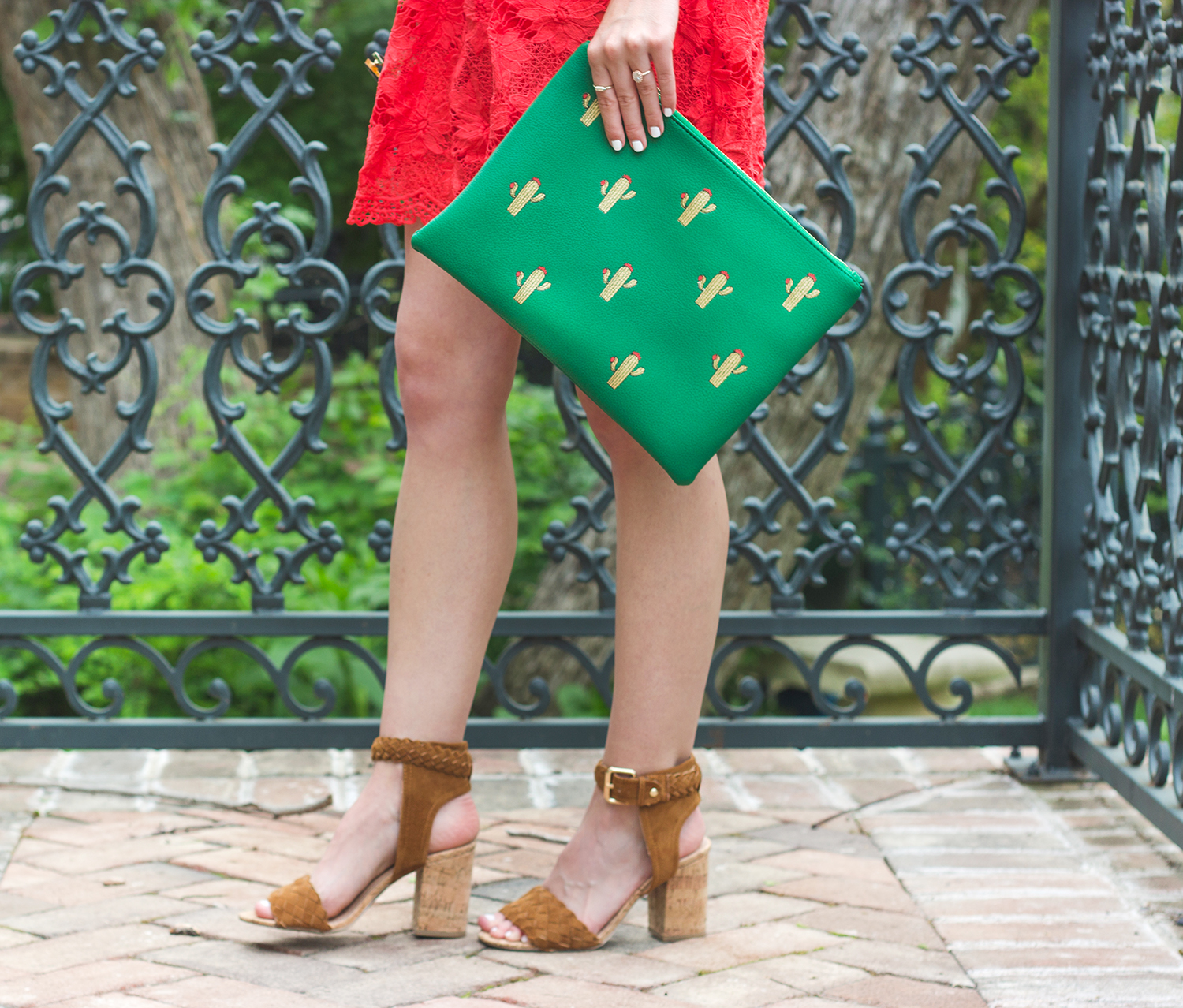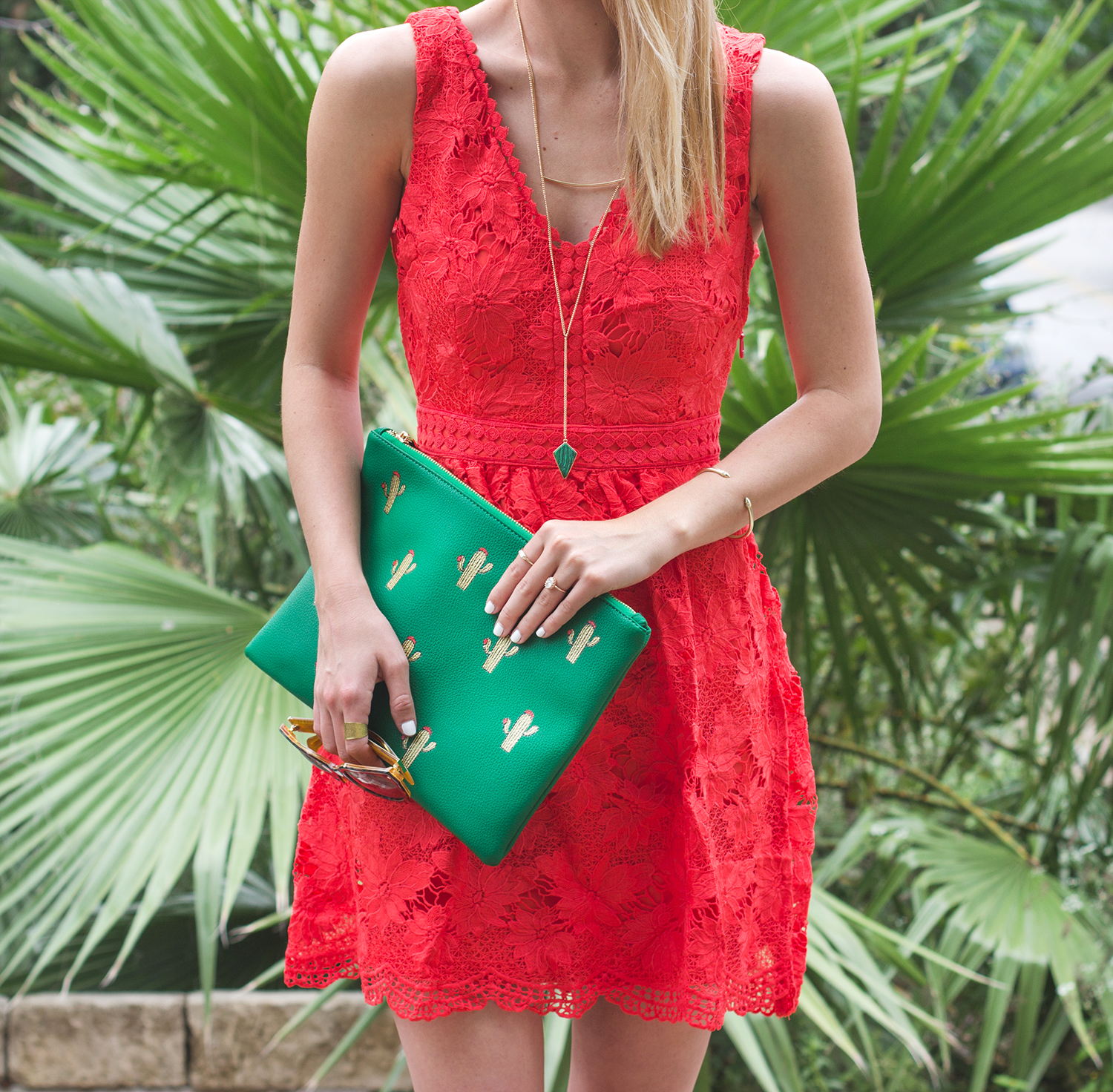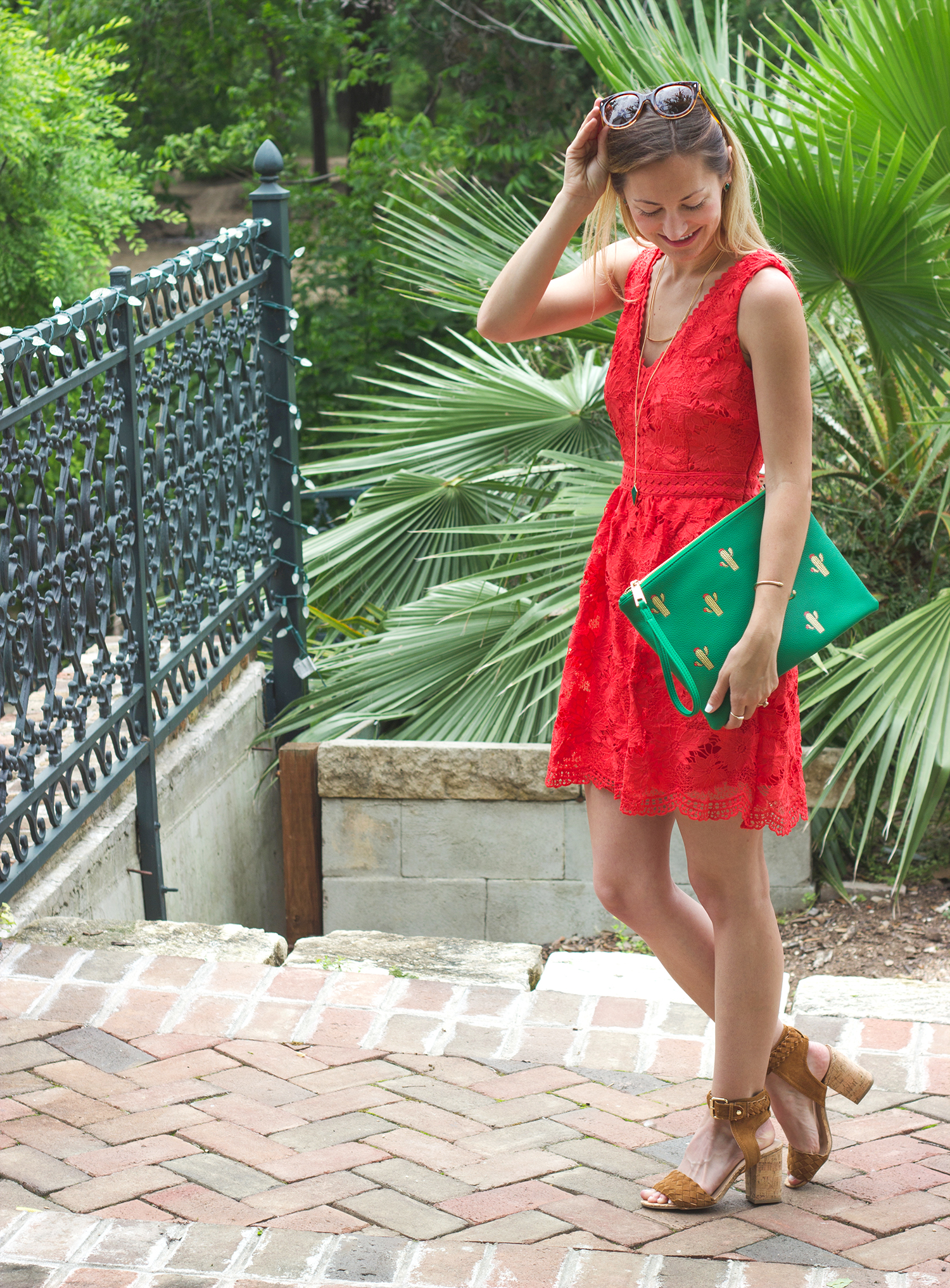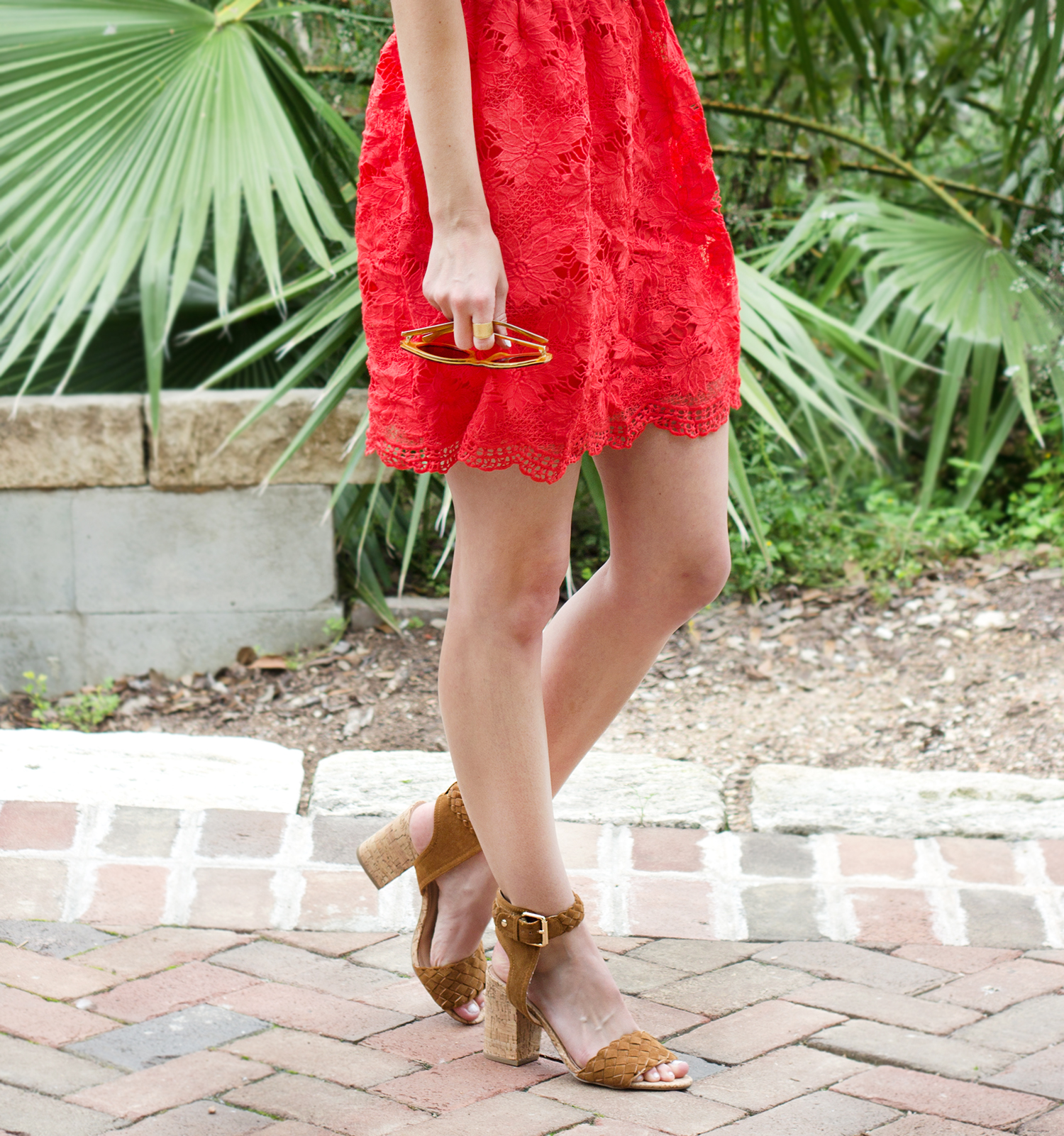 Modcloth is definitely a retailer I adore for their playful accessories and unexpected details when it comes to items on their site. (This brand = ladylike, mod, retro, fun…). For example, those shoes have braided straps (major swoon, sucker for all things braided over here…ps. these are under $50!! Double swoon 😉 ) and OMG that cactus clutch…SO CUTE (very worthy of all caps because I got a gazillion compliments on this adorable clutch when I wore it out this past weekend) and finally, that gorgeous orange-red dress I've got on. It's double lined and a total show stopper that can be worn not only to weddings, but to a cute little dinner date or perhaps even a fab brunch date with your girlfriends (swap the heels for a pair of flat sandals and the clutch for a crossbody handbag). Y'all know me, I'm all about getting the most out of your wardrobe!
Given that I'm often a budget-friendly shopper (…we'll let a few jewelry and handbag purchases slide haha), Modcloth is a fab-u-lous go-to if you're on the hunt for adorable dresses, comfy tees (did you catch my loungewear roundup a few months back? Obsessed!) and vintage-inspired accessories and handbags. It's truly a gem of an online shopping experience because they have such a range of items to choose from!
Wedding season is officially in full swing (anyone else's Facebook newsfeeds suddenly being flooded with wedding photos?), so it's time to scoop up the perfect dress and accessories to outfit your look for these exciting occasions! Modcloth just launched a new wedding collection featuring bridal, bridesmaid, wedding guest and wedding gift selections (so many fun picks to choose from!), so definitely pop on over and check it out! Hopefully my bold and bright (…and Texas-ish – that cactus clutch, ya know..) look gave you a fun idea to get you inspired! 😉
Shop my full outfit below and head over to Modcloth to view their full line of wedding-wear!
DRESS / SHOES / CLUTCH / NECKLACE / EARRINGS
SHOP MORE WEDDING LOOKS
A big thank you to Modcloth for sponsoring this post! All opinions are my own.