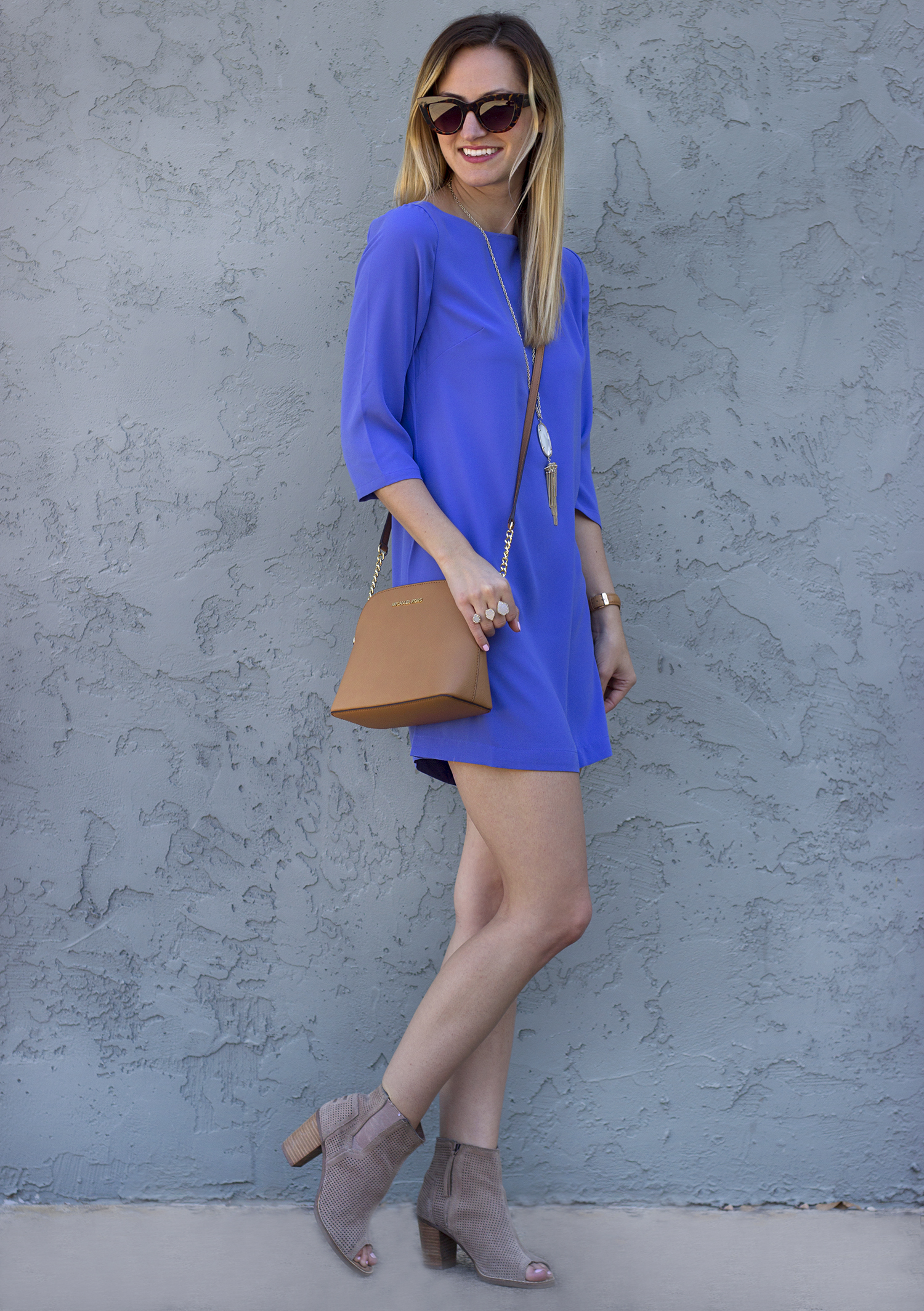 Hi there! How is your weekend going? Things have been crazy busy in my world this week…I am currently in Dallas for the blogger conference I mentioned last week and man..it is BUSY! I woke up this morning at 6am to answer some emails because our schedule has been so jam packed over the past few days. Though waking up at 6am on a Saturday is never ideal, honestly it was really nice to enjoy some peace and quiet as the sun came up…always such a beautiful part of the day and nice to just be me and my thoughts (…and my giant cup of coffee, obvs! 😉 ) for a little while. Thus far the conference has been really wonderful (lots of social media tips, photo editing tools, brand collaboration meetings) and I've loved getting to spend so much time with one of my best friends (Lauren from the blog Vandi Fair – seriously we are GOOFS when we get together, so that has been amazing), but I must admit I am very excited to head back to Austin tonight to see Blake…3 days later and I am dying to see him! ..Hey, that's a good sign though, ha.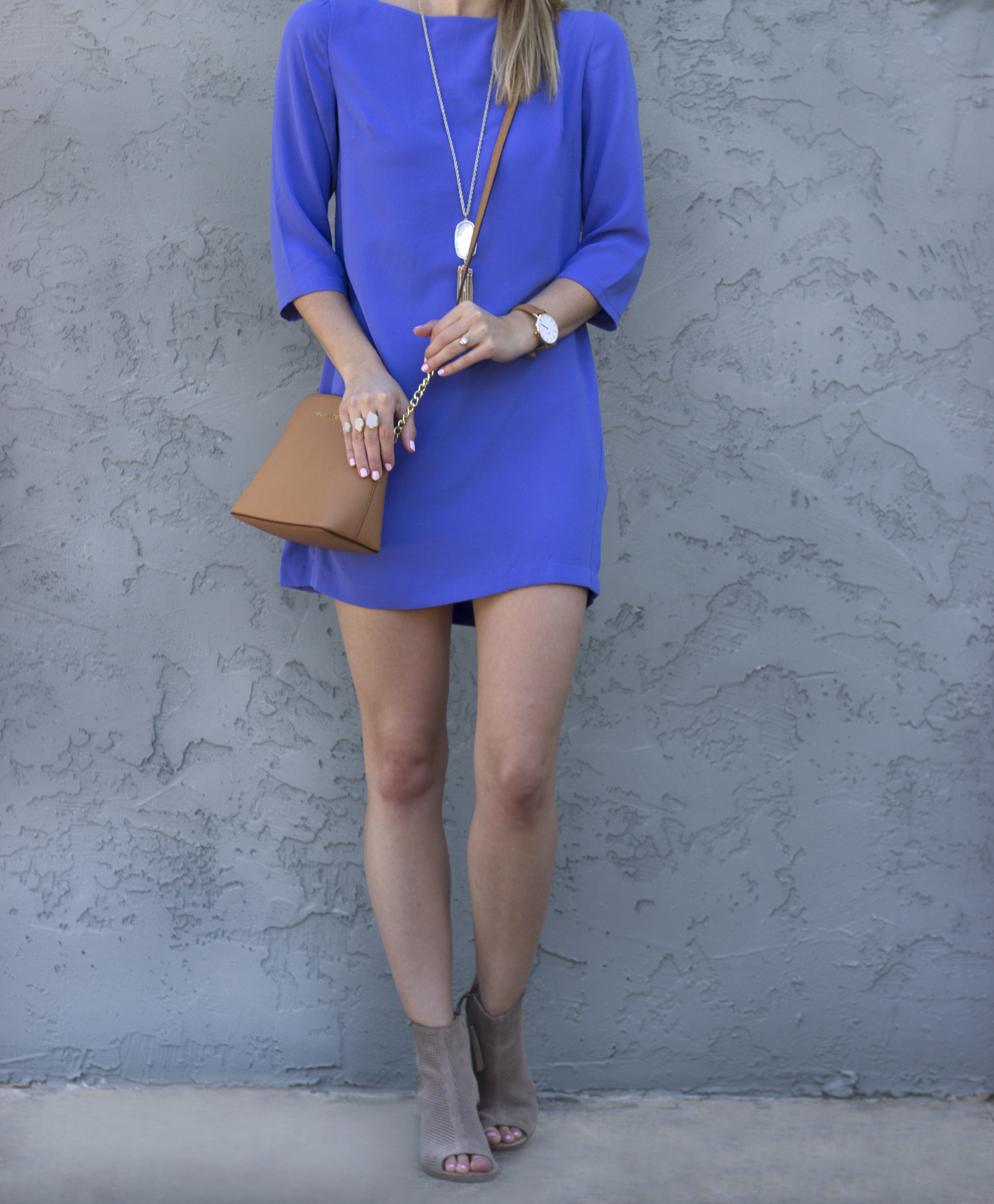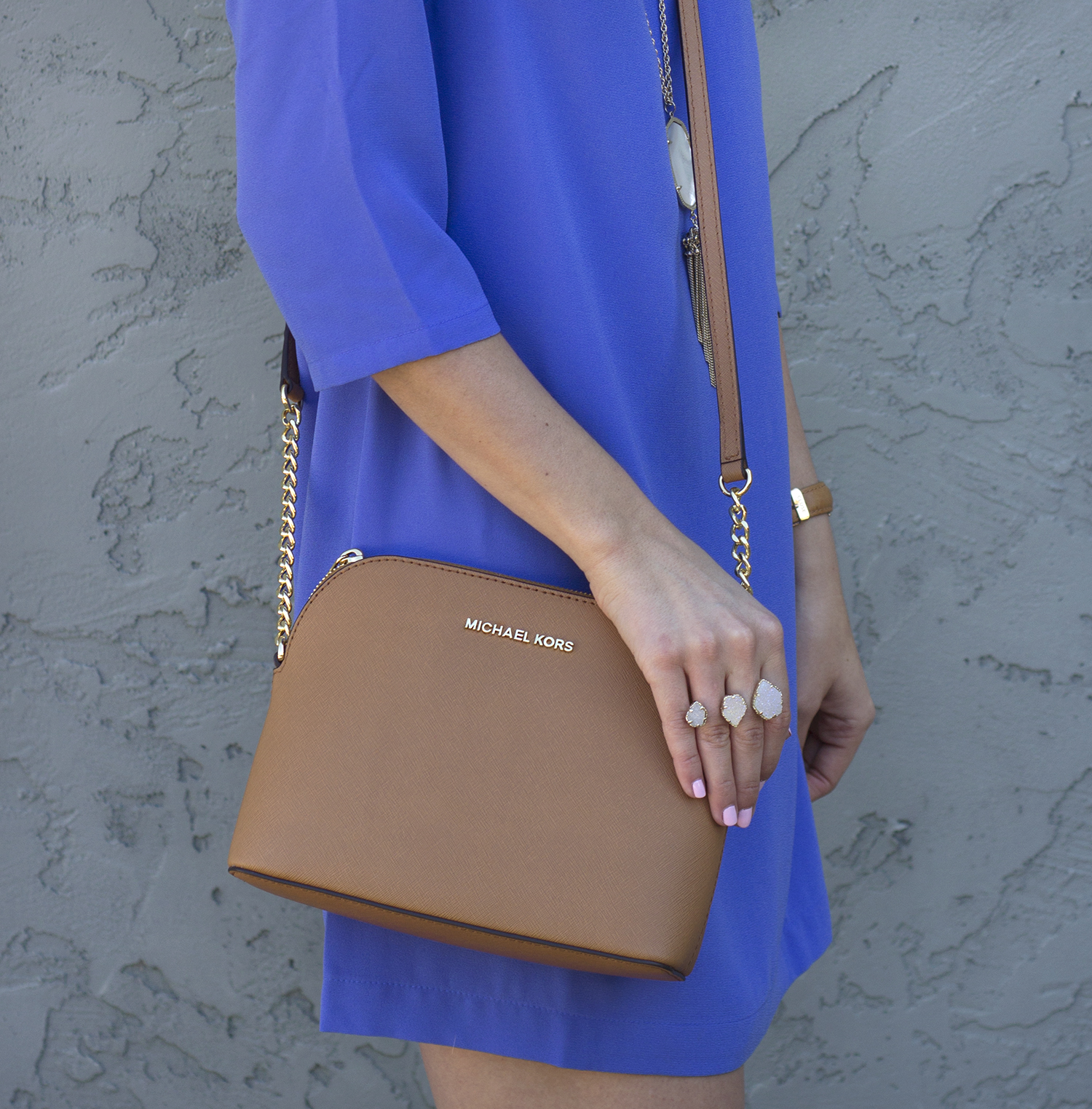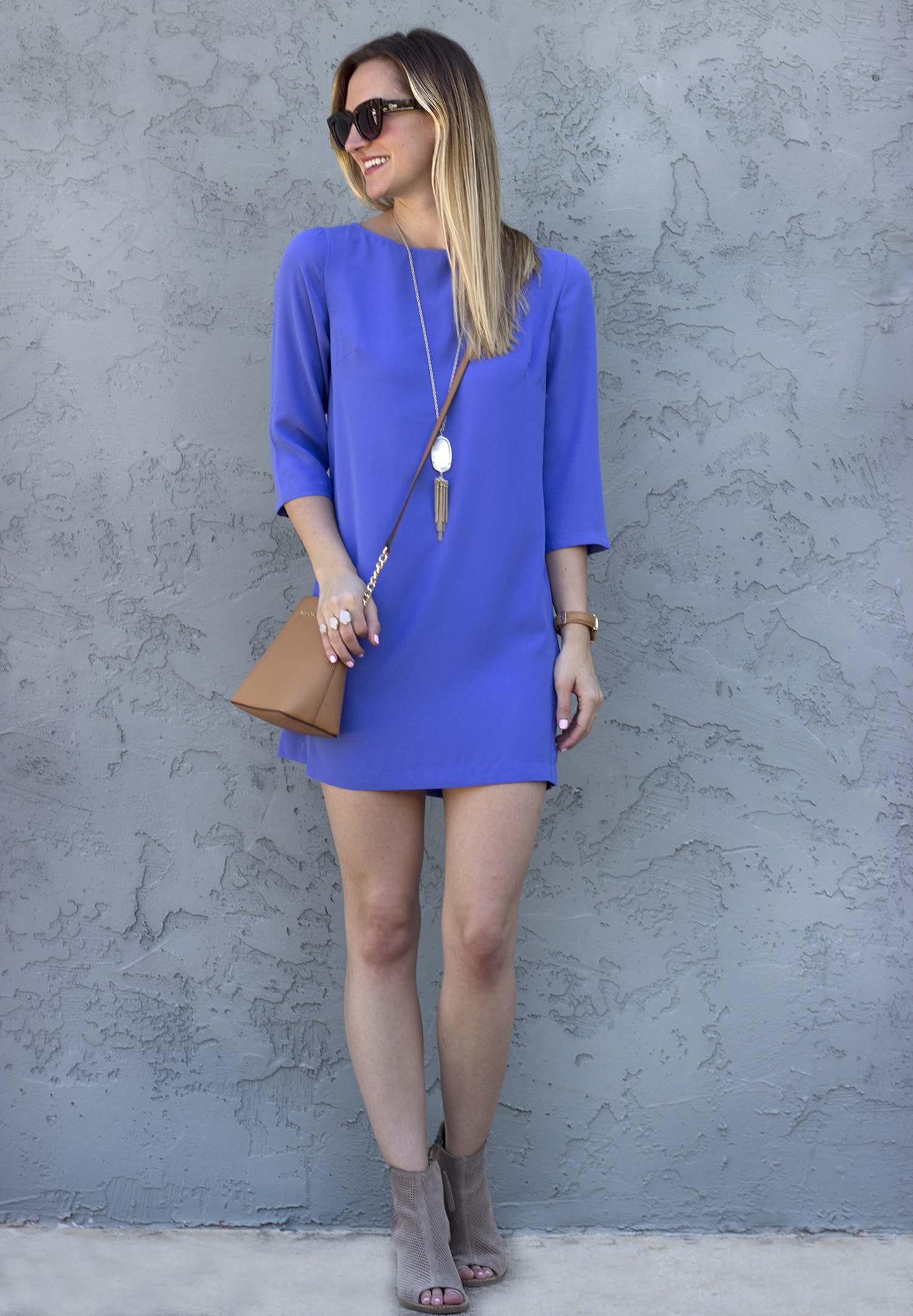 Switching gears to talk about this look! How cute is this pretty periwinkle shift dress? This dress is by Leith and it's under $55 and comes in a ton of color options. I am a sucker for periwinkle anything, so I opted for this color but am thinking I should get the black one too, just as a LBD I can have lying around in my closet for those moments of need! I am wearing an XS for size reference. Also the keyhole cutout along the back is kept together by a button-and-loop closure, so this dress is easy to slip on and head out the door!
Y'all know me, I'm a big fan of cognac, tan or taupe accessories (can never go wrong investing in neutrals!), so I wore my new Michael Kors handbag (LOVE this thing, it's under $190 and is the perfect size & color, I am obsessed!), Toms booties and Quay cateye sunglasses. The sunnies are under $50 and I've been looking for some fun cateye frames for a while now, so I was super excited to find this – especially at that price! My necklace is by Kendra Scott (yep, that same style I have in about 5 colors…apparently I have a type.. 😉 ) and my ring is also Kendra Scott (love this piece, it can be edgy or glam and adds such a fun pop to any look).
This dress is the perfect day to night, work to play, weddings to weekend piece – I am a big fan of the classy fit (…that shows some leg!) and the array of color options, not to mention that price point is something that won't give you buyers remorse, ha! (Hey, guilty of that all too often over here!).
I hope you have a fabulous weekend and get to soak in some r&r time! I'm off to some brand meetings now then quickly checking out of our hotel and living out of my car (yep, totally rolled up to this fancy conference in my Nissan Versa – hollaaaa! Keepin' it real 😉 ) and then we're headed to the finally closing shindig tonight. Fear not, will post my outfit onto Instagram and share the details later!
Have a wonderful Saturday, XO!
dress – LEITH / shoes – TOMS / handbag – MICHAEL KORS / sunglasses – QUAY / ring – KENDRA SCOTT / watch – similar KATE SPADE / necklace – KENDRA SCOTT
SHOP MORE SHIFT DRESSES