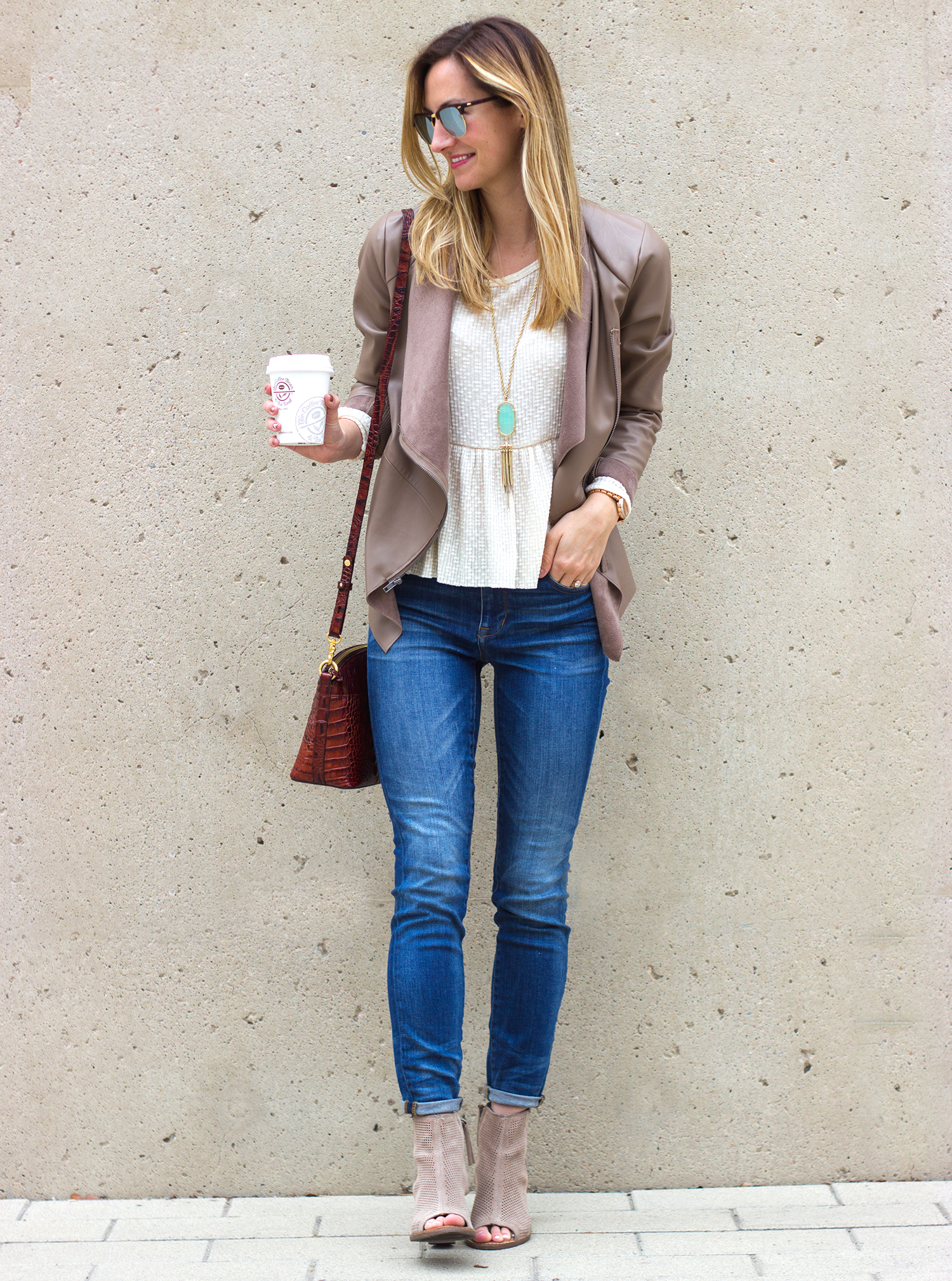 Hello there, gals! I am currently writing this from up in the air en route to NYC! I just finished editing about three different rounds of blog photos (so much cute stuff headed to LL!) and on my third cup of coffee at the moment. I woke up at 3:30am to pack (did I mention I'm the most disorganized human ever? Had zero time to get to that last night..eek!) and had coffee at home, then another at the airport and again on the plane – thus, this girl is not ready to sleep any time soon, haha. Also – I feel like the lady next to me probably thinks I'm a crazy as I edit photos of myself…always feel super weird about that part in public when people have no idea this is normal for me, ha!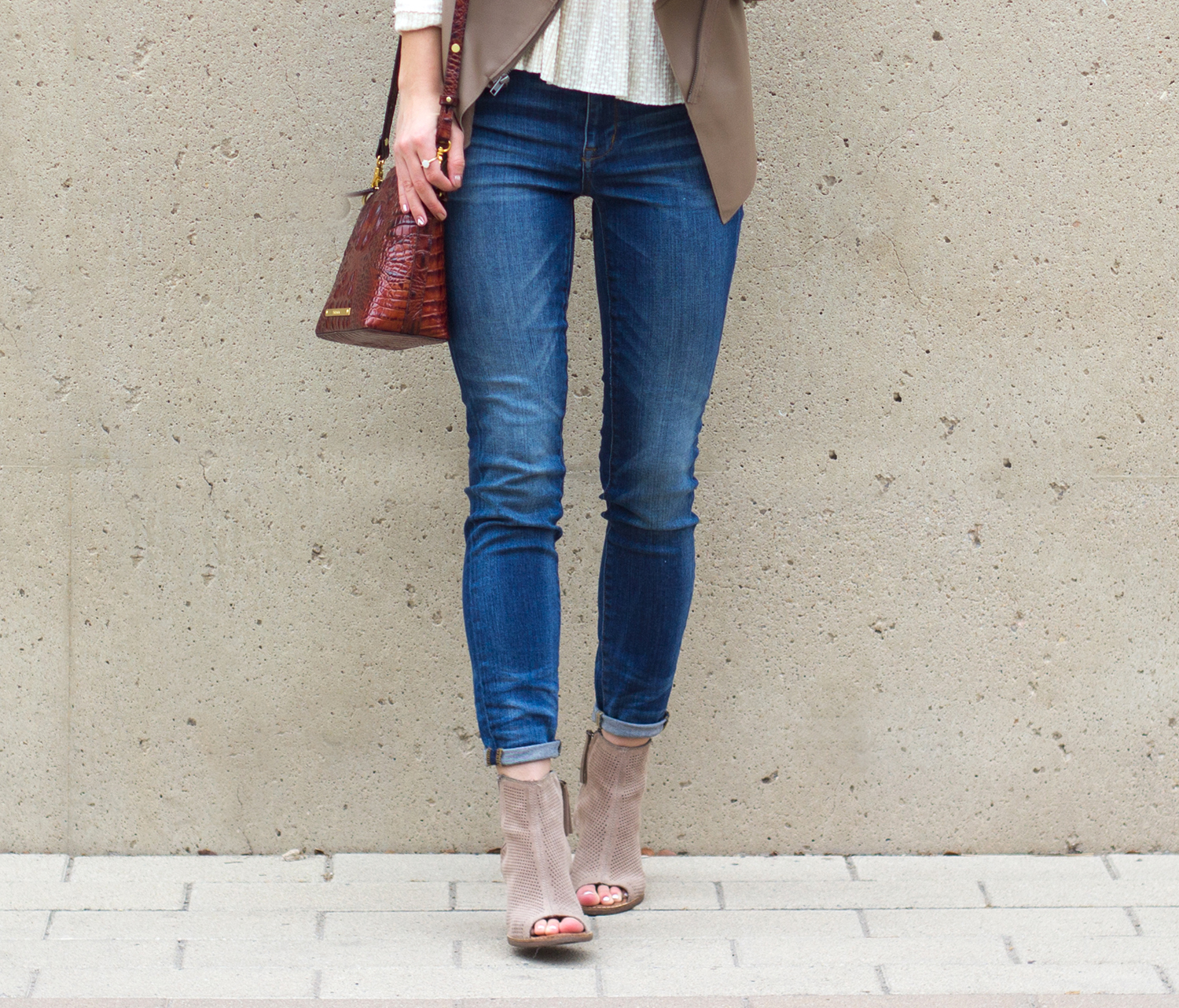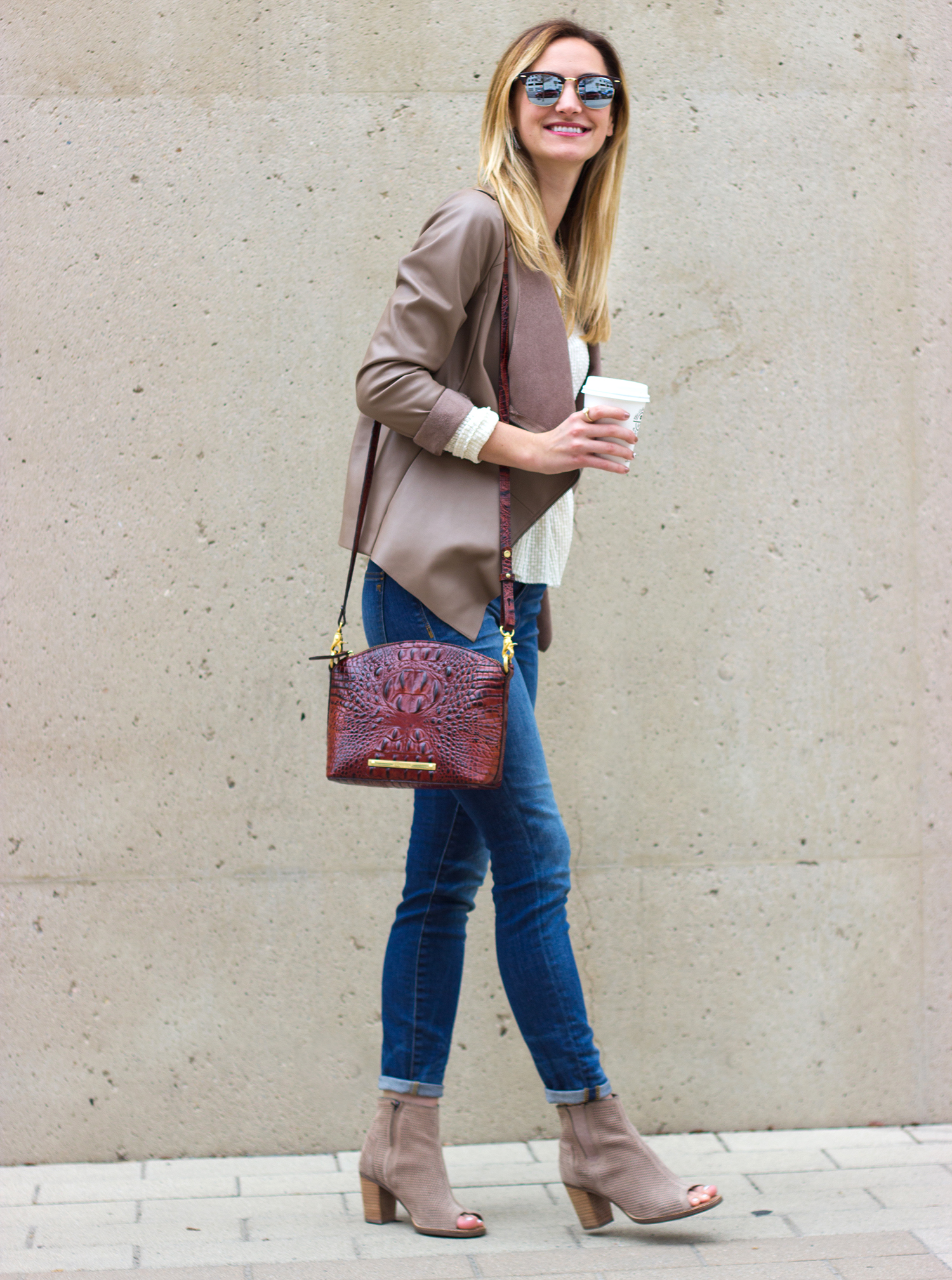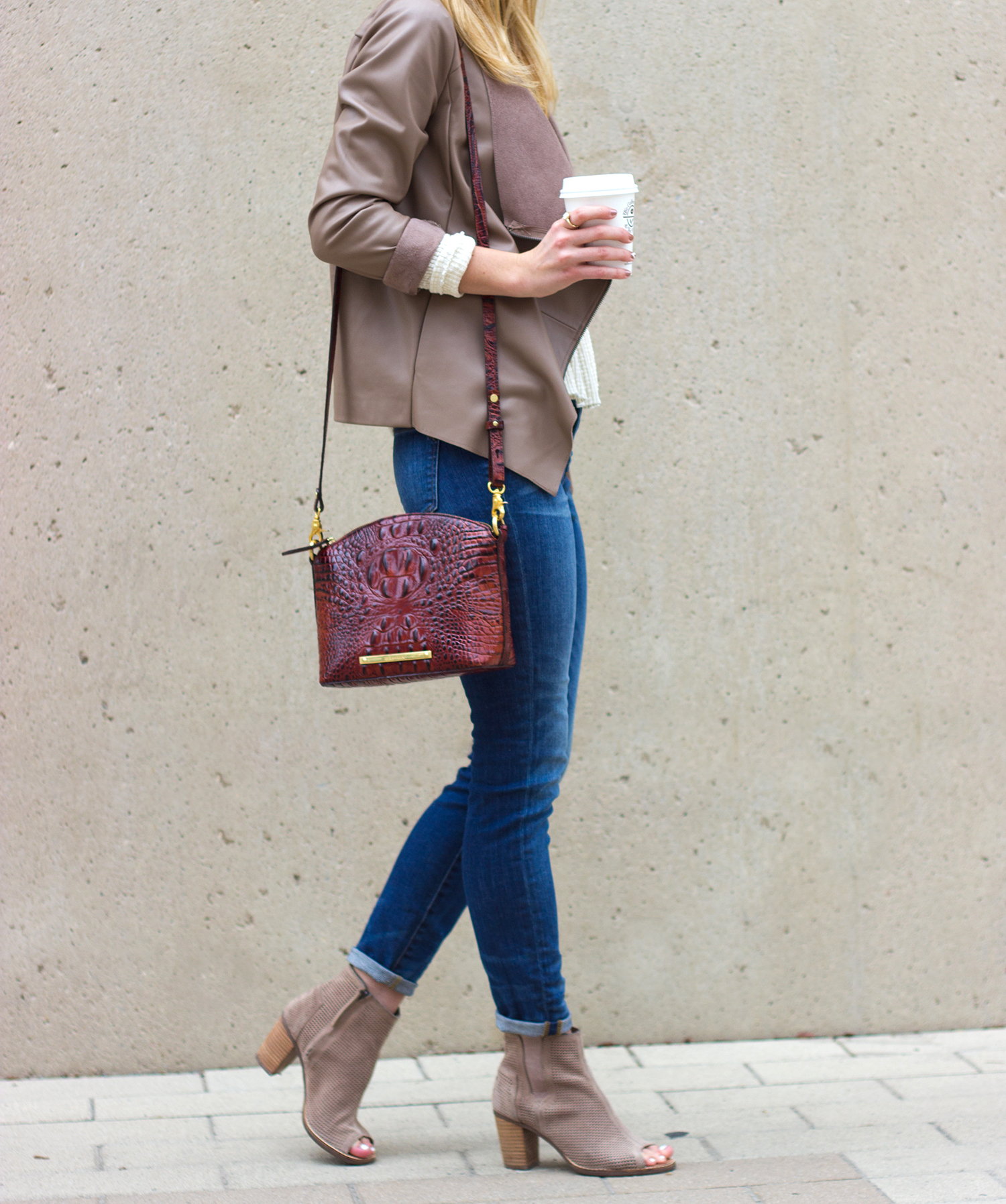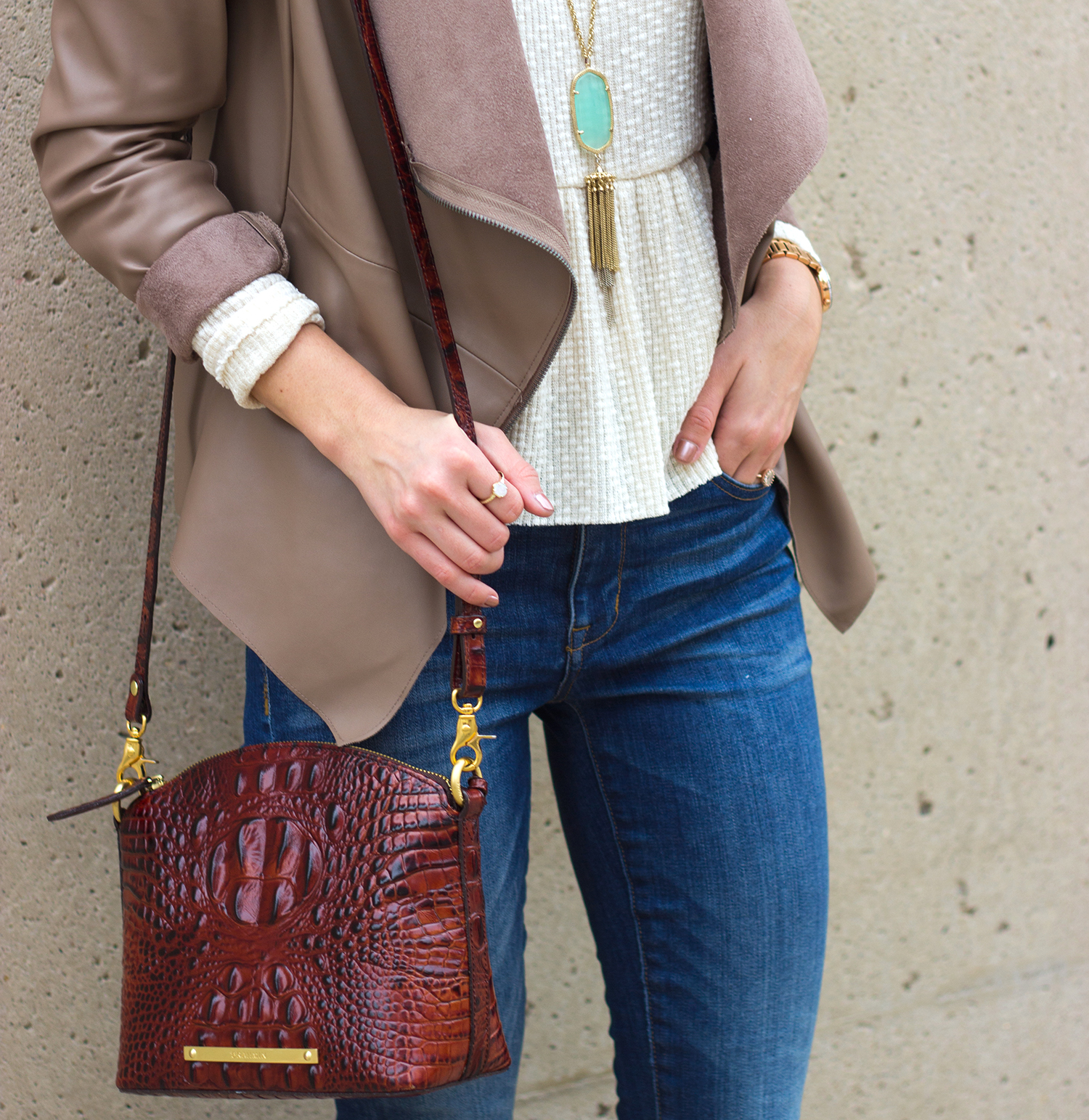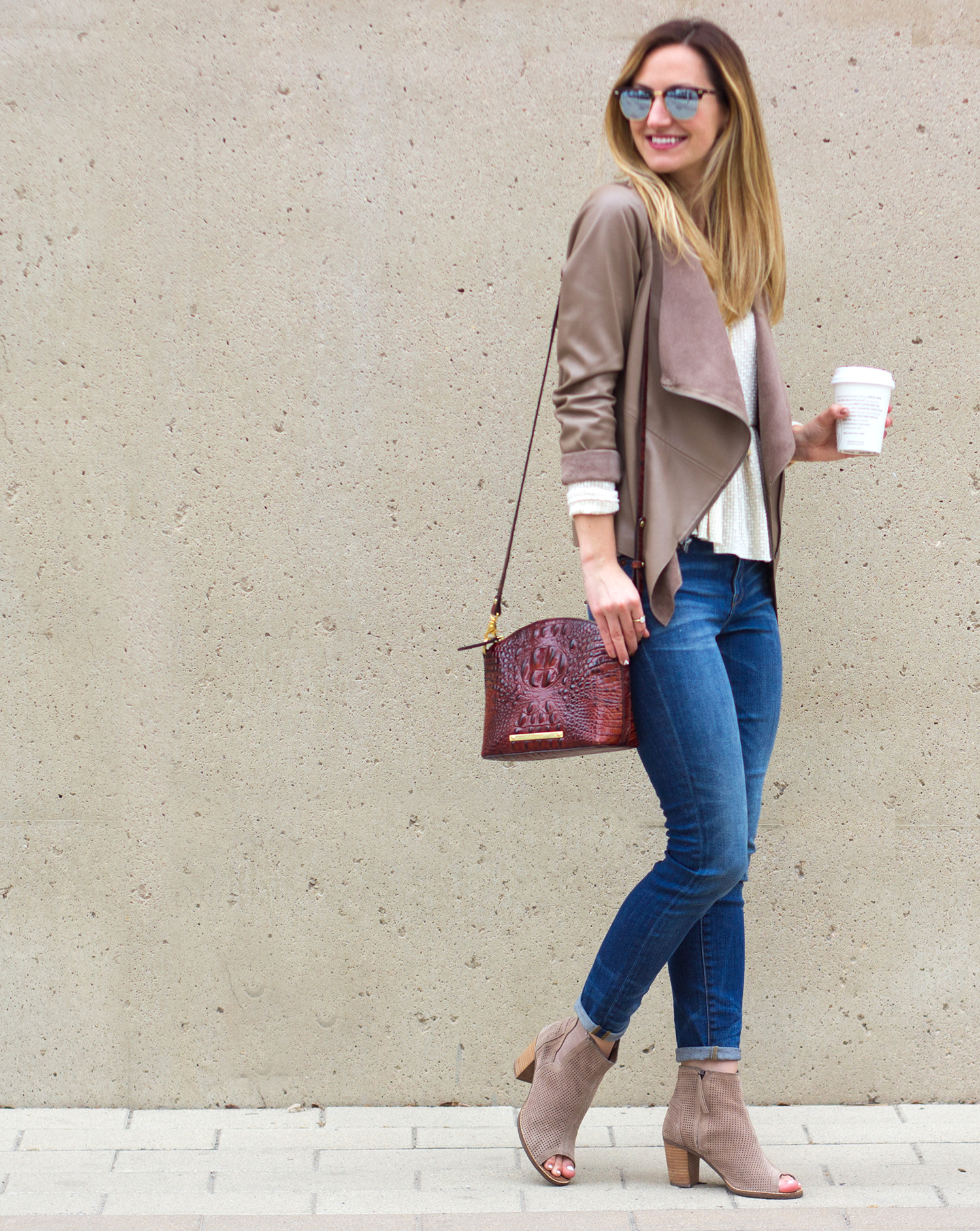 Aside from the awkward plane ride sitch (ha!), how cute is this outfit?! As y'all know, I'm in love with this adorable tan draped front jacket (y'all, this thing has been worn a gazillion times – I can't get enough! wearing a size small), especially when paired casually over a thermal tee (on major sale! Now just $28 – wearing a small), cute skinny jeans (these are amazing + were my Valentine's Day gift from Blake hehe…I wonder who picked those out?? 😉 Ps. They fit true to size and the wash goes with everything) and my FAVE booties making an appearance on LL for the second year in a row! 😉 L O V E  these cute kicks so much – beyond comfortable because they're made by Tom's and ultra budget friendly – under $100, not to mention the peep toe look is super chic and on trend. They also fit true to size and I honestly can't say enough great things about them.
As for accessories – my handbag is by Brahmin (I got it for my mama too, it's such a timeless and classy purse!), reflective sunnies are by Ray-Ban, rose gold watch by Michael Kors and my necklace is from Kendra Scott (that pretty pastel chalcedony color has been my favorite stone option of their's for a while now, I just think it's so light and airy).
Keeping it short & sweet today, been a very busy week and I'm ready to see my friends and spend some quality time with my family up in NYC!
What are you up to this weekend? Anything fun planned? Hope y'all have a nice, relaxing couple of days! 🙂
jacket – BB DAKOTA / top – NORDSTROM / jeans – MADEWELL / shoes – TOMS / handbag – BRAHMIN / necklace – KENDRA SCOTT / ring – KENDRA SCOTT / sunglasses – RAY BAN / watch – MICHAEL KORS