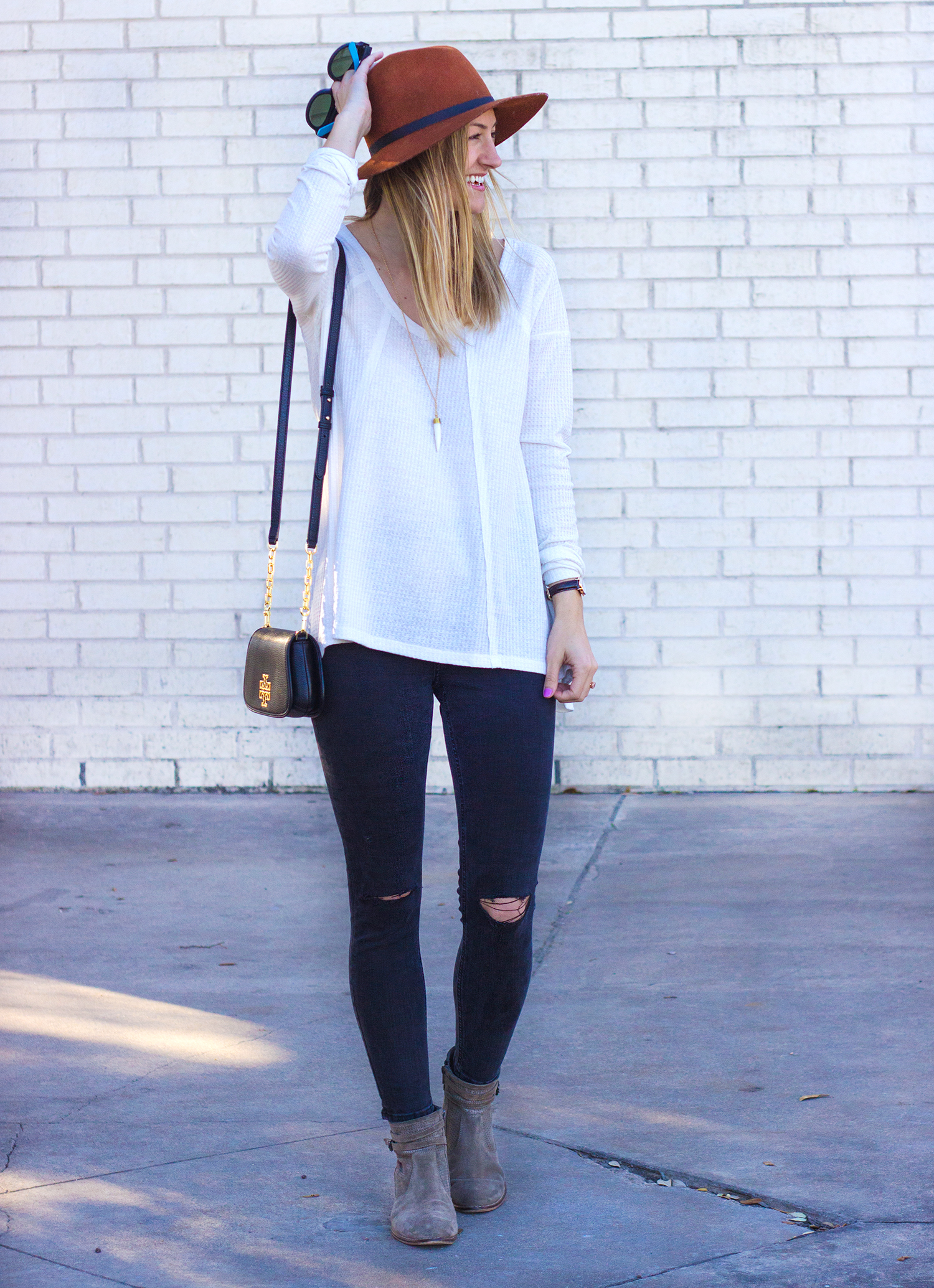 Haaaappy Friday, gals! I know I say this every week…but I am seriously SO glad it's the weekend! I hope you all had a wonderful week and have some fun plans for the next couple of days ahead – or perhaps have no plans and get to enjoy a full r&r weekend to yourself (aren't those the best? Very rare and must be cherished haha). I have a crazy busy weekend planned but it will all be a lot of fun! Tomorrow we're celebrating my sweet nephew's 3rd birthday with a big 'ol kiddo-gym shindig (basically 30 adorable kids running around with giant smiles on their faces for a few hours straight…while Blake and I sit back in the corner and eat pizza and drink juice boxes together – ha!). Then Saturday evening we're getting all dolled up for the Blanton Museum Gala – a live band and Blake in a suit, ha! Sign me up! 😉  …and I get to bust out my new Kate Spade heels…double YAY! Then on Sunday my mom and sister and I are going to drive to Houston to try on some bridesmaid dresses at BHLDN (…I know, I know, I'm a little obsessed with this store haha). There's one particular style in mind for our wedding and I can't wait to see what it looks like on my sister…will share some scenes from the trip on Snapchat (livvylandblog), so follow along!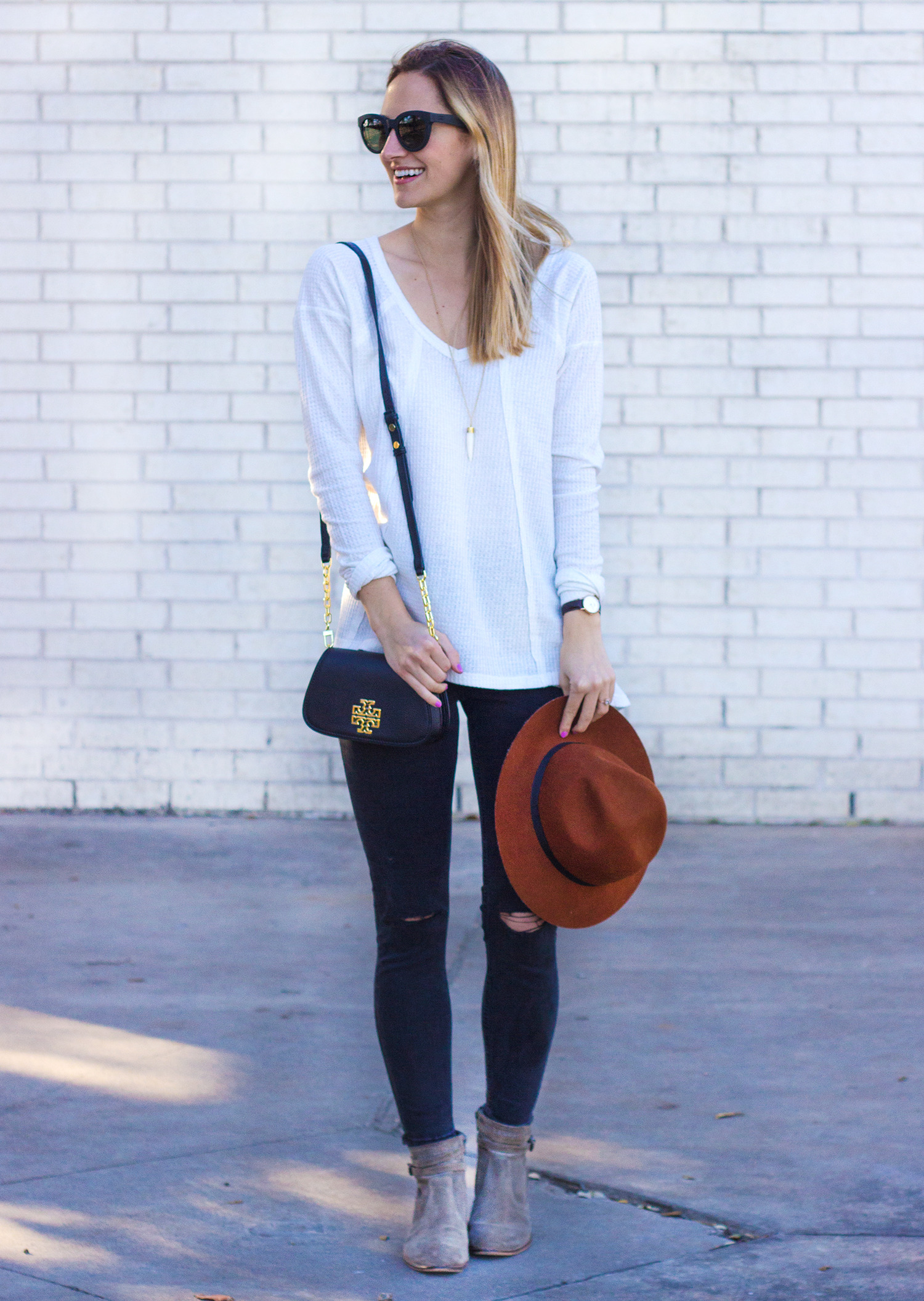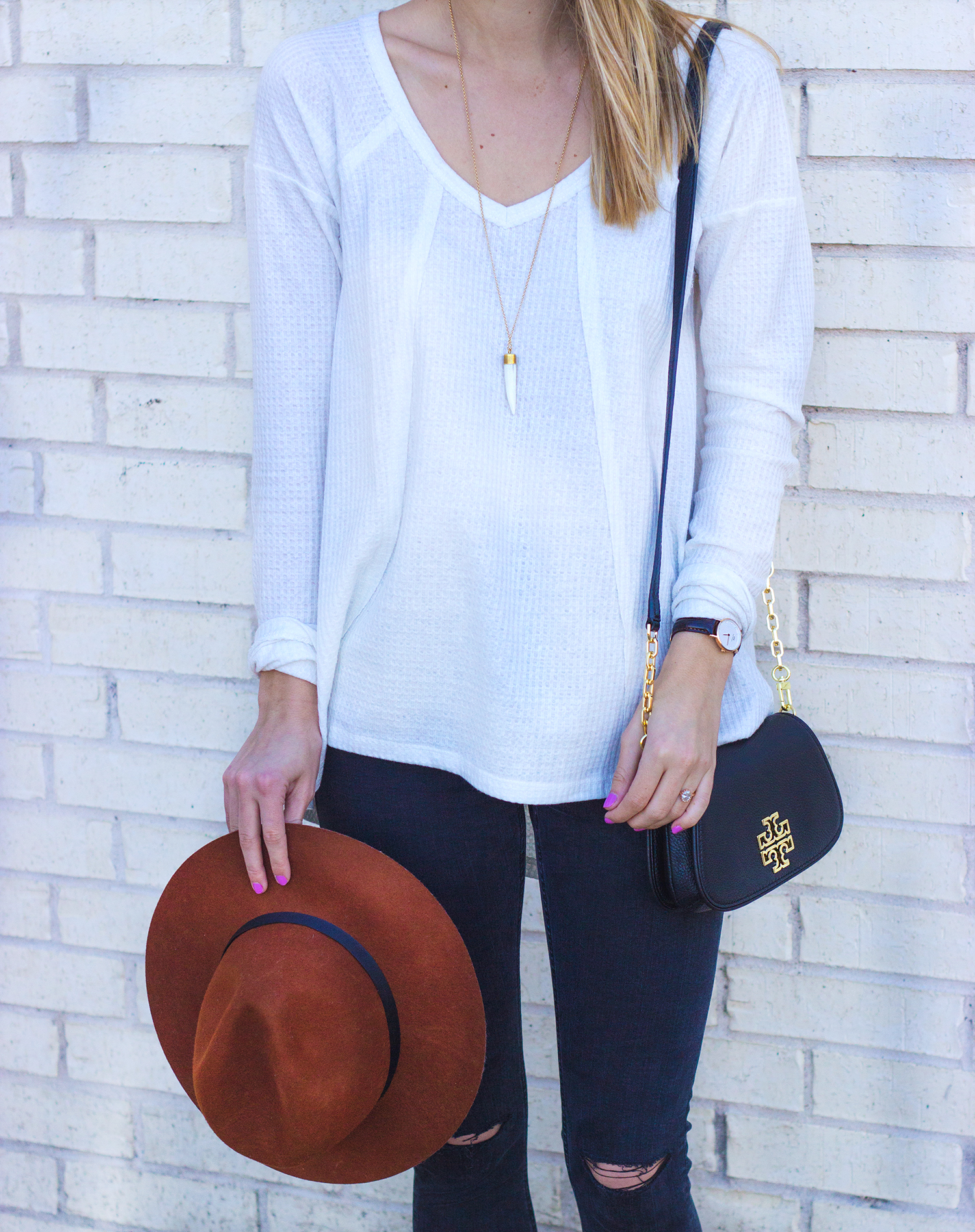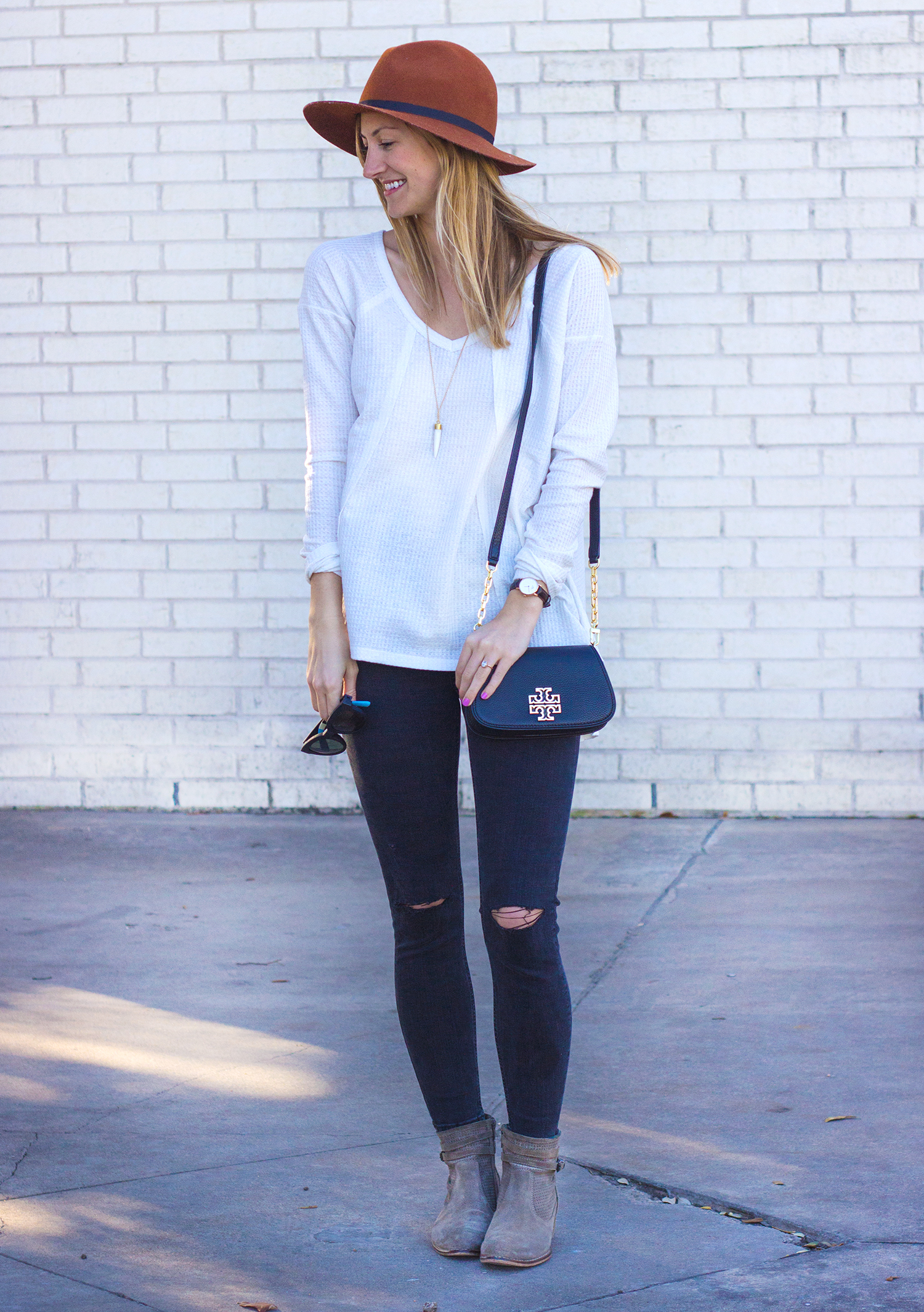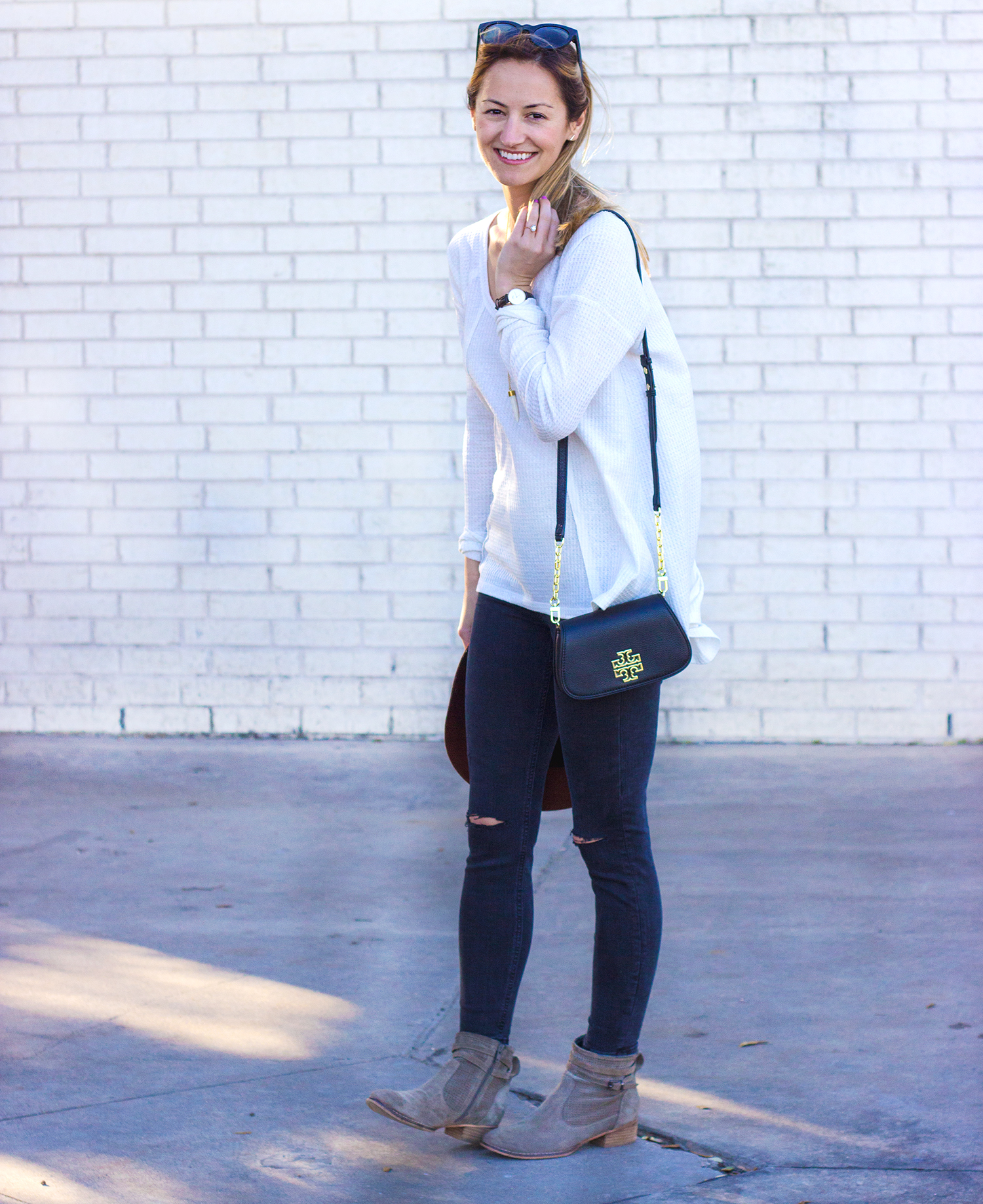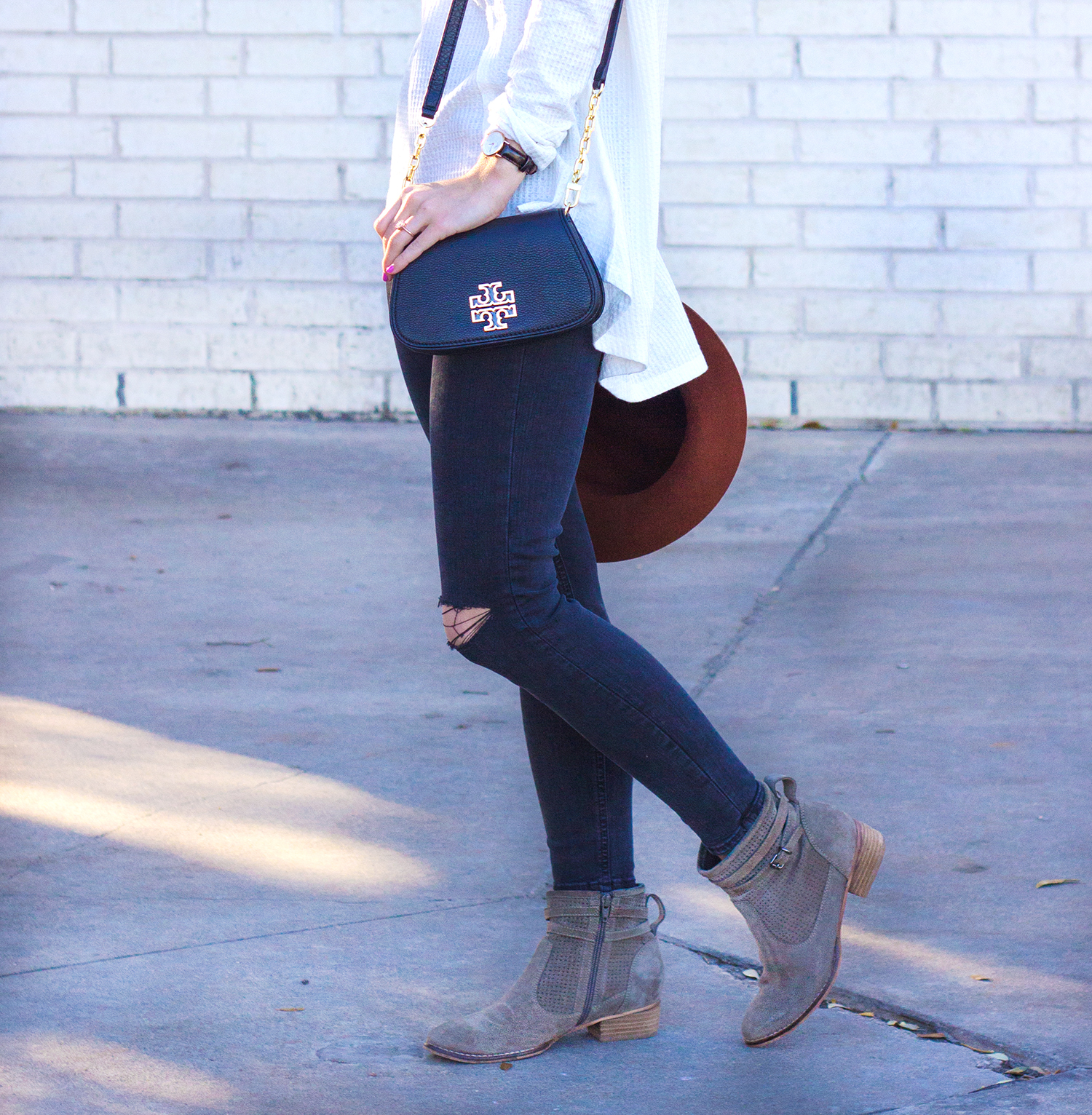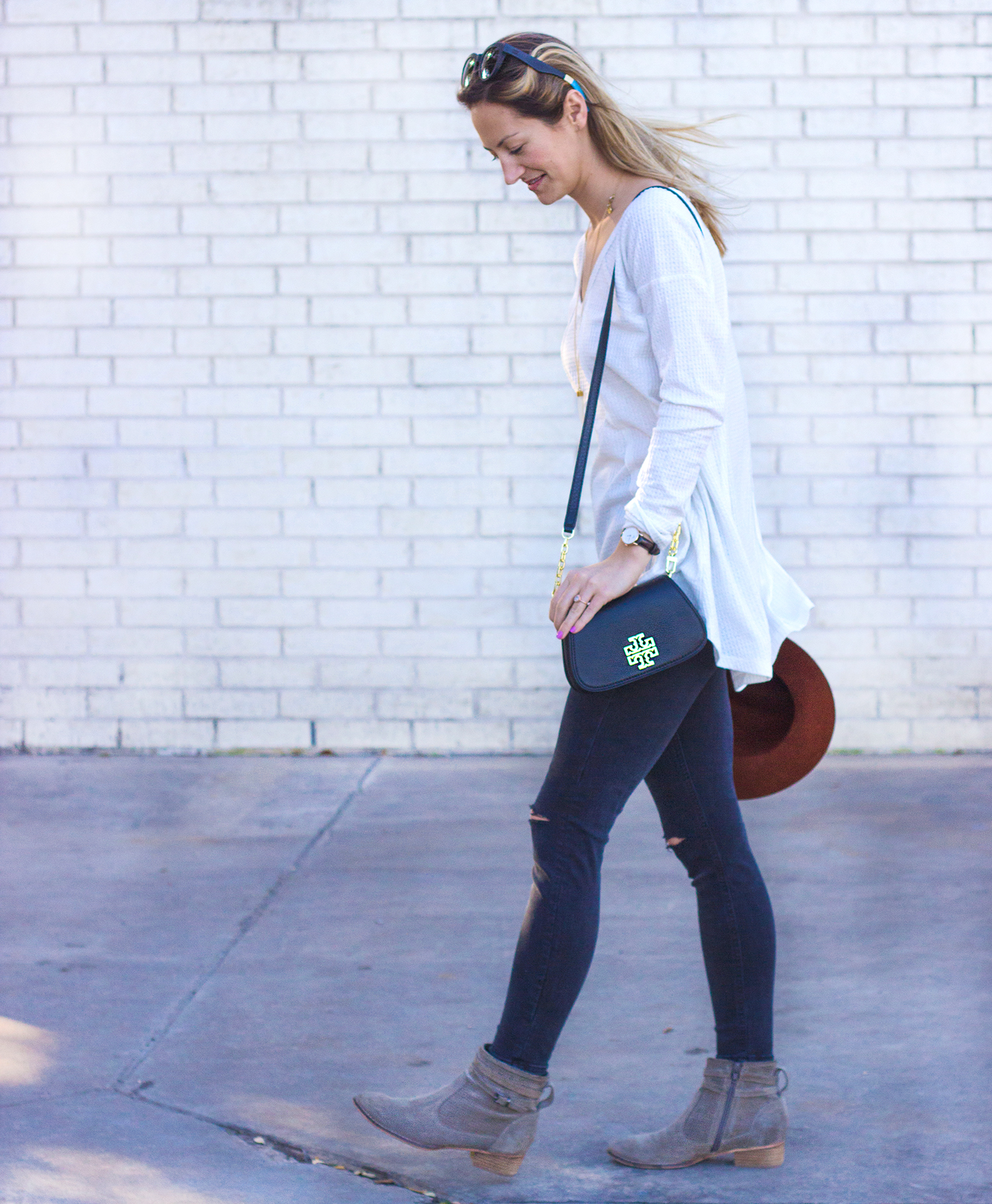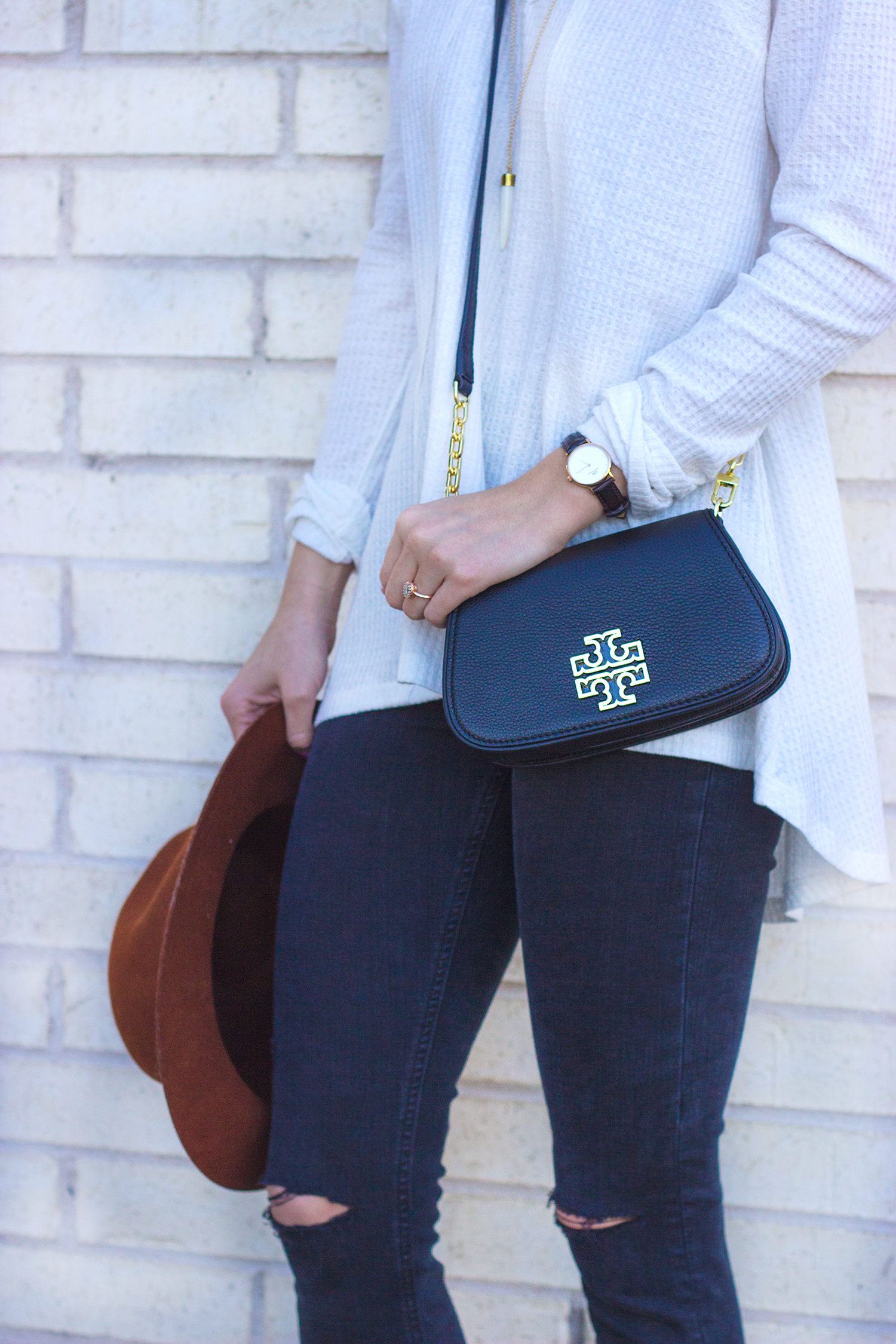 Now onto this outfit.. 😉 If you follow me on Instagram, you'll know there's a special place in my heart for thermal tees (ha!). I constantly gravitate towards them because for one, they're extremely comfortable and two, the flow-y, oversize styles out right now just seem to have that "effortlessly cool" vibe – and I love that look! This thermal top is currently on sale for just $22 (such a good price!!) and I am wearing a medium for size reference. I am also majorly crushing on the Free People version (psst, this one is also on sale right now! Great quality, suuuuper soft and looks amazing with jeans – it's a little longer so it covers more in the front, which I really like. I have this one in the lavender color and LOVE it!).
My jeans are FINALLY back in stock – woo! These things have been sold out for a few months and I am so happy you can now get them again! They're by Topshop and are high waist with distressed knees…and lemme tell ya, these jeans are SO flattering! They hug you in all the right places and the length is perfect to show a little bit of ankle (they hit right where my booties start in this post) – I'm 5'6 for reference. I also recommend getting a size up because they run small! Definitely read the size recommendations on the website, they're a big help. 🙂
The shoes are my absolute favorite ankle booties by Seychelles in the taupe color. I can't tell you how much wear I've already gotten out of these, I honestly can't say enough good things about them! Beautiful quality and they go with anything. I am headed to NYC next week and I'm thinking these may just be the shoes for the trip.. comfy and cute enough to make the cut! 😉
Last but not least, that precious little Tory Burch handbag = in LOVE. It's a great size for going out – it holds a phone, small wallet and some lip gloss (…or in my case, chapstick, ha), and it's sooo pretty. Loving the exposed logo in gold with the chain link + leather strap, too. I linked a couple more LBB (little black bag – is that a thing? Can we make it a thing? 😉 ) options below!
Wishing you all a wonderful Friday!! XO
top – SUN & SHADOW / jeans – TOPSHOP / booties – SEYCHELLES / necklace – similar BAUBLEBAR / handbag – TORY BURCH / sunglasses – TOMS / watch – DANIEL WELLINGTON