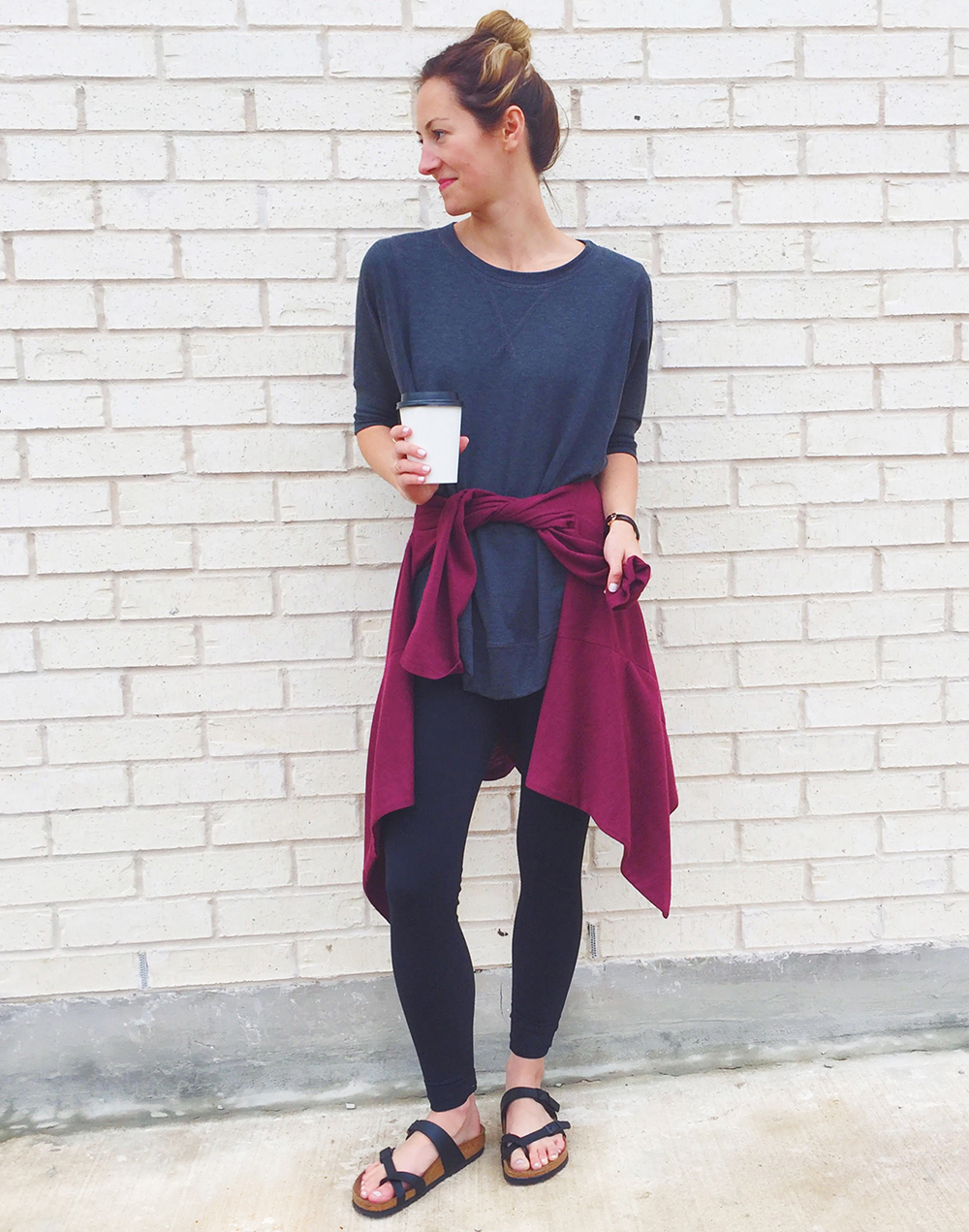 Happy Saturday, ladies! I am super excited to chat about one of my favorite trends (that I have a feeling may just stick around forever..!) – "athleisure" … ya know, that whole might be working out later but probably just running errands or grabbing coffee in a very stylish yet somewhat athletic outfit… 😉 Ha! Basically in the city of Austin, this look is acceptable at all times. And I'm definitely not complaining! 😉 You probably saw me post an athleisure look last weekend on my Instagram feed, and the outfit was such a hit that I decided to do a full on blog post sharing my outfit details and more of my comfy, lounge-y, athleisure favorites from ModCloth.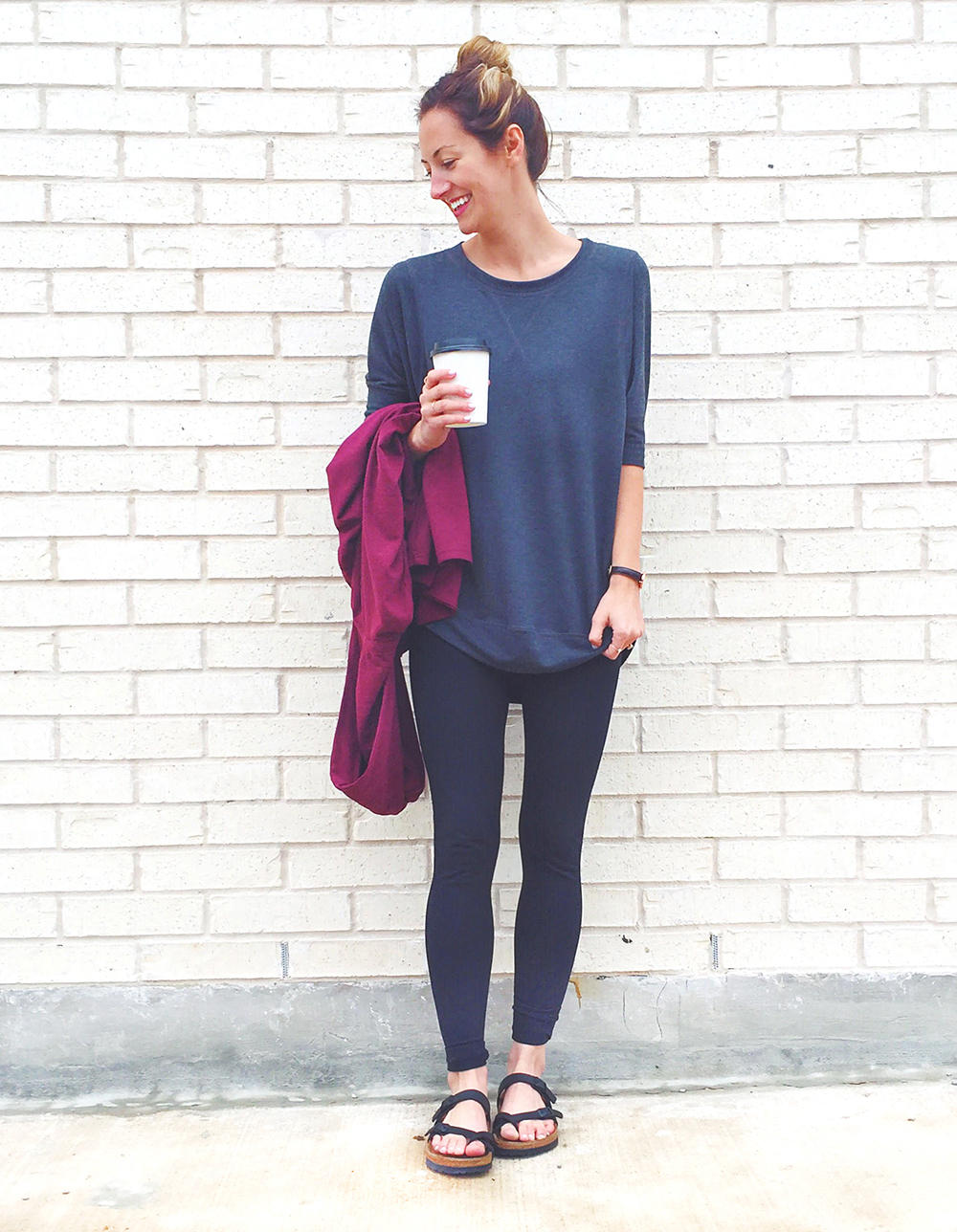 Above all when it comes to athleisure, comfort is key! When picking out this look, I started with leggings (you can never go wrong with a pair of black leggings, they're a staple piece!), then added an oversize top (unless you're actually going to work out, I'd recommend wearing a top that's long enough to cover just below your backside and frontside…ya know, otherwise those leggings might not be as flattering, no matter who is wearing them!) and finally, opted for my absolute FAVORITE pair of shoes I own! (True story: I now have this same pair in 3 colors…I am a crazy but I have no problem shouting my love for Birkenstocks from a rooftop…or rather, within this blog post..ha! 😉 ). Seriously, this pair of sandals is chic (love the black leather) and I assure you that when posed with "this gorgeous pair of heels that make your legs look incredible or this pair of adorable, earth-mama shoes that make your feet reaaaally happy," you will 100% wear the Birks and feel awesome. Or at least I certainly do! This black leather pair is my latest addition, but I wore another pair to Disney World and walked around in them for 3 days straight…so really what I'm trying to get at is these are an amazing investment and your feet will love you for it (and ps. the black pair I'm wearing is under $100!). Birkenstock obsession rant / over. 😉
As for my look: Given that it's 80 degrees today in Austin, I guess the cozy burgundy draped front cardigan isn't super necessary, but it sure looks cute and I love it wrapped around my waist, too! It's perfect to wear in the mornings when it's still crisp and cool outside, then easily add it to my waist later in the day for that "effortless cool" look. 😉 (…I mean, at least I hope that's what it looks like…in a cool-90's-style kinda way ha!). The two tops I picked out are both AMAZING and crazy soft! The half sleeve charcoal top actually feels like you're wearing pajamas (yaaas), my two year old nephew even commented on how soft my top was when I wore this thing yesterday…sooo..basically when you wear this, I can assure more niece/nephew cuddles because they'll want to nuzzle on ya. (I guess I should buy it in all the colors then, ha! All about the #AuntieCuddles). The tank top (you can see it without the cardigan directly below) is the perfect length and such a great transition top into spring, I love it for actual exercise (super cute with a bright sports bra under) or worn with jeans and a utility jacket. Win/win!
PS. Use code LIVVY at checkout to receive $20 off your purchase of over $100! (Good for this weekend only!).
Wishing you all a wonderful weekend! I'm off to go wake Blake up so we can do some car shopping today (eek, it's a Christmas miracle…I may not have to drive my old school car any longer…or at least, something with a backup camera is on the horizon woooo!). Happy Saturday, gals!
Shop my look below:
BURGUNDY CARDIGAN / GREY TANK TOP / CHARCOAL TOP / LEGGINGS / BIRKENSTOCK SANDALS
I pulled more of my favorite athleisure finds from ModCloth (love this online retailer – they have amazing quality pieces at really incredible prices, the nicest customer service  and I love all the reviews under each product so you really know what you're buying – so helpful!). So take a look and enjoy shopping for the perfect athleisure-to-loungewear-looks!