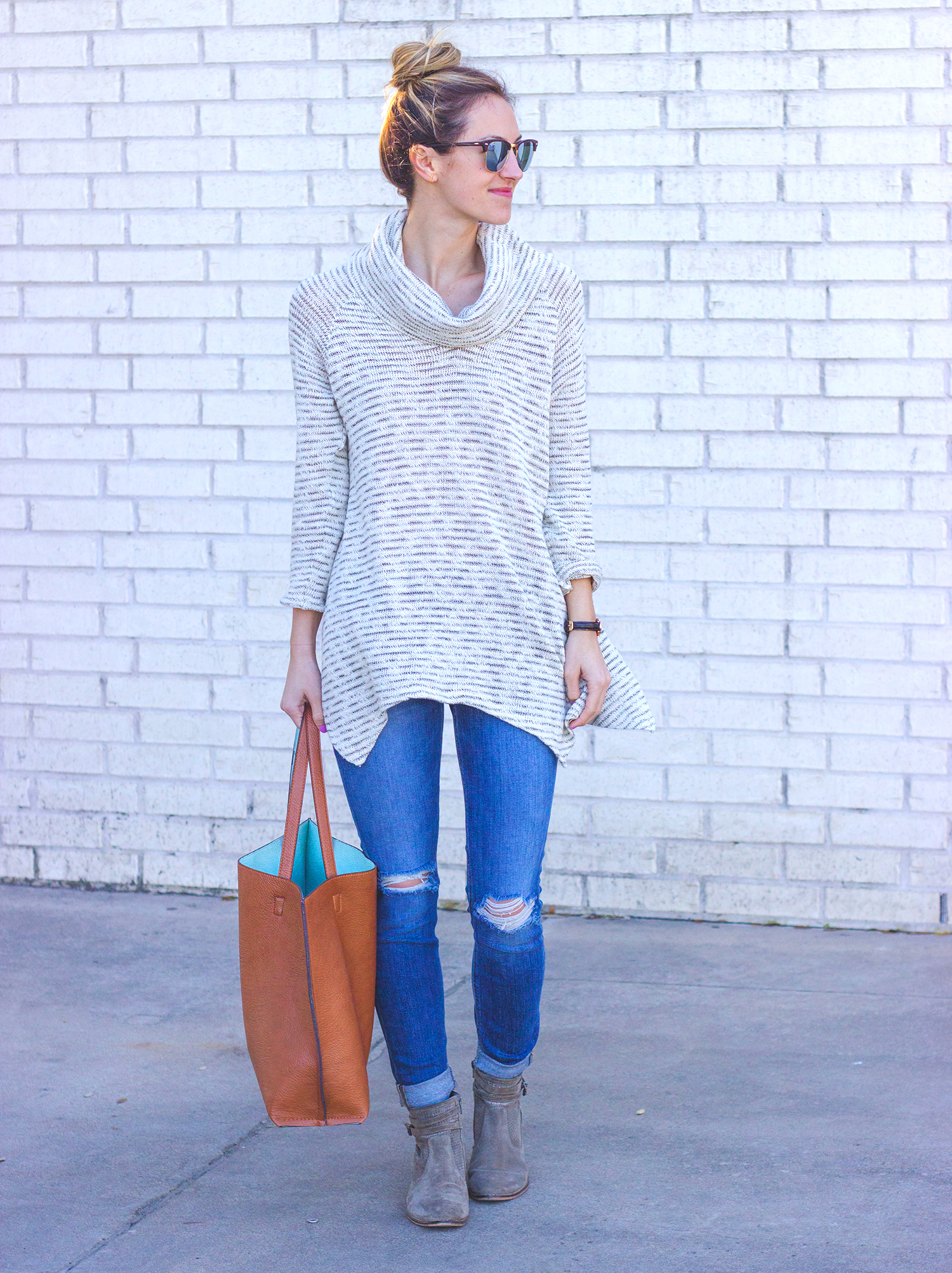 Is it just me or is this knit cowl neck sweater the cutest thing ever?! I am in love with the angled cut at the bottom (which you'll get a very good idea of because it was just an extremely windy day in Austin when I shot this look, ha!), especially when paired with distressed skinny jeans and a big 'ol tote bag (that most definitely had my laptop and half my closet inside during this shoot haha…needless to say, this thing comes in handy and looks adorable!).
So this sweater… the knit is actually a lot lighter than a "chunky knit" so it's a perfect winter to spring transition piece. It's super cute when layered with a utility jacket and scarf, too, in case you don't live in Austin and it's not 75 degrees yet 😉 . This sweater comes in 3 color options and is just $42 – I'm wearing a medium for size reference. Loving the cream color with olive green stripe details (olive green may just be one of my favorite colors..it's so subtle yet such a gorgeous neutral!). Seriously, in love with this pretty cowl neck sweater!!
As you know by now, my Joe's jeans with the distressed knees are probably my go-to everyday pair of casual blue jeans. The price point is high, but the quality is unbeatable and they make you look and feel amazing! I cannot stress how much I love this pair of skinnies… I honestly wear these nearly everyday! They fit true to size and are certain to flatter, honestly..can't say enough good things about these!
Finally, the shoes & sunnies! My shoes are the Sanctuary Booties by Seychelles in the taupe color. Hands down my favorite pair of boots I own because they're casual, yet add a little edge and personality to whatever I have on. My sunglasses are the Ray Ban Clubmaster style with reflective lenses – an absolute must as we hit warmer temperatures! The cute little leather band watch is by Daniel Wellington, can't go wrong with classic and sleek and finally, my tote bag is the 'ol go-to reversible from Nordstrom (under $50 = yaaas!).
That's a wrap on this cute, comfy, casual look (can y'all tell I have a "type" when it comes to my outfits yet? Ha!). I'm headed to get ready to head over to our menu sampling appointment for the wedding! Eek, can't even wait! I scheduled it right at lunchtime…haha, pasta for lunch, here we comeeee! 😉 Ps. Yes, absolutely having a pasta buffet for our wedding…is there a food that can make 250 people as happy as never-ending pasta? Not in my book! 😉 Not to mention there will be a gazillion kiddos, Blake is a vegetarian, and that pasta is the second love of my life. Sorry prime rib, not this time! 😉
Alright gals, hope y'all are having a wonderful week! We're SO close to Friday…woooo!
sweater – HANGER / jeans – JOES / shoes – SEYCHELLES / tote bag – NORDSTROM / sunglasses – RAY BAN / watch – DANIEL WELLINGTON