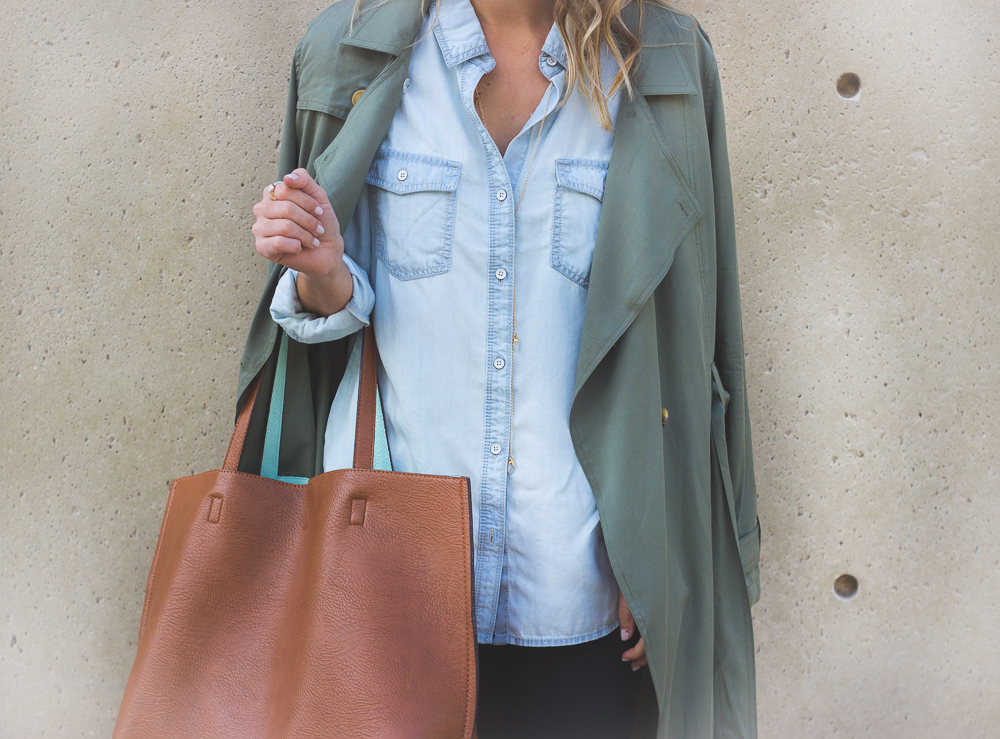 Hello there! It feels like it's been a while since I last sat down and put together an outfit post (a whopping 4 days, ha). I'm currently sitting on my sofa with a bottle of wine staring at me from the kitchen…I told myself I'd go exercise before I popped it open! I've been feeling really diligent about my workout routine and hope to keep it up. Not only do I have a lot more energy now thanks to working out, but I just feel a lot better about myself in general…funny how that happens…a simple change and voila, an itty bitty confidence boost…sometimes I think the confidence thing is more of an incentive than anything else to keep on truckin' when it comes to exercising.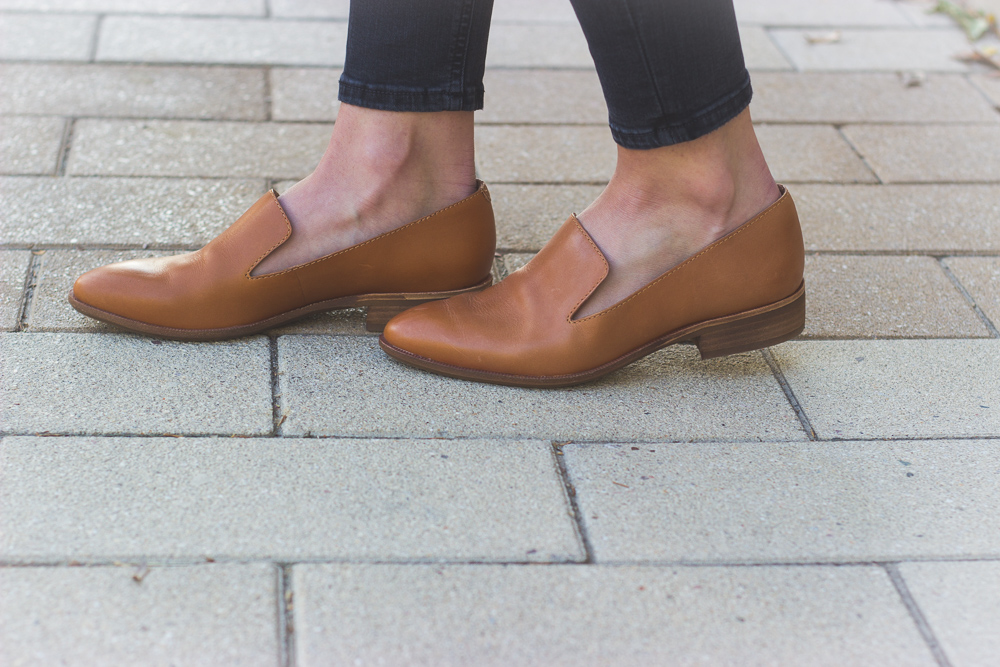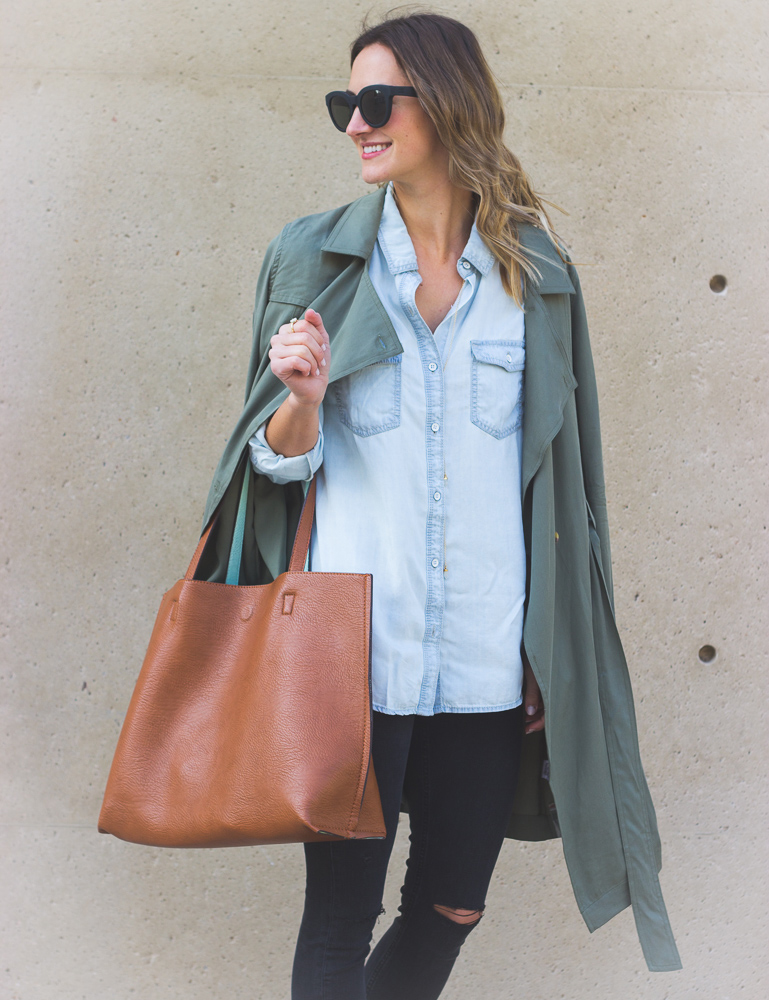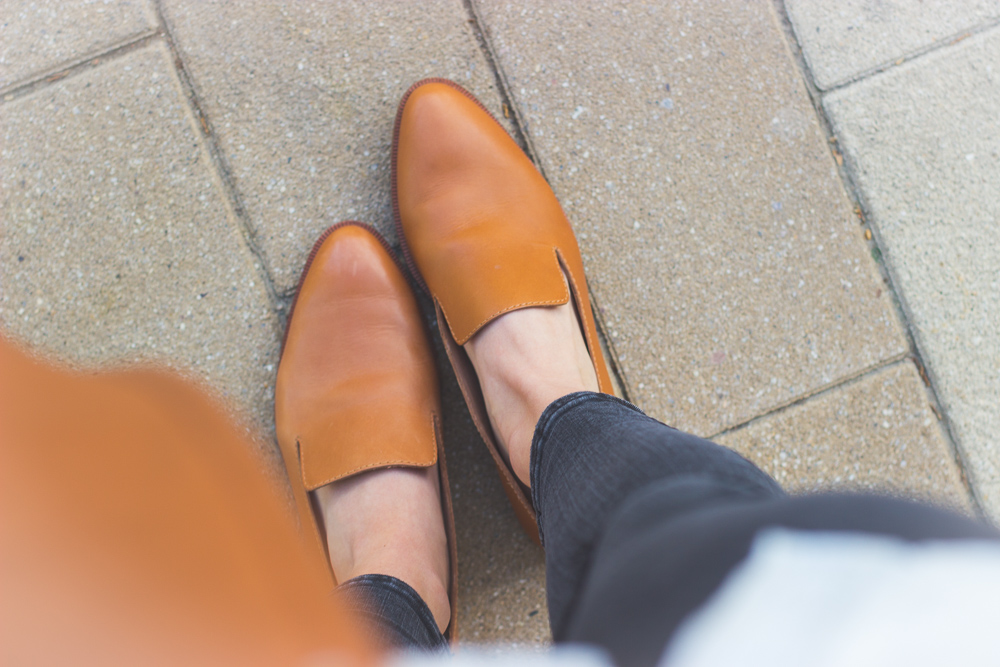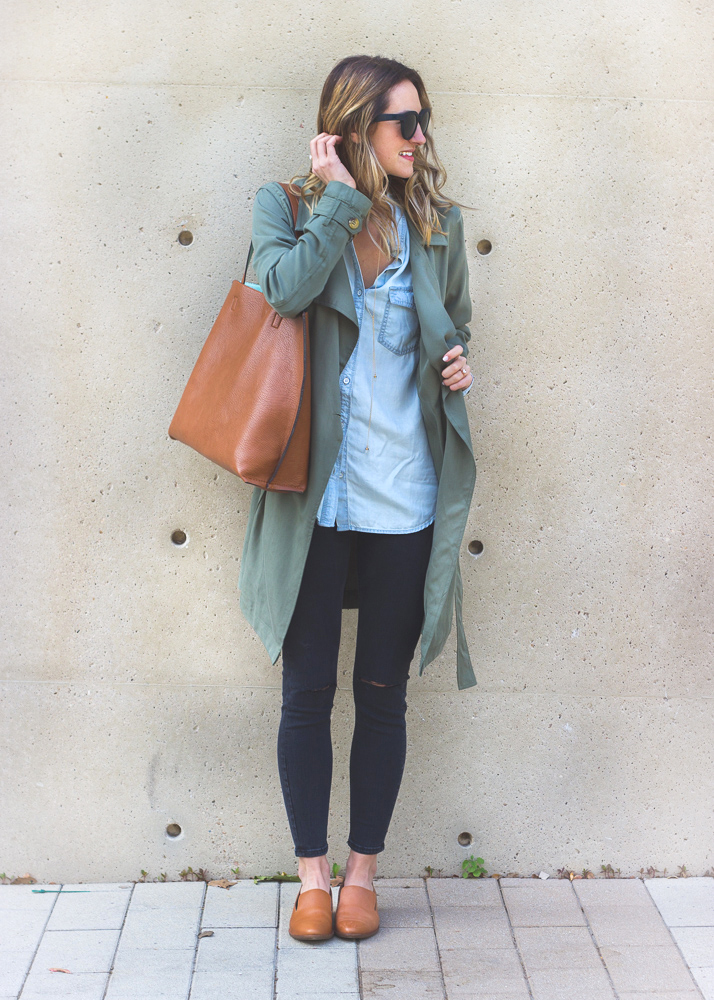 Sooo..as you can see, I went a little darker over the weekend with my hair! I was in desperate need of a hair repertoire that required less maintenance, and going a little "rootier" just seemed to fit the bill. I loved the blonde (yes, it was tons of fun), but after scouring Pinterest for "celebrities with brown hair and brown eyes" (y'all know that endless Pinterest search abyss), I felt excited for the change and am looking forward to going even darker in the next few months – have to color the blonde hair in stages to get to where I want it to be! I pinned a ton of inspiration images on my "beauty board," so feel free to follow me on Pinterest and take a look!
Alrighty gals, this outfit! How cute is that olive trench coat?! Oh and GREAT NEWS, it's on sale for just $43 (down from $70!).  I wore it over a comfy chambray button up (this is a wardrobe must-have! You'll get SO much wear out of a chambray top, trust me) with my skinny jeans from Topshop. The jeans are high waist and have slits along the knee area, so there's plenty of stretch and just a hint of that distressed look. I'd been eying the jeans for a while now and after one of my coworkers came in rocking them, I knew I had to add them to my cart online, ha. They run snug so definitely order a size up – I'm obsessed with these things!
My shoes are by Madwell and I scooped this gorgeous pair up while out shopping a couple weeks back. My parents kindly gave me some Christmas spending money, so I went a little crazy and spent the majority of it on this pair of shoes…and I am SO happy I did. It was one of those "walk out the store only to turn around and buy them immediately" type of moments…I just knew I had to have them. They have this same pair in leopard, black and the english saddle (which is what I'm wearing) and I can assure you the quality is outstanding and they go with everything. I was ready to invest in a nice pair of loafers that added some class and sophistication to my wardrobe, and these are absolutely beautiful, I highly recommend them! One thing to note, they run large – I am actually wearing an entire size down than I normally wear. (Bought the 6, generally wear a size 7). I don't wear socks with mine, so just a heads up about that!
Finally, my tote bag is that adorable reversible tote I've worn for ages. Under $50 and also goes with anything…and holds anything, too! I've never been such a tote bag kinda gal until this year. I've got this reversible one in brown and another pretty tote in black, they are must-haves in my opinion, especially for me because I tote my laptop around everywhere I go..!
Alright ladies, I hope you had a marvelous weekend and that your Monday went by painlessly and fast. 😉 Feel free to shop this outfit below – enjoy!
trench coat – HANGER (see similar HERE or HERE) / chambray top – HALOGEN / jeans – TOPSHOP / loafers – MADEWELL / tote bag – NORDSTROM / sunglasses – TOMS / necklace – NASHELLE