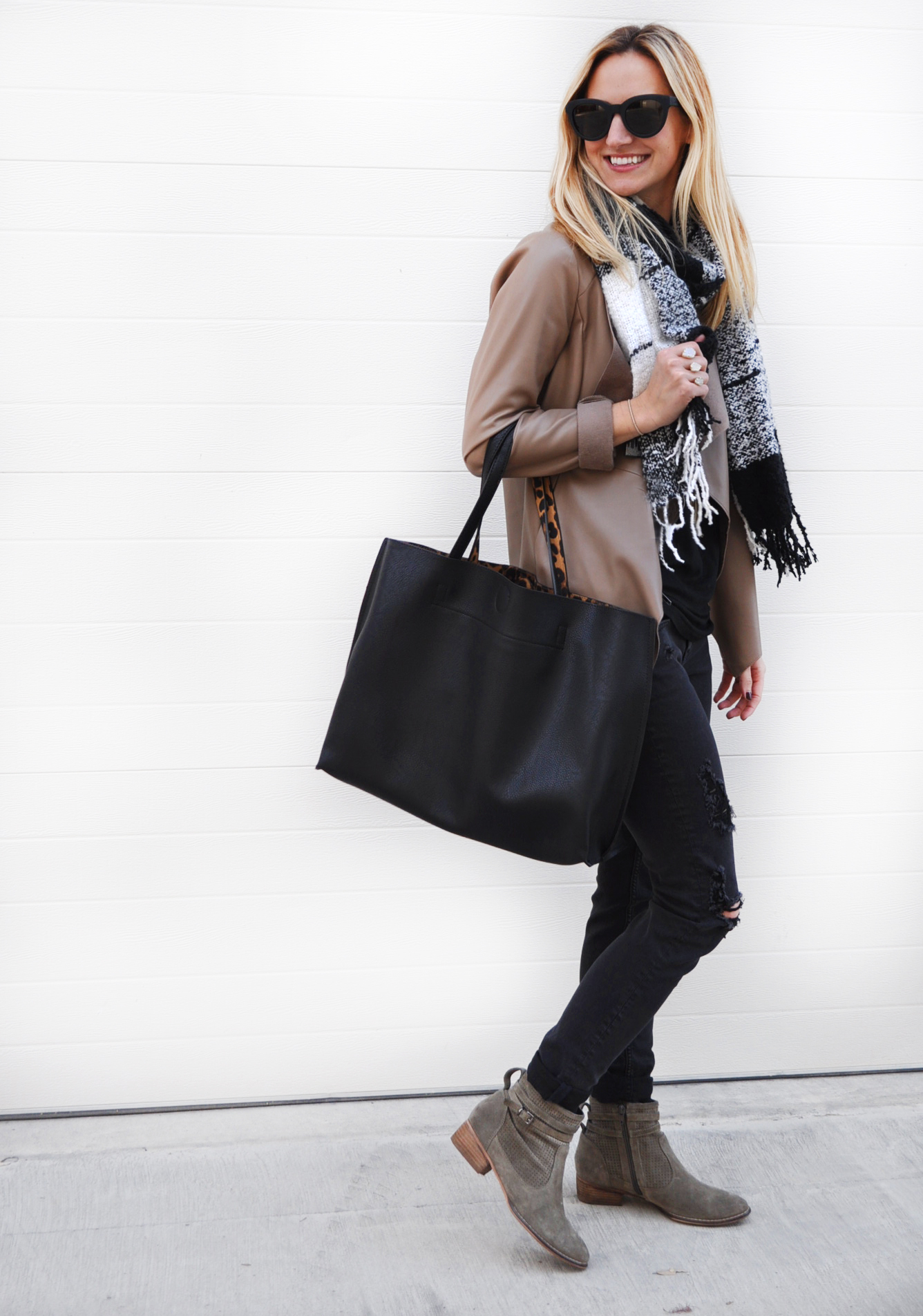 This adorable draped front jacket has been a staple in my wardrobe over the last few months and I'm loving it with this all black look! You can never go wrong investing in high quality neutral pieces – and this BB Dakota jacket is a chic, timeless classic that looks gorgeous over a dress, sweater, or even a tee shirt with a cozy scarf like I'm wearing above. Oh, and it's under $100 – woo woo!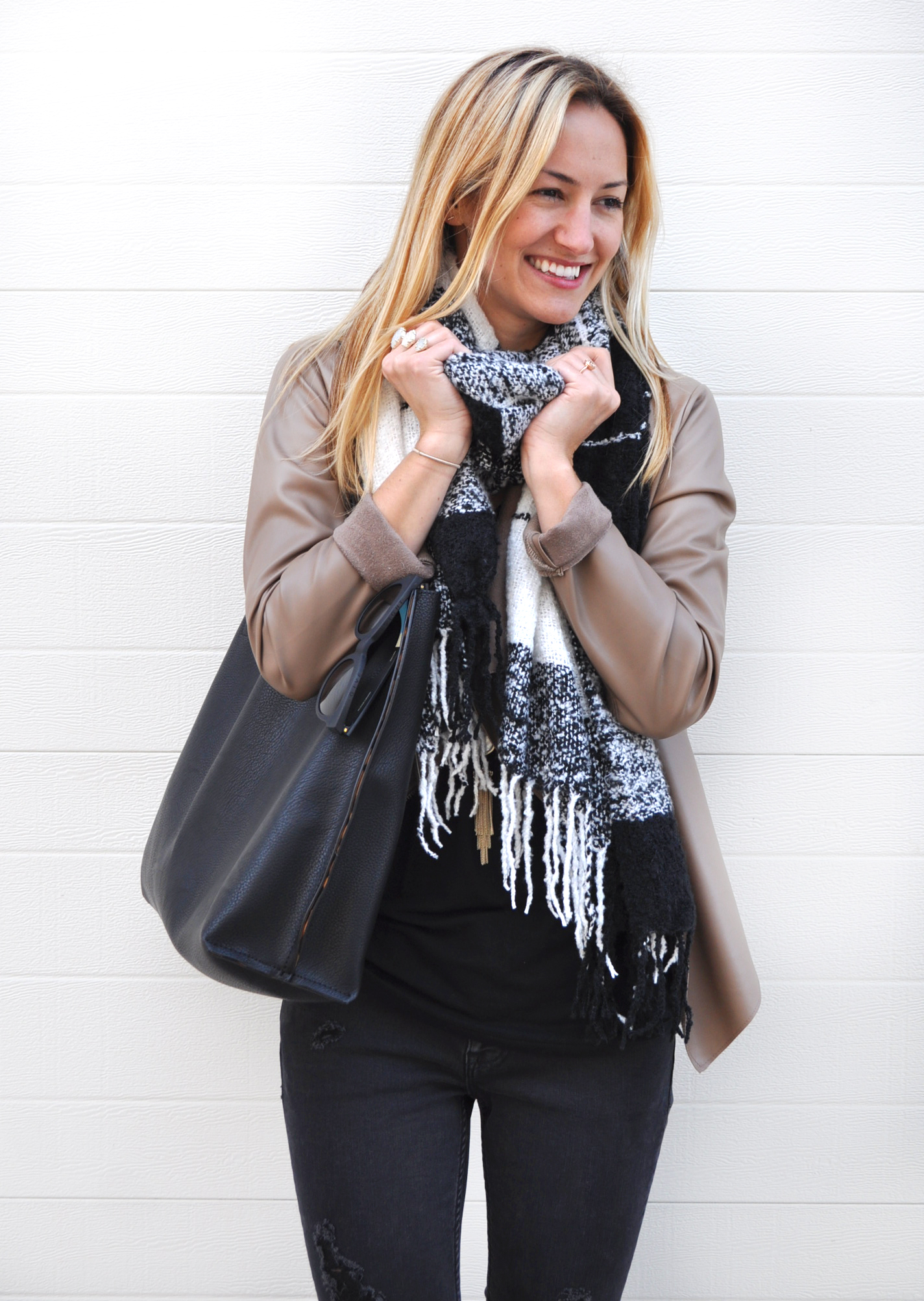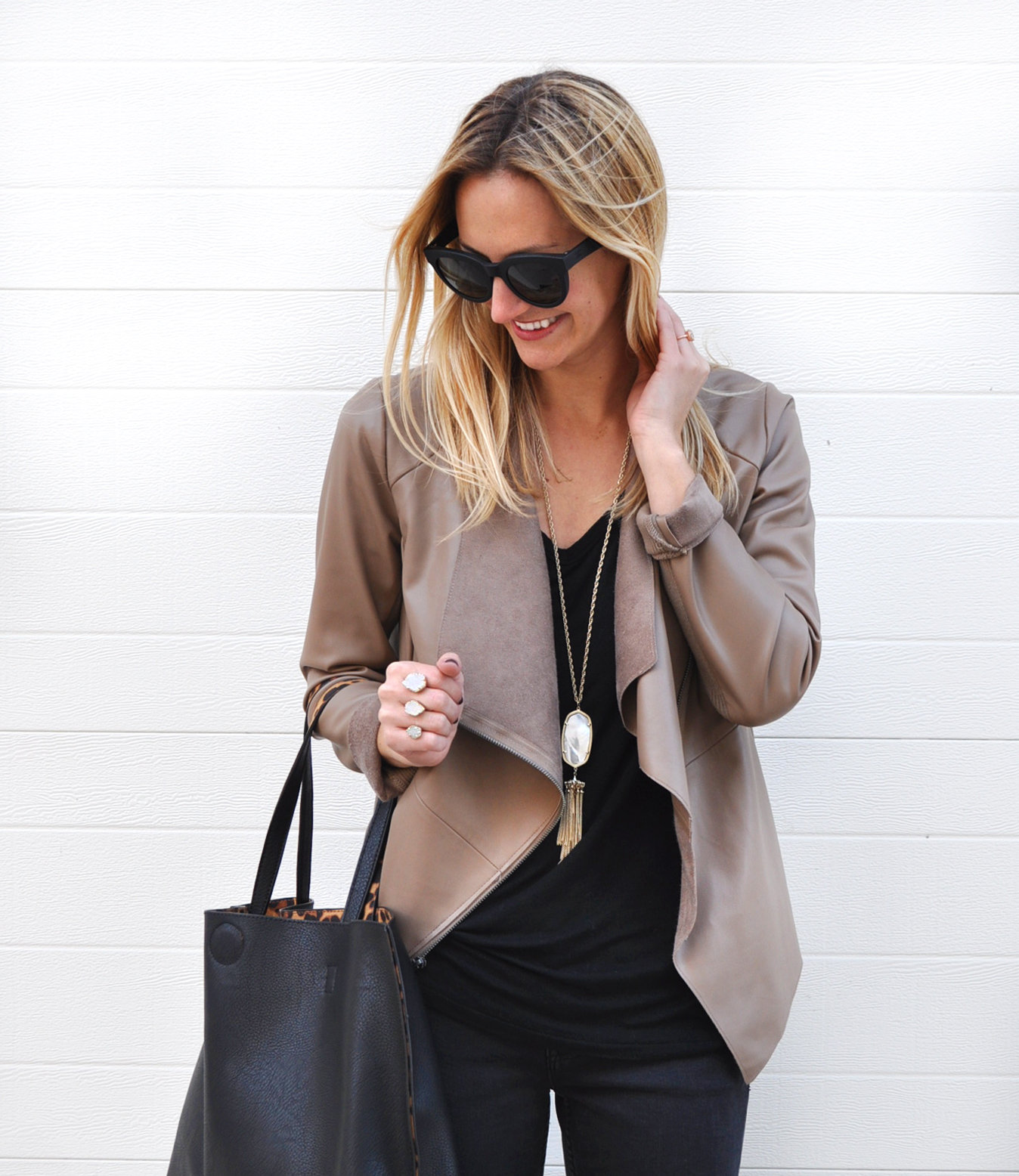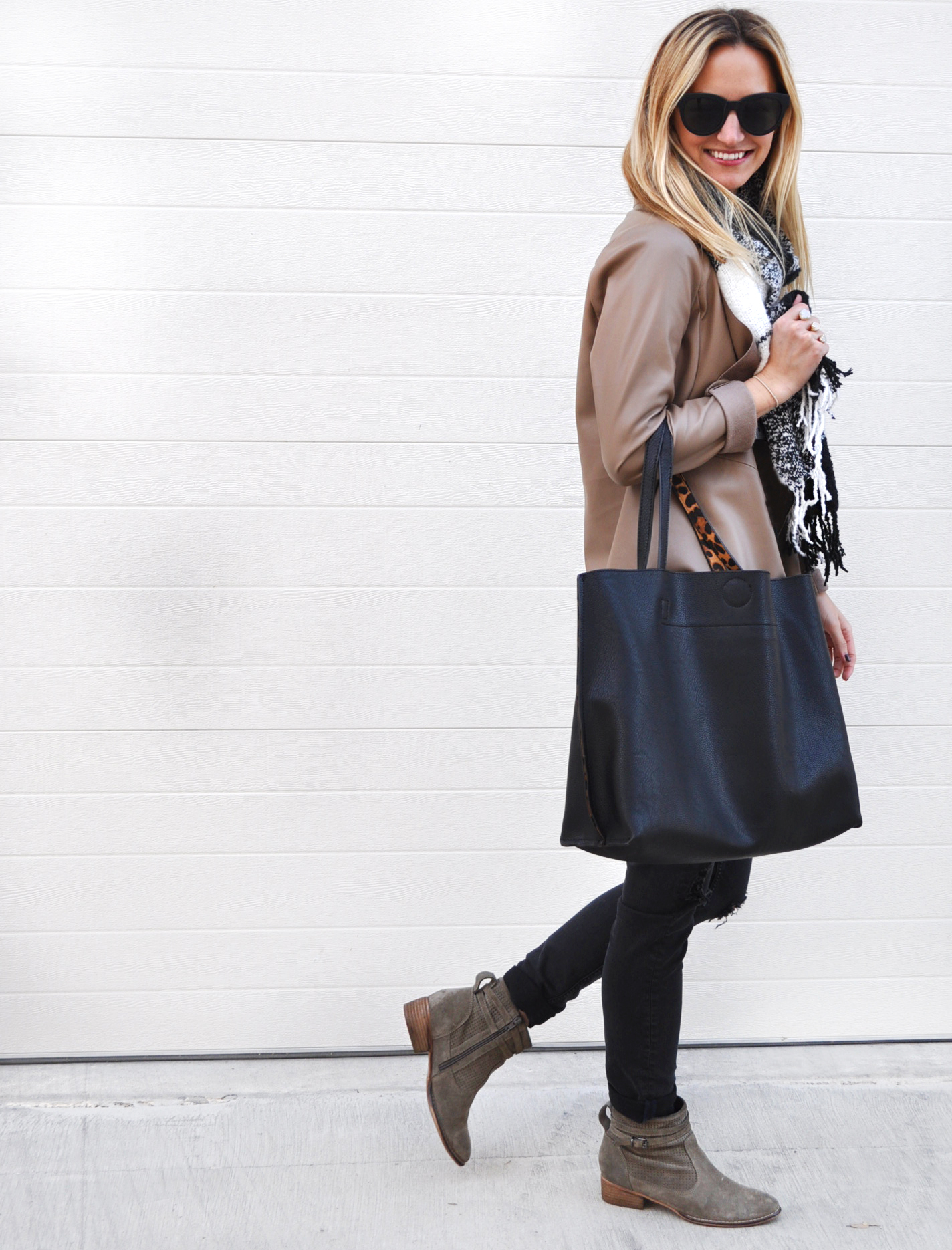 My jacket is a size small and it fits perfectly. I'm wearing a medium in this Madewell v-neck tee (this v-neck is my favorite, super soft and comfy, and under $25! I own it in a few colors). My jeans are Vigoss (you can see how I wore them with a cozy, chunky sweater in this post) and they fit true to size and are SO cute and very comfortable…and on SALE! Just $38…pretty much unheard of for really great jeans. I'm loving the distressed look and the breathe room they give me, they have a bit of stretch to them.
My shoes are the "Sanctuary Bootie" by Seychelles, and as y'all know by now I am obsessed with this shoe brand. Stunning quality and really cool shoes, I love the buckle detail on this taupe suede pair, so perfect! If you're on the hunt for a fabulous tote bag (that's also really affordable, woo!), look no further than this Sole Society black and leopard interior tote. This thing travelled from Austin to Dallas with me last week and definitely took a beating along the way, and it still looks just like when I pulled it out of the box.
Alright friends, keeping it short and sweet today! Hope you all had a wonderful weekend. 🙂 Truth be told I'm actually feeling ready to get back to work tomorrow and take on the week! It was such a nice, long break but I'm ready to get back into the routine of things…and my office brings in breakfast tacos on Mondays, so that's always something to look forward to.. 😉 (clearly, they're smart cookies and know how to get us in the door – ha!).
Ps. I'm a major dork but am super excited to share that I scooped up some under eye night cream yesterday and I'm pretty pumped to try it out as I climb into bed tonight! I literally sleep on my face (so glamorous, I know…), thus my under eyes need some serious TLC these days… and hey, they say you can never start too early with this stuff… 😉 Wish me luck!
Hoping you all have a wonderful week and a fabulous fresh start to 2016!
jacket – BB DAKOTA / jeans – VIGOSS / v neck – MADEWELL / tote bag – SOLE SOCIETY / scarf – NORDSTROM / booties – SEYCHELLES / ring – KENDRA SCOTT / necklace – KENDRA SCOTT / sunglasses – TOMS