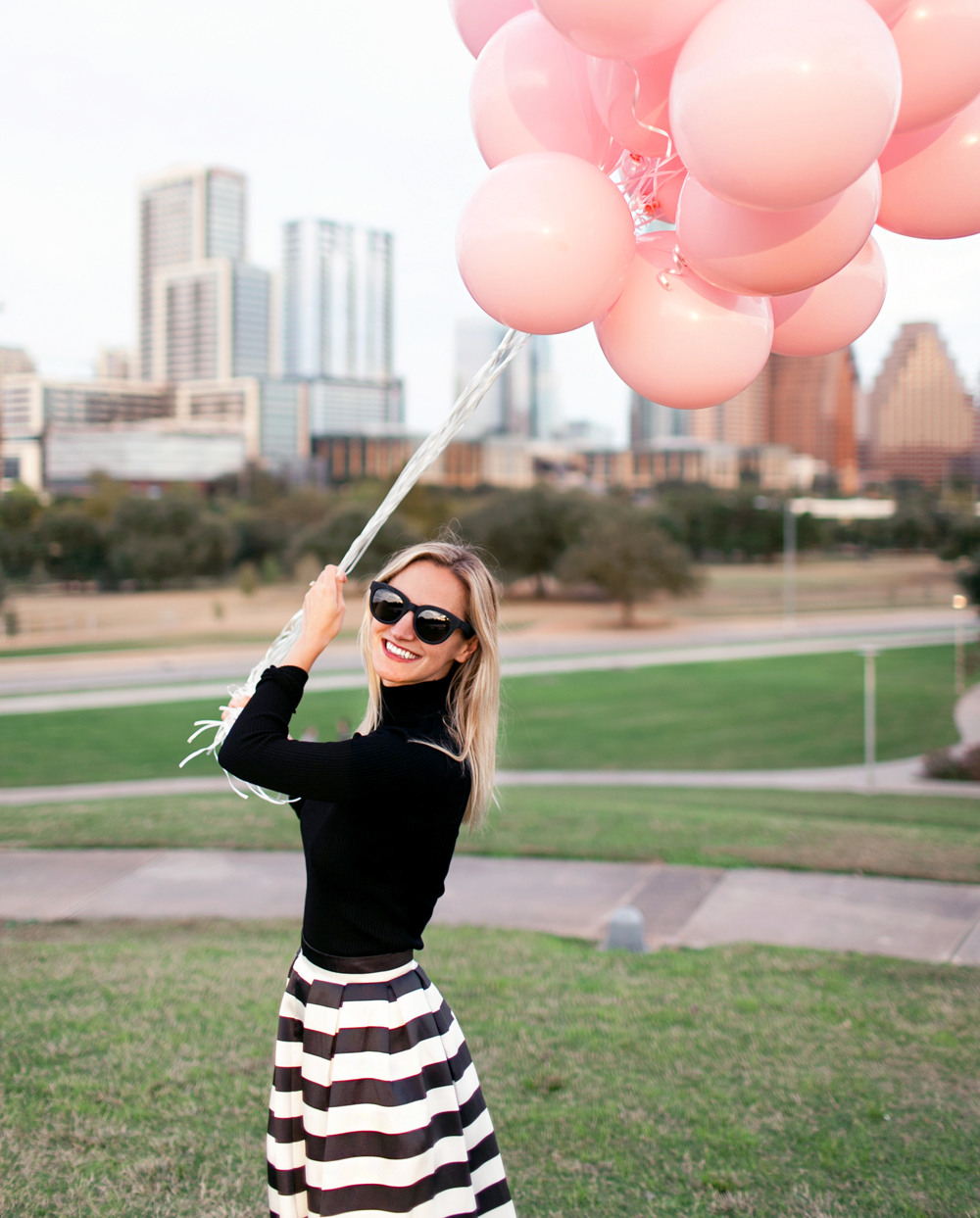 Moment of truth: these photos were snapped about a month ago when it was not yet 40 degrees out in Austin (more like 78 degrees during this shoot..!). I partnered with Style Me Pretty as a featured blogger in their #20DaysOfThanks social media campaign (see that here) and I shared a photo from this shoot on their Instagram, along with my "what I'm thankful for" caption and in a nutshell, I chose to share my appreciation for being able to work and live in a growing and thriving city that has provided so much opportunity to me – woo Austin! Anyways…back to this blog post.. 😉 But…hence the skyline shots…now it all makes sense!
Ohh 2015, a year I will never ever forget for various reasons. With every year there is good and bad, and this one in particular will forever hold a special place in my heart…
In May, Blake and I got engaged (you can read that story here – it's a good one!) and I could not be more excited to have found "my person" for the rest of my life! We were just driving back from Dallas this morning and I turned and told him how happy I am that he's my best friend…because he's the biggest sweetheart and SO funny (y'all, he's a total goofball)…and I constantly feel so lucky that we found each other. Sure we get in arguments like all couples do (…and I take full responsibility for 3/4 of that being when I am "hangry" (hungry + angry) it's a real problem in our household, ha!), but there's no one else I'd rather argue with or cuddle with or eat pasta with than him. He's quite the special man and this year was truly a monumental year for our relationship. So excited to get hitched in 2016!
Switching gears here….In October, I decided to go part-time at my job so that I could put more time and energy into growing LivvyLand – which is my total dream job that's starting to come to life. You can read more on that in this blog post I wrote a couple of months back, it gives some good insight into managing my blog and life and work (hey, not as easy as it looks! 😉 ). Since going part time, I feel really revived and like I have my life back…as in, I'm not a sleep deprived zombie running on coffee and drive thru meals anymore! Managing two full time jobs definitely put my body in an unhealthy place due to a tremendous amount of stress, but I'm pleased to say that after moving to part-time I am sleeping better and longer (woo!), I've gone up a pant size (something I'd been consciously trying to do for a few months now) and best of all – I haven't cried from stress ONCE since cutting my hours. For those who know me, let's just say crying is how I deal with…well..anything stressful or emotionally taxing. I can assure you Blake is happiest about this one, ha! That whole "I just have a lot of feelings" quote…yeah, that's actually VERY true in my life! I am a hot mess on most days, but I was basically a hot mess everyday just a few months ago. 2015 was a big year for my health and for my career path, hoping I can continue to grow LivvyLand and maybe add working out to 2016!
As I mentioned before, with every year there are ups and downs, and this past year I experienced the biggest loss in my family and in my heart. My grandmother passed away from cancer in February – and it has been the hardest thing I've ever gone through – not a day goes by that I don't think about her and I miss her so much. She was 89 years old, the smartest, wittiest and funniest woman (with the most beautiful and classy fashion sense, definitely an inspiration in my life!)  – and she lived with my family as I grew up, essentially like a third parent, kind of like a grandmother/parent hybrid. My four older siblings and I had the best of both worlds – a grandmother who was giving and spoiled us as grandmothers do, but also a grandmother who we knew on such a deep and personal level because she was such an integral part of our family and with us throughout every stage of our childhood, adolescence and young adult lives. We were so fortunate to know her that closely, and it's been tough not to be able to walk in her room and share a life update on work, relationships or mindless celebrity gossip…and to hug her hello and goodbye. Her passing has taught me to appreciate and cherish life and the relationships we have with those we love. I am doing my best to celebrate the beautiful life she had and who she was on earth, but I'll admit it's tough to do when still feeling the pain of such immense loss. I know in time my heart will heal – never fully – but enough not to cry every time I see an elderly man or woman pass me by. I suppose in 2015 I learned that losing loved ones is part of life, as is grieving. Not exactly a rainbows and sunshines bullet point to add to this list, but loss is real and inevitable and was something entirely new to me. In that sense, I am thankful for the new perspective it drove home and I am even more grateful for the memories Mimi and I shared – I will forever carry them with me.
Well, now that I've just spilled my guts to you all…! Time to share a few goals I have for 2016…I am not really a firm believer in setting resolutions because they don't normally (okay, like ever) stick for me, but it's fun to organize my thoughts and look ahead while setting some goals. So…here it goes:
1. Be more of an adult… As in, keep our apartment clean, complete the laundry (aka don't leave clean clothes sitting in the dryer for a week at a time…oops!), save enough money to get myself a new car. Dear 2012 Nissan Versa with weird smelling carpet, it's been real…but I'm ready to move on.
2. Stay confident in my work and true to my sense of style: I feel like since starting LivvyLand, my style has of course evolved over time and with trends, but that I've finally found my style niche that just feels "me" – and it's a great feeling. Like starting any brand or business, you kind of have to figure out your voice/look along the way, and I think this past year that finally fell into place for me.
3. Start saving for a house! A girl can dream…and let's just say the neighborhoods I like in Austin are eclectic…and expensive. But hey, if we start saving now, maybe by the time we're 40 we can actually live in one! 😉
4. Start running again. Did you know I used be an athlete and used to be a fitness writer while in college? Nope, you'd never know because between managing my blog and working a full time job this past year, let's just say a few things got thrust to the wayside – and exercise was definitely one of them! Blake has gotten back into fitness which has been really inspiring lately, and between that and nixing hours at work, I hope to find time to bring running back into my daily routine. It was always such a great stress reliever for me, too. Here's to hoping I will make it happen!
5. Plan the wedding of our dreams. Although our families are enormous so a small wedding is out of the question (we want everyone there – kids included to tear up the dance floor, of course!), above all our biggest hope is that everyone can be there to support this big step in our lives and really feel the love we have for each other. That's the true meaning of a wedding, to celebrate a union or two people and their families. Though it will inevitably be a big wedding in the sense of guest numbers, we'd love for it to feel intimate…so I'll work to achieve that as my mama and I bust out our planning binder! …Wish us luck! 😉
Okay, sappy post over! Any resolutions on your list this year? Would love to hear them! Oh, and outfit details below for those who are curious!
top – TOPSHOP / skirt – CHICWISH / heels – STEVE MADDEN / sunglasses – TOMS