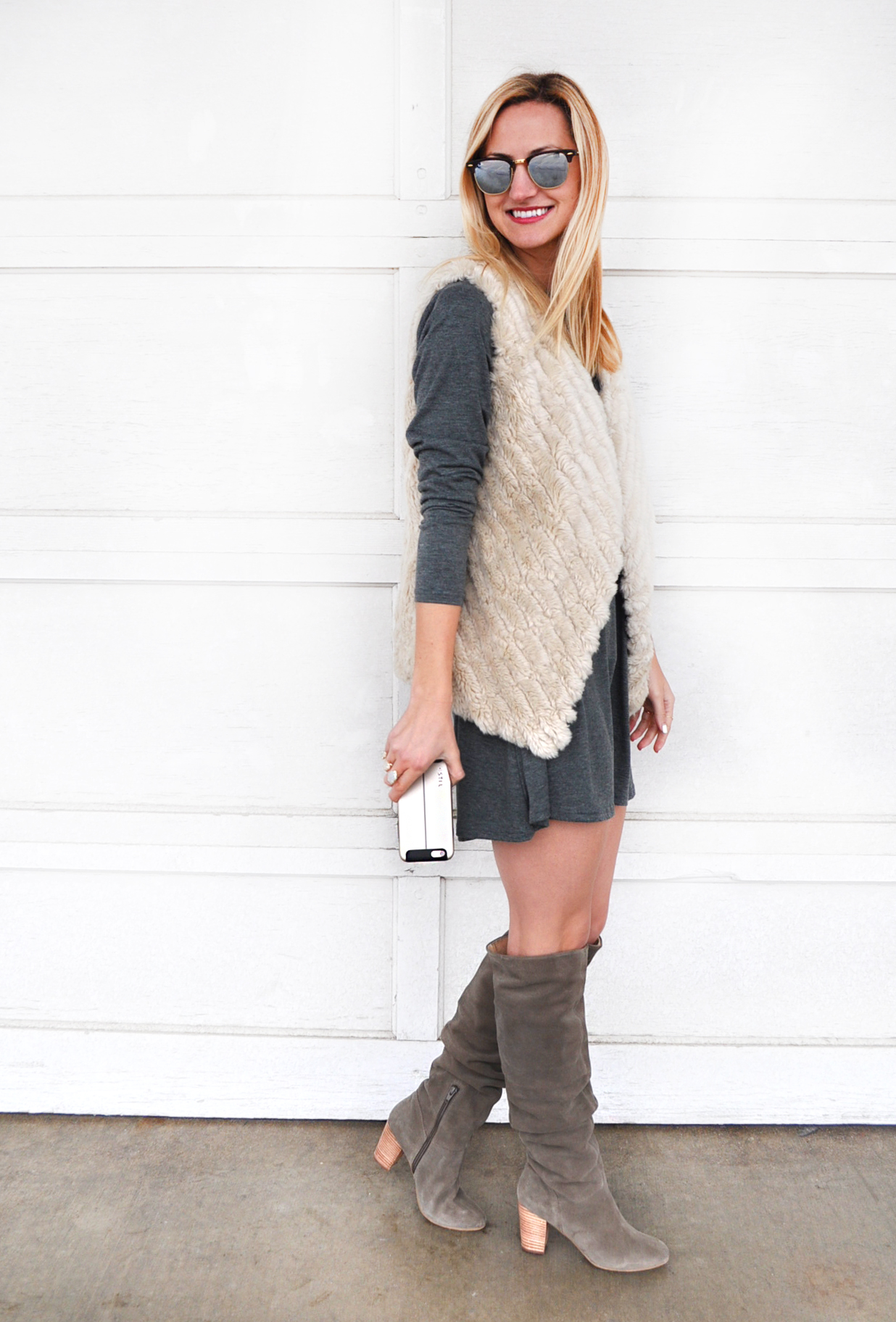 Hi gals! First off, it's finally getting a tad colder in Austin – it's a Christmas miracle! Second, this means one thing that I loooove when it comes to styling an outfit…layering up and accessorizing accordingly! So what does that mean exactly? Vests over dresses, sparkly jewelry (which I especially love around the holidays) and a pretty new iPhone 6 case by STIL to match! I'm a sucker for fashionable tech, and this case definitely fits my simple style perfectly.
Given that it gets cold in Austin but never quite that cold…I opted for a cute little long sleeve shift dress by Sheinside (y'all, this cutie is just $10! Ps. I'm wearing a size small) and wore my favorite cozy bb Dakota faux fur vest over it (y'all it's on SALE now! Down from $105). My go-to over the knee boots never cease to elevate an outfit and give me that perfect amount of pep in my step, so of course I reached for these as I stood in my closet wondering which shoes would add a chic touch to my look. If temperatures drop lower than expected (hey, Austin weather is constantly unpredictable!), then throw on some leggings under the dress and voila, you're all set to take on a Texas winter! 😉
As for accessories, I opted for my favorite Kendra Scott jewels of the moment. (As you can see if you read my blog, my favorites change all too often, ha…everything is so pretty!). My druzy double ring is a classic and I LOVE the how the stones glisten, too gorgeous! My necklace is also KS and has a beautiful ivory pearl center stone and tassel details…it's both boho and classy at the same time, which I love. My sunglasses are Ray Ban…you can never go wrong with a pair of metallic shades. I love the retro/vintage vibe they give off in that cool style/shape, too.
Did you catch my new phone case by STIL? It's a beauty! I know I'm not alone when admitting just how excited I get about pretty tech gear (…like, reaaaally excited, ha!). I am particularly in love with this case because I feel like the matte metallic finish is both sleek yet feminine and above all, versatile. As a self proclaimed girly-girl (okay, well…Blake would definitely say that I'm one, too), I think of a cell phone case as a fashion accessory just like jewelry or sunglasses, etc. After all, how often do you have your phone in your hand throughout theday? Yep…then it's got to be cute! 😉 Y'all know I'm a big fan of rose gold, and this case has a pink-ish finish that adds a perfectly girly touch. It's a definite keeper!
Loving this look? Shop it below! Size reference: wearing a small in the dress & a small in the vest.
dress – SHEINSIDE / vest – BB DAKOTA / iphone case – STIL / necklace –KENDRA SCOTT / ring – KENDRA SCOTT / shoes – SEYCHELLES / sunglasses – RAY BAN
Compensation was provided for this post by STIL Case (Newvit) via studioD. Thank you STIL for sponsoring this post.