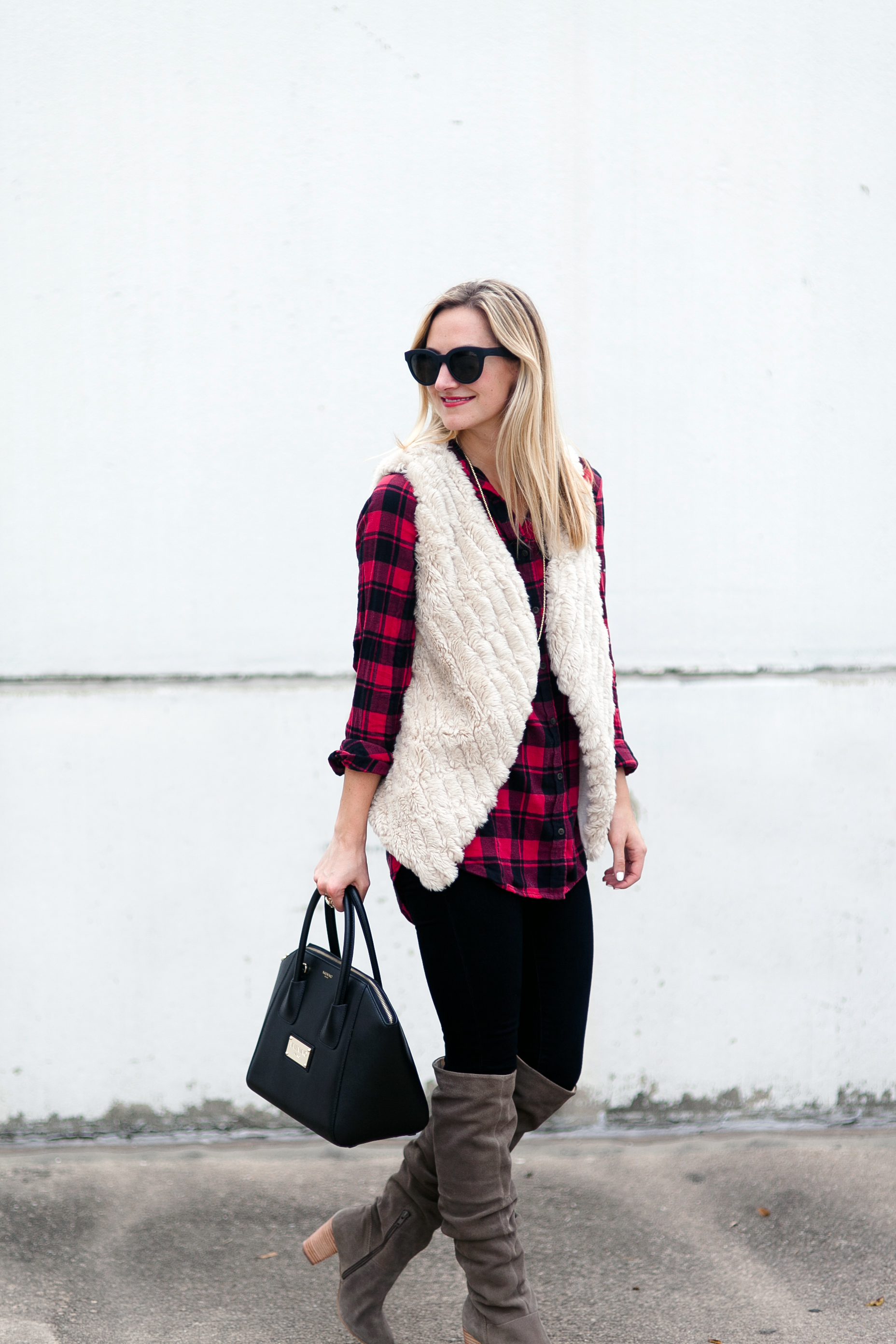 This vest = a magical, soft pillow that you wear around your body…aka, it's fabulous and you guessed it – SO comfy. My faux fur (not that I could afford real fur #letsbehonest, but Blake is a vegetarian and would be soo proud that it's faux 😉 ) is by bb Dakota and I wear this thing ALL the time! No seriously, if you follow me on Instagram, I reaaaally do wear it all the time..ha! It elevates an otherwise much more casual look and adds that practical thing we like to call warmth…as in, dressing for these colder temps…because, ya know, we're nearly to winter and all. (Also..what the what?! Y'all, it's December 7th…how the heck did that happen?!).
Okay, freak out moment over and we're baaaack to the outfit 😉 … I paired my cozy vest with a buffalo plaid button down top (love this print, it's SO perfect for the fall & winter), not to mention flannel is ultra warm and feels like wearing pajamas. And as you all know by now, I am clearly super into comfy and fashionable picks…that's basically all I wear! It must be the low-key Austinite in me…I always seem to gravitate towards more casual attire..!
I paired the plaid top + vest with my Topshop high waist pants (LOVE these!), Seychelles over the knee boots, Valentino handbag (I link to some similar options below), Toms sunglasses, Kendra Scott ring and finally, my long arrowhead necklace, also by Kendra Scott and a super favorite of mine!
I also love how versatile the look can be – rock this cute and cozy holiday outfit from day to night!
Love this look? Shop it below!
vest – BB DAKOTA (if you don't see your size find it at SHOPBOP/ plaid top – (similar, mine sold out!) MACYS or MADEWELL / jeans – TOPSHOP / boots – SEYCHELLES / necklace – KENDRA SCOTT / ring – KENDRA SCOTT / sunglasses – TOMS / handbag – VALENTINO (see similar in the scrollable images below!)