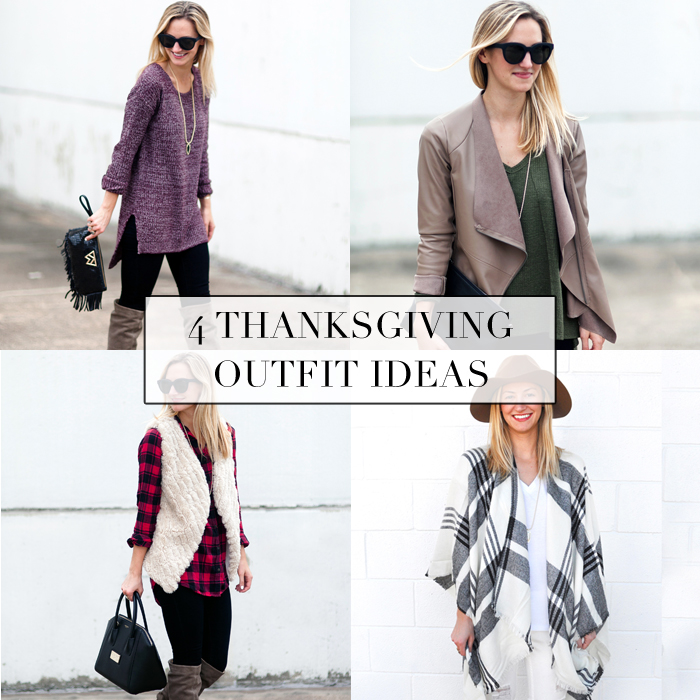 Hey gals! Today I'm taking some time to share some great Thanksgiving dinner outfit inspiration! I know it can seem daunting to figure out what to wear – for one, around a ton of people you haven't seen in forever and two, something that is comfortable enough to let you eat that second helping of pie…and dressing…and green bean casserole…okay you get it, let's talk comfy AND cute outfits!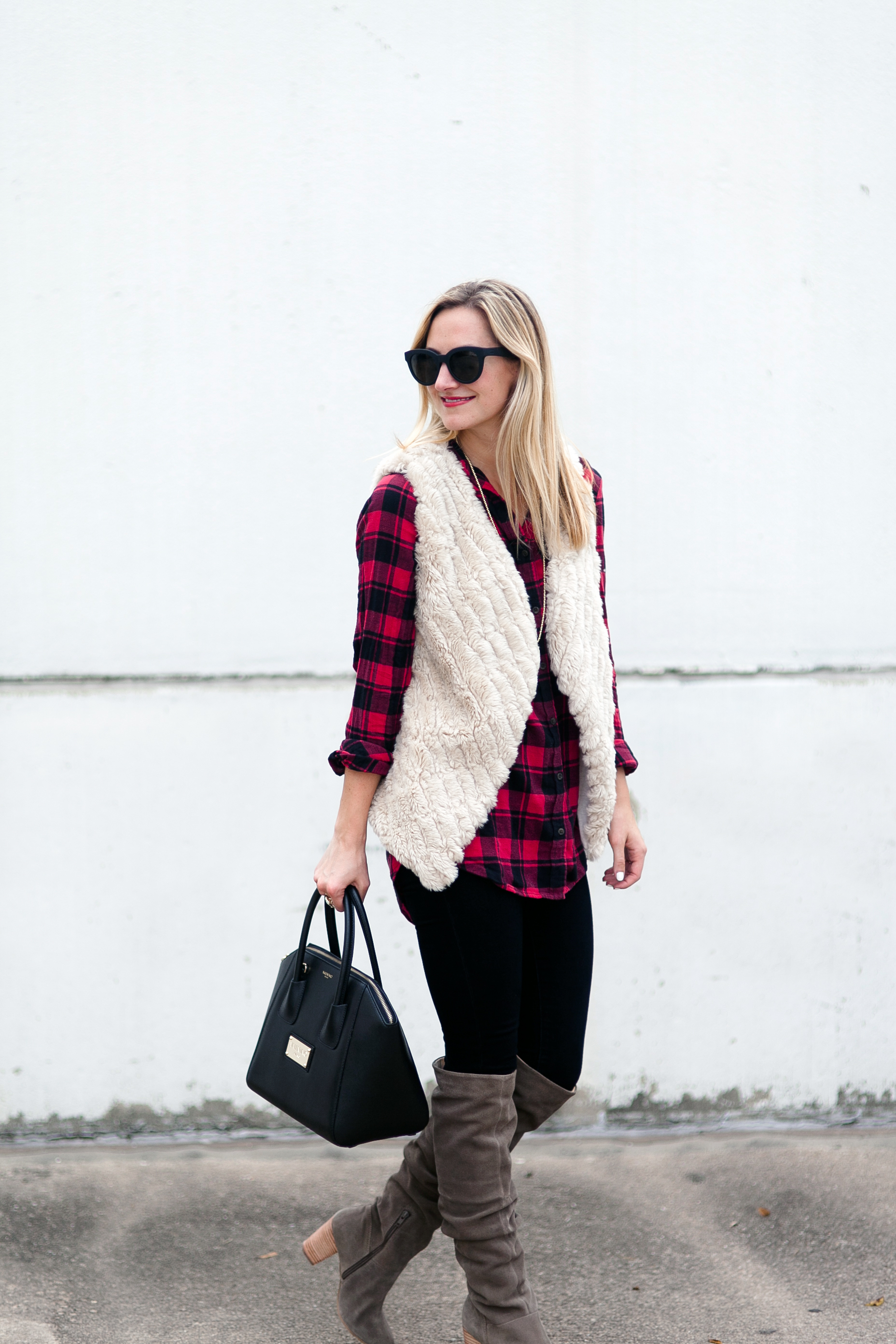 The long plaid button up = my heaven. It covers the booty (fan favorite for me!) and can even cover up the fact that you've unbuttoned your pants just to go get a second dinner plate (confession: I do this ALL the time…ask Blake…or my coworkers…no shame in the name of good food!). Also loving a cozy vest over the plaid, it really just elevates the look and gives it a chic touch! Finally, over the knee boots = these things are INCREDIBLE. They make you feel amazing (we're talkin' serious pep in your step!) and make legs look stunning. I think I'll keep them! 😉
PLAID TOP – caslon (LOVE this top, great length!) / VEST – bb dakota / JEANS – topshop / BOOTS – seychelles / BAG – valentino / SUNGLASSES – toms / NECKLACE – kendra scott
Y'all know me, I'm a super sucker for a fabulous drape front jacket…and this one by bb Dakota is GORGEOUS! It's $105, the warmest thing ever and makes any outfit ultra fashion forward. It's a definite do!
JACKET – bb dakota / GREEN TOP – sun and shadow / JEANS – topshop / CLUTCH – madewell (similar) / SHOES – seychelles / NECKLACE – kendra scott / SUNGLASSES – toms
Ohh that perfectly cozy sweater!This one comes in a TON of color options and is ultra soft + the length is amazing. You can dress it up or down depending on the shoes (OTK boots FTW here!) and handbag (opted for a little glam edge with a fringe clutch). I'm wearing a small for size reference.
SWEATER – bp / JEANS – topshop / SHOES – seychelles / CLUTCH – kelly wynne / NECKLACE – kendra scott / SUNGLASSES – toms / RING – kendra scott
Go for a casual, chic look with a plaid poncho like this one (just $38!). No joke….eat to your hearts content and throw on your poncho for coverage – atta way! 😉 Apparently I like to strategize my outfits with food at the forefront of my mind. 😉 Loving the poncho with white jeans and booties. Hat optional here.
PONCHO – bp / JEANS – similar nordstrom / SHOES – toms / HAT – st bernard / RING – kendra scott