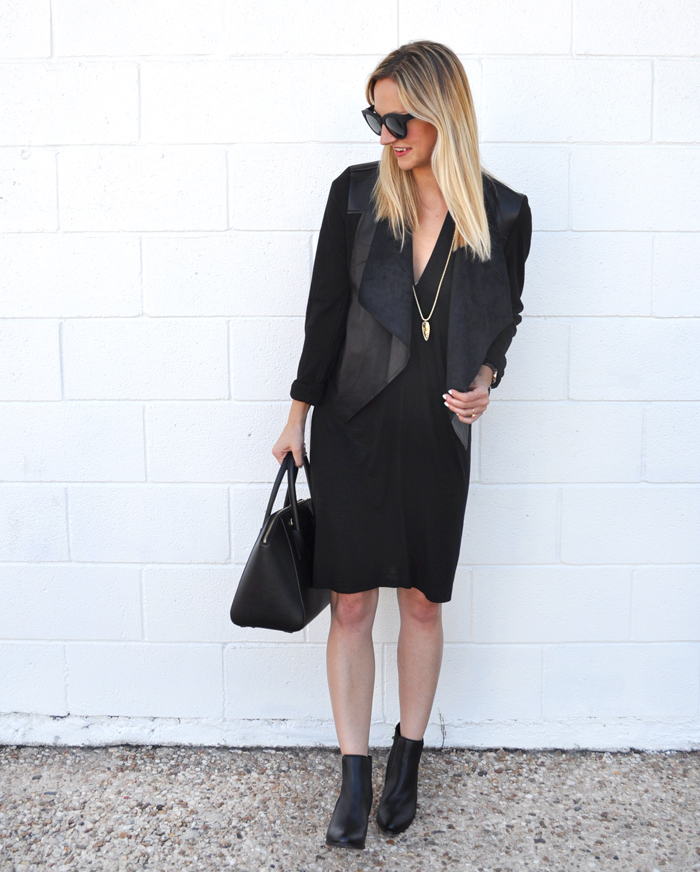 Confession: this may be in my top three favorite outfits of all time on the blog…mostly because wearing all black makes me feel like a rockstar…and also because sometimes I secretly wish I could be like Demi Lovato…and I feel like she'd totally rock this outfit. Gah, love me some Demi, and love me some monochromatic outfits. 😉
Though this look is solid black from head to toe, each piece is unique on its own and suuuper gorgeous…and when you combine them, oh-muh-gaw it's a beautiful thing! The drape front jacket is just $88 (seriously, that's a STEAL!) and it comes in four colors that are all fabulous additions to any fall color palette. The dress is incredible quality and by one of my favorite designers, Yumi Kim, and is the perfect layering dress or stand alone piece. The deep neckline on the dress (…er..well, deep on me, ha!) is really elegant and makes for one of those special details that make Yumi Kim the stunning brand it is, I feel like she really just gets how to create pieces that flatter our figures!
My handbag is another steal of a deal from MyHabit.com – y'all, it's Valentino at 1/3 the price…insanity! Their handbag selection is my favorite, everything is marked down so low (…low enough that even I can afford it, woo!) and I love the structured look and sleek feel of this particular style…it was an investment but definitely one of the best I've made for my wardrobe! Classy, strucutred bags really elevate a look, and this one is amazing quality!
My booties are really old from Forever21 (always have loved their shoes..), but I linked to a similar pair here that I've been eyeing recently. Can't go wrong with a pair of black booties!
As for my jewelry, I'm wearing my go-to boho arrowhead necklace and my ring is a new addition that I'd coveted for too long and finally scooped it up at Neiman Marcus Last Call – on sale – yes, please! 😉 (Last Call has the turquoise available online, and the opal color is on sale and available at Kendra Scott). Finally, my sunnies are my favorite cat-eye frames by Toms (surprise surprise, one of my fave brands!).
Loving this look? Shop it below!
For size reference, I'm wearing an XS in the dress and a small in the jacket.
jacket – nordstrom / dress – yumi kim / shoes – similar bp / handbag – myhabit / necklace – kendra scott / sunglasses – toms / ring – kendra scott / watch – daniel wellington